Back there in June, which seems like a lifetime ago, recall I had the fun chance to visit Amsterdam on a work trip? Yay!
While there, I made use of my company credit card because that's the best way to go when it comes to pesky expense reports.
However, there are a few things that the company says no-no to on expense reports. For example, booze. I mean, how can one have a nice dinner in Amsterdam and not sample the local beer?
One doesn't and this one didn't. I sampled. Oh did I sample. No, I didn't sample Amsterdam's other claims to fame. I was on a work trip ferchrissakes! But light brown beer was a delightful dinner companion.
So what I did was expense the expensable parts and the not expensable parts I would pay personally to the credit card company. No problem, right?
Upon my return to the States, in the midst of chaos and twelve to fourteen hour days and working nights and weekends on this massive project (the whole reason I went to Amsterdam and Ireland) I managed to knock out my expense report.
Then I knew I would get a bill for about $110 US dollars for the "not allowable" stuff. The beer, mostly. Not gonna lie.
About a week and a half ago, I got a snippy notice from the credit card company. "Second notice", they said and "we'll shut off your card in five days unless payment is received."
I also noticed that they had transposed two numbers in my mailing address.
Well, I got a bit high handed about this. First of all, I didn't receive a first notice! Second of all, my address is wrong. Third of all, pfft! Or something like that.
I'm still working a lot of hours and so I dashed off a check but didn't send it. I wanted to talk to my friend who runs the travel program. I needed to know if I could change my mailing address for the card or if she had to. She said I could do it or she could. No matter.
Great! Then life and my insane job intervened and quite a few more than five days passed. Ugh. Over the weekend when I had a few minutes to breathe, I picked up the ol' phone and called the credit card folks. I knew I needed to take care of this problem like a grownup.
Imagine my surprise when I got a recorded message saying that a payment had been received and my balance was zero.
"Uh oh," I told the Good Man. "The company paid my bill. Crap. Now I have to figure out how to pay them back. Or will they take it out of my paycheck? Gah. What a mess."
The next day, I went back to my friend in Travel to figure this out.
"Honey, we don't pay people's credit cards. And if we did, just keep quiet about it." She laughed.
But she looked up my account. "Hmm…" she said, rolling her mouse over the screen. "I can't tell where this payment came from. Did you do another expense report?"
"No."
"Hmm. Are you sure you didn't pay it?"
"Yes."
"Really sure?"
I thought back to the dates from May 1 through August 15, my head down working this project. The lack of sleep. The stress. The long days and working weekends and not having a single day off in all of that time. The disconnected feeling. The lack of awareness about pretty much everything around me.
"Well. I'll check my bank account but I really don't think so."
I walked back to my desk, logged into my bank and searched for the amount. By golly, there was a payment.
That means that 1) I had indeed received a "first notice" from the credit card company and didn't remember it and 2) had set up the credit card company as an auto pay from my account and didn't remember it and 3) actually paid the bill and didn't remember it.
So that means that when I was wandering around in a zombie-like intense work state, forgetting to eat meals and forgetting to sleep and often forgetting to change clothes and frequently forgetting to even brush my teeth in the morning, I managed to be fiscally responsible enough to pay my credit card bill?
Um. What?
I'm certainly glad that zombie Karen cares enough to pay normal Karen's bills. I wonder what else I did when I wasn't even on the planet.
I can hardly wait to find out.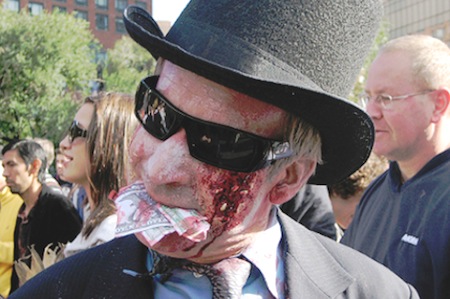 Image found here.

Ya know, the ol' brain, she ain't what she used to be. Let's be honest, my memory always was more of an old gray mare than a fast running thoroughbred.
Over the weekend The Good Man was going through our bag of bags (I'm pretty sure everyone has a bag of bags, right? The place you store plastic and paper grocery bags for reuse) looking for just the right fit for the job he had in mind.
He pulled out a plastic bag that had travelled its way from Amsterdam to California that was just the perfect size. He said, "Oh? Are you okay with me using this bag or do you want to keep it?"
I said, "Nah, no need to keep it, go ahead."
He opened it up and in the bottom found a paper receipt that he handed to me. "You probably want this," he said.
The receipt looked a lot like this:
Hmm. One Euro. What the hell did I pay one Euro for in Amsterdam? I found that country to be pretty darn expensive and don't recall anything costing just one single Euro.
It's from the Van Gogh museum, so that's a clue.
I was really stumped. My mind slipped into the Swiss cheese hole full of nuthin'. I had zero recollection. For a moment I thought it wasn't even my receipt, that maybe I had inadvertently picked up someone else's.
And then…dull like the backside of a piece of foil, a light came on.
I saw the description "kids juggling Van Gogh" which brought many hilarious fictional images to mind, but then that confused me even more.
I had to work at it. Sweat it a little bit. Strain the brain tendons.
Ah! Yes! I remembered! A forgotten moment. The synapses reattached and the focus ring turned and I could see it clearly.
Me, in Amsterdam, on a rainy Monday. It was late afternoon and the Van Gogh museum was closing. I had prowled all four floors, hungry to see everything. I actually toured it twice. Bottom to top and then top to bottom. In the last thirty minutes of museum hours, I went to visit all of my favorite canvases one last time, like saying goodbye to cherished friends.
On the way out, visitors are forced through the gift shop and as doors were locking, I made a hasty and impulse purchase. A funny card made for kids picturing a stylized Vincent Van Gogh juggling paint blobs. It made me laugh, so I took it to the register.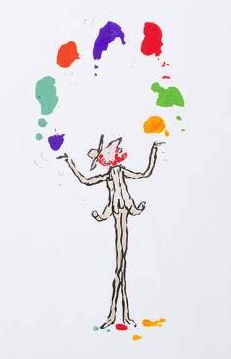 Image copyright belongs to the Van Gogh Museum Shop

The cashier said "That will be one Euro." Through bleary jet lagged eyes, and too lazy to put on my reading glasses, I held up a coin. "Is this one Euro?" I asked.
He smiled as he might to a precocious child. "Yes. That's a Euro."
I held up another coin, "That's a two Euro, right?"
He smiled again, "Yes, ma'am. The larger coin is two Euros."
"Okay, thanks. Here you go," I said and dropped the one Euro coin into his hand.
Then I reluctantly left the museum, a place I could live, and walked out into the Amsterdam evening. I was overwhelmed with all I had just seen in the museum, hungry, tired, lost and pretty calm. I was filled to blissful capacity with art and creativity and color and joy.
I found a bench on the edges of the Museumplein, a gigantic green park in the heart of Amsterdam, and sat. And watched. And listened. And did what became my most favorite thing to do in Holland: people watch.
On this most recent sunny and muggy Sunday in California, I remembered the noisy but pleasant park, watching the funny multicolored crows hop around, feeling my own bones weary from jet lag, and the unmistakable sense of peace.
It was a nice memory. One that had slopped over the side of the brain bucket and almost got away. Now retrieved, embedded, made solid.
That's the funny thing about memory, it runs like quicksilver, but catch it, hold it in your hand long enough to let the synapses meet up, and you have something tangible.
I had forgotten my one Euro moment. Thanks to a paper receipt at the bottom of a plastic bag, now I'll remember it forever.

There I am, a random sunny weekend day in suburban Northern California, with a bag of groceries in my arms and holding hands with my husband.
We're headed to the car in the parking lot when a low, slow Honda Civic rolls by. The car has been lowered, the wheels are miniscule and from inside the car comes some techno music. Not the multilayered computer-mixed techno of this modern era, but a thin synth-pushed techno that was quite reminiscent of the dance club music of the late 1980's.
And suddenly I am no longer on a grassy knoll outside of Whole Foods in suburban California, but I'm wandering over the Paseo del Norte bridge and stumbling down Avenida de Juarez.
And I am inside Alive, a bar just over the border in Juarez, Mexico. If I listen hard enough, I can hear the sound of tequila slammers hitting the bar, syncopating with the terrible music blaring from the terrible sound system.
Alive, a venue located underground (the irony was not lost on me) with a tan blown-foam covering on the walls and a trip-worthy ramp leading to the bowels of the nightclub. I'd remind myself as often as possible not to touch anything and mind my own business.
But a bucket of Coronitas and a few slammers later and hey, let's dance!
And me with my walnut sized bladder begging myself to hold it because the bathrooms at Alive were awful. Just…frightening.
But who cares! I was young! I was invincible! I was the only responsible person in a group of very irresponsible college kids. We were having fun. In another country. With no parents in sight! Freeeedom!
Yes, I was young and in my prime and not something like 43 and worried about jobs and money and is that cereal I just bought gluten free because wheat gives me tummy rumbles and oh yeah, did I get hemp milk because by god I'm lactose intolerant too. And can you read the label on this box because the print is too tiny and I sure as hell can't read it.
It was a fleeting memory and I told it all to The Good Man. He replied "You and I had very different lives."
And I suppose that's true, we did.
But I can't shake the memory. It's not that partying in Juarez was a particularly good time. I was always the "good kid" and worried to death about all my friends and how to get them all back home safe and intact. I worried that one of the guys would get in a fight and we wouldn't have enough money to pay the Federales to let him go. I worried my pockets would be picked clean by the kids (I had fended off more than a few). I worried that if the time came to run that I would be the one not running fast enough.
None of that really sounds like fun.
Those times are long past, something of stories and fairy tales as I wouldn't go near Juarez for all the tequila in the world now.
I guess that memory on that sunny California day was something like fond reminiscence? I think it is more my youth that I miss than the crappy bars like Alive and Spanky's and The Tequila Derby.
While searching for photos of Alive, I found this story on CNN. The author perfectly describes what it was like then and what it's like now and does a much better job than I did.

Juarez was fun – before it was dangerous.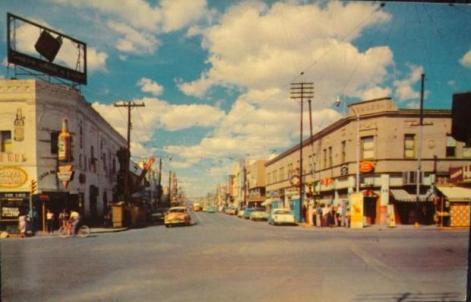 This 1950's (or maybe 1960's) era postcard, oddly, comes closest to my memories of Avenida de Juarez. In the late 1980's that big bottle over the liquor store on the corner (left side of the photo) was still there.

Image from an eBay posting selling the original postcard.

Look at it, isn't it lovely? It's own glimmering constellation. A shimmering planet hovering in space, reflecting the rays of light.
An ethereal orb. A beacon. A sign.


Or.
The m-effing new ding in my windshield. This was caused by a rock flung from the tires of a big truck as I drove down 101 yesterday afternoon.
It's only mildly funny that it happened as I was smack in the middle of a great big yawn. Biiiig sleepy yawn and then *whang*.
And then the curse words. Lots and lots of curse words. A string of expletives befitting a sailor on shore leave.
Because, of course, this window pock is right at my eye level on the driver's side.
Which means in addition to the other eight thousand things I have to do this week, I now have to deal with my insurance company.
One of my very least favorite things to do. Just above a DMV visit for a new driver's license and one rung below annual lady physical.
Rattin' smattin' rootin' tootin' gall durn window ding.
Gah!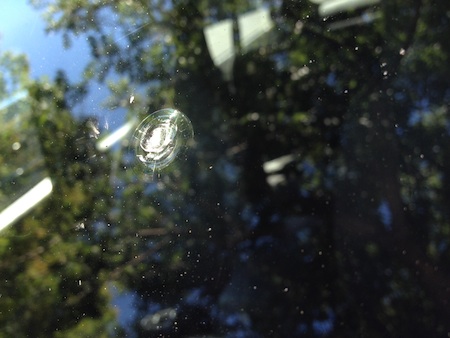 Photos Copyright 2012, Karen Fayeth, and subject to the Creative Commons in the right column of this page. Taken with an iPhone 4s and the Camera+ app.


I've now been twelve days in Britain. I've sorted out shuttle buses, trains, the grocery store, a local pub and even the post office.
Basically, I'm living here. I have a job, I have an income and I have friends. Hell, my hotel room is about the same size as my first apartment out of college.
What I'm saying is, I got this. I'm even getting better at recognizing and correctly using British money.
I'm walking with a bit more of a swagger. I'm a local. I'm confident enough that people have been asking me for directions and "is this the bus that goes to the technology park?"
A few days ago I did a quick Yelp search and found a little place that gets good reviews. It's called Pret a Manager and it reminds me a bit of Panera. It's tasty sandwiches and soups and really excellent coffee.
So took a walk and easily found it. Once there, I got some mushroom soup and a tuna melt and a decaf latte. Yay! It looked delicious.
Then I went to grab some sweetener to add to my latte. I was presented with these two choices:


The white one is sugar and the yellow one is Splenda. Right?
So I grabbed three Splenda (the packets looked small) and I dumped them into my coffee and stirred.
Only the Splenda felt gritty. Like large granules.
Look a little closer.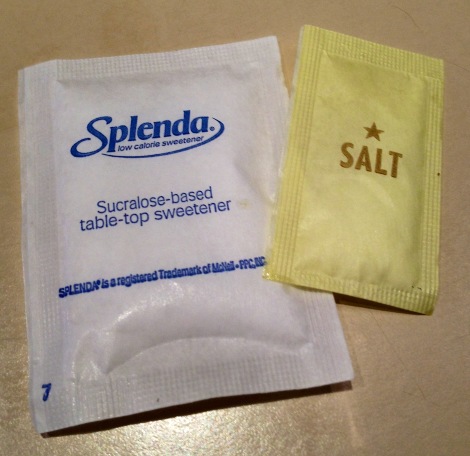 Whoops.
Why are the packets reversed in this country? Why isn't the twenty pence coin larger than the ten pence? Why do all the exit signs look like someone running to a rectangle and WHY don't toilets flush right?
The nice guy working behind the till at Pret a Manger said to me, "I can't quite place your accent. Where are you from?"
"America," I said, "Can't you tell?"
He laughed and said "oh yes, you're the people who put salt in your coffee."
Yeah.
I kinda sorta don't really got this. But I'm going to act like I do.
Fake it until you make it. It's going to be my new life philosophy.

Photos Copyright 2012, Karen Fayeth, and subject to the Creative Commons in the far right column of this page. Taken with an iPhone4s and the Camera+ app.