When I began to seriously focus on submitting my writing to literary journals, I was schooled on the concept that it takes about one hundred rejections to get an acceptance.
Since submitting to one hundred journals takes a lot of research work, I began working with a really awesome service that helps me target submissions and keep track of rejections. Over the past several years, I have found that the one hundred rejection rule is pretty much true.
What this means is that I now get A LOT of rejections. In those first years most submissions were done by regular mail so I'd often have a mailbox crammed with rejection notices.
Now most submissions are done electronically and it is my email inbox that is filled to overflowing with rejection slips. They tend to come in waves. None for a while then six or eight at a time. Rejections usually show up when I'm having a really crappy day.
Receiving a pile of rejections just makes everything SO much better.
When I started getting that many rejection notices, it hurt at first. Each one was a tiny "ouch" and made me sad. Who could reject my perfect little carefully crafted babies?
Over time, I became immune to the sheer volume of no-thank-yous. The skin hardens a bit, the outlook toughens and now I just shrug and say "okay" and move on.
It's what makes those occasional acceptances that much more sweet. A barrage of no and then a glowing, shiny, joyful yes.
Since I have had the good fortune to receive quite a few acceptances, my submission service has been trying to up my game a little bit.
By up my game, I mean in addition to the regular submissions to a lot of fine magazines that no one has heard of, they have been adding a few more well-known and highly regarded journals to my submission list.
I'm not quite up to the point of hitting up the New Yorker for publication, but names on the list recently include McSweeney's, Harvard Review, Zoetrope and The Paris Review.
I always giggle just a little when I hit "submit" on those queries. That's because the odds of my work seeing the light of such highly regarded and high circulation magazines is pretty slim. That said, you don't hit a home run if you don't swing at a few pitches. So I swing away.
The Good Man has a different view on the rejection process. He is always happy to see the rejections in the mailbox. His firm belief is that if they are saying no then at least they considered my work, if even for a moment.
He especially loves the so-called "good" rejections. The slips that have a personal note from the editor, or say something like "while we were unable to use this particular story, we'd like to see more work from you."
Those good rejections are a tiny bit of bread to a starving writer. Those few words are enough to keep me working hard to get to yes.
Anyhow, all of this was on my mind as this morning I sorted through a stack of mail and opened a couple rejection slips. I can recognize them right away because when I do paper submissions, I include a self addressed stamped envelope.
When my own envelope returns to me, it's almost always a no. Almost. I did get an acceptance one time in my SASE. I'd neglected to open it for almost two weeks and couldn't believe it when I did open it. That was a nice surprise.
Anyhow, this morning's envelope had a postmark from New York and inside resided the tiniest sliver of paper. What I estimate to be about one-eighth of a sheet of paper.
It's from The Paris Review. A highly revered title.
They were able to spare just a tiny sliver of paper to tell me no way, Josephina.
And for a moment, I'd like to think about some low to no paid intern reading my story, considering it and then thoughtfully sending this slip.
I'm sure they LOVED my work, it just didn't fit the themes on their literary calendar. Right?
Right.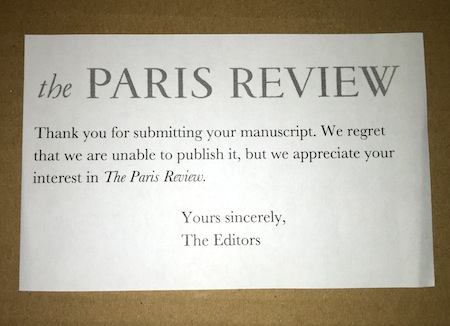 As longtime readers know, I have been trying for a few years to get my little ol' words and stories published out into the big, cold literary world.
To that end, I have been using a really lovely submission service to assist. For a fee, these kind folks proofread my work, do market research and help me get submissions out there.
Which means that every three months I go out to somewhere between 25 and 30 magazines and journals, asking them nicely if they will publish my stuff.
What this also means is that I receive piles and piles of rejections. When magazines were still mostly paper submissions (not that long ago, actually), my mailbox would fill up with my self-addressed stamped envelopes returning home with a form letter tucked inside.
Now that most submissions are online, my email inbox gets loaded up with rejections by the dozen. They always seem to find their way to me when I'm having a bad or cranky day and that rejection is like a little sparkly topper on my crap cupcake.
Last time I had a check-in session with my support team at the submission service, they quoted some stats for me. As of a month ago, I had sent out something like 400 submissions, which had resulted in five acceptances. (one of my essays was actually accepted to three places)
What I'm getting at here is that I get a lot of rejections. A lot. And over the course of something like 400 submissions, I have become fairly immune to them. Another day, another no.
I am quite sanguine with rejections and don't take them much to heart anymore. It's all a numbers game. My submission service says their long and vast history shows that the average is about one acceptance for every 100 submissions. Average. Which means some people go less than that, and some people go more. But over the course of many quality writers, it takes 100 nos to get to one yes.
Those aren't great odds.
Early in this past calendar year, I ran across this really funky short story contest. It was being put on by a well-known luxury brand and was open to everyone on the entire globe for stories written in any language.
They offered a prize worth €5,000 (~$7,000USD) and worldwide publication in a new literary collection that would coincide with their new product line. The collection would be sold online and in retail stores around the world.
I was really intimidated by this contest but couldn't get it out of my head. I hemmed and hawed and finally read all the rules and restrictions. I even searched for and downloaded the special font they wanted submissions to use.
I twisted and agonized and worried over this contest. Then I made a deal with myself. I had to enter. I made myself promise to simply submit a story, even if I knew it was crap. Just…I had to simply write SOMETHING and submit it.
What happened next was just short of magical. I wrote a story that wasn't crap at all. It was one of those "in the flow" moments where the words poured out of me like clean fresh water and splashed beautifully onto the page.
I sincerely believe it is the best thing I have ever written. I often worry that it is my pinnacle and I may never do better. Then I get mad at myself and proclaim I can probably do better but I will have to work really hard at it.
At about an hour before the deadline (in June), I sent my beautiful little work of art off to the good people in Europe and I walked away.
After 400 submissions and counting, I have learned to send it and forget it.
But I couldn't forget it. This contest and this story haunted me. I had dreams about it and would catch myself thinking about it with some frequency.
And I knew this was Not Good. Overthinking never comes to a good end for me.
In August when I was on a trip to a family reunion, and I was in the car with The Good Man and my beloved cousin, I brought up the topic. These are two safe and supportive people and I knew I could be completely vulnerable with them.
They heard me out, gave me many comforting words and sagely suggested that I do my best to simply forget it before I made myself certifiably nutty. They had both read the story and knew what I was worked up about, but they also knew I had to let it go. Just let it breathe.
Their words were soothing and I did my best to heed them. I pretty much let go of thoughts of this damn contest and would only think of it now and again when something would remind me.
Well, long way around the barn, last week I got notice from those folks at the lux European brand. I didn't make it.
Of course I didn't win. I knew I wouldn't win. I think somehow I found myself a little too in love with my own story and that blinded me. And hopeful. I was too hopeful.
So yes, I didn't win and I took it very, very hard. You would think after 395 rejections that one more wouldn't matter. For reasons I can't quite articulate, this one really got under my skin.
My callus is not quite strong enough yet, because this one story that makes me actually believe I am a genuine writer (and not a dilettante) can still work a blister on my tender psyche.
I think my cousin (who is also a writer) calls the submission process a meat grinder. Or maybe that's what I call it? No matter. It is. A meat grinder.
What's next from here?
December brings the next cycle of submissions through the service I use. I will pull out one of the many stories and essays I have built up and I will edit and sculpt it and I will submit it. Then I will receive another thirty or so rejections.
In 90 days I will submit something else and I will get more rejections and the cycle will continue on, as it should.
And this one really sore spot, the unexpected blister, it will harden with time. It will add another layer to the callus. It will make me that much more resilient the next time around.
To any who might wish to give me the well known platitudes like "Each rejection brings you one step closer!" can hang on to them. 395 rejections and five acceptances mean that I'm well past platitudes. I'm not a newbie. I know what I'm up against.
And I know I wrote one hell of a story. Perhaps one day I will give it another chance to weather the mean old world on its own. But for now I'll hold it close and hide it away until the owies stop.
It's an exquisite pain, really. One I have earned.

Image found here.

Over the years I have suffered a certain amount physical ailments for which medical doctors can find no cause. The better part of discretion will keep me from detailing my woes (what my beloved grandmother used to call the "organ recital").
But suffice to say, 1) it's been going on for a while, 2) ow, 3) four different doctors have said, "want me to write you a big script for liver killing pain meds?" to which I said "no thank you".
After years of wailing and moaning, a friend suggested I try acupuncture. I figured what the hell, I had exhausted my options with regular doctors so why not try something different?
I am not completely sure what I think about acupuncture. I vacillate from "it's utter bullmuffins" to "hey, there may be something to this."
Actually, over the past year or so, I have gotten quite a bit of relief from having those little needles stuck into me. Whether it's all psychosomatic or not isn't my place to decide. I just know I feel better, and that's all that matters.
Since I moved to a different city several months ago, it was untenable for me to visit the same needle sticker as it was just too far away.
At the end of last week I had my first visit with a local hokey-poker to see if she could pick up where the last guy left off.
During the course of this visit, the new gal asked me if she could use a technique in addition to the needles. I say hey, why not. Give it a shot.
The technique was called cupping. My first thought was "oh that's nice, she's going to hug me and gently cradle my sensitive places. How thoughtful."
No, turns out that kind of cupping is best left to The Good Man. She meant taking these glass bowl looking deals, heating them up and plopping them on my well oiled back, creating suction.
Holy smokes it hurt. A lot.
I'd seen photos of celebrities with these big sucker marks on their back and shook my head and chuckled at the time, thinking "buncha weirdos". And yet here I was letting this lady do the same to me. What I don't really understand is how those lilly-sensitive spoiled celebs are able to put up with this "treatment" while I had tears of pain rolling down my face.
What have I become? Who am I?
I'm old, that's what. The days of rubbing a little horse liniment on the owie places is over. If these painful glass jars can help me feel better, well, fine.
When I whimpered a little and called out for my mommy, she said "oh, is that too much?" and she lightened the suction a little.
Finally she removed those sea serpent suckers from my skin with a moist sound and said, "Ok, you're done. By the way, you might want to mention to your spouse or significant other what happened here. They may be a bit shocked to see the marks on your back."
Marks? Holy crap, I look like I was treated with a meat tenderizer. My whole upper back was a raw red with big round sucker marks scattered about.
I went home and whined to The Good Man who gave me good clucking sounds and lots of sympathy. Then he did the kind of cupping that I like and that made me feel a lot better.
The skin on my back still isn't all that pleased but whatever happened last week between the needles and the jars seems to have helped. The pain is standing a little off to the side and I seem to be improving.
Hard to believe a little girl from New Mexico who once held up a hand and solemnly swore, "I believe in the future of farming…" Is now laying on a table letting this woo woo stuff happen.
But I am and this is me and I'll be damned if this crazy stuff might be helping a little.
: shrug :
Now this is the kind of cupping I am looking for.

Image found here.


"Baseball is a lot like life. It's a day-to-day existence, full of ups and downs. You make the most of your opportunities in baseball as you do in life."

— Ernie Harwell, Hall of Fame Broadcaster for the Detroit Tigers
As a longtime baseball fan, I've often spent time pondering this very notion, that baseball is an awful lot like life. I have even written yards of stories and words on this very topic. After watching thousands of games, I personally believe that across the nature of nine innings of baseball, in each and every game, a story is told.
One of the most curiously fascinating concepts to me is that a player can make a terrible error in one inning (thus making him the goat) and then be the hero of the game in the very next inning.
Local broadcaster Mike Krukow has often commented that it's just an unwritten fact of baseball, the guy who bobbles the ball in one inning is going to be at bat the next inning. Or, the guy who made a spectacular catch will also be up in the next inning.
It's an odd philosophy but I've observed that it is pretty spot on. Baseball with all of its flaws and issues is an awfully democratic game. Second chances are given. Third, fourth and fifth chances too. The player who is a super star can slip into an 0 for 42 slump. That guy who can't seem to hit a damn thing can suddenly make a key play that propels him to a 40 for 42 streak.
You just never know. And that is pretty much like life.
It was with this in mind that I joyfully watched a guy on a real bad downswing named Tim Lincecum, who plays for the San Francisco Giants, complete a no-hitter against the San Diego Padres on Saturday night.
Tim burst on the baseball scene in 2007 as a first round draft pick. Everything about him does not scream baseball. He is a very small person, running about 5'11" on a day he's standing up very straight and clocking in at maybe 170 pound soaking wet. He is an unlikely pitcher compared to the usual broad shouldered and well over six-footers that dominate the mound.
In addition, Tim's delivery style is rather unique and eyebrow raising among followers of Major League Baseball. In order to get speed from his small frame, he contorts and twists his body back and delivers a pitch with a whipsaw motion. This delivery and his ability to baffle quality hitters has earned him the nickname "The Freak."
As no major league batter had ever seen this kind of delivery, Lincecum dominated MLB for his first several seasons, racking up two Cy Young awards, several trips to the All Star Game, and much respect.
But as baseball is the great equalizer, major league hitters began to get used to how Tim pitched. They watched hours of tape and they started to work him out. Suddenly the phenom fell to earth and his pitching was not so freakish anymore. He was, as they say, getting "touched up" pretty regularly.
Over about three years, Lincecum has struggled mightily, and last year in the post season leading to the World Series, he was taken out of the starting rotation and placed in the bullpen. This is an ego bruiser for even the most easygoing of pitcher.
But Tim took it in stride, pitched well in relief and helped the team win the 2012 World Series.
This season, Lincecum has been showing marked improvement, but his teammates are batting so poorly in support of his outings that his record looks dismal. His quality outings have been a bright spot in a pretty terrible season for the San Francisco Giants.
Recently everyone (especially this Giants fan) has been wondering if this is the end of the era of Tim Lincecum.
So it was unlikely to see our small Mr. Lincecum on the mound pitching for his life on Saturday night. He worked his way through all nine innings and threw 148 pitches to close out his first no-hitter.
To be honest, I felt certain he'd throw a no-hitter in the first few years of his career, his stuff was that baffling. But in many ways, it has to be almost more satisfying to have been a phenom, then struggle, then battle back to show Major League Baseball that maybe the era isn't ending, but simply starting a new chapter.
What a great story. What an amazing game. What an accomplishment.
Lately I have been wavering a little in my allegiance to the San Francisco Giants, as they have been playing sloppy baseball and embarrassing themselves left and right. I was becoming bored with this season's story. Saturday night I turned the page and a new chapter filled with twists and turns greeted me. I'm now back in the game.
Thank you, Mr. Lincecum, for winning back my heart and mind and for telling me, a storyteller in my own right, one hell of a tale.
Much deserved.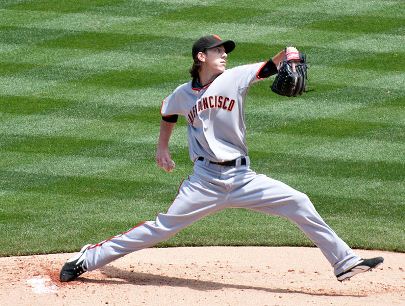 Bonus!

Another priceless moment from that no hitter game: A pitch accidentally hits the umpire in the gut, right at the bottom of his chest protector. Ow. Watch Lincecum's reaction. Awesome.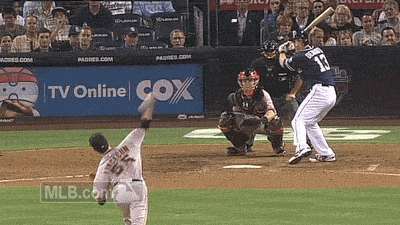 Image from Wikipedia and used under a Creative Commons 2.0 licensing agreement with attribution.
Footage belongs to MLB, .gif was found here.

Ah yes, another one for the "don't it make me proud to be a New Mexican" files. This one comes courtesy of The Good Man.

ALBUQUERQUE, N.M. — A New Mexico man faces multiple charges after police say he was having sex with a woman while driving drunk and crashed, ejecting the woman from the vehicle.

The Albuquerque Journal reports 25-year-old Luis Briones was found with one shoe on and his shorts on inside-out Monday night after he wrecked his Ford Explorer in Albuquerque.

Police say Briones' female passenger was found naked outside the SUV after being ejected. She had deep cuts to her face and head.

Authorities allege Briones tried to drive away after the crash and leave his passenger behind, but a witness grabbed his keys from the ignition. He also allegedly tried to hide from responding officers behind a cactus.

Briones is charged with aggravated DWI, reckless driving and evading police.
Now, in all of things that are really bad about this story, driving drunk, attempting to leave your injured girl behind, reckless driving, the one thing that jumped out at me, the ONE thing that I focused on was…..
"Briones was found with one shoe on and his shorts on inside-out…He also allegedly tried to hide from responding officers behind a cactus…"
Ouchie. Really, when you ain't got no pants or shoes on, hiding near, around or behind a cactus doesn't seem to be the wisest move.
Then again, wisdom didn't really seem to play a role in this whole circus of events.
Oh Fair New Mexico, I really do love you love you so. You know how to keep a native entertained.
Saaaaaaalute!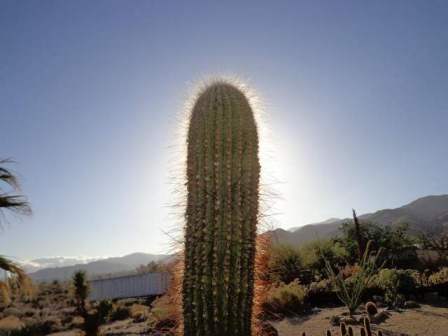 Image found here.