When I began to seriously focus on submitting my writing to literary journals, I was schooled on the concept that it takes about one hundred rejections to get an acceptance.
Since submitting to one hundred journals takes a lot of research work, I began working with a really awesome service that helps me target submissions and keep track of rejections. Over the past several years, I have found that the one hundred rejection rule is pretty much true.
What this means is that I now get A LOT of rejections. In those first years most submissions were done by regular mail so I'd often have a mailbox crammed with rejection notices.
Now most submissions are done electronically and it is my email inbox that is filled to overflowing with rejection slips. They tend to come in waves. None for a while then six or eight at a time. Rejections usually show up when I'm having a really crappy day.
Receiving a pile of rejections just makes everything SO much better.
When I started getting that many rejection notices, it hurt at first. Each one was a tiny "ouch" and made me sad. Who could reject my perfect little carefully crafted babies?
Over time, I became immune to the sheer volume of no-thank-yous. The skin hardens a bit, the outlook toughens and now I just shrug and say "okay" and move on.
It's what makes those occasional acceptances that much more sweet. A barrage of no and then a glowing, shiny, joyful yes.
Since I have had the good fortune to receive quite a few acceptances, my submission service has been trying to up my game a little bit.
By up my game, I mean in addition to the regular submissions to a lot of fine magazines that no one has heard of, they have been adding a few more well-known and highly regarded journals to my submission list.
I'm not quite up to the point of hitting up the New Yorker for publication, but names on the list recently include McSweeney's, Harvard Review, Zoetrope and The Paris Review.
I always giggle just a little when I hit "submit" on those queries. That's because the odds of my work seeing the light of such highly regarded and high circulation magazines is pretty slim. That said, you don't hit a home run if you don't swing at a few pitches. So I swing away.
The Good Man has a different view on the rejection process. He is always happy to see the rejections in the mailbox. His firm belief is that if they are saying no then at least they considered my work, if even for a moment.
He especially loves the so-called "good" rejections. The slips that have a personal note from the editor, or say something like "while we were unable to use this particular story, we'd like to see more work from you."
Those good rejections are a tiny bit of bread to a starving writer. Those few words are enough to keep me working hard to get to yes.
Anyhow, all of this was on my mind as this morning I sorted through a stack of mail and opened a couple rejection slips. I can recognize them right away because when I do paper submissions, I include a self addressed stamped envelope.
When my own envelope returns to me, it's almost always a no. Almost. I did get an acceptance one time in my SASE. I'd neglected to open it for almost two weeks and couldn't believe it when I did open it. That was a nice surprise.
Anyhow, this morning's envelope had a postmark from New York and inside resided the tiniest sliver of paper. What I estimate to be about one-eighth of a sheet of paper.
It's from The Paris Review. A highly revered title.
They were able to spare just a tiny sliver of paper to tell me no way, Josephina.
And for a moment, I'd like to think about some low to no paid intern reading my story, considering it and then thoughtfully sending this slip.
I'm sure they LOVED my work, it just didn't fit the themes on their literary calendar. Right?
Right.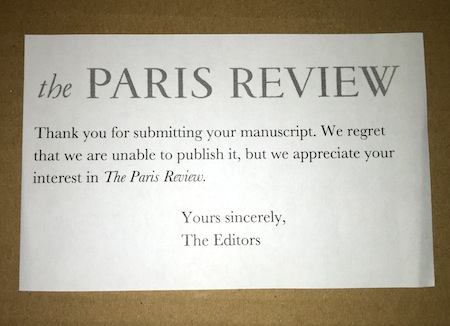 I don't know what to write I don't know what to write I don't know what to write.
Oh, I know, I'll try my old trick of using a random word generator.
Okay here goes. *click*
The word is: carnival.
Ooh a juicy word. Yes. Okay. Great. Here we go.
Heeeere we go.
Ok…now.
Ugh.
My mind is like a carnival?
Nah. It's like a carnival that's left town. Quiet. Dead. Bits of trash floating around.
That was almost lyrical and then it wasn't.
So goes the ongoing wrestling match with my demons. Well, not demons. That's an unfair characterization. My Muse is not a demon and my demons are not Muses.
Both are an essential part of the creative process.
In seeking advice from my mentors for my utter Jornada del Muerto** of creativity, I was reminded of the old advice: Just start writing. Anything. Just write.
And so I am. Writing. Something and nothing. I know if I can keep writing something and nothing it soon becomes a something about something and the wind fills my sails and I glide along that literary ocean, making progress. (metaphor much?)
But until that happens, I am thirsty and hungry and yearn for pretty words and meaty thoughts and the satiation I can only feel after feasting on a good turn of phrase.
Until then I wander the Jornada del Muerto of my mind. Am I off the trail? Am I still headed west? Will there be water soon?
I make the journey to find the story that flows from the word carnival. I'll carry it around in my virtual backpack until I figure out where it goes. Somehow. Somewhere.
My carnival awaits.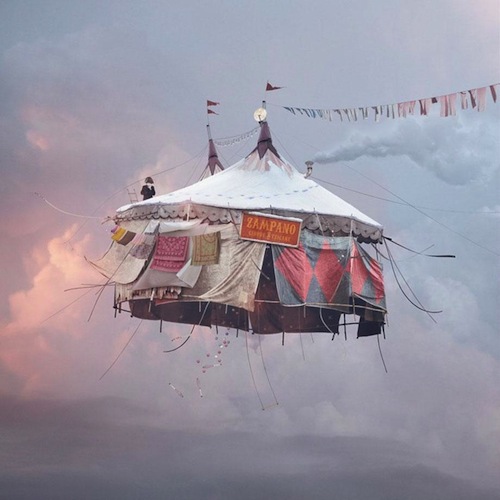 The copyright on this amazing photo belongs to Laurent Chehere who is a profoundly creative artist.

_____________

**With a nod to fellow New Mexicans. For the non New Mexicans, the Jornada del Muerto is a really long stretch of fairly bleak desert in New Mexico that contains no sources of water. It was not such a nice place for Conquistadors and settlers back in the day. Many legendary tales are told of travelers suffering the journey.

Recently I've been a little delinquent in spoiling The Good Man. Things have been crazy what with all of the international travel and working long hours and, well, life.
His birthday was last month and although we had a nice quiet celebration, I feel like I failed a bit to make the day something special.
The Good Man is a child of summer and it's easy to understand why his favorite fruit is the peach. Yesterday I found a nice ripe pile of the fuzzy stuff at the grocery store and brought several home.
"Cobbler or pie?" I asked after showing him the peaches. He began muttering the question over and over to himself like a philosopher mulling over the meaning of life.
"Or a crumble?" I followed, then, "Is that too many choices?"
For several hours after he wandered around the house "cobbler or pie…or crumble? Hmm…" This is a very big decision in Good Man Land.
Finally toward the late evening hours, I surveyed the ingredients I had on hand and began consulting cookbooks in preparation for his decision.
It was then I pulled out The Book of Love (dun, dun DUUUUUN!) to begin the search for recipes.
This Very Good Book: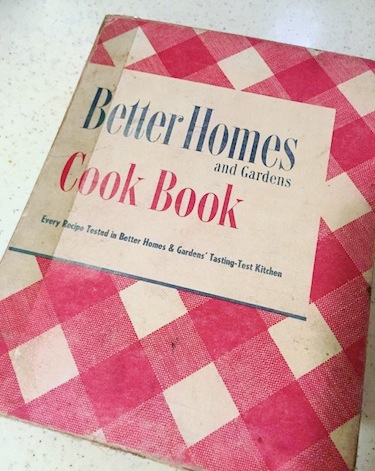 I think every person who likes to cook has a favorite or special cookbook that is the go-to for any circumstance, and this one is mine.

Taking a seat in a nearby chair, I opened the holy tome. I read the inscription inside the front cover. You see, this particular cookbook was a gift from my grandparents to my mother on the occasion of Christmas 1950.
My mom left it behind when she moved out and my grandmother kept updating the recipes inside. The Better Homes & Gardens magazines published recipes that the homemaker could cut out and add to the book, to keep it fresh. I love seeing my grandma's handwriting along with the food spots and spatters in its pages.
Some of the recipes are a little odd or outdated, but I'll tell you this, I've never made a recipe from this book that failed me.
As The Good Man walked by, he said in a voice a little quavery with anticipation, "I love it when you pull out that cookbook."
Oh yeah, he knows. Good things come from that 1950's made with yum cookbook.
Finally, after waiting for his answer and looking at recipes and thinking about my laziness factor, I decided for him. "Good news, you are getting cobbler."
He nodded, relieved the decision had been made and ready for the delivery on my promise.
That happens tonight. Oh yes and oh yum.
Best part about making baked goods for the one I love? I get to have some too!
This is where I ate my lunch yesterday: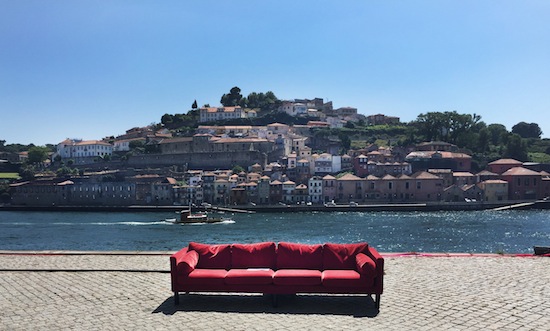 Copyright ©2015 Karen Fayeth

A velvety red couch by the beautiful Douro River in Porto, Portugal.
Wednesday was a beautifully clear warm June day. I sat on the pleasantly comfortable couch with two other people who are counterparts from another company. Two people I genuinely like.
We sat together companionably and talked and laughed and told stories. We couldn't believe our good fortune that the couch seating was open on such a gorgeous day.
Inevitably, time passed and it was time to go back inside the Alfândega Congress Centre, a historic former customs house, and go back to work.
Deep in very businessy conversations inside the cool stone structure, I couldn't stop my mind from wandering back to that place. That seat. That sun. That perfect moment. A delicious lunch with good and decent people on an oddly but fortuitously placed couch by the Douro river. In Portugal.
On the next break I wandered downstairs and back outside. After taking a photo of that now empty red couch by the river, I went down a few granite stairs and sat closer to the water. Small wakes from passing boats gently lapped the bottom step.
Then I starting thinking. Lovely thoughts on a lovely day. A workday, no less! What a lovely city in a lovely country. Just that easy. Just that difficult.
And that, my friends, is how a good memory is made.

A couple days ago I mentioned that I had been in Chicago for a writer's conference at the end of March.
I've been to Chicago many times (as in passing through on my way elsewhere) but I've never really been to Chicago. When a couple ladies from my class said they wanted to go into downtown for dinner I was totally on board.
We hopped on the L and headed from Rosemont into downtown and walked around.
The ladies were intent on seeing Cloud Gate, colloquially known as "The Bean" and I was onboard.
It just so happened that the March theme for my photography club was night photography, so I took along a camera just in case I saw something good.
The Bean is like any touristy object, it's been photographed thousands of times. I had no idea what I could do to improve on what's already been done, so I just had fun with this shiny reflective piece of art.
Here's what I got: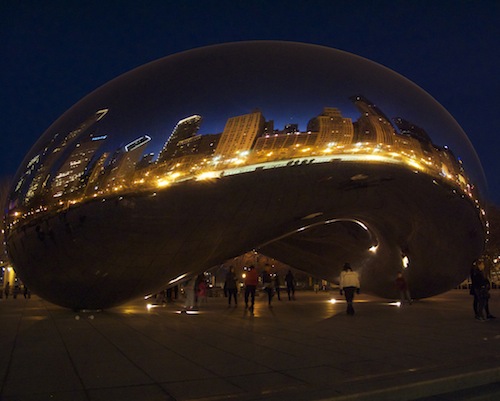 Image Copyright © 2015 Karen Fayeth

I think the Chicago skyline is so beautiful and a bit iconic as well. I love that at certain angles, the polished surface of the Cloud Gate just disappears into the sky like liquid silver. It's really cool!
My favorite part of the whole night was when my fellow travelers and I had found our way to Millennium Park and were a bit lost trying to find The Bean inside the park.
At one point, a bunch of kids came running and flowed around me like a stream while they pointed and shouted "El Frijol! Mira! Mira! El Frijol!" I smiled because I knew I was near. And I laughed because of course it's called El Frijol. My New Mexican pride stool tall as I found that big shiny bean.
I love the shot, but I wasn't sure anyone else would. Turns out this photo took second place in the voting for my photography club's monthly challenge, and that makes me happy (missed first place by one vote!).
After The Bean, we found our way to Giordanos because hello Chicago style pizza! Can you believe I forgot to take a photo of that delicious deep dish? Oh well.
This photo of Cloud Gate brings me good memories of downtown Chicago. I look at this beautiful bean photo and I smile.
Chicago is such a great city. Really top notch. I can't wait to go back.