You wanna cheat a little? I'll help you. C'mon, over here.
You didn't get this from me but…
Yesterday in the SFGate I read an article that gave examples of "oddball" interview questions asked by Silicon Valley companies.

As I read through them, I found them quirky (like most Silicon Valley companies) but not really that all that odd.
Given that I've got twenty years of being a manger under my belt and for most of the twenty years I have been recruiting in one form or another, I actually was pretty on board with many of these questions.
For the past two years at my current employer I have consistently either been interviewing for myself or sitting on interview panels. I've thought a lot about the all truly terrible candidates I've seen and how I wanted to take each of them aside for some coaching.
So many good people just can't find their way around a curveball interview question and that can really hinder their chances at getting hired.
When I started reading these so called "oddball" questions in the article, I thought about how I would answer them (or I would want a candidate to answer).
From there I decided to make a cheat sheet. Think of this as my free interview coaching and mentoring for the people out there hustling and trying to get a job. We all deserve to earn a paycheck and sometimes that barrier seems unreasonably high.
I have shown the question exactly as stated in the article and in parenthesis is the job role that this question applied to.
Here we go:
1) Describe the color yellow to somebody who is blind? (flight attendant)
First off, as a longtime interviewer, I think this is a genuinely lame question. You are just trying to throw the candidate off their game. Perhaps that is the goal.
However, since this applies to a flight attendant, I believe the interviewer is trying to see how you can apply complex concepts (such as, oh I don't know, FAA regulations) to someone with no frame of reference for those concepts (such as any clueless airline passenger).
Here's how I would answer it:
Since a blind person does not have visual cues to reference I would want to reference their other senses. When I think of yellow in other sensory terms, I might, for example, ask the person how it feels when they are outdoors and feel the sun on their face, because that is how yellow feels to me. Or ask them to think of how a freshly cut lemon smells because that also invokes the color yellow for me.
2) What is your favorite 90's jam? (customer care)
As this is a customer care role, they are looking to see how relatable you are. Instead of trying to impress the interview panel with your knowledge of obscure indie rock, I suggest going a bit mainstream with an edge to show you have some verve but you can also relate to the common person.
Here's how I would answer it:
There are so many groundbreaking artists from the 90's but I have to go back to the band that for me really defines the 90's music, and that is Nirvana. Kurt Cobain's complex musical genius stands up today. I can't help but crank up "Smells Like Teen Spirit" every time I hear it, even if it's just playing in Muzak form on the elevator.
3) If you were asked to unload a 747 full of jellybeans, what would you do? (IT support manager)
The interviewer is trying to get at the candidate's thought process for solving big problems. I suggest giving them a pretty detailed answer to show how you assess the root cause of the issue and put a plan in place to resolve the problem.
This is one area where A LOT of candidates fail, in my opinion. Almost all interviewers ask some form of this question, i.e. show me how you solve a problem. Most candidates are unable to show me how they get from point A to point B to final completion. It drives me batty.
Here's how I would answer:
First I would need to assess in what form the jellybeans were loaded onto the 747. Are they neatly wrapped in boxes? Then I would assess how many and what size boxes and then form the appropriate team to efficiently load the boxes onto pallets and schedule forklifts to quickly remove them from the plane then work with logistics to get them delivered to their proper location or locations.
If the jellybeans are loose on the plane, that is a much bigger problem. First I'd have to assess if they are piled up to the doors and how I can crack open that door without losing a lot of the cargo. I'd consult with experts in the jellybean packaging field to understand how to load out the jellybeans into boxes or other appropriate packaging and then obtain that packaging and other equipment that might be needed. I would then form the work team to first package the jelly beans then find the right crew to offload the packaging onto pallets and then forklifts to allow logistics to them move them their final destination.
4) What did you have for breakfast? (retail clothing sales associate)
This question is just intended to get a candidate out of the rote answer and response mode. Fine. Kind of a lame way to get there if you ask me, but okay.
How I would answer:
This morning I had a homemade breakfast burrito that included eggs, non-dairy cheese since I am lactose intolerant, green chile and some pinto beans. I like a nice mix of protein and carbs to start my day. And I washed all of that down with a nice soy latte. Gives me a good base for the day's energy requirements without pesky drops in blood sugar.
5) What would you do if you were the one survivor in a plane crash? (Trust and Safety investigator)
Okay, given the job role being considered as a safety investigator, I don't really consider this one an "oddball" question at all. This is right in their wheelhouse and I think anyone with these skills applying for this job would have a solid answer.
Here's how I would answer it but I may be off base given the job function where I have no experience in this function:
Immediately following the incident I would quickly determine that I truly was the only survivor and would make sure I gave aid to any other passengers who may still be alive. If I am genuinely the only person alive, then I would stop and assess the situation. First I would look to see if the communication system of the plane still works. Am I able to contact someone for assistance? Then I'd also look for flares or other ways to flag down help.
From there I would study the surroundings. Where am I? What are the prevailing conditions, i.e. am I in the water? Am I in the snow? Is it very hot or cold? I would begin by constructing some form of shelter against the elements. Then I would search the plane's remnants for food and water and collect those together in a single location. I would also begin looking for a source of heat. Then I would need to consider the potential dangers and find ways to prepare. For example, am I in the woods and is there potential for bears or wolves to attack? Then I must take proper precautions with my food and water and maybe a means of defense if needed.
(this response could really go on and on in my opinion, but you get the idea where I'm going)
6) If you woke up and had 2,000 emails and could only answer 300 of them, how would you choose which ones to answer? (Rotation program candidate)
This is just another form of "here's a problem, show me how you would resolve it"
Here's how I would answer:
I'd take a first run through the email to see if any of the subject lines list "RUSH" or "URGENT" and attend to those first looking to be sure there was not a long chain of conversation on the issue and if it was already solved.
Then I would sort the email to look for groups of long chains of email conversations and then review them based on subject line to determine which take priority then only open the very last item in the conversation chain, as that will contain all of the prior information. If that last email resolves the problem then I'd move on to the next chain of email.
7) What's your favorite Disney princess? (fast food crew member)
I personally balked hard at this question, I think it's not really a suitable question, but again, designed to throw the candidate off their game to see how they think on their feet.
Here's how I would answer:
While every Disney princess has their merits and detractions, I think I would say my favorite is Ariel from the Little Mermaid. Why? Because for better or worse, she had a clearly defined goal and a clearly defined methodology for obtaining that goal. While I may or may not completely agree with how she went about it, I respect that she got results, i.e. marrying the Prince.
8) Who would win a fight between Spiderman and Batman? (medical simulationist)
This is another of those not really oddball questions given the job role. In this scenario they are genuinely looking for the candidate to create a simulation and then run it through.
I have to admit, this one is going to be a bit hard for me as I'm not that well versed in the superheroes, but here's my shot at it.
Here's how I would answer:
What we're looking at here are people with different sets of skills and tools at their disposal. Spiderman's talents are a bit more organic, he's strong, he moves well and he's got that webbing that he can use very well to his advantage.
Batman comes fully loaded with a lot of sophisticated gadgets that he can employ at his disposal.
So who would win the fight? Well, that's tough to say, but given the backstory and maturity of the superheroes, I tend to lean toward Batman. He's older and more experienced and very savvy about the world. Spiderman is a bit younger and more impetuous. He has moments of brilliance but also has made some big mistakes.
Also, Batman has very little to lose while Spiderman has more family and a girlfriend to fight for. Given the battles, usually the one that has nothing to lose will fight the hardest.
9) How many people flew out of Chicago last year? (software engineer)
Ugh. What a question. What the interviewer is looking for is not that you can quote the number off of the top of your head but how you will go about getting to the number. Again, solve a problem and show me how you'll do it.
Here's how I would answer:
Well, since I don't retain this sort of data off the top of my head I cannot give you an exact answer, but let me tell you how I would go about gathering that information. It could be as simple as a Google search of the question, but I'd want to be sure that in addition to O'Hare and Midway that I am accounting for all small regional airports and airlines.
If a simple Google search could not net me the answer then I'd expand my search. I am sure that there are many statistical bureaus (often used by marketing agencies) that have this kind of information readily available either for free or at low cost.
If that doesn't work I would then try contacting FAA personnel to find the answer. I suspect that the FAA would be curious as to why I'm asking the question, so I'd want to be able to define the use of this data and make any assurance that I'd keep data confidential if needed.
As a last resort, I would compile a list of every airport in Chicago and then call each airport directly to request the information.
10) If you had a machine that produced $100 a day for life, what would you be willing to pay for it today? (research analyst)
Another question that doesn't seem so oddball when you look at what job role is being recruited. This one is pretty hard to answer off the top of my head. And another example of here's a problem, show me how you'd solve it.
Here's how I would answer:
This machine would provide me an extra $36,500 a year. I would then want to consult actuarial tables to understand my personal life expectancy and then run a value analysis of that $36,000 over the remaining years of my life to understand the total present value in today's dollars.
Then because I am a negotiator I would set a range of 15% to 30% off of that number because I think that while the machine has value, there is also upkeep and maintenance to consider and also I just like to get a deal. I'd also investigate why the person selling the machine would get want to get rid of it and bake that into my negotiation plan.
(Probably not the right answer for the job role but that's how I'd play it. If they wanted me to actually quote a number I'd ask for a few moments and some scratch paper to work it out.)
11) If you were a Muppet, which would you be? (Executive support)
This is kind of a cute and fun question. I like it and wonder if I can add it to our list of questions for candidates. This gives a moment of lightness and shows how the candidate thinks on their feet.
Here's how I would answer:
This is a tough question because each Muppet has their advantages. I like Fozzie Bear because he's funny and very kind and incredibly supportive of Kermit through trials and tribulations. I like Gonzo because he's a risk taker and doesn't get discouraged when he fails. But ultimately I'd like to be Kermit, he's talented, smart, kind and he knows how to keep that show running show even when chickens are flying out of cannons and monsters are eating the guest host.
12) Why is the earth round? (software engineer)
This must be an engineering question because this one stopped me in my tracks. That will really throw a candidate off their game.
Here's how I'd answer.
The earth isn't actually round, it's more of an elliptical shape.
If they follow up with why is the earth an elliptical shape I'd take what tiny bit of knowledge I have and say it's because of gravity. For example, when I put a magnet in a pile of iron shavings it will pull them into a circular shape. The oval shape is easiest to form for nature to build and highly aerodynamic as earth hurtles through space.
(starting to drift into making things up at this point! Time to wrap up this answer.)
13) How many gas stations are there in America? (Senior financial analyst)
This one again seems to fit the job role they are recruiting for. They don't expect you to know the number but to explain how you'd get there.
My answer is going to be very similar to the number of people flying out of Chicago question.
Here's how I would answer:
Well, since I don't retain this sort of data off the top of my head I cannot give you an exact answer, but let me tell you how I would go about gathering that information. It could be as simple as a Google search of the question, but I would want to be sure that I understand that all gas stations are included in the data set. Do we include Hawaii and Alaska or just continental America? Do we include the US territories?
If a simple Google search could not net me the answer then I'd expand my search. I am sure that there are many statistical bureaus (often used by marketing agencies) that have this kind of information readily available either for free or at low cost.
If that doesn't work I would then determine if there is a government oversight agencies for all gas stations that may have this information available.
I would also want to ask the person requesting this information if they need a precise answer or a ballpark. That makes a significant difference in the level of effort to get this data.
14) You have a 1 mile long x 1 mile wide private island you wish to turn into a resort. A plane requires a 2 mile long runway to take off. What do you do? (QA analyst for a gaming company)
Another question that seems oddball until you see the job function. A good QA person should know how to look at a problem and look at a lot of possible solutions. I am not a QA person but I can take a good run at this question.
Here's how I would answer:
Simple, I'd see about getting a seaplane to transport guests to and from the island. No terrestrial runway is necessary.
If the seaplane is not feasible, then I'd consult with the proper experts in building sturdy runways over water (many exist, the San Francisco airport is but one example). I'd need engineers to assess the ground under the water to see if it can support the pylons. And I'd need to understand the cost to build such a runway and run through my business plan to see if the expected income from the resort could cover the enormous debt outlay to build the runway. I'd also check with the airlines to see if they would help subsidize some of the costs to build the runway.
15) Given 25 swimmers and a pool with five lanes, what is the minimum number of heats needed to determine the three fastest swimmers in the group? (data scientist candidate)
I'd suspect a data scientist would rattle the answer off the top of their head. I'm just a lowly MBA so I would ask if they want the exact answer or understand my thought process on how I'd get to the answer. Assuming they want a number I'd ask for a few moments and some scratch paper to figure it out.
Here's my answer and I'm pretty sure it's wrong:
5. I'd run each heat with a swimmer in every lane, which would take five heats to get all 25 through. I'd time the heats and then I'd know who was fastest. If I'm not timing the heats then I'd need a sixth heat for all of the first finishers from the beginning five heats.
16) How much do you charge to wash every window in Seattle? (sales operations candidate)
Okay, this is a really long list of questions and I'm getting tired and a little cheeky at this point. I'd probably snap off something like "enough to cover costs and make a reasonable profit" but what I do know is that, like many of these questions, they are looking at how the candidates will show how they get the information.
Here's how I would answer:
First I would need to do some data mining. How many windows are there, how much is my cost per window, how many windows can be washed in a day, how many crew members do I need per buildings and how fast does the window washing need to be completed? Then I would run some data modeling to understand my costs and establish my projected profit margin on top of costs.
Then knowing that any customer wants to negotiate, I would work to understand where my gives and takes are. Can I cut costs back in some area (i.e. smaller crews that would take longer to complete)? I would pad my profit margin going in with the original quote knowing I will give some of that up.
I'd also look to see if any or all of the work can be subcontracted out if window washing is not my firm's core competency.

————
Okay, I can't believe I was actually inspired to answer all sixteen of these questions, but I was. Mild OCD can be a beautiful thing sometimes.
But to be honest, if this even helps one person get their thinking straight so they can go in and knock out an interview, than I have done a good thing.
I actually had fun with these questions. I suppose I like a good (quirky) challenge.
I'm curious if anyone out there has better ideas for some of these questions. I'd love to hear your take!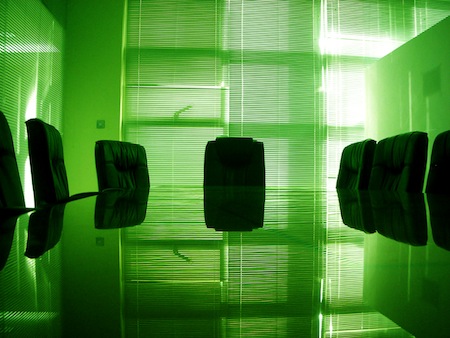 Image by Barun Patro and used royalty free from FreeImages.com.

Over past few years of my life I have been fortunate enough to engage in some international travel. I have truly visited some of the great cities of the world.
Traveling outside of the borders of the United States has made me a better person in many ways, not the least of which is that I have come to appreciate my own country more by not being in it for a few days at a time.
I recall spending Fourth of July in England, gazing over the Thames while pondering that the Fourth of July is about so much more than hot dogs and sparklers. It really made the summer holiday mean something to me.
The other thing that international travel has done is give me a front row seat on gaining perspective of just how large this big blue marble really is. Gigantic. And how people are different and yet people are the same.
One aspect that I have experienced on each of my overseas trips has been a small moment of humanity, a connection, finding a shared place with another person even as I feel the dislocation of being in another country.
It happened in Dublin, and is such a fond memory. It also happened in Amsterdam, and I guess it's taken a little while for the beauty of the interaction to sink in.
Let me tell the tale:
I arrived in Amsterdam on Sunday at about 7:30am. Schiphol airport was quiet and calm in the early morning hours.
My fellow passengers and I came off our flight from Newark and walked into the airport, quickly cleared customs and stood by the baggage return waiting.
And waiting.
You see, in Europe, things don't always move on the timescale that Americans are used to. It's just how it is.
I hadn't slept in something like eighteen hours and I was wobbly on my pins, but resolved. Finally after the eternity of a half hour, the bags started rolling through the baggage return. Hooray!
People scurried to get their luggage and wandered off into the Amsterdam day. I kept watching bags go by that were not mine.
Finally the flow of luggage slowed to a trickle and I knew, I just knew. My bag didn't make it.
I had a very tight transfer time in Newark, less than an hour, and I had flat out ran to get between gates and onto the plane, so I was just certain my bag didn't make it as fast as I had.
Shoot. That was the word foremost in my mind. Only not the word with the two o's in the middle. The other word. I just kept saying that word over and over and over.
I looked around and saw I wasn't alone. There were about eight of us standing there with no luggage.
We all looked at each other, shrugged and walked in unison over to the United Baggage customer service desk.
I was toward the back of the line so I struck up a conversation with a dude standing in line with a guitar slung over his shoulder.
He told me that he and his wife had come from Cleveland and that they were in Amsterdam to see their son, who is in a band, play a show. They were going to follow him on a couple tour stops.
Then he pointed to his guitar and said, "I'm going to try to do a little busking while I am here. The quality of the people I've seen busking in Amsterdam is pretty low, so I know I can do better than that."
I spent too many years in the company of musicians to do anything other than laugh and agree. And I said, "That's cool. When I get some Euros, if I see you playing, I will throw some your way." He laughed and said thanks.
About that time the United customer service person said that the baggage handlers had failed to look in the "basement" of the plane, and our bags should be along directly. Lo and behold, my stuff showed up. I whipped it off the baggage return and stumbled my way out into the beautiful Amsterdam morning.
And then I settled into my little Amsterdam life, walking the canals, eating stroopwafels, visiting the Van Gogh museum, and work. Oh yeah, this was not a vacation but a work trip, and the work meetings were two full days (day and night) and massively intense.
On Tuesday evening, I stumbled out of the offices with my brain dead and my body exhausted. We had been through an intense day and were on a short one-hour break before meeting back at the offices to go to dinner.
I strolled along the Singel, which is the center of Amsterdam. I was so tired and concentrating on not turning my ankles on the cobblestones near the flower market. My hotel was only a few blocks from there.
As I walked, feeling out of my mind and brain dead, I heard someone playing guitar and singing. I remembered the guy I had met at the airport and wondered what had become of him.
As I rounded a curve, I saw a man in shorts and a porkpie hat busking at the end of an alleyway and in front of a closed store. He was putting a lot of gusto into the song, "Santeria" and had his backed turned to me.
I walked past and looked. Sure enough, it was my fellow passenger.
I pulled out my wallet and looked to see what I had to give. I found a five Euro bill, then walked up and said, "I promised I'd give you some Euros" and dropped the bill into his guitar case.
He looked puzzled and said, "Thanks. Are you an American?"
He didn't recognize me, so I said, "We've met. Remember at baggage claim in Sunday?"
His eyes went wide, "Heeey! How cool is this?" He pointed out his wife who was shopping one of the stores a bit down the path. He told me he had seen his son play the night before and that he and his wife were off to Brussels in the morning for his son's next show.
We chatted for a few moments, then I said, "I just had to stop and I'm so sorry for interrupting your song, that is rude of me."
"No, no! Here, let me give you something! Here, take one of our CDs."
So I did, and I thanked him and headed off with a smile on my face and a little more bounce in my step.
I get that Amsterdam is a small city and that the flower market is a popular place to be, but that one moment of humanity made this great big gigantic overwhelming world seem just a little bit smaller.
That felt pretty good to a little tired American girl wandering the canals of Amsterdam.
With a cheers from San Francisco to the fine city of Cleveland.
Here's the band if you are inclined to check them out: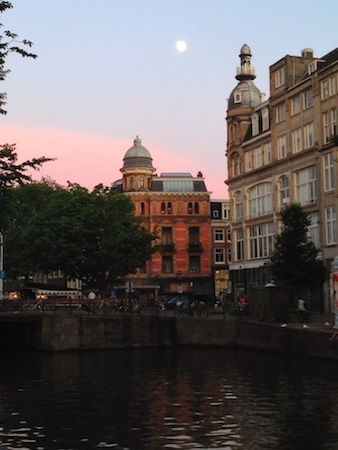 Copyright © 2014 Karen Fayeth

I took this photo later that same night with a couple of Dutch beers under my belt and a song in my heart. I call this one "Amsterdam Moon" for the The Mavericks song of the same name.

Photo Copyright © 2014, Karen Fayeth, and subject to the Creative Commons license in the right column of this page. Taken with an iPhone5 and the Camera+ app. Post processed with Snapseed.

Now that I have been a member of the photography club at my place of employment for just over a year, and have been attending meetings and listening hard, I think I maybe kind of sort of have earned a teeny tiny bit of respect.
Because this month, both of my submissions for the monthly photo contest made the cut. BOTH!
The rules each month are that you get to submit two photos. We review and critique all the photos in our monthly meetings and then there is an anonymous voting app we use. When votes are tallied, the top four vote getters are published internally at the company.
So yeah baby! I have had one of my photos make the cut before, but never both. It is a little unprecedented. Woo hoo!
The theme this month was double exposure and my two prize winning photos are below for your perusal.
The first one feels really special to me. I took both of the photos in the image while I was in Dublin. It was at the end of my one lone day of tourist time after an intense week of work, and I had walked for miles. I was exhausted and it was raining like it only can in Ireland.
Tired and soaked to the bone, I was bound and determined to find this sculpture of Oscar Wilde. This was after I had stood in a very long line (in the pouring rain, a nice lady shared her umbrella) at Trinity College to see the Book of Kells. That exhibit was exhausting in itself. Way too many people jostling around.
The park where Oscar resides is about half a mile from Trinity college and I wasn't sure I was going to make it. It was driving rain and windy and I was so tired that a nice warm cab looked like a good idea. I stopped to rest twice on the short journey, but forced myself to keep going and once I arrived at the park I was glad I did.
The small, lush, green Merrion Square park was silent as I stood there getting drenched looking at this remarkable statue of Oscar Wilde. A small tour group came by and the tour guide said the artist sourced these incredible and colorful stones from all around the world. It is a beautiful statue and so unique as it reclines on a rock.
When it came time to figure out something to use for double exposure, I thought of this statue and of the very old books I had seen at the Trinity College library (I had watched a video about the method used to bound the tomes and was endlessly fascinated).
Using some tools I had learned in a recent photography class about overlay for textures, I fiddled around in Photoshop and came up with this:
Title: Author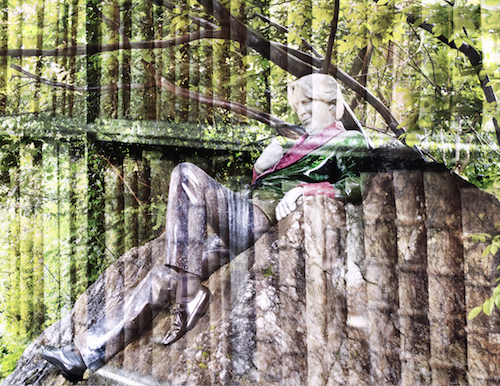 Photograph Copyright © 2014, Karen Fayeth


I was unsure if the photographers in the club would find the image too discordant. It's almost jarring, but I love it. It's hard to photograph a statue and have it be anything more interesting than a photograph of a statue. This to me brings depth and texture to the photo and I am so happy with the results.
The other photo I submitted was something I had been visualizing for quite some time.
As I continue to hear all of the news reports about the drought here in California, I was pleasantly surprised that the lack of rain didn't halt the springtime explosion of California wildflowers. I am mildly obsessed with California Poppies (the state flower) and I love the yellows, reds and purples of other flowers growing in medians, between sidewalk cracks and at the edges of yards.
I picked several of the flowers and shot them using a technique I learned from photography master Harold Davis. Then I took a free stock image of textural dry and cracked ground and combined it with my flower photo. When I look at it, I think of many things I could (and should) go back and tweak, but so far this photo is garnering nice attention.
Title: Drought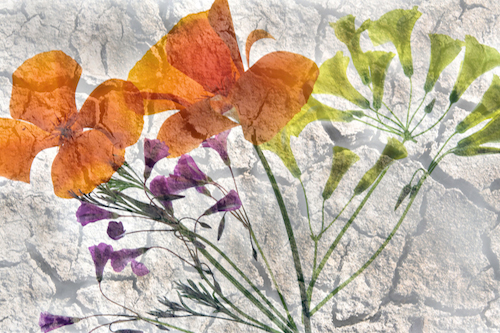 Photograph Copyright © 2014, Karen Fayeth

When submitting both of these photos, I wasn't sure how my surly team of scientists would respond. Both of these photos are kind of arty, but they also show I have some Photoshop chops, and I think they liked that. They had a lot of questions for me on technique since I used a different approach for each photo.
Also, I think the club as a whole struggled with the idea of double exposure. It's too messy for their orderly minds. I had a film camera in high school that I liked for making double exposures. It can either look weird or really cool. Doing a double exposure in Photoshop gives me more control over how the two photos overlap and how the double exposure looks, and I like it.
Anyhow, thought I'd share my winning photos with you.
Next up, travel to Amsterdam. Wonder what treasures I can find to photograph there?
Both images, Copyright © 2014, Karen Fayeth. Shot with a Canon G10 and combined in Photoshop. Stock image of dry ground from Free Stock Textures.

This has been one hell of a week, I mean, just top to bottom really something else.
I have had good days, and bad days (…but when the day is through, I'll always get lucky with you…this song goes out to The Good Man on an overcast and rainy day in the Bay – thus ends my Merle Haggard rendezvous) but overall I can actually say I learned some things this week.
Yes, that's right, this old dog has seriously learned some new stuff over the past several days and I want to share it with you.
Maybe I should start by sharing something I learned just right now: the distance between typing "share" and typing "shart" is only two keys away on the old keyboard. Dangerous.
Now seriously, let's get to the learnin'
1) It turns out that the song Let It Be, made famous by the Beatles and written by Paul McCartney, was actually originally intended for Aretha Franklin to record. And record it she did.
Unfortunately, some fiddle-faddle with her label prevented the song from being released, so the Beatles went ahead and recorded it and released it first.
Give the Aretha version a listen and tell me if you don't get chills, because I started crying when I heard it, it's so beautiful and so different from the Beatles version.
I know that song became a bellwether for the Beatles, marking when the group first broke apart, but damn I wish the Aretha version was first to the scene.
It's stunning.

Link: http://youtu.be/w09Jcjj_QOI
(If for some reason the video doesn't play or the link to the YouTube above doesn't work, please just Google "Let It Be Aretha" and you'll find it.)


2) Then there was a space item of edumacation I discovered. Here it is: If there was air in space, the sun, our own little fireball, would make sounds like ringing of cathedral bells at a volume just above that of a train whistle.
If space were replaced with air and we could hear the Sun, it would be incredibly noisy – the output of the Sun is equivalent to 10 million keys, or notes, of a piano. In fact you would struggle to hear little else! Throwing out an energy of 383 yottawatts per second, we get a translation of 290 decibels which makes for a very, very loud Sun indeed.
And it would go on ALL THE TIME.
It seems like that would be cool at first and then it would be like "rip my ears off my head, I'm done now."
But profoundly cool to learn.
Reference: How Loud Would Stars Be If Space Was Full of Air.


3) I even managed to learn something about my Fair New Mexico this week. On Facebook I noticed a graphic with all of the applicable New Mexico State symbols, most of which I knew quite well.
One I did not. Let me drop my new knowledge on you.
New Mexico has a state slogan and that slogan is:
Everybody is somebody in New Mexico
Is that because no one is anyone everywhere else? I mean, huh?
It's certainly a noble thought but of course brings out my inner comedian. I'll spare you.
By the by, there is also a State Motto (that I already knew) which is:
Crescit eundo (loosely translated to mean "it goes as it grows")
And what about the state nickname "Land of Enchantment"?
Since I am a good soulless corporate drone, I think we should create efficiencies!
New Mexico: Somebody grows in enchantment
Let's call that good, huh?


And there you have it. Is your mind blown? Mine is.
Actually there is no more space left in my brain. Better start drinking so I can clear out some brain cells for next week.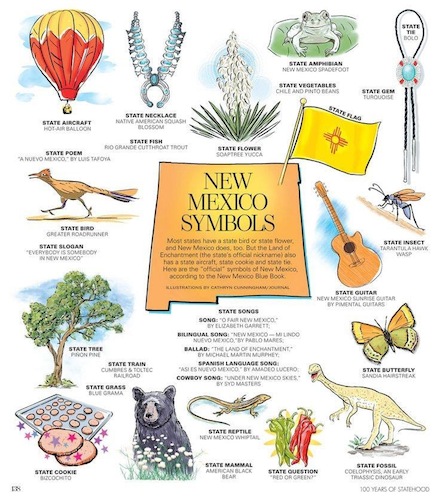 Image from the Visit New Mexico Facebook page.

As longtime readers know, I have been trying for a few years to get my little ol' words and stories published out into the big, cold literary world.
To that end, I have been using a really lovely submission service to assist. For a fee, these kind folks proofread my work, do market research and help me get submissions out there.
Which means that every three months I go out to somewhere between 25 and 30 magazines and journals, asking them nicely if they will publish my stuff.
What this also means is that I receive piles and piles of rejections. When magazines were still mostly paper submissions (not that long ago, actually), my mailbox would fill up with my self-addressed stamped envelopes returning home with a form letter tucked inside.
Now that most submissions are online, my email inbox gets loaded up with rejections by the dozen. They always seem to find their way to me when I'm having a bad or cranky day and that rejection is like a little sparkly topper on my crap cupcake.
Last time I had a check-in session with my support team at the submission service, they quoted some stats for me. As of a month ago, I had sent out something like 400 submissions, which had resulted in five acceptances. (one of my essays was actually accepted to three places)
What I'm getting at here is that I get a lot of rejections. A lot. And over the course of something like 400 submissions, I have become fairly immune to them. Another day, another no.
I am quite sanguine with rejections and don't take them much to heart anymore. It's all a numbers game. My submission service says their long and vast history shows that the average is about one acceptance for every 100 submissions. Average. Which means some people go less than that, and some people go more. But over the course of many quality writers, it takes 100 nos to get to one yes.
Those aren't great odds.
Early in this past calendar year, I ran across this really funky short story contest. It was being put on by a well-known luxury brand and was open to everyone on the entire globe for stories written in any language.
They offered a prize worth €5,000 (~$7,000USD) and worldwide publication in a new literary collection that would coincide with their new product line. The collection would be sold online and in retail stores around the world.
I was really intimidated by this contest but couldn't get it out of my head. I hemmed and hawed and finally read all the rules and restrictions. I even searched for and downloaded the special font they wanted submissions to use.
I twisted and agonized and worried over this contest. Then I made a deal with myself. I had to enter. I made myself promise to simply submit a story, even if I knew it was crap. Just…I had to simply write SOMETHING and submit it.
What happened next was just short of magical. I wrote a story that wasn't crap at all. It was one of those "in the flow" moments where the words poured out of me like clean fresh water and splashed beautifully onto the page.
I sincerely believe it is the best thing I have ever written. I often worry that it is my pinnacle and I may never do better. Then I get mad at myself and proclaim I can probably do better but I will have to work really hard at it.
At about an hour before the deadline (in June), I sent my beautiful little work of art off to the good people in Europe and I walked away.
After 400 submissions and counting, I have learned to send it and forget it.
But I couldn't forget it. This contest and this story haunted me. I had dreams about it and would catch myself thinking about it with some frequency.
And I knew this was Not Good. Overthinking never comes to a good end for me.
In August when I was on a trip to a family reunion, and I was in the car with The Good Man and my beloved cousin, I brought up the topic. These are two safe and supportive people and I knew I could be completely vulnerable with them.
They heard me out, gave me many comforting words and sagely suggested that I do my best to simply forget it before I made myself certifiably nutty. They had both read the story and knew what I was worked up about, but they also knew I had to let it go. Just let it breathe.
Their words were soothing and I did my best to heed them. I pretty much let go of thoughts of this damn contest and would only think of it now and again when something would remind me.
Well, long way around the barn, last week I got notice from those folks at the lux European brand. I didn't make it.
Of course I didn't win. I knew I wouldn't win. I think somehow I found myself a little too in love with my own story and that blinded me. And hopeful. I was too hopeful.
So yes, I didn't win and I took it very, very hard. You would think after 395 rejections that one more wouldn't matter. For reasons I can't quite articulate, this one really got under my skin.
My callus is not quite strong enough yet, because this one story that makes me actually believe I am a genuine writer (and not a dilettante) can still work a blister on my tender psyche.
I think my cousin (who is also a writer) calls the submission process a meat grinder. Or maybe that's what I call it? No matter. It is. A meat grinder.
What's next from here?
December brings the next cycle of submissions through the service I use. I will pull out one of the many stories and essays I have built up and I will edit and sculpt it and I will submit it. Then I will receive another thirty or so rejections.
In 90 days I will submit something else and I will get more rejections and the cycle will continue on, as it should.
And this one really sore spot, the unexpected blister, it will harden with time. It will add another layer to the callus. It will make me that much more resilient the next time around.
To any who might wish to give me the well known platitudes like "Each rejection brings you one step closer!" can hang on to them. 395 rejections and five acceptances mean that I'm well past platitudes. I'm not a newbie. I know what I'm up against.
And I know I wrote one hell of a story. Perhaps one day I will give it another chance to weather the mean old world on its own. But for now I'll hold it close and hide it away until the owies stop.
It's an exquisite pain, really. One I have earned.

Image found here.

This past weekend was something like a "what weekend?" as I worked my tail feathers off both days. About 1/3 of the tail feather workout was due to my job. Yes, I get to work for free on behalf of my employer, even on my days off. The joys of being a salaried employee.
The other 2/3 was working on my own sideline creative stuff. I did about 25 story submissions, I edited a photo that I will be showing later this week (that takes such a long time…a little burn here, a little dodge there), and I wrote a story for the first round of the NYC Midnight Flash Fiction contest.
The contest works this way: They give you a location, a genre and an object. All three have to be there in the story. This can be both liberating and constraining, depending on what you get. My draw for this first round was romance/haunted house/marshmallows. Not bad, not great.
Sunday around noon I found myself starting at that cursed curser blinking at me and I tried to find a story idea that was scary and lovey and marshmallowy all at the same time. A challenge. I was writing words but they weren't coming easily. My iMac sits on a table near a window, and something caught the corner of my eye as I labored. I looked out the window. Seems on that sunny creatively frustrating Sunday I had an auspicious little visitor.
I grabbed my camera, put on the longest lens I own, popped the screen out of the window and started clicking away.
I'm so glad I did.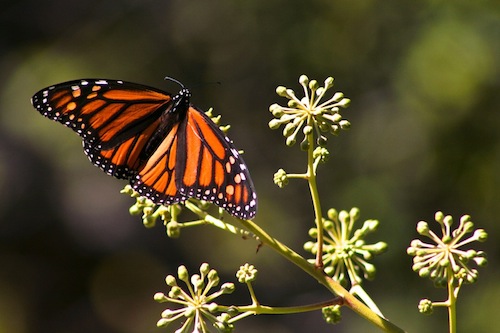 Photo copyright 2013, Karen Fayeth

This gorgeous lone Monarch Butterfly was just hanging out in the warm sun, using the ol' proboscis to gather some pollen and doing its butterfly thing. As I watched, a couple bees were highly displeased at the presence of the butterfly and kept strafing him (I say him correctly, I looked up Monarch butterflies online and the dots around the wings signify a male. edit: Upon further Googling, I think this is actually a female).
These bees were executing deep aggressive fly bys that only caused the butterfly to flap his wings a bit but stay put. Man those bees were persistent. And I kept snapping away. I have some awesome action shots that I'm still editing.
After a while, the butterfly flew off and I downloaded and looked through my photos, very pleased with the results.
Then I sat back in my chair and I smiled. After the visit from Mr. Butterfly, I felt totally motivated and completely creative. I turned back to my story and banged out about 1,300 words in one sitting. Then set it aside and let it percolate while The Good Man and I went to local street fair.
When we came back I edited the beejeezus out of the story, got it to 999 words (the limit is 1,000) and submitted it about 45 minutes before the deadline. Man oh man hitting send on that story sure felt good.
I owe my creative surge to a visit from a pretty orange butterfly on the first day of Autumn.

Photo copyright 2013, Karen Fayeth, and subject to the Creative Commons license in the right column of this page. Taken with a Canon Rebel, edited lightly in Elements.

Blog post written for and on behalf of The Good Man.
_________________


Late last week we all got the news that the Supreme Court had handed down their opinions regarding both the Defense of Marriage Act (DOMA) and California's Prop 8. There was much news coverage all around as same sex couples are now allowed to marry and receive federal benefits.
As in any Supreme Court case, there is the majority opinion and the dissenting opinion. Each must be written up as a point of record.
In the instance of DOMA, Justice Anthony Kennedy wrote the majority opinion and it was Justice Antonin Scalia who wrote up the dissenting opinion. I actually made it a point to read Justice Scalia's opinion as I was interested to hear what points he might make in his dissenting case.
What I got was a blast of vitriol, indignation and sarcasm.
My favorite line in the whole piece, however, was this:

"As I have said, the real rationale of today's opinion, whatever disappearing trail of its legalistic argle-bargle one chooses to follow…"

Did he…did a Justice of the Supreme Court of these United States just use the term "argle-bargle"? Is that for real?
I looked around and confirmed in several spots that indeed, yes, the term argle-bargle is now a part of the legal and constitutional history of our country.
Wow.
So of course I immediately sent this over to The Good Man. We are both big fans of the television show Boston Legal which often featured a doddering old judge (played to perfection by Shelly Berman) who would use terms like "stop all this jibber-jabber" and then proclaim "I am the decider!"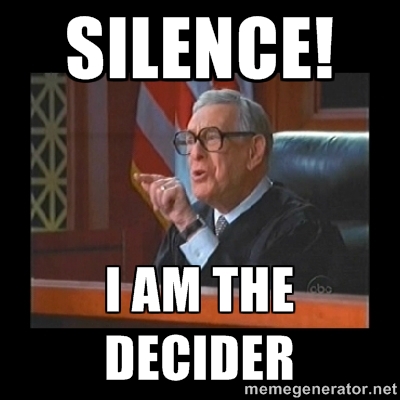 So good they made a meme

But it was The Good Man who reached even farther back into the folds of his brain and pulled out an audio recording he remembered from his youth.
On an album entitled "Monty Python's Previous Record" released in 1972, there is a track named "Teach Yourself Heath".
In the track, the Python crew mocks the accent style of British conservative Prime Minister Edward Heath. This would be something akin to the Saturday Night Live tradition of sending up the US President.
Click here to give it a listen if you wish. It's at about the 3:22 mark (for reasons unknown this clip is subtitled in Spanish):
In the clip, the phrase argy-bargy is used. A short Google search shows that argy-bargy is a rather low-brow bit of British slang used to describe a lively discussion or vigorous dispute.
So this begs the question: Did Justice Scalia really use modified British pub slang in his dissenting arguments?
and
Is he just a big ol' Monty Python nerd?
Either way, it's pretty fascinating. Usually American politicians tend to shy away from anything British, especially anything relating to British politics.
As we get very near the day of celebrating our independence from the King of England, Justice Scalia went all Monty Python. (Do you think he has his own funny walk under that robe?)
Wow.
'Merica! With a British twang.

Judge Robert Sanders photo found here and Monty Python photo found here.

As mentioned yesterday, last week at work included a roomful of auditors which meant that we not only had to be on our best behavior (for a whole week!!), but we also had to entertain these auditors for the duration of their stay.
When my Boss Lady informed her very own team of minions that we were each expected to attend a dinner with the full audit team, I replied, "But I don't wanna eat dinner with auditors!"
Not to one to be easily swayed, she replied, "Well you're gonna!"
And so I did.
Wednesday night last week we went to a local, popular and well Yelp-ranked dining establishment. It is an old warehouse converted to an eatin' place, as is so hipster cool these days.
I found myself seated right next to one of the auditors, a pretty decent guy from Chicago. Conversation was formal and challenging at first. We were both very guarded.
The fare at the restaurant was simple and good. Not great, but got the job done. Thankfully they had a nice wine selection which helped lubricate the conversation over dinner with a bunch of stilted business folks.
At the end of the meal, and full of enough wine to matter, we were all chatting like old friends. As plates were cleared, dessert menus were plopped on the table in front of us. Since it was a busy night in the warehouse food place, the waiter asked us to share dessert menus because they were running low.
Chicago and I leaned in to look over the selection of sweet treats to end the meal.
Since I've had to concede that I actually *do* have lactose intolerance (despite all my best attempts to ignore it and pretend otherwise), looking over the dessert list has become a bit more difficult than has been in the past.
I have to be more thoughtful about my choices.
"So, what are you thinking about having?" Chicago asked.
"Well," I said, "I'm not sure. Maybe that berry crumble?" He looked at the listing then sat back in his seat and sighed.
"Berries not working for you tonight?" I asked.
"It's just that…" he faltered. "You see, it's served with ice cream. And I was recently diagnosed with lactose intolerance."
"You too!?!" I asked, way too over-excited to find someone else with my gastro intestinal dairy related woes.
We lamented together. He told me that he really misses milk, especially a big glass of cold moo juice with a stack of chocolate chip cookies. I lamented the loss of a late night cereal snack. I told him I'm using almond milk these days and he shook his head, "Yeah, that's ok. Not like the real stuff though."
"Yeah," I couldn't help but agree. "And I miss ice cream. Oh, wait!" I said, then dug around in my purse and withdrew four Lactaid packets. Enough for us both.
So we both got sort of happy and turned back to the menu and looked again. "Maybe that ice cream…" he said.
It was my turn to sit back with a thud. "As I am sure you have also discovered, Lactaid is an imperfect solution. I don't know about you, but it helps a little, but not that much."
"Yeah," he agreed. And then we both looked sad.
Then Chicago reached out and turned over the menu to the coffee and aperitifs section. "You know," he said, "We could solve this problem by skipping dessert and having a glass of port."
My eyes widened and I said, "You. Are. Brilliant."
And so we did. Two glasses of ten year tawny port were ordered and consumed and I felt nary a tummy rumble after.
Later, without even knowing it, The Good Man was also pleased with my choice.
Because lactose intolerance doesn't just trouble the afflicted. No, it impacts loved ones too.
I guess I'm learning to live with this terrible, awful affliction.
Good thing I still tolerate wine okay. *grin*

Image found here.

Over the weekend came the very sad news about the passing of Hollywood legend, Ray Harryhausen.
The Good Man was a lifetime Harryhausen fan and introduced me to the magic that Ray made only recently. How badly I had been missing out.
At 92, Ray lived a good long life and he leaves behind a legacy of work. His stop motion animation paved the way for so much of what you see now in this CGI-heavy film world.
Mr. Harryhausen will be missed, along with his best friend, Ray Bradbury. Tough to lose both Rays within the course of a single year.
To remember Mr. Harryhausen, I am reposting something I wrote back in 2010 when I first learned to appreciate Harryhausen movies. You can tell from all the exclamation points how totally into his movies and the animation I was (and am).
For you, Ray.

———————
This old dog learned a new trick
Originally published February 5, 2010

At Christmas, my husband received a great gift from his step-mom. He unwrapped it and exclaimed, "A Ray Harryhausen collection! Honey, look, we got a Ray Harryhausen collection! Wow, thank you!"
And I was like, "who?" My sweetest is an educated film guy, so I figured it was some obscure director of strange and dark independent films. So I said, "hey, great!" with a shrug.
Who knew I was TOTALLY missing out?
In my ongoing film education (The Good Man is keeping a list. I'm working through it….) he popped "The Seventh Voyage of Sinbad" in the ol' DVD player while I was eating lunch one weekend afternoon.
I was immediately hooked in. Yeah baby! I figured out just who Ray Harryhausen really is. A master of creating amazing creatures in stop motion animation.
The stumbling roaring Cyclops from the late 1950's is every bit as creepy today. In fact, in a lot of ways, I actually like that better that today's overly CGI'd movies.
At the end of the "Seventh Voyage of Sinbad" DVD, there were some special features. One was clips from when Harryhausen got an Oscar (presented by his best friend, Ray Bradbury. What a pair they must make!) and at the conclusion of Harryhausen's acceptance speech, Tom Hanks comes onto the stage to bring on the next award.
He makes the segue by saying, "I know for some people it is Gone with the Wind or Casablanca, but for me, it's all about Jason and the Argonauts"
I looked at The Good Man and said, "Well we have to watch that next, then."
And so we did. We watched as Jason and his merry band of Argonauts fight a huge bronze statue of Talos that had come to life and, oh man this part was cool, a whole army of sword wielding skeletons! Skeletons! I *love* skeletons! They clacked and grimaced and fought. Aw damn, how very cool!
Then we watched "The Golden Voyage of Sinbad" and I remembered that I saw this movie when I was a kid, most likely on TV. I watched it with my big brother back in the day. I remembered the blue Shiva with swords in all the arms. (and let's talk about the very naturally endowed Caroline Munro. Rowr! It's so rare these days to see an un-surgically enhanced actress.)
And finally, we had to get to THE must see film in the collection because, well, it's set in San Francisco. The next in the series of my SF film education.
The movie was "It Came from Beneath The Sea." Yeah baby!
What the movie lacked in dialogue and story (and it lacked A LOT), it more than made up for in great animation.
Oh, that angry squid snapping the top off the Ferry Building and wrapping tentacles around the Golden Gate! Whoa! And that far-reaching tentacle slapping down Market Street, squishing unsuspecting citizens!
Good stuff!
So I'm now up to speed on Harryhausen. I have also watched the Dirty Harry movies. Then we did the Hitchcocks set in SF (hello Vertigo!).
I'm excited to see what's next in my ongoing film edjumacation! I have so much to learn.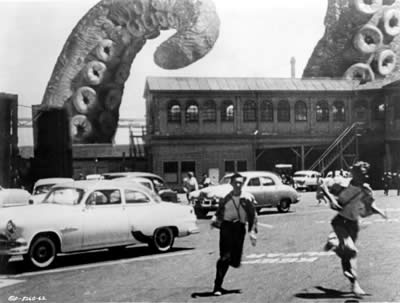 Image is a still from "It Came From Beneath The Sea".

Lately I am all about my Kindle. I had an actual Kindle eReader for a while and then I migrated to using the Kindle app on my iPad and iPhone.
Love, love, love it.
As a writer, I am interested in the people who manage to self-publish and get a little traction on Kindle. As in, who are these people who are making it into the Kindle 100?
As a commuter, I like quick, lightweight and fun reading to pass the time on long BART treks.
With all of this in mind, I went and scoured the Kindle 100 list for downloadable fun. On the top seller list, I found mostly genre books, and most of the genre stuff falls squarely under romance.
Hey, look, cheap romance novels and I go way back. I was reading Harlequin paperbacks when I was in mid-school. My Grandma loved those inexpensive books so much. She'd read one and then my mom, sister and I would pass it around when she was done.
Not much has changed in the romantic genre since moving to Kindle. I looked at all the cheap and tarty romance eBooks and paid anywhere from $1.99 to $7.99 for three different titles.
I have made my way through two of them and am working on the third. I find that immersing myself into this world of genre fiction has sort of tinged my world view. The real world and actual human romantic relationships look a little weird after living in genre world.
In no particular order, what I've learned from $13 worth of literary cotton candy:


Everything old is new again.


The basic formula for a good Harlequin romance goes something like this:
There is a dark and brooding man. There is a troubled and innocent woman. Their worlds collide in some fashion. Usually the man is some brash worldly guy like a sea captain or an army general (most Harlequin's are set in a historical era).
She hates him or he hates her or they hate each other and they fight. He curses the headstrong woman, she alternately loves and hates how manly and forceful he is.
One or both of these characters has a secret. This secret means they can never truly love. That said, a little roll in the hay and it turns out that the love of a good person can cure all their problems.
Cue riding off into the sunset.
Yeah. Not much has changed. Instead of sea captain insert Chief Operating Officer of a big marketing firm, CEO of his family's insurance company, and famous rock star.
I'm not making any of these up.
Apparently the new brash sea captain wears a tie and worries about his stock portfolio.
Also, apparently male victims of sexual abuse seem to be the new theme. In one it was his step mom, in another it was his foster mom, in the third there was physical but not sexual abuse because his mom was a junkie who died thus preventing him from ever truly loving a woman…blah blah blah.
*sigh*


One really cringe worthy success spawns many, many more. Like evil bunnies.


I am learning about this phenomenon called Fan Fiction, which has been around for ages, dating back to early Sci Fi books, and perhaps older than that, even.
In a nutshell, people love a book and then take the same characters or the same setting or both and write a new work. Rarely is the fanfic sanctioned by the original author. It's written largely for other fans of the original work.
Just so you know, the author of the weirdly successful "Fifty Shades of Gray" series admits that she took her inspiration and characters from Twilight.
Hackdom begats hackdom begats hackdom.
I realized post-purchase that the authors of one of my three eBooks also took their inspiration from Twilight. Edward is now named Jake and wears a suit and is a surly corporate executive. Bella is now named Chloe and is an MBA intern.
Yeah. I might note here that I got through one and a half of the Twilight books and hated them immensely. So fanfic based on a series I can't stand isn't really working for me, but oh damn is it working for a whole lot of other people.


Careless disregard for the English language, grammar, readability, and formatting does not prevent the sale of books or degrade the author's credibility.


So that book I just referenced, the Jake and Chloe one? Reached number nine on the New York Times bestseller list for fiction (and higher than that on the ebook list).
This, despite the fact that it was riddled with formatting issues, typos and grammar errors.
Just cuz ya popular don't mean yer quality.
Whooo doggies. The language abuses I've seen.


Character development? Pfft! Who needs it?


Apparently writing about lots and lots of sex, in rather graphic detail, trumps the need to actually develop the characters.
Usually when reading a book I can "see" the characters. They take on fully formed beings in my head and in a book I like, they become like friends I get to visit with for a while.
Not from this book. I know very little about the characters other than he is tall and has tousled hair. She is short and skinny with dark hair. And has big boobs.
There you go. Characters for the ages.


Euphemisms! I got your euphemisms right here!


This is the most awkward part about reading these books. Look, even Harlequin used euphemisms for body parts and particular actions. You'd think some thirty to forty years later we'd be better at providing color commentary.
Nope. We've graduated past "towering manhood" and "her most delicate flower" but not by much. Now the in-favor euphemisms seem to be "his sex" and "her opening".
I cringe just typing those words. Ew.
Can we just agree that "thingy" and "hoo-ha" are the generally accepted nomenclature and be done with it?


Everything ends up "happily every after" unless, of course, the author is working on grinding out a series of books.


And then it makes sense to leave your character lying in a pile of leaves in the woods, distraught over a break up (ahem, *coff*Twilight*coff*) and the fans begging for the next book.
Nice work if you can get it.

I had a rather in depth conversation with The Good Man last night over whether I have it in me to crank out some of this genre stuff. I *can* do it, meaning I have the skills and capability, but somehow it feels, to me anyway, a little soul deadening.
So this was a good sashay into the current state of publishing. Not sure what it means for my writing. Though my commutes have never been hotter, all that thingy on hoo-ha action!
Or, you know, not.
I guess at this point in my life, you gotta make it GOOD to get this old girl rolling. And by rolling, I mean something other than my eyes.

"Coffee Flavored Kisses" — java, my true romance!

Image Copyright 2013, Karen Fayeth, and subject to the Creative Commons license in the right column of this page. Taken with an iPhone 5 and the Camera+ app, and sweetened by a little iPhoto touchup and an Instagram filter.

There I was complaining about Monday and suddenly it was Thursday. Where do the days go?
Oh, right, twelve hours engaged in job plus commute, eight hours sleeping, let's see, that leaves exactly four hours for having a nosh and nuzzling my husband and using the ladies room. That is not much.
Excuses, excuses! Let's get caught up!
Last week I told you about the new Photography Group that I had joined at work and my anxiety about it being a predominately male group (only three ladies) and men of science at that.
Well, I attended my first meeting yesterday. The cost of entrance was to upload two photos to our sharing site that are in line with the assigned theme. This month's theme was depth of field/bokeh.
Fair enough, I had a couple photos I wasn't ashamed to show.
Turns out it was a pretty nice group of guys. Yes, very scientific minded. Quite nerdy really, in that cool way that scientists who do major world bending research can be. Think the middle aged version of "Big Bang Theory."
Let me just tell you this: Having an optical physicist evaluate your photo brings a whole new perspective to photography.
This guy showed off a little by asking what lens was used and what f/stop on one of the team's photos, and then told us why the bokeh bubbles were shaped the way they were (if you look at bokeh photos you'll see some are round, some are pentagons, some are hexagons, etc). It was actually fascinating, not that I could recite it again for you.
Something to do with the angle of the light and the shutter speed and the curvature of the glass on the lens along with focal point. He called the sides of the bokeh bubbles "blades". Weird, yet cool.
Plus, his eye for the lighting and focus in the photos was like none I've ever seen.
All in all, it was a successful first meeting and we talked about the club's upcoming photo show. I'm already trying to decide which photos I will add to the exhibit. Evidently they set it up near the cafeteria and as people walk by and see the photos, they are encouraged to vote for their favorite. Well ok!
In other news…
The meeting was held at the main site for our employer and I work at a remote location. I was able to secure the official department car to make the journey.
This ding-dang thing is a Ford Escape hybrid. My first issue was turning the thing on. I turned the key, it did nothing except blink a few lights at me. Now, in my beloved Jeep, if I turn the key and only get lights in return, it's time to visit the mechanic. Not so with this thing. I kept cranking the key and it kept blinking at me.
Maybe it's just me, but I like a nice solid rumble to my car's ignition. Nice American metal that growls a little at start up and purrs at idle. Not the "oh yes thank you" silence of this thing! Bah!
The next problem is that the car was made for a Lilliputian, which I am most certainly not. I drove with my knees at my earlobes and when I whipped my head to the side to see if one lane over was clear, I bonked my head where the roof meets the window. I can't even imagine the very tall Good Man trying to drive this thing.
The third problem is that my destination is at the top of a very steep hill. I usually drive my straight six Jeep up there, an engine made for towing and scaling hills. This little hybrid bucked and faltered and demurred the whole way up. I wanted to put one foot out the door to help push the thing up the hill. Lame!
But it got me there and since parking is quite limited at the main site, company cars get reserved spots. It was totally worth the trouble.
In other, other news…
After a long string of beautiful California days, it's raining again. *sigh*
Though I'm not surprised. When I moved here a wise native gave me many rules of thumb for life in the Bay Area, one of which was, "It always rains for Easter."
Indeed it does.
Well that's where it's at for this Holy Moly I can't believe it's Thursday.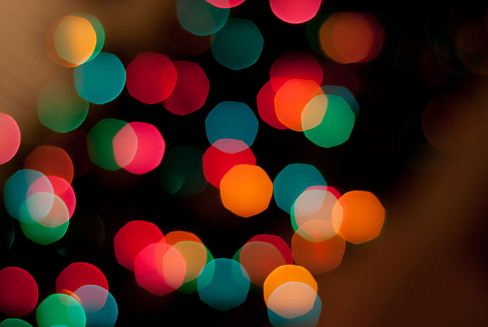 Bokeh-riffic!

Photo by Abhishek Jacob and used under a Wikimedia Creative Commons license.

It's been two months now at the new gig and I'm really getting into it. The job, the management and the culture are all really in my wheelhouse. Even though I'm crazy busy and working hard, I really do like the job.
So I guess at sixty days into this gig I am making plans to hang around a while. When I went through new hire orientation, they talked up their employee activities program and mentioned that there are a lot of strong clubs here at the company. It seems most employees participate in at least one club. It's not required, people just want to be involved.
Cool!
I took a look at the list of clubs and the one that jumped out at me was the photography group. Rock on! I haven't been shooting much lately and I certainly need a kick in the butt. I belong to a photographer's salon group where once a month we meet and critique images, but I felt like this new group would really expand my horizons.
I dropped an email to the co-presidents of the group, two female coworkers, who were listed on the webpage and told them I'd like to be part of the group. They answered pretty quickly and said they were actually the last year's co-presidents (the webpage is out of date) and handed me off to the new leadership. In closing, one of the women said, "I'm so glad another woman is joining the group. It's mostly men right now. They are all nice but it's all men!"
Oh. Well ok! My photography teacher and mentor has spoken about this. She has been a professional photographer for a long time and has dealt with the male dominated world of photography for years. I'm unsure why it's still so heavily male dominated, but fair enough. I know my work can stack up.
I got an invite to the online user group and to the meeting coming up next week. I also got access to the club's site where members upload their photos. Each month there is a theme and a contest to pick a winner.
Whooo doggies, the photos on that page are really good but they are all very technical. I don't feel a lot of emotion in the photos. Then I recalled that I work with mostly engineers and scientists. Yeah. These are the kind of folks who will sniffily say they only shoot in manual and can calculate the exposure triangle in their heads.
I have taken other photography courses, including a class from a well-known and well-respected landscape photographer. That guy wasn't too uptight about the stuff, but several of the men in the class were. One guy challenged me on the spot to calculate the exposure triangle for a particular photo and I said, "Nope. I don't need to. I shoot in Aperture mode and am happy there." He looked like he had bad gas and walked away from me.
Look, I know *how* to calculate the exposure triangle. I just choose not to.
So we'll see how this group thang goes. I decided I should put together a quick portfolio of photos to show the rest of the group what I'm about.
What do you think?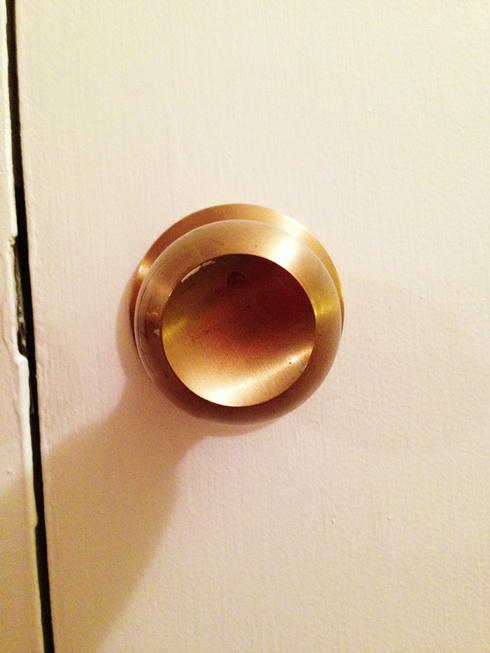 "Knob" — I feel this piece speaks to the inaccessibility of the world and the challenges of just getting past closed doors. Should you walk away or bang on the door demanding to be heard? That is for you to decide.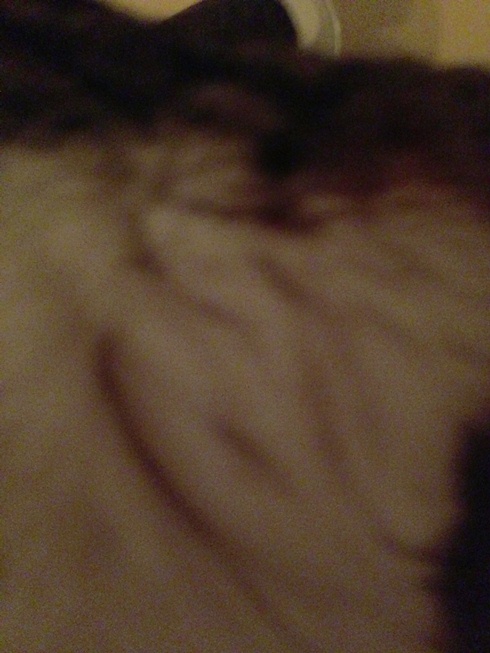 "Elusive" — This is a study in hiding behind false coverings, like the fur that covers a Cranky Feline. And the need to hide behind artificiality and illusion. The grain reminds us of the blurry nature that life presents and the need to have better lighting.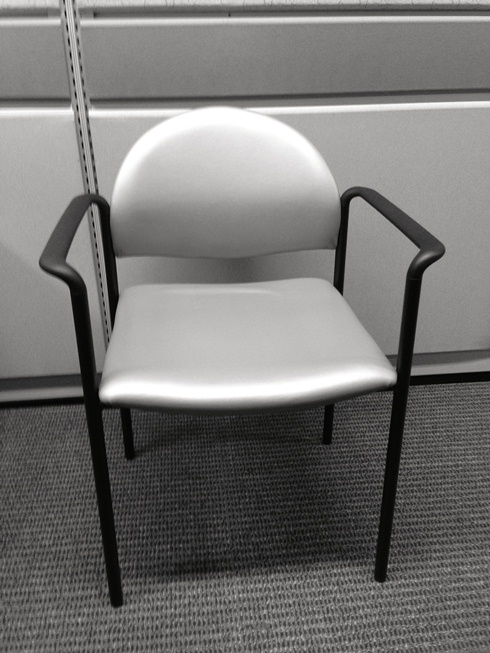 "Have A Seat" — The black and white really captures the moodiness that comes with the decision of whether or not to have a seat. The push-pull of subverting yourself to the will of powers greater than you or maybe standing up to fight instead. This thought provoking piece required meticulous set up and lighting.


I think I am a shoo-in for high praises and honor from this new club. I can hardly wait to reel in all my accolades!

All photos Copyright 2013, Karen Fayeth, and subject to the Creative Commons in the right column of this page. (why would you steal these masterpieces anyway?). All three taken with an iPhone5 and the Camera+ app.


Yesterday was quite an important day for me at work. As a still fairly new employee, I am required to complete a whole list of mandatory training courses and over the past six weeks, in addition to being thrown into the deep end of the pool on work matters, I have been finding every spare minute possible to knock my training items off the list.
Most of the subjects are online courses and can be started and stopped at will, so that helps. There are a few, however, that are required to be taken in person.
Yesterday I had to travel some distance to another building at a far flung campus in order to attend : cue very dramatic music : Safety Training.
Oh yes, I am employed by a very safety minded entity, and that's actually quite ok. There are lots of people here who perform very dangerous work and making sure those employees are safe and looked after is of vital importance.
However, in the parlance of The Good Man, I pilot a desk for a living. So do the kind souls who are forced to report to me. This means the risk factors tend to drop off dramatically to include things like aggressive paper cuts and oh damn I tripped on the copy machine.
But rules are rules and every manager MUST take this training regardless of function.
So of course about 85% of the training class didn't apply to me. As I sat there listening to the types of harness that can be used for overhead work and then a hearty debate about whether or not a lab worker should be required to wear safety glasses when looking in a microscope, my well documented monkey-mind took a whole other journey.
I recalled back to the very early years of my employment when I worked for Sandia Labs and as part of employment I had to take both rattlesnake and coyote training. That's right, we had to learn to spot, avoid and deal with these common inhabitants of the New Mexican desert.
Even though I also piloted a desk back then, rattlesnake training certainly grabbed and held my attention for the duration of the seminar. Today's detailed dissertation on eye-wash procedures less so.
So then I started thinking about other safety courses that would be fun to take. Advanced crocodile wrestling, perhaps? How about Zip Lining To Freedom for Beginners? Dog Sledding and You: How to remain the leader of the pack? Or…Golden Gate Bridge painting, how to cling to the wires on especially windy days.
C'mon! That's actual safety! That stuff is not only cool it matters!
No, instead I learned that while typing your wrist can bend to between zero and 25% and you should be ok Carpal Tunnel-wise. More than 25% and I need to fill out a stack of forms and evidently point and taunt. (Ok, not actually on that last part but would that be fun? "Jimmy's gonna Carpal! Jimmy's gonna Carpal!")
Well I can tell you, those two hours of a dry PowerPoint presentation really made a big impact on me. I'm now fully compliant and safety trained. I've already warned The Good Man that safety walk around of the apartment is coming soon (surprise inspection, of course). Oh yes, he and The Feline are gonna get inspected real good. "You there! That fuzzy felt mouse with one eye ripped off is just lying in the middle of hallway! Trip hazard!"
A monkey-minded woman with a little bit of knowledge is a very dangerous thing.
Next course: Surviving Life With Karen, a primer for man and beast.

Image from Clay Bennett.

So here at the new place of employ, we have a very nice building to work in. It's an old warehouse in a now gentrified former industrial district that has been updated with all the conveniences of a modern office.
It's a pretty nice place to work and probably the nicest of all the buildings my employer leases or rents for us minions.
For the 150 or so people located in this building we have a pretty nice break room that includes fancy steel microwaves, up to the minute toaster oven and even a dishwasher.
And then there is the "coffee system."
Yes, I said system.
In lieu of a good old glass pot of coffee burning on a hotplate all day, we have two Keurig devices. These devices utilize what are called "K cups" for the brewing of single cups of coffee.
My company only provides the machines and the water. Employees have to bring their own K cups.
My coworkers seem very whipped up and excited about K cup coffee and tea. In order to play along, I went to Safeway and invested in two boxes of (highly overpriced) K cups, one box of coffee, one box of chai tea.
This Keurig machine seems all very futuristic. You put in the plastic K cup, clamp the machine down and press "brew". The machine whirs quietly and makes important beeping noises then it creates your warm mug of beverage.
Only…couldn't I just dump the contents of the K cup into a mug, add hot water, stir and have the same results?
That's when I realized these Keurig people are a bunch of really smart and somewhat evil entrepreneurs. They have employed the Hewlett Packard home printer model to coffee.
The Hewlett Packard model is thus…charge $100 for a small personal printer. Then charge $70 for the ink cartridges to use with the printer. They make a couple bucks off the machine, they make a LOT of bucks off of what they call "consumables" (i.e. something that gets used up and needs to be replaced).
Keurig has done this brilliantly. They have made the end user experience feel special with blue lights and soft whirs and beeps. They make you want to run to that machine and slap in a K cup that runs about a dollar to a dollar fifty each. Starbucks and Bed Bath and Beyond are in on the scam, selling their own versions of K cups.
Meanwhile I'm thinking this is just instant coffee all tarted up in a new way. What really boggles me is the people who "loooove" (<- direct quote) the green tea K cups. Because, ahem, dunking a tea bag in a cup of hot water is just too much work?
The name Keurig led me to believe this was a european company (the name is the Dutch word for excellence) and I was going to make some comment about the Euros having one over on us Americans. Then I looked up the company and discovered they are from Massachusetts.
That there is some Yankee ingenuity.
You brilliant b*stards. I know I'm being hornswaggled and yet I play along anyway.
Well done Keurig-onians. Well done.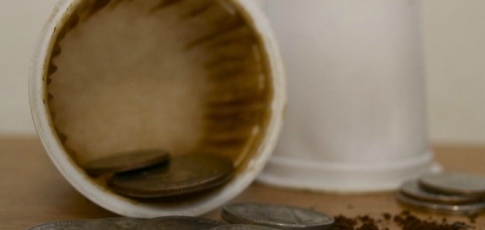 Image from theburr. Click the link to see how to recycle K cups.