Blog post written for and on behalf of The Good Man.
_________________


Late last week we all got the news that the Supreme Court had handed down their opinions regarding both the Defense of Marriage Act (DOMA) and California's Prop 8. There was much news coverage all around as same sex couples are now allowed to marry and receive federal benefits.
As in any Supreme Court case, there is the majority opinion and the dissenting opinion. Each must be written up as a point of record.
In the instance of DOMA, Justice Anthony Kennedy wrote the majority opinion and it was Justice Antonin Scalia who wrote up the dissenting opinion. I actually made it a point to read Justice Scalia's opinion as I was interested to hear what points he might make in his dissenting case.
What I got was a blast of vitriol, indignation and sarcasm.
My favorite line in the whole piece, however, was this:

"As I have said, the real rationale of today's opinion, whatever disappearing trail of its legalistic argle-bargle one chooses to follow…"

Did he…did a Justice of the Supreme Court of these United States just use the term "argle-bargle"? Is that for real?
I looked around and confirmed in several spots that indeed, yes, the term argle-bargle is now a part of the legal and constitutional history of our country.
Wow.
So of course I immediately sent this over to The Good Man. We are both big fans of the television show Boston Legal which often featured a doddering old judge (played to perfection by Shelly Berman) who would use terms like "stop all this jibber-jabber" and then proclaim "I am the decider!"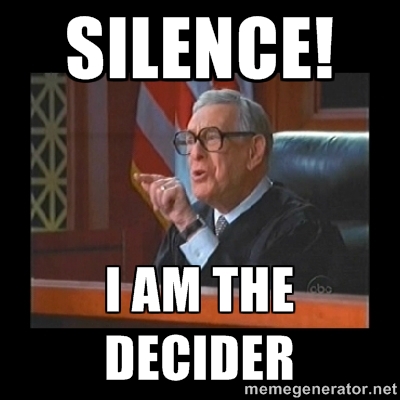 So good they made a meme

But it was The Good Man who reached even farther back into the folds of his brain and pulled out an audio recording he remembered from his youth.
On an album entitled "Monty Python's Previous Record" released in 1972, there is a track named "Teach Yourself Heath".
In the track, the Python crew mocks the accent style of British conservative Prime Minister Edward Heath. This would be something akin to the Saturday Night Live tradition of sending up the US President.
Click here to give it a listen if you wish. It's at about the 3:22 mark (for reasons unknown this clip is subtitled in Spanish):
In the clip, the phrase argy-bargy is used. A short Google search shows that argy-bargy is a rather low-brow bit of British slang used to describe a lively discussion or vigorous dispute.
So this begs the question: Did Justice Scalia really use modified British pub slang in his dissenting arguments?
and
Is he just a big ol' Monty Python nerd?
Either way, it's pretty fascinating. Usually American politicians tend to shy away from anything British, especially anything relating to British politics.
As we get very near the day of celebrating our independence from the King of England, Justice Scalia went all Monty Python. (Do you think he has his own funny walk under that robe?)
Wow.
'Merica! With a British twang.

Judge Robert Sanders photo found here and Monty Python photo found here.

Here I am, day three of my three day training. On a Friday, no less. Today is the final uphill slog for this training class.
It is a long climb and this hiker is weary.
Not sure whether I can continue on. Sooooo booored.
Today, instead of being "that guy" I have gone into slump mode. I already got called out for looking at my phone. I've eaten every pastry they offer (all terrible!) and I'm drinking caffeinated tea. Nothing is helping.
So now, instead of paying attention, I'm obsessing on a white board marker.
This marker, particularly.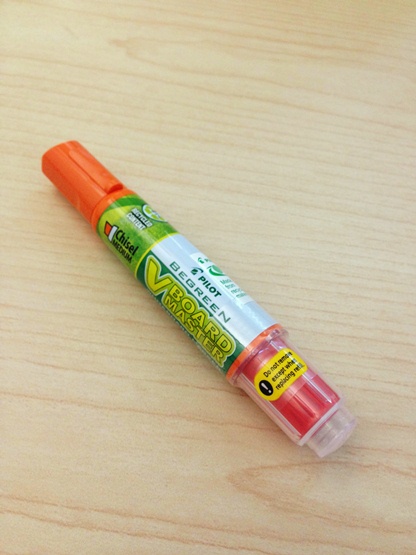 This is a very respectable marker. It's green, made from 90% post-consumer product, almost fully recyclable and refillable. This is a very smart and responsible pen, a good business choice by whomever purchased it.
So why am I obsessing? Well, one, it's orange which is my current favorite color (it changes all of the time). And two because of this…(Look at the yellow tag)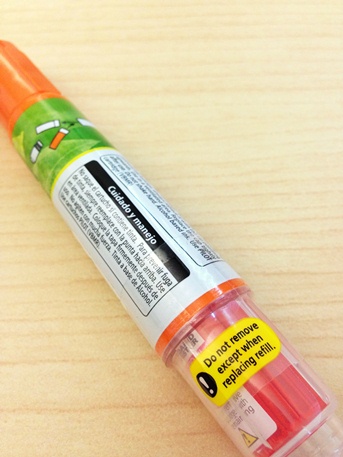 That little pen reservoir holds the orange ink. You can watch it sloshing around in there. Neat!
And that tag, it tells me not to open up that sloshy ink container. Why!?! Because it is a brand new pen and opening it now will splash ink everywhere. So!?
I wanna! I wanna I wanna I wanna!
I am having to exercise the utmost in restraint, something I don't have a lot of, to keep from ripping the end off that marker. Then I tell myself, "I'm steady handed enough, I can pull that off of there and have no problem! Without spilling a drop! Let me prove it to myself!"
But I know the truth. I'm not sure handed. I'm the girl that falls down. I will pop that cap off and ink will spring up in the air and aerosolize and there will orange ink from here to there, ceiling to floor.
That sure would be awesome, though.
Way more fun than talking about warranty claims, insurance provisions and cost accounting.
Barf.

Images Copyright 2013, Karen Fayeth, not that you'd want to steal photos of an orange marker, and subject to the Creative Commons license in the right column of this page. Taken with an iPhone 5, the Camera+ app and no small amount of lack of attention to the subject at hand.

Ah yes, another one for the "don't it make me proud to be a New Mexican" files. This one comes courtesy of The Good Man.

ALBUQUERQUE, N.M. — A New Mexico man faces multiple charges after police say he was having sex with a woman while driving drunk and crashed, ejecting the woman from the vehicle.

The Albuquerque Journal reports 25-year-old Luis Briones was found with one shoe on and his shorts on inside-out Monday night after he wrecked his Ford Explorer in Albuquerque.

Police say Briones' female passenger was found naked outside the SUV after being ejected. She had deep cuts to her face and head.

Authorities allege Briones tried to drive away after the crash and leave his passenger behind, but a witness grabbed his keys from the ignition. He also allegedly tried to hide from responding officers behind a cactus.

Briones is charged with aggravated DWI, reckless driving and evading police.
Now, in all of things that are really bad about this story, driving drunk, attempting to leave your injured girl behind, reckless driving, the one thing that jumped out at me, the ONE thing that I focused on was…..
"Briones was found with one shoe on and his shorts on inside-out…He also allegedly tried to hide from responding officers behind a cactus…"
Ouchie. Really, when you ain't got no pants or shoes on, hiding near, around or behind a cactus doesn't seem to be the wisest move.
Then again, wisdom didn't really seem to play a role in this whole circus of events.
Oh Fair New Mexico, I really do love you love you so. You know how to keep a native entertained.
Saaaaaaalute!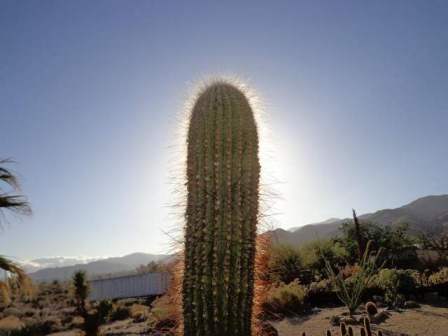 Image found here.

He was inordinately fond of jokes, anecdotes, and stories. He loved to hear them, and still more to tell them himself out of the inexhaustible supply provided by his good memory…the coarser the joke, the lower the anecdote, and the more risky the story, the more he enjoyed them…

He possessed, moreover, a singular ingenuity in bringing about occasions in conversation for indulgences of this kind.

–Henry Villard
Reporter Henry Villard is discussing the tendency of his interview subject to tell bawdy jokes and stories, and to invent many occasions in conversation to insert his inexhaustible supply of coarse humor.
Sounds like a fun guy. The kind of guy I'd like to have a beer with. I do love coarse humor.
This guy certainly does not, however, sound like a good political candidate. In this internet era of "always on," deep political gasping happens when a candidate so much as tap dances on a very wide line of humor. A candidate who inserts risky stories into conversation with a journalist from a widely read publication would not last long in this modern political atmosphere. We've seen a couple try and they have ended up becoming a footnote, a forgotten punchline and a big political loser.
In this instance, the year was 1858, the publication was The Atlantic, and the candidate for Senate being interviewed was none other than Abraham Lincoln.
In ways I can't fully explain, it kind of cheers me up to know that Lincoln loved a good dirty joke. I knew he was a bit of an awkward man and was prone to being a "high talker" when he's get worked up. But until today I didn't know he had a penchant for bawdy humor.
I'll never look at a penny the same way.
Happy Presidents Day!

"Tell me another fart joke, father."
Abraham Lincoln and his son Tad.

Quote from "Recollections of Lincoln" by Henry Villard published in February 1904 in The Atlantic magazine.
Photo from HistoryPlace.com.

Yes, it's that time of year again….

Originally posted January 12, 2011

Today, I'm going to pander to the keyword search.
Oh yes I am…pander a go-go.
You know, it's an odd thing to look at the visitor stats for my little ol' blog and see what exactly brings folks around.
I'll have you know, the NUMBER ONE reason people visit my blog is because of a single post I did on the geometric wonder known as the trapezoid.
I'm not even kidding. "Trapezoid" is the number one most searched keyword for Oh Fair New Mexico.
I think I may have helped schoolchildren around the globe by posting a photograph of a trapezoid in real life, my former office building.
Here it is:
There is she is, folks! A trapezoid! In real life! Right there!
Trapezoid, trapezoid, trapezoid (<- Now I'm just baiting the search engines....) What is a trapezoid? (< - still baiting) In case you don't know what a trapezoid looks like, I have something for you: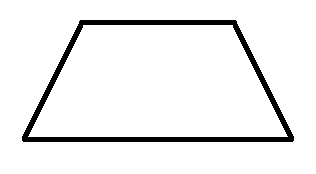 Ain't she a beauty! An isosceles trapezoid! That's HOT!
Why all the pandering? Well, I recently noticed via an image search that some kindergarten class in Washington DC has robbed me of my trapezoid-based SEO.
Oh hell no!
I'm taking back the trapezoid.
Love the trapezoid! Embrace the trapezoid!
If you're a Brit, enjoy the trapezium!
There…that should do it.