I think, sometimes, it must be a bit odd living with me.
On Sunday afternoon, with many things troubling my mind, I went outside and took a nice walk. I also looked at my neighborhood and noticed the way the sunlight is shifting. A cool tinge to the breeze. And I noticed that college kids are starting to move back to this college town.
When I got home I was a bit tired, a little sweaty, and more centered in my mind.
"Oh!" I said, as The Good Man and I talked things over, "I brought something home."
His eyes lit up at the prospect. What could it be? Something freshly baked from our fabulous neighborhood shop? A pound of aromatic fresh ground coffee? A small fun tchotchke from one of the many nearby gifty shops?
Nope. What I brought home to my sweetheart was this: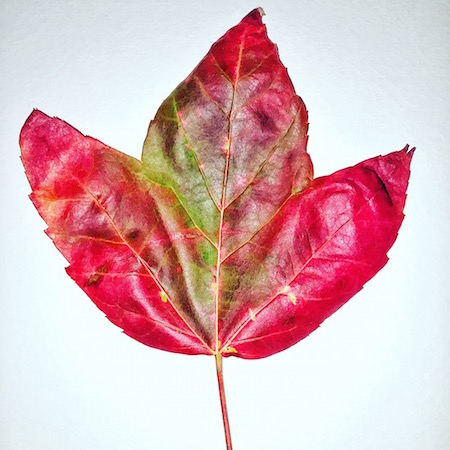 From a Red Maple tree

I brought my love a leaf.
More than a leaf, it was the perfect representation of how restless I was feeling. As summer begins to give way to fall. As youth gives way to middle age. As things are in motion and changing at my place of work.
I was stunned on my walk to notice that leaves are already changing. Trees are starting to turn the bright reds and yellow and oranges of fall. I'm sure our unseasonably cool late summer has been part of the reason, but I was startled to see the change. I was also comforted to know that the restless feelings inside me are in sync with nature.
It is both a green leaf and a red leaf at the same time. Both the joy of spring and the end of summer. Happy and sad. Birth and death.
Transition.
My theme song lately has been Sam Cooke, "A Change Is Gonna Come." I just recently found this song again through the whims of Pandora's algorithms. And as Pandora is want to do, it plays at least once a day during my work days. Occasionally, if the time is right and the office door is closed, I sing along.
It is a sad song. A lament. But also, it's inevitable that change has to happen. Like that leaf, there has to be some core that remains and stays in place to keep you grounded. With that grounding, then other things can change.
Lest you think I have any personal big changes planned, I do not. I consider most of my life to be my rock. But things around me are changing at a rapid clip, and I am feeling that happen.
Seasons are in transition. Things at work are changing fast, and actually have been changing for some time. And the nation is changing too. This election cycle has been nothing short of the lunchroom at an insane asylum. Come November, things are changing for all of us, no matter how the voting goes. Even the world is changing. Both for the good and for the bad.
I'm not always very good with a lot of change. Some people thrive. Me, I get a little worried. It's my way.
But on that sunny Sunday in Northern California, a pretty little leaf became the perfect metaphor for what's going on inside of me.
And The Good Man, he understands that sometimes I need to bring home a leaf to best explain everything that's on my mind.
___________________
Because I can, I ran my leaf photo through the Prism app, which I just adore. My favorite of the conversions was this one.
Thought I'd share it too: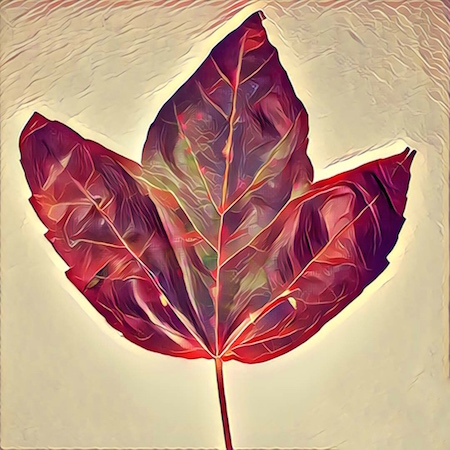 Same leaf, now artified

Leaf photos ©2016, Karen Fayeth, taken with an iPhone6, the Camera+ app, and the Prism app. Subject to the Creative Commons license in the right column of this page.

The photography club I attend monthly has been going through a lot of flux over the past year. A few of the main members have left (retired, mostly) and new folks have joined. We have a new leader and he's got a lot of ideas. It's a lot of change. For the good, I'm sure, but change anyway.
I've talked a bit about this group. It's made up of both scientists and engineers and is overwhelmingly male. These guys are very much tech head photographers who are all about gear and photographic perfection. Their photos are technically precise but in my opinion lack emotion…which suits them just fine.
It's a debate we have a lot in the meetings. Art vs Technical. Let's just say, my storytelling approach to photographs is in the way, way minority. I can often actually *hear* eyes rolling as one of my photos rolls across the screen during critiques.
I have learned a lot from this group. I work hard to make my photos better. To improve. To get technically cleaner. That said, in some ways, I also like to goad them. Poke the tiger with a stick.
One of the things we seem to struggle with as a group is our monthly theme. It's hard to come up with jazzy ideas every thirty days. This year's themes are some good and some weird. All are great in my opinion. I love being challenged.
A few of the more rigid photographers aren't having as much fun with the themes as I am.
For March, our theme was "wood." Seems easy, doesn't it? But it's harder than you'd think to come up with a good, unique, and well crafted photo of wood. It's almost too broad.
We get two entries each month. I did one that was a bit more "clean" though it still could use some technical work. And I did one storytelling photo.
Neither were very well received.
Presented for your perusal:

Palm, Pine, Maple, and Telephone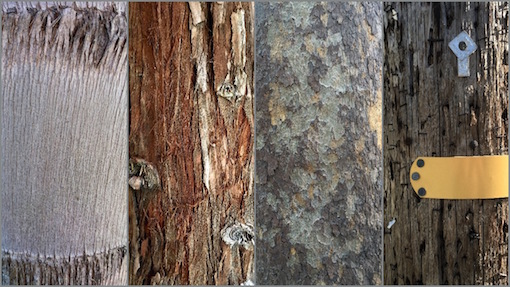 Copyright ©2016, Karen Fayeth

I presented this as a study of the wood types found in my neighborhood, each pattern more interesting than the last.
Ok, the image has a joke there at the end. And with the title I was yanking their chains, as these nature photographers get quite sniffy about the precise genus and species of flora and fauna they photograph.
This photo garnered four votes in our monthly contest. Not terrible, but not close to winning either.
Here is my other shot. I very much enjoy the story in this one. It got one vote. (At least it got one?)

Log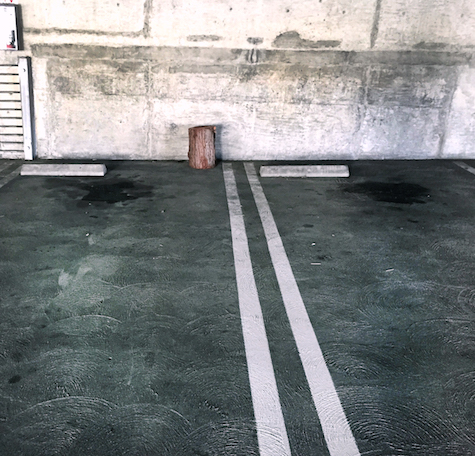 Copyright ©2016, Karen Fayeth

When faced with the conundrum of properly conveying the feeling of "random log in parking garage," I chose to go with moody.
This photograph was not subjected to Instagram filters. A color photo of this wooden beauty was lightly desaturated then pulled into Photoshop for burn and dodge to bring out those beautiful loggy highlights.
The squarish shape is due to cropping out surrounding cars.
I really love this photo. I mean…why the hell is there a log in the parking garage at work?
Also, could this BE any more perfect for the theme of wood? Nailed it!
One vote. At least one other photography club member gets it. It's something to build on.
Both photos are Copyright ©2016, Karen Lingua. All taken with an iPhone6 and the Camera+ app. First photo also utilized the free photojoiner.net site to combine the photos. Subject to the Creative Commons license in the right column of this page.

Welcome to the sixth day of the year 2015 but only my second day back at the ol' place of work.
While technically the first of January is the first day of the New Year, it doesn't really feel like the New Year has begun until I go back to work, i.e. get back into the "real world."
My employer is ever so kind in that they shut down operations from December 24 through January 1. That means with a little planning and a little curation of vacation hours, I can eek out full two glorious weeks away from the office.
I look forward to this two-week break from work all year long.
All. Year. Long.
In my career, I've rarely taken two weeks of regular vacation time, so these two weeks at the end of the year feel beautifully indulgent.
My first priority for the break time is to sleep. Nap. Sleep more. Rest and then do nothing too taxing on brain and body. That usually lasts about three days then I'm rested and raring to go.
The rest of the break time is spent with family, exploring the world with The Good Man, cleaning up my home office/studio and working on creative projects.
I find I'm able to fully and completely forget about work and live the dream of a creative life. Sleep until my body is rested, rise and work on creative projects, fill my head with creative inspiration and plan forward for the projects I want to work on in the coming year.
It's a beautiful place to be, a place I'd live all year round if those darn lottery numbers would just break my way. It feels solid and satisfying and clean and pure.
And then sixteen days of being my own boss pass too quickly and Monday, January 5 arrives. I have to figure out how to get back into the flow of "regular" life. I have to metaphorically merge into speeding traffic with no running room and only two of four cylinders in working order.
Yesterday was that day. Yesterday I woke up with the help of an alarm clock (bleah, sixteen days of no chirping alarm was REALLY nice) and sat up in my comfy bed, bleary eyed and lost.
I tried hard to find the muscle memory to rise, to make some breakfast, to put on some clothes, where is my work badge?, move out the door and get to work on time.
When I arrived at the office it was all too familiar and all too unfamiliar.
It felt like I had changed. I was a different (and better) person as I swiped my badge and entered the office. Then I realized that work had not changed.
I came to my own little gray cubicle and there was all of my same stuff I'd left behind, but it looked alien.
The laptop machine asked me for a password and I had to think very hard about it. Took a couple tries at it and finally remembered.
Have you ever seen baby ducks when they are following their Mama Duck into the water? It often looks like this: Mama slides effortlessly into the water and her eight to ten ducklings slip, slide, belly flop, and unceremoniously plop themselves with a splash behind her.
For a moment, the water crests over the top of their head, then the ducklings one by one pop to the surface like popcorn and start swimming.
It was very much like that yesterday. I fell uncoordinated and perilously off the vacation ledge into the bracingly cold pool of work. I grasped for stability for a little while and then I found my feet and began to paddle. By the afternoon I was moving more or less in a forward manner.
So that's the New Year. A little bit new, a lotta bit old. I suppose all of the inspirational quotes are true. It's up to me to make 2015 a really awesome year.
Forward into battle! *splash*cough*splutter* Okay. Now, here we go.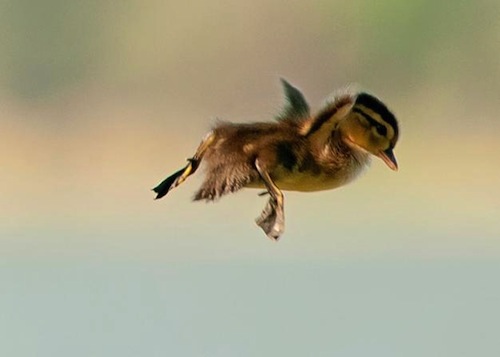 "Hoooooly craaaaap"

Image found here.

The other day at the ol' place of employment, I had an early meeting at another site and then came back to my particular office building, which meant parking on the top level of the parking garage. Ugh.
Early on with this parking garage, I made myself promise that no matter where I parked, I would take the stairs to get to my car. No elevators. Just a little extra exercise in the day. So when I get here early, I have one flight of stairs. When I get here late, I have five. That's how the ol' cookie crumbles.
So after starting really early in the day at an off site meeting and then running like my hair was on fire in the office all day long (gigantic project brewing with very hard deadlines and a press conference to announce it coming up too!) I was pretty dead tired at the end of the day.
I stood at the bottom up the steps looking up mournfully. Five flights? After the day I had? I was determined to keep my promise to myself and I lifted heavy legs up and up and up the stairs.
Around the fourth floor I started feeling gassed. Each step felt harder than the last. It felt like gravity was actively defying me with every lift of my knees. Finally, exhausted and sucking oxygen I made it to the top floor, stumbled to my car and flopped inside.
That last flight really got to me. As I stepped, I had the kind of pondering thoughts that my brain often makes to keep me entertained. Were those last steps so difficult because my leg muscles were wearing out over the sum total of steps? Or does it become harder to slip the surly bonds of gravity with each flight? Or some combination of both?
And that struggle, that last mile difficulty, well, it started to feel like a metaphor. For my job. I am (to use yet another metaphor) rounding third base on this gigantic project and certainly headed for home plate, but this last leg of the journey is proving to be the most difficult.
Here's another metaphor. I can see the summit of this mountain, but the last 1,000 steps are straight uphill with no room or time to rest. Each day feels a little harder. Each moment is fraught with worry.
In about two weeks I will summit this sumnabitch and I will be glad I did. In a few months I will look back and it won't seem all that bad. But right now, looking up, knowing I am so close but knowing all that I have to endure to get to the other side, it feels daunting.
It feels like gravity actively puling me down, down, further toward the ground. Yeah, climbing five flights of steps feels like a metaphor, and not a bad metaphor at that.
But what good is the metaphor? I still have to climb the steps. I still have to complete the journey. And I have not get so focused on the pain and agony and effort of each step that I forget to remember home and the loving arms of The Good Man wait on the other side.
It's worth climbing those steps if only because it means I'm one step closer to him. What is a difficult journey without a meaningful destination?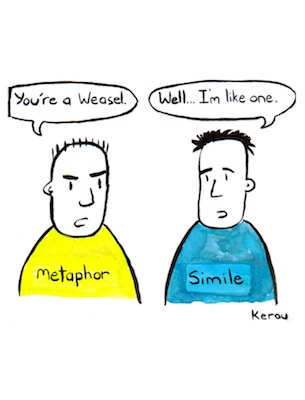 Image found here.

Dateline: Wednesday, February 19, 2014
It's morning and I'm headed in to work a little earlier than I would like but I have a coworker who is a chirrupy morning person and keeps dropping early meetings on my calendar.
She knows I hate the mornings but just can't help herself.
So I drive my beat up old Jeep down a major surface street that bisects three different cities. It is my usual route to work.
As I roll in slow traffic, there is a guy on a bicycle keeping pace next to me. I am used to bicyclists now because I live in a pretty hipster-y place and they are everywhere.
But this guy is the kind of bicyclist that bugs me. First of all he's not wearing a helmet. That seems really dumb to ride on city streets without some kind of protection for the ol' brain bucket.
Second, he's the kind of guy who can't ride in a straight line so he's weaving in and out in front of me. I'm keeping a close eye on him so I can be sure I am not the person who injuries his pretty mane of curls.
We ride side by side on this narrow two-lane street and then I get to a light at a main intersection. I see there is a trash truck just ahead, but there is enough room for me to slip through the light and wait behind the truck.
To the immediate right there is a delivery truck at the curb unloading produce for the corner market.
As I pull through the intersection, the garbage truck cuts sharply in front of me so I easily tap my brakes and slow.
Boy On The Bicycle doesn't slow. He plunges into that small space between the now moving trash truck and the large produce truck.
I think to myself, "I don't have that kind of courage."
____


I have packed my lunch today and that makes me very happy. It's not just a lunch from home, but it's the kind of sack lunch that I've been looking forward to all morning.
In that bag is a beautiful calzone. I have also packed a little glass bowl of marinara sauce.
After much dragging and delaying, the hands on the clock say it's time to chow. I smile as I pop the calzone into the office toaster oven and I put the marinara into the microwave.
When the sauce has achieved a temperature akin to lava, I pull it out of the machine.
Soon the calzone is crispy on the outside and melty on the inside.
If I was eating this at home, I would quickly dump the marinara over the calzone and dive in headfirst.
I am at work and when I start to pour the sauce a little voice in my head reminds me that my office and the break room are diametrically opposed. I will have to carry my meal all the way across the building and will likely encounter many people on the journey.
I have a quick vision of spilling bright red sauce on the floor. On a coworker. On myself. Or all three.
I decide to put the lid back on the marinara bowl and carry it separately.
It's the best decision I will make all day.
____

Once the calzone is thoroughly devoured, I wash my hands and clean my face and freshen up. I have a mid-year performance review with my boss who is a Big Boss and while I get along with her great, I still want to be behaved.
It seems only right. She is grading my performance.
As I walk to her office, that calzone starts to hit bottom and I feel instantly sleepy. I think, "Maybe calzone is more of a dinner food."
____

It's the end of the day and I'm tired. Not the tired one gets from physical exertion, but the fatigue that comes from sitting around all day thinking about stuff and making decisions.
It doesn't seem like sitting on my can working on spreadsheets all day would wear me out, but it does.
The Jeep is rolling uphill, following the same route home that got me to work this morning.
I am idly listening to sports talk radio where the two on-air personalities are debating, quite heartily I might add, if it is acceptable for fans to boo their own team.
One guy is a former athlete. One guy is a current sports journalist. They have vastly different opinions.
I come to a stoplight on the two-lane street and I am the third car back. A dark car pulls up on my right side.
I think to myself, "They had better be turning right" and of course they are not. It's become a game on this high trafficked street for people who don't want to wait in line to come up the side, thus blocking any right turners, and then cutting off people going straight as soon as the light turns green.
This aggravates me.
The light turns and I make it a point to not let that car in. I pull up close to the car in front and I am not giving up. They are not giving up either.
I see that there is an SUV parked at the curb ahead and a woman is unloading her child from the back seat.
This is going to come to a head. I am going to win.
That jerkwad is going to have to slow down and get into line behind me.
Inexplicably, I tap my brakes. The Jeep slows. I let the shiny black BMW slide in front of me as a college-aged girl in the driver's seat quite literally flips her hair.
There is no wave of thanks.
I wonder to myself, "What made me do that? Why did I slow down and let her in?"
Then I think, "Because it's not always about being right. Sometimes it's just about the fact that we all have to get home safely."
When I finally turn down my block I am happy to see a spot on the street right in front of my building and I park.
I go inside and The Good Man hugs me and the cat ignores me and I sink into the warm familiar comfort of my home and my family.
I am filled with gratitude. I can finally rest.
Tomorrow is another day.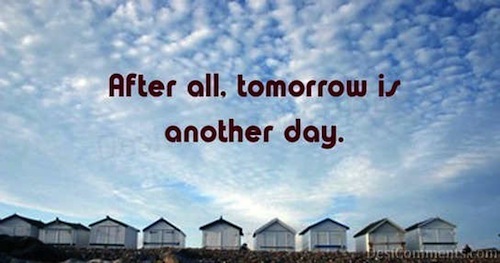 Image found here.