It's funny the things that stick with you. The seemingly forgettable details or moments that you look back on with fondness.
This past weekend, I returned home to New Mexico after a far too long two-year personal drought. Life, work, whatever, gets in the way (no excuse is good enough).
The occasion of my return was the high school graduation of my oldest goddaughter. At almost 19 she is no longer that curly-haired blonde toddler who captured our hearts. She is a smart, sassy, funny, talented and gorgeous woman and I'm a bit weepy right now just typing that. I'm so proud of her.
I have been working too many hours and it's fair to say I dragged my ragged self onto a plane, glad to go home. Sometimes I feel like I wander a little too far away from New Mexico. I forget the foundation of my soul and going home never fails to readjust my mind, my very DNA. It gets me back to remembering who I am and what matters.
Plus I eat good when I'm there, and green chile itself will help anyone get right.
Each time I go home, I'm overwhelmed at all of the things that have changed since the last time I was there. El Paso is growing fast. The area around Las Cruces too. More cars, more buildings, more people. It's crazy.
So then I start to seek the familiar. What hasn't changed. What is there that I remember so I can have a touchstone. A "hey, there that particular thing is, just where I left it."
The feedlots in Vado, for example. I was pleased to find them there, cows huddled under the water misters. The inevitable cow scent on the breeze.
The Organ Mountains. Craggy, uneven, and absolutely gorgeous. I see those mountains that once watched over my college education and smile, glad to say hello again.
So today at work when I was homesick, missing my best friend and the peace of her back patio, I started going through the photos on my phone to help me with the pain.
Did I find photographs of vast mountain landscapes? Did I see the faces of my loved ones? Did I have a whimsical photo of a cow?
No I did not.
All of those sorts of photos are on my actual camera. Weirdly, I took very few photos with my phone on this trip.
So I will share with you the two photos I did take. Memories I'm carrying in my pocket to remind me of home. This gives you an awful lot of insight into my muddled mind:
First, a photo of my goddog. I may have taken one or two photos of him in the past.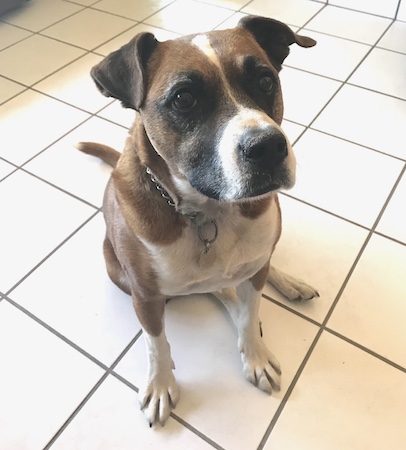 The gray hair around his eyes and in his muzzle makes my heart hurt, just a little

The second will take a little more explanation.
You see, to get back to Las Cruces, I have to fly into El Paso and while that's not my town, over the years I've even grown a bit fond of that crazy place.
When I stumble off the airplane and into the terminal I find that nothing much has changed. Then my heart softens a little when I see the genuinely godawful carpet in ELP's main terminal. Seriously, it's so bad, it makes me sentimental.
Nothing says "welcome home" like lizard carpet. Apparently, I was so overcome I had to take a photo.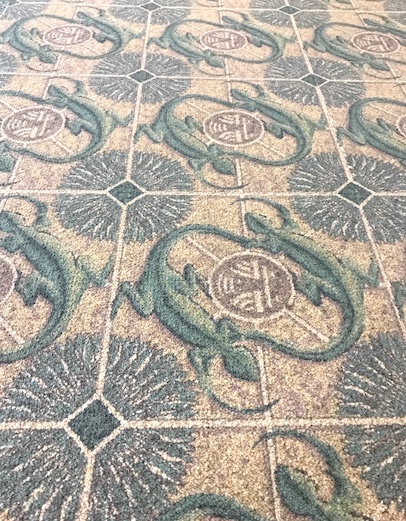 Not conducive to overcoming a hangover

And now I'm glad I did, I just found out today that the infamous ELP carpet is due to be replaced, like this month! Yipes.
That means next time, I won't be greeted at the door by the funky lizards. And as my goddog isn't getting any younger, one day I'll roll up to my best friend's house and won't get to experience his side-angled lope and velvety soft ears.
That's too much to consider. Right now, I will rest easy knowing that hideous lizard carpet and beautiful brown dog eyes remain just where I left them. I feel my connection to home, which makes sitting in this dull gray office just a tiny bit easier to take.

Both photos ©2018 Karen Fayeth, taken using the Camera+ app on an iPhone. Don't steal 'em. Thanks!

The job that pays the bills has been especially nutty this month. Around these parts, Santa is saying "Ho, Ho, Hoooooly crap I have a lot of work to do." Thankfully, I managed to get through to the end of the week and now get to enjoy a bit of time off for the holidays.
And so it's best to balance all that work with some fun. Which can also be work, in a way.
This week, my photography takes a turn toward bokeh, the sort of blurry backlights seen in many an Instagram photo. I've seen a LOT of photos with bokeh, it's quite popular. When I see these kinds of photos they always seem fun, and those blurry lights look like they would be so easy to shoot.
Easy was not the case for me. I figured I'd waltz right into some fabulous bokeh photos, but I really, really struggled with this challenge. The photo's subject was photographer's choice, it just needed to have some nice juicy bokeh in the background.
Curse words were uttered. Cameras were called names. Swears in English, Spanish, French and British English (bollocks, bollocks, bollocks!) were all employed in the making of this photo. Finally after several Google searches and articles consumed, I stumbled onto a good suggestion for creating lots of sparkly light, and it worked.
In the end, I'm pretty happy with how this turned out. The photo features a Zuni Pueblo fetish carved by a Native American artisan named Dilbert Gasper. His Butterfly Maiden is carved from black marble and inlaid with turquoise. Since Christmastime is when I miss New Mexico the most, she seemed to be a good subject for my trials and (many) errors in learning a new technique.
I hope I did the little Butterfly Maiden and master artisan Mr. Gasper their justice.
And with that, a hearty Feliz Navidad to all!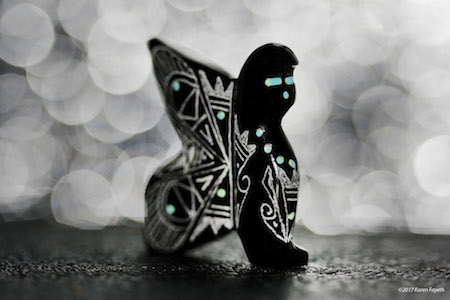 ©2017 Karen Fayeth

Recently, as I perused the pages of Facebook, I came across a Newscastic (read clickbaity) article with a New Mexico topic. I took the bait so you don't have to.
The title of the article is:
Pick A Side: 11 Famous ABQ Rivalries Since The Day You Were Born
They said to pick a side, so I did.
Herewith, the 11 so called rivalries (many of which came well after the day I was born, by the way) and my pick for each.


1) Comanche vs Candelaria


We can all agree not Montgomery, right? My preference always was and will always be Comanche, since it was quite close to the house where I grew up.
Sideline here, I looked up the house where I grew up on Google Street View. Wow, hardly recognize it. Brought a little tear to my eye.
Back in my day Comanche had way less traffic than Candelaria and made it worth taking, even with all of the stoplights. Who knows how it goes today? Maybe my ABQ folks can let me know.


2) Twisters vs Golden Pride


Have I been out of the state so long I don't know what Twisters is? Had to look it up. Established in 1998. Psh! No.
Golden Pride (est 1972) all the way.


3) Sadies vs El Pinto


Isn't the right answer first one then the other?
Okay, okay, look, I grew up in the days when Sadies was located in a bowling alley. That's the kind of clientele they drew. El Pinto was always nice, a little more upscale (and pricey).
So to me it's Sadies if you want casual and El Pinto if you want nice. Even with the lovely Sadies stand-alone restaurant, I stand by that rule of thumb.
Verdict: No pick, love 'em both in different ways


4) Rio Grande vs Alameda


Shrug. No opinion. I was a Northeast Heights girl. Didn't get down either very often. Probably Alameda, based on my limited memories.


5) The Shins vs Brokencyde


Who? I thought this was "rivalries since the day you were born."
Let's go with neither. How about Joe King Carrasco, who is not from ABQ but played the hell out of it back in my day. Yeah.


6) UNM vs New Mexico State


I believe my feelings are this matter are abundantly clear.

And when we win this game, we'll buy a keg of booze, and drink it to the Aggies til we wobble in our shoes.

Best. Fight song. Ever.


7) Eldorado vs La Cueva


Richie rich versus the really Richie rich. Who cares? Not me.
Del Norte for the win.


8) Sandia vs Rock Quarry


For skiing? Sandia. Oh Sandia and your bare dirt patches. Your hard icy spots. Your imperfect but nearby skiing, how I miss you.


9) La Cueva Skatepark vs Los Altos Skatepark


Hey! You children get off my lawn!


10) Scorpions vs Dukes


Those Dukes are comin' up swinging. No contest whatsoever. Love the Dukes. Likely because I am a huge fan of the sport of baseball.
While I love the sport of hockey and have nothing against the Scorpions, it just never seemed…right…to have hockey in the middle of the desert. (Yes, yes, I know about the Coyotes)
Side note, the Dukes used to have dollar dog and dollar draft days. Wow there are some games I can't remember but had fun.


11) Sandhill cranes vs Balloons


Stop it Newscastic, you're drunk. This is a ridiculous question. What, because they both fly?
Here's the answer, hot air balloons in the morning, sandhill cranes at sundown. Owl burgers all day long.
Solved.


Okay, ABQ folks, what are your picks?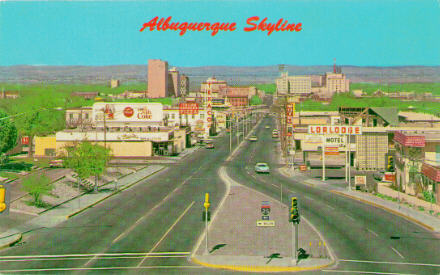 Image found here.

Hoo boy, back in the saddle again after a weekend trip to my Fair New Mexico. Let me tell you, it's hard to get into the ol' groove after being back in my homestate.
I found myself in southern New Mexico over the past four days for the occasion of my goddaughter's sixteenth birthday. She is amazing, beautiful, smart as a whip, sassy as hell and genuinely caring.
She has been easy to love since the day I first met her tiny little self. She was barely a month old when her mom brought her along and met me as I came off the plane at the El Paso airport. My world has not been the same since.
The occasion of her birthday celebration meant that I also got to see quite a few people I hadn't seen in years.
The thing that really sticks out to me from this past weekend was not just seeing a lot of dear friends who go back quite a few years, but getting to know their kids.
Time has marched along and many of these kids are now teenagers or older. So much more than a fun lump of baby or a capricious toddler. They are getting to the age where you really start to see who these kids are going to be.
What a lot of fun to see what so many of my now grown up and responsible friends have created. Look, back then I would have voted some of my tribe to the sidelines in the game of propagating mankind, and yet, their kids have turned out pretty damn awesome.
As I hear about these kids moving into their adult lives, getting married, graduating college, being responsible members of society, I also had to sit down for a moment and contemplate just how fast time marches on. And on. And on.
So many times I found myself saying "Really? Working a full time job? Getting married? Graduating college? Wow. I remember the day you had that adorable baby. Damn."
One old friend summed it up when she told me she'd just moved her youngest into her own place. "My husband and I looked at each other and said, 'Now what?'"
Now what indeed. Friends who are around my age, kids raised, possibility of retirement on the horizon and a new life awaits.
Wait a minute, aren't we going to a Corbett Dance tonight?
Oh no, Karen, that was twenty-five years ago.
Nina Karen needs to sit down. Bring your Nina a piece of cake, would you dear?
Those old hands on the clock keep pressing forward, ever onward, whether I'm ready or not.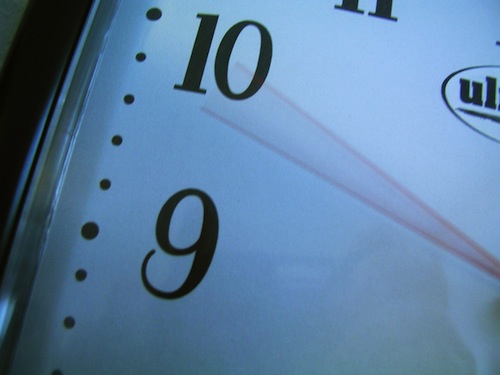 Image found on freeimages.com

Since I am a native New Mexican, it seemed mandatory that I watch the television series "Breaking Bad," which is set mostly in Albuquerque.
I missed it during its first run on AMC but found all five seasons are available on Netflix.
The Good Man watched some of the pilot episode with me and found it just didn't work for him. Okay, fair enough. This meant I was on my own to get through it.
If you are part of a couple that shares a Netflix account, you know how hard it is when one of you wants to watch something and the other doesn't. You have to carve out time to watch when the other isn't in the mood to be watching TV.
I had to look for times when either The Good Man was off doing something else or I had to set up my iPad and watch it while sitting in the same room with The Good Man. Which, let's face it, seems kind of silly.
Breaking Bad is not the kind of show one can really binge watch. I found that after getting through a single episode I had to step away from the television and go out into the world and remind myself that nice things still exist.
So it ended up taking me a really long time to watch all 62 episodes, but finally a few weeks ago I did it. I summited the mountain. I reached the peak. I got through the final episode of Breaking Bad.
I have to admit, the last five or so episodes are pretty hard to watch. The whole story and its characters are unraveling and there is a lot of violence and ugly things happening. I found it hard to finish, but I prevailed.
And now that I am on the other side, I broke through, so to speak, what is my final analysis?
As a writer, this is genuinely some of the best writing I have ever experienced. The character development, the original ideas, the pacing, the language. All of it. Genuinely amazing and enviable. Easy to understand why the show won so many awards. And easy to see why it's been hard for Brian Cranston to find other projects to work on. He's said he wants projects where the writing is as good as Breaking Bad, which has to be a real challenge.
As a New Mexican, it was at times really hard to watch. I'm not blind, I know there is a lot of bad happening in my homestate. That said, a lot of dramatic license was taken for the sake of a good story. It's possible to live a nice life in Albuquerque without encountering meth. It really is.
I cringe when I see posts on social media where people say they moved to Albuquerque just because of the show. To each their own, I guess.
I did often have a chuckle when I saw familiar places in the show. The carwash that Walt and Skylar own? I lived about two blocks away from it. The dark restaurant with candles on the tables where Walt and Jesse would often meet? It's over on Gibson (closed now) and my boss and I used to go have lunch there when I worked for Sandia Labs. Saul's office? Used to frequent the liquor store in the same strip mall.
The list goes on.
However, seeing all of those locations in the show didn't really make me homesick. They seemed so out of place in the context of what was happening.
Anyhow, I guess in summary, I can say I have mixed feelings. The writing and acting are profoundly good. And I am glad I watched the show so that I at least understand all of the cultural references. I do kind of wish New Mexico could have gotten a better shake. It's a beautiful state with a lot to offer including a unique culture and way of life.
Nevermind. I take it back. It's awful. If you aren't already a resident, you don't want to live there. Seriously. (Much love to the 505!)
I am glad that New Mexico got its moment in the spotlight, and I think the story, writing and acting changed the game for television. Hard to believe something so culturally groundbreaking came from a deceptively simple story about a cancer stricken chemistry teacher and his ne'er do well former student cooking meth. It's a fine though challenging show.
And now the big question……
Do I start watching "Better Call Saul?"
Hmm.

______________

In other news, apparently the actor who played the DEA Agent known as Gomie is running for Bernalillo County Commissioner. Weird. He's a legit New Mexican though, so okay.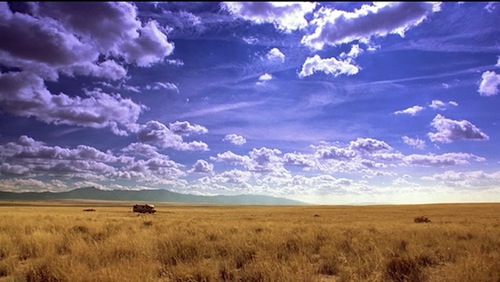 Image found here.