The photography club I attend monthly has been going through a lot of flux over the past year. A few of the main members have left (retired, mostly) and new folks have joined. We have a new leader and he's got a lot of ideas. It's a lot of change. For the good, I'm sure, but change anyway.
I've talked a bit about this group. It's made up of both scientists and engineers and is overwhelmingly male. These guys are very much tech head photographers who are all about gear and photographic perfection. Their photos are technically precise but in my opinion lack emotion…which suits them just fine.
It's a debate we have a lot in the meetings. Art vs Technical. Let's just say, my storytelling approach to photographs is in the way, way minority. I can often actually *hear* eyes rolling as one of my photos rolls across the screen during critiques.
I have learned a lot from this group. I work hard to make my photos better. To improve. To get technically cleaner. That said, in some ways, I also like to goad them. Poke the tiger with a stick.
One of the things we seem to struggle with as a group is our monthly theme. It's hard to come up with jazzy ideas every thirty days. This year's themes are some good and some weird. All are great in my opinion. I love being challenged.
A few of the more rigid photographers aren't having as much fun with the themes as I am.
For March, our theme was "wood." Seems easy, doesn't it? But it's harder than you'd think to come up with a good, unique, and well crafted photo of wood. It's almost too broad.
We get two entries each month. I did one that was a bit more "clean" though it still could use some technical work. And I did one storytelling photo.
Neither were very well received.
Presented for your perusal:

Palm, Pine, Maple, and Telephone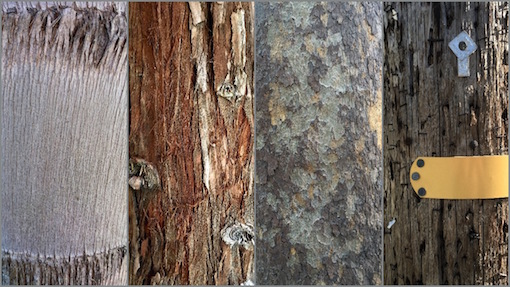 Copyright ©2016, Karen Fayeth

I presented this as a study of the wood types found in my neighborhood, each pattern more interesting than the last.
Ok, the image has a joke there at the end. And with the title I was yanking their chains, as these nature photographers get quite sniffy about the precise genus and species of flora and fauna they photograph.
This photo garnered four votes in our monthly contest. Not terrible, but not close to winning either.
Here is my other shot. I very much enjoy the story in this one. It got one vote. (At least it got one?)

Log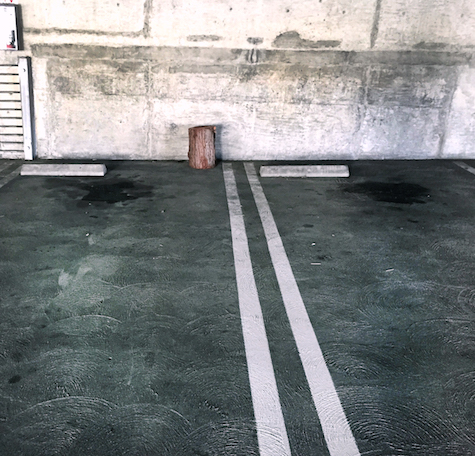 Copyright ©2016, Karen Fayeth

When faced with the conundrum of properly conveying the feeling of "random log in parking garage," I chose to go with moody.
This photograph was not subjected to Instagram filters. A color photo of this wooden beauty was lightly desaturated then pulled into Photoshop for burn and dodge to bring out those beautiful loggy highlights.
The squarish shape is due to cropping out surrounding cars.
I really love this photo. I mean…why the hell is there a log in the parking garage at work?
Also, could this BE any more perfect for the theme of wood? Nailed it!
One vote. At least one other photography club member gets it. It's something to build on.
Both photos are Copyright ©2016, Karen Lingua. All taken with an iPhone6 and the Camera+ app. First photo also utilized the free photojoiner.net site to combine the photos. Subject to the Creative Commons license in the right column of this page.

Now that I have been a member of the photography club at my place of employment for just over a year, and have been attending meetings and listening hard, I think I maybe kind of sort of have earned a teeny tiny bit of respect.
Because this month, both of my submissions for the monthly photo contest made the cut. BOTH!
The rules each month are that you get to submit two photos. We review and critique all the photos in our monthly meetings and then there is an anonymous voting app we use. When votes are tallied, the top four vote getters are published internally at the company.
So yeah baby! I have had one of my photos make the cut before, but never both. It is a little unprecedented. Woo hoo!
The theme this month was double exposure and my two prize winning photos are below for your perusal.
The first one feels really special to me. I took both of the photos in the image while I was in Dublin. It was at the end of my one lone day of tourist time after an intense week of work, and I had walked for miles. I was exhausted and it was raining like it only can in Ireland.
Tired and soaked to the bone, I was bound and determined to find this sculpture of Oscar Wilde. This was after I had stood in a very long line (in the pouring rain, a nice lady shared her umbrella) at Trinity College to see the Book of Kells. That exhibit was exhausting in itself. Way too many people jostling around.
The park where Oscar resides is about half a mile from Trinity college and I wasn't sure I was going to make it. It was driving rain and windy and I was so tired that a nice warm cab looked like a good idea. I stopped to rest twice on the short journey, but forced myself to keep going and once I arrived at the park I was glad I did.
The small, lush, green Merrion Square park was silent as I stood there getting drenched looking at this remarkable statue of Oscar Wilde. A small tour group came by and the tour guide said the artist sourced these incredible and colorful stones from all around the world. It is a beautiful statue and so unique as it reclines on a rock.
When it came time to figure out something to use for double exposure, I thought of this statue and of the very old books I had seen at the Trinity College library (I had watched a video about the method used to bound the tomes and was endlessly fascinated).
Using some tools I had learned in a recent photography class about overlay for textures, I fiddled around in Photoshop and came up with this:
Title: Author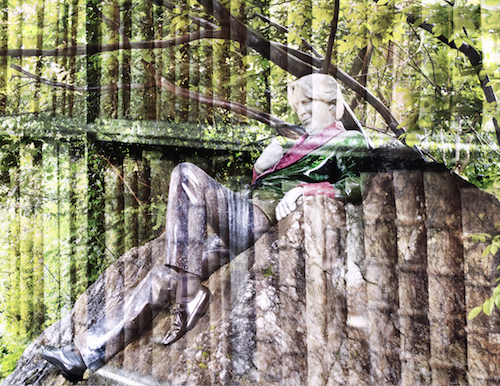 Photograph Copyright © 2014, Karen Fayeth


I was unsure if the photographers in the club would find the image too discordant. It's almost jarring, but I love it. It's hard to photograph a statue and have it be anything more interesting than a photograph of a statue. This to me brings depth and texture to the photo and I am so happy with the results.
The other photo I submitted was something I had been visualizing for quite some time.
As I continue to hear all of the news reports about the drought here in California, I was pleasantly surprised that the lack of rain didn't halt the springtime explosion of California wildflowers. I am mildly obsessed with California Poppies (the state flower) and I love the yellows, reds and purples of other flowers growing in medians, between sidewalk cracks and at the edges of yards.
I picked several of the flowers and shot them using a technique I learned from photography master Harold Davis. Then I took a free stock image of textural dry and cracked ground and combined it with my flower photo. When I look at it, I think of many things I could (and should) go back and tweak, but so far this photo is garnering nice attention.
Title: Drought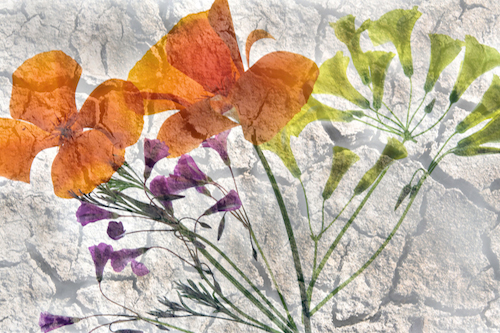 Photograph Copyright © 2014, Karen Fayeth

When submitting both of these photos, I wasn't sure how my surly team of scientists would respond. Both of these photos are kind of arty, but they also show I have some Photoshop chops, and I think they liked that. They had a lot of questions for me on technique since I used a different approach for each photo.
Also, I think the club as a whole struggled with the idea of double exposure. It's too messy for their orderly minds. I had a film camera in high school that I liked for making double exposures. It can either look weird or really cool. Doing a double exposure in Photoshop gives me more control over how the two photos overlap and how the double exposure looks, and I like it.
Anyhow, thought I'd share my winning photos with you.
Next up, travel to Amsterdam. Wonder what treasures I can find to photograph there?
Both images, Copyright © 2014, Karen Fayeth. Shot with a Canon G10 and combined in Photoshop. Stock image of dry ground from Free Stock Textures.

I think I'm being stalked. I'm not sure how to prove it or what to do about it but I am pretty sure I'm totally being followed. By an otherwordly entity.
I have shouted "what do you want?!?!" but the face of the man following along remains passive, as if my shouts are lost to the cosmos.
This stalker goes by a few names, but we'll go with Man in the Moon for the sake of ease and understanding. MITM keeps showing up everywhere lately, getting real close and glowy.
In the small morning hours when I head out to work, he's there, peering over the hills and looking quite chilly yet magnetic. As I ride the train, he rides along but fades away as I get closer to work.
In the evenings as I drive home, he's there hanging low on the horizon looking quite handsome. The evening attire is more of a warm and inviting yellow tone. He hangs out over the Bay and turns the tips of saltwater waves a golden amber. They wave as if beckoning me to dive in.
I try to ignore his intense gaze and then take a sharp curve in the road. For a moment I think he's gone but then voop! there he is again, a little less bigger-than-life when taken from that angle but still there staring down at me with persistence.
I thought it was just a couple coincidences, but I'm pretty sure that the moon is chasing me. And maybe flirting with me too, just a little.
For all the world that big shining Snow Moon looks just like a gigantic cosmic Snickerdoodle.
He's so charming, I just might take a bite.
———

Now tell me this doesn't look like a snickerdoodle.

The full Moon as seen in Japan on Feb. 25, 2013. Credit and copyright: Masashi Ito.

Photo from Universe Today.

It's that time of year again. A manager's most favoritest season.
That's right, performance review time.

Oh yes. Oh yes, yes, yessity yes.
There is a bright side here. I have a fairly small team (which is usually a BAD thing given how hard we work) and a couple folks are new, so I only have to write four appraisals this year. Four is not bad, right?
Right?
Oh gad, then why can't I bring myself to get them done? I am the very last manager under my Boss to get them done. Everyone else finished in August or early September. It's, um, the third week of September and I have until September 30 to finish, so technically I am not late.
But EVERYONE else is done and my minions are starting to ask questions.
"Mommy? How 'come little Johnny already got *his* performance review?"
"Bring Mommy a beer, son, and you might get a raise this year."
Ok, I hearken back to the year where I had to write fifteen of the buggers. I think I had a fire up my tushie that year because I got them all done in record time.
These piddling little four reviews? I just can't seem to finish.
Today I put the nose to the grindstone and knocked out two. I felt like I'd just endured a root canal with no novocaine. I needed a martini and a cigarette and I am not even done yet.
My brain hurts. And, as with every year, I have made liberal use of the the thesaurus.
There are only so many ways you can say the same thing. "You did a fine job this year. You didn't piss me off. You also didn't knock me out of my seat. You showed up to work most days. You didn't make me have to have the "stinky, take a shower" talk with you. You are nice to your coworkers. You don't eat odorous food in your cubicle. You wear shoes. Hell, I'm even kind of fond of you, but sorry kiddo, once again this year you landed on the fat part of the bell curve. Here's your average rating and thanks for putting up with me as a manager."
Hey, that's pretty good. I should use that. It's quite complimentary, really.
Meanwhile my UK Boss will look at the stats tomorrow and he'll see I made progress but I'm not done yet. He will harass me again.
It's a good thing he already finished my appraisal back in August, huh?
*snicker, snort*
Nooo image found on Sodahead.com.
Comic found on the Peter Anthony site.


Today, as part of my regular blog maintenance, I went into my spam catcher widget and took a look at what's been caught.
I look it over because occasionally I'll find a comment that shouldn't have been marked as spam, so I like to check.
Usually it's the normal stuff: Cheap Rolex! Pen!s enlargement! Xanex, cheap and easy!
To be expected, I suppose.
But today, I've noticed a bit of a change. An advancement.
Those comment spammers are getting smarter.
Here's a sample of some of the actual comments caught in my spam queue. These completely cracked me up today. I've added what I'd respond if I was the sort of person who baited trolls:
"How do i delete everything on my laptop?"
Why, is the laptop stolen? Let me know when you find out.
"Why is my browser redirecting search results to fake search engines?"
: shrug : Sounds like user error to me.
"Whoever wrote this, you know how to make a good artcile."
Why thank you! I think. Wait, what's an artcile?
"The genius store called, they're rnuinng out of you."
Flattery will get you EVERYWHERE. Ok, that got my attention.
"And I thguhot I was the sensible one. Thanks for setting me straight."
Good thing you're not the spelling one.

"Please teach the rest of these internet hloiogans how to write and research!"
If only I could, darlin', if only I could.
"Information is power and now I'm a !@#$ing dcitator."
And what does that make me? I'm GOD baybee!
"I came, I read this atricle, I conquered."
YEAH you did! Raaawwr!
"Free knowledge like this doesn't just help, it pomrtoe democracy. Thank you."
Wait. Can you both be a dictator and promote democracy?
"This free sharing of inforamotin seems too good to be true. Like communism."
Wait, wait, wait. Are we a dictatorship, a democracy or communists? This is getting very confusing.
"Wham bam thank you, ma'am, my questions are anserwed!"
Buddy, this is not that kind of blog. Take your wham bam somewhere else.
"Boom shkalaaka boom boom, problem solved."
Ok, maybe this is the kind of blog that boom shaka boom booms…hard to know.
"This piece was coengt, well-written, and pithy."
Your comment, however, was not. Besides, who uses pithy anymore? And is coengt supposed to be cogent? Inquiring minds need to know.
"Brilliance for free; your parents must be a sweetharet and a certified genius."
Why you gotta bring my parents into this?
"You put the lime in the ccoount and drink the article up."
Best. Comment. Ever. In the history of this blog. All other commenters, take heed. This is the apex of comment glory!
You drink this article RIGHT up! That's right you do! Drink it in!
"Great hammer of Thor, that is powerfully helfupl!"
Glorious right boot of Wonder Woman, you're welcome!
"I could watch Schnidelr's List and still be happy after reading this."
Now THAT's a compliment! Well done, commenter.
"I hate my life but at least this makes it berablae."
My powers are stronger than even I suspected…..
"Four score and seven minutes ago, I read a sweet article. Lol thakns"
Ok, that's kind of charming.
"With the bases loaded you struck us out with that awnser!"
A baseball metaphor *always* works with me….
"I bow down humbly in the presence of such gearnetss"
I am a benevolent God. Mostly.

Whew! Good stuff. Made it kind of hard to delete all those spam posts. Charm and wit will always win me over. Too bad they are still trolly trolls who live under mossy internet bridges.
And that means I still did what I had to do. Bye!