What follows is me working out some "stuff" up there in the ol' brain pan. A bit indulgent to do this publicly, but maybe putting it out there helps someone else. Or makes me accountable for my own crap. Either way.
So here it is… I have been taking part in a Flickr group that challenges its members to do a new macro photo every week based on a theme the moderators choose.
I started participating on December 4th with this photo: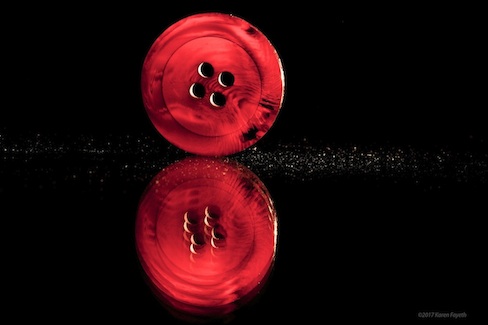 ©2018 Karen Fayeth

I felt clever. Sassy. Like my photo was more creative and of better quality than the others in the group. Go me! I was rewarded with well over one hundred faves in the first day. Hey, fun!
So I kept going. Each week working hard and having fun doing these weekly photo challenges. Creating a new image every week. Some weeks I worked really hard (or agonized) over executing my idea.
Other weeks it came easy to me, I snapped a photo that was exactly what I wanted and went on about my day.
But always having fun and not taking it too seriously.
Until two weeks ago. Two weeks ago I stopped having fun and got deadly (overly) serious about my weekly photo entry.
Let me back up. This Flickr group is huge, over 13,000 members. Each Monday between 800 to 1,200 photos are posted for the theme. This means in order to function, the group must be tightly moderated. And it is. Tightly.
I both like and respect that there are heavily enforced rules for the group. But I also HATE it because I'm an *artist* and The Muse can't be contained by your silly rules. I should be able to break them because MY work is the best.
Yeah, okay. I own it. I got weird. I hate it when I get weird.
The week's theme was monochromatic, and I turned this one in: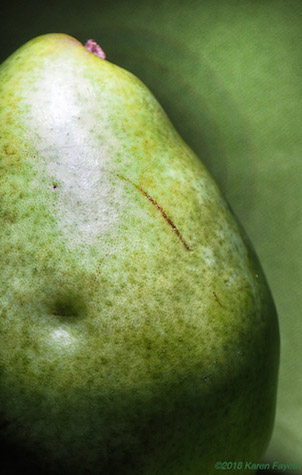 ©2018 Karen Fayeth

I really like this photo. I worked hard on it and felt really good about it. I feel like I did something worthwhile. Artistic.
Less than ten minutes after adding it to the group, a moderator pulled it, telling me "This is not monochromatic, I can see both brown and green."
I seethed. I stewed. I started looking at other photos in the group and found SEVERAL that also had tiny bits of another color that made it through the moderator's net.
I bellowed about how unfair it was. I started making a list of all the other photos that were let through. I prepared to launch my vitriol on anyone who would listen and demand answers for my mistreatment. How could they hate my photo so much!?!?! (I know, I know)
Then I went to talk to The Good Man, and as I detailed all the ways I had been wronged, I heard myself. I listened to my words and realized…aw damn…I'd stopped having fun. I was this worked up over a photo on Flickr in a group where the only prize is some eyes seeing the photo and some faves.
Yeah. I hit the wall pretty hard. This came just a day after struggling with a story for a writing contest that just would not gel for me. I hadn't given myself enough time to work on it and the story would not come together no matter how hard I tried. I tried to shotgun it and I failed hard. I did still turn in the story but I know it's not good.
You see, I wasn't mad at that stupid unfair moderator. I was mad at me.
And that's no way to create. That is the antithesis of creativity. This dampens The Muse.
So I went all the way there and now I'm reeling myself back in. I swear. I sat my Muse and my brain down and we had a talk. Feelings were felt and admonitions were issued. Promises to be better. To loosen up. To remember why I do any of my creative work…to have fun. To let the creativity out. To create something.
And I'm better. I am. The following week I swore I wasn't going to participate in the Flickr group again, but that was EXACTLY why I needed to get back in the game. So I made a photo based on the theme "in a bottle."
Here's my Valentine to myself. Green like the Hulk who gets very, very mad. Sweet like the victory of turning out a piece of art and something I really like. It also met the rules and made it past the moderators.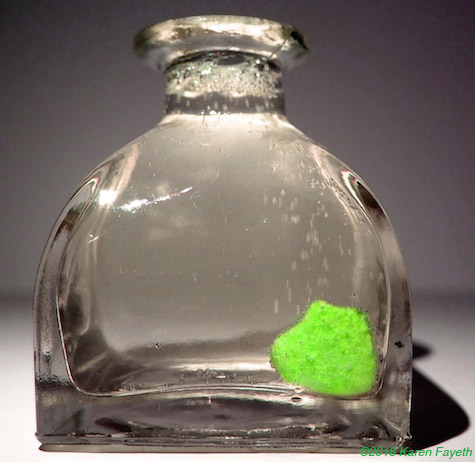 ©2018 Karen Fayeth

Lesson learned. Scars formed. Exterior just a little bit tougher.
And this week? Try, try again.

So yeah, I'll just cut to the chase, I've been having a hard time lately. Moving, work, life, storms, general state of politics, hades-like heat in the Bay Area, all of it. Stress. Anxiety. Insomnia. It all just got on top of me, and stood on my neck.
Some days I'm stronger than others, but last week the final drop of strong independent woman inside of me got used up, and I broke. I had been in a prolonged email squabble with a really challenging coworker and I hit a wall. I totally collapsed into tears.
Sobbing, heaving, inconsolable tears. Not in front of the coworker, at least. But still. It was what I believe the kids these days call an ugly cry. Full on.
For a while I was so down, ragged and lost that I thought I might be losing that small tenuous grasp I have on sanity. I was actually pretty scared.
But through some tough love from The Good Man, some actual sleep (I swear lack of sleep would make the most calm person into a raving psychotic), and doing a much better job taking care of myself, I found my way back. Mostly.
I mean, it's still there at the edges, the crazy I mean. This is the absolutely busiest time of year at my job and things always go a little pear shaped in September anyway. Tempers are quick for everyone and feelings are a little raw.
This too shall pass, it always does. I mean, October 1 is only three weeks away. I can survive three weeks, right?
Today, this lovely Saturday afternoon, when I should have been doing work but just couldn't bring myself to sit in front of a computer, I instead sat on my back deck with camera in hand, trying to photograph hummingbirds. Not an easy thing, and I'm learning a lot about both the birds and who I am as a photographer.
I shared one I really liked on all the social medias.
Here is another: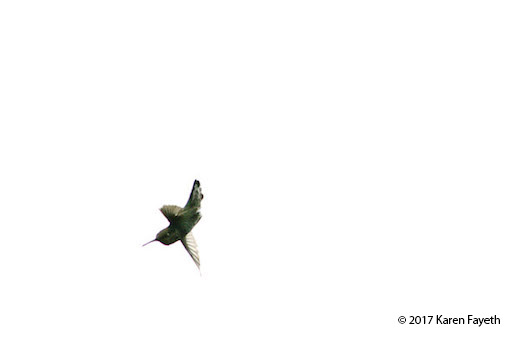 Today as I sat and watched and listened and kept my eyes open for the hummingbirds, another animal caught my eye: A Monarch butterfly.
A sure sign of pending Autumn, the monarch. They are special to me in so many ways, not the least of which is how closely tied they are to Dia de los Muertos in the Mexican culture.
I silently wished for the Monarch to land and let me get some photos.
Well, I got my wish, just not quite in the way I expected.
The butterfly flew in listlessly, bumped into a wall, ricocheted and then landed on the side of the deck.
As I got closer, snapping quickly with my telephoto, I soon realized the issue.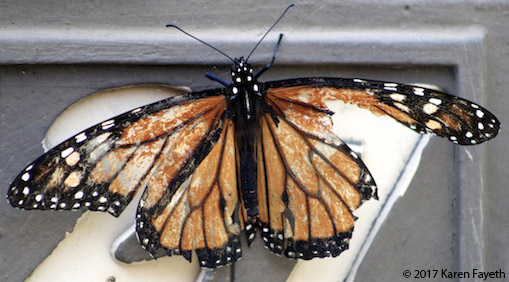 "We have an injured warrior out here," I texted to The Good Man.
I wondered what had happened to this beautiful animal. Did it go through a rough storm? Get batted at by a sporting cat? Fight for territory with another butterfly? Or was it just at the end of a good life?
What sort of hell had this little guy gone through, and how was it still flying?
After some Googling, I tried making some nectar and coaxing it into a box, but alas, no. It mustered up some of its last strength and flew off.
I was left sort of sad, wanting to give the injured insect a safe haven. Wishing I had just left it alone.
But as it flew off on one good wing, I couldn't help but admire its tenacity.
A tenacity I wish I could find. Or perhaps find a little more of.
May I (and you and we) find the strength to fly on our own battered wings. May my poor ragged butterfly inspire you as it did me.
Last month I found myself in Chicago attending a writer's conference. The event was sponsored by a large publishing house and I went to learn more about the publishing industry. Boy did I.
Part of the weekend also had us working on some writing exercises. We were given a topic and told to write about it for ten minutes.
I'm pretty good at these off the cuff wind sprints, so I was sailing along nicely creating the words and feeling all of those blocks melt away.
That was until we got to the prompt: "What's the one thing you won't write about?"
Ugh. Well. The snarky voice in my head kicked in, saying things like "well if it's something I won't write about, why would I write about it here? In this uncomfortable chair. With 500 of my closest friends in attendance?"
Bah.
Then I started thinking, what really IS the one thing I won't write about?
I know what it is, but I'm still not ready to write about it.
It's grief. My overwhelming grief is the one thing I just can't write about. Not yet.
Both December and January ushered in tremendous losses for me, one after the other, and though I'm told I have to "just grieve" and "get it out" and "go through the stages" I find myself a bit at sea. There are times it shows up inappropriately and I cry so hard I wonder how I will ever stop crying.
When I do finally stop, I become near catatonic for the rest of the day.
There are times I know it's sneaking up on me and instead of trying to head it off, I am able to find a way to hide in the bathroom or outside or in my car and let it happen. A little.
And sometimes I simply have to tell the freight train that no, it doesn't get to run me over today. When I head it off, push it down, it only means the grief builds up a bigger head of steam for the next time.
It is a demon and I am wrestling with it. And no, I'm not ready to write about the details. It's too tender, too fresh, too painful.
One might argue that since writing is my thing, I should be writing about it. I should be writing it all out furiously and fast and working through all of those darn steps, up and down the ladder until I'm free.
As if one can ever really be free of grief. Actually, that's part of the problem. This fresh and overpowering grief has ripped the lids off of the many other losses I have experienced so I get to go through all of that again. As if it's new and present and today.
So yeah, letting it all out, that's probably what I should be doing.
But I can't. Not yet.
And it remains the one thing I won't write about.
But I will write about it. Someday.
Maybe this post is just one small step in the right direction.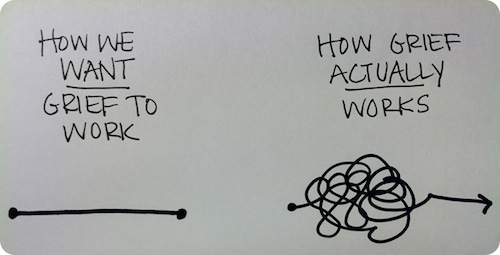 Image found here.

Part V, and the conclusion of a five part series.
It was a short plane ride, take off, cruising altitude for something like a minute, then get ready for final descent into Las Vegas.
Las Vegas. My kind of town. Vegas and I go way back. Now you know my not so secret secret, I wasn't actually born in New Mexico, I was born in Las Vegas, Nevada.
My dad was working out at the Nevada Test Site and one thing led to another and…
Growing up some of my friends liked to tease me that my parents took a gamble and lost. Oh! Hey! Good looking crowd. We're here all night. Tip your waitress.
My folks loved living in Las Vegas, but for various reasons moved back to Albuquerque when I was very small. Really too small to remember much of life in Las Vegas. All I've ever known is New Mexico, so I still rightfully call myself a native.
I scrambled off that Southwest Airlines jet, through the jetway, and hit the carpet in McCarran Airport. I walked without hesitation to a bank of slot machines that were unoccupied and pulled up a seat.
My family likes to gamble. A trip to Vegas was my present for my twenty-first birthday. My folks used to get out there at least once, maybe twice a year and we kids often went along. I didn't grow up in Vegas but I grew up an awful lot on the many casino floors through the course of my life.
The Vegas I know is an old school Vegas, from the 1970's, and it always feels a little right to be there.
With twenty dollars in the slot machine, I managed to make it play for a little over a half hour. I'd get down to the last dollar then the machine would pay off again. I was on a nice hot streak. Not hot enough to cash out, but hot enough to have some fun.
When that was gone, I picked another machine and chased another twenty dollars around for about fifteen minutes.
When that was gone, I got up from the seat with a sigh. I felt hungry and went in search of something not airport-awful to eat. Over a really disappointing slice of Sbarro's pizza, I stopped chewing for a minute and smiled.
A thought occurred to me. In that same day, I had been in New Mexico, I was in Las Vegas, and I'd soon be in California. Those are all of the places I have ever lived. Those are all of the places I know.
Those are all of the places I belong.
Kind of cool, really. Kind of a nice way to end my journey. A full circle kind of a thing.
My trip to New Mexico was, all in, pretty good. I was so glad I made the trip, so glad to see my best friend and my goddaughters, so glad to go home and immerse myself in memories (and make new ones too).
My trip to New Mexico was also a little difficult. You see, my dad died in 2005 and he's buried in the National Cemetery in Santa Fe. There was no way I could live with myself if I was in Santa Fe and didn't go to the cemetery. And yet I really, really didn't want to go to the cemetery. It's not a joyful thing.
The last time I had visited was in 2009 and I was without a job and had lost my mind a little bit. I was scrambling to find a way to get back on my feet. That year I took a trip home to New Mexico to see if going back to my roots could help me find my compass needle.
I had cried a bit when my dad had died, but I was also a little stoic. My mom had asked me to be strong so that she didn't have to be, and I agreed. I was as strong as I knew how to be back then, and a few years later there may have been some pent up stuff that needed to come out.
In 2009 when I found the stone that marks the place where my dad's ashes are stored, it was a surreal experience. Gray skies opened up with rain and I stood there with my hand tracing the letters in stone and I cried, I keened, I howled. I scared the grounds crew. I honestly did, I freaked out this nice man taking care of the row of headstones nearby.
I guess back then I had some things I had to work out. On that recent spring day in March 2014, I was afraid that monster was still inside of me. I was terrified I'd find myself keening again at my father's graveside. When considering going to the cemetery, I balked, I stalled, and finally I borrowed the keys to my friend's new Suburban and set up Apple maps on my phone and took off on the highway, dreading it all the way.
Apple maps led me on quite a merry chase through the streets of downtown Santa Fe. That is a very old city, built by the Spanish Conquistadors so the roads are narrow and the sidewalks are high to accommodate horse drawn carriages.
With a little bit of axel grease and a shoehorn, I was able to navigate a huge Suburban through the streets, getting more lost by the moment.
Eventually, Siri found her head and I found my way, and there I was again, at the Santa Fe National Cemetery, both ready and not quite ready for what lay ahead.
That cemetery is always a difficult place for me. Rows upon rows of headstones mark all of my fellow New Mexicans who served in the military and who passed on, either in service of their country or later, as my dad had done. It is quite a humbling place for me, and that is even before I get to the place where I have to face my personal sorrow.
I had a bit of a false start, stopping at the wrong row of stones and realizing I was off by a bit. It didn't take me a long time to find the right row and my father's stone.
His ashes are in what is called a columbarium and it's covered with a lovely piece of what I think is marble and secured to the wall with these connectors that look, to me anyway, like conchos.
They are so beautiful and so New Mexico appropriate.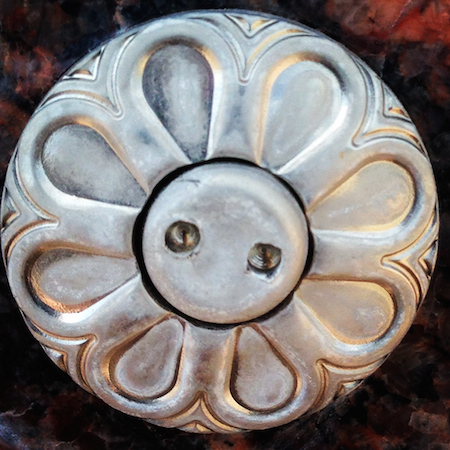 Copyright © 2014 Karen Fayeth

For personal reasons, I will decline to post the entire stone, but I wanted to share a nice photo of that fastener. It stands on its own as a useful reminder.
On this visit I didn't keen and I didn't wail, but I sure did cry an awful lot. I put my hands on the now weathered stone and I traced his name and the word "Korea," the war in which he participated. I felt the cold marble and I noted the sand blasted wear and tear and laughed at the unyielding New Mexico elements that caused the letters to already become faded. It's only been nine years.
"Well, dad, I guess I'm doing a lot better than I was the last time I was here," I said aloud. And I was.
Seeing my father's name carved into stone never fails to break me on some level. After pacing a bit and having a pretty hard cry, I walked up the row and sat on one of the benches. It looks out over the valley and has a gorgeous view.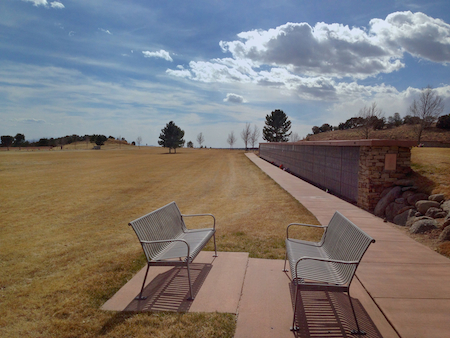 Copyright © 2014 Karen Fayeth


The mountains at my back and the dried grass and valley in front of me. The New Mexico unrelenting wind dried my tears the moment they slipped from my eyes. I laughed as the wind whipped at my hair. "Goddamn springtime wind," I said to no one as I sat there alone.
Tumbleweeds of thoughts bounced in my mind. Through tears of sorrow, I smiled, because of that view, that place, that moment.
I had spent the past three days wondering I was even a New Mexican anymore. Sitting there, letting the climate steal my moisture and feeling grounded, I remembered that I always was and will always be.
I can never not be a New Mexican. Just as I can never not be born in Las Vegas. And I can never not be a damn near twenty-year veteran of California.
I am all of that. I am none of that. I am more than that.
I am greater than the sum of all my parts.
My version of New Mexico may not exist anymore but it's mine. My particular brand of Las Vegas may not exist anymore, but I own it. My California is still telling me its story.
There is a lot left to learn about all of those places and as I gaze forward to the celebration of another revolution around the sun, I humbly admit there is an awful lot yet to learn about me.
What started as a fun trip to see my best friend in the entire world and my gorgeous godkids turned out to be something of a journey. A grounding moment in time that changed me, humbled me, reminded me and helped me grow.
I had no idea that was going to happen. I'm kind of glad I didn't know. To paraphrase one of my oldest goddaughter's favorite songs (that dates back to my college years), I might have missed the pain, but I'd have had to miss that dance.
And there is no way I'd ever miss out on a good dance with some of my most favorite people in the world, back home where I belong.

Both photos Copyright © 2014, Karen Fayeth, and subject to the Creative Commons license in the right column of this page. Taken with an iPhone5 and the Camera+ app. The fastener photo was further edited in Instagram.

And here we find ourselves again on the eve of the Holiday of Big Eats. Of all the holidays each annual cycle brings, Thanksgiving and Halloween rank up there as my favorites. Mainly cuz of the snacking aspect so central to them both.
I do love a good day of eatin'.
So at this year's Thanksgiving fest as I nosh and nom, I have many things to be thankful for.
I'll start with gratitude for each and every reader of this blog. You may not be many in numbers, but you are huge in providing motivation. I love reading comments both here and on Facebook and each comment just spurs me on.
Thanks also for putting up with my most recent and quite maudlin post. I was in a pretty dark place that day. Writing the words out on the page always help me exorcise those demons. It is my greatest therapy.
I cried through just about every word of that post (a little awkward at work, so I had to stop and finish it up at home) but getting it all out really helped.
I've been a bit MIA since that post as I've been dealing with a lot of stuff. Work got really weird last week and of course I am already weird, so when weird is doubled down, it's not really a good thing.
The good news is that I am off work this week. I have to admit I didn't know how much I needed a vacation. Needed it so much. Yesterday I slept in to a reasonable hour, something like 7:30, and got up and started doing stuff around the house. Then I felt nauseous and had vertigo. So I did the only logical thing: I went back to bed. For the whole afternoon.
Turns out my body was saying "Lay it down sister, we need rest." I have been running full throttle for a long while and when I let off the gas, I needed to actually rest. So as much as I hated to lose a whole day of vacation, it was totally worth it.
Today I'm full of the usual quantities of both piss and vinegar, so it's game on. Look out world, I'm back! And grateful to feel good again.
So I'm thankful for my job, the ability to take paid vacation days, and for rest. All of these together make me a better Karen.
I might also mention here how thankful I am for The Good Man who puts up with my special brand of crazy including chronic rantings and frequent bad moods. He is the cream in my coffee, the salt in my stew, and he makes me a better person every day. Thanks for being you.
Also, looping back to my dark post from last week, I am thankful for the magic of veterinary medicine. The Feline is back up on her paws. She still has a chronic and quite terminal condition, but with some medication, some subcutaneous fluids and some love, she's almost back to her usual zippy almost 15-year-old self. Who knows how long we have left, but we have her feeling ok today. And I am very grateful.
And finally on this by no means all-inclusive list, I am thankful for my best friend who, earlier this year came to my home bearing bags of green chile that she had stowed in her suitcase. Yesterday I discovered them in my freezer and realized that two of those bags were chopped chile, just perfect for making a green chile stew.
As the chiles and cumin and potatoes roiled and boiled, I was thankful that I am a New Mexican, grateful for the mouthwatering food, and thankful that my New Mexican by way of Texas best friend in the whole wide world cares enough to share her chile stash. That's love.
Most of all on this sunny and warm California Wednesday, I'm just happy to be alive, to be loved, and to have my place here on my little blog where I can be weird or depressed or lame or just simply be me, and that's ok.
Happy Day of Gobble Gobble to you all! May you have a wonderful holiday, wherever in this big ol' world you may be.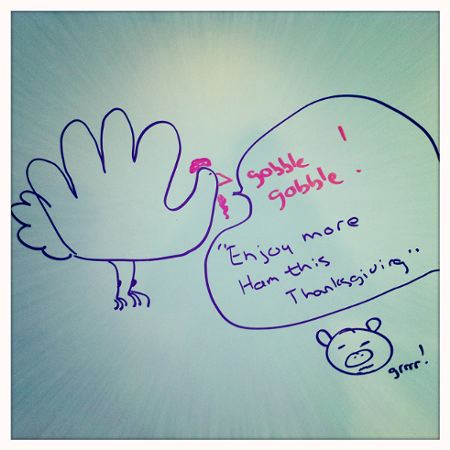 Had to post this image, it's tradition.

Photo and doodle Copyright 2010, Karen Fayeth, and subject to the Creative Commons license in the right column of this page. Photo taken with an iPhone 4 using the Hipstamatic app.