This morning, like most weekday mornings, I hopped into my trusty old Jeep, fired 'er up and took off, careening toward my place of employment.
As I traversed one of my hometown's very busy main roads, I glanced into my sideview mirror, as any safe driver would do.
As I glanced, I saw a little leggy burble and a pop and this thing emerged: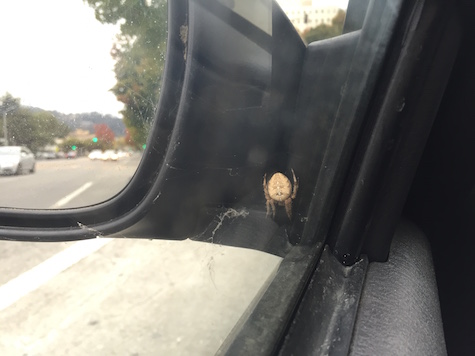 See the hinge for the mirror? It had somehow packed itself in there.
I should note that I was so startled that I had to pull over to the side of the street and consider my options. Also to take a photo to send to The Good Man. It was essential to document the situation in case my Jeep and I were later found suspended from a stop light, wrapped in silk and drained of fluids.
Let me zoom in a little closer for ya.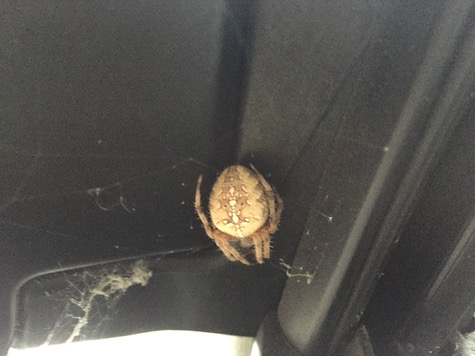 The Good Man refers to this time of year as "Chunky Spider Season." It's true, our current hometown is very, er, spidery. More than any place I have ever lived. And they are often quite big. And chunky.
At home, I park on the street near a tree and some brush. These eight legged demons seem to consider the Jeep part of their homestead. I often brush webs off every corner of the Jeep, including when they manage to string webs across my roof rack.
But this, today, goes beyond the pale.
How about an even closer look, because you need to know my fear.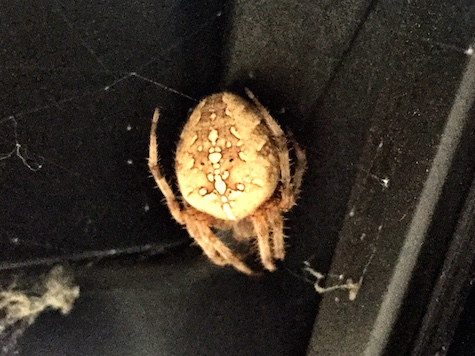 After snapping photos, I cinched up, put on my determined face, then re-entered the roadway at speed hoping this sumnabitch would fly off in the wind. No such luck. It first hunkered down, then feeling carefree (I assume), it later spread all eight of its legs as though surfing the breeze.
Hitting speedbumps at a hard pace didn't seem to help either.
Soon, I arrived at work and had to unroll this window to reach out and badge into the garage. Thankfully my new overlord didn't seem to flinch much.
But it's still there. Still hanging out like it owns my Jeep. Like I am just a pawn in its spidery game.
I am currently unable to exit the Jeep. This is my life now.
Someone please send help! To the passenger side, though.
Gah!
_____________

The Good Man did some research based on photos and determined this is a Cross Orbweaver and that it isn't poisonous. Fab. I'll remember that when it singsongs my name and tells me to "come out and play."

All photos ©2016 Karen Fayeth, and subject to the Creative Commons license in the right column of this page.

Turns out I have a new neighbor. I had no idea the new tenant was moving in, but then *boop*, there was someone new trooping around the ol' neighborhood.
Not sure what unit this one lives in. In fact, I've never even set eyes on my new neighbor, but I know they live nearby.
You see, October in Northern California is gorgeous. Really, it's the best time of the year, bar none, to be here. The days are warm and pretty, and the evenings clear and cool. Indian summer lasts a real long time here and it's a wonderful thing.
Every evening after a long day of work, The Good Man and I throw open the windows and the back door and let the stuffy apartment drink in all of that cool, clean air. Perfect for a good night's sleep.
Over the past couple weeks, right around 7:30pm or so, the rancid odor of burning plastic and gasoline and the hinges of hell begins to seep into every room of the house. It hits one of us (usually me) first.
"Arrwhagggh!" is the approximation of the sound I make.
"What?" says The Good Man, alarmed, and then "Oh bleah!"
Yes, it's true. My new neighbor is…Dun dun duuuuuuuun
El Zorillo*
Pinche zorillo. I haven't been able to lay eyes on the beast, probably because by the time I get the eye watering jet wash it's moved on to the next yard.
I fear this cabrón lives under my front stoop but I can't be sure.
And every time this happens, like watching reruns of Lucy and Ricky, The Good Man and I have a conversation that goes a lot like this:
Me: "I just need a .22 and I can take care of this problem."
Then The Good Man reminds me that we live in California and this state takes a dim view of shooting varmits in its urban neighborhoods.
"A bb gun?" I ask, like that kid from the Christmas movie. "The pump action kind."
The Good Man says, "You really think you can hit a [insert rodent name here, we have this conversation a lot] from here?"
"Try me," I say, standing up straighter. "I've been shooting since I was a kid, my dad saw to that. I've shot everything from a cap gun to a Browning over and under and my aim is pretty damn good."
"No," he says.
"Pellet gun?" I plead.
"What the hell state do you think you live in? We don't shoot old hot water heaters out behind the Snappy Mart around here!" (I may or may not have introduced him to the rasquache joy of my home state.)
Then he tacks on, "We live in one of the most densely populated areas of the United States and the police, they have no sense of humor in this city!"
And then I sigh, and quickly cover my nose and cough because I took in too much skunk air when I started the sighing process.
Of course he's right. So I went online and did some reading and discovered that if I can figure out where my new neighbor lives, animal control might help.
Problem is, when I get the aroma, I kinda don't want to dash out there to get a good look at where the beast is going.
I think I'm going to need a trail camera. And camouflage. And maybe some other cool things like a Buck knife and a camp stove and a new tent! Oooh yeah…
And don't anybody tell me that it's a cute fluffy creature worthy of love and affection. When the original engineer designed the zorillo, it wasn't with a love of humans in mind.
Or dogs, I think our awesome next door neighbor dog got hit last night. Poor growly bear of an adorable dog.
(This just in: I was texting with The Good Man telling him I was writing this post and he said, "I trapped some skunk stink in my closet last night. Kind of surprised myself this morning.")
*a skunk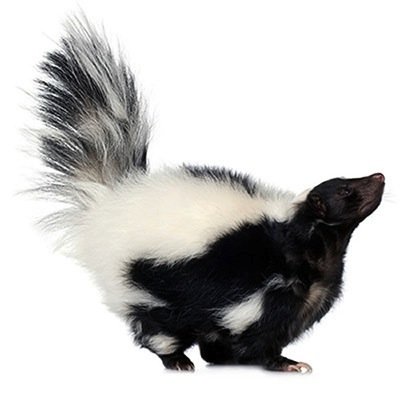 "Whatever. Haters gonna hate."

Image found here.

"Hey baby, you smell nice!" she says.
He grins, "thanks, it's Calvin Kle—"
"ROWR" goes the leaping jaguar.
"Why can't I ever meet a guy who lives longer than ONE date?" she wails.
: cue sad trombones :
My little story is a parable. A lesson. A warning.
Seems that large kitty cats with big claws and big teeth get a little fired up for….
…wait for it…
Calvin Klein Obsession For Men.
Makes 'em nutty. Makes 'em curious. Makes 'em lusty. Serious, click the link and let the knowledge seep into your brain.
(Regarding the feline in your home, your milage may vary, but give it a try. Ol' Scratchy might just become Fluffy McLapcat.)
Jaguars, tigers, snow leopards, cheetahs, pumas, ocelots, tapirs, peccaries and coatis, oh my!
Hey baby, wanna see my ocelot?
I learned this random fact this morning while perusing the news over a onion bagel.
Now you know it too.
My work here is done.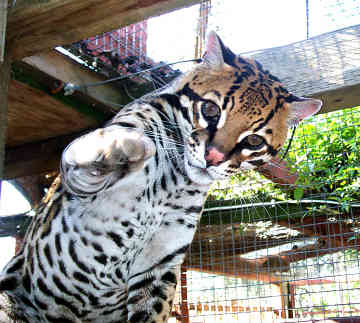 Hey baby, how YOU doin'?

Image found here.

When poets, musicians and bards speak of the seasons, they speak of the cycle of life. Birth, life, death. The never ending cycle that none with a soul and a heartbeat can avoid.
I like to think of autumn in philosophical ways as I crunch the leaves under my feet. Ah yes, the earth must turn. The leaves must turn brown. My hair must turn gray.
But really, autumn isn't quite just a philosophical thing for me anymore. I guess as years go by I have racked up painful scarred notches on my soul. Reminders. Injuries that push me from the figurative to the literal.
We are just a week away from the Thanksgiving holiday, and I am reminded that the anniversary of my father's birth is also next week. He always favored an apple pie for his birthday, which occasionally fell on the actual day of Thanksgiving.
It has been almost nine years since he passed, and this autumn day has caused me to think of my father, and the deep well of sadness that I will likely not ever recover from.
His death broke something inside of me. Resolve? Courage? Strength? I don't know. I do know that in the wake of his passing, I cry a lot easier. I get sad a lot more quickly. I grieve more profoundly. And I love with gusto because time is always ticking away. The world does not stop turning. The leaves cannot help but turn brown.
Today, when coworkers casually passed me in the hallway and asked, "How was your weekend?" by way of making small talk, my answer couldn't be the usual "Fine, and you?" Sure, I said that a few times. And a few other times I said, "Actually, I had quite a terrible weekend."
It's true, but not everyone wants or cares about the truth when crossing paths in the break room on the way to the coffee machine on a Monday morning. Lying is hard for me.
My precious Feline is sick. A few months ago we knew she was sick but it didn't seem terminal. Two months later and it's not good. She spent the weekend at a pet hospital where too many people grabbed at her and poked needles in her and she wasn't at home with her humans.
She's home now, and that helps. They sent us home with bags full of medications and regimens. We cannot cure her, we can only make the symptoms a little less awful.
The prognosis is tough to make. She may live another year. She may only live until tonight. I have no idea.
But the clock is ticking. As I watch her lose weight and refuse to eat I know that the specter of death looms large. As large at the oak trees that line my residential street, spilling their leaves and showing me their skeletons.
This is autumn. As sure as I am not ready for pumpkin spice lattes, I'm also not ready for what this autumn has in store.

Photo Copyright 2013, Karen Fayeth

Photo Copyright 2013, Karen Fayeth, and subject to the Creative Commons license in the right column of this page. Taken with an iPhone5 and the Camera+ app.

Mmm, hmm. There are things I know and know with certainty. There are things I know that people deny. There are things I say that are fundamentally true but are denied time and again by those around me.
Know this, good readers of my blog: Squirrels are vermin. They are not cute, they are not cuddly, and they are not adorable. They are rodents and should be treated as such.
I say this to the squirrel huggers and they tell me that I'm being silly. I say plague and they scoff.
So here's how we are going to play this today. I am going to repost something I wrote in 2007. And then at the end I'll give you an update to show you just how exactly 100% right I am.
Then I will do a superior dance. You'll have to just visualize that one but know I'm dancing hard like I'm counting coup.
I am a woman of the west. The real west. The range land, unpopulated and dirt covered west. I know things. Behold.

____________________________

First published June 12, 2007

So, where I live, we have a lot of squirrels. Now when I say "a lot of squirrels" I don't mean "oh my, there's quite a few out there". I mean a whole horde, an army, a remuda, of squirrels.
They run around everywhere, up and down power lines, around trees, hither and yon. When I go for a walk at noontime from work, I walk down this one street and they scatter in all directions like a squirrely sea of doom.
People here think they are cute. Find them amusing. The fluffy tails make them laugh. People here FEED THEM. Yes, they put out food for the little b*stards.
They don't understand my revulsion, my utter HORROR that these vermin are allowed to roam free in a civilized society.
They don't understand this because I am a New Mexican. One of the bonus features of being raised in New Mexico is, da da dummmmmm, bubonic plague.
In fact, according to an article in today's ABQjournal, there have already been four cases this year, including a boy who died.
To quote the article, "Plague, a bacterial disease, is generally transmitted to humans through the bites of infected fleas but can also be transmitted by direct contact with infected animals, such as rodents, wildlife and pets."
Unh huh, no wonder every little rat with a fluffy tail gets the suspicious eye from me. Early on in life my mom would yell at all us kids to stay back from any wild creature, especially the small rodenty kind.
I will not draw one of those beady-eyed plague-carrying varmints closer to me or my home! I live in a duplex and for a while my next door neighbor put out bird seed with no cover or protection from the squirrels. I would stare horrified out my living room window to see a swarm of the things eating with reckless abandon in my back yard.
THE PLAGUE!!! THE PLAGUE!!!!
In my old place, a couple of squirrely warriors had an epic territory battle on the roof right over my apartment. Not only did I have to hear the squeals and the death call of the loser, I *freaked out* about the dead rodent right there over my doorway. As you know, fleas leave the dead rodent searching for a new home.
I shall print out the referenced article and keep copies handy for the next person who looks me and says "how can you not like squirrels, they are sooooo *cute*!!"
I'm keeping an eye on you, you plaugey b*stards!!!!

____________________________


And now, the update and my vindication:
Plague-Infected Squirrel Closes California Campground

A plague-infected squirrel has closed a California campground for at least a week, according to Los Angeles County health officials.

The squirrel, trapped July 16 in the Table Mountain Campgrounds of Angeles National Forest, tested positive for the infection Tuesday, prompting a health advisory and the closing of the campground while investigators tested other squirrels and dusted the area for plague-infected fleas.

…L.A. County health officials are urging Angeles National Forest campers to avoid contact with wild animals, steer clear of squirrel burrows and report any dead squirrels to the department of health. (emphasis added)
Oh! Oh! There it is. The I Told You So Dance.