Subtitled: An Open and Passive Aggressive Letter To A Jerk
Dear Festering Canker on the Butt Crack of Society,
On the weekend after the American Thanksgiving holiday I see that you managed to find yourself, and maybe a few of your slackjawed mouth breathing friends, in my neighborhood.
I can't blame you because I live in an awesome neighborhood. Those houses that line the block are old, pristine and outrageously expensive.
It's a neighborhood so nice I can't afford to live here. Well, I mean own here. My economic status is evidenced by the nearly fifteen-year-old vehicle that I have to park on the street in front of the building that houses my teeny tiny apartment.
One of my neighbors who also lives in a small but well appointed apartment had parked her nearly decade old Volvo behind me on that fateful day. I know her, she knows me. We park near each other a lot.
So yeah, there are some really rich people who live on my block, but my neighbor and I are not among them. We managed to slip our middle class selves unnoticed into this nice neighborhood and enjoy the benefits of tree lined quiet streets and a walking score of an outrageously high 93.
I can see how you might show up in this neighborhood and see the opulence and think to yourself, "I need to mess some sh– up."
And so you started with my neighbor's Volvo. About eight months ago this same very nice person had a different Volvo, but a drunk college brat came careening through our street and bounced of her car and several others (thankfully I had parked across the street from her on that night) thus totaling her beloved old Volvo. That thing was a classic. She was heartbroken.
But her insurance kicked in and she lovingly replaced it with this used but in good shape model. You decided to be "cool" and rip the side mirror off of her new/used car. Ripped it clean off and left it dangling by the electrical cords. Aren't you so clever?
Then you set your sights on my Jeep. You popped the passenger side mirror out and folded it over. It's an SUV so it's okay to do that. It's a tough offroad vehicle and I've moved past bendy Willow branches that were stronger than your weak sauce.
It appears you wrestled with it a little bit because the case is cracked but your underdeveloped arms weren't strong enough to twist it off of my Jeep.
Pause here, hand to heart in honor of my Jeep people.


So, since you weren't able to complete your impotent act of vandalism, you then moved to my radio antenna. Yes, my Jeep is so old it still has an old fashioned non-retracting antenna that stands tall, reaching far into the universe to pull down radio waves and send them to the interior of my vehicle.
I have listened to hundreds and maybe thousands of baseball games on that radio using that antenna. Jon Miller's voice so deep and bassy that it vibrates the cheap factory installed speakers in the doors. Well, speaker and door, singular. The driver's side speaker hasn't worked since 2005 and I never bothered to get it fixed.
But that's not the point.
You got your giggles satisfied by ripping the antenna off my car. I can see from the clean spot in the dirt on my Jeep you had to lean in a little to get that done. I hope my antenna gave you a valiant fight. I hope you tore some skin when you ripped the metal and then carried it off.
You know, I grew up in the kind of place where there was really nothing to do on a weekend when school was out. My friends and I did some seriously stupid shit, too.
The quest to steal lawn ornamentation comes to mind. As young bucks we'd get a little sloshy and then go on the hunt for lawn ornaments. The people and culture of New Mexico tend to lend themselves to neighborhoods littered with plastic and clay items purchased over the border and brought home then proudly displayed on patchy grass and dirt lawns.
So yeah, we took stuff, but we always treated it nicely and often we'd go out on another night to return the things we took. Not always to the same lawns, granted, but the intentions were good.
All that by way of saying that I get it, the need to be young and dumb and act like an idiot.
But for eff's sakes! There is A LOT to do in this town. We live in a hotbed of unique things to do, and not even all of them cost money.
Nah, you wanted to leave your little limpy mark on the world by destructing the property of some people who value our tired old hoopties the most.
Congratulations. You win. You got me.
I will rebuild. I will eventually have my antenna replaced. For now I listen to either scratchy FM stations or I pop in a CD. Yes, my car is so freaking old it still had a CD player.
And as the Christmas seasons dawns merry and bright, my wish for you, dear vandalist, is that Santa Claus takes a giant squat in your stocking while smashing your favorite ornament to bits.
And that someone takes something that you value very much and vandalizes it.
Happy Holidays!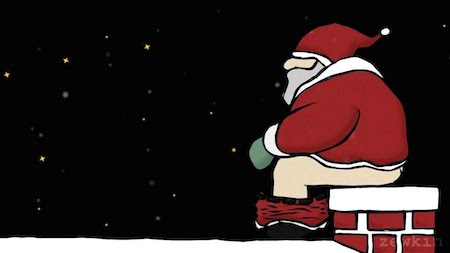 Image found here.

Part IV in a series.
There are a lot of times during my days, walking through this world, where I have small flashbacks or quick images that come into my brain. Not a hallucination, just a snapshot of a moment or a place or person.
A lot of the time the photostream of my brain shows me something about New Mexico. Some little atom or quark that is a building block of who I am. Meant to ground me, I think.
One image that seems to show up on rotation is being in either Old Town Albuquerque or at the Palace of the Governors in Santa Fe and buying beautiful handmade jewelry from the Native American artisans who display their wares on beautiful blankets.
Heck, in the early days (like the 1970's) you would also find Native American artisans selling beautiful jewelry at the airport in Albuquerque. This was well before anyone called it a Sunport.
On this trip I made to Santa Fe at the end of last month, one thing I definitely wanted to do was see the Palace of the Governors and visit the row of Native American artisans with hand woven blankets laid out, selling handcrafted jewelry. I can remember being a fairly young kid and negotiating for beautiful pieces of silver, turquoise and coral.
The one moment I remember most was being something like nine or ten and using my allowance money to buy a really pretty green malachite ring set in silver.
I remember that the artisan was dressed in traditional Navajo clothing with her hair wrapped in leather and a huge and gorgeous turquoise bracelet on her arm. She either didn't speak much English or chose not to. She was quite stoic, I recall, but I had watched my mom buy jewelry so I emulated her way, right down to the speech pattern.
I found the ring, tried it on, and liked it very much. I caught the artisan's eye, held up the ring and asked, "How much?" I think she said ten dollars. I replied, "Would you take eight?" and she nodded. Thus, I now owned a beautiful handmade silver ring.
I wore it for many, many years.
In fact, I still have it.
This is it: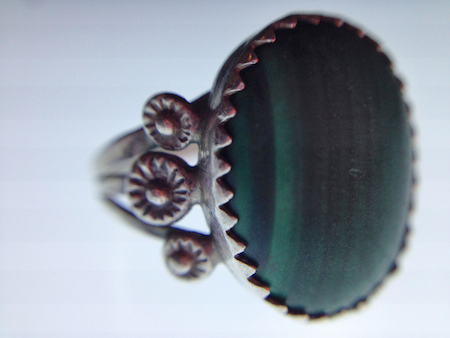 The ring is so tiny, it barely fits on my pinky finger. As you can see, the stone has a small nick. I really did wear this ring everyday for a long time. I loved it. I still love it.


So on that sunny Spring day on the Plaza a few weeks ago, after stuffing ourselves to the gills at the India Palace buffet, I was ready to walk around and my best friend and her girls were ready to sit.
They found a bench in the bustling center of the Plaza and I walked with purpose to the line of artisans with their creations on blankets.
My heart raced a little because I was excited. I mentally calculated how much cash I had on hand and what budget I would allow. I love beautiful silver and turquoise jewelry.
I had heard a few years back that there was some controversy about people who were not of Native American heritage selling jewelry on the Plaza, so I wasn't sure what I expected.
I was pleased to see that indeed, the majority of the artisans seemed to be Native American. They wore modern dress, but the look, the speech pattern, the very vibe of the artisans let me know these were my New Mexico Native people, and I was happy.
As I walked down the row, I became less happy.
The quality of the jewelry I saw was not what I had hoped. The beautiful hand crafted chunky silver and turquoise, coral, jade and malachite jewelry had given way to items that were cheap looking, manufactured not handcrafted, meager and not bold and beautiful.
In some cases, I half expected to pick up a piece and see a stamp showing me it was manufactured in another country.
To be honest, not even the blankets seemed to be handmade. The image, the memory, it all looked the same as I crossed the street, but under the adobe and vigas of the Palace, everything really had changed.
On the plus side, I noticed that the artisans were very friendly with all of the tourists, inviting them to pick up pieces and try them on. Asking where they were from and how they liked New Mexico. The stoic artisan seems to be a thing of the past as I'm sure being a bit friendly sells more items. Even as I type that it feels a little like selling out.
So there was a plus and a minus to the experience. I ended up buying a pair of earrings from a vendor across the street on the plaza. They are small inexpensive dragonflies and I hold no illusions that they are genuine Native handcrafted.
I walked away a bit depressed and I remembered that I get a catalog from Southwest Indian Foundation, and they call the style of jewelry that I love "pawn style."
Pawn style. There were some people that I knew who got really amazing deals on Native American crafted jewelry from the rows and rows of pawn shops in Gallup and other New Mexico towns. I never did that. I shopped a few times, but couldn't get over the sad feeling in my gut. These pieces of jewelry were given up because someone needed fast money.
As I made a loop around the Santa Fe Plaza, I saw a shop that claimed to have old pawn jewelry, so I went inside.
They weren't kidding. Inside the huge retail space half of the store was quite literally filled with pawn jewelry. The shop buys dead items (meaning the time has expired and no one was able to come back and claim the pieces) and resells them.
Resells them at a gigantic markup.
I found a case full of earrings and at a quick glance found three pairs that I either own the exact pair or something very, very similar.
Earrings that I know I paid somewhere between fifteen and forty dollars for were now marked anywhere from $125 to over $200.
I felt a little sick to my stomach. On the one hand I thought, "Hell, I should get out all of my old jewelry and sell it!" and of course I knew I'd never part with it. On the other hand my heart broke as progress has to come to all things, even Native American jewelry.
In my personal collection is my mother's stunning New Mexico Native American handcrafted squash blossom necklace. Would I ever sell this? Hell no.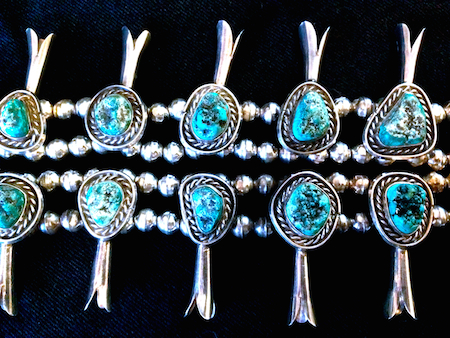 This is a really profound piece of jewelry. My mother often wore it and she was always beautiful wearing it, too. The turquoise is quite rough and each individual squash blossom is different, to match the stone.

But I wish I could have strolled the Palace of the Governors and seen pieces more like that chunky squash blossom for sale. The product of training, silversmithing, craftsmanship, and a deep Native American tradition.
Alas no, like that hammered tin clock that used to hang over the Albuquerque Airport, my memories are only nostalgia. Museum pieces. They no longer represent what is meaningful for today's children growing up in New Mexico.
I guess I understand now. Sometimes as a kid I used to jokingly say that New Mexico was forgotten, wasn't important, backward. Now I know it really was something good. I got to grow up in a beautiful culture and a beautiful state that is like nowhere else in the world.
I am hardly the only person who has ever come to realize this about the time and place that they were born and raised. It's a common lesson. You really can never go back. I can be in New Mexico again, and I can love it, but it's never going to be what I hold in my memories.
That hurts inside. I yearn for something that doesn't really exist anymore, except in my mind and have to find a way to be okay with that. As of today, right this moment, I'm not okay. Not yet.
I suppose the answer is that I need to spend more time back home in New Mexico. I have to learn to know what she was once and love her as she is now.
It's my failure that it's been so long since I was back home. I hope to improve a lot over the coming years.
There is so much I know about New Mexico, and so much I have left to learn.

Up next, the conclusion: Part V, The Roots of My Raising Run Deep

Images Copyright © 2014 Karen Fayeth, and subject to the Creative Commons license in the right column of this page. Taken with an iPhone5 and the Camera+ app.

When poets, musicians and bards speak of the seasons, they speak of the cycle of life. Birth, life, death. The never ending cycle that none with a soul and a heartbeat can avoid.
I like to think of autumn in philosophical ways as I crunch the leaves under my feet. Ah yes, the earth must turn. The leaves must turn brown. My hair must turn gray.
But really, autumn isn't quite just a philosophical thing for me anymore. I guess as years go by I have racked up painful scarred notches on my soul. Reminders. Injuries that push me from the figurative to the literal.
We are just a week away from the Thanksgiving holiday, and I am reminded that the anniversary of my father's birth is also next week. He always favored an apple pie for his birthday, which occasionally fell on the actual day of Thanksgiving.
It has been almost nine years since he passed, and this autumn day has caused me to think of my father, and the deep well of sadness that I will likely not ever recover from.
His death broke something inside of me. Resolve? Courage? Strength? I don't know. I do know that in the wake of his passing, I cry a lot easier. I get sad a lot more quickly. I grieve more profoundly. And I love with gusto because time is always ticking away. The world does not stop turning. The leaves cannot help but turn brown.
Today, when coworkers casually passed me in the hallway and asked, "How was your weekend?" by way of making small talk, my answer couldn't be the usual "Fine, and you?" Sure, I said that a few times. And a few other times I said, "Actually, I had quite a terrible weekend."
It's true, but not everyone wants or cares about the truth when crossing paths in the break room on the way to the coffee machine on a Monday morning. Lying is hard for me.
My precious Feline is sick. A few months ago we knew she was sick but it didn't seem terminal. Two months later and it's not good. She spent the weekend at a pet hospital where too many people grabbed at her and poked needles in her and she wasn't at home with her humans.
She's home now, and that helps. They sent us home with bags full of medications and regimens. We cannot cure her, we can only make the symptoms a little less awful.
The prognosis is tough to make. She may live another year. She may only live until tonight. I have no idea.
But the clock is ticking. As I watch her lose weight and refuse to eat I know that the specter of death looms large. As large at the oak trees that line my residential street, spilling their leaves and showing me their skeletons.
This is autumn. As sure as I am not ready for pumpkin spice lattes, I'm also not ready for what this autumn has in store.

Photo Copyright 2013, Karen Fayeth

Photo Copyright 2013, Karen Fayeth, and subject to the Creative Commons license in the right column of this page. Taken with an iPhone5 and the Camera+ app.

Inside of me there are dueling issues, and year by year it's a balancing act to see which wins out.
On one end of this see-saw is the fact that I love the holidays. Yes, I actually do. From Halloween to Valentine's Day I revel in every holiday with childlike glee. I often grumble (and will again this year, stay tuned to this blog) about the holidays when they are in full swing, but the truth is that when I'm into it I adore every holiday and all of its traditions.
"When I'm into it," ah and there's the trouble.
For the past several years I have been cranky as heck about the holidays because I was working so many hours I had no idea what week it was much less what season. In my last role, I was on so many calls across so many time zones and traveling so much I wasn't even sure of my own name most days.
So when the holidays rolled around in the past, I was not ready. I wasn't prepared because I hadn't had time to plan out what I wanted to do, and I was mad that I had lost so many days at the hands of a dull corporate entity.
All of that just made me angry at the holidays for showing up when I couldn't participate.
But things have changed a bit. I'm in this new job and while I am still busy, it isn't quite as bad as it has been for me over the past several years. My new employer definitely takes note of the months and what is going on. In this job, we pause to reflect and it makes such a huge difference.
Also, now that I live in a university town I'm much more aware of the time of year, ranging from school's out and it's summer to Fall football games.
I have already warned my darling Good Man to watch out, I'm officially "into it" this year. Oh yes, there will be cookies, and decorations, and costumes and more. I will probably even decorate my cubicle at work this month. There are prizes for Halloween décor!
At first I was quite resistant to the coming of Autumn, but now I am reveling in it. That said, I still have not imbibed a pumpkin spice latte.
Yesterday morning I set out for work, smiling at the beauty of the Indian Summer sunrise here in the Bay Area.
I walked to my car that was parked out in front of my building and I saw something tucked into the door handle on the driver's side.
At first (from a distance) I thought it was another ding-dang parking ticket. But no, that would have been tucked under my windshield wiper. Then I thought it was a note someone left because they'd bashed my car. No, turns out it wasn't that either.
Then I let my mind wander and I remembered back to when I was in college at NMSU. For a little while I dated this rather dashing cowboy who happened to have something of a romantic streak and a poet's heart.
Every now and then he'd leave a little love note on my car when I was in class. To be honest, I still have those notes somewhere in a box of mementos.
I grinned a little as I thought maybe I had a secret admirer. A furtive love.
It turns out that it's true, I do have a special beau.
Yesterday I received the most lovely (yet crispy) mash note from endlessly romantic Nature.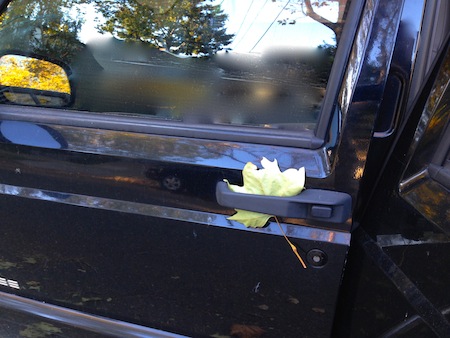 Thank you beautiful Autumn for the reminder that I need to get outside a bit more and roll in the leaves and smile at the early setting sun.
All of these years I've just sort of ignored you as you passed me by, but not this year. Today I return your affection, my glorious orange and red and brown Fall.
I am your secret admirer too!

Image Copyright 2013, Karen Fayeth, and subject to the Creative Commons license in the right corner of this page. Taken with an iPhone5 and the Camera+ app.

There I sat last night, watching something or other on my iPad in the living room. The Good Man was there too, doing something similar.
It was a nice quiet Sunday in the house of The Good Man and we were calm and enjoying the company of both electronic devices and each other (not in that order).
Suddenly I had this feeling like someone quite strong had bumped very hard into the back of my comfy chair, shoving it over about an inch or so.
Odd, though, because the chair backs up to a wall in our apartment so no one could have rammed it from the back.
Then I heard the large picture window behind me creaking a little and the front door rattling in its frame.
This led me to a big panicky feeling of, "oh my gosh, someone is breaking in!"
My now large eyes went to The Good Man, panic all over my face, mouth agape.
There he sat calmly, cool as a longtime Californian cucumber.
Every one of my nerve endings was on jangle. None of his nerves even put up their head to see what was going on.
Then I realized what was going on. "Was that an earthquake?" I asked frantically.
"Yup," he said casually. "It was a good roller. I wonder how big it was? Oh, the USGS site is down because of the government shutdown. Let me see…"
I replied, "You look at your sites, I'll look at mine."
While he looked for scientific data, I took to Twitter and Facebook.
This is what Californians do when there has been an earthquake. Everyone goes online or turns on the news to see how big it was, then everyone talks about it. Where they were, how it felt, etc.
When all was said and done it turned out to be a 3.0 (just a lil' ol' teacup rattler, really) and it was centered somewhere nearby so we felt it a little more strongly than others.
The Good Man went casually back to his book. I sat in my chair and shook like a Chihuahua for a while, then went back to my Netflix show.
No matter how long I live here, I will never get used to the earth suddenly moving under me. It is simply creepy.
Longtime superstitious Bay Area residents will talk about how October is earthquake season. That's when the big 1989 quake happened and everyone seems to believe the conditions are right this time of year.
Me, I know better. The ground shakers can happen anywhere, anytime.
There is also a faction of people who say "The little quakes are good! They release pressure keeping us from a big one."
I would really like to believe that's true. It's not, but I want to believe.
Meanwhile, Sunday brought just another shakah in this crazy mixed up California life.

I say, good madam, t'was but a shaker. More gin?

Photo Copyright 2013, Karen Fayeth, taken with an iPhone5 and the Hipstamatic app.