On the way to work this morning, I listened to legendary San Francisco radio station KFOG. They've recently had a bit personnel shakeup and it turns out their new morning guy is former MTV VJ Matt Pinfield. I'm not totally thrilled with the change, but I will say this: he is able to pull pretty decent guests.
This morning it was Matt Nathanson and it was a good interview. They talked music and influences, and Pinfield asked what I thought was an intriguing question.
"What is the one song that changed your life?"
For Mr. Nathanson, it was "Closer to Fine" by the Indigo Girls. He said it made him want to play acoustic guitar and changed the course of his music. Pretty cool answer and song.
When they cut to commercial, I was left wondering what my answer would be. What is the one song that changed my life?
Well sheesh, that's hard question. Music is so integral to my life that it can't possibly be one song. There have been many songs that have changed my life and there are unwritten, un-thought of songs on the path ahead that will certainly change my life again.
As I drove and pondered, I was able to come up with a bunch. Here are just four of a much longer list.
Let's dig in:
1) It's 1991 and I've just gotten an undergraduate degree and about to start my MBA program. Right before the new semester began, my boyfriend broke up with me. I was quite into that particular boyfriend, pretty sure he was "the one," and the breakup hit me like a ton of bricks.
I wallowed deep into a lot of sad country music, but one song in particular was a constant companion.
"Are You Still Within The Sound of my Voice" by Glen Campbell
There was a place down on the Rio Grande where he and I used to go, so I would drive there, bring out a blanket and my boom box and find a place on the banks of the river. I would play that song over and over again while crying, sobbing, keening. I rose the level of that dusty ol' river with my salty tears.
Glen and that song got me through it. I can still hardly listen to that song, it's so etched into my memory and DNA. But that song helped me make the transition back to good. It made me stronger. It did, indeed, change my life.


2) It's 1994 and I'm living in Albuquerque, fresh out of college, gainfully employed and living that single girl life on my own. I'd lost a lot of weight and was feeling sassy and strong.
My musical tastes still ran toward country, but I was starting to listen to a lot of other music. In fact my musical education expanded a lot since there was a whole lot of music in the 90's that was changing the world.
I'd caught the end of a song on the radio that got my attention, but I wasn't sure what it was.
A few days later I was riding in an old Jeep CJ that was open to the wind with radio playing loud. That song came on, those now easily identifiable guitar chords, and I asked the driver to turn it up.
I was super late to the party on this song, but on that day, really hearing the song, my life changed.
"Smells Like Teen Spirit" by Nirvana
Oh muh lord. Of course we all know the impact of Nirvana now, but back then, it was unlike anything I'd ever heard. I just knew I needed more. A lot more.
I bought "Nevermind" on CD and played it over and over and over. I had never heard an artist express themselves like that. I sang along with angry lyrics while the music (and musician) spoke to me in ways I still don't understand.


3) It's 1997 and I've moved to the Bay Area and I'm spending all of my time in San Francisco's North Beach where my musical education took a turn toward the Blues.
There were a couple bars I knew how to get to and went to all on my own. A little girl with hayseeds in my hair, the employees and the musicians took me in. I became part of their family and they mine.
Blues music rolled in waves down Grant street back then and I'd start at the Savoy and work my way down. Grant & Green, Lost and Found, The Saloon.
Then there was a man named Willie who belonged to the street, but was still part of our family. More than once he protected me from the less kind aspects of city streets. He was a talented man with a bit of a drinking problem, but oh could he play that harp.
He'd tap his foot in time and play the blues. Then I'd go inside the bars and hear the musicians dive deep into history and play those same songs.
There was one that made me take notice, made me sit up. The beginning of what became a beautiful blues education. The door opened and I walked through.
"Matchbox" written by Blind Lemon Jefferson
On one night I heard four different musicians do the song, each putting their own fingerprint on it. This one song took a hold of me and never let go.


4) It's 2015 and I'm with the love of my life, the one who actually is the one, and we're attending a show at a small but awesomely funky venue in our new hometown. The act is Radney Foster and going to the show is like coming home.
I wrote a lot about why that night itself mattered right here on this little ol' blog.
But more than that, Radney's music was a core part of my college years and my life. A life I left when I moved to California. It was mostly the right decision, but damn I often feel like I left a huge piece of myself behind.
So many people here in the Bay Area. Crowded. Packed in. People who don't understand the emptiness you find in New Mexico. The wide open spaces. The ease.
A lot of people here who don't understand New Mexico, don't understand what matters to me, and sure as hell don't listen to country music.
And now here was Mr. Radney Foster standing on a stage in Northern California. There were even people other than me came to see the show. People who get it. It was a mind bender.
He did a lot of the familiar songs, and late in the show he introduced a new song. Told us that his wife grew up in Oakland. How he was at his in-law's house in the Oakland hills and watched a gorgeous Bay Area sunset. Then he told his wife "I'm going to be late for dinner," because he had to get down a song.
"California" by Radney Foster
It made me cry a little because it's a beautiful love ode to California, written by someone from West Texas. A desert rat like me who gets it, was there back in the day, and understands why California.
It's hard to explain to folks back home, but now I have the perfect musical explanation. In the following weeks I played it over and over again. This song let me know it's okay to have my heart in both New Mexico and California. This song brought peace. Healing.
Truly life changing.

——
Whew. Yeah. Okay. I could probably go on. This list expands and grows the more I think about it.
I bet you are thinking too. Running through the soundtrack of your life and remembering the songs that mattered. The songs that changed your life.
It's worth the journey. Feel free to share here or on Facebook. I'd love to know which songs changed your life.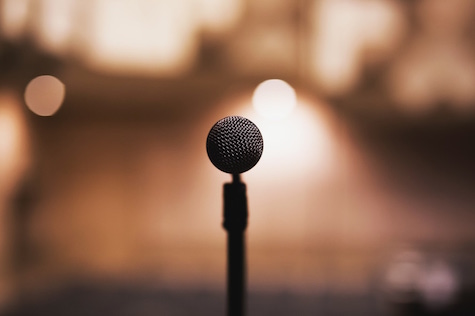 Image used royalty free and found here.

I've mentioned several times in these pages that during the course of my life, I spent quite a few years in the company of a blues musician. By spending a little time with him, I also spent time around a lot of different blues musicians.
Men and women with a deep vein of soul and history and rhythm.
When you are around blues people, you hear a lot of stories. Telling stories is pretty much the foundation of being able to play the blues. As a storyteller in my own right, I used to soak in these stories, letting them enter my pores and fill my soul and tap my DNA on the shoulder and ask it to dance.
The stories are in me. Not all of them are true. Few of them are pretty.
All of this is a long winded lead up to a particular story I have in mind.
It goes something like this:
Back in the 1950's in a small suburb of Dallas, Texas, two talented brothers grew up together.
Both had music in their bones and talent for playing the guitar. The world knows a little bit more about Stevie Ray Vaughan because of his breathtaking musical style and early death, but Jimmie Vaughan has also seen a fair bit of success with his music.
If you listen to each of their music, you can hear their very different styles. Stevie's music was intense, complicated and at times frenetic. Jimmie likes to play a bit slower and wider and easier.
Legend has it that back in the day in Oak Cliff, Texas both boys not only liked guitars but they liked cars.
Stevie, unsurprisingly, liked real fast hot shit cars that he could jump in and race around town. Stevie used to vex the local police who couldn't slow him down.
Jimmie on the other hand liked to cruise. He liked big, heavily finned, tuck and roll upholstered, Buick with a "smile" kind of cars. He'd put his girlfriend beside him on the bench seat and slowly roll through town, vexing the local police who wanted him to speed up.
I think of this story pretty frequently in relation to my own roll through life. My approach is more Jimmie than Stevie, though I admire the hell out of Stevie.
Perhaps this owes to the slow "land of mañana" pace of where I grew up. We don't move with alacrity in New Mexico and tend to be suspicious of those who do. When I still lived in the state and traveled to San Francisco or Boston for work, I was always comforted to come home, get off the plane, and visually see how slow people moved. Then I would match my pace to theirs and know I was home.
There is a great comfort in moving at a calm pace.
I find, however, that is not how the world thinks one should move.
Let's take for example, New York City. In New York, you are supposed to walk fast. Very fast. Head straight, eyes forward, and walk.
Despite how much I love Manhattan, I have one hell of a time keeping up. The Good Man was born in Brooklyn so moving at that pace comes natural. It does not come natural for me. I prefer to toddle along close to the buildings with the elderly and infirm and let the people pass me by on the outside of the sidewalk.
I am the person that New Yorkers yell at for walking too slow.
This all came back to mind this past week. It is New York Fashion week and I follow Nina Garcia, Marie Claire magazine's Creative Director, on various social networking sites.
She has been posting photos from all of the various designer shows and I have been lapping them up like at kitten at a bowl of milk.
I may not have a figure for fashion, but I love it. I love seeing how textiles and stitches and notions come together to create something fantastic or ugly or offbeat. Yes, I dig it!
So a couple of days ago, Ms. Garcia posted a photo of a sign she saw backstage at the Michael Kors Spring show. Oh my, I am a huge fan of Mr. Kors.
Here is the photo:
I read the words and my heart sank a little. I am happily romantic, strong and my own version of gorgeous.
But I don't walk fast and with energy.
I would love to kill them with chic, but instead I must maintain my killer sense of humor.
For some reason, this really got under my skin and whispered to those demons in my head who heckled me and said that if I can't walk fast and with energy, I am a nobody. They said I don't measure up, don't belong, don't matter because I can't keep up.
And that's when I remembered the story about the Vaughan brothers.
I don't need to race up and down the streets of New York. There are plenty of people who have that covered. I want to cruise the Manhattan blocks and tip my head upward to wonder at the buildings and smile and give my lungs room to breathe.
Slow though I walk, I always get where I'm going. Pink cheeked, a little sweaty and smiling.
Perhaps I am taking this hand written sign a little too close to heart. I'm sure this was simply a note of encouragement for the models walking the runway, reminding them to keep it peppy and light.
Perhaps it just hit me on a bad day when the demons were a little closer to the open door than I would like. I let them out to play awhile, really let them run, then I whistled and corralled them back into the pen.
And I remembered that a strong, courageous New Mexican doesn't have to walk fast unless she wants to. That is true both when walking the Bosque or NYC's Broadway.

A girl should be two things: classy and fabulous.

–Coco Chanel



Thankfully, I am both.

–Karen Fayeth
Photo from the Instagram feed of Nina Garcia. All rights belong to her.

Earlier this week I received the results of a competition I had entered, and for which I held out great hope. It was related to my writing and even an honorable mention would have been a huge step forward for me.
While entering I knew it was a long shot, but I really believed I had a chance.
Predictably, when the results were announced I was nowhere in the list, and yes, this got me a little down.
That's the trouble, sometimes, with having hope. A burgeoning flower bud of belief can so easily get ravaged by insatiable locusts (over dramatic metaphor alert!!!).
When one is a rather sensitive artist type, it's hard not to feel steamrolled at such times. Then again, what separates the doers from the dilettantes is tenacity.
So after feeling mopey for several days I am starting to rally. In defeat my resolve becomes just that much stronger.
For almost two years I have been using a really wonderful service that forces me to submit writing to literary journals every quarter. They are strict taskmasters and they keep me focused.
Once every three months I send out about thirty submissions, of which most of them are rejected. This means piles and piles of both email and snail mail arrive at my door just to say "you are not a good fit."
Amazing how something like two hundred rejections can really make a girl immune to the woes. It's like a pair of ill-fitting shoes. At first it hurts, then it makes a really painful blister, then finally a callus forms. The thin skin has toughened to endure the scraping.
Like that.
This morning I was thinking back to about seven years ago, back before The Good Man and I had married, and he was living in San Francisco's North Beach. A really cool new art store had opened on Columbus Ave. near his place and I was just beginning my foray into the visual arts. Visual arts were a big departure from writing, which had dominated my creative juices for so long.
I loved everything about the art store and bought quite a few supplies there. One day they had posters up announcing an auction. Customers were invited to submit art works and the store would display them and then at the end of the month, the store auctioned them off for charity.
Great! I was on board. I created an item to give to the auction and when The Good Man turned in my piece for me, he was asked to put a starting bid. Because he loves me and encourages my work, he put the amount of $50 as a starting price instead of starting at zero as most other artists were doing.
Later, when we walked into the store to see my stuff on display, my piece was at the very, very back of the store among the tools and shelves where they stretch canvas. My work was clearly more amateur than the rest of the offerings and it stood out as the only one using the photographic medium, but ok. It was on display which was a huge rush.
When the auction was finished, they called to ask me to come pick up my work. The rather arrogant and sniffly clerk informed me bluntly that my piece was the ONLY one that hadn't sold (meanwhile, he gave us a flyer so we could attend his exhibit of butt ugly paintings at a local small gallery).
I was, of course, embarrassed beyond belief, humiliated and totally crushed. Being judged by a more experienced (and in my mind, more talented) artist just about did me in.
Just thinking about it still gives me shudders of embarrassment. This morning in the wake of my recent defeat I thought again about this experience. I recalled today that among all the donated pieces, my work was the only one that listed a starting bid.
All others put in a starting bid of $0, and they all sold. Snotty clerk said they didn't have a lot of bids and bidders. All of this means that at the end of the auction, someone could have thrown $5 at a piece of artwork and would have won.
Today I understand that instead of being sheepish about that whole thing, I should be proud. I may not have sold my work but I valued my art enough to put a price on it.
Which is stronger? Valuing my own work and not selling it at that auction, or giving it away for free, thus saying the value of my work is nothing?
I know which one I choose. Today I have straightened my spine and I feel a little better.
In defeat, my mettle is being tempered, and that only makes me stronger.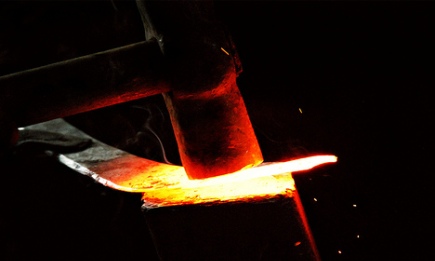 Image from ScienceGuide.nl.

Oh happiest of Happy Fridays. Sure, I was on vacation Monday and Tuesday, but I've packed a week or more of work into the two days I've spent back in the office and more more lies ahead. Yeesh!
As I rolled into work on my morning commute, I thought "today's a real good day for a Happy Hour" which got me to thinking about all the bars I've visited in my little life.
Which got me wondering about what are the best (and by best, I the biggest dive) bars I've been to.
Here's my top five, in no particular order:

The Grant & Green Saloon (pre-renovation, when it was still a blues club), located conveniently at the corner of Grant and Green streets in San Francisco.



It was in this dank, cave-like (it was painted black), seedy SF joint that I first saw the irrepressible Johnny Nitro & The Doorslammers.

I still can't believe I used to go to this place *by myself* Ah the stupidity courage of youth.

One main feature of this dive was the bathroom. The ladies was located at the end of a weird dark hall. The door had a questionable bolt latch. The toilet tank was held together with a metal strap. The broken toilet seat was patched with heavily road worn gray duct tape. When you sat, first the tape would stick to you, and then the seat would give way a bit.

When your business was done, you'd stand, and the seat came with you. It stuck to your leg just long enough for the seat to shift back together and pinch a good amount of thigh skin between the broken pieces. It hurt like a sonovabitch and I'd come away with a welt and left over adhesive from the tape. Curse words were uttered.

Also, the boys loo at the front of the hall would stop up with some regularity, so when it was busted, the drunk boys would lumber to the end of the hall and shake the door to the ladies room. Regulars knew if you shook the door hard enough and long enough, that weak bolt would give way and *surprise* you'd be caught in a squat facing some drunk lumbering boy.

I learned to pee really, really fast. Also, I've never been one of those girls to go to the bathroom with friends, but I did at the G&G. It helped to post someone outside the door to keep watch. (the door was too far away from the toilet to be able to both hold the door and do business).

Despite all of what's gross about the G&G, I saw some of the most amazing live blues there. I was actually heartbroken when they fixed it up, painted it white and put in new plumbing. It's never been the same since….




The Saloon just down Grant street from the G&G, in San Francisco



Oh the Saloon. It contains what can only be called a "funky smell". Sunlight never hits the inside of this place, and that's probably for the best.

Established in 1861, it's San Francisco's oldest continually operating bar. The Saloon holds some history. Legend has it the local firefighters saved the building from the fires that raged after the 1906 earthquake due to the prosperous brothel that operated on the upper floors.

There are plenty of stories about young men having their fill and stumbling out onto the foggy San Francisco night, then waking up on a boat out to sea. An unwilling member of the ship's crew and unable to return to port for months or years at a time. The colloquial term for that is Shanghaiing.

All of that history invades the place, and you feel it. There is still live blues seven days at week at The Saloon (and two bands a day on the weekends).

It's strange, smelly, filled with weirdos, and a tiny dance floor (but the bathroom isn't so bad). I've had some of the greatest nights of my life inside that place. The timbers jump when the base player thumps that thing.

It's fantastically beautiful. And Fresno alley just outside the door is a place filled with all sorts of shenanigans (including photography, the light there is awesome).




The Alive just over the border in Juarez



I couldn't find any links to information about this place, other than wistful memories from many a person who was there back in the day.

The Alive was actually underground, you had to navigate this long, steep ramp to get into the place.

Just an aside….does it seem like a good idea to YOU to be in an place when you are 18, in a foreign country, underground, drunk and there is only ONE entry/exit? Ah the stupidity courage of youth.

This was a place for cheap Coronas, thumping dance music, and a bathroom that I can hardly even describe. There were no lights in there (probably for the best). With my walnut sized bladder, I did my best to hold it for as long as possible. Once, I went in there (couldn't wait anymore) and I slipped into a stall. SOMETHING was moving on the surface of the water in the toilet. It was alive. I have zero idea what it was and it scares the sheeeit out of me to think about it now.

I held the door handle for my life and leaned back, doing the best I could to be the farthest possible distance I could get from the seat and still hit the water. I prayed that door handle wouldn't give way. I prayed whatever was in the water wasn't bitey. I prayed I could just get this done and go home.

I survived and emerged unscathed. It took three tequila poppers (some called them slammers) to get over the trauma.

Then I danced and tried to forget.

I used to have such fun in Juarez. The danger made it more interesting, I suppose. Of course, these days it's ill advised to slip over into Juarez. Too much awful business going on there. I'm afraid The Alive is an experience that is long gone (and maybe that's for the best).




A bar attached to the Steven's hotel in Carlsbad


At least I think it was the Steven's Hotel. This was a bar that was located on the backside of a hotel on Canal Street in Carlsbad (it's been soooo many years since I lived there.)

I don't actually think this bar exists anymore. I can't seem to find any record of it from a Google search.

To get to the place, you had to ascend these steep metal stairs. Going up wasn't so bad, coming out was a bit treacherous once you were a little wobbly in your shoes, and especially if it had rained a bit. People slipped and bobbled down those stairs in droves. A big pile of borrachos at the bottom of the stairs. I wish I was kidding.

The bar hosted Pot Ash miners, local cowboys, and us college kids. This was something of a volatile combination. The plate glass windows were replaced by plastic after too many fights in the bar kept smashing the glass. You couldn't get beer in a bottle or glass. Only cans and plastic cups held drinks.

The mood was weird, and tense. But the beer was cheap and whatever half ass local band was playing would getcha dancing. And hell, it was somewhere to go and something to do in Carlsbad. So ok.

I had some odd, yet fun times there. Strange spot and strange people.




Cowboys bar in Las Cruces



Who knows what this place is called these days. At NMSU in the 80's and 90's this was THE place to be.

A band called Easy Money used to play there. The lead singer was named Toby Keith. They were a pretty good band. The lead singer was a complete arrogant ass. Nobody liked him, and now he actually is somebody. (I still think he's an ass)

At one point they introduced a special where on Fridays, if you bought a pitcher of beer, you could eat as much pizza as you wanted. Big mistake. Hungry and broke college kids can eat a LOT. And if we all put in a dollar, we could get one, maybe two pitchers of Coor's Light. So there.

That promotion didn't last long.

I danced until my feet hurt many a night at Cowboys. God I loved that place.

All night drinking and dancing, then after the bar closed, a group trip to Village Inn for late night pancakes. Why do pancakes taste so damn good at 2 am?

Whooo doggies, that was quite a trip in the Wayback Machine. I think I need a smoke (and a vodka drink) after all of that. (no, no, just kidding, I don't smoke….)
Sadly, I won't be at ANY those places tonight. Instead I'll be at the Red Couch Saloon where The Good Man tends bar.
He knows which wine goes best with Cheetos.
Happy Friday everyone! Enjoy your night.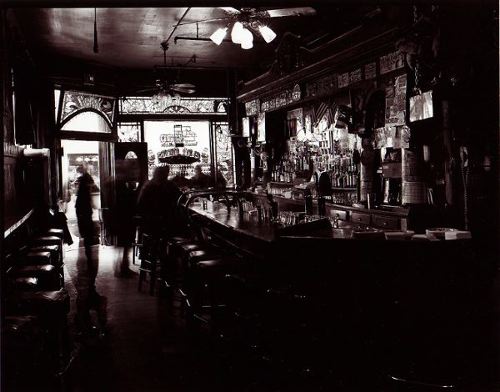 Photo of the interior of the Saloon, Copyright Scott Palmer.

I love photography and learning about light. I dig finding ways to take something commonplace and make it look extraordinary.
Then sometimes, you just gotta let the subject do the talking.
This photo was posted on Facebook by the amazing San Francisco bluesman, Ron Hacker. He captioned the photo by saying, "This slide has been in my pocket since 1971."
I know that slide. I've seen that slide a lot. This photo is like seeing an old friend, though I'm used to seeing it on Ron's left hand while he makes some of the most stunning sounds come out of that beat up ol' National steel guitar he plays.
The tone is gritty. The tone is warm. The tone surrounds your entire being and shakes you up and sets you back down and makes you wonder if any moment of your life prior to hearing Hacker play ever really mattered.
Then he sings in that rough voice and you die and come back to life and like a born again, you shout hallelujah while your body moves on its own and your soul is altered for the better. Life suddenly has meaning and no meaning at all.
That's what that well worn, well used slide does to me.
Beautiful photo by my favorite blues musician.

Photo: Copyright 2011, Ron Hacker

If you love the blues and you need to get healed, visit Ron's website and click play on that video.
Then you'll know what it's like inside The Saloon, San Francisco's oldest bar and an astounding place for live blues. That video will help you discover just a taste of the power behind that shiny metal slide.