I'm incredibly in love with that harbinger of Spring, the yellow daffodil.
Sunshine on a stem.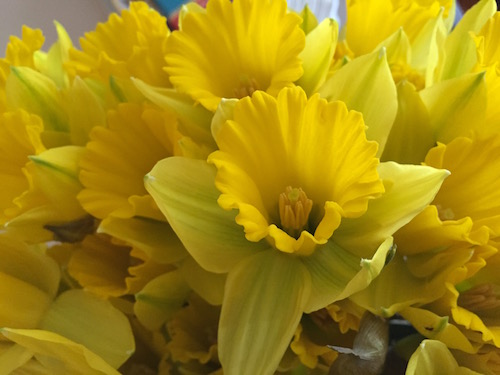 ©2016 Karen Fayeth


I adore going to Trader Joe's to pick up a bunch of tightly closed buds then later at home snipping the ends, placing the stems in water and watching a fireworks display.
Yesterday we sat at the table where this vase is placed and I swear these buds were busting open right before our eyes.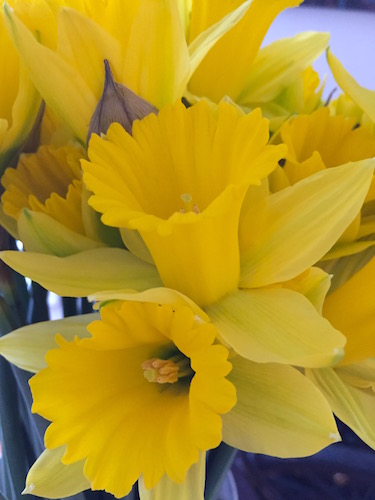 ©2016 Karen Fayeth

I took a big bunch to work today and have enjoyed so many of my coworkers (and my boss) coming by to ooh and aah.
"They are just so sunshiny" is the general consensus.
And they are.
Unless I'm being all moody and arty and stuff and go for the black and white on the desk of my brand new office (yay me!). Then they are regal and proud and still very beautiful.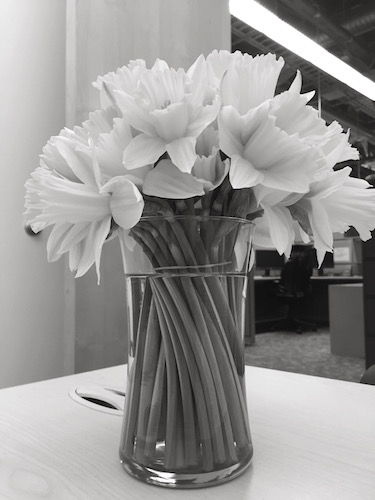 ©2016 Karen Fayeth


And because I'm goofy for the daffydils, here is a Kaleida Cam shot: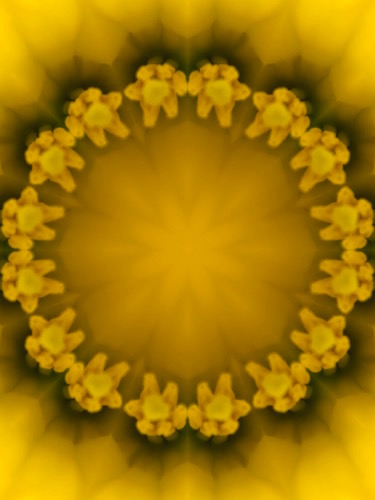 ©2016 Karen Fayeth


Ok, well, I've about exhausted the topic of daffodils. Love 'em!
Don't even get me started on tulips. Oh sigh, how I love Spring.
Even in the middle of this gray rainy Northern California day, I look at tulips and daffodils and feel entirely optimistic.

All photos ©2016 Karen Fayeth, taken with an iPhone6 using the Camera+ app, the Lenka app (for black and white) and the KaleidaCam app. All photos subject to the Creative Commons in the right column of this page.

Or: Tales From The Upper Deck
When word came down at work that I had approval to travel to Porto, Portugal to participate in meetings with key folks from around the world, things began to follow a usual path.
Since the place I work for gets a lot of Federal funding, we're bound to abide by the Fly American Act, i.e. when on Federal business, fly US carriers.
No problem. I'm used to shoving my cookies onto a United Airlines jet and riding around the world, so per the norm I picked out my United flight pairs and the admin booked them. I was all set.
Because I am a little weenie and need more leg room, I like to pay out of pocket to upgrade my government bought United economy seats to United Plus economy seats.
My employer doesn't pay for business or first class and I don't fly enough to rack up the miles to get me there, so I ride in the back half of the plane. Economy plus at least gives my long legs a little room. A little less sardine-like.
However, when I logged into my United account and tried to upgrade my seats, I was told I could not. That I would have to wait until the day before the flight to pick out seats. What?
It took a little work but I figured out the deal. Three of my four flights on this trek would not be on United planes but a codeshare on Lufthansa.
Well hell, I'd never flown Lufthansa before so this was an adventure.
Doing some research on the Lufthansa site, I also figured out that my plane for the San Francisco to Frankfurt leg of the trip would be on an Airbus A380-800 airplane. A gigantic double decker of a holy-crap-that's-huge airplane.
In fact, it's the largest passenger plane flying today.
Looking up the specs of this plane online, I found people affectionately call it "the whale," and it's no wonder. The configuration I rode seats about 500 people.
When I was finally able to select my seats, I found that the second floor of the airplane (this airplane has two floors!!) was mostly first and business class, but the back of the upper deck had a small grouping of seven rows of economy seats. So yeah, I scooped up an aisle seat upstairs right away.
On the day I arrived at SFO, I let out an audible "wuh-huh-hoooooo" when I saw the airplane sitting at the gate. Then I became filled with anxiety. "How will that ever fly?" said my worried mind.
I wondered if my brain had anything I could compare this to. Many years ago I worked for a Lockheed Martin site that was right next to a military airstrip. Every once in a while the military would practice "touch and goes" with various planes and pilots. We'd drag our desk chairs outside and watch the show.
What I'm trying to say is, I've seen a fully loaded C-130 execute a touch and go, so yeah, I realized that the A380 could certainly fly. And I was going to get on it.
As I walked down the jetway to the plane, my heart began trip hammering. I always have a moment of pause before boarding any plane but this was different.
I stepped through the nice wide doorway and saw a beautiful gleaming white staircase front and center. "Ah, that must be how I get up there," I thought.
The oversmiling male flight attendant looked at my ticket and informed me that I needed to go all the way to the back of the plane and find a staircase there.
In other words, your economy-seat riding ass don't climb these stairs, honey.
Fair enough. I set off on my journey to the back of the plane. I stopped rest once or twice. I had snacks to keep my energy up. I may have camped out overnight. Jesus, that's a big airplane.
Finally I reached the end of the plane and scurried up the stairs, then slid into my seat.
It was still an economy class seat so it fit tight around the hips. I got snug like a bug in there as the plane began to push back from the gate.
The Lufthansa A380 features three live cameras, one on the nose pointing forward, one on the tail also pointing forward, and one on the belly looking straight down.
Here is a terrible quality image. It's a photo taken with an iPad of my screen on the plane as we are somewhere over the Labrador Sea. It's enough that you can see what the view from the tail camera looks like: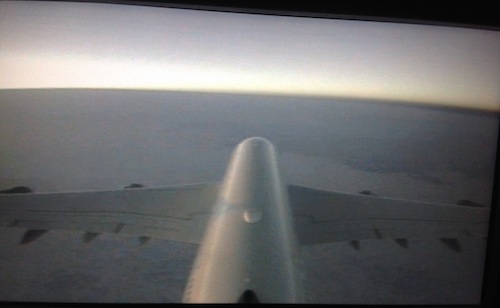 I wanted to stick my hand out the window and wave to the camera, but that's mostly frowned upon

It was mildly surreal to watch this behemoth take off from a bird's eye view but I was fascinated.
Once aloft, I began to realize why non-US carriers rock the casbah. It's one word: alcohol. The wine flows freely on non-US airplanes. I had flown a Singapore Airlines plane a few years ago and was gently surprised at the wine served with meals. The Germans have the Singaporeans beat. Wine with snacks, wine with dinner, brandy and irish crème after dinner.
All of this is a plot, however. They ply you with food and booze then turn down the cabin lights. Pretty much everyone falls asleep right away. Except me, I have a flaw in my DNA. I can't sleep on a plane. Not even a long haul. Nope.
The Good Man shares this flaw and it's good when we travel together because we entertain each other like little kids while everyone else sleeps. Sadly on this trip I was alone.
The flight attendant overseeing our little cozy area of economy class seats was a rockstar. He noticed I was the only one awake and didn't let up on the top-notch service. He checked in on me constantly and brought water, juice, snacks and some cookies that seemed way too delicious for economy class.
Even though I was packed into an economy seat I felt spoiled like a little princess up there, inside the white whale.
When she touched down in Frankfurt I was reluctant to leave my cozy little seat and my white glove service. It was a gentle landing as the plane beast docked next to its siblings.
That was one of the most comfortable and happy international flights I have ever known and I am sure I will reflect back on it for years. It has become the high water mark by which all other flights will be measured.
Sadly, when going home from this journey, the Frankfurt to San Francisco leg will be on a plain old United jet, a Boeing 747-400. That plane also has a second deck, but only the pish-posh get to sit up there.
I'll be seated among the cattle, in an economy plus seat but still among the unwashed. No first class cookies for Karen on the way home.
I think I'll write a nice letter to Lufthansa to tell them how much I appreciated the flight attendant. As I have learned in my short time in Portugal, I will extend a hearty obrigada (i.e. thank you or much obliged) for his attention and job well done.
And I will wistfully dream of my time inside the whale, a modern day Jonah high above the bustling world.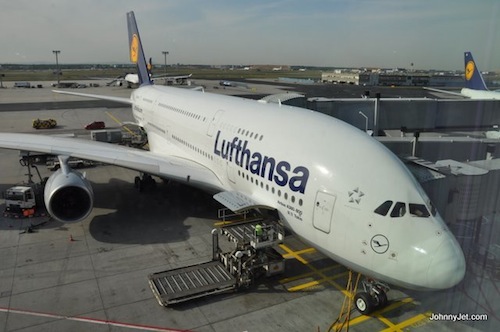 Thar she blows!

With a nod and a smile to Johnny Jet for the photo and for his awesome blog post about the Lufthansa A380. Read it here.

If we make it through December
Everything's gonna be all right I know
— Merle Haggard

Every year "If We Make It Through December," a classic Merle Haggard song that was released for the first time all the way back in 1973 becomes the theme for my holiday season. I have been playing it on repeat in my car as I drive back and forth to my job.
I also play it when it's dark in the morning and when it's dark in the evening. As the rain comes down. As protestors shut down access to my home and helicopters hover in the sky. As my feet ache and my head hurts and I wonder why, for another year, I'm anxious, depressed and overwrought during the happiest time of year.
Every year I look forward to December and the holiday season, hoping to capture some small bit of that childhood joy and anticipation and magic. I watch movies like "White Christmas" that are filled with optimism and dancing and songs about snow.
Every year I feel crushed by an avalanche of end of year business activities. It's the nature of the profession I have chosen that December is just always going to be craptastic.
And then current political events put a little exponential anxiety to this year's festivities.

Now I don't mean to hate December
It's meant to be the happy time of year

Happy, yeah. Full of cheer. Ho, ho, ho. Yesterday should have been a really good day. My boss held a breakfast holiday celebration for all of her team. Then one of my main client teams had a holiday luncheon for us too. A day of eating? Hell YES!
But in between those two events, I had a bunch of other meetings. I was late to most of them and got chewed out. I was running hither and thither to get to these "fun" events where my attendance was fully expected.
At the end of the day I had an inbox full of emails and angry voicemails from people expecting me to get my other work done.
So I stayed late at work (again!) and tried to get somewhat caught up. I worked off most of the code red items and left the code orange for another day.
Then I went home exhausted and emotionally shut down. I was not a good spouse to The Good Man or a good human to my Feline.
Hell, I didn't even plug in our Christmas tree yesterday. Yes, last weekend I managed to get our fake tree put together, but it is not decorated. I usually love to make cookies for the holidays, but not this year.
Instead I made toast for dinner and then went to bed. Feliz Navidad.

If we make it through December we'll be fine

But as I whine on and complain loudly, I suppose all is not lost. This year I introduced The Good Man to December's theme song. This happened while we were taking a drive to go see Merle Haggard play a live show at my favorite concert venue in Napa.
How bad can my month be if I get to see one of my all time favorite musicians play live? A musician who has written songs that make up a lot of the soundtrack of my life.
The Good Man is going through his own turmoil this December and so the lyric we most often repeated to each other on our hour long drive was this one, "If we make it through December we'll be fine."
And we will. We'll be fine. This hell and highwater (literally, one of the highway exits in our town was flooded out so we had to seek an alternate route) will recede and we'll find our way back to level ground.
I don't mean to hate December. It's just sometimes it feels like December hates me.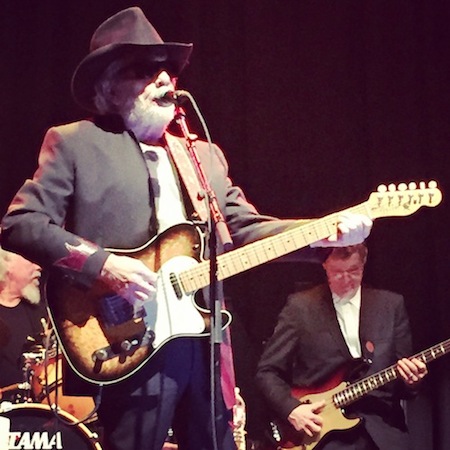 Photo copyright ©Karen Fayeth, 2014

Photo copyright ©Karen Fayeth, 2014. Taken with an iPhone 6 and run through Instagram. Photo subject to the Creative Commons license found in the far right column of this page.

Now that I have been a member of the photography club at my place of employment for just over a year, and have been attending meetings and listening hard, I think I maybe kind of sort of have earned a teeny tiny bit of respect.
Because this month, both of my submissions for the monthly photo contest made the cut. BOTH!
The rules each month are that you get to submit two photos. We review and critique all the photos in our monthly meetings and then there is an anonymous voting app we use. When votes are tallied, the top four vote getters are published internally at the company.
So yeah baby! I have had one of my photos make the cut before, but never both. It is a little unprecedented. Woo hoo!
The theme this month was double exposure and my two prize winning photos are below for your perusal.
The first one feels really special to me. I took both of the photos in the image while I was in Dublin. It was at the end of my one lone day of tourist time after an intense week of work, and I had walked for miles. I was exhausted and it was raining like it only can in Ireland.
Tired and soaked to the bone, I was bound and determined to find this sculpture of Oscar Wilde. This was after I had stood in a very long line (in the pouring rain, a nice lady shared her umbrella) at Trinity College to see the Book of Kells. That exhibit was exhausting in itself. Way too many people jostling around.
The park where Oscar resides is about half a mile from Trinity college and I wasn't sure I was going to make it. It was driving rain and windy and I was so tired that a nice warm cab looked like a good idea. I stopped to rest twice on the short journey, but forced myself to keep going and once I arrived at the park I was glad I did.
The small, lush, green Merrion Square park was silent as I stood there getting drenched looking at this remarkable statue of Oscar Wilde. A small tour group came by and the tour guide said the artist sourced these incredible and colorful stones from all around the world. It is a beautiful statue and so unique as it reclines on a rock.
When it came time to figure out something to use for double exposure, I thought of this statue and of the very old books I had seen at the Trinity College library (I had watched a video about the method used to bound the tomes and was endlessly fascinated).
Using some tools I had learned in a recent photography class about overlay for textures, I fiddled around in Photoshop and came up with this:
Title: Author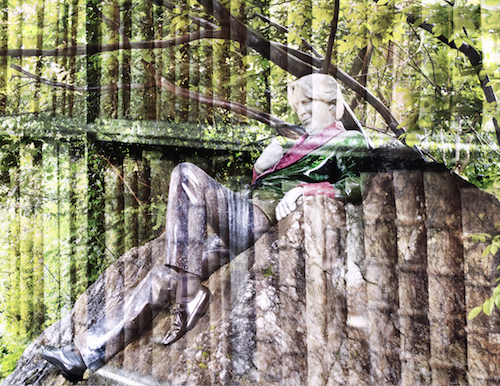 Photograph Copyright © 2014, Karen Fayeth


I was unsure if the photographers in the club would find the image too discordant. It's almost jarring, but I love it. It's hard to photograph a statue and have it be anything more interesting than a photograph of a statue. This to me brings depth and texture to the photo and I am so happy with the results.
The other photo I submitted was something I had been visualizing for quite some time.
As I continue to hear all of the news reports about the drought here in California, I was pleasantly surprised that the lack of rain didn't halt the springtime explosion of California wildflowers. I am mildly obsessed with California Poppies (the state flower) and I love the yellows, reds and purples of other flowers growing in medians, between sidewalk cracks and at the edges of yards.
I picked several of the flowers and shot them using a technique I learned from photography master Harold Davis. Then I took a free stock image of textural dry and cracked ground and combined it with my flower photo. When I look at it, I think of many things I could (and should) go back and tweak, but so far this photo is garnering nice attention.
Title: Drought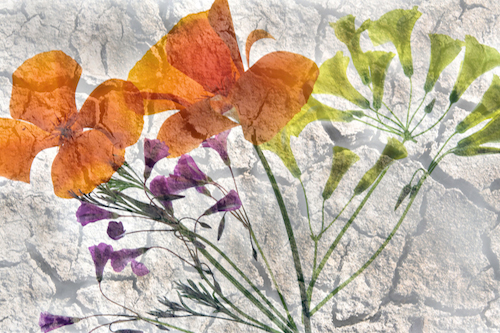 Photograph Copyright © 2014, Karen Fayeth

When submitting both of these photos, I wasn't sure how my surly team of scientists would respond. Both of these photos are kind of arty, but they also show I have some Photoshop chops, and I think they liked that. They had a lot of questions for me on technique since I used a different approach for each photo.
Also, I think the club as a whole struggled with the idea of double exposure. It's too messy for their orderly minds. I had a film camera in high school that I liked for making double exposures. It can either look weird or really cool. Doing a double exposure in Photoshop gives me more control over how the two photos overlap and how the double exposure looks, and I like it.
Anyhow, thought I'd share my winning photos with you.
Next up, travel to Amsterdam. Wonder what treasures I can find to photograph there?
Both images, Copyright © 2014, Karen Fayeth. Shot with a Canon G10 and combined in Photoshop. Stock image of dry ground from Free Stock Textures.

It is a dark, gray and drizzly day here in Northern California and to be honest, that is a good thing. I say that even as my mood can best be described as poopy. The fact that the earth needs the rain doesn't preclude a little blue mood to go with the not-blue skies.
To be honest, in March, this is what the Bay Area is supposed to do. It's supposed to rain. So I'm grateful for the rain.
But still, I'm cranky.
Days like these make me want to stay in bed all day and only come to the surface for something tasty to eat (then dash back under the covers).
Last evening I watched an old episode of No Reservations when our host, Anthony Bourdain, was in France. At one point they showed warm hot loaves of bread coming out of the oven. Of course now all I want to eat is gigantic loaves of warm bread smothered with butter.
But alas, the butter is a non-starter for me with the lactose intolerance and all. And well, we all know bread gets a bad rap these days.
Later in the show, the host was eating some gigantic meat-on-meat madness type of meal and I said to The Good Man, "I…I just don't think I could eat that. I mean, I would try, but oh how my stomach would hurt."
What the hell has happened to me? I remember the days when I would and could eat everything from flaming hot green chiles to milk products to fatty meats washed down with a lot of beer and wouldn't even blink an eye.
Now as I ponder yet another birthday coming along in a few months, I realize what a little lily I have become. A hothouse flower who can't eat things too hot anymore (damn my GERD) and can't eat milk products (well, I can, but it's an unpleasant outcome) and I sure do eat a lot less meat than I used to because my tummy just can't take it.
Alas! What has become of poor Karen? I don't even know who I am anymore.
I suppose it's all a part of the cycle of life. I mean, I have tried and digested a lot of good food in my life. I don't hold back, I'm willing to give most foods a shot but I have become a lot more circumspect in how I nosh.
A "good" meal can be great in that moment and can then ruin my whole day. So I eat a little less quantity and a little better quality and I wonder what else I'm going to be a candy-butt about in this great life.
First world problems. I got 'em.
(And give me time, I'll get over myself. I always do.)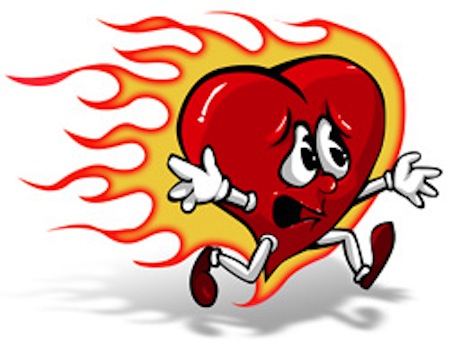 Image found here.