Today was my first day back at work after a nice and relaxing weeklong vacation. Always tough to get back into the routine.
Last week, I missed a big event at work. It was The Great California ShakeOut, an annual earthquake preparedness event. On a set day, they sound the sirens and we take cover and hold for a period of time to simulate an earthquake. Then when that is over, all must evacuate the building.
It's getting us ready for "the big one" that we all keep hearing about. Practice like this has proven to be useful. We do this every year meaning once a year I get to check out what's going on under my desk.
Since was on vacation and I live pretty close to work, I heard the sirens, but I was driving in my car so I hunkered down in my mind.
Today upon unlocking the door to my office I see my employer has left me a little gift in the wake of the ShakeOut event.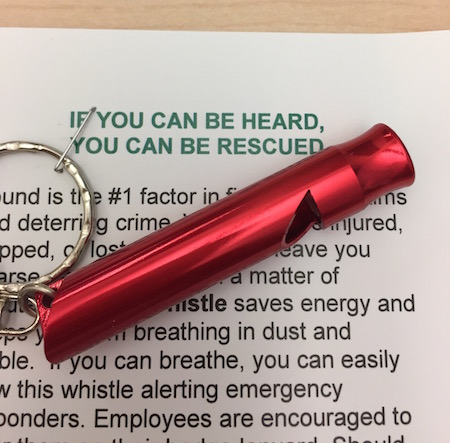 Lemme hear you whistle, baby…


Seeing this laying on my desk, I did what any mature, right-thinking adult would do when presented with a shiny red whistle. I picked it up and blew that sucker.
It's loud. A little piercing. The sound rattled off the high roof of the building.
You'd think this would be occasion for another one of those "talking to's" that my boss so enjoys providing to me. But alas no, she was in a meeting and missed it.
Instead the group administrator came over and stood in the doorway of my office, gave me the world record of stink eyes, then walked away.
I mean, if you didn't want me to USE it, then why didja give it to me?
Anyhow, my pretty red whistle is now safely stowed in a drawer. Guess I won't do that again.

Pretty whistle photo ©2016 Karen Fayeth, and subject to the Creative Commons license in the right column of this page. Taken with an iPhone6 and the Camera+ App.

Perfect posting for a Friday…
On Monday I had an early morning video call with a company in London. Oh those pesky time zones. Did you know that the US and the UK go to Daylight Savings Time (British Summer Time) about three weeks apart, and the US goes first? Monday was the first workday after the US moving ahead an hour, while the UK didn't.
Yeah, I remembered that in the small hours of the morning and quickly dashed off an email to sort out the timing. Thankfully everything worked out.
To prepare for the video conference, I got up extra early and came into the office to set up and test all of my video gear. I just moved into an office a couple weeks ago and my video gear was in a heap in a drawer. Great.
I was able to quickly get it set up and tested and then ten minutes before the call, I was ready to go.
Ten minutes. That is a funny amount of time. Not enough time to really get anything going with work. I mean, I could have dived into email but then I just knew I would get engaged in something and would lose track of time.
But ten minutes is also kind of a long time to sit around and do nothing.
So I did what any adult professional in my situation would do. To "test" my video camera set up, I fired up PhotoBooth on my Mac and played with the effects.
I tried the one with hearts around the head, then the birds around the head. I tried the one that gave me frog eyes and one that produced a disturbing cartoonlike square jaw.
But none were quite as impressive as this. Let's call it Alien Accounts Receivable Clerk. And your payment is overdue.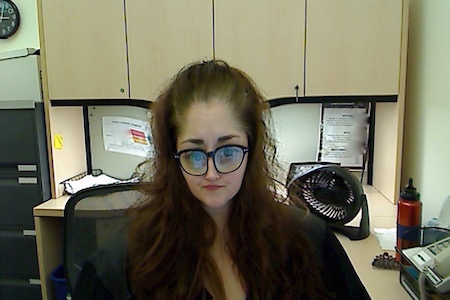 "Please remit payment or I will be forced to terminate your account"


So yeah, when the top of the hour finally rolled around, I entered the video conference still giggling.
A little too jolly for a fairly serious meeting with stoic Brits. *Ahem*
But I cleaned up my act, greeted the others on the call and then behaved like a grown up for a WHOLE HOUR!
Amazing. (hee, hee)

Photo ©2016 Karen Fayeth, taken with the PhotoBook App on my Mac and ten minutes of downtime plus post Daylight Savings Time exhaustion on my hands. Subject to the Creative Commons License in the right corner of this page.

Here I am, day three of my three day training. On a Friday, no less. Today is the final uphill slog for this training class.
It is a long climb and this hiker is weary.
Not sure whether I can continue on. Sooooo booored.
Today, instead of being "that guy" I have gone into slump mode. I already got called out for looking at my phone. I've eaten every pastry they offer (all terrible!) and I'm drinking caffeinated tea. Nothing is helping.
So now, instead of paying attention, I'm obsessing on a white board marker.
This marker, particularly.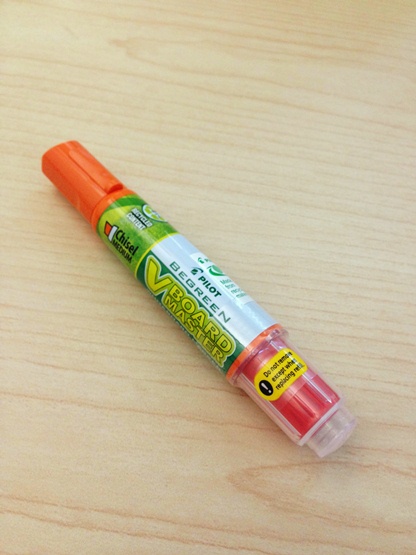 This is a very respectable marker. It's green, made from 90% post-consumer product, almost fully recyclable and refillable. This is a very smart and responsible pen, a good business choice by whomever purchased it.
So why am I obsessing? Well, one, it's orange which is my current favorite color (it changes all of the time). And two because of this…(Look at the yellow tag)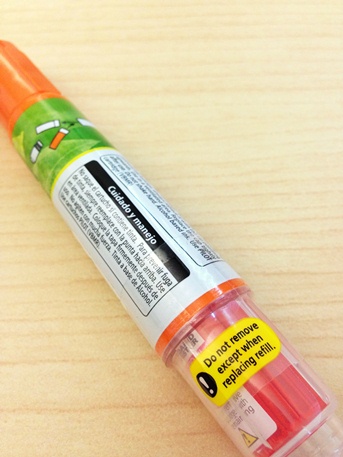 That little pen reservoir holds the orange ink. You can watch it sloshing around in there. Neat!
And that tag, it tells me not to open up that sloshy ink container. Why!?! Because it is a brand new pen and opening it now will splash ink everywhere. So!?
I wanna! I wanna I wanna I wanna!
I am having to exercise the utmost in restraint, something I don't have a lot of, to keep from ripping the end off that marker. Then I tell myself, "I'm steady handed enough, I can pull that off of there and have no problem! Without spilling a drop! Let me prove it to myself!"
But I know the truth. I'm not sure handed. I'm the girl that falls down. I will pop that cap off and ink will spring up in the air and aerosolize and there will orange ink from here to there, ceiling to floor.
That sure would be awesome, though.
Way more fun than talking about warranty claims, insurance provisions and cost accounting.
Barf.

Images Copyright 2013, Karen Fayeth, not that you'd want to steal photos of an orange marker, and subject to the Creative Commons license in the right column of this page. Taken with an iPhone 5, the Camera+ app and no small amount of lack of attention to the subject at hand.

Ok, I have another totally hot photo gadget product review to share. I was not compensated in any way for this. In fact I paid these good people for the right to be one of the first to try this out.
It is no secret that I love photography. That much is clear if you've been hanging around this blog for a while.
While I was trained to take photos using a DSLR, I have become more and more enamored of taking photos with my iPhone. I think that Flickr reports the number one camera used by its members is the iPhone.
It's great to have an always ready to use camera that also makes great shots. So to that end I am also enamored of many of the gadgets out there to help make iPhone photos that much more cool.
There are a lot of little lenses out there, most come in a package of one fisheye, one wide angle and one macro lens. The form factor on these isn't always great. I have a set that sort of sticks on with a gummy ring and the lens is a magnet to the sticky ring. Ugh. A *nightmare* if I'm outside where it is dusty (hello? New Mexico?). Plus the ring is pretty tiny and hard to use. There are some that are a kind of jelly stick on lenses that are in one piece but offer up the same sort of issues.
Along came the Olloclip and I loved it. The clip slipped onto the phone and voila, the three lenses were all attached and it was good to go. The Olloclip is pretty spendy at $70. The wide angle and macro lenses were great but to be honest, I don't really like the look of fisheye photos so that lens never got used.
But the Olloclip and I got along great. I used the wide and the macro quite a bit on my iPhone4s. Photography life was fabulous.
Until I got an iPhone5. Then the Olloclip didn't fit anymore. I was not really in the mood to blow another $70 so I figured I'd make do with what I already had in my kit (i.e. the sticky lenses, ugh).
Then I heard some rumors on Twitter about a company working on a lens kit that was like a clip or a clamp which meant it could be used on any make or model of phone, regardless of size, shape and thickness and if I desired could even be used on a thin point and shoot.
Well sign me up! Only…the product, called Mobi-Lens, wasn't available yet.
Images could be found on the company's Kickstarter page. I had not yet taken a foray into the world of funding a Kickstarter, so I thought I'd give it a chance. For just $40 I was able to choose a red clip that came with wide angle and macro. The fisheye lens is a separate clip so no need to order that.
So here we go, the cost is more reasonable, I don't have an extra fisheye lens lying around I will never use, and this clip will work on generations to come of whatever phone I choose to have.
Yes, please!
The Good Man warned me that one of people's biggest complaints about Kickstarter is that even if the project gets funded, oftentimes investors never see results from their investment. The product or project just never comes to fruition.
I read the Kickstarter page carefully and I watched the videos and I felt like these were decent people who had a great idea. They already had some finished test product and they just needed money to go into production.
SO…yes…I took a gamble with forty of my hard earned dollars. This was back in October.
A few weeks ago, my gamble paid off when this little beauty arrived: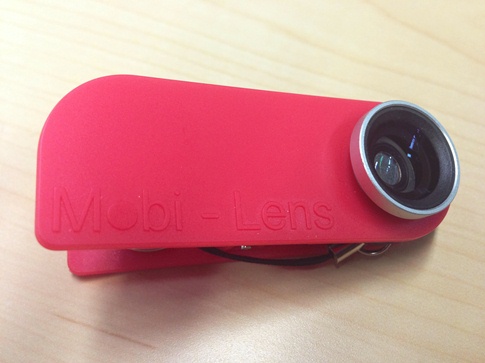 It's so pretty! It's red! It has really nice glass lenses!
It is very easy to use and I've only begun experimenting with it.
So far I think this is the best macro cell phone lens of all the brands I've tried (and I've tried a lot!).
Here is a test shot of my work keyboard: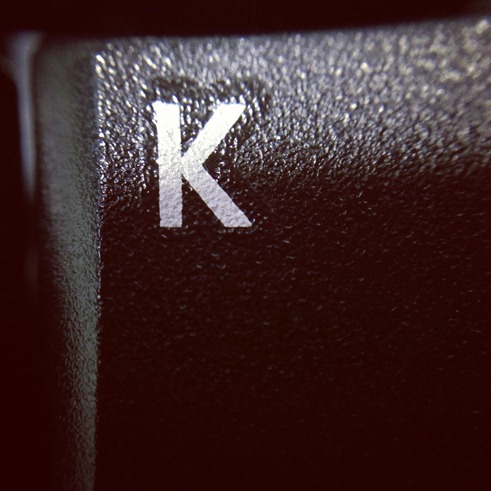 Pretty great!
I have much left to explore with my little Mobi-Lens but so far I am totally hooked and totally in love. I am happy with my lens and I hope this company continues to blossom.
They gave me an awesome lens and made me a believer in the power of a good project on Kickstarter. Win!

———————-

Image of Mobi-Lens Copyright 2013, Karen Fayeth and taken with an iPhone5 and the Camera+ app.
Image of keyboard K Copyright 2013 Karen Fayeth and taken with an iPhone5, the Camera+ app and the macro Mobi-Lens.
Both are subject to the Creative Commons license found in the right column of this page.


It may seem kind of funny to say it on December 19th, but I miss Christmas.
It's just six days away and there is time yet to feel the entire joy and ho-ho-ho of the season, but honestly, I just don't think it's going to happen.
It is the nature of the work I do that December is an incredibly busy month. This is not just at my current employer but has been true across the entire span of my career.
Ramped up work and steep deadlines mean it becomes awful hard to plan and decorate and celebrate and feel the joy that is the holiday season.
It's hard to feel much more than incredibly damn cranky, to be honest. The kind of tired and cranky that not even a Captain Morgan spiked egg nog can fix.
When I was a kid, I used to love Christmas. Ok, sure, every kid loves Christmas, but for me it wasn't about the presents. It was about the magic.
I loved the ritual of pulling out the box packed with ornaments and greeting each one like an old friend before hanging it on the tree. (This is still one of my favorite parts of the holiday, by the way.)
I got into the prep and planning for the baking that my mom and I would do. Sugar cookies with colorful frosting. Biscochitos. Mom's divinity fudge. Cinnamon rolls. Tortillas to go with posole. The windows would steam and the house would smell heavenly.
As it got closer to Christmas, I'd begin the prep work for luminarias. The dirt, folding the bags, making sure my mom got the right kind of candles.
Sometimes we'd pile in the car to go see the lights. We'd drive slow down good blocks so we could take in all the lights, the crisp air outside tinged with the unmistakable scent of burning piñon logs.
Then home for some nog, mom might light a bunch of candles and put on soft Christmas music and I'd look out our big picture window to the world outside and dream.
My mom had this funny little candle, something she had bought from Avon and it only came out at Christmas. It was very fancy, gilt gold on the outside and red on the inside and some holly berry spice something fragrance to the candle. If I close my eyes I can still place the scent because that smell was so very Christmas to me. That along with our advent wreath and a few other candles put a soft flickering glow to my world and made me calm and peaceful.
As the years passed by and I became an adult, I tried to keep my own Christmas traditions alive including baking, having a real tree on which to hang all of those ornaments from my childhood, and lighting a bunch of candles on Christmas Eve.
New traditions came along as well, like looking for a fun white elephant gift for the office party and finding a pretty dress or two to wear to friend's parties.
But over time even this has changed. Very few companies do holiday parties anymore. My current employer is so uptight about the various cultures and religions of the people who work here that they barely acknowledge that a holiday is forthcoming. And even if they did, there wouldn't be any holiday party during these times of budget austerity.
Most of my friends now have kids and they are focused on family things, which is fine. It just means no more grown up parties to attend.
Then there was that fun holiday break in which to rest, recoup and get ready for the new year. That's also a thing of the past. We don't get any time off next week other than Christmas Day and New Year's Day. I could take vacation, but I blew what I had in my vacation balance on my trip to New York (and it was totally worth it).
This year the twelve days of Christmas will entail no partridges or pear trees, but a lot of Karen a leapin' to get work out the door before the 31st.
I wanted to make cookies and bought the ingredients only to remember that my mixer is in a box in our storage room and I don't even know which box. The Good Man said he would disassemble the storage room to help me find it, but I decided no. Too much work.
It should be said here that we've lived in our place for a year, but I work so many damn hours that unpacking boxes on the weekends just feels like more work. And so it goes…
It seemed like I felt the happy holiday feeling, really and truly, for a little while during our trip to New York. It's awful hard to look up at the tree in Rockefeller Center and not feel the holiday spirit. But that time in New York is like a little bit of encapsulated perfection, not just about the holiday joy, but in many ways.
And then we came home and my nose went back to the grindstone and the willingness and want to and give a damn just sort of frittered away.
We have a real branch wreath on our door and a real tree in our house and somehow I just can't summon up the joy and peace and magic of the holiday season.
This makes me sad.
I know that I'm the one that has to make the holidays bright. The spirit of Christmas lives inside of me, and it's on me to bring it into reality.
But somehow this year I just can't find it. Maybe next year.
.
.
.

(I just reread this post from last year. Evidently a holiday lament is my new holiday tradition. LOL on me.)

Memories of Christmases past. I made these mints, a family tradition, just last year.