A few years back, I participated in a flash fiction writing event and drew the genre of Historical Fiction as my prompt. Historical Fiction! I had no idea what to do with that. None. At all.
I believe the full prompt was Historical Fiction, a dentist's office, and a leather jacket.
Uh. Okay. Sure.
So off I went and wrote a story. My own little sort of baseball story and turns out it did pretty well in the competition, meaning it was good enough to get me to the next round.
After finishing the story, I'd had a bit wish that my sorta kinda baseball story would get to see the light of day, and be published during the baseball season.
Well, my wish came true. "The Dilemma" was published this past April in issue 13 of SLAB Literary Magazine.
My baseball story! Published in April! During Spring Training!!
So why am I telling you this in June?
Well, it came out in the print version in April and I decided to wait for the issue to be loaded up online before sharing. Well, Issue 13 is online, however…..my story is listed in the table of contents but it's not printed in the online version.
Grr.
I've sent a few notes but I think the editorial team is off on summer vacation.
While I love the folks and SLAB and am so very, very grateful they published my story, I don't really want to wait anymore to share my little story with the world.
So I scanned that bad boy and you can read my little baseball story today, a few weeks before the All Star Break.
Here it is: The Dilemma
You can also find the link in the right side of this page.
If you take a few moments to give it a read, I'd be quite grateful. If you don't wanna read but just wanna send "yay you" thoughts, also fine by me.
Either way, I'm going to be over here feeling pretty darn proud of myself for taking a bit of an oddball prompt and making something good.

Issue 13

Here it is, Sunday, January 7th and I'm staring down the barrel of Monday.
It's time to get myself back into gear.
You see, not only does my employer shut down between Christmas and New Year, but I was also able to scrape up enough hours to take this past week off. I've just had seventeen glorious and fun filled days away from work. Days of setting my own agenda. Of not looking at work email. Of working on photography at midnight if that's where the fancy took me because I could sleep in the next day and the next one after that.
Last week I existed in a fabulous sort of limbo land. 2017 no longer, not quite 2018. It suits me.
All good things must come to an end, and so must my extended vacation. Tomorrow, reality slaps me across the chops, as reality is prone to do.
This morning The Good Man and I left our warm and cozy home to venture out into the rainy, wintry cold for Sunday breakfast. Pancakes to bid adieu to vacation and bonjour to 2018.
Through visible breath and rubbing hands together I looked up and saw a bright red maple leaf shellacked to the windshield. "Hey that's pretty," I said and took a quick snap.
Now, I realize that in this simple winter image I somehow exactly captured my mood. No more holly jolly songs and soft Christmas lights. No more Santa and wrapping presents and warm cookies baking in the oven.
It's now winter, plain and straightforward. No more looking forward to the holidays, instead we look to Spring. I have a lot of (needed) California rain to endure this year because that is what the Bay Area does in winter.
This is the long slog, when it's still dark early and foggy mornings and shivery cold.
But soon. Yes soon, the world moves into winter so we can know the spring. Daffodils and cherry blossoms are just around the corner, but for today it's a sodden leaf in cold rainy hazy blue surroundings.
So I won't lose hope. Tomorrow may loom large, but I will pop back to the surface like a bobber and keep swimming. I will have great successes and I will fail a lot too. I will be mad and sad and happy and grumpy and overtired and all the things I was on December 21 when this wild leave from work began.
Okay 2018. I put you off as long as I could, but you are now top of my To Do list and I'm going to tackle you.
Starting tomorrow.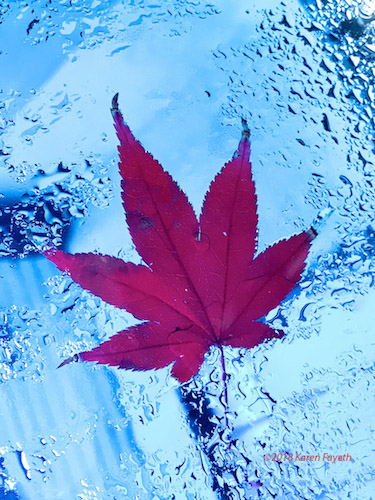 ©2018 Karen Fayeth

This morning, like most weekday mornings, I hopped into my trusty old Jeep, fired 'er up and took off, careening toward my place of employment.
As I traversed one of my hometown's very busy main roads, I glanced into my sideview mirror, as any safe driver would do.
As I glanced, I saw a little leggy burble and a pop and this thing emerged: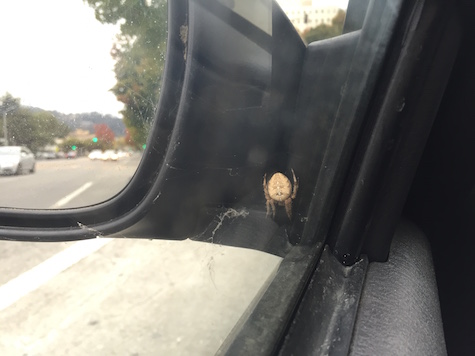 See the hinge for the mirror? It had somehow packed itself in there.
I should note that I was so startled that I had to pull over to the side of the street and consider my options. Also to take a photo to send to The Good Man. It was essential to document the situation in case my Jeep and I were later found suspended from a stop light, wrapped in silk and drained of fluids.
Let me zoom in a little closer for ya.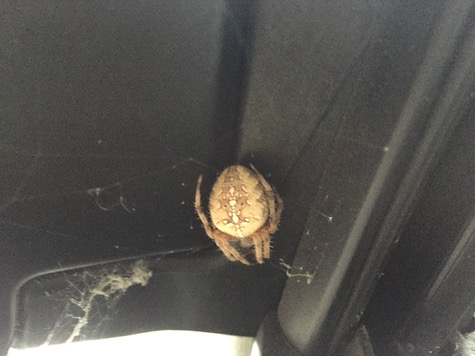 The Good Man refers to this time of year as "Chunky Spider Season." It's true, our current hometown is very, er, spidery. More than any place I have ever lived. And they are often quite big. And chunky.
At home, I park on the street near a tree and some brush. These eight legged demons seem to consider the Jeep part of their homestead. I often brush webs off every corner of the Jeep, including when they manage to string webs across my roof rack.
But this, today, goes beyond the pale.
How about an even closer look, because you need to know my fear.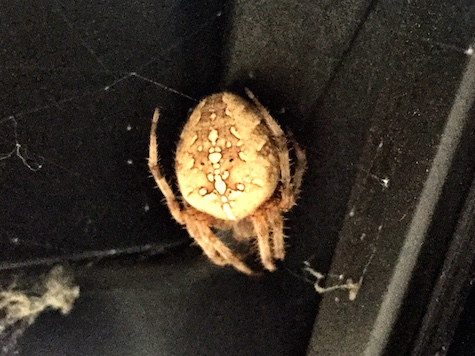 After snapping photos, I cinched up, put on my determined face, then re-entered the roadway at speed hoping this sumnabitch would fly off in the wind. No such luck. It first hunkered down, then feeling carefree (I assume), it later spread all eight of its legs as though surfing the breeze.
Hitting speedbumps at a hard pace didn't seem to help either.
Soon, I arrived at work and had to unroll this window to reach out and badge into the garage. Thankfully my new overlord didn't seem to flinch much.
But it's still there. Still hanging out like it owns my Jeep. Like I am just a pawn in its spidery game.
I am currently unable to exit the Jeep. This is my life now.
Someone please send help! To the passenger side, though.
Gah!
_____________

The Good Man did some research based on photos and determined this is a Cross Orbweaver and that it isn't poisonous. Fab. I'll remember that when it singsongs my name and tells me to "come out and play."

All photos ©2016 Karen Fayeth, and subject to the Creative Commons license in the right column of this page.

My employer is weird. This is known. And one of the weird things they like is to have portraits done of all of us minions every couple years.
The employer has a professional, award-winning photographer on staff and in addition to his amazing photos of amazing science, the poor guy also has to sit in a conference room while a parade of geeks, nerds, scientists, engineers, and dorks like me clomp through.
Last time I had a work photo taken, it was two years ago. It was a humid day. I had to walk up a steep hill to get to the place where the photos were being done. I was running late because I couldn't find a parking spot.
I'd sweated my makeup off and my hair frizzed to cotton candy status. Then I sat down and had my photo taken. It's awful. And it's published on my department's website for all to see.
We're encouraged to use that photo as our email avatar. Nope.
Today is the day when new company photos are being taken. Argh. I have been, to put it mildly, obsessed about this. I want my new professional work photo to be something I am willing to look at.
Yesterday I carefully examined all of the photos of my coworkers in the photo archive to assess what works and what doesn't. This morning I curled my hair. I put on makeup. I fussed.
At about twenty minutes before my appointment time, I sat at my desk fretting. I decided to open Photobooth on my Mac to get a real look at how things were working and what needed fixing.
I gazed into my laptop camera and took a couple shots. I evaluated the smile, the hair, the lipstick then I went back in to try again.
I was staring the camera dead on, trying to smize when in my peripheral vision I see one of the auditors come walking down the aisle. The very serious big 4 outside auditors here doing serious stuff like auditing financials. And here I am, a manager, supposed professional, at my desk selfie'ing.
So I tried to play it off real quick. I looked away and was acting all like "no, no selfies here." And "Yeah it's cool, ain't no thing."
And then the Photobooth "flash" popped (it flashes a blank white screen). Busted.
Yeah. Um.
Anyhow, I took that photo of my shame, cropped it, sent it through an Instagram filter and now it's arty. Thoughtful. Meditative.
Nah, it's just me trying to look cool and failing miserably. Welcome to Dorkville, population me.
I sure hope my professional photo turns out a lot better.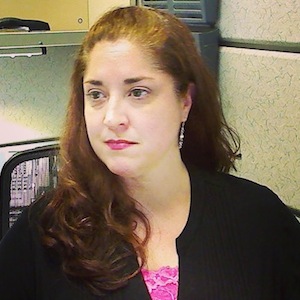 Thinking so hard right now.

Photo Copyright ©2015 Karen Fayeth and subject to the Creative Commons in the right column of this page. Please don't use this photo elsewere. I'm asking nice. Photo made with Photobooth, Instagram and my special brand of genetic dorkiness.

That moment when you are sitting at stoplight as a pedestrian crosses with the light in front of your headlights and you notice that the morning sun is giving this gentleman a solid backlighting. As he is directly in front of your view, you notice that the hairs that extend well past his nostrils are beautifully set to glowing by the golden California sun.
And you think to yourself, "Oh wow. That's…well that's something." And you laugh alone in your car because why not. You can sing in there so why can't you cackle like a dyspeptic hen in there?
And as you turn the corner and head into the parking garage you think to yourself. "Don't laugh, sparky. There but for the grace of a nose hair trimmer go you."
So then you surreptitiously check both barrels of your own breathing device to see if the protective filtering is tidy and in place.
And you realize that, you know, you could use a little trim yourself.
So you sit in the car and in the morning light of a California sunrise and you use the scissors from your small Swiss Army Knife to give a quick clip, just enough to let your sanity rest during the day that lies ahead. Because no one should have to worry all day long about the nostril streamers that suddenly seem to grow with less control than they once did.
And when done, you feel both satisfied and mildly crazy and kind of blind because why didn't you notice a trim was in order when you looked at your tired face in the mirror this morning?
But alas, you did not. Then you vow to take care of this problem more fully later tonight. And you should probably put on your reading glasses and give the eyebrows a check too because I bet those are out of control.
And then you get out of your car and walk into the office and enter this crazy day in a crazy way with crazy hair growing in crazy places.
Did you ever have a day like that? Yeah, um, me neither.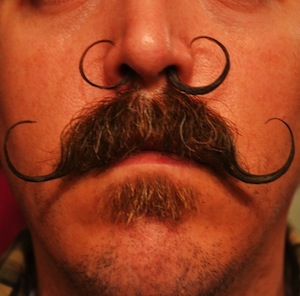 Image found here.