I've talked a bit on this here blog about the photography club I recently joined filled with stodgy scientists and photographic perfectionists.
The way it works is that each month we are assigned a theme. We can either submit photos we already have that fit the theme, or it's highly encouraged to go out and shoot new photos. Most months I dig into my inventory and pull out a couple photos and submit them to be evaluated. Some months I'll push myself to produce something new, so I often have one new and one previous photo to submit.
This month's theme is "Holidays" and I didn't have a ton of photos already lined up and ready to go, so I decided to shoot a couple fresh pictures.
The due date for submitting photos is usually the day of our meeting, but somehow I missed the memo that this month (due to the, um, holidays) the due date is way earlier. I thought I still had this weekend to shoot then upload, but alas, no.
Here is the photo I did manage to shoot and submit: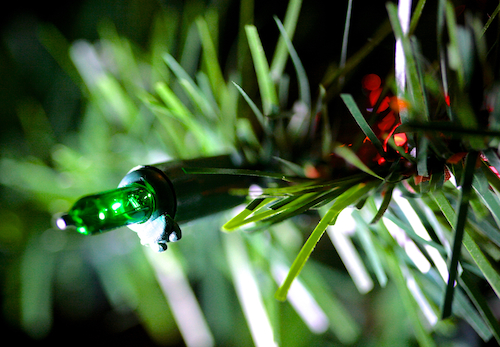 Image Copyright 2013, Karen Fayeth


Took that while setting up the Christmas tree. Turns out photographing Christmas lights is harder than it looks.
Here is the photo that I shot this weekend and can't submit. I had this photo in mind for a while, planned and set up the shoot and executed on it. I'm pretty happy with the results.
But sadly, cannot put this in the running for the December contest.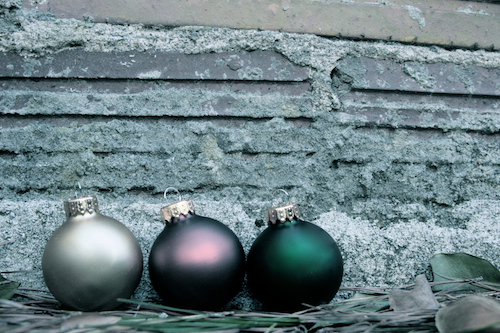 Image Copyright 2013, Karen Fayeth


So pooh on all of this! I made my own club. I have my own contest.
And I win. Yes. I get to win because nanny-nanny-boo-boo.
But seriously…I have to keep a closer eye on due dates.
Whoops!
Both photos Copyright 2013, Karen Fayeth, and subject to the Creative Commons in the right column of this page. Both taken with a Canon Rebel and touched up slightly in Elements.

Back on July 12, I made a cryptic post on my Facebook page that said "Got a lit mag acceptance in the mail today. Sa-weet! A nice way to end the week. Details as soon as I can share!"
And then tick-tock, calendar flip, no details were to be shared.
Recently a friend asked, "oh hey, what ever happened with that?"
Well, here's what happened: I wanted to lay back on details so as not to tick off the editor of the magazine. They like having first crack at this stuff, so I kept it to myself.
My story was supposed to be published in the Winter (Oct/Nov/Dec) issue, so I was biding my time.
Turns out the editor decided to push up the publication, so my story actually appeared in the Fall (July/Aug/Sept) issue.
Editors are going to do what they need and I have ZERO problem with that. The editor chose to publish MY little ol' story. With ink. In a literary magazine. Yes!
And since the publication date has come and gone, I don't feel bad about sharing that story with you now.
Without further ado, here is my story "What Leibniz Never Learned" as published in The Storyteller magazine.
You can also click on the magazine cover, seen in the right column section title "As Seen In" on this page.
Yay!
: jumping for joy :

Happy leaping lamb image found here.

Mmm, hmm. There are things I know and know with certainty. There are things I know that people deny. There are things I say that are fundamentally true but are denied time and again by those around me.
Know this, good readers of my blog: Squirrels are vermin. They are not cute, they are not cuddly, and they are not adorable. They are rodents and should be treated as such.
I say this to the squirrel huggers and they tell me that I'm being silly. I say plague and they scoff.
So here's how we are going to play this today. I am going to repost something I wrote in 2007. And then at the end I'll give you an update to show you just how exactly 100% right I am.
Then I will do a superior dance. You'll have to just visualize that one but know I'm dancing hard like I'm counting coup.
I am a woman of the west. The real west. The range land, unpopulated and dirt covered west. I know things. Behold.

____________________________

First published June 12, 2007

So, where I live, we have a lot of squirrels. Now when I say "a lot of squirrels" I don't mean "oh my, there's quite a few out there". I mean a whole horde, an army, a remuda, of squirrels.
They run around everywhere, up and down power lines, around trees, hither and yon. When I go for a walk at noontime from work, I walk down this one street and they scatter in all directions like a squirrely sea of doom.
People here think they are cute. Find them amusing. The fluffy tails make them laugh. People here FEED THEM. Yes, they put out food for the little b*stards.
They don't understand my revulsion, my utter HORROR that these vermin are allowed to roam free in a civilized society.
They don't understand this because I am a New Mexican. One of the bonus features of being raised in New Mexico is, da da dummmmmm, bubonic plague.
In fact, according to an article in today's ABQjournal, there have already been four cases this year, including a boy who died.
To quote the article, "Plague, a bacterial disease, is generally transmitted to humans through the bites of infected fleas but can also be transmitted by direct contact with infected animals, such as rodents, wildlife and pets."
Unh huh, no wonder every little rat with a fluffy tail gets the suspicious eye from me. Early on in life my mom would yell at all us kids to stay back from any wild creature, especially the small rodenty kind.
I will not draw one of those beady-eyed plague-carrying varmints closer to me or my home! I live in a duplex and for a while my next door neighbor put out bird seed with no cover or protection from the squirrels. I would stare horrified out my living room window to see a swarm of the things eating with reckless abandon in my back yard.
THE PLAGUE!!! THE PLAGUE!!!!
In my old place, a couple of squirrely warriors had an epic territory battle on the roof right over my apartment. Not only did I have to hear the squeals and the death call of the loser, I *freaked out* about the dead rodent right there over my doorway. As you know, fleas leave the dead rodent searching for a new home.
I shall print out the referenced article and keep copies handy for the next person who looks me and says "how can you not like squirrels, they are sooooo *cute*!!"
I'm keeping an eye on you, you plaugey b*stards!!!!

____________________________


And now, the update and my vindication:
Plague-Infected Squirrel Closes California Campground

A plague-infected squirrel has closed a California campground for at least a week, according to Los Angeles County health officials.

The squirrel, trapped July 16 in the Table Mountain Campgrounds of Angeles National Forest, tested positive for the infection Tuesday, prompting a health advisory and the closing of the campground while investigators tested other squirrels and dusted the area for plague-infected fleas.

…L.A. County health officials are urging Angeles National Forest campers to avoid contact with wild animals, steer clear of squirrel burrows and report any dead squirrels to the department of health. (emphasis added)
Oh! Oh! There it is. The I Told You So Dance.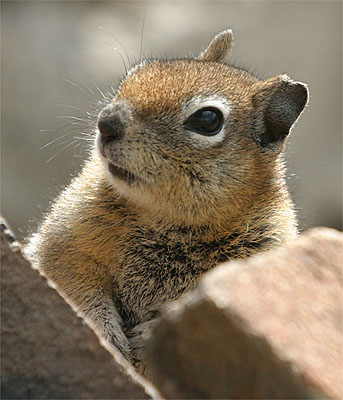 It's amazing how little it takes to motivate me.
Here's my story:
About a month ago I was sitting in staff meeting with all of my peers and my very high performing manager. She is a take no prisoners, get to it and get out kind of leader. She has been an executive for a long time and knows her business inside and out.
In the course of the meeting, there was a review of open projects that took me by surprise. It was on the agenda, but I misunderstood what was listed and as a consequence, wasn't prepared. When a tracking spreadsheet opened up on the overhead screen, I was shocked to see my project listed first, and doubly shocked to see that the team project manager had listed my project with a red status.
To put it in the terms a bluesman would understand, I was not on the good foot.
Execu-Boss of course took one look at the screen, her eyes snapped to the red status and she whipped on me like a guard dog, then asked me what was going on with my project.
Ill prepared, I wavered into a not very good answer. Now smelling blood, she went in for my jugular. And connected.
Not to cross metaphors (but I'm gonna) on that day I was fitted with a brand new pooping device. Oh yes, I was taken down like a gazelle on the Kalahari.
This, understandably, upset me greatly.
Execu-Boss then wrapped up her slaying by saying, "Clearly you are not ready to discuss this. You're on the agenda for next week to come back with some answers."
Through teary eyes I wrote a note in my notebook and I felt really poorly for many days after.
But, I rallied. I stepped back, cleared my head, and over the course of the next week I put together a short PowerPoint slide deck showing a nice road map with milestones achieved, where we had gone off track and the very good reasons why, next steps and recommendations. Then I got feedback from a few peers and made changes.
I had only a short week to prepare, but I was ready. As luck would have it, the next meeting was cancelled.
The following meeting was taken up by a guest speaker so I was pushed out again.
At the meeting the following week, I was nervous as hell and really not ready to give the presentation. I had my slides ready to go but it just didn't feel right. Luckily, after missing two weeks of meetings, our agenda was full and as we got to the end of our allotted time, I graciously agreed to push out my presentation again.
Then it was Fourth of July last week and we had no meeting.
I mean really, a four week stay of execution? Not bad.
Today I was on the agenda front and center, but there were some other pressing matters. For a while there it looked like I would get pushed again. No, I was ready today. Damnit, it was time.
: cue the Rocky theme song :
And so, it came my turn. I was handed the video cord for the overhead projector, and I plugged it into my laptop and my slides came up.
All in the room sat back and awaited my words, remembering the brutalizing I had received just a month before.
I said my words exactly how I'd practiced. I made clear at the beginning what I wanted from this presentation, I made my points, I asked for the support of the team, I answered questions and I wrapped it all up in less than ten minutes.
When I said "and that's it" at the last slide, Execu-Boss looked me square in the eye and said, "Nicely done." I swear to goodness fireworks went off in my head. Elation filled my veins. Jubilation washed over me.
I felt like doing a mic drop and walking out of the room. Karen has left the building. Thankyouverymuch.
That's all it takes to motivate me. Those two words will keep me going for WEEKS!
Something to remember as I manage my own team.

Gif image found here.

There are many things in this world that I take evil glee in doing. Taking a flyer forced into my hands on the street and walking it right to the trash can. Hanging up on telemarkers. Shoulder bumping the oblivious spandex clad ladies on the nice wide walking path who won't move over after I've moved over.
This is but a few examples.
This morning brought an especially fun one. You see, yesterday I had to call in to Very Large Telecom Company to make some changes to my mobile phone service. These were not changes I could make in a store or online, I was forced to call in.
After being on hold for fifteen minutes waiting for "the next available operator" and listening to a litany of bad advertising, I was finally connected to a call agent. Now, to be fair, the call agent was very nice and rather helpful.
She did tell me that Very Large Telecom Company would have to assess a "one-time fee" for making the change I was making.
I questioned this, "Let me get this straight…I'm only making a change in how this is billed and I always pay on time and I have been a long time customer and you are still charging me for this!?!?"
"Yes, ma'am, that is our policy."
Well that cheesed me. No need to unload on the lady on the line, she's just a minion.
"Oh fine," I snapped, "Just make the change."
Then it took another fifteen minutes as the call agent waited for their computer system to respond. Waited. And waited. And waited.
All in, the call took forty minutes of my time. FOUR ZERO minutes. Whisky. Tango. Foxtrot.
So, this morning, Very Large Telecom Company called me and asked me to take a survey regarding my experience yesterday.
Oh I do love it when I get to take a survey after a crap experience.
When I bought my first car, I was treated so poorly by the shark of a salesman that when I was sent a survey from the car manufacturer, I not only filled out the form, I attached three pages with details, figures, facts, dates and times. The shark was demoted to the used car lot and I was given several free tanks of gas. It wasn't even the free gas I was after, I just wanted SOMEONE to know how poorly their employees were representing them.
Also, it should be said, if I get really good service and I am asked to take a survey, I will gladly answer the questions and sing praises. That kind of behavior should be rewarded. After managing two different call centers, I happen to know that often times these survey results are used in annual performance reviews for call staff.
So this morning, on every question that pertained to the call rep, I gave very high scores. She really was very lovely, and certainly stuck in a bad situation.
On every question that pertained to "call length" and "time to resolve the issue" I gave them the lowest possible marks. One on a scale of one to ten.
Look, Very Large Telecom Company doesn't give two rat's butts about my one on a scale of one to ten but hey, they asked.
It kind of felt good to say my piece. Felt good in that evil glee sort of way.
I do love me some survey.
Image from Savage Chickens by Doug Savage.