This morning, like most weekday mornings, I hopped into my trusty old Jeep, fired 'er up and took off, careening toward my place of employment.
As I traversed one of my hometown's very busy main roads, I glanced into my sideview mirror, as any safe driver would do.
As I glanced, I saw a little leggy burble and a pop and this thing emerged: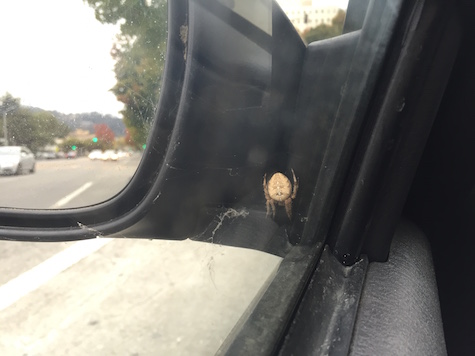 See the hinge for the mirror? It had somehow packed itself in there.
I should note that I was so startled that I had to pull over to the side of the street and consider my options. Also to take a photo to send to The Good Man. It was essential to document the situation in case my Jeep and I were later found suspended from a stop light, wrapped in silk and drained of fluids.
Let me zoom in a little closer for ya.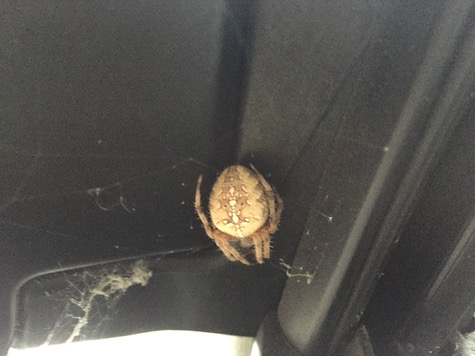 The Good Man refers to this time of year as "Chunky Spider Season." It's true, our current hometown is very, er, spidery. More than any place I have ever lived. And they are often quite big. And chunky.
At home, I park on the street near a tree and some brush. These eight legged demons seem to consider the Jeep part of their homestead. I often brush webs off every corner of the Jeep, including when they manage to string webs across my roof rack.
But this, today, goes beyond the pale.
How about an even closer look, because you need to know my fear.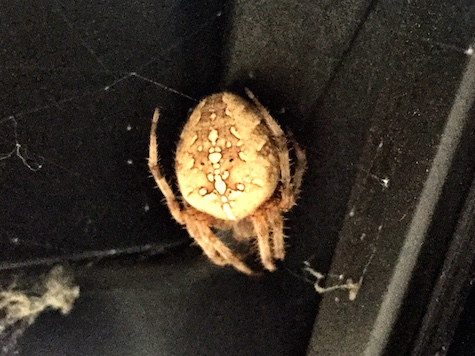 After snapping photos, I cinched up, put on my determined face, then re-entered the roadway at speed hoping this sumnabitch would fly off in the wind. No such luck. It first hunkered down, then feeling carefree (I assume), it later spread all eight of its legs as though surfing the breeze.
Hitting speedbumps at a hard pace didn't seem to help either.
Soon, I arrived at work and had to unroll this window to reach out and badge into the garage. Thankfully my new overlord didn't seem to flinch much.
But it's still there. Still hanging out like it owns my Jeep. Like I am just a pawn in its spidery game.
I am currently unable to exit the Jeep. This is my life now.
Someone please send help! To the passenger side, though.
Gah!
_____________

The Good Man did some research based on photos and determined this is a Cross Orbweaver and that it isn't poisonous. Fab. I'll remember that when it singsongs my name and tells me to "come out and play."

All photos ©2016 Karen Fayeth, and subject to the Creative Commons license in the right column of this page.

So there I was a week ago on Tuesday, sitting at my desk and having one of the worst days at work in recent memory. There were all kinds of bonfires burning brightly on my desk. Still are.
So much so that in a recent hot project review with my manager and all of my peers, the Boss Lady remarked "wow, you have all of the really awful problems, don't you?"
She is fairly unflappable and not easily worried by the bonfires that my job brings, so her concern means I am seriously up to my eyeballs in alligators.
As the day progressed like a hammer to the head of a nail, I decided to sit back for a few minutes and look at some personal email by way of distraction.
That is when I found an email from someone I don't know, a Good Samaritan if you will, letting me know that my sweet Oh Fair New Mexico site had been hacked.
Oh joy. Just exactly what I needed.
This was, in my opinion, a particularly insidious hack. It was done so cleanly that I never even knew it had been hacked. Google "WordPress Pharma Hack" and read the pages and pages devoted to this really clever little invisible hack.
Instead of fiddling with my content or the front page of my blog, the intruder created something on the order of hundreds of offshoot pages from this blog. Those pages purported to sell all variety of fun pharmaceutical products, stove tops, waxing kits and more.
I suppose I should have guessed I was hacked when my website began to slow to a crawl. Then recently I noticed I couldn't reach my website from my home network. A ticket raised at my hosting provider said "No, your blog is up and running."
Turns out my ISP had blocked my infected web page. My blog continued to slow down even more. It began taking several long seconds to load.
I feel sort of sheepish that I didn't figure this out for myself. The signs were there. I make a living in the tech industry, but when it came to my own blog I was a silly little twit.
So after receiving the bad news I:
1) freaked out, then
2) contacted my hosting provider who had done me the service of setting up my blog originally
Within about twenty minutes they had replied to my ticket and did their part to clean out all of the offending sites. I checked several of them to be sure they were shut off. A bit of Googling around showed me that I had been hacked going back into last year. Hoo boy.
Then I had to raise another ticket because I noticed that my usual log in page redirected me to a page that looked exactly like my log in page but had a different URL. Thankfully I did notice that in the URL line on my browser.
My hosting provider responded by giving me another way into my blog. Once in, I realized that my hacker friends had set up no less than five admin accounts on my blog and one more that was invisible. I could only tell that by seeing that I had one (1) line item for users but the count in the header of the page said I had two (2) admin accounts.
Hell, I never check my admin page, but I should have.
So I did a lot of research and I learned about PHPMyAdmin and I got new keys from WordPress to make sure if the hackers were still logged in it would crunch their cookies and I changed passwords.
And I freaked out a little more.
Then I went to Google and signed up for their webtools (as suggested) and ran through the process so I could get the "this site may be hacked" message to not show up in search results for my little blog. That seemed to work fairly quickly.
And then I freaked out less but still felt anxious. And I kept working on cleaning up the mess that was left behind.
It all feels so…dirty. I mean, I don't get a ton of traffic to my little blog but it's my tiny corner of the internet and this week I celebrated my seventh year of blogging. Over half a million words.
A lot of fun has been had. By me at least.
From all of this, I have learned that WordPress blogs are particularly hackable. I have also learned that some hosting providers are also particularly hackable.
I have some other things I want to do to better secure my blog, but I certainly can't promise I won't get hacked again.
In fact, based on my research, I probably will get hacked again pretty soon until I get better security on my pages.
I may have to just shut down the blog entirely, but for now, I'm back up. It seems to be running a little quicker. I do regular backups on the blog but I did another just to be cautious.
So there you go. For today I'm back to blogging and not selling.
I like it here. Oh Fair New Mexico makes me happy, and for the few but loyal readers I have, I hope it makes you happy too.
Meanwhile if you came here because you want to buy some good drugs off the blog, the bad guys are no longer in business at this location. For now, anyway.
__________


*Special thanks to the kind reader who tipped me off about the hack. I am quite grateful to you.
**Humorous side note: When I told The Good Man that I had been hacked he went to look at the blog. He thought my kooky post about big cats liking Calvin Klein Obsession cologne was the work of the hackers.
Lol! I had a hell of a time convincing him that I wrote it. *grin* They can't all be winners.

Image found here.

As has been mentioned before, these days I work in an open office plan, meaning pretty much everyone from big bosses to little minions all sit and work in open cubicles.
It's supposed to make us more collaborative, or something.
Because everything is so open and airy fresh, as I walk through the building I quite frequently get a glimpse of other people's computer screens. Honestly, most people are working away, boring. Snore.
Occasionally people are shopping or watching YouTube, but whatever, that's between them and their IT rep.
There is one trend I'm noticing recently that has me a bit confused. There are several people, like five I can count off the top of my head and probably a few more I am missing, who have a photo of themselves set as their computer's wallpaper background.
Now, I don't mean it's a photo of them and someone else, like a nice happy couple, or dad and son or something. No, I mean a photograph of only them, and most often the photo is looking right out of the screen. Most are selfies, some are a photo someone else has taken. Some are full body shots but most are close in, framed from the neck up.
What this means is, as they work, they are looking out at themselves while looking in at themselves.
Um. What?
Look, I like myself a lot. I'm a cool chick. I like hanging out with me. I even don't mind looking in the mirror now and again.
In fact, to quote former 49ers football player Terrell Owens, "I love me some me".
But I don't "love me some me" so much that I want to look at me all the live long day.
At first I thought this was only the younger employees, the kids in their twenties who are supposedly really self-obsessed. No. It runs the age gamut.
I just…can't. I don't understand. Did I miss a memo or something?
(See what I did there? Miss a memo. How cute, granny.)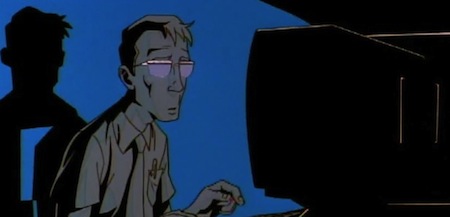 Image found here.

That is a great post title. It really is. I could go anywhere after that.
But I have something in mind and I promise I am sober as a judge as I tell my tale. (Then again, I know quite a few judges who like a little splash in the coffee mug.)
Yesterday afternoon, during the joy of a holiday from work, I went outside to take some photos. My photography club is back in full swing and this month's theme is black & white or contrast. I had already taken one photo that I really love and was looking for my second. We get two entries each month.
Lacking any good ideas, I went outside to see what I could see, snapping here and there and everywhere to find something.
My skills in black and white photography aren't that good (I like color), so I was shooting lots of different things so I could learn and enhance my ability.
About an hour into my backyard photowalk I remembered that around the corner is a magnolia tree in full bloom. I think the unseasonably warm California winter has confused the poor tree.
I headed over to take a look and found it still blooming, so I snapped and snapped lots of photos. I set up shots. I fiddled with my camera. I enjoyed the late afternoon golden light.
And then as I looked at these flowers through my viewfinder, I realized something…….
Some of the magnolia blossoms have faces.
Below I present my evidence.
This was the first face I saw. I thought it was just a one off:

Photo © Copyright Karen Fayeth, 2014


But wait, there was another. Less obvious, but definitely a face: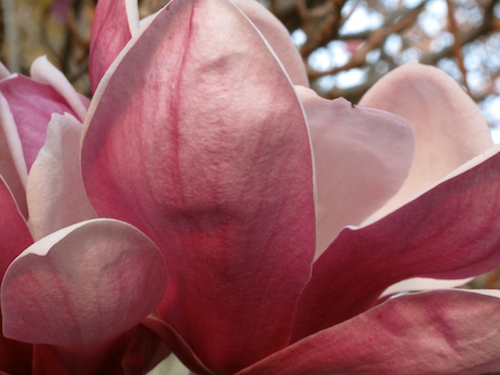 Photo © Copyright Karen Fayeth, 2014


And another. This one I thought looked scary at first. The more I looked, the more it seemed to be laughing with leafy arms spread wide open: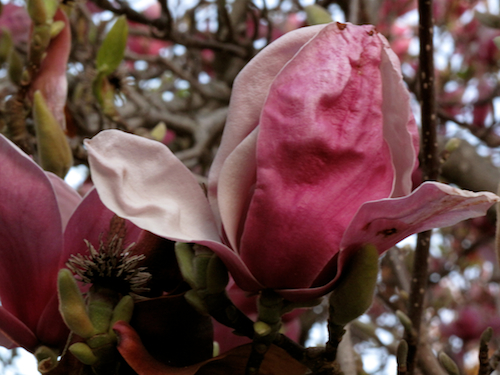 Photo © Copyright Karen Fayeth, 2014


And another, this one more cranky: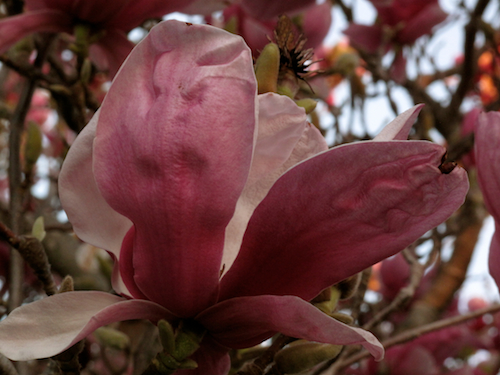 Photo © Copyright Karen Fayeth, 2014


Then this one, with a little bit of a surprised rounded O face: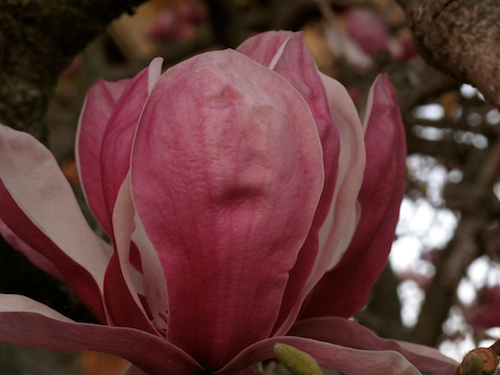 Photo © Copyright Karen Fayeth, 2014


I call this one the Picasso as it takes a little to see it and the face is a bit askew: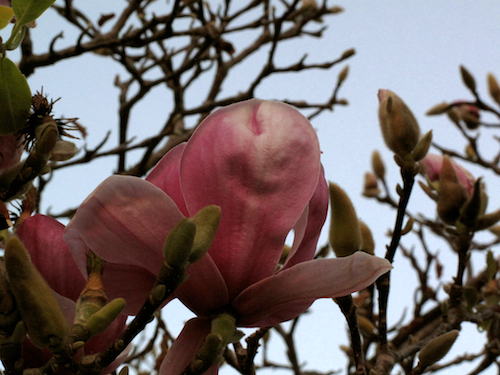 Photo © Copyright Karen Fayeth, 2014


Then I noticed that Laughy and Cranky seemed to be having a little party together: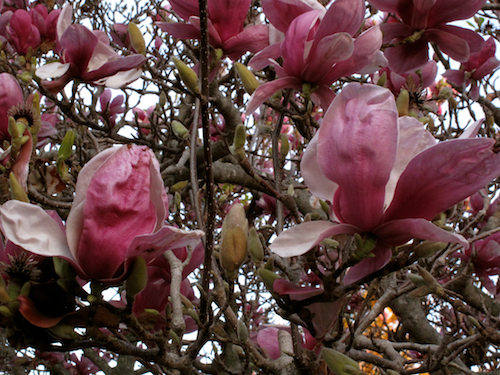 Photo © Copyright Karen Fayeth, 2014


Everywhere I looked, there were little magnolia faces looking back at me. Grumpy ones and happy ones and wilty ones and crazy ones. Little sweet smelling blossom faces everywhere my eyes fell.
I giggled with the joy of it all, reveling in the ridiculously silly ways of Mother Nature.
Then a couple pushing a stroller walked by. They looked at me from the sides of eyes, wondering at the crazy wild haired lady laughing with the tree.
Their toddler girl said to me, "Look! I have a Hello Kitty on my pocket!"
I replied, "You sure do!"
That toddler understands. She gets me. To a child with a Hello Kitty on her pocket, the lady laughing with the tree is just fine. Quite normal. To be expected.
I'm so glad someone understands.
Meanwhile, I'll never look at a magnolia tree in quite the same way again.

_________________

(side note: I believe the most definitive magnolia photo I have ever seen was taken by my friend and fellow New Mexican, Avelino Maestas. I knew whatever photo I would take of the magnolia blossoms would pale in comparison to the photo I used as my phone's wallpaper for well over a year. Salud, Avelino!)

All photos © Copyright Karen Fayeth, 2014 and subject to the Creative Commons license in the right column of this page. Taken with a Canon G10 and touched up a bit in Photoshop.

This is a bear.
A chocolate bear. A delicious Lindt milk chocolate bear. A tasty holiday morsel, a gift, a happy chocolatey treat with a red bow around his tiny bearlike neck.
This bear is a survivor. It has outlasted all of the cookies, both biscochito and sugar cookies. It outlasted the holiday decorated six pack of Toblerone that was a gift from a coworker. It has outlasted all of the Christmas 2013 bits and bobs of delicious sugary treats. It has even outlasted the giant candy cane, which is always the last to be eaten around here.
Oh yes. This bear is a survivor.
The bear was gifted to The Good Man. It is The Good Man's bear, and so by the laws of respect and decency, I have neither opened nor nibbled on the bear. Sure, by the laws of the State of California that bear is half mine to do with as I please. But I am a nice spouse and I give The Good Man the space to open and nibble on his own present first.
But this bear. It challenges me. It torments me.
There it sits in its thin gold foil, smirking at me while I rummage and forage for holiday sugar snacks that aren't there anymore. Oh sure, I came home from work loaded with sweet meats in the week before the actual day of Christmas. We had a dedicated shelf for all of the sugary holiday yum-yums.
But they are gone. Noshed. Dispatched with.
All except this freaking smiling bear. The bear that isn't mine but make me want to p0wn it like the little chocolately bitch that it is.
I want to bash in its little head and gobble at its ears. I want to reach into its gullet and pull out the still beating chocolate heart and bite into it with fury and insanity and let the juices dribble down my chin.
I want to fry up its little chocolatey liver and sip from its corpuscles.
Oh yes, I want, need, must have it. It vexes me. It taxes me. I shall dominate this milky chocolate bear that hails from Switzerland and mocks me and doesn't understand the needs of a sugar fiend.
Must. Smash. Bear.
And gobble the remains.
Must.
So.
Do you think I probably need to back off the sugar a bit? Probably need to get a few more veg in the maw and less processed sugar snax? Maybe something protein based with a little less fat? Something with actual nutritional value?
Yeah. Me too.
Happy Post-Holiday Food Hangover.

Slightly askew photo of my chocolatey prey is Copyright 2013, Karen Fayeth, and subject to the Creative Commons license in the right column of this page. Taken with an iPhone5 and a dash of maniacal insanity.