So there I was a week ago on Tuesday, sitting at my desk and having one of the worst days at work in recent memory. There were all kinds of bonfires burning brightly on my desk. Still are.
So much so that in a recent hot project review with my manager and all of my peers, the Boss Lady remarked "wow, you have all of the really awful problems, don't you?"
She is fairly unflappable and not easily worried by the bonfires that my job brings, so her concern means I am seriously up to my eyeballs in alligators.
As the day progressed like a hammer to the head of a nail, I decided to sit back for a few minutes and look at some personal email by way of distraction.
That is when I found an email from someone I don't know, a Good Samaritan if you will, letting me know that my sweet Oh Fair New Mexico site had been hacked.
Oh joy. Just exactly what I needed.
This was, in my opinion, a particularly insidious hack. It was done so cleanly that I never even knew it had been hacked. Google "WordPress Pharma Hack" and read the pages and pages devoted to this really clever little invisible hack.
Instead of fiddling with my content or the front page of my blog, the intruder created something on the order of hundreds of offshoot pages from this blog. Those pages purported to sell all variety of fun pharmaceutical products, stove tops, waxing kits and more.
I suppose I should have guessed I was hacked when my website began to slow to a crawl. Then recently I noticed I couldn't reach my website from my home network. A ticket raised at my hosting provider said "No, your blog is up and running."
Turns out my ISP had blocked my infected web page. My blog continued to slow down even more. It began taking several long seconds to load.
I feel sort of sheepish that I didn't figure this out for myself. The signs were there. I make a living in the tech industry, but when it came to my own blog I was a silly little twit.
So after receiving the bad news I:
1) freaked out, then
2) contacted my hosting provider who had done me the service of setting up my blog originally
Within about twenty minutes they had replied to my ticket and did their part to clean out all of the offending sites. I checked several of them to be sure they were shut off. A bit of Googling around showed me that I had been hacked going back into last year. Hoo boy.
Then I had to raise another ticket because I noticed that my usual log in page redirected me to a page that looked exactly like my log in page but had a different URL. Thankfully I did notice that in the URL line on my browser.
My hosting provider responded by giving me another way into my blog. Once in, I realized that my hacker friends had set up no less than five admin accounts on my blog and one more that was invisible. I could only tell that by seeing that I had one (1) line item for users but the count in the header of the page said I had two (2) admin accounts.
Hell, I never check my admin page, but I should have.
So I did a lot of research and I learned about PHPMyAdmin and I got new keys from WordPress to make sure if the hackers were still logged in it would crunch their cookies and I changed passwords.
And I freaked out a little more.
Then I went to Google and signed up for their webtools (as suggested) and ran through the process so I could get the "this site may be hacked" message to not show up in search results for my little blog. That seemed to work fairly quickly.
And then I freaked out less but still felt anxious. And I kept working on cleaning up the mess that was left behind.
It all feels so…dirty. I mean, I don't get a ton of traffic to my little blog but it's my tiny corner of the internet and this week I celebrated my seventh year of blogging. Over half a million words.
A lot of fun has been had. By me at least.
From all of this, I have learned that WordPress blogs are particularly hackable. I have also learned that some hosting providers are also particularly hackable.
I have some other things I want to do to better secure my blog, but I certainly can't promise I won't get hacked again.
In fact, based on my research, I probably will get hacked again pretty soon until I get better security on my pages.
I may have to just shut down the blog entirely, but for now, I'm back up. It seems to be running a little quicker. I do regular backups on the blog but I did another just to be cautious.
So there you go. For today I'm back to blogging and not selling.
I like it here. Oh Fair New Mexico makes me happy, and for the few but loyal readers I have, I hope it makes you happy too.
Meanwhile if you came here because you want to buy some good drugs off the blog, the bad guys are no longer in business at this location. For now, anyway.
__________


*Special thanks to the kind reader who tipped me off about the hack. I am quite grateful to you.
**Humorous side note: When I told The Good Man that I had been hacked he went to look at the blog. He thought my kooky post about big cats liking Calvin Klein Obsession cologne was the work of the hackers.
Lol! I had a hell of a time convincing him that I wrote it. *grin* They can't all be winners.

Image found here.

As has been mentioned before, these days I work in an open office plan, meaning pretty much everyone from big bosses to little minions all sit and work in open cubicles.
It's supposed to make us more collaborative, or something.
Because everything is so open and airy fresh, as I walk through the building I quite frequently get a glimpse of other people's computer screens. Honestly, most people are working away, boring. Snore.
Occasionally people are shopping or watching YouTube, but whatever, that's between them and their IT rep.
There is one trend I'm noticing recently that has me a bit confused. There are several people, like five I can count off the top of my head and probably a few more I am missing, who have a photo of themselves set as their computer's wallpaper background.
Now, I don't mean it's a photo of them and someone else, like a nice happy couple, or dad and son or something. No, I mean a photograph of only them, and most often the photo is looking right out of the screen. Most are selfies, some are a photo someone else has taken. Some are full body shots but most are close in, framed from the neck up.
What this means is, as they work, they are looking out at themselves while looking in at themselves.
Um. What?
Look, I like myself a lot. I'm a cool chick. I like hanging out with me. I even don't mind looking in the mirror now and again.
In fact, to quote former 49ers football player Terrell Owens, "I love me some me".
But I don't "love me some me" so much that I want to look at me all the live long day.
At first I thought this was only the younger employees, the kids in their twenties who are supposedly really self-obsessed. No. It runs the age gamut.
I just…can't. I don't understand. Did I miss a memo or something?
(See what I did there? Miss a memo. How cute, granny.)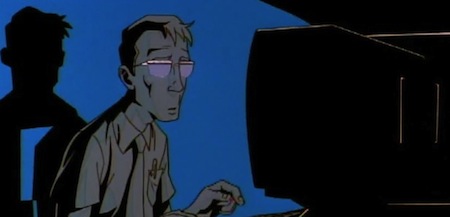 Image found here.

That is a great post title. It really is. I could go anywhere after that.
But I have something in mind and I promise I am sober as a judge as I tell my tale. (Then again, I know quite a few judges who like a little splash in the coffee mug.)
Yesterday afternoon, during the joy of a holiday from work, I went outside to take some photos. My photography club is back in full swing and this month's theme is black & white or contrast. I had already taken one photo that I really love and was looking for my second. We get two entries each month.
Lacking any good ideas, I went outside to see what I could see, snapping here and there and everywhere to find something.
My skills in black and white photography aren't that good (I like color), so I was shooting lots of different things so I could learn and enhance my ability.
About an hour into my backyard photowalk I remembered that around the corner is a magnolia tree in full bloom. I think the unseasonably warm California winter has confused the poor tree.
I headed over to take a look and found it still blooming, so I snapped and snapped lots of photos. I set up shots. I fiddled with my camera. I enjoyed the late afternoon golden light.
And then as I looked at these flowers through my viewfinder, I realized something…….
Some of the magnolia blossoms have faces.
Below I present my evidence.
This was the first face I saw. I thought it was just a one off:

Photo © Copyright Karen Fayeth, 2014


But wait, there was another. Less obvious, but definitely a face: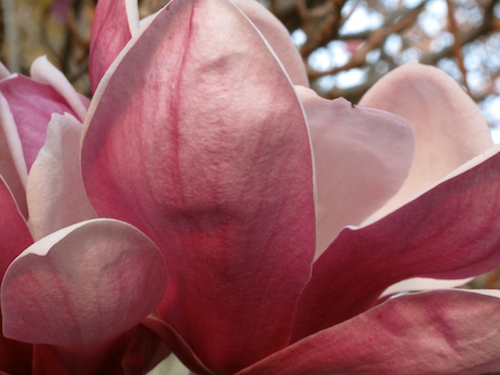 Photo © Copyright Karen Fayeth, 2014


And another. This one I thought looked scary at first. The more I looked, the more it seemed to be laughing with leafy arms spread wide open: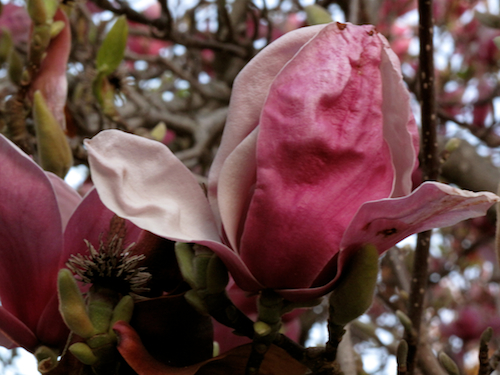 Photo © Copyright Karen Fayeth, 2014


And another, this one more cranky: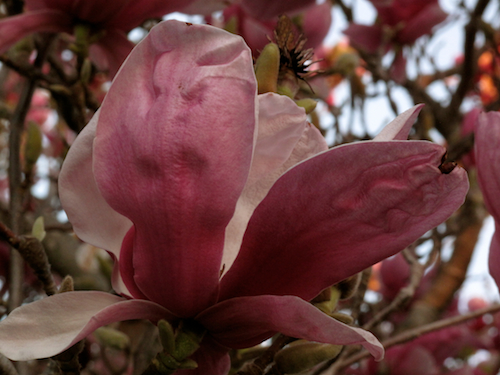 Photo © Copyright Karen Fayeth, 2014


Then this one, with a little bit of a surprised rounded O face: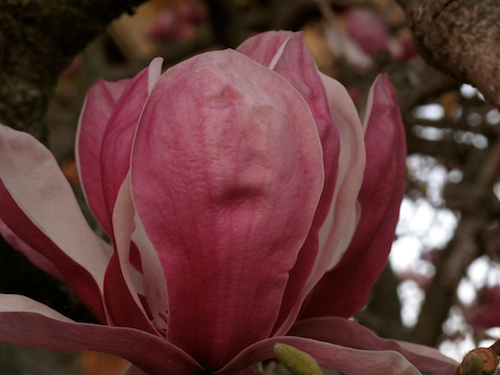 Photo © Copyright Karen Fayeth, 2014


I call this one the Picasso as it takes a little to see it and the face is a bit askew: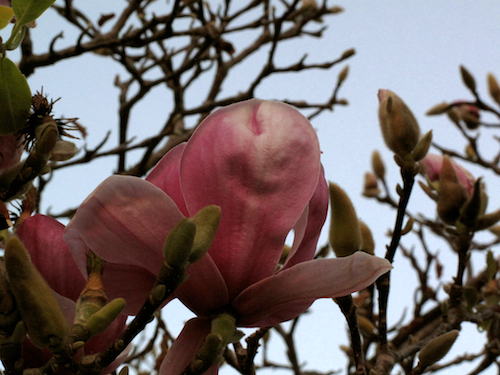 Photo © Copyright Karen Fayeth, 2014


Then I noticed that Laughy and Cranky seemed to be having a little party together: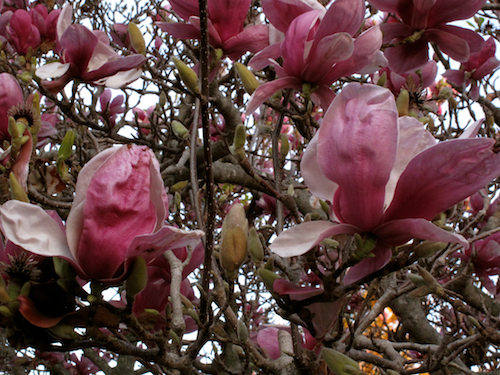 Photo © Copyright Karen Fayeth, 2014


Everywhere I looked, there were little magnolia faces looking back at me. Grumpy ones and happy ones and wilty ones and crazy ones. Little sweet smelling blossom faces everywhere my eyes fell.
I giggled with the joy of it all, reveling in the ridiculously silly ways of Mother Nature.
Then a couple pushing a stroller walked by. They looked at me from the sides of eyes, wondering at the crazy wild haired lady laughing with the tree.
Their toddler girl said to me, "Look! I have a Hello Kitty on my pocket!"
I replied, "You sure do!"
That toddler understands. She gets me. To a child with a Hello Kitty on her pocket, the lady laughing with the tree is just fine. Quite normal. To be expected.
I'm so glad someone understands.
Meanwhile, I'll never look at a magnolia tree in quite the same way again.

_________________

(side note: I believe the most definitive magnolia photo I have ever seen was taken by my friend and fellow New Mexican, Avelino Maestas. I knew whatever photo I would take of the magnolia blossoms would pale in comparison to the photo I used as my phone's wallpaper for well over a year. Salud, Avelino!)

All photos © Copyright Karen Fayeth, 2014 and subject to the Creative Commons license in the right column of this page. Taken with a Canon G10 and touched up a bit in Photoshop.

This is a bear.
A chocolate bear. A delicious Lindt milk chocolate bear. A tasty holiday morsel, a gift, a happy chocolatey treat with a red bow around his tiny bearlike neck.
This bear is a survivor. It has outlasted all of the cookies, both biscochito and sugar cookies. It outlasted the holiday decorated six pack of Toblerone that was a gift from a coworker. It has outlasted all of the Christmas 2013 bits and bobs of delicious sugary treats. It has even outlasted the giant candy cane, which is always the last to be eaten around here.
Oh yes. This bear is a survivor.
The bear was gifted to The Good Man. It is The Good Man's bear, and so by the laws of respect and decency, I have neither opened nor nibbled on the bear. Sure, by the laws of the State of California that bear is half mine to do with as I please. But I am a nice spouse and I give The Good Man the space to open and nibble on his own present first.
But this bear. It challenges me. It torments me.
There it sits in its thin gold foil, smirking at me while I rummage and forage for holiday sugar snacks that aren't there anymore. Oh sure, I came home from work loaded with sweet meats in the week before the actual day of Christmas. We had a dedicated shelf for all of the sugary holiday yum-yums.
But they are gone. Noshed. Dispatched with.
All except this freaking smiling bear. The bear that isn't mine but make me want to p0wn it like the little chocolately bitch that it is.
I want to bash in its little head and gobble at its ears. I want to reach into its gullet and pull out the still beating chocolate heart and bite into it with fury and insanity and let the juices dribble down my chin.
I want to fry up its little chocolatey liver and sip from its corpuscles.
Oh yes, I want, need, must have it. It vexes me. It taxes me. I shall dominate this milky chocolate bear that hails from Switzerland and mocks me and doesn't understand the needs of a sugar fiend.
Must. Smash. Bear.
And gobble the remains.
Must.
So.
Do you think I probably need to back off the sugar a bit? Probably need to get a few more veg in the maw and less processed sugar snax? Maybe something protein based with a little less fat? Something with actual nutritional value?
Yeah. Me too.
Happy Post-Holiday Food Hangover.

Slightly askew photo of my chocolatey prey is Copyright 2013, Karen Fayeth, and subject to the Creative Commons license in the right column of this page. Taken with an iPhone5 and a dash of maniacal insanity.

There I sat last night, watching something or other on my iPad in the living room. The Good Man was there too, doing something similar.
It was a nice quiet Sunday in the house of The Good Man and we were calm and enjoying the company of both electronic devices and each other (not in that order).
Suddenly I had this feeling like someone quite strong had bumped very hard into the back of my comfy chair, shoving it over about an inch or so.
Odd, though, because the chair backs up to a wall in our apartment so no one could have rammed it from the back.
Then I heard the large picture window behind me creaking a little and the front door rattling in its frame.
This led me to a big panicky feeling of, "oh my gosh, someone is breaking in!"
My now large eyes went to The Good Man, panic all over my face, mouth agape.
There he sat calmly, cool as a longtime Californian cucumber.
Every one of my nerve endings was on jangle. None of his nerves even put up their head to see what was going on.
Then I realized what was going on. "Was that an earthquake?" I asked frantically.
"Yup," he said casually. "It was a good roller. I wonder how big it was? Oh, the USGS site is down because of the government shutdown. Let me see…"
I replied, "You look at your sites, I'll look at mine."
While he looked for scientific data, I took to Twitter and Facebook.
This is what Californians do when there has been an earthquake. Everyone goes online or turns on the news to see how big it was, then everyone talks about it. Where they were, how it felt, etc.
When all was said and done it turned out to be a 3.0 (just a lil' ol' teacup rattler, really) and it was centered somewhere nearby so we felt it a little more strongly than others.
The Good Man went casually back to his book. I sat in my chair and shook like a Chihuahua for a while, then went back to my Netflix show.
No matter how long I live here, I will never get used to the earth suddenly moving under me. It is simply creepy.
Longtime superstitious Bay Area residents will talk about how October is earthquake season. That's when the big 1989 quake happened and everyone seems to believe the conditions are right this time of year.
Me, I know better. The ground shakers can happen anywhere, anytime.
There is also a faction of people who say "The little quakes are good! They release pressure keeping us from a big one."
I would really like to believe that's true. It's not, but I want to believe.
Meanwhile, Sunday brought just another shakah in this crazy mixed up California life.

I say, good madam, t'was but a shaker. More gin?

Photo Copyright 2013, Karen Fayeth, taken with an iPhone5 and the Hipstamatic app.

So there I was perusing my Facebook feed when one of my favorite pages to follow, ¡Orale! New Mexico posted this: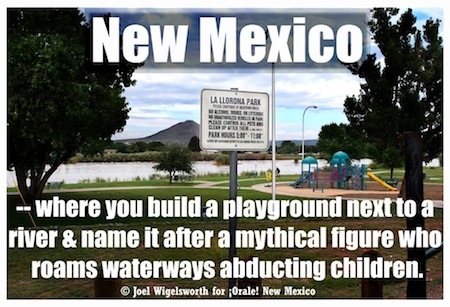 For reference: La Llorona

My first thought was "this HAS to be a joke! I must remand myself to the Google for confirmation!"
Turns out it is no joke, it's a real park in Las Cruces.
Yes, La Llorona, a scary story told in my childhood. A Mexican fable intended to keep kids away from arroyos and rivers. My sadistic grade school teachers would shut off the lights in the classroom and whisper to us the story of the woman who had drowned her own child and wandered near waterways intent on stealing and drowning little kids.
Real educational stuff!
Mention La Llorona and Hispanic kids everywhere will shudder. Some will cross themselves. A few will weep.
What the hell Las Cruces? So you think it's fun to scare the bat crap out of every child and most adults? Who are you Las Cruces? I don't even know you anymore!
And for the record, I will NOT be visiting any park named for La Llorona. I won't drink a La Llorona margarita. And no wailing woman milk.
Just. No. Especially this time of year. La Llorona likes the cold and damp of Autumn. Gah!
Oh Fair New Mexico, how I love and am confused by you so.

Image Copyright 2013, Joe Wigelsworth for ¡Orale! New Mexico. All rights reserved.

Mmm, hmm. There are things I know and know with certainty. There are things I know that people deny. There are things I say that are fundamentally true but are denied time and again by those around me.
Know this, good readers of my blog: Squirrels are vermin. They are not cute, they are not cuddly, and they are not adorable. They are rodents and should be treated as such.
I say this to the squirrel huggers and they tell me that I'm being silly. I say plague and they scoff.
So here's how we are going to play this today. I am going to repost something I wrote in 2007. And then at the end I'll give you an update to show you just how exactly 100% right I am.
Then I will do a superior dance. You'll have to just visualize that one but know I'm dancing hard like I'm counting coup.
I am a woman of the west. The real west. The range land, unpopulated and dirt covered west. I know things. Behold.

____________________________

First published June 12, 2007

So, where I live, we have a lot of squirrels. Now when I say "a lot of squirrels" I don't mean "oh my, there's quite a few out there". I mean a whole horde, an army, a remuda, of squirrels.
They run around everywhere, up and down power lines, around trees, hither and yon. When I go for a walk at noontime from work, I walk down this one street and they scatter in all directions like a squirrely sea of doom.
People here think they are cute. Find them amusing. The fluffy tails make them laugh. People here FEED THEM. Yes, they put out food for the little b*stards.
They don't understand my revulsion, my utter HORROR that these vermin are allowed to roam free in a civilized society.
They don't understand this because I am a New Mexican. One of the bonus features of being raised in New Mexico is, da da dummmmmm, bubonic plague.
In fact, according to an article in today's ABQjournal, there have already been four cases this year, including a boy who died.
To quote the article, "Plague, a bacterial disease, is generally transmitted to humans through the bites of infected fleas but can also be transmitted by direct contact with infected animals, such as rodents, wildlife and pets."
Unh huh, no wonder every little rat with a fluffy tail gets the suspicious eye from me. Early on in life my mom would yell at all us kids to stay back from any wild creature, especially the small rodenty kind.
I will not draw one of those beady-eyed plague-carrying varmints closer to me or my home! I live in a duplex and for a while my next door neighbor put out bird seed with no cover or protection from the squirrels. I would stare horrified out my living room window to see a swarm of the things eating with reckless abandon in my back yard.
THE PLAGUE!!! THE PLAGUE!!!!
In my old place, a couple of squirrely warriors had an epic territory battle on the roof right over my apartment. Not only did I have to hear the squeals and the death call of the loser, I *freaked out* about the dead rodent right there over my doorway. As you know, fleas leave the dead rodent searching for a new home.
I shall print out the referenced article and keep copies handy for the next person who looks me and says "how can you not like squirrels, they are sooooo *cute*!!"
I'm keeping an eye on you, you plaugey b*stards!!!!

____________________________


And now, the update and my vindication:
Plague-Infected Squirrel Closes California Campground

A plague-infected squirrel has closed a California campground for at least a week, according to Los Angeles County health officials.

The squirrel, trapped July 16 in the Table Mountain Campgrounds of Angeles National Forest, tested positive for the infection Tuesday, prompting a health advisory and the closing of the campground while investigators tested other squirrels and dusted the area for plague-infected fleas.

…L.A. County health officials are urging Angeles National Forest campers to avoid contact with wild animals, steer clear of squirrel burrows and report any dead squirrels to the department of health. (emphasis added)
Oh! Oh! There it is. The I Told You So Dance.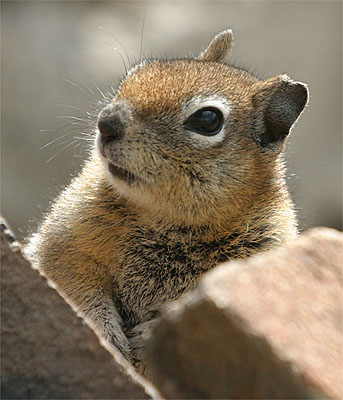 It's both a blessing and a curse that immediately next door to the building where I work is a Starbucks. This means I visit the green mermaid several times a week, spending both precious dollars and time worshiping at her fins.
But I'm not sorry. It's a nice break in the day to lay down arms in email form and go next door to grab a cup of something nice.
So in my recent near daily adventures to the 'bucks as I stand in line and observe, I have started to get a bead on the various faces of the customers of Starbucks.
Here's my thoughts, in no particular order (feel free to add your own in the comments)

The Stalker – This person places their order and immediately moves to the pickup area. The Stalker doesn't care if there were ten people ahead who ordered first and are still waiting, nope. They will set up camp right there at the edge of the pickup spot, blocking everyone else from grabbing their order when ready. Often they will have also ordered a pastry and they will stand there mouth breathing and chewing their petit vanilla scone like a cud while staring dully at the barista. At their worst, The Stalker will pick up and check each cup that comes out to see if it is their order. They do this even if the barista has called a name that isn't their own. It is as if by sheer force of their will, they can turn the beverage into theirs, because they are the center of the universe.


The Can't Be Bothered – This person places their order, pays the tab and then disappears. Their drink is made in due time and the barista calls their name or their drink order. No response. So the drink sits there getting cold (or warm, depending). And it sits. And sits. If it has whip cream on top, this starts to wither and ooze. The barista calls out the name or drink over and over and everyone looks at everyone wondering who the heck ordered this drink and won't pick it up. No one really knows where The Can't Be Bothered has wandered off to.


The Planner – This person orders their drink and then moves to the sweetener station where they grab their sugar packets, stirrer, coffee jacket, straw, napkins, etc. They stand there waiting with sugar packets pre-shaken down and ready to pour (in some cases already torn open). They look like special teams ready to take delivery of the pigskin, hands open and ready to receive. The very second the cup hits the countertop, bam, they are on it, sugar, stir, jacket, lid, booyah! And out.


The Conspiracy Theorist – This person has ordered a special drink for a special snowflake in a special way and they are convinced the barista will make a mistake. The barista sets the drink down, The Conspiracy Theorist swipes it up off the counter and looks at it in askance as though it will betray them at any moment. "Does this have four pumps?" they will ask, "Is this no foam?" or "did you heat this to exactly 230 degrees?". The barista will nod and give affirmative answers through clenched teeth that try to make a smile but can't quite. God help the barista who gets it wrong, "Oh, gosh, no, I forgot and only put three pumps. Let me fix that." This just encourages The Conspiracy Theorist.


The Indecider – This person stands patiently in line, gets to the front, and doesn't know what they want to order. They take something like twenty minutes just to decide what they want and then of course they use a gift card that doesn't have enough money so then they dig around in pockets or purse or backpack for the 72 cents to pay off the rest of their tab. I often want to throw a dollar bill at them so they will just finish the heck up. Argh! And as they dawdle the line starts queuing up out the door and onto the sidewalk. Boo!


Ok, that's only the beginning of my log of personality types at the 'bucks. Much like Jane Goodall, I am out there living among them. I will continue to take notes as new classifications arise.

Ah, a stalker family!

Yes, I blurred that person's face

Image found here.
So there I was on Tuesday last week minding my own business, doing that tippy-tappy computer thang that office drones do, when suddenly a message came across my email. It was one of those emails from the company PR group that goes out to every single dingle employee on the roster.
It was a short, clipped note that said something like: "…at 10 a.m. this morning, a juvenile was shot with an arrow at the [place that is really near where I work]. The shooter of the arrow has not been found. Local police are investigating and helicopters have been brought in to help locate the shooter."
Well now there is something you don't see every day at work. Um, a kid was shot with an arrow and that's the reason why all the low flying helicopters overhead.
Weird! Thankfully the child wasn't killed, it went through her leg.
I tried put it out of my mind. I mean, everyone was chattering about it in the halls and break room, speculating what may have happened and why. It's just not normal.
Then, later in the afternoon, I was in the management staff meeting and strangely enough, the fire alarm went off. We all looked at each other for several beats and then went "ok, well…let's go" and we all trooped outside.
A local fire engine was on scene quickly and we were standing around outside for about a half an hour. Which says this wasn't a drill, it was the real thing.
Come to find out that the rooftop air conditioner had shorted out and tripped the alarm. So there is that.
Police, low flying helicopters, ladder truck. All in one day.
This is not another normal Tuesday at anyone's job, right?
Oh, and I almost hit a wild turkey on my way down from the local hills where our main site is located. Stubborn turkey in the middle of the road was actually the most normal part of my day.
So far today, another Tuesday, seems to be shaping up normally, but I'm wary.
I got my eye on you, Wacky Tuesday!

Image from itslacedinsick, found on DeviantArt.com and used under a creative commons.

I think I'm being stalked. I'm not sure how to prove it or what to do about it but I am pretty sure I'm totally being followed. By an otherwordly entity.
I have shouted "what do you want?!?!" but the face of the man following along remains passive, as if my shouts are lost to the cosmos.
This stalker goes by a few names, but we'll go with Man in the Moon for the sake of ease and understanding. MITM keeps showing up everywhere lately, getting real close and glowy.
In the small morning hours when I head out to work, he's there, peering over the hills and looking quite chilly yet magnetic. As I ride the train, he rides along but fades away as I get closer to work.
In the evenings as I drive home, he's there hanging low on the horizon looking quite handsome. The evening attire is more of a warm and inviting yellow tone. He hangs out over the Bay and turns the tips of saltwater waves a golden amber. They wave as if beckoning me to dive in.
I try to ignore his intense gaze and then take a sharp curve in the road. For a moment I think he's gone but then voop! there he is again, a little less bigger-than-life when taken from that angle but still there staring down at me with persistence.
I thought it was just a couple coincidences, but I'm pretty sure that the moon is chasing me. And maybe flirting with me too, just a little.
For all the world that big shining Snow Moon looks just like a gigantic cosmic Snickerdoodle.
He's so charming, I just might take a bite.
———

Now tell me this doesn't look like a snickerdoodle.

The full Moon as seen in Japan on Feb. 25, 2013. Credit and copyright: Masashi Ito.

Photo from Universe Today.

With a new year, new changes and a new job now comes a new commute.
This is me, I am now a commuter.
To be honest, I tried driving the thirty-five miles each way for two whole days, then I tapped out. It was two days too many.
Driving that many hours in that kind of traffic is not good for the already tenuous grasp I have on my sanity.
So I escaped the confines of my car and leapt into the tired, dingy but quite serviceable arms of the Bay Area Rapid Transit, also known as BART, our local subway system.
In the past when I commuted regularly, I rode the CalTrain (commuter rail as opposed to a subway), and I always really enjoyed it. Up until last week, I had only been on BART for a few random trips here and there, but now I'm doing the everyday BART trip and then catching a shuttle to the office.
I have to say, it works really well. BART is nowhere near as elegant as London's Tube or as clean as Singapore's MRT or as wide reaching as the subway in New York, but it does the job (assuming it goes where you need it) and mostly does it well.
I'm always amused when riding public transit because there is this whole attitude that you have to adopt. We all wear a game face that is a cross between casual nonchalance and aggressive apathy, with enough of a snarl so people will leave you alone.
You aren't supposed to look around. You aren't supposed to lollygag. You aren't supposed to look people in the eye and goodness knows you don't start up a conversation.
Even if you are a flat out rookie, you gotta look like you have done this so many times you don't give a rip. I don't know why this is, but it just is. This goes for all subways not just BART.
Also, public transit is always the best way to find any city's collection of lost, offbeat and troubled people.
Friday there was a guy talking to himself and loudly groaning. He was sitting across from a guy who during the course of the journey put on eight shirts, two hoodies, then a polar fleece and topped it with a parka and a huge knit hat. It's cold here recently but this guy was preparing to hunt penguins.
Mostly it's just a whole lot of people trying to get somewhere. Students, elderly, professionals, blue collar, rich, poor, moms, dads, kids. Just about every make and model of person out there steps on the BART train headed somewhere.
During the course of my ride I start on the peninsula, traverse San Francisco, and end up in the East Bay. On that hour ride it is like the Bay Area has been neatly sliced in half and I can clearly see all of the different kinds people who make up this crazy place.
A one-hour BART ride is a true representation of both the best and the worst of the almost seven million people who live here and call the Bay Area home.
And I'm one of them. I'm that sort of hayseed looking girl who is eagerly looking at everyone's faces trying to read their stories while looking like I'm not looking at all. I'm the one laughing inappropriately and feeling stressed trying to fit in at my new gig.
Not to paraphrase the Beatles or anything but…
When I ride the BART train, I am you and you are me and we are all together.

Image from LA Times.


Yesterday was a pretty monumental day for me. So much important stuff happening on just one little ol' Wednesday in October.
First off, it was Halloween. All Hallows Eve. The day of costumes and candy and belly aches and trick or treat. For many people, Halloween is their Christmas.
Being the old scrooge that I am, there was no costuming going on for me (or for The Good Man).

But that's ok, I celebrated by watching "It's The Great Pumpkin, Charlie Brown" and eating dried cherries instead of candy since we don't get any trick or treaters. How grown up of me to make that choice. How unlike me to make that choice! Sugar is *awesome*.
But pumpkins and goblins were but one of the big events of the day.
Yesterday was also the big huge spectacular parade down Market Street in San Francisco to celebrate the World Series winning San Francisco Giants.
Rock oooon!
I wasn't able to attend in person, but I was able to watch it all live on TV and on the 'net and wow, what a fun day!!

And THEN when all of that crazy happy fun celebration was done, The Good Man and I went to visit our local County Elections Office. Such a solemn follow up to a happy confetti party! But here's the thing, when we moved this year, I changed all of my address info with the DMV and nicely asked the DMV to update my voter records.
As we got closer to the election, I noticed that I didn't get my sample ballot in the mail and I didn't get my vote-by-mail ballot either.
So we dropped by the busy office and got that all sorted out. Turns out they had my new address properly entered, but for some reason I wasn't listed as "active". So she ticked the box, clicked save and I was good.
Then we figured, hey, while we're here, let's go ahead and vote.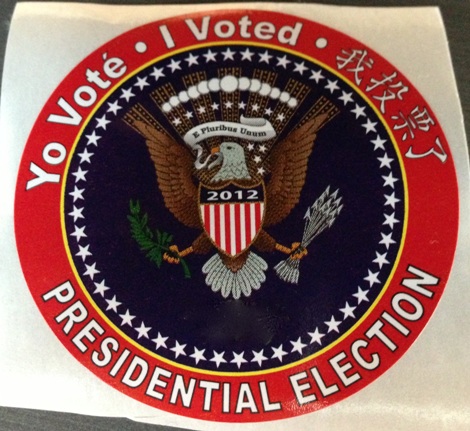 I felt sort of weirdly proud and a bit patriotic and awfully grown up to be standing there in a polling booth with The Good Man right next door as we cast our respective ballots. There were a few of the crazy California propositions that I could have gone either way on and heading into the polls, The Good Man joked about us voting exact opposite of each other to simply net-net our votes.
Ok, ok, we didn't do that but it certainly seemed like a good solution. Voting in California is a strange, wacky and time consuming process. Anyhow, we used the electronic voting machines and made our selections and I cast my ballot.
Now that it's done, I think from here on out I shouldn't have to see any more political ads, be subjected to any more smarmy politician faces on the local, state or national level and I shouldn't have to read any more politically driven internet crap.
Am I right? I think I am.
In other words: I'm out! : brush hands together :
Or in the immortal words of Doris Day, whatever will be will be.
But hey, what a day. Celebrated America's pastime, voted in America's big election and then danced around by the light of the almost full moon on all hallows eve.
Wait…I chose fruit over candy and I voted? What the hell is happening to me!?!?!
_____________________

Costume photo found at Sanitaryum.com.
San Francisco Giants parade photos from the SFGiants Instagram stream.
Voting sticker photo Copyright 2012, Karen Fayeth, subject to the Creative Commons license in the right column of this page, and taken with an iPhone5 and the Camera+ app.


My weekend, told in a few words with iPhone photos to illustrate.
On Friday, The Good Man and I did an early dash away from work and drove up to Napa.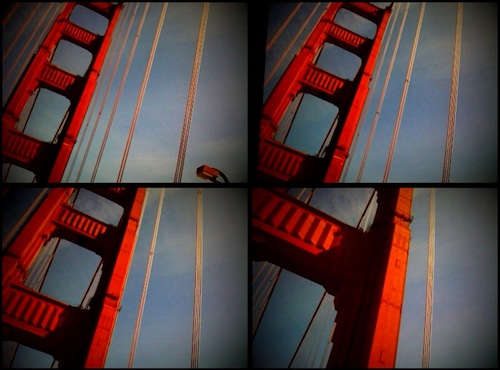 We checked into our B&B and went outside to sit on their peaceful back patio to decompress after a crazy week. And to partake of the B&B's delicious French press coffee.
Only, we weren't alone.

This creature doesn't belong to the B&B. No one is really sure where it came from. Creepy Stalker Chicken seemed to think we were going to feed her. She was especially targeted The Good Man who is used to being shaken down for kibble by The Feline. Apparently we were unable to escape hungry domesticated animals for the weekend.
Which kind of made us hungry. After a fantastic (non-poultry) dinner and a good night's sleep, we headed out the next day to do what it is most people do while visiting Napa.


A lot.
Oh, and at one winery, we still weren't alone.


Apparently Creepy Stalker Chickens were the weekend theme. This one was wearing chicken pants.
But no matter. There was still this…


And then more


And a WHOLE lot more


"Heeeeeey, schhhicken, scccchhhhicken, ssssssshicken…"
Then on Saturday night, we headed out to take in some live music at The Uptown Theater. An acoustic Roseanne Cash show (with Shawn Mullins as the opening act).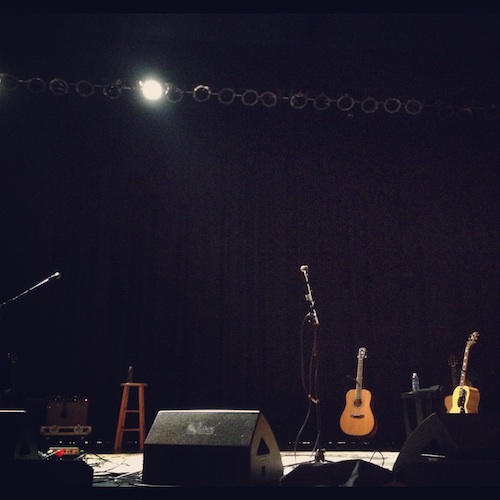 It was *awesome*.
We slept good that night. Had a kick butt breakfast.
Then sadly it was Sunday and time to head back home.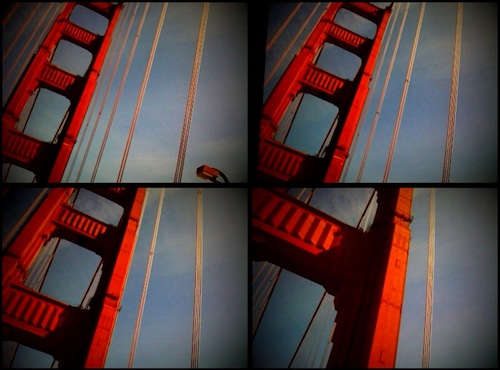 With a whoooole lotta wine in the trunk of the car.


It's medicinal. Really.

All photos Copyright 2010 or 2012, Karen Fayeth, and subject to the Creative Commons license in the far right column of this page. All taken with an iPhone 4s and the Camera+ up, except for the Golden Gate Bridge photo which was taken with the QuadCamera app.


Ok, it started with an article from Cracked.com titled 14 Photographs That Shatter Your Image of Famous People.
I follow a lot of photography blogs and I see a lot of links like this.
So I took a look.
And in the course of those fourteen images, this one came along. (Click for a larger size)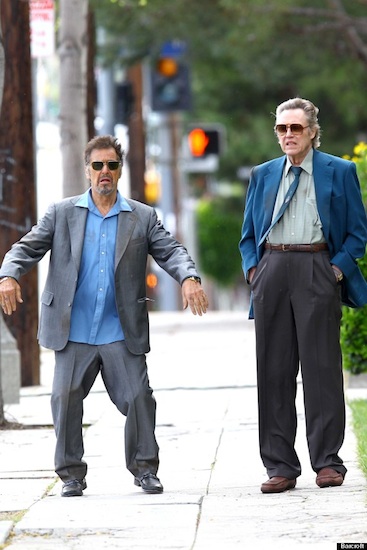 I can't stop looking at it. I don't even know what to say. I seriously don't know what to say.
It's Al Pacino and Christopher Walken, but what the HELL is going on? Please tell me this is something from a movie?
My fascination with this image led me to the Awesome People Hanging Out Together Tumblr….which I guess is a pretty popular site because it was named to Time's list of the 30 Must See Tumblrs.
None are quite as fascinating at this one, but there's some pretty good stuff in there.
Meanwhile…I must construct stories in my head about the Pacino/Walken photo. Neighbors out for a stroll? Just escaped from the home for doddering elderly actors? LSD? LSD flashback?
I mean seriously? What?

Image originally posted on the Awesome People Hanging Out Together Tumblr on April 17, 2012.
This week's Theme Thursday is: neighbors