So there I was on Tuesday last week minding my own business, doing that tippy-tappy computer thang that office drones do, when suddenly a message came across my email. It was one of those emails from the company PR group that goes out to every single dingle employee on the roster.
It was a short, clipped note that said something like: "…at 10 a.m. this morning, a juvenile was shot with an arrow at the [place that is really near where I work]. The shooter of the arrow has not been found. Local police are investigating and helicopters have been brought in to help locate the shooter."
Well now there is something you don't see every day at work. Um, a kid was shot with an arrow and that's the reason why all the low flying helicopters overhead.
Weird! Thankfully the child wasn't killed, it went through her leg.
I tried put it out of my mind. I mean, everyone was chattering about it in the halls and break room, speculating what may have happened and why. It's just not normal.
Then, later in the afternoon, I was in the management staff meeting and strangely enough, the fire alarm went off. We all looked at each other for several beats and then went "ok, well…let's go" and we all trooped outside.
A local fire engine was on scene quickly and we were standing around outside for about a half an hour. Which says this wasn't a drill, it was the real thing.
Come to find out that the rooftop air conditioner had shorted out and tripped the alarm. So there is that.
Police, low flying helicopters, ladder truck. All in one day.
This is not another normal Tuesday at anyone's job, right?
Oh, and I almost hit a wild turkey on my way down from the local hills where our main site is located. Stubborn turkey in the middle of the road was actually the most normal part of my day.
So far today, another Tuesday, seems to be shaping up normally, but I'm wary.
I got my eye on you, Wacky Tuesday!

Image from itslacedinsick, found on DeviantArt.com and used under a creative commons.

I think I'm being stalked. I'm not sure how to prove it or what to do about it but I am pretty sure I'm totally being followed. By an otherwordly entity.
I have shouted "what do you want?!?!" but the face of the man following along remains passive, as if my shouts are lost to the cosmos.
This stalker goes by a few names, but we'll go with Man in the Moon for the sake of ease and understanding. MITM keeps showing up everywhere lately, getting real close and glowy.
In the small morning hours when I head out to work, he's there, peering over the hills and looking quite chilly yet magnetic. As I ride the train, he rides along but fades away as I get closer to work.
In the evenings as I drive home, he's there hanging low on the horizon looking quite handsome. The evening attire is more of a warm and inviting yellow tone. He hangs out over the Bay and turns the tips of saltwater waves a golden amber. They wave as if beckoning me to dive in.
I try to ignore his intense gaze and then take a sharp curve in the road. For a moment I think he's gone but then voop! there he is again, a little less bigger-than-life when taken from that angle but still there staring down at me with persistence.
I thought it was just a couple coincidences, but I'm pretty sure that the moon is chasing me. And maybe flirting with me too, just a little.
For all the world that big shining Snow Moon looks just like a gigantic cosmic Snickerdoodle.
He's so charming, I just might take a bite.
———

Now tell me this doesn't look like a snickerdoodle.

The full Moon as seen in Japan on Feb. 25, 2013. Credit and copyright: Masashi Ito.

Photo from Universe Today.

With a new year, new changes and a new job now comes a new commute.
This is me, I am now a commuter.
To be honest, I tried driving the thirty-five miles each way for two whole days, then I tapped out. It was two days too many.
Driving that many hours in that kind of traffic is not good for the already tenuous grasp I have on my sanity.
So I escaped the confines of my car and leapt into the tired, dingy but quite serviceable arms of the Bay Area Rapid Transit, also known as BART, our local subway system.
In the past when I commuted regularly, I rode the CalTrain (commuter rail as opposed to a subway), and I always really enjoyed it. Up until last week, I had only been on BART for a few random trips here and there, but now I'm doing the everyday BART trip and then catching a shuttle to the office.
I have to say, it works really well. BART is nowhere near as elegant as London's Tube or as clean as Singapore's MRT or as wide reaching as the subway in New York, but it does the job (assuming it goes where you need it) and mostly does it well.
I'm always amused when riding public transit because there is this whole attitude that you have to adopt. We all wear a game face that is a cross between casual nonchalance and aggressive apathy, with enough of a snarl so people will leave you alone.
You aren't supposed to look around. You aren't supposed to lollygag. You aren't supposed to look people in the eye and goodness knows you don't start up a conversation.
Even if you are a flat out rookie, you gotta look like you have done this so many times you don't give a rip. I don't know why this is, but it just is. This goes for all subways not just BART.
Also, public transit is always the best way to find any city's collection of lost, offbeat and troubled people.
Friday there was a guy talking to himself and loudly groaning. He was sitting across from a guy who during the course of the journey put on eight shirts, two hoodies, then a polar fleece and topped it with a parka and a huge knit hat. It's cold here recently but this guy was preparing to hunt penguins.
Mostly it's just a whole lot of people trying to get somewhere. Students, elderly, professionals, blue collar, rich, poor, moms, dads, kids. Just about every make and model of person out there steps on the BART train headed somewhere.
During the course of my ride I start on the peninsula, traverse San Francisco, and end up in the East Bay. On that hour ride it is like the Bay Area has been neatly sliced in half and I can clearly see all of the different kinds people who make up this crazy place.
A one-hour BART ride is a true representation of both the best and the worst of the almost seven million people who live here and call the Bay Area home.
And I'm one of them. I'm that sort of hayseed looking girl who is eagerly looking at everyone's faces trying to read their stories while looking like I'm not looking at all. I'm the one laughing inappropriately and feeling stressed trying to fit in at my new gig.
Not to paraphrase the Beatles or anything but…
When I ride the BART train, I am you and you are me and we are all together.

Image from LA Times.


Yesterday was a pretty monumental day for me. So much important stuff happening on just one little ol' Wednesday in October.
First off, it was Halloween. All Hallows Eve. The day of costumes and candy and belly aches and trick or treat. For many people, Halloween is their Christmas.
Being the old scrooge that I am, there was no costuming going on for me (or for The Good Man).

But that's ok, I celebrated by watching "It's The Great Pumpkin, Charlie Brown" and eating dried cherries instead of candy since we don't get any trick or treaters. How grown up of me to make that choice. How unlike me to make that choice! Sugar is *awesome*.
But pumpkins and goblins were but one of the big events of the day.
Yesterday was also the big huge spectacular parade down Market Street in San Francisco to celebrate the World Series winning San Francisco Giants.
Rock oooon!
I wasn't able to attend in person, but I was able to watch it all live on TV and on the 'net and wow, what a fun day!!

And THEN when all of that crazy happy fun celebration was done, The Good Man and I went to visit our local County Elections Office. Such a solemn follow up to a happy confetti party! But here's the thing, when we moved this year, I changed all of my address info with the DMV and nicely asked the DMV to update my voter records.
As we got closer to the election, I noticed that I didn't get my sample ballot in the mail and I didn't get my vote-by-mail ballot either.
So we dropped by the busy office and got that all sorted out. Turns out they had my new address properly entered, but for some reason I wasn't listed as "active". So she ticked the box, clicked save and I was good.
Then we figured, hey, while we're here, let's go ahead and vote.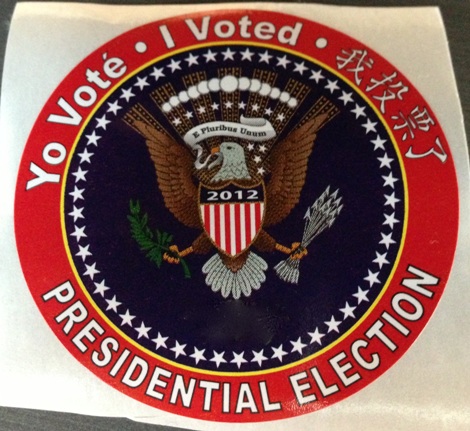 I felt sort of weirdly proud and a bit patriotic and awfully grown up to be standing there in a polling booth with The Good Man right next door as we cast our respective ballots. There were a few of the crazy California propositions that I could have gone either way on and heading into the polls, The Good Man joked about us voting exact opposite of each other to simply net-net our votes.
Ok, ok, we didn't do that but it certainly seemed like a good solution. Voting in California is a strange, wacky and time consuming process. Anyhow, we used the electronic voting machines and made our selections and I cast my ballot.
Now that it's done, I think from here on out I shouldn't have to see any more political ads, be subjected to any more smarmy politician faces on the local, state or national level and I shouldn't have to read any more politically driven internet crap.
Am I right? I think I am.
In other words: I'm out! : brush hands together :
Or in the immortal words of Doris Day, whatever will be will be.
But hey, what a day. Celebrated America's pastime, voted in America's big election and then danced around by the light of the almost full moon on all hallows eve.
Wait…I chose fruit over candy and I voted? What the hell is happening to me!?!?!
_____________________

Costume photo found at Sanitaryum.com.
San Francisco Giants parade photos from the SFGiants Instagram stream.
Voting sticker photo Copyright 2012, Karen Fayeth, subject to the Creative Commons license in the right column of this page, and taken with an iPhone5 and the Camera+ app.


My weekend, told in a few words with iPhone photos to illustrate.
On Friday, The Good Man and I did an early dash away from work and drove up to Napa.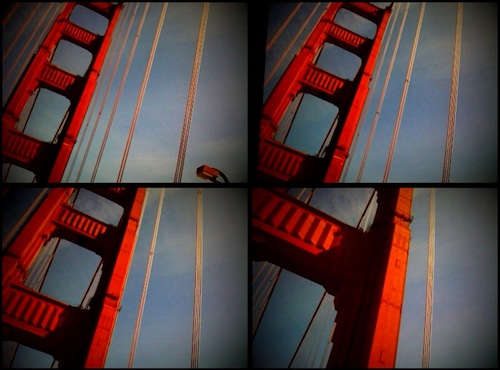 We checked into our B&B and went outside to sit on their peaceful back patio to decompress after a crazy week. And to partake of the B&B's delicious French press coffee.
Only, we weren't alone.

This creature doesn't belong to the B&B. No one is really sure where it came from. Creepy Stalker Chicken seemed to think we were going to feed her. She was especially targeted The Good Man who is used to being shaken down for kibble by The Feline. Apparently we were unable to escape hungry domesticated animals for the weekend.
Which kind of made us hungry. After a fantastic (non-poultry) dinner and a good night's sleep, we headed out the next day to do what it is most people do while visiting Napa.


A lot.
Oh, and at one winery, we still weren't alone.


Apparently Creepy Stalker Chickens were the weekend theme. This one was wearing chicken pants.
But no matter. There was still this…


And then more


And a WHOLE lot more


"Heeeeeey, schhhicken, scccchhhhicken, ssssssshicken…"
Then on Saturday night, we headed out to take in some live music at The Uptown Theater. An acoustic Roseanne Cash show (with Shawn Mullins as the opening act).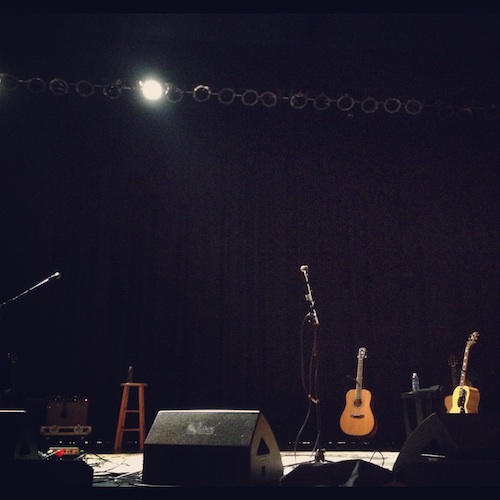 It was *awesome*.
We slept good that night. Had a kick butt breakfast.
Then sadly it was Sunday and time to head back home.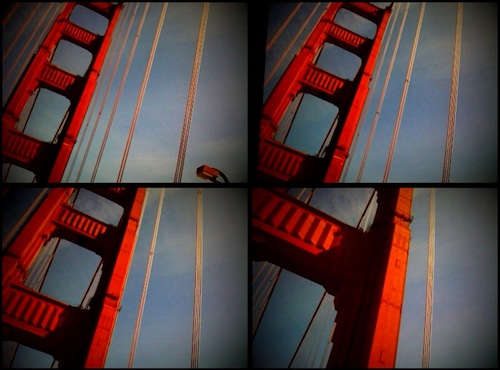 With a whoooole lotta wine in the trunk of the car.


It's medicinal. Really.

All photos Copyright 2010 or 2012, Karen Fayeth, and subject to the Creative Commons license in the far right column of this page. All taken with an iPhone 4s and the Camera+ up, except for the Golden Gate Bridge photo which was taken with the QuadCamera app.


Ok, it started with an article from Cracked.com titled 14 Photographs That Shatter Your Image of Famous People.
I follow a lot of photography blogs and I see a lot of links like this.
So I took a look.
And in the course of those fourteen images, this one came along. (Click for a larger size)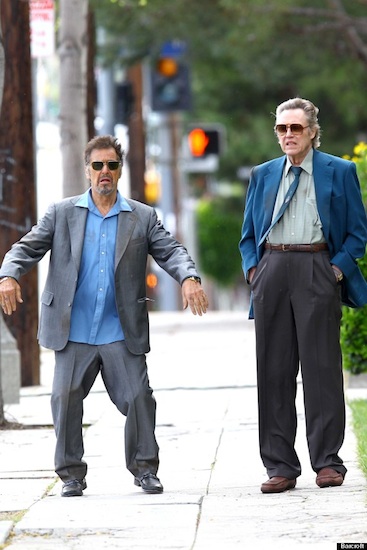 I can't stop looking at it. I don't even know what to say. I seriously don't know what to say.
It's Al Pacino and Christopher Walken, but what the HELL is going on? Please tell me this is something from a movie?
My fascination with this image led me to the Awesome People Hanging Out Together Tumblr….which I guess is a pretty popular site because it was named to Time's list of the 30 Must See Tumblrs.
None are quite as fascinating at this one, but there's some pretty good stuff in there.
Meanwhile…I must construct stories in my head about the Pacino/Walken photo. Neighbors out for a stroll? Just escaped from the home for doddering elderly actors? LSD? LSD flashback?
I mean seriously? What?

Image originally posted on the Awesome People Hanging Out Together Tumblr on April 17, 2012.
This week's Theme Thursday is: neighbors

So in a bout of middle of the night insomnia, I started exploring the Wackystuff Flickr photo stream further (see Easter image from yesterday).
I went through every page, every image and found some great stuff.
Lo and behold, among the whack, I found this, a mid-century linen postcard:

Weirdly enough, the image to the left on that postcard? I know it's supposed to be Taos pueblo, but for some reason it looks like the old Albuquerque Airport to me. Maybe the with the plane over head that is what it's supposed to be?
Dunno. Just know that this card is not, as they would say, politically correct.
I love one commenter on the photo said: "All these things really say to me: 'Stay the Hell Outta Here! We are frickin' crazy.'"
That's right. That's absolutely right.
We are.
My Fair New Mexico, how misrepresented you are. And how I love you so.

This was what the sky looked like yesterday evening as I left work for the day at my company's Sacramento office.
Was it just the high winds as they blew across the Sacramento valley that caused this look? Is it simply the jet stream of late fall?
Either way, as I got into the Jeep, I was humming a little Creedence Clearwater Revival.
"There's a bad moon on the rise…."

(click for full size)

Photo by Karen Fayeth and Copyright 2011.


This morning I drove home to the Bay Area where creepy dappled clouds are replaced by solid gray dripping clouds.
Welcome to a cold, rainy weekend.
*sigh*
Think the cat will let me squeeze onto a corner of the heater vent?
Photo taken with my iPhone4s and the Camera+ app. Photo subject to the Creative Commons license found in the far right column of this page.

On this rainy, cold, dark Tuesday morning, my alarm went off extra early as I have meetings with London today, and that eight hours time difference is making me blue.
There I lay in my dark room, pondering my life and what it might take to get me up and out of the bed. The Good Man slept quietly next to me.
I froze in place when I heard outside my window a low moaning sound. It was a little otherworldly. It started very quiet and then grew in volume.
Well. I'm a child of New Mexico. You know what I thought, right?
I'm not even kidding. I started *freaking out*. La Llorona here? In California? Did she follow me here? Does she live here now too?
My heart began racing as I remembered all the nights as a child I lay awake in my bed listening for La Llorona, straining my ears to hear, swearing I'd be ready to fight off her ethereal form and survive her grisly plans.
I clenched up, my stomach hurt, I bent to listen as the wailing increased in intensity. That bitch wasn't going to get either me or The Good Man. Hell no!
And then the wailing became very loud, following by a hiss and a loud "RRRROOOWWWR!"
Oh wait, it's just two cats fighting.
Sure. Ok. Right. I knew that all along. I'm a grown up. I'm a good kid. I'm in control of this stuff.
Relief washed over me. I joked to the now awake Good Man "what a sound to wake up to, huh?" and chuckled like my body wasn't raging with adrenaline.
I got up to face my work day, pack my lunch, have some breakfast and shook my head at myself.
In my defense, a chilly, damp, dark October day….that's La Llorona season. I'm just sayin'…..
: shudder :
Image found at Soda Head.

And I use the term "raises" ironically.
Here's a little article found tucked away in the corner of my local paper. This story is out of Pennsylvania.

Note to the good people of Penn: Don't eat the ribs at Donald's house. Just don't.
Also…were these ribs frozen? Because, well, brr! Even if they were in the refrigerated case, still brr!
Then ya gotta ask yourself: If you get busted for putting ribs down your pants once, wouldn't you go to a different store the next time you tried? Or maybe pick a different, pocket sized, item to shoplift? I'm just saying, three strikes and you're out? Or something.
And on a more philosophical level…is this simply a sign of the (economic) times? Or have people always been trying to shove ribs down their pants? Or is the media is just up the nose of everybody more and more every day?
I don't know. I'm still stuck on the "brr" aspect.

Dear WildFire –
Hey, hey. Slow down a bit there, buddy. Why the rush?
Let's chat, huh? Have a minute to catch our breaths and a nice cool glass of lemonade. Not into lemonade? Oh, well do you mind if I have some?
I know it's the summer and you are feeling hot, hot, hot. Raring to go. You are young, aggressive, a go-getter. Some might say…hungry.
You chew up the terrain, expand your reach, and build your empire and leave a swath of pain, ashes and devastation in your path.
You know what, I've been ignoring you. On purpose.
Growing up in the dusty lands of New Mexico, I learned to take the arrival of you rambunctious wildfires as part of the natural cycle of the year. It gets hot, it gets dry, then like a rabid parasite you come to visit, leaving an indelible mark much like a drug fueled rock star in a five star hotel.
Utter destruction.
Only you don't stick around to pay the bill. You hop another border and get to work burning down something else.
I ignore you because I've borne witness to the people who know how to deal with you. They efficiently knock you down, smother your ambition, and wrestle you under control. I heard you were back in town and figured you'd party your way through the cycle and you'd be knocked down soon enough. Managed. Controlled.
You're a wily one this year, aren't you? Nimble. Agile. Persistent.
You should know something. You're ugly, all right? Beautifully profoundly ugly.
After seeing your face last night on my local news, my Bay Area local news, I figured maybe it was time to pay you a little attention, like a bratty child who has finally worked my last nerve.
It's time to take a look at you like passing by a horrible accident. I don't want to look and then suddenly I can't seem to look away.
Damn it, WildFire. Stop. Just…stop. You've done enough. More than enough. It's getting excessive.
Please stop. People's lives, livelihood, homes, neighborhoods and towns are at stake here.
You are destroying my home state. I'm very protective of my home state.
So look. Just stop. End this. Be gone. Be done. Move along.
We've indulged you long enough. It's time for you to leave.
In the vernacular of my people: don't let the gate hit you on the way out.

————
This image terrifies me….




Image from New Mexico News and Views.





Last evening, I sat curled up in the corner of my comfy couch, sleeping feline nearby, laptop lid up, idly surfing about, catching up on the news of the day. The Good Man did something similar in the next room. Giants baseball on the radio, the sounds of Duane Kuiper calling the game.

From out of nowhere, the lights flickered, and then went out. The instant it went dark, a loud whining sound could be heard outside. The unmistakable sound of a power transformer under extreme strain. It went on for a long time. Stopped, then started again.

And I slipped back into memory. It was the early 1990′s. My folks were living in Carlsbad and I was home for a few weeks between summer school and the start of the regular school year at NMSU.

It was a beautiful, clear summer day. I decided to take a long walk and get some exercise in before my folks came home from work. I left the house about 3:30 in the afternoon and walked down long country roads. My folks were living on the outskirts of Carlsbad at that time (if you're from there, it was out on Cherry Lane near the CARC farm).

The first half of the walk was great. It was a gorgeous New Mexico day. On my return trip, things started to get ominous. In August in the southeastern part of the state, storms come in fast and furious. Emphasis on furious. Carlsbad is at the tail end of tornado alley, but being at the tail end doesn't mean the tornados are any less frequent.

As I walked a little faster, the sky turned deep black, and then green. The clouds started to boil. This was bad. Very, very bad.

The rain came quickly and the temperature dropped twenty degrees. The powerful winds whipped raindrops into my bare legs and arms. Then the hail started. Small icy bits at first, then growing larger.

My whole body shuddered when I heard the sirens I'd come to both fear and hate. Tornado sirens. That meant a tornado had been spotted and all we could do was wait.

I was still about a mile from home, on foot, and in the center of the storm.

I picked up the pace a lot more. I ran off and on, but as I'm not a runner, I had to slow down so I could catch my breath.

Already drenched, I groaned when the rain picked up intensity. Thunder shook the ground, the trees, the terrified girl by the side of the road.

Lightning cracked out of the sky and hit a power pole across the street and ahead a bit.

That's when I heard that sound. A power transformer under strain.

The power transformer exploded, sending flames and sparks into the sky.

I dove headfirst into a now very soaked alfalfa field, remembering my early training on "get low when lightning is around," and lay as flat as possible, hugging mother earth while lightning struck all around.

Soon the heart of the storm moved on and I could hear the thunder a couple miles away, counting "one Mississippi, two Mississippi" between lightning strikes and thunderclaps.

When it seemed I was safe, I leapt up and ran for my folk's home as fast as I could. I got home safely. I called my mom (a no-no in the storm, but I needed my mommy!) and since we had no tornado shelter, she recommended that I stay to the center of the house and if a tornado was coming to get into the bathtub and hunker down.

"Get ready to leave the house!" The Good Man commanded sharply, snapping me from my reverie. I was back in Northern California and that transformer sound had stopped.

I jumped to action, running to get the cat carrier out of the closet and once The Feline was secure (she loves the cat carrier and walks right in with no complaint) I ran room to room and unplugged every device that was attached to a socket. The Good Man was on the phone with PG&E advising them of the situation.

We dashed outside to see what was going on and the neighbors were all outside too, talking over what they saw and heard. Soon the sirens of a fire engine came racing toward us and the firemen let us know a powerline was down two streets over but no explanation as to why the powerline came down on a quiet evening. PG&E were on their way and we should go back inside.

We lit candles and got out flashlights and settled back into the couch. Safe. On that summer day back when in Carlsbad, I was also safe. Tornados did touch down, but several miles away.

This past April when an earthquake came along and the house and ground shook, The Good Man, a longtime veteran of the Bay Area, commanded "Get in a doorway!" and I did.

I'm grateful to have a partner who is the epitome of grace under fire, and I'm grateful for my Mom's wise support from two decades ago, too. Mostly, I'm just grateful when there is someone strong and wise to guide me through a crisis.

That makes me feel safe.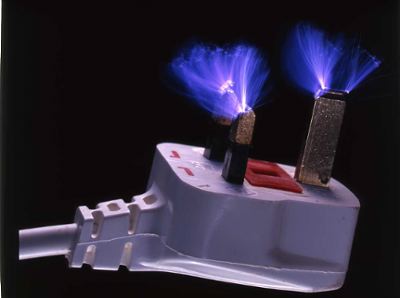 Image from Ring Electric's blog.





I've ranted off an on over the years about the plaguey b*stards with fluffy tails that run roughshod over my yard, streets and power lines. They eat the insulation off of cables. They eat all the plants out of the ground. They eat all the apricots off my favorite tree (and holler at me when I try to pick a few so I can make a nice pie.)

In case I've been too mild on this topic, I'll say it out clear: I hate squirrels.

So I smiled to myself when I saw this headline linked off of CNN.com: Give Squirrel a Whirl

Yes, you of tender tummy and mild disposition, they're talking eatin' squirrel on the Eatocracry blog.

"The general consensus was that it tasted more earthy and sumptuous than the darkest turkey they'd ever tasted"

Now, I may not actually want to have one of these somnabitches on my dinner plate, but I'll certainly help with the supply chain. If this trend takes off, I'm sitting on a gold mine over here.

The only trouble is…The Good Man won't let me fire a bb gun at the rodents. He says the neighbors might not approve…you know, owing to the fact that my bb gun aim has never been right.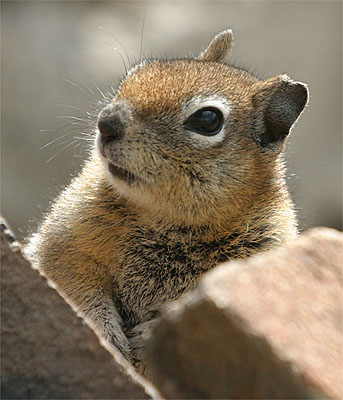 Rodent, it's what's for dinner.





Thursday's National Geographic Photo of the Day. That there's a cotton mouth.

Photo by Jared Skye.

His photo caption: "While working as a field researcher for a biodiversity study on pine plantations in North Carolina, I found this Agkistrodon piscivorus in a drainage ditch. It's seen here displaying the classic defensive posture that gives it the common name 'cottonmouth.'"

I would not have gotten this shot. I would have screamed, wet my pants and run.

I am humbled by Mr. Skye's fortitude.





(brace yourself, then click the image to see a full size)