For just over a month I have been participating in a Flickr group called Macro Mondays, the intent of which is to create a new Macro photo each week based on a specific theme.
This group is a lot of fun and it is a pretty good challenge for me to create something new every week.
This week's theme turned out to be right in my wheelhouse, combining two great loves of my life.
Our theme was to create a macro photo based on a favorite book. The rules said no showing the cover of the book, no obvious photos of a book. No, the photo needed to represent what the book is about.
Many an hour was spent thinking about what book to choose and how to best represent a story. I wanted to do Red Sky at Morning, but was unsure how to create that in the small space of a macro photo. I considered Lonesome Dove, but didn't feel I could do it much justice.
So I finally settled on Something Wicked This Way Comes. After many brainstorming sessions with The Good Man, much thinking and agonizing and not being happy with what I was producing, I think I finally landed on something that does justice to Mr. Bradbury's fabulously creepy story.
Here's my photo: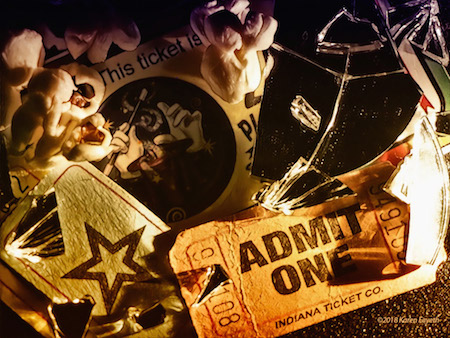 Inspired by Something Wicked This Way Comes by Ray Bradbury

Copyright ©2018 Karen Fayeth

This weekly challenge gets about 1,000 entries this week, and I look at every one of them so I can learn and get excited about the work of fellow photographers.
Here is some fun trivia: What book do you think was the most represented this week? Any guesses?
.
.
.
.
.
.
.
.
.
By far, a Clockwork Orange. I don't know what that says about this group…..
Followed by Lord of the Rings, Hitchhikers Guide to the Galaxy and Zen and the Art of Motorcycle Maintenance.
Fantastic books, all. Just not on my personal top ten.
I won't even get into all of the instances of 50 Shades of Gray and Twilight.
So while this week's photo took a lot of planning and setup, I am completely excited about this idea and (mostly) happy with my photo. I would love to take a stab at some other books too. Fun idea. Now I look forward to next week's challenge.

…that we find ourselves on the final day of the year 2017. I'm both a little surprised it is here already, and a little relieved too. It is as though I have been anxiously awaiting the arrival of a delayed guest.
So many people are saying, "Ugh! I can hardly wait for 2017 to be over!" and "Good riddance" and bon mots like that.
Sure, 2017 has been a trying year, but remember when we all bid 2016 goodbye with a gruff hacking noise and an emphatic *patooey*?
I keep reminding folks of that, of how everyone was eager to flush 2016. One very nice lady recently asked me to cease reminding. She didn't want to remember that narrative, I suppose. She was too content to be down in her hacks and patooeys and other rude noises regarding the year 2017.
Recently, the musician Taylor Swift was publicly and roundly lambasted for saying she had a good 2017. I mean, she won a pretty ugly court battle, released an album that sold over a million in one week and spun off several number one hits. I don't particularly care for Ms. Swift's style of music, but all in all, I'd say she had a pretty good year. But no one wants to hear it.
Celebrating what is good from 2017 doesn't fit the hack-patooey narrative. We must all be miserable! Blame the year! Blame the world!
I don't think that is quite fair. 2017 has certainly tried the patience of the most gentle of souls, but there is still good to be found through adversity. Not to get all quoty and stuff, but isn't it through fire that mettle is tested? Isn't that which doesn't kill us makes us stronger?
And don't we win by remembering the good even through dark skies?
There are a lot of horrible things to recount from the year. Fires, floods, earthquakes, famine, Congress, hunger, poverty and people treating their fellow humans horribly. I'm sure many a news source will remind us of all of this and more in bright Technicolor photos and videos.
But what if…and bear with me here…what if on the eve of the new year dawning, instead of remembering what was bad, we celebrate what was good? What worked for us in our own lives?
I mean, I'll start. In 2017 I had five short stories published. FIVE. This is the most success my writing has seen in any year. I was boggled as the acceptances rolled in. In 2016 guess how many of my stories were published? I won't make you wait, it was zero. I received zero acceptances of my work in 2016. And I kept on writing. Kept on hustling. And 2017 rewarded my hard work.
By the by, all five are linked in the right column of this page, in case you missed any of them.
In 2017 I completed one of the most intricate and challenging projects in my work life. It was a slog, and I had very little support and help from coworkers or direct management. But I did have a lot of expectations from senior leadership that I'd get it done. And on December 21 I did just that.
In 2017 I went to a photographer's retreat where many professional and experienced photographers looked at a portfolio of my work and congratulated me, gave me good and honest feedback, and began to treat me as one of their own. I went from dabbler to serious photographer in the span of twelve photographs. I was utterly terrified to present in front of that group, but I did it and it was incredibly inspiring. I'm working that much harder on my photography now because I took that chance.
In 2017 I celebrated nine years married (and twelve years total) to The Good Man. Nine years is both not that much and a whole lot. Every day that I wake up and he still loves me and I still love him is a victory.
In 2017 I accompanied my eighty-three year old mother on a tour of the Midwest to visit family. I was scared that something would happen, that I would break the Mom, that it would be a terrible trip, that all of my plans would go awry. Instead we had a fantastic and utterly memorable trip. I both grew closer to many of my cousins and felt so happy to have that time with my mom.
In 2017 I opened my eyes every day and got out of bed and went out in the world with the thought and the wish that today might be another good day in my life. And the vast majority of them were.
And so while it's unpopular to celebrate the year of 2017, I am going to swim against the tide and say Thank You 2017, for giving life, for the journey, for the trials and tribulations. I won't send you off with a hack-patooey, I will instead say, thank you for the lessons, the gifts, the challenges and for showing me that I am much tougher than I give myself credit for.
Thank you, 2017. Rest easy old friend. 2018 just rolled around the corner and will be here in a minute. I'm going to be all right.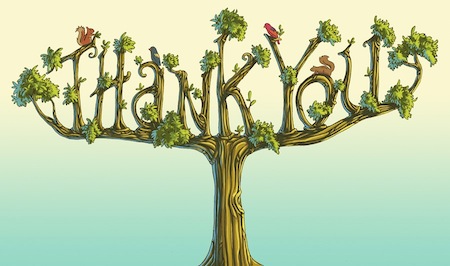 Fabulous image by tsugami on Deviant Art, which allows downloading of images. I believe in giving artists credit for their incredible work, and this image is deeply inspiring to me. Thank you, tsugami.

This morning, like most weekday mornings, I hopped into my trusty old Jeep, fired 'er up and took off, careening toward my place of employment.
As I traversed one of my hometown's very busy main roads, I glanced into my sideview mirror, as any safe driver would do.
As I glanced, I saw a little leggy burble and a pop and this thing emerged: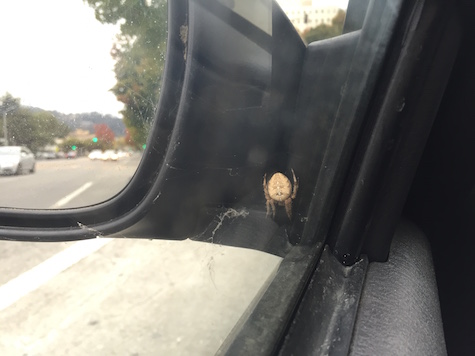 See the hinge for the mirror? It had somehow packed itself in there.
I should note that I was so startled that I had to pull over to the side of the street and consider my options. Also to take a photo to send to The Good Man. It was essential to document the situation in case my Jeep and I were later found suspended from a stop light, wrapped in silk and drained of fluids.
Let me zoom in a little closer for ya.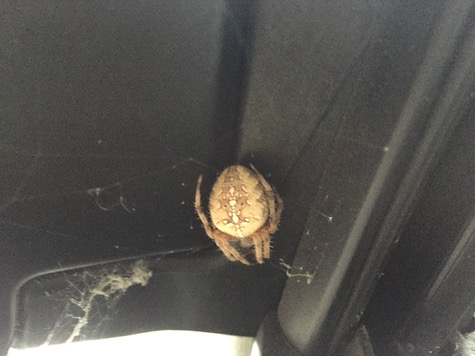 The Good Man refers to this time of year as "Chunky Spider Season." It's true, our current hometown is very, er, spidery. More than any place I have ever lived. And they are often quite big. And chunky.
At home, I park on the street near a tree and some brush. These eight legged demons seem to consider the Jeep part of their homestead. I often brush webs off every corner of the Jeep, including when they manage to string webs across my roof rack.
But this, today, goes beyond the pale.
How about an even closer look, because you need to know my fear.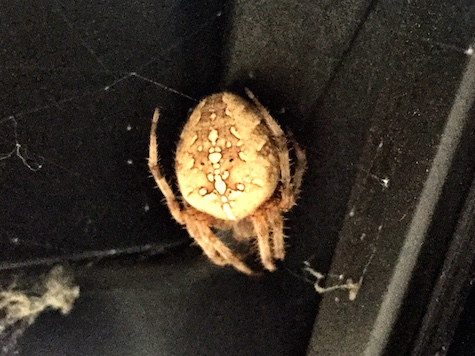 After snapping photos, I cinched up, put on my determined face, then re-entered the roadway at speed hoping this sumnabitch would fly off in the wind. No such luck. It first hunkered down, then feeling carefree (I assume), it later spread all eight of its legs as though surfing the breeze.
Hitting speedbumps at a hard pace didn't seem to help either.
Soon, I arrived at work and had to unroll this window to reach out and badge into the garage. Thankfully my new overlord didn't seem to flinch much.
But it's still there. Still hanging out like it owns my Jeep. Like I am just a pawn in its spidery game.
I am currently unable to exit the Jeep. This is my life now.
Someone please send help! To the passenger side, though.
Gah!
_____________

The Good Man did some research based on photos and determined this is a Cross Orbweaver and that it isn't poisonous. Fab. I'll remember that when it singsongs my name and tells me to "come out and play."

All photos ©2016 Karen Fayeth, and subject to the Creative Commons license in the right column of this page.

So there I was a week ago on Tuesday, sitting at my desk and having one of the worst days at work in recent memory. There were all kinds of bonfires burning brightly on my desk. Still are.
So much so that in a recent hot project review with my manager and all of my peers, the Boss Lady remarked "wow, you have all of the really awful problems, don't you?"
She is fairly unflappable and not easily worried by the bonfires that my job brings, so her concern means I am seriously up to my eyeballs in alligators.
As the day progressed like a hammer to the head of a nail, I decided to sit back for a few minutes and look at some personal email by way of distraction.
That is when I found an email from someone I don't know, a Good Samaritan if you will, letting me know that my sweet Oh Fair New Mexico site had been hacked.
Oh joy. Just exactly what I needed.
This was, in my opinion, a particularly insidious hack. It was done so cleanly that I never even knew it had been hacked. Google "WordPress Pharma Hack" and read the pages and pages devoted to this really clever little invisible hack.
Instead of fiddling with my content or the front page of my blog, the intruder created something on the order of hundreds of offshoot pages from this blog. Those pages purported to sell all variety of fun pharmaceutical products, stove tops, waxing kits and more.
I suppose I should have guessed I was hacked when my website began to slow to a crawl. Then recently I noticed I couldn't reach my website from my home network. A ticket raised at my hosting provider said "No, your blog is up and running."
Turns out my ISP had blocked my infected web page. My blog continued to slow down even more. It began taking several long seconds to load.
I feel sort of sheepish that I didn't figure this out for myself. The signs were there. I make a living in the tech industry, but when it came to my own blog I was a silly little twit.
So after receiving the bad news I:
1) freaked out, then
2) contacted my hosting provider who had done me the service of setting up my blog originally
Within about twenty minutes they had replied to my ticket and did their part to clean out all of the offending sites. I checked several of them to be sure they were shut off. A bit of Googling around showed me that I had been hacked going back into last year. Hoo boy.
Then I had to raise another ticket because I noticed that my usual log in page redirected me to a page that looked exactly like my log in page but had a different URL. Thankfully I did notice that in the URL line on my browser.
My hosting provider responded by giving me another way into my blog. Once in, I realized that my hacker friends had set up no less than five admin accounts on my blog and one more that was invisible. I could only tell that by seeing that I had one (1) line item for users but the count in the header of the page said I had two (2) admin accounts.
Hell, I never check my admin page, but I should have.
So I did a lot of research and I learned about PHPMyAdmin and I got new keys from WordPress to make sure if the hackers were still logged in it would crunch their cookies and I changed passwords.
And I freaked out a little more.
Then I went to Google and signed up for their webtools (as suggested) and ran through the process so I could get the "this site may be hacked" message to not show up in search results for my little blog. That seemed to work fairly quickly.
And then I freaked out less but still felt anxious. And I kept working on cleaning up the mess that was left behind.
It all feels so…dirty. I mean, I don't get a ton of traffic to my little blog but it's my tiny corner of the internet and this week I celebrated my seventh year of blogging. Over half a million words.
A lot of fun has been had. By me at least.
From all of this, I have learned that WordPress blogs are particularly hackable. I have also learned that some hosting providers are also particularly hackable.
I have some other things I want to do to better secure my blog, but I certainly can't promise I won't get hacked again.
In fact, based on my research, I probably will get hacked again pretty soon until I get better security on my pages.
I may have to just shut down the blog entirely, but for now, I'm back up. It seems to be running a little quicker. I do regular backups on the blog but I did another just to be cautious.
So there you go. For today I'm back to blogging and not selling.
I like it here. Oh Fair New Mexico makes me happy, and for the few but loyal readers I have, I hope it makes you happy too.
Meanwhile if you came here because you want to buy some good drugs off the blog, the bad guys are no longer in business at this location. For now, anyway.
__________


*Special thanks to the kind reader who tipped me off about the hack. I am quite grateful to you.
**Humorous side note: When I told The Good Man that I had been hacked he went to look at the blog. He thought my kooky post about big cats liking Calvin Klein Obsession cologne was the work of the hackers.
Lol! I had a hell of a time convincing him that I wrote it. *grin* They can't all be winners.

Image found here.

As has been mentioned before, these days I work in an open office plan, meaning pretty much everyone from big bosses to little minions all sit and work in open cubicles.
It's supposed to make us more collaborative, or something.
Because everything is so open and airy fresh, as I walk through the building I quite frequently get a glimpse of other people's computer screens. Honestly, most people are working away, boring. Snore.
Occasionally people are shopping or watching YouTube, but whatever, that's between them and their IT rep.
There is one trend I'm noticing recently that has me a bit confused. There are several people, like five I can count off the top of my head and probably a few more I am missing, who have a photo of themselves set as their computer's wallpaper background.
Now, I don't mean it's a photo of them and someone else, like a nice happy couple, or dad and son or something. No, I mean a photograph of only them, and most often the photo is looking right out of the screen. Most are selfies, some are a photo someone else has taken. Some are full body shots but most are close in, framed from the neck up.
What this means is, as they work, they are looking out at themselves while looking in at themselves.
Um. What?
Look, I like myself a lot. I'm a cool chick. I like hanging out with me. I even don't mind looking in the mirror now and again.
In fact, to quote former 49ers football player Terrell Owens, "I love me some me".
But I don't "love me some me" so much that I want to look at me all the live long day.
At first I thought this was only the younger employees, the kids in their twenties who are supposedly really self-obsessed. No. It runs the age gamut.
I just…can't. I don't understand. Did I miss a memo or something?
(See what I did there? Miss a memo. How cute, granny.)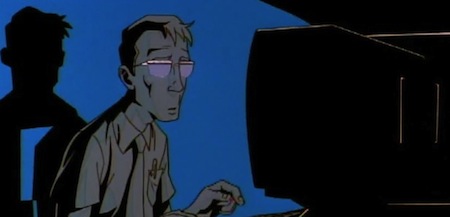 Image found here.