The job that pays the bills has been especially nutty this month. Around these parts, Santa is saying "Ho, Ho, Hoooooly crap I have a lot of work to do." Thankfully, I managed to get through to the end of the week and now get to enjoy a bit of time off for the holidays.
And so it's best to balance all that work with some fun. Which can also be work, in a way.
This week, my photography takes a turn toward bokeh, the sort of blurry backlights seen in many an Instagram photo. I've seen a LOT of photos with bokeh, it's quite popular. When I see these kinds of photos they always seem fun, and those blurry lights look like they would be so easy to shoot.
Easy was not the case for me. I figured I'd waltz right into some fabulous bokeh photos, but I really, really struggled with this challenge. The photo's subject was photographer's choice, it just needed to have some nice juicy bokeh in the background.
Curse words were uttered. Cameras were called names. Swears in English, Spanish, French and British English (bollocks, bollocks, bollocks!) were all employed in the making of this photo. Finally after several Google searches and articles consumed, I stumbled onto a good suggestion for creating lots of sparkly light, and it worked.
In the end, I'm pretty happy with how this turned out. The photo features a Zuni Pueblo fetish carved by a Native American artisan named Dilbert Gasper. His Butterfly Maiden is carved from black marble and inlaid with turquoise. Since Christmastime is when I miss New Mexico the most, she seemed to be a good subject for my trials and (many) errors in learning a new technique.
I hope I did the little Butterfly Maiden and master artisan Mr. Gasper their justice.
And with that, a hearty Feliz Navidad to all!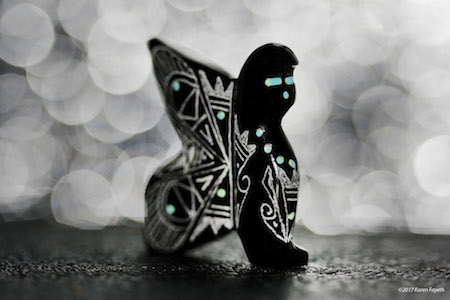 ©2017 Karen Fayeth

The hard work on my Macro Photography skills continues this week with a theme of "lit by candlelight." A week ago when this challenge was announced, I was like "pssh, easy peasy."
Turns out shooting by candlelight has been anything but. Sunday night I did a whole round of photos with a few objects and although candlelight is certainly beautiful, the photos I shot just weren't working. The photos were…dull. Not interesting. They didn't give me that excited feeling to share.
Then The Good Man opened up a bottle of wine and put out some cheese and garlicky crackers. That really seemed to lubricate the creative gears. Half a glass in, I had an inspired idea. I grabbed my copper holiday cookie cutters out of the kitchen (not that I have made any holiday cookies this year, but that's a topic for another time) and got to shooting.
Turns out candlelight casts really great shadows. I'm now pretty happy with the results. The top photo is my entry this week in the Macro Mondays challenge. The black and white was just for fun.
Whew! This is three weeks in a row I've managed to produce a new Macro photo for Monday's event. It's harder than it looks!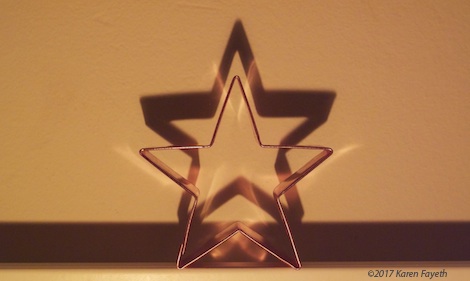 ©2017, Karen Fayeth, all rights reserved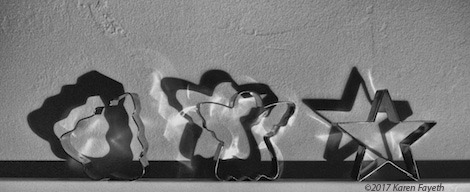 ©2017, Karen Fayeth, all rights reserved

As I put in a few extra work hours in this crazy holiday season, I thought I'd reshare this photo I took a couple years ago.
I call it "After the Party" because, you know…I had thoughts of the remnants of a great holiday party, happy people, tree on the floor, ornaments askew.
This photo was so much fun to set up and SUCH a pain to clean up. It remains one of my favorite shots in my portfolio.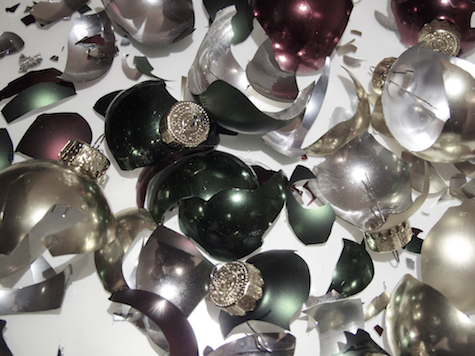 ©Karen Fayeth

See more of my stuff (including another Christmas photo) on my Flickr

"Featuring the work of Karen Fayeth" — a girl could get used to that!
Take a look at issue 32 of Lowestoft Chronicle, where my story Holy Water" has found a home.
Here is a direct link: Holy Water
You can also find a link on the right side of this page.
With much gratitude to editor Nicholas Litchfield and everyone at Lowestoft Chronicle.
I've been sitting on this one for a while as I wasn't sure when I could go public with the news but…..
I am happy to announce my story "Human Sounds" was recently published in Existere, Journal of Arts and Literature, which is affiliated with York University in Toronto, Canada.
That's right! I'm taking this thing, whatever this thing is that I am doing, over the borders and out to the world!
Since the magazine is published on good old fashioned paper and sold in stores, I don't have an online link to provide, so I've scanned my story so you can read it here.
Here is a direct link: Human Sounds
There is also a link in the right column of this page.
If you like what you read, I encourage you to check out the rest of the issue. There is some amazing writing to be found in Existere.
Thanks for giving me a read and stay tuned, I have another story that is tentatively scheduled to be published in December.
Yay!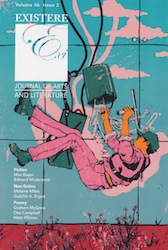 Volume 36, Issue 2