This morning I woke up, and it was August 26th. Late summer, but still summer.
Then I went to the kitchen, and everything changed.
First this happened:


Then this: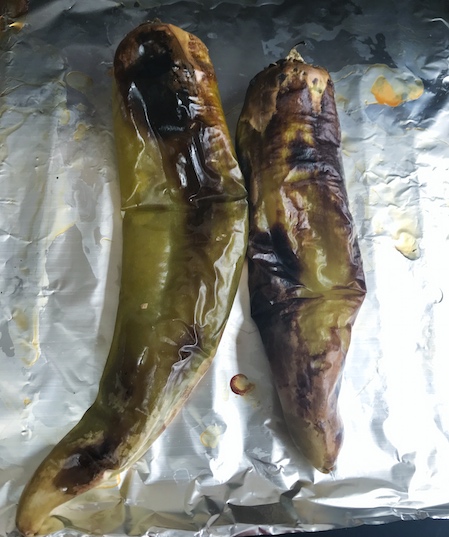 BOOM! Suddenly Autumn. That's it, I'm ready for sweaters, warm mugs of tea, falling leaves and warm roasted chile tucked into a melty cheesy tortilla.
And my home smells like my fair New Mexico, the best air freshener in the world.
Footnotes:
1) The chiles were procured in the Bay Area but certified to be from Hatch (if they passed off Anaheims, so help me….)
2) Roasting in the oven < Fire roasted, but The Good Man put the nix on a flamethrower. The discussion continues.
3) There's not very many in this batch, but we're just getting warmed up. Pun intended.

A few years back, I participated in a flash fiction writing event and drew the genre of Historical Fiction as my prompt. Historical Fiction! I had no idea what to do with that. None. At all.
I believe the full prompt was Historical Fiction, a dentist's office, and a leather jacket.
Uh. Okay. Sure.
So off I went and wrote a story. My own little sort of baseball story and turns out it did pretty well in the competition, meaning it was good enough to get me to the next round.
After finishing the story, I'd had a bit wish that my sorta kinda baseball story would get to see the light of day, and be published during the baseball season.
Well, my wish came true. "The Dilemma" was published this past April in issue 13 of SLAB Literary Magazine.
My baseball story! Published in April! During Spring Training!!
So why am I telling you this in June?
Well, it came out in the print version in April and I decided to wait for the issue to be loaded up online before sharing. Well, Issue 13 is online, however…..my story is listed in the table of contents but it's not printed in the online version.
Grr.
I've sent a few notes but I think the editorial team is off on summer vacation.
While I love the folks and SLAB and am so very, very grateful they published my story, I don't really want to wait anymore to share my little story with the world.
So I scanned that bad boy and you can read my little baseball story today, a few weeks before the All Star Break.
Here it is: The Dilemma
You can also find the link in the right side of this page.
If you take a few moments to give it a read, I'd be quite grateful. If you don't wanna read but just wanna send "yay you" thoughts, also fine by me.
Either way, I'm going to be over here feeling pretty darn proud of myself for taking a bit of an oddball prompt and making something good.

Issue 13

One of my coworkers brought in oranges from their yard today. Look at this, it is perfect! A supermodel among oranges. Spokesmodel for the State of California. This orange made possible by the sunshine of the Golden State. Gorgeous!

©2018 Karen Fayeth

Photo taken by me, all rights reserved. Taken with an iPhone7, the Camrea+ app, a green folder from the office, and a little bit of goofing off time while at work.

In addition to my weekly forays into macro photography, I also am a part of a photography club where I work. We have a monthly theme each month and for February the theme was water.
Ah water, necessary, essential, and in California a bit scarce. We've had some good rains lately but it's never enough.
The water theme was to support some research in process by my buttoned up scientific fellow photo club members. While they submitted perfectly rendered landscapes of lakes, exquisite macros of a single droplet on a perfect flower, and velvety moving streams, I submitted, well, this: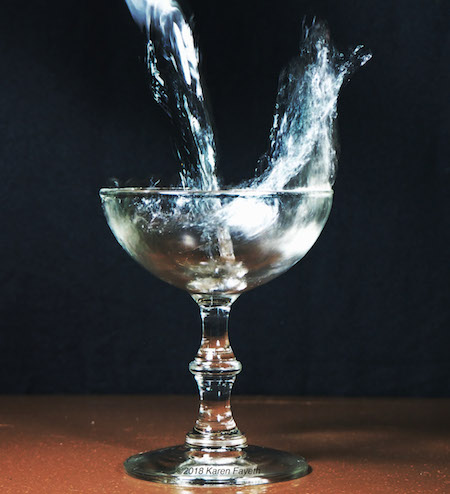 ©2018 Karen Fayeth

I fell in love with and bought the champagne glass for a dollar at my local salvage/thrift store. It was the only one there, and I loved everything about it. Since purchasing, I have been looking for the perfect project to incorporate its voluptuous curves. Turns out this was it.
Lately I have been exploring photography of drips, drops and splashes. Without a speedlight, the action of the water in this photo is not frozen, but I actually like the movement.
Also, it's unintended, but doesn't it look like a 1970's liquor ad? I love that about this photo. Not sure what I mean? Try this, this, and this.
I showed it to one of my photographer friends, a very metropolitan millennial, and he declared it "sexy AF" and "just waiting for a vodka ad."
I consider that a win.

So without going into specifics (because it's the internet and who knows what people do with facts anymore) the job I do every day is, essentially, a customer service gig. We don't support the general public, but support the operations of my employer. We serve all of my coworkers as customers. Confusing enough?
Anyhow, since we have a focus on customer service and have standard corporate performance measurements to maintain, on a regular basis we send surveys to our customers to ask how we did so they can grade us and provide feedback.
Fairly standard stuff. If the surveys for my team come in good, then fabulous. It's logged and reported and so forth. If a survey comes in bad, then a member of the team that collates responses will discreetly make a copy and slide it onto my desk. This usually happens when I am off in a meeting or something so they don't have to make eye contact. It's all very clandestine.
Bad surveys happen. It's normal. I usually review them, see what the beef is about and move on.
Except for yesterday. Yesterday gave me pause. I returned to my office to find the dreaded folded sheet of paper on my desk. "Ugh" was my first thought as I unfolded and read the survey.
It was a good time. Suffice to say, my team was blamed for everything wrong in this person's life, including (and I'm not kidding) the reason the person is leaving our institution to go work somewhere else. All our fault.
The words "byzantine" and "Kafkaesque" were used. And after looking up what those words meant, I was really offended.
Just kidding, I wasn't offended. To be honest if bureaucratic, surreal and nightmarish processes aren't your bag, then working anywhere that receives federal funding is not going to be a fun time.
This unhappy person did wrap up by saying they thought my employee that they worked with lovely, but the processes were ugly.
Fair enough.
To be honest, I appreciate this customer for giving me the first good laugh I've ever had over a bad survey response.
And the search for just the right image for this post was also a nice distraction from my byzantine day.
I think I nailed it:


**An actual Franz Kafka quote that just supremely fit this post