What follows is me working out some "stuff" up there in the ol' brain pan. A bit indulgent to do this publicly, but maybe putting it out there helps someone else. Or makes me accountable for my own crap. Either way.
So here it is… I have been taking part in a Flickr group that challenges its members to do a new macro photo every week based on a theme the moderators choose.
I started participating on December 4th with this photo: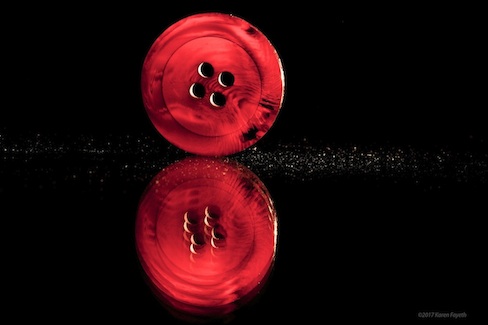 ©2018 Karen Fayeth

I felt clever. Sassy. Like my photo was more creative and of better quality than the others in the group. Go me! I was rewarded with well over one hundred faves in the first day. Hey, fun!
So I kept going. Each week working hard and having fun doing these weekly photo challenges. Creating a new image every week. Some weeks I worked really hard (or agonized) over executing my idea.
Other weeks it came easy to me, I snapped a photo that was exactly what I wanted and went on about my day.
But always having fun and not taking it too seriously.
Until two weeks ago. Two weeks ago I stopped having fun and got deadly (overly) serious about my weekly photo entry.
Let me back up. This Flickr group is huge, over 13,000 members. Each Monday between 800 to 1,200 photos are posted for the theme. This means in order to function, the group must be tightly moderated. And it is. Tightly.
I both like and respect that there are heavily enforced rules for the group. But I also HATE it because I'm an *artist* and The Muse can't be contained by your silly rules. I should be able to break them because MY work is the best.
Yeah, okay. I own it. I got weird. I hate it when I get weird.
The week's theme was monochromatic, and I turned this one in: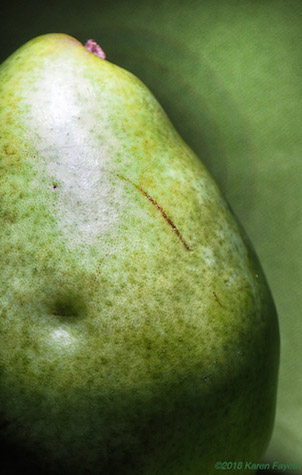 ©2018 Karen Fayeth

I really like this photo. I worked hard on it and felt really good about it. I feel like I did something worthwhile. Artistic.
Less than ten minutes after adding it to the group, a moderator pulled it, telling me "This is not monochromatic, I can see both brown and green."
I seethed. I stewed. I started looking at other photos in the group and found SEVERAL that also had tiny bits of another color that made it through the moderator's net.
I bellowed about how unfair it was. I started making a list of all the other photos that were let through. I prepared to launch my vitriol on anyone who would listen and demand answers for my mistreatment. How could they hate my photo so much!?!?! (I know, I know)
Then I went to talk to The Good Man, and as I detailed all the ways I had been wronged, I heard myself. I listened to my words and realized…aw damn…I'd stopped having fun. I was this worked up over a photo on Flickr in a group where the only prize is some eyes seeing the photo and some faves.
Yeah. I hit the wall pretty hard. This came just a day after struggling with a story for a writing contest that just would not gel for me. I hadn't given myself enough time to work on it and the story would not come together no matter how hard I tried. I tried to shotgun it and I failed hard. I did still turn in the story but I know it's not good.
You see, I wasn't mad at that stupid unfair moderator. I was mad at me.
And that's no way to create. That is the antithesis of creativity. This dampens The Muse.
So I went all the way there and now I'm reeling myself back in. I swear. I sat my Muse and my brain down and we had a talk. Feelings were felt and admonitions were issued. Promises to be better. To loosen up. To remember why I do any of my creative work…to have fun. To let the creativity out. To create something.
And I'm better. I am. The following week I swore I wasn't going to participate in the Flickr group again, but that was EXACTLY why I needed to get back in the game. So I made a photo based on the theme "in a bottle."
Here's my Valentine to myself. Green like the Hulk who gets very, very mad. Sweet like the victory of turning out a piece of art and something I really like. It also met the rules and made it past the moderators.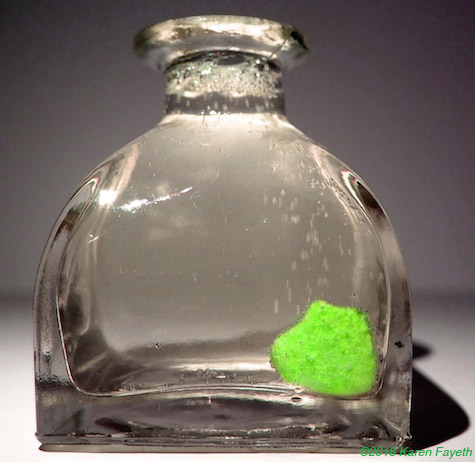 ©2018 Karen Fayeth

Lesson learned. Scars formed. Exterior just a little bit tougher.
And this week? Try, try again.

The hard work on my Macro Photography skills continues this week with a theme of "lit by candlelight." A week ago when this challenge was announced, I was like "pssh, easy peasy."
Turns out shooting by candlelight has been anything but. Sunday night I did a whole round of photos with a few objects and although candlelight is certainly beautiful, the photos I shot just weren't working. The photos were…dull. Not interesting. They didn't give me that excited feeling to share.
Then The Good Man opened up a bottle of wine and put out some cheese and garlicky crackers. That really seemed to lubricate the creative gears. Half a glass in, I had an inspired idea. I grabbed my copper holiday cookie cutters out of the kitchen (not that I have made any holiday cookies this year, but that's a topic for another time) and got to shooting.
Turns out candlelight casts really great shadows. I'm now pretty happy with the results. The top photo is my entry this week in the Macro Mondays challenge. The black and white was just for fun.
Whew! This is three weeks in a row I've managed to produce a new Macro photo for Monday's event. It's harder than it looks!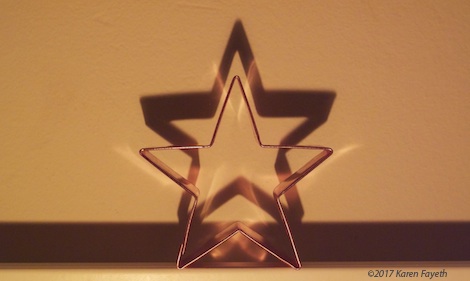 ©2017, Karen Fayeth, all rights reserved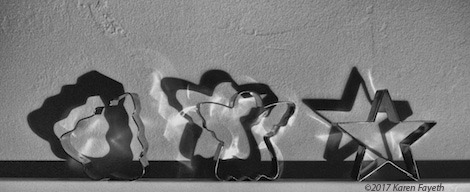 ©2017, Karen Fayeth, all rights reserved

In an effort to improve my macro photography and challenge myself a little harder (photographically speaking), I joined a Flickr group that does weekly challenges.
Photos must be new, no taking from the archives, so it pushes photographers to keep shooting every week. I seem to work well under a deadline.
This week's theme is "buttons and bows."
Tomorrow I will enter this photo, taken just last night, into the Macro Mondays challenge.
Whew. Who knew photographing a simple button could be so much work?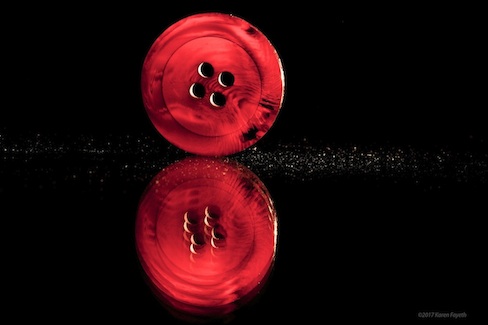 Button Glow, ©2017 Karen Fayeth

If you are interested in looking at more of my stuff, here is the link to my Flickr page.
Otherwise, wish my little button photo good luck!

When prolific author Harlan Ellison is asked where he gets his ideas, his response?
"Schenectady. They have them on a shelf in a Mom & Pop on Route 147."
It's a great quote. I mean, Schenectady is an inherently funny word. So is Poughkeepsie. And Poconos. Those East Coasters know from funny.
But the thought that the repository for the wild and engaging ideas of a writer like Ellison are neatly packaged, shrink wrapped if you please, and ready to be lifted off the shelf and plopped into form is one that tickles my senses.
In the opening credits of "The Ray Bradbury Theatre" television shows (dating back to the 1980's, The Good Man and I have been watching them recently), Bradbury says that he's often asked "where do you get your ideas?"
His answer refers to his writing space which is filled floor to ceiling with books and mementos and a whole plethora of, well, junk. He says all he has to do is look out and whatever his eyes fall upon, that's what he writes about.
In an essay on the topic, Neil Gaiman says,
"…these days I tell people the truth:
'I make them up,' I tell them. 'Out of my head.'
People don't like this answer. I don't know why not. They look unhappy, as if I'm trying to slip a fast one past them. As if there's a huge secret, and, for reasons of my own, I'm not telling them how it's done."
Truth be told, there is no huge secret. There is no mystery. Ideas simply happen.
When the hose is squeezed too hard, hoping for water, no water can come out.
When you step back and let go, then ideas flow faster.
Then again, every once in a while, you get a big calcified chunk of gunk that blocks the tubes. An esoteric gall stone, if you will.
So where DO you get your ideas?
Hell if I know.
Some days that shop in Schenectady is out of inventory and I have to wait for my back order to arrive.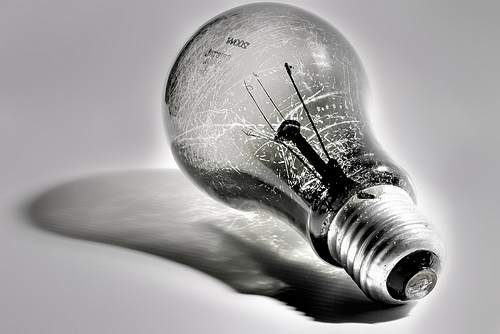 Photo by username Clix and used royalty free from stock.xchng.

What's that old platitude, something like "you're not the best judge of your own work?"
The more I give over to my creative side, I keep learning that lesson over and over. I think I have a good eye for editing my own work, and of course I'm usually wrong.
I've also learned that the best way to really see something objectively is to give it time.
Time is the great mediator.
(wow, I'm chock full to brimming with platitudes today!)
Anyhow, I got to thinking about this recently while sorting through my iPhoto library. As an amateur photographer, I take *a lot* of photographs. This is the advice of my friend, mentor and teacher, Marty Springer, so I follow her advice.
But this means my iPhoto library fills up fast with fair to middling to downright awful shots. Since all of this dreck was slowing down my iMac, I decided to save the photos elsewhere and start again.
Oh, and also…my New Year's resolution is to get better about tagging all of my photos as I download them so I can search more quickly.
So in cleaning out my old photos, sifting through the pile, I came across the shot at the end of this post.
The Feline had climbed into the laundry basket that was lying on the ground, so I grabbed my camera and took a few snaps. I considered them throwaway photos. Less than throwaway. I downloaded them to my iMac and never looked back.
But something about this photo…it really works. It was taken probably two or more years ago when I was just learning my camera and had no idea about depth of field. And yet, the depth of field is what makes this photo interesting. It's not a perfect photo but it's also not bad. A little imperfect Photoshop adjustments and I'll be damned…not too bad at all.
Because not only with time comes perspective, but also…I can learn some lessons from three years ago me. The one just learning about photography. The one who just snapped and didn't think.
A careless shot can be magic.
I guess that's why my photography teacher tells us never to delete photos. "You never know" she says.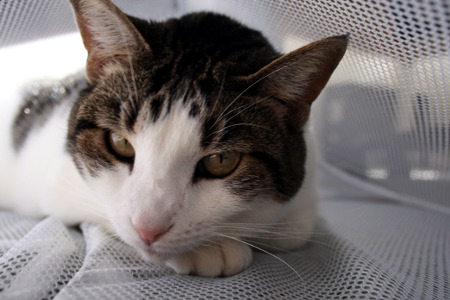 click photo if interested in seeing a larger size
Photo by Karen Fayeth and subject to Creative Commons Attribution 3.0 License.