December 3, 2017 by
Karen Fayeth
·
Leave a Comment
Filed under:
anxiety
,
art
,
artist
,
awesome!
,
awkward
,
buttons
,
deadlines
,
doubts
,
first world problems
,
fresh ideas!
,
fun
,
gratitude
,
inner editor
,
life
,
light
,
make it work
,
Monday
,
objectophilia
,
Opinions
,
photography
,
play through
,
show and tell
,
work
,
zen
In an effort to improve my macro photography and challenge myself a little harder (photographically speaking), I joined a Flickr group that does weekly challenges.
Photos must be new, no taking from the archives, so it pushes photographers to keep shooting every week. I seem to work well under a deadline.
This week's theme is "buttons and bows."
Tomorrow I will enter this photo, taken just last night, into the Macro Mondays challenge.
Whew. Who knew photographing a simple button could be so much work?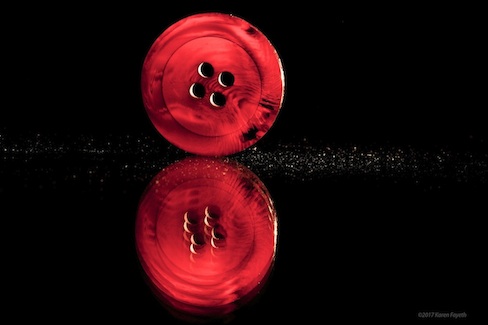 Button Glow, ©2017 Karen Fayeth

If you are interested in looking at more of my stuff, here is the link to my Flickr page.
Otherwise, wish my little button photo good luck!

April 26, 2011 by
Karen Fayeth
·
1 Comment
Filed under:
art
,
awkward
,
cranky
,
crazy
,
ideas
,
inner editor
,
learning
,
life
,
make it work
,
Opinions
,
overwhelmed
,
play through
,
relax
,
sigh
,
stories
,
The Muse
,
words
,
writer's block
,
writing
When prolific author Harlan Ellison is asked where he gets his ideas, his response?
"Schenectady. They have them on a shelf in a Mom & Pop on Route 147."
It's a great quote. I mean, Schenectady is an inherently funny word. So is Poughkeepsie. And Poconos. Those East Coasters know from funny.
But the thought that the repository for the wild and engaging ideas of a writer like Ellison are neatly packaged, shrink wrapped if you please, and ready to be lifted off the shelf and plopped into form is one that tickles my senses.
In the opening credits of "The Ray Bradbury Theatre" television shows (dating back to the 1980's, The Good Man and I have been watching them recently), Bradbury says that he's often asked "where do you get your ideas?"
His answer refers to his writing space which is filled floor to ceiling with books and mementos and a whole plethora of, well, junk. He says all he has to do is look out and whatever his eyes fall upon, that's what he writes about.
In an essay on the topic, Neil Gaiman says,
"…these days I tell people the truth:
'I make them up,' I tell them. 'Out of my head.'
People don't like this answer. I don't know why not. They look unhappy, as if I'm trying to slip a fast one past them. As if there's a huge secret, and, for reasons of my own, I'm not telling them how it's done."
Truth be told, there is no huge secret. There is no mystery. Ideas simply happen.
When the hose is squeezed too hard, hoping for water, no water can come out.
When you step back and let go, then ideas flow faster.
Then again, every once in a while, you get a big calcified chunk of gunk that blocks the tubes. An esoteric gall stone, if you will.
So where DO you get your ideas?
Hell if I know.
Some days that shop in Schenectady is out of inventory and I have to wait for my back order to arrive.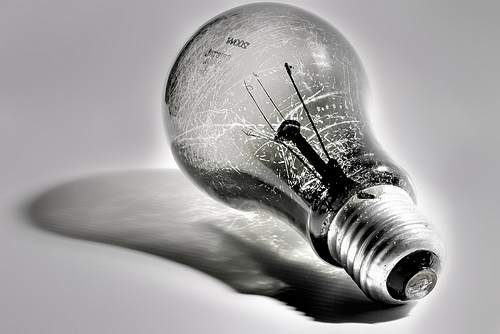 Photo by username Clix and used royalty free from stock.xchng.

December 30, 2010 by
Karen Fayeth
·
1 Comment
Filed under:
awkward
,
gratitude
,
growing up
,
inner editor
,
learning
,
life
,
make it work
,
Opinions
,
photography
,
pondering
,
the feline
What's that old platitude, something like "you're not the best judge of your own work?"
The more I give over to my creative side, I keep learning that lesson over and over. I think I have a good eye for editing my own work, and of course I'm usually wrong.
I've also learned that the best way to really see something objectively is to give it time.
Time is the great mediator.
(wow, I'm chock full to brimming with platitudes today!)
Anyhow, I got to thinking about this recently while sorting through my iPhoto library. As an amateur photographer, I take *a lot* of photographs. This is the advice of my friend, mentor and teacher, Marty Springer, so I follow her advice.
But this means my iPhoto library fills up fast with fair to middling to downright awful shots. Since all of this dreck was slowing down my iMac, I decided to save the photos elsewhere and start again.
Oh, and also…my New Year's resolution is to get better about tagging all of my photos as I download them so I can search more quickly.
So in cleaning out my old photos, sifting through the pile, I came across the shot at the end of this post.
The Feline had climbed into the laundry basket that was lying on the ground, so I grabbed my camera and took a few snaps. I considered them throwaway photos. Less than throwaway. I downloaded them to my iMac and never looked back.
But something about this photo…it really works. It was taken probably two or more years ago when I was just learning my camera and had no idea about depth of field. And yet, the depth of field is what makes this photo interesting. It's not a perfect photo but it's also not bad. A little imperfect Photoshop adjustments and I'll be damned…not too bad at all.
Because not only with time comes perspective, but also…I can learn some lessons from three years ago me. The one just learning about photography. The one who just snapped and didn't think.
A careless shot can be magic.
I guess that's why my photography teacher tells us never to delete photos. "You never know" she says.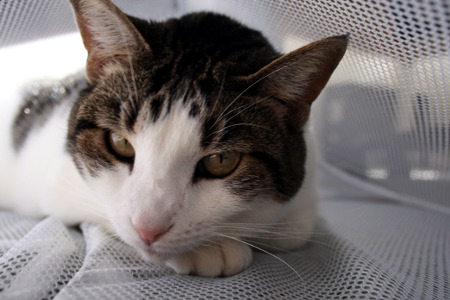 click photo if interested in seeing a larger size
Photo by Karen Fayeth and subject to Creative Commons Attribution 3.0 License.