I don't know what to write I don't know what to write I don't know what to write.
Oh, I know, I'll try my old trick of using a random word generator.
Okay here goes. *click*
The word is: carnival.
Ooh a juicy word. Yes. Okay. Great. Here we go.
Heeeere we go.
Ok…now.
Ugh.
My mind is like a carnival?
Nah. It's like a carnival that's left town. Quiet. Dead. Bits of trash floating around.
That was almost lyrical and then it wasn't.
So goes the ongoing wrestling match with my demons. Well, not demons. That's an unfair characterization. My Muse is not a demon and my demons are not Muses.
Both are an essential part of the creative process.
In seeking advice from my mentors for my utter Jornada del Muerto** of creativity, I was reminded of the old advice: Just start writing. Anything. Just write.
And so I am. Writing. Something and nothing. I know if I can keep writing something and nothing it soon becomes a something about something and the wind fills my sails and I glide along that literary ocean, making progress. (metaphor much?)
But until that happens, I am thirsty and hungry and yearn for pretty words and meaty thoughts and the satiation I can only feel after feasting on a good turn of phrase.
Until then I wander the Jornada del Muerto of my mind. Am I off the trail? Am I still headed west? Will there be water soon?
I make the journey to find the story that flows from the word carnival. I'll carry it around in my virtual backpack until I figure out where it goes. Somehow. Somewhere.
My carnival awaits.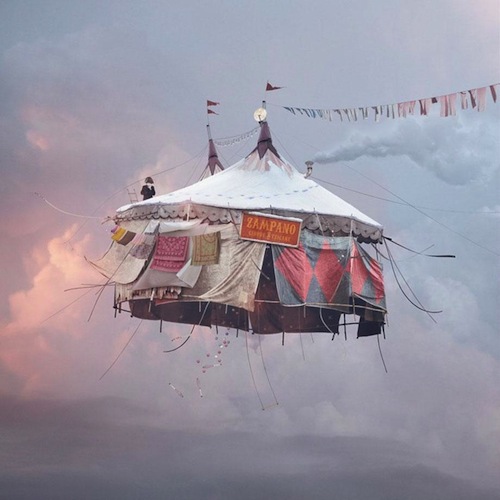 The copyright on this amazing photo belongs to Laurent Chehere who is a profoundly creative artist.

_____________

**With a nod to fellow New Mexicans. For the non New Mexicans, the Jornada del Muerto is a really long stretch of fairly bleak desert in New Mexico that contains no sources of water. It was not such a nice place for Conquistadors and settlers back in the day. Many legendary tales are told of travelers suffering the journey.

It began with a photo of fish.
The photo was published in the online edition of the Albuquerque Journal. I often read the Albuquerque Journal so I don't feel so far away from home.
A glance at the file information for the photograph gives a date of June 2002. I find that so hard to believe, and yet it's true
The photo shows three fish that got stuck when their river home dried up. A rapid New Mexico drought took all the water.
I can't recall which New Mexico river this happened to, I probably should have kept a screen shot of the newspaper article, but even as I know that New Mexico has struggled with drought for years (and today), I was amazed and shocked by this photo.
It is difficult to believe that water could evaporate that quickly.
Here is the photo: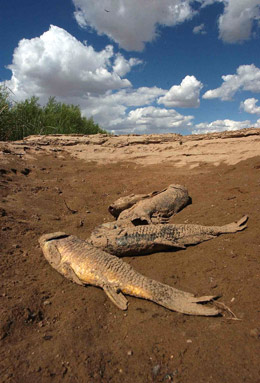 The image didn't leave my head, it rattled around in there and said so many things to me. My brain worked it over and a story began to form. The feeling of trying to draw a breath but only getting New Mexico mud.
The first draft of the story "Sangre del Toro" took shape in October 2002. Wow. Thirteen years ago.
Over the years I have submitted that story off and on to contests and literary magazines. I'd dig it up, edit and polish and try again with no luck.
I believed in the story, in the character, in the image, so I kept trying. And trying. And editing and trying and so on.
I did another edit and submitted it again for another round in the publishing meat grinder this last December. I have come to understand that publishing is as much about timing as it is about quality. And that's why I kept trying.
On February 26, I finally got a yes from a literary journal named Jet Fuel Review.
It was almost surreal to finally hear a yes in response to this story and it's even more surreal to announce that the Spring 2015 edition of Jet Fuel is live.
You can download the entire edition here: Full Edition
Or you can read just my story here: Sangre del Toro.
Woo! Whatta rush. Very excited about this one finally seeing the light of day. It was only by searching my hard drive to find that fish photo that I realized this published piece was thirteen years in the making.
Thirteen years of believing in a kind of sad story about a little girl caught out, just like the fish.
The editors of Jet Fuel told me they thought the metaphor was a little too obvious, which is probably true. I guess they still liked it enough to publish.
And so please give it a read and support Jet Fuel. They are a great group and I am forever indebted to them for taking a chance on little Adelida.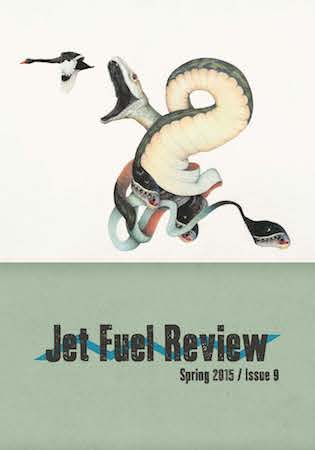 Last month I found myself in Chicago attending a writer's conference. The event was sponsored by a large publishing house and I went to learn more about the publishing industry. Boy did I.
Part of the weekend also had us working on some writing exercises. We were given a topic and told to write about it for ten minutes.
I'm pretty good at these off the cuff wind sprints, so I was sailing along nicely creating the words and feeling all of those blocks melt away.
That was until we got to the prompt: "What's the one thing you won't write about?"
Ugh. Well. The snarky voice in my head kicked in, saying things like "well if it's something I won't write about, why would I write about it here? In this uncomfortable chair. With 500 of my closest friends in attendance?"
Bah.
Then I started thinking, what really IS the one thing I won't write about?
I know what it is, but I'm still not ready to write about it.
It's grief. My overwhelming grief is the one thing I just can't write about. Not yet.
Both December and January ushered in tremendous losses for me, one after the other, and though I'm told I have to "just grieve" and "get it out" and "go through the stages" I find myself a bit at sea. There are times it shows up inappropriately and I cry so hard I wonder how I will ever stop crying.
When I do finally stop, I become near catatonic for the rest of the day.
There are times I know it's sneaking up on me and instead of trying to head it off, I am able to find a way to hide in the bathroom or outside or in my car and let it happen. A little.
And sometimes I simply have to tell the freight train that no, it doesn't get to run me over today. When I head it off, push it down, it only means the grief builds up a bigger head of steam for the next time.
It is a demon and I am wrestling with it. And no, I'm not ready to write about the details. It's too tender, too fresh, too painful.
One might argue that since writing is my thing, I should be writing about it. I should be writing it all out furiously and fast and working through all of those darn steps, up and down the ladder until I'm free.
As if one can ever really be free of grief. Actually, that's part of the problem. This fresh and overpowering grief has ripped the lids off of the many other losses I have experienced so I get to go through all of that again. As if it's new and present and today.
So yeah, letting it all out, that's probably what I should be doing.
But I can't. Not yet.
And it remains the one thing I won't write about.
But I will write about it. Someday.
Maybe this post is just one small step in the right direction.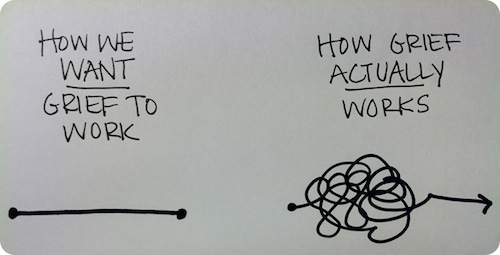 Image found here.

Mother, mother ocean, after all the years I've found
My occupational hazard being (that) my occupation's just not around
I feel like I've drowned, gonna head uptown

–"A Pirate Looks at Forty" by Jimmy Buffet
Yeah, I might be taking a few liberties with a very fine Jimmy Buffet song that did not make a lot of sense to me when I was in my twenties and seems rather spot on now.
I find myself sneaking up rather quickly on the milestone age of forty-five. Or rather it's sneaking up on me. What a milestone, I'm not even sure what it means. There are ages old enough to vote, old enough to drink, and then it all kind of gets muddled after that.
At this point in my life, I'm in a place where I don't love my birthdays most years. For reasons that aren't clear to even me, this particular trip around the sun is a little rough on me. Or maybe they are all a little rough on me these days.
And so weirdly (or not so weirdly) enough I have been thinking about that Buffet song dating back to the jolly era of 1975. The song is about a man who laments the fact that he was born too late to be a pirate. Jack Sparrow kind of pirate, not Somalia kind of pirate.
The man in the lyrics looks at his life and wonders what might have been. I have a very rich internal life and while I love my life today, I do often think about the what-ifs.
Yo ho ho, the pirate life isn't quite the one for me, but I do have laments of being born too late. A hazard of the years going by, I suppose.
I'm not so unlike the main character in "Midnight in Paris" who wishes to live in the era where writers were valued and were paid quite well for their work. Where art wasn't as much of a business as it is today.
I recently read a biography of Zelda Fitzgerald and grew ever more green with envy over how Scott Fitzgerald could keep them in a very high life simply by writing and publishing a few short stories.
I'm not implying he didn't work hard at his craft. I've read some of his shorter works and of course "The Great Gatsby" and the man could write. But he also had a venue for those stories, popular magazines that were both willing and able to pay.
Oh to live a life where I could install myself in a Parisian pub with a bottle of Spanish red and write my words. Then know I might get many rejections, but when I get that "yes" that it really meant something on a large scale.
I was singing this sort of tune in my head over the weekend and because Fate is one hell of a comedian, I received an acceptance on an essay I had submitted to a very fine online publication. I am quite proud to contribute to this literary magazine, but the timing couldn't have been more humorous.
One of my coworkers recently had occasion to read one of my published short stories about a scuba diver (if you haven't read it, I'll direct you to the right column of this page). She is also a scuba diver and she liked the story very much.
"You are such a talented writer! Why do you do this job?" she asked, and laughed.
"Because that doesn't pay, and this does," I said and sighed.
Oh, it could. Maybe one day. With a lot of work and a lot of sweat and a lot of blood and a mountain of rejection letters under my feet.
But as I sidle up to age forty-five, it sometimes feels like my best years have passed.
I once knew a bluesman who could play a muddy, gorgeous telecaster like he was drinking water. He made it look easy. So easy people were always sure they could do it like he did, and when they wondered aloud to him why it was so hard, they would say, "You must have just been born talented."
He would reply, "Yeah, and at age twelve I picked up a guitar and played it every day until my fingers bled, and then every day since."
Talent is nothing without hard work. I am more than happy to do the work, and I actually do the work every day. I type my words until my wrist aches and my head hurts. Then I write some more.
There are many days I simply wish I had started writing seriously earlier in my life when energy and time were not an issue. Then again, what did a bubbleheaded girl like me have to write about?
Maybe I had to live a little before I could open a vein and write the words.
Oh well, this is my journey. Not anyone else's. Forty-five it is and forty-five it must be.
The dread leading up to the day started to wane in the final days. Resignation set in and now I suppose I'm okay. I tried on forty-five and it fit like a shiny new pair of fine leather shoes. A little tight and squeaky at first, but breaking in nicely.

If I'm going to overwork a metaphor, I should probably reuse a photo of a very favorite pair of well broken in boots

Image Copyright © 2010, Karen Fayeth, and subject to the Creative Commons license in the right column of this page.

Dateline: April 23, 2014, 8:52am Pacific Daylight Savings Time
Location: An undisclosed intersection in what is known as the East Bay

It's morning and I'm waking up rough after some really painful dental work yesterday. I'm running late for work but I'm trying to stay calm and just get there.
I'm traversing a road that is something of an unofficial border. On one side is a series of slightly rough neighborhoods where gentrification is coming hard and fast. And painfully.
The other side is the "good" side of the road. Gentrification has already arrived, for both better and for worse.
I stop at a red light at a major intersection. I am first in line and there is a long line of cars behind me.
"Who Can It Be Now," plays from the oldies station on my radio. A popular song from my high school years is now an oldie. Don't get me started.
I tap my thumb on the steering wheel and hum along when to my left, a gentleman enters the crosswalk taking something of a slant route over the white lines.
In his hand he's carrying an open tall boy and holding it close to his chest. He's smiling, though his face and his skin looks like he's seen some things.
I am alternately like "right on!" because why not beer at almost nine in in the morning? Then "oooh, damn" because beer at nine in the morning maybe means a few demons in the mind somewhere around nine at night.
But I don't know this guy's story, so I don't judge.
As he ambles amiably in front of the grill of The Jeep, to my right an oblivious driver in a black Mercedes whips right into the crosswalk, intent on turning right and doing it right now, and damn near hits the guy.
Our beer drinking friend pulls up short, steps back and slightly bows, waving the Mercedes along. It pulls out in a huff, if I can attribute huffiness to a car.
Then the guy turns to me and smiles a lopsided smile and waves. I do what any decent member of the human race should do, I wave back. I briefly entertain a "I should not have done that" thought because I have learned through enough years living near and in big cities that sometimes it's just better not to engage.
But I was wrong for thinking that. As I wave, he smiles a little wider, peers around The Jeep to be sure the coast is clear, then makes his way to the other side of the road.
The light turns green and I drive on, thinking about the guy, this city where I now live, the ever growing division between rich and poor and the implications of gentrification. I also think about how delicious the lemon scone sitting in the passenger seat is going to be when I get to work and gobble it up.
I get to the place of my employment, find a parking spot, quick yank the parking break and start my day. Something about the man with the tall boy sticks with me and I can't quite figure out why.
One thing I know for sure is that I have to write about it, to capture the fleeting moment and memorialize it for myself as much as for anyone else.
And so I have.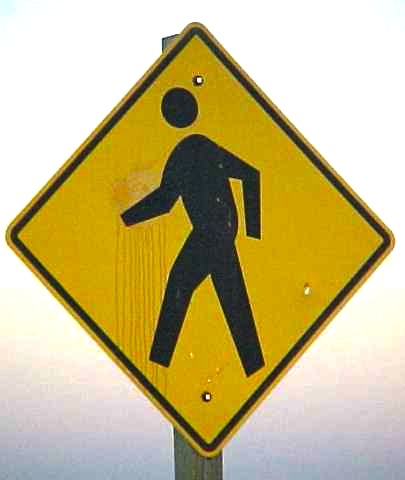 Image found here.