So here's the thing….today's Theme Thursday is: temptation.
It's a good word. A juicy word. I should be able to really sink my teeth into that, right?
Um. Yeah. No.
Maybe it's one of those words that could go so many different directions I can't pick just one.
Or maybe I'm just a little dull inside today. It happens.
So I Googled the word temptation and inadvertently added an s on the end, which brought up several rockin' broad collared photos of the band.
Which made me think of The Pips.
Which made me want to repost this, which has absolutely nothing to do with the word temptation or the band The Temptations.
Thankfully the Theme Thursday crew is very forgiving.
Without further ado…whooot woo!
____________________________________

Originally published July 20, 2011
Wanted: Three Pips, Immediate Hire, Reasonable Rates

This morning my eyes fluttered open around 6am. My alarm wasn't due to go off for another hour and a half. I had a raging headache and my body decided I should get the full experience of the pain instead of sleeping through it all.
Since sleep was no longer within my grasp, but in no way did I want to get out of bed, I grabbed my trusty old iPod that I keep by the bed, clapped on the headphones and set my Pod for shuffle.
An Elton John and a couple Merle Haggards went by. A Harry Connick crooner about nightingales and London-town was certainly relaxing.
Then the opening strains of Midnight Train To Georgia filled my ears. Ah Gladys. Such a powerful voice. It's been a while since this one made it's way to the top of my shuffle list, and it was like visiting with an old friend.
I turned up the sound to hear every word, every note.
And that's when I made a decision. I need some Pips.
They provide such great affirmation.
Gladys: He's leaving/On that midnight train to Georgia
Pips: …leaving on that midnight train….whoot whoo!
Or
Gladys: And I'm gonna be with him/On that midnight train to Georgia
Pips: I know you will….leaving on that midnight train to Georgia…whoot whoo!
The Pips provide emphatic punctuation to what Gladys is saying. She's tormented. Her man is heading out of town. But her Pips back her play. They underscore her words. They give her power.
I need this. I need Pips. Three of 'em. Right away.
Can you imagine how empowering this would be?
Karen: Hey boss, we need to chat
Pips: bossMAN…gotta have a chat…
Karen: I think I need a raise
Pip: You *know* she needs that cash…whoot wooo!
Yeah, I mean how could I get a no to my request with the power of the Pips behind me?
Or in a very important negotiation:
Karen: So Supplier, your pricing is too high, we need to cut 20% out of the quote
Pips: You know that quote's to high…twenty percent…oh no!
Or employee relations:
Karen: So, I noticed you've been missing deadlines lately
Pips: …Missing them deadlines…
Karen: That's not good
Pips: …Not good!…
See what I'm saying? I think you do.
So now, next steps. Where does one go to hire a set of Pips?
Monster? LinkedIn? Maybe Craigslist.
Wanted: Three Pips. Must enthusiastically support everything I say. In harmony. Multiple woot wooos acceptable. Must provide own wide lapel leisure suits. Please apply via email. Provide references.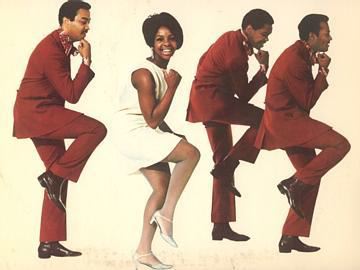 Photo found on this blog without attribution. If this image belongs to you, please contact me and I will gladly remove image or add proper attribution.


There is something on my mind.
There is indeed.
In the melodic tones of Ray Charles, it just happens to be Georgia that's on my mind.
Well, actually, to be totally accurate, it's a town somewhere on the border of Georgia and Alabama.
So maybe Sweet Home Alabama is what's on my mind?
Is West Point, Georgia and the neighboring town of Lanett, Alabama the place where Ray Charles and Lynrd Skynrd meet in some sort of mashup?
No.
That little ol' corner of the South is the place where I meet with a supplier who keeps a pretty large data center on the edge of Georgia. And then I lay my head to sleep in Alabama.
All of that is real hard to fit into lyrics of a song.
This is a really confusing and quite convoluted way of saying….work has me on the road again next week.
This time I don't need a passport. I'm staying within the lower fifty and while the thought of Georgia/Alabama in August seems daunting, I'm also kind of excited.
I've been to Georgia a few times before but this will be my first slide into Alabama. I'm looking forward to adding a new state to my list. I've seen 20 of the 50. Alabama makes 21.
Can't really say I'm excited to get on yet another plane. All this jet flying has got me weary.
But I'm always up for something new.
And away we gooooooo!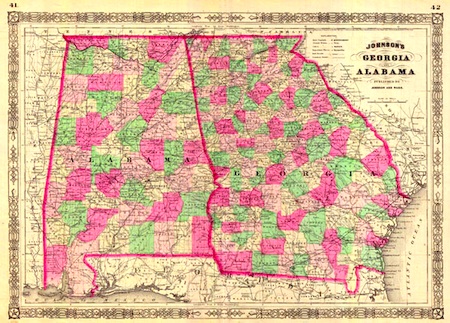 Image from Geographicus.com
This week's Theme Thursday word is: confusion.


This week's Theme Thursday theme is: Connections.
No artistic license here. Not today. Feeling rather literal, so I wandered around the house taking iPhone photos of things that connect, including computer connections, USB ports, the back of my television, a phone jack, a cable splitter, etc.
Then it was one inspired idea that changed my whole tack. I sailed in a different direction. And I'm glad I did. Turns out I had a little more arty going on than I thought.
Here is the best of my interpretation of the word connection, and thus, my entry to the party: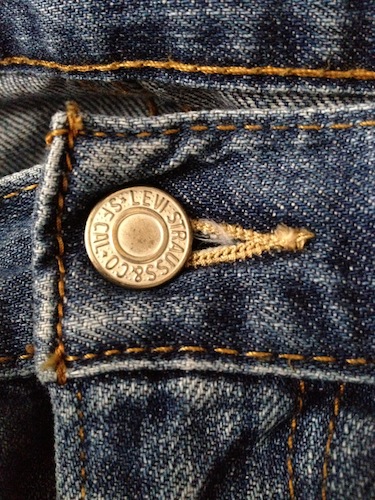 Don't tell The Good Man I raided his closet

Photos Copyright 2012, Karen Fayeth, and subject to the Creative Commons license in the right column of this page. Taken with an iPhone4s and the Camera+ app.

Every once in a while, one falls in your lap.
This week's Theme Thursday is: beds
For some, that may end up being a challenge.
For me, not so much.
Because all week, I've had this topic on my mind.
On Monday as I checked into my hotel in a small town in England (population 28,339) I was tired, jet lagged, and a little sweaty from tugging my heavy suitcase through the muggy British morning.
The clerk at my hotel said "oh let's see, yet I don't quite have the room you requested, but I'll just upgrade you to this other room."
Upgrade, she says. Um hmm.
Imagine my wondering eyes when I opened the door to my home for the next five days and saw this waiting for me: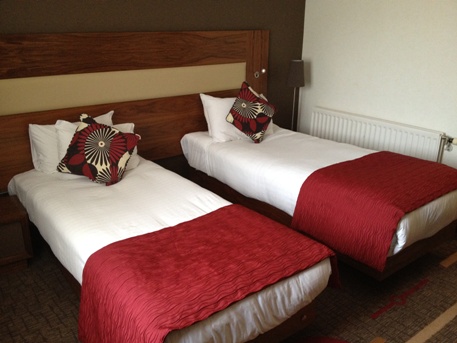 Twin beds? I haven't slept in a twin bed since college!
Who sleeps in twin beds these days? Other than kids, I suppose. And visitors to Britain.
I damn near fell out of bed every night.
I've moved to a different town because of work meetings, and this evening I check into a new hotel.
I'm rubbing my hands together and hoping….
C'moooon double bed!

*Can of Corn = a baseball colloquialism meaning an easy-to-catch ball hit to the outfield.
Photo Copyright 2012, Karen Fayeth and subject to the Creative Commons license in the right column of this page. Taken with an iPhone4s and the Camera+ app.


And the cycle starts again.
Where is my passport? Which suitcase should I use? Will I be able to sleep on the plane? Ten hours in flight, really? How many snacks should I bring? How many movies can I cram on my iPad? Ohmuhgawdinheaven I'm really doing this again?
Yup.
I'm really doing this again.
A plane ride is nigh. My third international trip in three months.
April = Singapore
May = Costa Rica
And that must mean it is June and time for travel to the UK.
A new beginning. A new trip. An old country that's brand new to me.
Ever since I was a small child I've wanted to go to London. I've always felt a yearning to be there. Can't explain why, but it calls to me. I've even blogged about my rampant anglophilia. My fave of those posts is here
When my fabulous cousin made one of his many trips, I'd read his travel journals with a mixture of envy and "I gotta get there too".
And so I finally get to go, but it's with less excitement and a little more pondering that I face this trip.
I think when I was a kid and fantasized about being in London, it was all double decker buses and tea and crumpets and Big Ben. Never in those dreams did I image myself trapped in a conference room for hours and hours belaboring even the smallest of points with a far too large and much too arrogant telecom company.
Beggars can't be choosers. My company is footing the bill for airfare and a serviceable hotel for me. I will stay for two weeks in a town located about an hour outside of London. I will work my butt off on this trip, to be sure. But I also have two weekends to myself to explore.
I'm actually overwhelmed. How does one see London in just a few days! London Bridge and Parliament and 10 Downing Street and the London Eye and Piccadilly Circus and more and more and more!
Gah!
I'm nervous and daunted but underneath it all I'm also pretty happy to finally fulfill a dream!
And so as I walk around my office today making plans and wrapping up details, I hum quietly to myself a favorite Roger Miller tune:
England swings like a pendulum do,
Bobbies on bicycles, two by two,
Westminster Abbey the tower of Big Ben,
The rosy red cheeks of the little children.
Hang on! Put on your seatbelt. Keep all limbs inside the vehicle.
And awaaaaay we goooooo!
Image found at World Tourist Place.
Today's Theme Thursday is: a new beginning