So without going into specifics (because it's the internet and who knows what people do with facts anymore) the job I do every day is, essentially, a customer service gig. We don't support the general public, but support the operations of my employer. We serve all of my coworkers as customers. Confusing enough?
Anyhow, since we have a focus on customer service and have standard corporate performance measurements to maintain, on a regular basis we send surveys to our customers to ask how we did so they can grade us and provide feedback.
Fairly standard stuff. If the surveys for my team come in good, then fabulous. It's logged and reported and so forth. If a survey comes in bad, then a member of the team that collates responses will discreetly make a copy and slide it onto my desk. This usually happens when I am off in a meeting or something so they don't have to make eye contact. It's all very clandestine.
Bad surveys happen. It's normal. I usually review them, see what the beef is about and move on.
Except for yesterday. Yesterday gave me pause. I returned to my office to find the dreaded folded sheet of paper on my desk. "Ugh" was my first thought as I unfolded and read the survey.
It was a good time. Suffice to say, my team was blamed for everything wrong in this person's life, including (and I'm not kidding) the reason the person is leaving our institution to go work somewhere else. All our fault.
The words "byzantine" and "Kafkaesque" were used. And after looking up what those words meant, I was really offended.
Just kidding, I wasn't offended. To be honest if bureaucratic, surreal and nightmarish processes aren't your bag, then working anywhere that receives federal funding is not going to be a fun time.
This unhappy person did wrap up by saying they thought my employee that they worked with lovely, but the processes were ugly.
Fair enough.
To be honest, I appreciate this customer for giving me the first good laugh I've ever had over a bad survey response.
And the search for just the right image for this post was also a nice distraction from my byzantine day.
I think I nailed it:


**An actual Franz Kafka quote that just supremely fit this post
As a sort of minor and mildly entertaining footnote to Tuesday's Congressional election in Alabama, there was a CNN interview where the spokesperson for the Republican candidate made a spirited argument that Muslim politicians should not be allowed in Congress because they'd be required to swear on a Christian bible.
The CNN host went on to utterly decimate the spokesperson's assertion by letting him know that not only is it not required to swear on a bible, if you are swearing an oath of office, you can technically swear on anything.
Something about that pesky separation of church and state, I suppose.
Look, I'm not here to wade into political waters. What I am here for is to wade into this debate:
If you became an elected official, upon which book would you swear your oath of office?
As a lover of books, this question intrigues me. One might suggest that the book used for an oath of office would have some meaning, some gravity. Something that matters to you.
So where to start? I mean, what are the books that made me who I am today? That have, to me anyway, a sacred meaning. Something upon which an oath would really matter?
Okay, I've had a noodle on this, and decided that here would be my top five picks, in no particular order:

Lonesome Dove by Larry McMurtry



This is the book that made me want to be a writer. It's seminal to my creative life and had particular meaning for me years ago to read an author from the west write the west (and not some east coaster's idea of the west, I'm looking at you Cormac). This book is in my DNA and it's the perfect book upon which to swear, because Gus and Call do an awful lot of swearing in the story.

Red Sky at Morning by Richard Bradford



When I was a kid, my mom suggested I read this book and I am so glad she did. I've opined plenty on this book, and it's perfect for swearing an oath because this was the first book to make me feel like it was not only okay, but pretty damn cool, to be a New Mexican. Growing up in the 70's and 80's no one knew where or what New Mexico was, nor cared. Heisenberg putting us in the media spotlight was years away. This book is me and I am this book, I give you my oath on that.

Lamb: The Gospel According to Biff by Christopher Moore



The story of the Son of God, as told by his best friend Biff. It's historical and hysterical. This book will make you laugh right out loud as our man Biff pulls his somewhat clueless friend Jesus out of scrape after scrape. It's outright blasphemy which makes it the most logical choice to swear my oath of office.

Fear and Loathing in Las Vegas by Hunter S. Thompson


As noted before on this blog, Las Vegas is something well woven into the fabric of my life. I got my start in life there and spent an awful lot of time there as a kid. I have a much different view of Vegas than most. It's a strange sort of indescribable thing. This book is on my list because, uh, it's Hunter S. Thompson. What better FU to the whole swearing an oath to the government?

But mainly, it's because of this part:

"A little bit of this town goes a very long way. After five days in Vegas you feel like you've been here for five years. Some people say they like it — but then some people voted for Nixon, too. He would have made a perfect mayor for this town…" — Fear and Loathing in Las Vegas

C'mon! This is the perfect oath of office swearing in book.

Boys of Summer by Roger Kahn, or maybe Shoeless Joe by W.P. Kinsella, or possibly Ball Four by Jim Bouton, or, or, or… It's a long list.



The right choice for swearing in because baseball is my religion.
Okay, now that the book question is sorted, the next item to tackle is what music is going to be played at my swearing in? I'm going to assume I will be elected to a low-level office with no budgets for live acts. So, assume a bumpin' sound system. Who gets to warble under my swearing? Ooooh, that's a good one…..
If you have a mind to, holler at me here or on any of the social medias and tell me what book you want to swear your own oath on. I'd love to cuss and discuss.

———————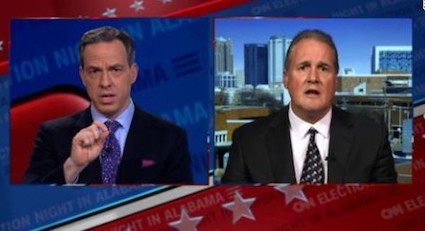 The exact moment where the one on the right realized his whole argument was just verbally punched to the ground

Story source.

Today was my first day back at work after a nice and relaxing weeklong vacation. Always tough to get back into the routine.
Last week, I missed a big event at work. It was The Great California ShakeOut, an annual earthquake preparedness event. On a set day, they sound the sirens and we take cover and hold for a period of time to simulate an earthquake. Then when that is over, all must evacuate the building.
It's getting us ready for "the big one" that we all keep hearing about. Practice like this has proven to be useful. We do this every year meaning once a year I get to check out what's going on under my desk.
Since was on vacation and I live pretty close to work, I heard the sirens, but I was driving in my car so I hunkered down in my mind.
Today upon unlocking the door to my office I see my employer has left me a little gift in the wake of the ShakeOut event.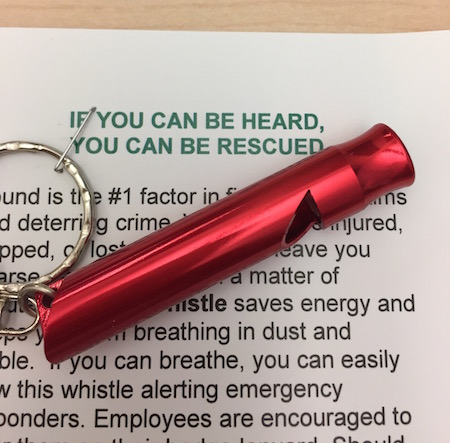 Lemme hear you whistle, baby…


Seeing this laying on my desk, I did what any mature, right-thinking adult would do when presented with a shiny red whistle. I picked it up and blew that sucker.
It's loud. A little piercing. The sound rattled off the high roof of the building.
You'd think this would be occasion for another one of those "talking to's" that my boss so enjoys providing to me. But alas no, she was in a meeting and missed it.
Instead the group administrator came over and stood in the doorway of my office, gave me the world record of stink eyes, then walked away.
I mean, if you didn't want me to USE it, then why didja give it to me?
Anyhow, my pretty red whistle is now safely stowed in a drawer. Guess I won't do that again.

Pretty whistle photo ©2016 Karen Fayeth, and subject to the Creative Commons license in the right column of this page. Taken with an iPhone6 and the Camera+ App.

Perfect posting for a Friday…
On Monday I had an early morning video call with a company in London. Oh those pesky time zones. Did you know that the US and the UK go to Daylight Savings Time (British Summer Time) about three weeks apart, and the US goes first? Monday was the first workday after the US moving ahead an hour, while the UK didn't.
Yeah, I remembered that in the small hours of the morning and quickly dashed off an email to sort out the timing. Thankfully everything worked out.
To prepare for the video conference, I got up extra early and came into the office to set up and test all of my video gear. I just moved into an office a couple weeks ago and my video gear was in a heap in a drawer. Great.
I was able to quickly get it set up and tested and then ten minutes before the call, I was ready to go.
Ten minutes. That is a funny amount of time. Not enough time to really get anything going with work. I mean, I could have dived into email but then I just knew I would get engaged in something and would lose track of time.
But ten minutes is also kind of a long time to sit around and do nothing.
So I did what any adult professional in my situation would do. To "test" my video camera set up, I fired up PhotoBooth on my Mac and played with the effects.
I tried the one with hearts around the head, then the birds around the head. I tried the one that gave me frog eyes and one that produced a disturbing cartoonlike square jaw.
But none were quite as impressive as this. Let's call it Alien Accounts Receivable Clerk. And your payment is overdue.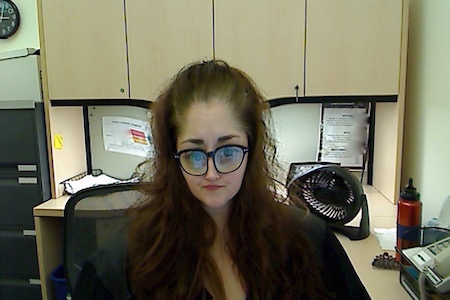 "Please remit payment or I will be forced to terminate your account"


So yeah, when the top of the hour finally rolled around, I entered the video conference still giggling.
A little too jolly for a fairly serious meeting with stoic Brits. *Ahem*
But I cleaned up my act, greeted the others on the call and then behaved like a grown up for a WHOLE HOUR!
Amazing. (hee, hee)

Photo ©2016 Karen Fayeth, taken with the PhotoBook App on my Mac and ten minutes of downtime plus post Daylight Savings Time exhaustion on my hands. Subject to the Creative Commons License in the right corner of this page.

My employer is weird. This is known. And one of the weird things they like is to have portraits done of all of us minions every couple years.
The employer has a professional, award-winning photographer on staff and in addition to his amazing photos of amazing science, the poor guy also has to sit in a conference room while a parade of geeks, nerds, scientists, engineers, and dorks like me clomp through.
Last time I had a work photo taken, it was two years ago. It was a humid day. I had to walk up a steep hill to get to the place where the photos were being done. I was running late because I couldn't find a parking spot.
I'd sweated my makeup off and my hair frizzed to cotton candy status. Then I sat down and had my photo taken. It's awful. And it's published on my department's website for all to see.
We're encouraged to use that photo as our email avatar. Nope.
Today is the day when new company photos are being taken. Argh. I have been, to put it mildly, obsessed about this. I want my new professional work photo to be something I am willing to look at.
Yesterday I carefully examined all of the photos of my coworkers in the photo archive to assess what works and what doesn't. This morning I curled my hair. I put on makeup. I fussed.
At about twenty minutes before my appointment time, I sat at my desk fretting. I decided to open Photobooth on my Mac to get a real look at how things were working and what needed fixing.
I gazed into my laptop camera and took a couple shots. I evaluated the smile, the hair, the lipstick then I went back in to try again.
I was staring the camera dead on, trying to smize when in my peripheral vision I see one of the auditors come walking down the aisle. The very serious big 4 outside auditors here doing serious stuff like auditing financials. And here I am, a manager, supposed professional, at my desk selfie'ing.
So I tried to play it off real quick. I looked away and was acting all like "no, no selfies here." And "Yeah it's cool, ain't no thing."
And then the Photobooth "flash" popped (it flashes a blank white screen). Busted.
Yeah. Um.
Anyhow, I took that photo of my shame, cropped it, sent it through an Instagram filter and now it's arty. Thoughtful. Meditative.
Nah, it's just me trying to look cool and failing miserably. Welcome to Dorkville, population me.
I sure hope my professional photo turns out a lot better.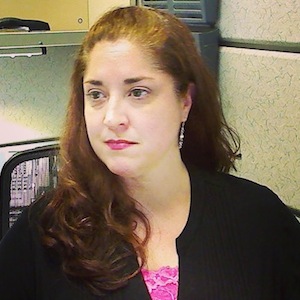 Thinking so hard right now.

Photo Copyright ©2015 Karen Fayeth and subject to the Creative Commons in the right column of this page. Please don't use this photo elsewere. I'm asking nice. Photo made with Photobooth, Instagram and my special brand of genetic dorkiness.