Today was my first day back at work after a nice and relaxing weeklong vacation. Always tough to get back into the routine.
Last week, I missed a big event at work. It was The Great California ShakeOut, an annual earthquake preparedness event. On a set day, they sound the sirens and we take cover and hold for a period of time to simulate an earthquake. Then when that is over, all must evacuate the building.
It's getting us ready for "the big one" that we all keep hearing about. Practice like this has proven to be useful. We do this every year meaning once a year I get to check out what's going on under my desk.
Since was on vacation and I live pretty close to work, I heard the sirens, but I was driving in my car so I hunkered down in my mind.
Today upon unlocking the door to my office I see my employer has left me a little gift in the wake of the ShakeOut event.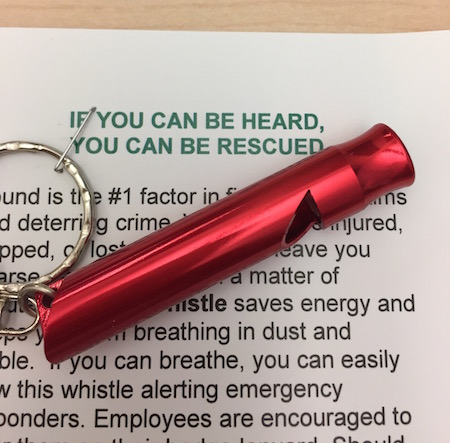 Lemme hear you whistle, baby…


Seeing this laying on my desk, I did what any mature, right-thinking adult would do when presented with a shiny red whistle. I picked it up and blew that sucker.
It's loud. A little piercing. The sound rattled off the high roof of the building.
You'd think this would be occasion for another one of those "talking to's" that my boss so enjoys providing to me. But alas no, she was in a meeting and missed it.
Instead the group administrator came over and stood in the doorway of my office, gave me the world record of stink eyes, then walked away.
I mean, if you didn't want me to USE it, then why didja give it to me?
Anyhow, my pretty red whistle is now safely stowed in a drawer. Guess I won't do that again.

Pretty whistle photo ©2016 Karen Fayeth, and subject to the Creative Commons license in the right column of this page. Taken with an iPhone6 and the Camera+ App.

Perfect posting for a Friday…
On Monday I had an early morning video call with a company in London. Oh those pesky time zones. Did you know that the US and the UK go to Daylight Savings Time (British Summer Time) about three weeks apart, and the US goes first? Monday was the first workday after the US moving ahead an hour, while the UK didn't.
Yeah, I remembered that in the small hours of the morning and quickly dashed off an email to sort out the timing. Thankfully everything worked out.
To prepare for the video conference, I got up extra early and came into the office to set up and test all of my video gear. I just moved into an office a couple weeks ago and my video gear was in a heap in a drawer. Great.
I was able to quickly get it set up and tested and then ten minutes before the call, I was ready to go.
Ten minutes. That is a funny amount of time. Not enough time to really get anything going with work. I mean, I could have dived into email but then I just knew I would get engaged in something and would lose track of time.
But ten minutes is also kind of a long time to sit around and do nothing.
So I did what any adult professional in my situation would do. To "test" my video camera set up, I fired up PhotoBooth on my Mac and played with the effects.
I tried the one with hearts around the head, then the birds around the head. I tried the one that gave me frog eyes and one that produced a disturbing cartoonlike square jaw.
But none were quite as impressive as this. Let's call it Alien Accounts Receivable Clerk. And your payment is overdue.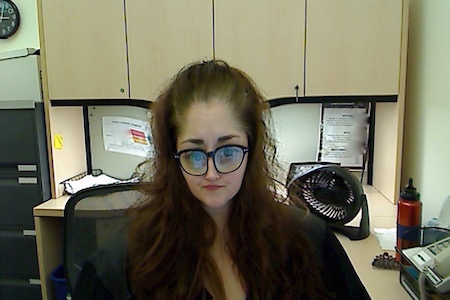 "Please remit payment or I will be forced to terminate your account"


So yeah, when the top of the hour finally rolled around, I entered the video conference still giggling.
A little too jolly for a fairly serious meeting with stoic Brits. *Ahem*
But I cleaned up my act, greeted the others on the call and then behaved like a grown up for a WHOLE HOUR!
Amazing. (hee, hee)

Photo ©2016 Karen Fayeth, taken with the PhotoBook App on my Mac and ten minutes of downtime plus post Daylight Savings Time exhaustion on my hands. Subject to the Creative Commons License in the right corner of this page.

My employer is weird. This is known. And one of the weird things they like is to have portraits done of all of us minions every couple years.
The employer has a professional, award-winning photographer on staff and in addition to his amazing photos of amazing science, the poor guy also has to sit in a conference room while a parade of geeks, nerds, scientists, engineers, and dorks like me clomp through.
Last time I had a work photo taken, it was two years ago. It was a humid day. I had to walk up a steep hill to get to the place where the photos were being done. I was running late because I couldn't find a parking spot.
I'd sweated my makeup off and my hair frizzed to cotton candy status. Then I sat down and had my photo taken. It's awful. And it's published on my department's website for all to see.
We're encouraged to use that photo as our email avatar. Nope.
Today is the day when new company photos are being taken. Argh. I have been, to put it mildly, obsessed about this. I want my new professional work photo to be something I am willing to look at.
Yesterday I carefully examined all of the photos of my coworkers in the photo archive to assess what works and what doesn't. This morning I curled my hair. I put on makeup. I fussed.
At about twenty minutes before my appointment time, I sat at my desk fretting. I decided to open Photobooth on my Mac to get a real look at how things were working and what needed fixing.
I gazed into my laptop camera and took a couple shots. I evaluated the smile, the hair, the lipstick then I went back in to try again.
I was staring the camera dead on, trying to smize when in my peripheral vision I see one of the auditors come walking down the aisle. The very serious big 4 outside auditors here doing serious stuff like auditing financials. And here I am, a manager, supposed professional, at my desk selfie'ing.
So I tried to play it off real quick. I looked away and was acting all like "no, no selfies here." And "Yeah it's cool, ain't no thing."
And then the Photobooth "flash" popped (it flashes a blank white screen). Busted.
Yeah. Um.
Anyhow, I took that photo of my shame, cropped it, sent it through an Instagram filter and now it's arty. Thoughtful. Meditative.
Nah, it's just me trying to look cool and failing miserably. Welcome to Dorkville, population me.
I sure hope my professional photo turns out a lot better.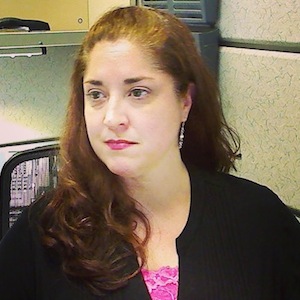 Thinking so hard right now.

Photo Copyright ©2015 Karen Fayeth and subject to the Creative Commons in the right column of this page. Please don't use this photo elsewere. I'm asking nice. Photo made with Photobooth, Instagram and my special brand of genetic dorkiness.

That moment when you are sitting at stoplight as a pedestrian crosses with the light in front of your headlights and you notice that the morning sun is giving this gentleman a solid backlighting. As he is directly in front of your view, you notice that the hairs that extend well past his nostrils are beautifully set to glowing by the golden California sun.
And you think to yourself, "Oh wow. That's…well that's something." And you laugh alone in your car because why not. You can sing in there so why can't you cackle like a dyspeptic hen in there?
And as you turn the corner and head into the parking garage you think to yourself. "Don't laugh, sparky. There but for the grace of a nose hair trimmer go you."
So then you surreptitiously check both barrels of your own breathing device to see if the protective filtering is tidy and in place.
And you realize that, you know, you could use a little trim yourself.
So you sit in the car and in the morning light of a California sunrise and you use the scissors from your small Swiss Army Knife to give a quick clip, just enough to let your sanity rest during the day that lies ahead. Because no one should have to worry all day long about the nostril streamers that suddenly seem to grow with less control than they once did.
And when done, you feel both satisfied and mildly crazy and kind of blind because why didn't you notice a trim was in order when you looked at your tired face in the mirror this morning?
But alas, you did not. Then you vow to take care of this problem more fully later tonight. And you should probably put on your reading glasses and give the eyebrows a check too because I bet those are out of control.
And then you get out of your car and walk into the office and enter this crazy day in a crazy way with crazy hair growing in crazy places.
Did you ever have a day like that? Yeah, um, me neither.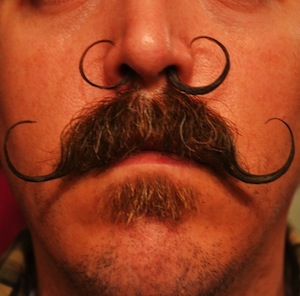 Image found here.

After what now amounts to almost seventeen years, I realize that I have lived in California a lot longer than I ever thought I would. Totaled up it's still a lot less time than I lived in New Mexico, so I still have that going for me.
But here I am. After putting in this many years I guess I have the right to look at a building in San Francisco and say, "hey, I remember when that used to be…"
In my time in the Bay Area, I've seen a lot of things change. Like many people in San Francisco, I also have a deep sense of nostalgia for a lot of the quirky things the City brings to the world.
I cried when the last working street clock in North Beach was hit by a delivery truck, rendering it busted forever.
I beam with pride when I see the restored doggy head smirking atop a pole overlooking the Doggy Diner (over by the zoo).
And today. Today my heart is heavy for the loss of yet another San Francisco quirky institution.
Sadly, it was reported this morning that the Bushman from the Wharf has passed away.
If you haven't had the pleasure of spending a touristy day down on Fisherman's Wharf, then you don't know about the Bushman.
He would take several leafy eucalyptus branches in hand and then he'd get real low, usually squatting on a milk crate, and he'd hold the branches out in front of him. He would usually position himself by other shrubbery so any passerby might think it was simply another bit of brush.
Then he'd pick out a person walking the sidewalk and as they walked past him he'd shake the leaves and let out a low rumbling growl.
At the noise, pretty much every victim would leap a foot off the ground. That was when the Bushman would laugh with the best, most expansive laugh you've ever heard. This would get the victim laughing too.
People would gather around and watch it happen, and they would laugh too, everyone brimming with anticipation for the next victim. After a good laugh, folks would throw a couple dollars his way and move on.
This whole thing was always done in good fun, the Bushman was never mean about it.
In the early years in my California tenure, I spent a lot of time in the company of blues musicians who worked a lot of Saturday afternoons at Lou's Pier 47. Back when Lou still owned the place, she paid well and booked the top guys in all the prime spots.
A good sunny Saturday would pull in a room full of tourists who would happily unload their pockets for food and drinks and tip jars.
I would often go to the club on my own and as the afternoon went on and the patrons consumed more and more booze, things could sometimes get a bit weird. If things were too funky in the club and if it was still sunny out, I'd head out to the Wharf to wander the shops, eat some Ghirardelli or just sit by the water, stare at the Golden Gate and ponder my life.
I was my own version of a wharf rat and I loved it.
With all that time spent prowling around, I encountered the Bushman on several occasions.
He only got me once, but he got me good.
I learned to keep a sharp eye out for him so I could be in on the joke and not the punchline.
I liked to catch him, too. I'd say, "I see you!" and he'd growl at me and I'd go "uh-huh" and walk on.
I haven't spent that much time on the Wharf in years, but when I was there a few months ago I saw him and was happy to know he was still there.
And now he's not.
The article says that his sometime partner (who helped the ruse by distracting potential victims) will keep up the routine, but I suspect it won't be quite the same.
San Francisco, so nostalgic, so prone to change.
The original Bushman will be missed.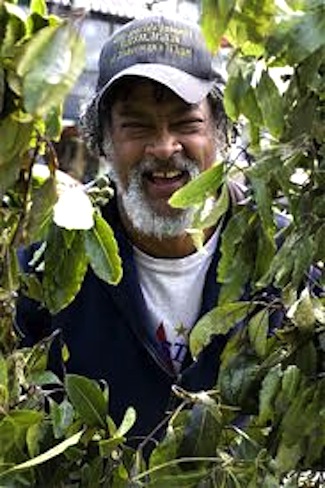 Image found here. That blog owner is super duper cranky about the Bushman, but c'est la vie. To each their own. The Tumblr is named "I Hate Stuff" and provides content as advertised.