So yeah, I'll just cut to the chase, I've been having a hard time lately. Moving, work, life, storms, general state of politics, hades-like heat in the Bay Area, all of it. Stress. Anxiety. Insomnia. It all just got on top of me, and stood on my neck.
Some days I'm stronger than others, but last week the final drop of strong independent woman inside of me got used up, and I broke. I had been in a prolonged email squabble with a really challenging coworker and I hit a wall. I totally collapsed into tears.
Sobbing, heaving, inconsolable tears. Not in front of the coworker, at least. But still. It was what I believe the kids these days call an ugly cry. Full on.
For a while I was so down, ragged and lost that I thought I might be losing that small tenuous grasp I have on sanity. I was actually pretty scared.
But through some tough love from The Good Man, some actual sleep (I swear lack of sleep would make the most calm person into a raving psychotic), and doing a much better job taking care of myself, I found my way back. Mostly.
I mean, it's still there at the edges, the crazy I mean. This is the absolutely busiest time of year at my job and things always go a little pear shaped in September anyway. Tempers are quick for everyone and feelings are a little raw.
This too shall pass, it always does. I mean, October 1 is only three weeks away. I can survive three weeks, right?
Today, this lovely Saturday afternoon, when I should have been doing work but just couldn't bring myself to sit in front of a computer, I instead sat on my back deck with camera in hand, trying to photograph hummingbirds. Not an easy thing, and I'm learning a lot about both the birds and who I am as a photographer.
I shared one I really liked on all the social medias.
Here is another: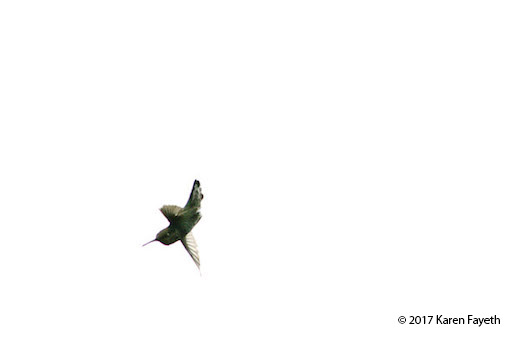 Today as I sat and watched and listened and kept my eyes open for the hummingbirds, another animal caught my eye: A Monarch butterfly.
A sure sign of pending Autumn, the monarch. They are special to me in so many ways, not the least of which is how closely tied they are to Dia de los Muertos in the Mexican culture.
I silently wished for the Monarch to land and let me get some photos.
Well, I got my wish, just not quite in the way I expected.
The butterfly flew in listlessly, bumped into a wall, ricocheted and then landed on the side of the deck.
As I got closer, snapping quickly with my telephoto, I soon realized the issue.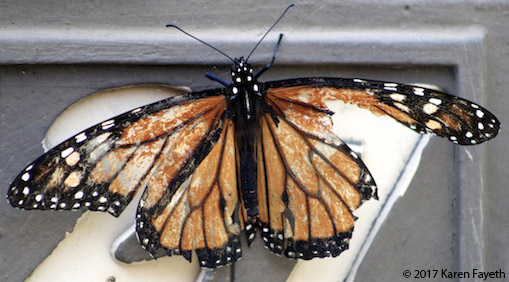 "We have an injured warrior out here," I texted to The Good Man.
I wondered what had happened to this beautiful animal. Did it go through a rough storm? Get batted at by a sporting cat? Fight for territory with another butterfly? Or was it just at the end of a good life?
What sort of hell had this little guy gone through, and how was it still flying?
After some Googling, I tried making some nectar and coaxing it into a box, but alas, no. It mustered up some of its last strength and flew off.
I was left sort of sad, wanting to give the injured insect a safe haven. Wishing I had just left it alone.
But as it flew off on one good wing, I couldn't help but admire its tenacity.
A tenacity I wish I could find. Or perhaps find a little more of.
May I (and you and we) find the strength to fly on our own battered wings. May my poor ragged butterfly inspire you as it did me.
Part II in a series.


Today I continue my New Mexico storytelling with Part II. I guess my short trip to New Mexico last week takes more than one post to discuss.
At four days, it was a quick trip, too quick if you ask me, and even though time elapsed fast, there was an indelible impression left upon me. New Mexico kind of does that to a person, right?
The last time I had been north of Las Cruces was in 2009, so it wasn't that long ago, but certainly long enough ago to change my worldview.
Back then I was newly married (yay!), had endured one of the worst years of my professional life (boo!). I found myself without a job, without any leads, and a little dislocated as I learned how to be both unemployed and married. Both being something I had never before experienced.
I returned to the homeland last week on a warm Spring Saturday with almost six years of marriage tucked under my belt and a really good job that I love very much. Time really does heal wounds.
To be honest, sometimes I still feel very dislocated. Caught somewhere in between. I am a New Mexican, through and through, but it has now been almost seventeen years that I have lived in California. My god. Seventeen. Where the hell did all those years go?
So I am not really a New Mexican anymore, but I'm seriously not a Californian either. What, exactly, am I? I don't know and that's the problem.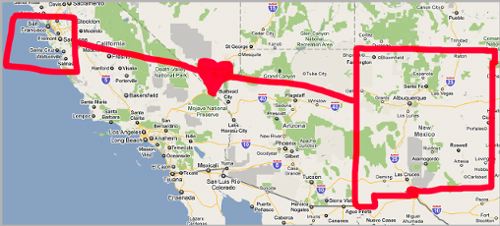 (Apparently this is a long running theme for me, here's something from the archives.)


My best friend and goddaughters were on their Spring Break and wanted to make a trip to Santa Fe. As near as I can recall, the last time I was in Santa Fe I was somewhere in my twenties. Well, that's not entirely true. I went to the outskirts of Santa Fe in 2009 because my father is buried there, at the National Cemetery.
But that last time I had been on the Plaza? Yeeks. I was of drinking age, but not old enough to know better, certainly.
Let's just say, it's been a while.
Santa Fe was, well, Santa Fe. She has changed in many ways. She has not changed at all in other ways.
Of course, one of the first places I had to visit was the Loretto Chapel. I have always loved that place, from the time I was a small child to now.
I had wanted so much to get married there, I mean, I really wanted that, but logistics being what they are, it just couldn't happen.
(I am more than thrilled with where and how we did get married in California, by the by.)
In my mind, my child's mind, the Loretto chapel was teeny tiny and the stairs were at the very back wall of the chapel. I was pleasantly surprised to see the chapel is actually larger than I remembered, with several rows of pews behind the very famous staircase.
So of course I took an unremarkable photo of the remarkable treasure. A photo from the same vantage point where everyone snaps the shutter, from behind the worn velvet ropes. It's a bit like the Golden Gate Bridge. It's been done. To death. It's hard to do it any differently than the thousands who came before.
But that's ok. I took the photo for me. A memory. An image that I don't have to expend a calorie trying to conjure up in my mind. I can ease my brain and rest my eyes and smile fondly to see this photo.

Copyright © 2014 Karen Fayeth

While in Santa Fe, we also went to the Cathedral Basilica of Saint Francis. Where Loretto is small, the Basilica is gigantic. Overwhelming in its proportions.
I took a lot of photos and absorbed all of my surroundings.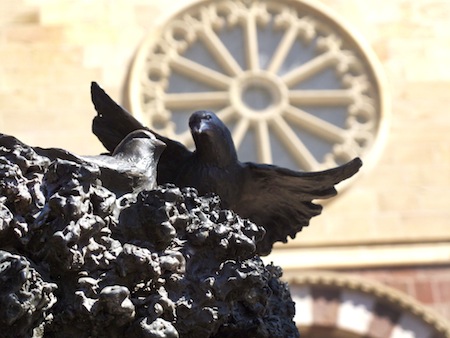 A bird at the base of a statue of Saint Francis and the Basilica's rose window in the background.

Copyright © 2014 Karen Fayeth

Of course, I have a lot of mixed feelings about being raised Catholic, but that is not something to discuss here. I do try to stay away from religion and politics on the blog, though I don't always succeed.
That said, I have always loved the iconography of the Catholic church and being raised in the Hispanic culture means all of those images hold a lot of power for me. The images are not just religious but part of our culture and folk art. It has shown up in a lot of my own work.
I have been obsessed for a long time with the image of a flaming heart and also a heart with a crown over it. Of course this is the Sagrado Corazón, found on paintings and statues and sculptures.
Being in such a beautiful space and being in Santa Fe and seeing all of these reminders of my childhood made me need to sit down. Just sit and be quiet. And think. And absorb.
My two godkids had a lot of questions for me about the Catholic Church and what some of the images mean. The Stations of the Cross proved to be a place of fear for my younger godkid, and I tried to explain that it was telling a story, certainly a sad story, but that it had a happy ending.
Meanwhile my thoughts raged with questions like, "Who am I?" and "Why don't I know?" and "Why have I had this lost feeling for such a long time?"
Questions as unanswerable as some of the challenges posed by my beautiful girls.
I love New Mexico and inside of me something is able to rest when I am there, but to be honest there is another part of me (that has been there all of my life) that cannot rest, and needs more than New Mexico can give.
The only place that I truly know is home is anywhere The Good Man happens to be. That, I think, was my best comfort while the thoughts and feelings swirled like an eastern New Mexico tornado through my brain.

Part III: ¡Comida! There is Indian and then there is Indian

Images Copyright © 2014 Karen Fayeth, and subject to the Creative Commons license in the right column of this page. The Loretto staircase was taken with an iPhone5 and the Camera+ app. The little bird was taken with a Canon G10 and some crawling around on the ground.

Growing up in New Mexico, I was used to being around a certain amount of wildlife. I knew from an early age: Stay away from rodents (bubonic plague), keep off the snakes (bitey) and if you happen across a bear, well, nice knowing you.
Ok, just kidding on that last part. Kind of.
My dad and brother were both avid hunters and I spent more than my fair share of time in the mountains and wilderness of New Mexico. Still some of my best memories.
I live in the Bay Area now, which is a huge urban area (seven million and counting!) that is surrounded by lots and lots of open land and wildlife.
When wildlife happens to wander into areas where a lot of people hang out, insanity ensues. It seems most folks weren't raised with both a healthy respect and a dose of circumspect when it comes to wild animals.
I got to thinking about this because just two days ago, while running late to a meeting at work and trying to find a spot in a cramped parking lot, I narrowly avoided hitting both a white Honda Civic and a rather grumpy wild turkey.
And I don't mean the kind of wild turkey that comes in a bottle.
The Honda (who was taking their half out of the middle of the road) just kept going but the turkey gave me a fair piece of its mind. I nodded knowingly and muttered "sorry turkey" and kept rolling.
When this happened, I remembered that about six months ago, we received an all employee bulletin regarding the turkeys that are running a bit rampant on our main facility.
Here is the text of that bulletin, with identifying information redacted:
Recently, an employee got too close to a wild turkey, and the bird flew up and brushed against her. The incident serves as an important reminder that the turkeys are untamed animals and need to be given space. Allow at least 10–15 feet of clearance, try not to turn your back on the birds if they are close, and do not feed them.
It sort of paints a visual picture for me of some lady sneaking up on a turkey and it going all hockey style hip-check on her.
Of course, I laughed my butt off when I got that bulletin because, well, sheeyah! Leave the wild things alone. I quickly emailed it to my best friend who passed it along to her husband and two kids because, coincidentally, they were turkey hunting in New Mexico (and not having much luck).
And since we have so many turkeys and deer and lots of other wildlife here at my place of employ, we also have mountain lions who think a nice turkey dinner and a nap is the right idea.
So while I'm enjoying lunch today and thinking about life, and my coworkers who are batbonkers crazy, I came to some conclusions.
1) People are weird.
2) Not everyone was granted the education I had regarding wild animals or animals in general. Though for the most part I think they mean well.
3) Don't touch the bitey things.
3a) Most animals will bite, even the tame ones.
4) Turkeys are not very agile. Skinny legs and big old body are all out of proportion. Still, I'm glad I didn't hit that gobbler. That might have been sad.
5) Man I could go for a turkey sammich right about now. Anyone else?


Ok. Back to work. I'm headed out on foot to the next meeting.
Maybe I'll have a brush with a turkey?
How exciting.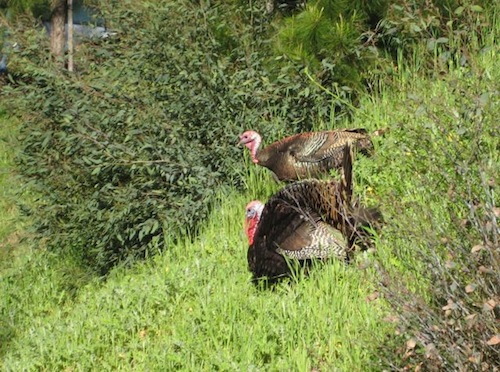 Not my photo, but taken at my place of work

Photo from the Bay Area Bird Blog.

On this beautiful bright late Autumn day, my friend Worm Girl and I went for our usual lunchtime three mile walk.
Between meetings and vacations and other distractions, it had been two weeks since we'd gotten together and there was much to catch up on.
As we strolled around the lagoon, we found ourselves tiptoeing about as there was a veritable minefield of goose poop decorating the walking paths.
"Oh my god," I said as I shifted, parried and tip toed.
"No kidding," she said.
Then we came across what was really just a large white splat. About as big around as a dinner plate.
"What the hell is that?" Worm Girl asked. "It's like the bird ate a pack of sidewalk chalk!"
"I know, weird."
And then we kept walking, leaving the chalky matter behind and discussing the kind of things two ladies discuss on a good brisk walk.
As we came around the backside of the loop, we saw a few groundskeepers doing their work. Not an unusual sight for a Monday.
But as we passed one guy, we both fell into silence, watching him.
He was on hands and knees with soapy water and a wire brush.
Scrubbing quite a few more of the chalky white patches.
After we were out of earshot, my friend said "Can you imagine…?"
And I replied, "Worst. Job. In. The. World."
She said "How do you even list that work experience on your resume?"
"I know, I know…that guy is a saint, he really is. There is no way upon my boss handing me a wire brush and a bucket that I wouldn't bolt from that gig."
To be fair, the guy does all around work for the landscaping team and genuinely seems to like his job. He approaches it with a certain joie de vivre.
But to be honest, however crappy (pun totally intended!) I think my Monday is, it's not that crappy.
Today I honor the kind of person willing to go to the mat, rubber gloves and scrub brush in hand, to make the world a little cleaner, a little nicer, a little more poop-free.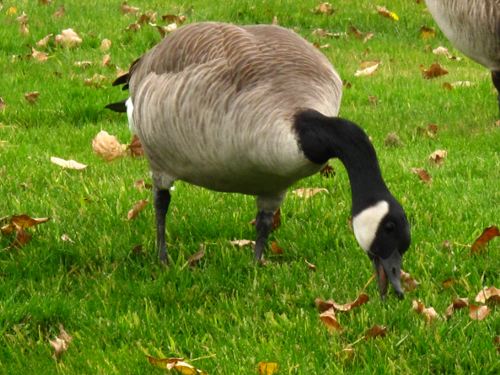 Just reloading here, boss.

Photo copyright 2010, Karen Fayeth, and subject to the Creative Commons license in the right column of this page.


I am a woman of the West.
I know how to ride a horse. I know how to dehorn a calf and sear the artery if clipped. I have wrangled horses, cattle and even one summer, I wrangled honey bees for a ranch with a lucrative side deal for a major honey producer.
I have stood confidently in front of a pack of horses as they charged at me. I had a riding instructor who made us stand at various places in a large pen and she charged the horses at us and made us learn to turn the herd. Over and over.
I have stared down the barrel of a herd of calves who were naturally unwilling to herd and likely to scamper as they broke free from a trailer and ran to the four winds. I have pushed noses, tails and avoided flying hooves as I helped turn them back around.
I have stood near the back of a horse trailer when a flighty animal came blasting out. I have stood in the front of a horse trailer when a balky animal wanted no part of loading in.
I have even been in the line of fire of a charging herd of insane sheep (all sheep are insane) and got the hell out of the way.
Once, I was almost trampled by turkeys.
All of this is to say, I've got a little experience with large animals and herd behavior. I know how to stand confidently and turn those charging animals in another direction. I know not to have fear but only conviction.
I am a powerful woman of the West.
Today, I was out walking with a friend (known on this blog as Worm Girl) on a walking path that is next to a grassy berm that runs along a busy street.
Along this berm were about thirty wild Canada geese.
Suddenly along came a fire truck with sirens at full blast.
And when those thirty geese turned in masse and began running toward me (and away from the siren)…
.
.
.
…I screamed like a little girl, threw my arms over my head and hid behind my friend.
That's me, a powerful, animal wrangling, rootin' tootin' woman of the West.

Annie Oakley photo found all over the web in public domain and used here under Fair Use.