The hard work on my Macro Photography skills continues this week with a theme of "lit by candlelight." A week ago when this challenge was announced, I was like "pssh, easy peasy."
Turns out shooting by candlelight has been anything but. Sunday night I did a whole round of photos with a few objects and although candlelight is certainly beautiful, the photos I shot just weren't working. The photos were…dull. Not interesting. They didn't give me that excited feeling to share.
Then The Good Man opened up a bottle of wine and put out some cheese and garlicky crackers. That really seemed to lubricate the creative gears. Half a glass in, I had an inspired idea. I grabbed my copper holiday cookie cutters out of the kitchen (not that I have made any holiday cookies this year, but that's a topic for another time) and got to shooting.
Turns out candlelight casts really great shadows. I'm now pretty happy with the results. The top photo is my entry this week in the Macro Mondays challenge. The black and white was just for fun.
Whew! This is three weeks in a row I've managed to produce a new Macro photo for Monday's event. It's harder than it looks!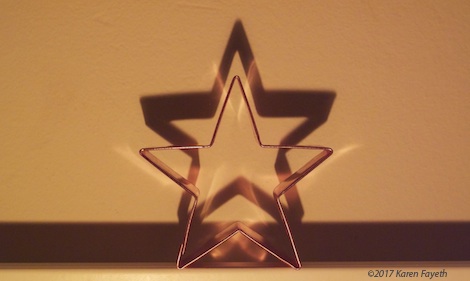 ©2017, Karen Fayeth, all rights reserved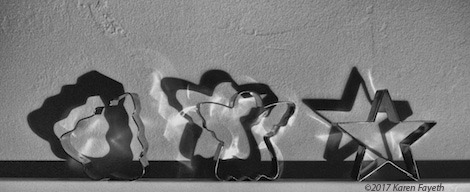 ©2017, Karen Fayeth, all rights reserved

Ok. I'm going to be strong here. : deep breath :
They say that talking through your feelings after a tragedy helps lessen the pain. I've kept this pent up inside for almost a week. I thought I could feel better. I thought I could forget.
But the nightmare. Oh the pain. It continues.
So I think it's time I opened up and discussed my feelings. I need to get closure.
This is going to take all my courage.
Here we go.
Last week, it was Tuesday, and I was at the ballpark with The Good Man and some of our friends.
It was a clear, warm August night. The San Francisco Giants were playing baseball against the Pittsburgh Pirates, and the crowd was full of anticipation.
My vacation was just beginning and we couldn't have asked for a better night. A cool breeze played over the outfield and the laughter came easy.
It was the middle of the fourth inning. The Pirates had been sat down and the Giants were up to bat. No hits in the game so far, so I decided to get up from my seat and use the ladies room.
Evidently I wasn't the only one needing a stretch break in the 4th inning because the line to use the ladies room was really long. But the line moved fast and thankfully, I was able to get my business done and get out of there.
Feeling a growl in my tummy, I walked the length of the third deck of AT&T Park to find a vendor with the shortest line. No luck this night, the food sellers were hopping.
So I just got on line. All you can do is wait. I had nachos on my mind. If you go to the right vendor, they'll serve you up this tray with two reservoirs. One holds cheese. One holds salsa. Chips line the middle. It's perfection in a non-recyclable plastic rectangle.
The key to this whole delicious thing is the liquid cheese dispensed from a cheese machine. The nice lady behind the counter pushes a button and cheese comes out.
When the cheese is flowing, you know all is right with the world.
I waited in a long line while some dude in the front bought eight thousand hot dogs and had to contact the International Monetary Fund to get the transaction done. I watched the game on the in-house monitors.
Jeff Keppinger doubled and the waiting crowd sent up a cheer.
Still, I stood in line.
What got me through the drudgery was the thought of the ballpark nachos. So happy. So good. Cheese AND Salsa? Can it really be true?
Finally Hot Dog Boy walked away and the line moved up. The next guy only wanted a beer, and was done fast. One more step forward.
But wait. Something was wrong. Something was amiss.
Something was…out of order.
I noticed one of the ladies who vend the sweet mystery of life that is ballpark nachos was holding a big silver bag and wringing the life out of it.
She was extracting every last morsel of the orange cheesy goodness.
And then I realized. The truth came to roost.
The Cheese Machine had gone offline.
Oh dear god! The humanity!
What will become of us? What can be done?!
I saw a guy come out from the back to install a new bag of cheese into the machine. Then I heard a lady tell someone "It's going to take a few minutes, the cheese has to warm up."
I panicked. What should I do?
You are never prepared for an emergency when the terror strikes. These type of situations call for clear, calm thinking.
I considered moving over to another food vendor, but the lines were outrageously long. I'd only have to wait and wait for the dispensary of another cheese supplier. And what if THEY ran out too?
No. Now was the time to be a grown up. I had to become Zen. I had to stand my ground. By god I'd wait for that freaking fake cheese to warm up.
The minutes ticked by at an utter molasses pace. I couldn't watch the game I was so heart rended by the fear and worry I had. What will become of the nachos?
Finally, after an eternity, I saw one of the vendor ladies tentatively try the button on the now silent machine. Sweet molten cheese flowed like lava from an active volcano. The night was saved! The cheese rides again!
The crowd parted and I stepped right up to the register. "One nachos, please, the kind with both cheese and salsa."
"That's a deluxe nachos," the Goddess in a Green Visor behind the counter informed me as she filled the reservoir with the sweet fake orangey manna from the gods of processed cheese food.
She even gave me a swipe of cheese across the top of the chips.
Yes. Deluxe. My destiny.
I paid the tab and turned away, comforted by the crispy cheesy salsa-y treat.
I vowed to eat every morsel, my spoils in the victory over the thronging masses that night at AT&T Park.
I am a survivor. I am stronger than my fears.
I grew up a little that day.

Image from The Fun Ones.

Over the course of the last week, my favorite Theme Thursday word of the week and creative idea fueling site was down.
They'd fallen victim to an especially tenacious comment spam-bot, so they shut 'er down to get it sorted.
And so of course, with that in mind, this week's theme is, you guessed it, SPAM.
SPAM, SPAM, SPAM…lovely spam! Wonderful SPAM!
Well…where can one go with SPAM? It's either nuisance email or it's shivering pink gelatinous goo in a square can. One I ignore and the other I fry up nice in a pan and gobble with a touch of mustard.
So I took to the waters of Google to find something different and was rewarded for my journey.
SPAM-ku. Like haiku, only SPAMmier.
Select bits from the MIT (yes, MIT) website:
This was filed under the "addiction" category…


Desire overwhelms.
"SPAM, I must have more of it!"
Freud would be enthralled.


and


Gave up cigarettes
No more drinking, and drug-free
Hidden stash of SPAM


Wow…such SPAM angst. I never knew one could have such delicious agony over luncheon meat.
Let's see…what do we find under the "sex" category (cuz you knew it was going to go there)?


In regards to SPAM:
Sexual hangups aside,
It makes me feel strange.


or


Autoerotic!
Open can, insert member:
Wham, bam, thank you SPAM!


and then there is


Beneath the armpits

SPAM gives one a manly scent

Drives all women wild


Um…ok. : looks around nerviously : That's just…odd.
And I like odd, but wow. There are literally pages and pages of SPAM-ku on that site. I believe they have over 5,000 bits of verse devoted to SPAM.
I've been known to take my OCD too far, but even I'm unsure about this.
But then I read a verse that speaks to me:


SPAM, too, needs a wife.
What consort for my Pork Prince?
Ah! The Velveeta!


Whoa. I do love the Velveeta and I'm not ashamed to own it. Maybe I am starting to understand these strange SPAM poets.
Then I read the SPAM verse that seems to sum it all up:


SPAM: the perfect food
For people who study Zen–
Meat, and yet not meat.

Ponder that for a while, why don'tcha?
Meanwhile, I think I'll just have a salad and a walk for lunch. My cholesterol went up twenty points just reading about lovely, wiggly SPAM.
SPAM art found at Strategic Public Relations blog.

So there I am, standing in my local Target store looking at something called Lactaid because evidently God has a sense of humor and I'm pretty sure I've become lactose intolerant.
I'll spare you the details, but I've had a bowl of cereal for dinner this evening and I'm bloated up bigger than Airabelle, the Creamland Dairy hot air balloon (last seen at the Albuquerque International Balloon Fiesta).
Pride goeth before a burp, and the thought of taking something to stop this feeling seems real, real appealing. I'm comparing and contrasting the relative merits of the store brand "dairy digestive aid" versus the name brand "dairy digestive aid" when in my peripheral vision, I note a man walk by behind me. I can tell it's a man by the gait and by what he's wearing as he shops the aisles.
I hardly notice my fellow shopper, but moments later, I get a whiff of cologne.
Oh my.
It's that scent, that same deep musk and leather tinged scent that reminds me of someone I used to know. Suddenly I'm not in a Target store but I'm in the cab of an early model step side red Ford pickup truck sitting next to that memory and I'm mainlining that scent like a addict huffs paint.
The one I knew wasn't especially tall but he was broad in the shoulders, owing to many long hours spent practicing his team roping skills. He was a dusky hued fellow of Native American extraction with ice blue eyes that made me go weak in the knees when he'd walk past me on campus.
We only went out on two dates because he was as squirrely as a rabid woodchuck, but oh my heavens was he handsome. Just those two dates were enough to make me smile wickedly to myself some twenty years later.
So I throw into my cart whichever box of digestive aid was in hand as I sensed the sweet smelling gent shopping in the next aisle. I look at the sign on the end cap containing the Target version of the Dewey Decimal system announcing, "dental hygiene," and think to myself, "why, yes, I could go for something in a minty fresh breath."
I fix my casual smile, not too wide, not too meager, just Mona Lisa enough, and sashay toward the mouthwash shelves. Memories of slow two stepping dances to the sounds of something like Alabama or George Straight or Merle Haggard fill my mind. I lean casually next to the Listerine and glance up at the object of my olfactory desire.
There stands a mid-fiftyish man with a boiler hanging over a belt holding up a pair of unflattering pants that evidently contain no butt a'tall. His unkempt hair graying rapidly from the top of his ratty hairdo to the bottom of his scruffy beard. What appears to be a remnant of dinner still lingers there on his, oh my is that really a knockoff Members Only jacket he's wearing?
I beat a hasty retreat and three rows down, I huddle at the end of the hand sanitizer aisle. I need to regroup.
That was, as they say in the vernacular, a buzz kill. Suddenly visions of New Mexico State Ag Week dances under a clear high-desert starry sky vanish and I find myself once again an almost forty-two year old woman in a Target store. I take inventory of my own raggedy outfit, with frowsy hair escaping a hasty pony tail, glasses framing my weakening eyes and a hand cart full of things like GasX and Lactaid announcing that not only was that guy not the guy that I once knew, but I am in no way that girl I wish I was any longer.
The girl I am now needs to buy some Ziploc bags so she can pack her non-dairy, non-wheat, low-fat lunch to take to my "is this really what I wanted to be when I grew up" job and slog my way through another day, as my tummy churns and my hair grays and I no longer ride in red pickup trucks and wonder what it will be like when I'm all grown up.
This is what it will be like. This is what it is. Just me and my rumbly tumbly and enough freedom and disposable income to make it interesting. When I'm done daydreaming and remembering and purchasing my products of middle aged despair, I get to go home to The Good Man who smells of soap and cute boy and is a pretty gosh darn fine reason for going home.
For some reason, even with my frowsy ponytail and corrective lenses and an occasional bout of lactose intolerance, he still thinks I'm pretty cool. And pretty.
Crazy ol' fool. (Me, not The Good Man)
Photo from coolead's Flickr photostream.

(I started this post yesterday and intended for it to be posted yesterday…. *sigh* The best laid plans of Mice and Karen…and things like that…..)
Here it is Monday and I'm at a standstill for blog ideas. Mondays seem to be ripe for hitting that mental gridlock, so in an effort to break loose, I went back to the Unconscious Mutterings word association well for this week.
That's right, I'm free associatin' again. Here's hoping it breaks loose the cement in my creative brain.
Read on:

_________________________

Analytical:: Something that I am not. I don't say that out loud because this word "analytical" is a big buzz word in the business world. It's assumed you have to be analytical or you'll get NO WHERE in your career. It's all about the numbers! Who cares if the numbers are right as long as the pivot tables on the spreadsheet look REALLY good. To get around my personal limitations, I instead hire really wonderful analytical people and they do spreadsheets for me. It's just easier that way.
Production:: Why's everyone gotta make such a big production about being analytical?
Softball:: What a perfect thing to be doing today rather than sit at my desk, metaphorically banging my non-analytical head against it. Sure, I can't hit and I can't field. But it's a lot of fun to try.
Uniform:: For as much as I like fashion, sometimes I think it would be easier to wear an uniform to work every day. Yes, I know, it would kill my creativity and I'd probably hate it after a while, but on those days when I'm tearing my closet to shreds because I can't find anything that makes me happy…well, a nice uniform would sure be easy.
Intangible:: Pros and cons, right? Wearing a uniform gives you that intangible feeling of being a part of a team. But it can also give you that intangible feeling that you don't matter as an individual. Hmm.
Grill:: Non-sequitur time: There are very few things that taste better to me than a cheeseburger off the backyard grill. Not one of the fancy new gas grills, but the old fashioned start a fire with lighter fluid sort of grill that burns the edges of the burger patty. Yum!
Second base:: So one of the pretty cool things about being married is that there is this cute boy that sleeps in my bed every night. I can be fast asleep and dreaming, then roll over and my arm flops over and whoa! I think I just got to second base. Without even trying! Heh. That's not such a bad benefit….
Citizen:: I got nothing for this one…watches, maybe? I Googled the word citizen and watches were the first hit. Because commercialism wins out over patriotism every day of the week.
Celery :: I love chicken salad, especially when it's made with chicken thighs. So tasty! But damn I can't stand it when there is a bunch of celery in there. I know so many people like that crunch, but to me it detracts from the chicken salad yuminess. That goes double for apples in my chicken salad. Yuck!
Opera :: Who among us hasn't once, at least for a moment, been an opera singer in the shower? Am I right? I know I'm right. Then again, I usually forgo opera for good ol' fashioned rock and roll. HAAAAAUUUUUWW! (<-- that's a sort of Sammy Hagar-esque yell, in case it wasn't clear.)

Ok, good. The randomness is helping. Randomness is a good thing.
And with that…back to work!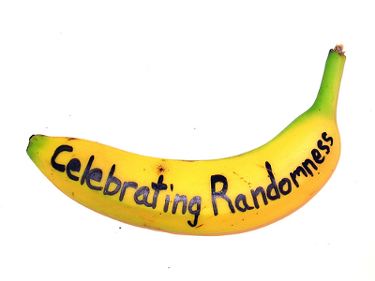 Image found in several locations on the net, but unable to find attribution. Will remove or provide attribution details at the request of the owner.