There I sat last night, watching something or other on my iPad in the living room. The Good Man was there too, doing something similar.
It was a nice quiet Sunday in the house of The Good Man and we were calm and enjoying the company of both electronic devices and each other (not in that order).
Suddenly I had this feeling like someone quite strong had bumped very hard into the back of my comfy chair, shoving it over about an inch or so.
Odd, though, because the chair backs up to a wall in our apartment so no one could have rammed it from the back.
Then I heard the large picture window behind me creaking a little and the front door rattling in its frame.
This led me to a big panicky feeling of, "oh my gosh, someone is breaking in!"
My now large eyes went to The Good Man, panic all over my face, mouth agape.
There he sat calmly, cool as a longtime Californian cucumber.
Every one of my nerve endings was on jangle. None of his nerves even put up their head to see what was going on.
Then I realized what was going on. "Was that an earthquake?" I asked frantically.
"Yup," he said casually. "It was a good roller. I wonder how big it was? Oh, the USGS site is down because of the government shutdown. Let me see…"
I replied, "You look at your sites, I'll look at mine."
While he looked for scientific data, I took to Twitter and Facebook.
This is what Californians do when there has been an earthquake. Everyone goes online or turns on the news to see how big it was, then everyone talks about it. Where they were, how it felt, etc.
When all was said and done it turned out to be a 3.0 (just a lil' ol' teacup rattler, really) and it was centered somewhere nearby so we felt it a little more strongly than others.
The Good Man went casually back to his book. I sat in my chair and shook like a Chihuahua for a while, then went back to my Netflix show.
No matter how long I live here, I will never get used to the earth suddenly moving under me. It is simply creepy.
Longtime superstitious Bay Area residents will talk about how October is earthquake season. That's when the big 1989 quake happened and everyone seems to believe the conditions are right this time of year.
Me, I know better. The ground shakers can happen anywhere, anytime.
There is also a faction of people who say "The little quakes are good! They release pressure keeping us from a big one."
I would really like to believe that's true. It's not, but I want to believe.
Meanwhile, Sunday brought just another shakah in this crazy mixed up California life.

I say, good madam, t'was but a shaker. More gin?

Photo Copyright 2013, Karen Fayeth, taken with an iPhone5 and the Hipstamatic app.

For my week in Costa Rica, this was the view out of one of my hotel windows.
It cheered me greatly, though I had to look up what pongámosle meant.
It means "give me."
How utterly charming!
Yes, Costa Rica, I shall give you my green heart. And you shall give me yours too.
Photo copyright 2012, Karen Fayeth, and subject to the Creative Commons license in the far right corner of this page. Photo taken with an iPhone 4s and the Hipstamatic app.

I was so impressed by a Hipstaphoto I saw in December where a photographer had used an Olloclip to capture a snowflake, that I just had to go out and purchase one of my very own.
After the Christmas holidays, they were on major backorder, so I wasn't expecting my new iPhoneography device until February.
I did a little hop click of my heels when it arrived this week.
Super!
Between moving and the deluge of new projects at work, I haven't had a bunch of time to play with the glass lenses and ingenious clip for my iPhone.
Yesterday, I sat in the work cafeteria slumped in my chair trying to get in some nutrition, and my eyes landed on this tableau:
Well, the light was nice and the shakers were interesting. So I decided no time like the present.
I dug the Olloclip out of my pocket, slid it on the iPhone, and took some quick snaps.
These aren't well composed and in some cases, focus is a little wonky.
And yet, I'm deeply impressed.
These three shots were all using the macro lens:
Red pepper flakes. They almost look like jerky. The light streaks are from the sun bouncing off the ridges in the shaker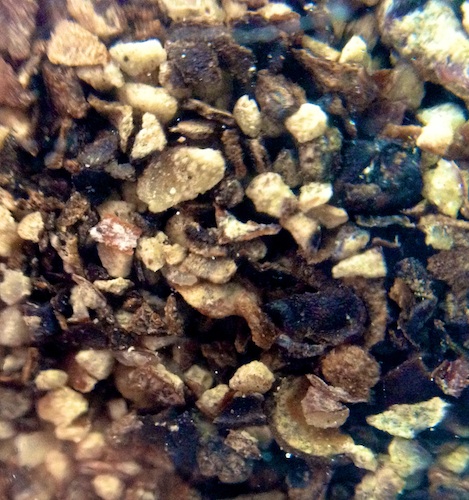 Pepper that looks like grains of sand.

Take this photo with a grain of salt

So far, I'm digging the Olloclip. I still have to try out the fish eye (though I'm not really a fan of fish eye lenses) and the wide angle. Honestly, I bought the Olloclip for the macro lens, so I expect the other lenses won't see as much use.
I think the quality of the Olloclip is a bit better than the Macro Cell Lens Band (reviewed here) mainly because it's made of actual glass and not plastic, but I find the lens band more portable.
Either way, they make delicious looking macro photos. Time to explore!
Happy Friday ya'll.

It should be noted that I paid for the Olloclip myself and that this review was not solicited, nor was I compensated. I'm just a giddy fangirl and proud of it.
All photos Copyright 2011, Karen Fayeth and subject to the Creative Commons license found on the far right column of this page.

Today's Theme Thurday theme is: produce.
So let's produce the produce! (<- see what I did there?)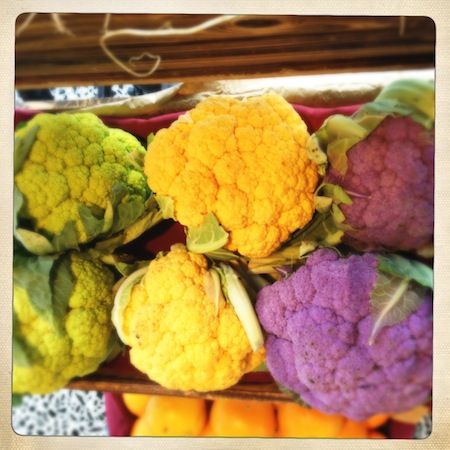 Photos taken in my cafeteria at work with my iPhone4s and the Hipstamatic app……and in the middle of an extraordinarily busy day.
Theme Thurday waits for no BossMan, no matter how demanding.

I'm rather blown away at the recent rapid advances in the quality of mobile phone photography.
The art from has gone from a simple lo-res snap and upload to Facebook, to a genuine, respectable medium.
Today I'm going to gush like a lovesick schoolkid over a product from the Photojojo store that just happened to find its way under my Christmas tree.
Called a Macro Cell Lens Band on the store listing, it retails for $15 and is simply a small macro lens that fits on my iPhone by way of a sturdy rubber band.
Here it sits my iPhone (photo taken with The Good Man's iPhone):


Easy to install, easy to use.
Since the internet is loaded with budding photographer's photos of cats, I decided to turn my new lens on my other unsuspecting pet, my male Betta fish:
Here he is: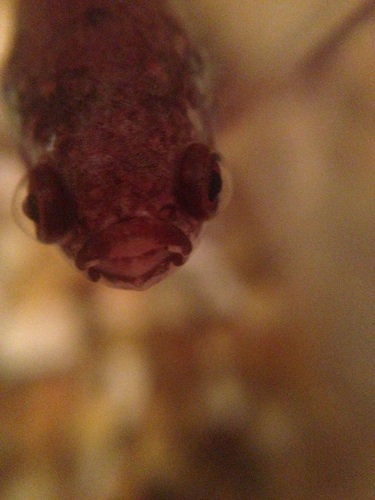 Photographing a fish is rather challenging, in that he is constantly on the move. The camera on the iPhone4s has a much quicker shutter and handles light so much better that previous versions, so I was willing to try.
One thing about this little macro lens, you gotta get close up on your subject. The little card that comes with the product suggests about 1 ¼ inches. That's pretty close. My Betta is terrified of my big DSLR but seemed curious about the iPhone, so that helped my cause.
I've noticed when shooting my very expensive macro lens on my DSLR, I struggle with focus. The macro lens will only make one part of the photo crystal clear and the rest is not.
This little rubber band lens is the same. I love that the little fishy's eyes are so clear and detailed. I just wish the rest of his face was too.
It's such a handsome face.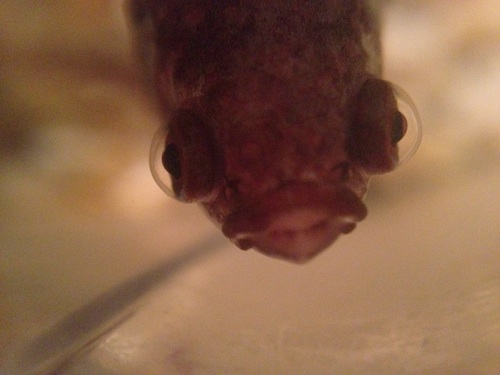 Due to the low lighting in the area where the fish tank is located, these photos are a bit noisy, but not terribly so. I think with more light that would be less of an issue.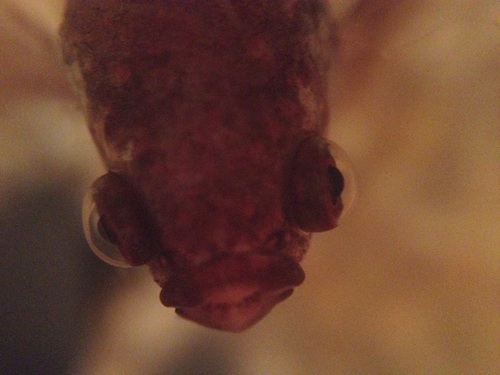 The Good Man says this one looks like Admiral Ackbar

Overall I'm deeply impressed with what this inexpensive little lens and an iPhone can produce. These photos were taken with the Camera+ app, by the way.
Just a little bit of magic on a blue rubber band. Brilliant!
My next mobile phone camera add on will likely be an Olloclip, which is considerably more expensive (about $70USD), but also considerably more advanced.
Look at this photo of a snowflake on a pine needle. It was posted on Facebook by Hipstamatic Rocky Mountain and he used the macro lens on the Olloclip and the Hipstamatic app.
Incredible!
And in my humble opinion, a huge leap forward for the medium of iPhoneongraphy.
Photo owned and copyrighted by Hipstamatic Rocky Mountain

This was not a paid review for any of the products mentioned in this post. This is simply my joy and enthusiasm for new techniques and tools for the art of iPhoneography.
Other than the snowflake photo, all photos in this post are Copyright 2011 by Karen Fayeth, and subject to the Creative Commons license found in the far right column of this page.