So without going into specifics (because it's the internet and who knows what people do with facts anymore) the job I do every day is, essentially, a customer service gig. We don't support the general public, but support the operations of my employer. We serve all of my coworkers as customers. Confusing enough?
Anyhow, since we have a focus on customer service and have standard corporate performance measurements to maintain, on a regular basis we send surveys to our customers to ask how we did so they can grade us and provide feedback.
Fairly standard stuff. If the surveys for my team come in good, then fabulous. It's logged and reported and so forth. If a survey comes in bad, then a member of the team that collates responses will discreetly make a copy and slide it onto my desk. This usually happens when I am off in a meeting or something so they don't have to make eye contact. It's all very clandestine.
Bad surveys happen. It's normal. I usually review them, see what the beef is about and move on.
Except for yesterday. Yesterday gave me pause. I returned to my office to find the dreaded folded sheet of paper on my desk. "Ugh" was my first thought as I unfolded and read the survey.
It was a good time. Suffice to say, my team was blamed for everything wrong in this person's life, including (and I'm not kidding) the reason the person is leaving our institution to go work somewhere else. All our fault.
The words "byzantine" and "Kafkaesque" were used. And after looking up what those words meant, I was really offended.
Just kidding, I wasn't offended. To be honest if bureaucratic, surreal and nightmarish processes aren't your bag, then working anywhere that receives federal funding is not going to be a fun time.
This unhappy person did wrap up by saying they thought my employee that they worked with lovely, but the processes were ugly.
Fair enough.
To be honest, I appreciate this customer for giving me the first good laugh I've ever had over a bad survey response.
And the search for just the right image for this post was also a nice distraction from my byzantine day.
I think I nailed it:


**An actual Franz Kafka quote that just supremely fit this post
It's been far too long since I was here on the ol' blog. I started writing on Tuesday and found, well, I was going to need several pages to write what was on my mind. So here is part one of what I think will be a three or four part series.
Since this blog is called Oh Fair New Mexico and I have been a little neglectful of writing content about my home state, I am going to do it up right by talking A LOT about New Mexico over the next week or so.
Thanks for coming along for the ride!

Holy guacamole, here I find myself at Tuesday, rushing through the work day, trying to keep my head above water (literally, it's a frog strangling rain out there) and doing my best to be a decent grown up and contributing member of society.
It's been over a week since I sat down and had a good blog style cuss and discuss.
Well hell, let's fix that.
Here we go!
Last week I had the great joy of being back in the motherland of New Mexico. It was a very fast whirlwind tour and it seemed like I had only one blink and it was over. One minute I was enjoying a Navajo taco and then whoop, suddenly I was back on a plane heading home.
Yeeks! I need more time. I need time to slow down a little too, if I can take this time to ask for favors.
The main point of my trip was to see my best friend in the entire world. We were last together a year ago and that is entirely too long to wait. We had some things to discuss and we did. We had some other things to discuss that we just didn't get to, and that hurts my heart.
I also got to be with my two goddaughters who have decided to go ahead and grow up without my consent. I did not authorize this! To me they are still cute little biscuits and Nina Karen can make it all better simply with a hug.
Nah, now they are in that teen area and I am watching them grow and learn and push against the edges and evolve.
It's both satisfying and heartbreaking to watch. I want to fix all the mean things and make the world easy for them, but goodness knows that is not what they need.
So I will just keep loving them and worrying about them and hoping they still want to know their Nina as the years go by.
The four day journey was a fun one. The lovely ladies of Las Cruces picked me up at the Albuquerque airport and we were off in a flash of a bright white Suburban with Nina Karen wheezing from the asthma. My allergies remember New Mexico. Oh how they remember.
May I just pause here for a moment to share my soul saddening moment from the Albuquerque airport?
It has been since 2009 that I flew into ABQ International, and they have certainly done a lot of work on the place. Fair enough, it needed the touch up and the changes look great.
I came off my plane and looked around and saw mostly familiar sites and knew I was home. As I made my way to baggage claim, I came out of the security area and there I saw a sight I had a hard time believing.
On a wood pedestal, like some kind of damn museum piece, was the beautiful hammered tin clock that used to hang high and proudly from the vaulted ceiling of the main terminal before it was a Sunport and was just a regular old airport.
That timepiece goes back to my childhood. I have stared up at that clock to measure time for as long as I have been alive. It's been there even longer than I have been alive.
Once majestic, beautiful, useful. Something with meaning.
Now, it's something like a museum relic.
This, this is the beautiful clock that makes my tummy tense when I see it because it *means* something:

And this is where it lives now (and I do it no justice with terrible photo quality):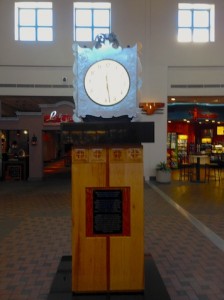 I wasn't sure how to handle the feelings this brought up. I was happy to finally be able to see this beautiful clock at such close range. I could admire the details. I was also saddened that this useful object not longer hangs proudly over the airport.
It's an aged relic. Um. Like me?
Turns out that the idea of "something I once knew well is now something quite different" would become a theme for my trip.
It began with my precious hammered tin clock. It extended to my gorgeous god kids who aren't kids anymore.
This was kind of a tough trip for the little girl from New Mexico.
Coming up: Part II, Somewhere In Between

Photos Copyright © 2014 Karen Fayeth and subject to the Creative Commons in the far right column of this page.

Oh the weather outside is…
Wow! Really nice. Quite sunny actually. Gotta love California.
And the fire is…
So bloody hot I'm pitting out over here. Would someone open a window?
And since there's no place to go…
Damn tootin', traffic out there is an obscenity. I'll gladly stay home in my yoga pants with the hole in the leg and my battered Louisville Slugger Museum tee shirt. Sipping spiked eggnog (with a Lactaid chaser).
Let it snow, let it snow, let it…
Whoa. If by "snow" you mean cookies and if by "let it" you mean me eating, then yes. Let it cookie all over the place.
Otherwise keep those soggy flakes to yourself.
Chestnuts roasting on an open fire…
Again with the fire? I am going to have to get a fan out, this is redonkulous. And chestnuts? Ew, no. I saw a package of those things at Trader Joe's. They look like something I want no part of.
More cookies please.
Jack Frost nipping at your nose…
That is assault and battery. Back off Jack.
Yuletide carols being sung by a choir…
Ok, that might not be so bad. Can I watch them streaming on my iPad so I can pause when I need to head to the little girl's room after all that nog?
And folks dressed up like Eskimos…
Lord, I hate wearing a coat. Thank goodness I live somewhere that is mostly warm.
Jingle bells, jingle bells, jingle all the way…
Now you look here…Mommy has had a little too much spiked eggnog and she's in no mood for your shenanigans. You shake those gall damn bells one more time and I'm going to shove them so far up your [censored] the light from Rudolf's nose won't be bright enough to help you find them.
Got it?
Come, they call him pah rumpa pum pum…
You too drummer boy.
Go tell it on the mountain…
Yes. Go. Quickly. Mountain. Far, far away. Move it!
Hark! The herald angels sing…
Did you ever wonder who this Harold Angel guy is and why we sing about him every year? That's a good gig. You think he gets residuals?
Wait I'm out of eggnog.
Now I have some place to go. Good thing the store is just across the street. Food stained yoga pants and flip flops are acceptable outside attire, right?
You all just be a good little silent night until I back. Keep your joy to the world to your own selves.
And someone get that damn partridge down from the pear tree. He's scared up there.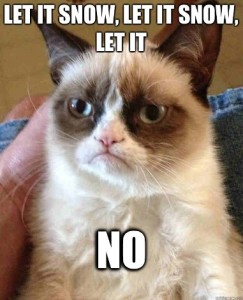 Image found all over the place on the net. This one found here.

I've been a San Francisco Giants baseball fan for a long time.
And in my many years, I've learned this: Nothing is ever easy with this team.
Nothing.
My gut was in a clinch all day as my Giants faced a Game 5, do or die, win or go home game against the Cincinnati Reds in the National League Division Series.
When Buster Posey hit a grand slam in the 5th inning against the very tough Mat Latos I jumped up and down in my office and clapped and shouted and whooped and hollered.
Then I remembered that I sit next door to the Vice President and he was on a con call being all VP-ish and important at that same moment.
I later apologized to him and he grinned. "You must have been listening to the radio because I was watching online and I heard you celebrating about five seconds ahead of seeing it online. You only get away with that for the Giants!"
Rock on.
In the nail tearing bottom of the 9th my boss was in my office drawing something Very Important on my marker board and I was trying desperately to pay attention and answer his questions while checking my phone every two seconds and…good lord how long was that at bat with Romo pitching and Bruce at the plate…? And all the while The Good Man is sending me texts and my boss is blah blah blahing because he's a damn European and what does he care?
I reminded The Boss that I had to endure the Euro 2012 football championships while I was in the UK in June and he could bloody well deal with this today. Seeing his boss (the VP next door) running into my office shouting "THEY WON THEY WON!" certainly helped pipe him down.
This was a tough day at work because of work stuff. This was a stressful day at work because of those damn Giants and their special brand of delicious torture.
And then I saw an image online from today's game that just perfectly summed up how it all makes me feel.
A little blown back by it all, really.

Just a leeeeetle inside for Pablo Sandoval. Photo by Michael Macor for The Chronicle

Image by Michael Macor for The Chronicle and published in SFGate.

So here's the thing….today's Theme Thursday is: temptation.
It's a good word. A juicy word. I should be able to really sink my teeth into that, right?
Um. Yeah. No.
Maybe it's one of those words that could go so many different directions I can't pick just one.
Or maybe I'm just a little dull inside today. It happens.
So I Googled the word temptation and inadvertently added an s on the end, which brought up several rockin' broad collared photos of the band.
Which made me think of The Pips.
Which made me want to repost this, which has absolutely nothing to do with the word temptation or the band The Temptations.
Thankfully the Theme Thursday crew is very forgiving.
Without further ado…whooot woo!
____________________________________

Originally published July 20, 2011
Wanted: Three Pips, Immediate Hire, Reasonable Rates

This morning my eyes fluttered open around 6am. My alarm wasn't due to go off for another hour and a half. I had a raging headache and my body decided I should get the full experience of the pain instead of sleeping through it all.
Since sleep was no longer within my grasp, but in no way did I want to get out of bed, I grabbed my trusty old iPod that I keep by the bed, clapped on the headphones and set my Pod for shuffle.
An Elton John and a couple Merle Haggards went by. A Harry Connick crooner about nightingales and London-town was certainly relaxing.
Then the opening strains of Midnight Train To Georgia filled my ears. Ah Gladys. Such a powerful voice. It's been a while since this one made it's way to the top of my shuffle list, and it was like visiting with an old friend.
I turned up the sound to hear every word, every note.
And that's when I made a decision. I need some Pips.
They provide such great affirmation.
Gladys: He's leaving/On that midnight train to Georgia
Pips: …leaving on that midnight train….whoot whoo!
Or
Gladys: And I'm gonna be with him/On that midnight train to Georgia
Pips: I know you will….leaving on that midnight train to Georgia…whoot whoo!
The Pips provide emphatic punctuation to what Gladys is saying. She's tormented. Her man is heading out of town. But her Pips back her play. They underscore her words. They give her power.
I need this. I need Pips. Three of 'em. Right away.
Can you imagine how empowering this would be?
Karen: Hey boss, we need to chat
Pips: bossMAN…gotta have a chat…
Karen: I think I need a raise
Pip: You *know* she needs that cash…whoot wooo!
Yeah, I mean how could I get a no to my request with the power of the Pips behind me?
Or in a very important negotiation:
Karen: So Supplier, your pricing is too high, we need to cut 20% out of the quote
Pips: You know that quote's to high…twenty percent…oh no!
Or employee relations:
Karen: So, I noticed you've been missing deadlines lately
Pips: …Missing them deadlines…
Karen: That's not good
Pips: …Not good!…
See what I'm saying? I think you do.
So now, next steps. Where does one go to hire a set of Pips?
Monster? LinkedIn? Maybe Craigslist.
Wanted: Three Pips. Must enthusiastically support everything I say. In harmony. Multiple woot wooos acceptable. Must provide own wide lapel leisure suits. Please apply via email. Provide references.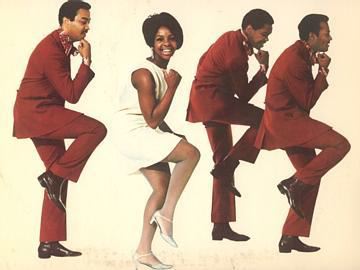 Photo found on this blog without attribution. If this image belongs to you, please contact me and I will gladly remove image or add proper attribution.