My employer is weird. This is known. And one of the weird things they like is to have portraits done of all of us minions every couple years.
The employer has a professional, award-winning photographer on staff and in addition to his amazing photos of amazing science, the poor guy also has to sit in a conference room while a parade of geeks, nerds, scientists, engineers, and dorks like me clomp through.
Last time I had a work photo taken, it was two years ago. It was a humid day. I had to walk up a steep hill to get to the place where the photos were being done. I was running late because I couldn't find a parking spot.
I'd sweated my makeup off and my hair frizzed to cotton candy status. Then I sat down and had my photo taken. It's awful. And it's published on my department's website for all to see.
We're encouraged to use that photo as our email avatar. Nope.
Today is the day when new company photos are being taken. Argh. I have been, to put it mildly, obsessed about this. I want my new professional work photo to be something I am willing to look at.
Yesterday I carefully examined all of the photos of my coworkers in the photo archive to assess what works and what doesn't. This morning I curled my hair. I put on makeup. I fussed.
At about twenty minutes before my appointment time, I sat at my desk fretting. I decided to open Photobooth on my Mac to get a real look at how things were working and what needed fixing.
I gazed into my laptop camera and took a couple shots. I evaluated the smile, the hair, the lipstick then I went back in to try again.
I was staring the camera dead on, trying to smize when in my peripheral vision I see one of the auditors come walking down the aisle. The very serious big 4 outside auditors here doing serious stuff like auditing financials. And here I am, a manager, supposed professional, at my desk selfie'ing.
So I tried to play it off real quick. I looked away and was acting all like "no, no selfies here." And "Yeah it's cool, ain't no thing."
And then the Photobooth "flash" popped (it flashes a blank white screen). Busted.
Yeah. Um.
Anyhow, I took that photo of my shame, cropped it, sent it through an Instagram filter and now it's arty. Thoughtful. Meditative.
Nah, it's just me trying to look cool and failing miserably. Welcome to Dorkville, population me.
I sure hope my professional photo turns out a lot better.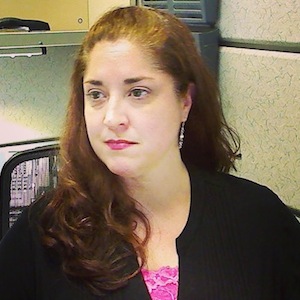 Thinking so hard right now.

Photo Copyright ©2015 Karen Fayeth and subject to the Creative Commons in the right column of this page. Please don't use this photo elsewere. I'm asking nice. Photo made with Photobooth, Instagram and my special brand of genetic dorkiness.

Every year in December my local paper, the San Francisco Chronicle, solicits reader suggestions for the word of the preceding year.
From those suggestions, the staff picks the annual word with an eye toward choosing the word that best sums up the year in news.
In 2009 the word was Tweet. In 2008 the word was Bailout. In 2007 the word was Subprime.
Getting the trend here? Something popular, perhaps overworked by the media. The word on everyone's minds.
This year, the staff of the Chron went a little less global and a little more local.
Here's the back story:
The San Francisco Giants baseball team has an award winning local broadcast team made up of former SF Giants pitcher Mike Krukow and former SF Giants shortstop Duane Kuiper, known together as "Kruk and Kuip."
Neither of these men had stellar baseball careers, but in their retirement gig as broadcasters, they have really made their mark.
These two are colorful, fun and knowledgeable. They are revered here in the Bay Area.
At the end of every game, the television broadcasters (usually Kruk and Kuip) and the radio broadcasters (usually Jon Miller and Dave Flemming) will get together on the radio for a post-game wrapup.
It's their chance to talk about the game, pick their favorite players of that game, and generally cuss and discuss. These post game shows have become very popular, mainly because the style is very casual and conversational. The listener feels like they are sitting in at the table with these four guys (and sometimes former first baseman JT Snow) having a beer and discussing the day's work.
Over the course of the 2010 baseball season, it wasn't always a smooth ride for my lowly Giants. They played in a lot of tough games that were often decided by just one run.
Out of eighteen games over the season with the Padres in 2010, eight were determined by one run. In the month of May, the Giants had ten games decided by one run out of 28 total versus all opponents.
At the end of April, just the first month of the season, the Giants had lost two games back-to-back. The Monday game was a ten inning loss, and the Tuesday game was a one hit game lost on a walk off run by David Ekstein (who had so plagued the Giants in the 2002 World Series).
It was emotionally taxing.
So, when Kruk and Kuip hit the air that next day for the third game of the series (in which the Giants were ultimately swept), Kuip used the San Francisco Giants own PR slogan in an exasperated way.
The long running ads had proclaimed, "San Francisco Giants baseball…(pause)…there's Magic Inside!"
On that day in April, Kuip said, "San Francisco Giants baseball…(pause)…Torture!"
The phrase resonated with weary fans and the word Torture! was applied to every game, every moment, every second of agony we endured…including every single game played in the post season.
Torture became the theme of our World Series winning season. An anguished cry. A rallying cry.
And so the 2010 word of the year from the San Francisco Chronicle is…you guessed it:
Torture
What a lovely way to suffer.
(for the record, from the SFGate: ""Vuvuzela' and 'hacktivist' finished second and third. 'Refudiate' and 'patdown' were the other finalists…")
Trophy image taken by a corporate photographer from my place of work and used with permission.
You spend time refining your art. You take classes. You learn your tools. You seek out a mentor. You push your bounds and find your limits.
But you can never, ever predict what work you do that might capture the attention of others.
For me, with my photography, it's been about patience. About learning how to set up a shot. Understanding the exposure triangle (ISO, aperture, and shutter speed) and how to apply it.
I study other people's photos. I figure out what I like about them and what I don't, and I learn. I try to replicate. I use the levers and switches and sliders and I take them to the very ends of their capability to see what I like.
And sometimes I get a really good shot. Something I'm excited to share.
Every once in a while, something special happens. Something like…a parade.
And I think to myself, "well, why not take the camera."
So there I am at the corner of Market and Powell in San Francisco, and trolley cars start rolling by carrying the players from this World Series winning team.
The light is terrible. Not only am I down in a canyon of tall buildings, but my subjects are in motion. I bump ISO, but that gets too grainy. I fiddle with white balance, one setting is too blue, the other too yellow. I mess around with my aperture. A little depth of field or a lot?
The parade is in full swing so I begin shooting away. I'm using my 70-300 lens so I can see faces.
Later, at home, I download the batch, some 200 in all. Most photos are blurred. Some turn out ok.
But there is one. Something magic. Something special. Something unpredictable.
And out of nowhere, six hundred and fifty people have looked at my photograph on Flickr.
That photo is below. It is San Francisco Giants players and best friends Aubrey Huff and Pat Burrell. Aubrey has just handed Pat a Bud Light.
Oh, might I add…Aubrey is wearing his Cooperstown bound red "Rally Thong" around his neck.
Why look at that. It is San Francisco Giants manager Bruce Bochy!
Hey Boch…what's that you got there? Oh. Right.
The 2010 World Series Trophy.
Yeah baby!
Photo by Karen Fayeth, taken at today's victory parade through downtown San Francisco!
Woot!