Here it is, Sunday, January 7th and I'm staring down the barrel of Monday.
It's time to get myself back into gear.
You see, not only does my employer shut down between Christmas and New Year, but I was also able to scrape up enough hours to take this past week off. I've just had seventeen glorious and fun filled days away from work. Days of setting my own agenda. Of not looking at work email. Of working on photography at midnight if that's where the fancy took me because I could sleep in the next day and the next one after that.
Last week I existed in a fabulous sort of limbo land. 2017 no longer, not quite 2018. It suits me.
All good things must come to an end, and so must my extended vacation. Tomorrow, reality slaps me across the chops, as reality is prone to do.
This morning The Good Man and I left our warm and cozy home to venture out into the rainy, wintry cold for Sunday breakfast. Pancakes to bid adieu to vacation and bonjour to 2018.
Through visible breath and rubbing hands together I looked up and saw a bright red maple leaf shellacked to the windshield. "Hey that's pretty," I said and took a quick snap.
Now, I realize that in this simple winter image I somehow exactly captured my mood. No more holly jolly songs and soft Christmas lights. No more Santa and wrapping presents and warm cookies baking in the oven.
It's now winter, plain and straightforward. No more looking forward to the holidays, instead we look to Spring. I have a lot of (needed) California rain to endure this year because that is what the Bay Area does in winter.
This is the long slog, when it's still dark early and foggy mornings and shivery cold.
But soon. Yes soon, the world moves into winter so we can know the spring. Daffodils and cherry blossoms are just around the corner, but for today it's a sodden leaf in cold rainy hazy blue surroundings.
So I won't lose hope. Tomorrow may loom large, but I will pop back to the surface like a bobber and keep swimming. I will have great successes and I will fail a lot too. I will be mad and sad and happy and grumpy and overtired and all the things I was on December 21 when this wild leave from work began.
Okay 2018. I put you off as long as I could, but you are now top of my To Do list and I'm going to tackle you.
Starting tomorrow.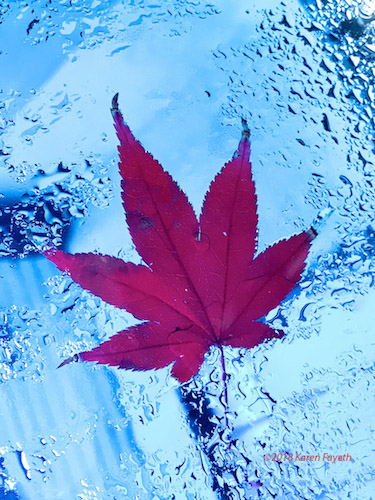 ©2018 Karen Fayeth

This morning, like most weekday mornings, I hopped into my trusty old Jeep, fired 'er up and took off, careening toward my place of employment.
As I traversed one of my hometown's very busy main roads, I glanced into my sideview mirror, as any safe driver would do.
As I glanced, I saw a little leggy burble and a pop and this thing emerged: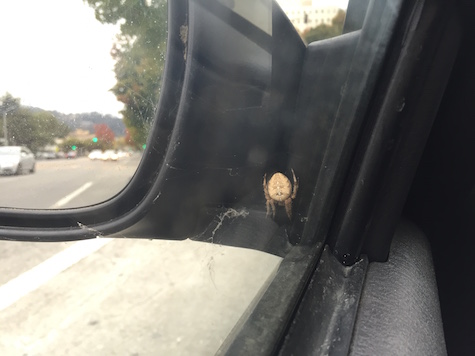 See the hinge for the mirror? It had somehow packed itself in there.
I should note that I was so startled that I had to pull over to the side of the street and consider my options. Also to take a photo to send to The Good Man. It was essential to document the situation in case my Jeep and I were later found suspended from a stop light, wrapped in silk and drained of fluids.
Let me zoom in a little closer for ya.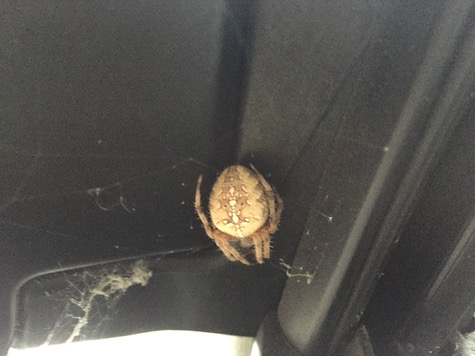 The Good Man refers to this time of year as "Chunky Spider Season." It's true, our current hometown is very, er, spidery. More than any place I have ever lived. And they are often quite big. And chunky.
At home, I park on the street near a tree and some brush. These eight legged demons seem to consider the Jeep part of their homestead. I often brush webs off every corner of the Jeep, including when they manage to string webs across my roof rack.
But this, today, goes beyond the pale.
How about an even closer look, because you need to know my fear.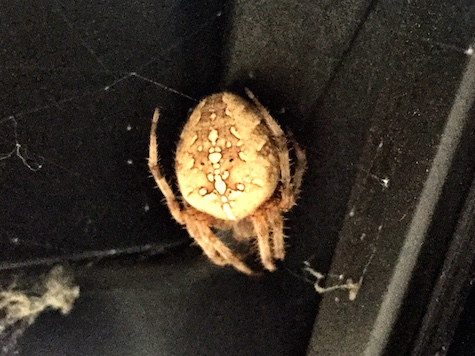 After snapping photos, I cinched up, put on my determined face, then re-entered the roadway at speed hoping this sumnabitch would fly off in the wind. No such luck. It first hunkered down, then feeling carefree (I assume), it later spread all eight of its legs as though surfing the breeze.
Hitting speedbumps at a hard pace didn't seem to help either.
Soon, I arrived at work and had to unroll this window to reach out and badge into the garage. Thankfully my new overlord didn't seem to flinch much.
But it's still there. Still hanging out like it owns my Jeep. Like I am just a pawn in its spidery game.
I am currently unable to exit the Jeep. This is my life now.
Someone please send help! To the passenger side, though.
Gah!
_____________

The Good Man did some research based on photos and determined this is a Cross Orbweaver and that it isn't poisonous. Fab. I'll remember that when it singsongs my name and tells me to "come out and play."

All photos ©2016 Karen Fayeth, and subject to the Creative Commons license in the right column of this page.

Inside of me there are dueling issues, and year by year it's a balancing act to see which wins out.
On one end of this see-saw is the fact that I love the holidays. Yes, I actually do. From Halloween to Valentine's Day I revel in every holiday with childlike glee. I often grumble (and will again this year, stay tuned to this blog) about the holidays when they are in full swing, but the truth is that when I'm into it I adore every holiday and all of its traditions.
"When I'm into it," ah and there's the trouble.
For the past several years I have been cranky as heck about the holidays because I was working so many hours I had no idea what week it was much less what season. In my last role, I was on so many calls across so many time zones and traveling so much I wasn't even sure of my own name most days.
So when the holidays rolled around in the past, I was not ready. I wasn't prepared because I hadn't had time to plan out what I wanted to do, and I was mad that I had lost so many days at the hands of a dull corporate entity.
All of that just made me angry at the holidays for showing up when I couldn't participate.
But things have changed a bit. I'm in this new job and while I am still busy, it isn't quite as bad as it has been for me over the past several years. My new employer definitely takes note of the months and what is going on. In this job, we pause to reflect and it makes such a huge difference.
Also, now that I live in a university town I'm much more aware of the time of year, ranging from school's out and it's summer to Fall football games.
I have already warned my darling Good Man to watch out, I'm officially "into it" this year. Oh yes, there will be cookies, and decorations, and costumes and more. I will probably even decorate my cubicle at work this month. There are prizes for Halloween décor!
At first I was quite resistant to the coming of Autumn, but now I am reveling in it. That said, I still have not imbibed a pumpkin spice latte.
Yesterday morning I set out for work, smiling at the beauty of the Indian Summer sunrise here in the Bay Area.
I walked to my car that was parked out in front of my building and I saw something tucked into the door handle on the driver's side.
At first (from a distance) I thought it was another ding-dang parking ticket. But no, that would have been tucked under my windshield wiper. Then I thought it was a note someone left because they'd bashed my car. No, turns out it wasn't that either.
Then I let my mind wander and I remembered back to when I was in college at NMSU. For a little while I dated this rather dashing cowboy who happened to have something of a romantic streak and a poet's heart.
Every now and then he'd leave a little love note on my car when I was in class. To be honest, I still have those notes somewhere in a box of mementos.
I grinned a little as I thought maybe I had a secret admirer. A furtive love.
It turns out that it's true, I do have a special beau.
Yesterday I received the most lovely (yet crispy) mash note from endlessly romantic Nature.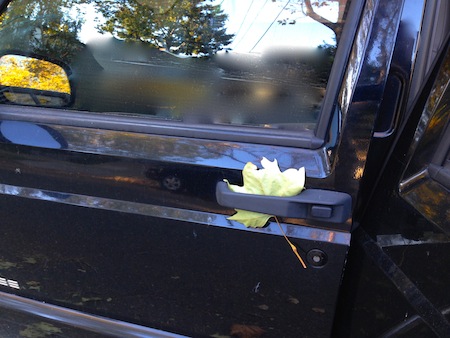 Thank you beautiful Autumn for the reminder that I need to get outside a bit more and roll in the leaves and smile at the early setting sun.
All of these years I've just sort of ignored you as you passed me by, but not this year. Today I return your affection, my glorious orange and red and brown Fall.
I am your secret admirer too!

Image Copyright 2013, Karen Fayeth, and subject to the Creative Commons license in the right corner of this page. Taken with an iPhone5 and the Camera+ app.

Look at it, isn't it lovely? It's own glimmering constellation. A shimmering planet hovering in space, reflecting the rays of light.
An ethereal orb. A beacon. A sign.


Or.
The m-effing new ding in my windshield. This was caused by a rock flung from the tires of a big truck as I drove down 101 yesterday afternoon.
It's only mildly funny that it happened as I was smack in the middle of a great big yawn. Biiiig sleepy yawn and then *whang*.
And then the curse words. Lots and lots of curse words. A string of expletives befitting a sailor on shore leave.
Because, of course, this window pock is right at my eye level on the driver's side.
Which means in addition to the other eight thousand things I have to do this week, I now have to deal with my insurance company.
One of my very least favorite things to do. Just above a DMV visit for a new driver's license and one rung below annual lady physical.
Rattin' smattin' rootin' tootin' gall durn window ding.
Gah!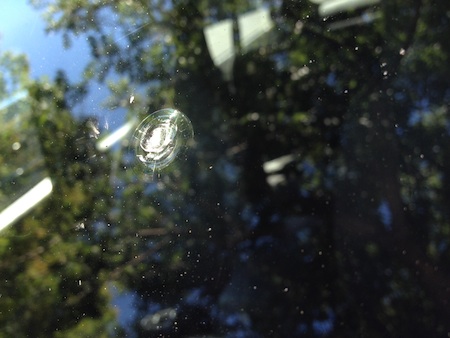 Photos Copyright 2012, Karen Fayeth, and subject to the Creative Commons in the right column of this page. Taken with an iPhone 4s and the Camera+ app.


Ok, look. Facebook finally got me. Like a hungry, persistent mountain lion, it pounced on me, grabbed me by the throat and took me down.
Anyhow.
As I've been spending more time in the cavernous Facebook labyrinth, and seeing a lot of pages and a lot of faces, I'm starting to notice a trend.
Remember the infamous MySpace pose? That's the self-photo taken with the camera above you, eyes looking up but chin down. Yeah, I think we've all seen plenty of that pose.
But that's so over now.
The pose I'm seeing a lot of these days is the in-the-car self-photo.
Yup. Hold the phone way out to one side and snap a shot of yourself in the driver's seat. Post it. Magic.
Look, I fully understand the need to look good in our Facebook profile. An old boyfriend from college might show up or something!
So what's with the in-the-car profile photo and how can we make it better?
I will now dig into my deep and (not so) closely held secrets of the art of photography and perform a public service.
Ya wanna know why you like that photo of yourself in the car?
Two words: Natural light.
We ALL look better in natural light. When you are in your car, good ol' fashioned sun comes pouring in through all the windows. Real sunlight makes you look hot.
I'm not kidding.
So assuming you want to have a nice photo of yourself on your Facebook page without your steering wheel in the background, and assuming you are all alone or too shy to ask for help, and assuming you want or need some advice on self portraiture…..


Here's Karen Fayeth's tips for a smoking hot profile self-photo:


Either get outside or if you have a nice sunny spot in your house filled with natural light, go there.
Next, what would be a nice background? How about a wall with a fun pattern or a wood fence with character? Sit down and lean back against it. Sit up straight! No slouchy here because we'll all see it.
Make sure the sun isn't shining directly in your face. That will make you squinty. Make sure the sun isn't directly behind you. That will make you halo-y and a dark shadow. It works best if it's a sunny day but you are in shadow, or the sun isn't directly on you. An overcast day is even better. That diffused light is majorly hot.
Hold your phone camera out at about eye level and a little off center. If you hold it above your eyes, you'll get that eyes-up MySpace look. If you hold it below, now you are looking down and no one likes a double chin in their photo.
Keep your chin up but not too high. Keep it at normal level as if you are looking straight forward.
Keep your elbow slightly bent. Don't straight arm it or you will see your arm in the photo. Here's an example.
Relax your face. Don't force the smile. Try thinking about something that makes you laugh or smile naturally. Think about that time your buddy slipped and cartwheeled on the ice. Or think about how much your love your kid/spouse/dog/whatever. Something that tickles your funnybone and makes your eyes twinkle.
Look into the lens. Don't look off to the side. Don't look up. Don't look down. Look that lens square in its little lens eye and snap the shot.
And then another. And another and another and another and another.
Don't be shy to take A LOT of photos. You are looking for one good one among the many that make you go "uh, no". It's every photographer's little secret. Take lots of shots.
Wait! Don't just upload that photo you like right from your mobile phone to your Facebook page!!!
Pause.
Look at it on a bigger screen. Download it or email it to yourself and look on a regular monitor.
Check out the photo and crop it down if you want. Look in the background ALL AROUND you in the photo to be sure there isn't something weird going on back there. (be especially alert for dogs pooping, kids barfing, etc. Check out This is Photobomb for a sense of what I'm putting down here. Site not totally safe for work.)
Then, if you are happy with the photo, go ahead and make it your profile photo.
And wait for the compliments to roll in.
Oh, and one last piece of advise: Fer chrissakes, no duckface!
No photos in the mirror either.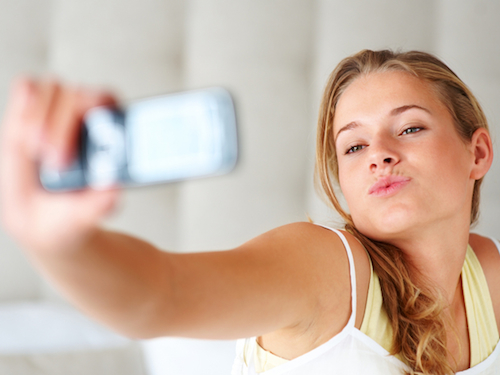 Sooo many things wrong with this technique. Good light though!

Image found all over the web. If it's yours I'll gladly take it down or give credit, at your request. Thanks! I found it here.