This has been a weird year, right? I don't think anyone will disagree. As I came sliding butt first into December, I was already disorganized and suddenly bowled over by work. By all measures, we did triple the volume of work we usually do and it was no small bit of effort to simply make it through December. But make it through we did.
In the smoldering ashes of 2016, I am working hard to get some order back to the chaos of my life. I firmly believe that being a little bit stronger, quite a bit more disciplined (and organized) and filled with more optimism will carry me through the slings and arrows of 2017.
To that end, I have returned to Morning Pages. If you have read The Artist's Way, you are familiar with Morning Pages. The idea, according to Julia Cameron, is to prime the pump. Write three pages of stream of consciousness words every morning to get into the creative flow.
Instead of handwriting pages as suggested by Cameron, I use an online tool called 750words. That tool works a bit differently than the Artist's Way describes, but that is okay too.
So as I sit here now on my fourth day of vacation, hallelujah, I am working on today's words. I have fallen out of my writing discipline and I can tell I am rusty. Lots on my mind. It's good to get back into the habit.
The best part of the 750words is that every once in a while, while priming the pump and working through the silt to get back into the flow, some solid words, some bon mots, some worthy thoughts come through.
Wanted to share these, because they may become my motto for the new year (Warning: there is some salty language, it that offends, look away):

…doubt is a persistent little bitch. Hope slides off like you are made of teflon, but doubt sticks like tar, or used up chewing gum or one of those gluey mocos you can't quite get off your finger no matter how hard you shake. Patience and discipline, that is the kleenex to your glue moco and allows you to fly once more. The sturdy facial tissue that brings back hope.

Yeah, I have no idea what any of that means, but it made me feel good to write it. Like I was really tapping into something, so I decided to share it.
Hope your end of 2016 and planning for 2017 has better metaphors. I'll keep working on mine.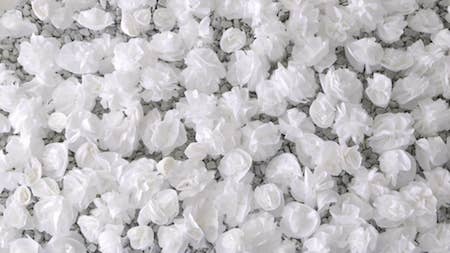 Inspiring flowers made of kleenex. Is that hope I'm feelin'?

Image found here.

When I began to seriously focus on submitting my writing to literary journals, I was schooled on the concept that it takes about one hundred rejections to get an acceptance.
Since submitting to one hundred journals takes a lot of research work, I began working with a really awesome service that helps me target submissions and keep track of rejections. Over the past several years, I have found that the one hundred rejection rule is pretty much true.
What this means is that I now get A LOT of rejections. In those first years most submissions were done by regular mail so I'd often have a mailbox crammed with rejection notices.
Now most submissions are done electronically and it is my email inbox that is filled to overflowing with rejection slips. They tend to come in waves. None for a while then six or eight at a time. Rejections usually show up when I'm having a really crappy day.
Receiving a pile of rejections just makes everything SO much better.
When I started getting that many rejection notices, it hurt at first. Each one was a tiny "ouch" and made me sad. Who could reject my perfect little carefully crafted babies?
Over time, I became immune to the sheer volume of no-thank-yous. The skin hardens a bit, the outlook toughens and now I just shrug and say "okay" and move on.
It's what makes those occasional acceptances that much more sweet. A barrage of no and then a glowing, shiny, joyful yes.
Since I have had the good fortune to receive quite a few acceptances, my submission service has been trying to up my game a little bit.
By up my game, I mean in addition to the regular submissions to a lot of fine magazines that no one has heard of, they have been adding a few more well-known and highly regarded journals to my submission list.
I'm not quite up to the point of hitting up the New Yorker for publication, but names on the list recently include McSweeney's, Harvard Review, Zoetrope and The Paris Review.
I always giggle just a little when I hit "submit" on those queries. That's because the odds of my work seeing the light of such highly regarded and high circulation magazines is pretty slim. That said, you don't hit a home run if you don't swing at a few pitches. So I swing away.
The Good Man has a different view on the rejection process. He is always happy to see the rejections in the mailbox. His firm belief is that if they are saying no then at least they considered my work, if even for a moment.
He especially loves the so-called "good" rejections. The slips that have a personal note from the editor, or say something like "while we were unable to use this particular story, we'd like to see more work from you."
Those good rejections are a tiny bit of bread to a starving writer. Those few words are enough to keep me working hard to get to yes.
Anyhow, all of this was on my mind as this morning I sorted through a stack of mail and opened a couple rejection slips. I can recognize them right away because when I do paper submissions, I include a self addressed stamped envelope.
When my own envelope returns to me, it's almost always a no. Almost. I did get an acceptance one time in my SASE. I'd neglected to open it for almost two weeks and couldn't believe it when I did open it. That was a nice surprise.
Anyhow, this morning's envelope had a postmark from New York and inside resided the tiniest sliver of paper. What I estimate to be about one-eighth of a sheet of paper.
It's from The Paris Review. A highly revered title.
They were able to spare just a tiny sliver of paper to tell me no way, Josephina.
And for a moment, I'd like to think about some low to no paid intern reading my story, considering it and then thoughtfully sending this slip.
I'm sure they LOVED my work, it just didn't fit the themes on their literary calendar. Right?
Right.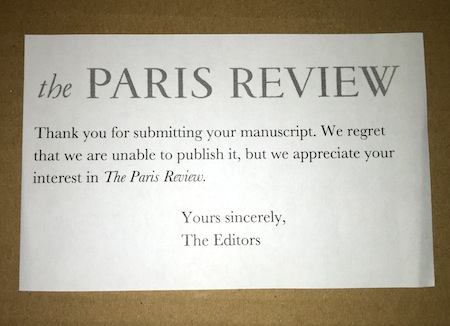 Last month I found myself in Chicago attending a writer's conference. The event was sponsored by a large publishing house and I went to learn more about the publishing industry. Boy did I.
Part of the weekend also had us working on some writing exercises. We were given a topic and told to write about it for ten minutes.
I'm pretty good at these off the cuff wind sprints, so I was sailing along nicely creating the words and feeling all of those blocks melt away.
That was until we got to the prompt: "What's the one thing you won't write about?"
Ugh. Well. The snarky voice in my head kicked in, saying things like "well if it's something I won't write about, why would I write about it here? In this uncomfortable chair. With 500 of my closest friends in attendance?"
Bah.
Then I started thinking, what really IS the one thing I won't write about?
I know what it is, but I'm still not ready to write about it.
It's grief. My overwhelming grief is the one thing I just can't write about. Not yet.
Both December and January ushered in tremendous losses for me, one after the other, and though I'm told I have to "just grieve" and "get it out" and "go through the stages" I find myself a bit at sea. There are times it shows up inappropriately and I cry so hard I wonder how I will ever stop crying.
When I do finally stop, I become near catatonic for the rest of the day.
There are times I know it's sneaking up on me and instead of trying to head it off, I am able to find a way to hide in the bathroom or outside or in my car and let it happen. A little.
And sometimes I simply have to tell the freight train that no, it doesn't get to run me over today. When I head it off, push it down, it only means the grief builds up a bigger head of steam for the next time.
It is a demon and I am wrestling with it. And no, I'm not ready to write about the details. It's too tender, too fresh, too painful.
One might argue that since writing is my thing, I should be writing about it. I should be writing it all out furiously and fast and working through all of those darn steps, up and down the ladder until I'm free.
As if one can ever really be free of grief. Actually, that's part of the problem. This fresh and overpowering grief has ripped the lids off of the many other losses I have experienced so I get to go through all of that again. As if it's new and present and today.
So yeah, letting it all out, that's probably what I should be doing.
But I can't. Not yet.
And it remains the one thing I won't write about.
But I will write about it. Someday.
Maybe this post is just one small step in the right direction.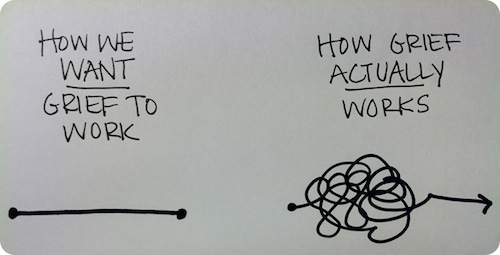 Image found here.

"Practice makes perfect," they say and, "If you do something for 10,000 hours then you will be a master."
Well, horse hockey is my answer to that.
If the delineator for adulthood is the age of 18, then I have put in a solid 236,682 hours at this craft, and I still haven't figure out how to be a master.
In fact, I may be worse at it than ever.
Sure, I get up in the morning and I go to work and I make a paycheck and I pay my taxes and I usually vote and I have insurance and a 401k and even a will. All the trappings of being a grown up.
But I still would rather have cookies for dinner and silly cereal for breakfast. I still throw little tantrums when things don't go my way. I still need naps and need to believe in Santa and I still want to play with toys and fly kites and occasionally I just need to melt down.
I can pay my taxes but the very thought of buying a house terrifies me. I can make decisions that impact millions of dollars at my job and then sometimes can't decide if I want orange or lime flavored candy at the store. Then I buy and eat both and cry because my tummy hurts.
This thing, this adulthood, it doesn't get easier.
And hell, I don't even know where the border lies, the place I can cross safely and know for sure I have arrived into adulthood.
Some might say it happens when you have kids. Fair play, I guess. But I have a lot of friends with kids that I wouldn't call the model citizens for grownup-itude.
When my dad died, that probably was the closest for me in knowing what it means to be an adult. I grew up pretty fast when, for better or worse, that was thrust upon me.
But even that wasn't enough to be the final frontier for me. (mmm, Frontier. I could go for a cinnamon roll right about now)
This past month some things happened with my "lady guts" that signaled the beginning of a long journey. When a woman's life turns from the dog days of summer into Autumn.
Discretion keeps me from going through all of the gory details, no one needs all of that. While I'm far too young for the "main event," my body has let me know that the pre-game show has started and the players are starting to take the field. (nothing like a sports metaphor to describe a lady issue….)
I'm not ready for this. I'm not grown up enough for this. I'm not an adult! I have put in the hours, many hours of long grueling practice and still…still I find myself at this age and at this earthly turning of a season far from being an expert at adulthood. I am jack of many aspects and master of none.
Maybe that is okay. Maybe that is what being an adult is about, the continually wondering if you are "grown upping" correctly. Paying taxes and eating ice cream sundaes with reckless abandon (while popping Lactaid, because that's a mature thing to do).
And on my next bubblegum ice cream sundae, I will be decisive enough to get both nuts AND sprinkles on top.
Because I'm young enough to want them both and old enough to pay for it.
So there. Take that! This is how I'm doing grown up and no one can make me do it differently!
Nanny nanny boo boo on you!
Adults are always asking kids what they want to be when they grow up because they are looking for ideas.

— Paula Poundstone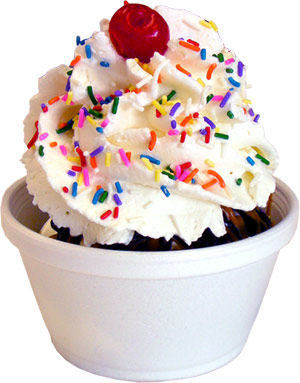 Image found here.

When I have had a big event, a big adventure or just something interesting happen in my life, I almost always have to spend a little time processing it, usually out loud and on these pages.
Having just returned from a weeklong trip to Ireland, I'm pretty sure that readers here will be treated to (tormented by?) several posts about my days in Dublin. I had such a wonderful time and I want to get all the stories out and onto the page.
The question is, where to begin? Some would say start at the beginning. Some would say start somewhere in the middle when things begin to get good. Others still say to start wherever you want.
The thing is, I usually don't get a say in where to begin telling a story. The Muse has a mind of her own and she tends to open one sliding door in my mind to show me what she's interested in, while keeping the other doors firmly closed until she's good and ready.
What I mean today is that there is one story, one experience, that keeps replaying in my mind. It is the sum of my entire view of Ireland and probably belongs at the end of the entire tale.
But why cave to the convention of putting the end of the story at the end? This is what I want to write, so this is what will be written. For today, at least.
Here we go…
The hotel where I stayed was in a rather upscale suburb of Dublin named Donnybrook. Back in the day, Donnybrook used to be the scene of an event called the Donnybrook Fair. And by "back in the day", I mean like the 1200's through the 1800s.
Evidently that event turned from a nice twelve-day fair, fun for the whole family, to a drunken brawling event. In fact the very word donnybrook has come to mean a brawl or fracas.
The Catholic Church took a dim view of this debauchery (as they are wont to do) and ultimately lobbied for the fair to shut down, mainly by building a church right at the event site.
This is a great story, I love it, but it's kind of tangential. Let me get back on track. In this wonderful Donnybrook neighborhood, there are quite a few shops, restaurants and a couple pubs.
One of the pubs, named McCloskey's, was about a half a block away from where I was staying. I could see it from the window in my hotel room.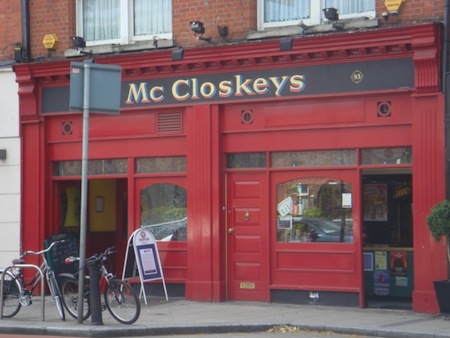 Image found here.


I had walked past the place quite a few times but was never brave enough to go in. Something about genuine pubs kind of intimidates me. It's a mix of the expected amount of hesitation being a woman going into a bar alone, and my propensity to overworry that I'll somehow say or do something that breaks the unwritten protocol of the pub.
I also never am sure how Americans are perceived so it's always a little tentative for me. Which is silly because of the pubs I've encountered in the UK and now Ireland, it's always been a lovely experience.
On Thursday after what had been a busy and intense workweek, I decided to go inside McCloskey's. I was hungry, I love pub food, and I was in desperate need of a pint.
With a deep breath, I opened the door and went in. I walked the length of the place to give it a look-see and decided to stay, taking up a corner seat at the bar.
The bartender was a fireplug of a man, in his early fifties, with a pugilistic look about him and a vibe that was clear he knew how to run a pub. He could and would toss your ass out without hesitation and with force.
He came over and slid a napkin on the bar like skipping a rock and asked, "What'll you have?"
"A pint of Guinness," I replied with confidence. He nodded with a grunt and poured the beer. In hindsight, I should have just said "A Guinness," the pint is understood.
What a lovely pint it was. A perfect pour, the perfect temperature, perfect creamy foam on top. Oh yes. I wanted to take a picture of it so I could always remember that beautiful moment, but thought better of it. It felt like the bartender may take a dim view of selfies and Instagram in his pub.
As he set the pint down I asked, "Can I order some food?"
"Er, yeah, we have a stew, the fish and something else I can't remember" he said.
"I'll have the fish," I said.
"Fish and chips, you know?"
"Yep!"
He grunted again and went off to the kitchen to place the order. I sat there feeling tense and sipping my beer. There were really only about four people in the pub, all quietly drinking and keeping to themselves. 1970's disco played from a small boom box to fill the atmosphere.
Next to me was a stack of local newspapers so I picked one up and read it, giving me something to do as I sat alone and tried to act normal.
After a bit my food came and it was so delicious. Light and crispy cod, perfect chips and slices of tomato. I ate it joyfully and drank my Guinness and suddenly everything was really right with the world.
During this time, the bartender mostly ignored me. He was friendly but distant. Gruff but fair, I suppose, and that was fine.
While I ate, a group of people came in. They were obviously all family, and they took up chairs and seats around several tables. Then more and more kept arriving. There were probably twenty or more people and one older gentleman with graying hair was buying all the drinks.
These folks were all in a good mood and talking excitedly. At one point someone teased the older man about "never being around" and he tipped his pint glass to them and said, "now that's one thing you can never say about my term! My opponent can't say the same."
It was then I sussed out that this might be a local politician. I heard someone call him by his first name and as I was texting the play by play to The Good Man, he did a quick Google search and we discovered I was in the pub with the local councilman. Elections were due to be held the next day. My guess is he was out celebrating the end of his campaign run with friends and family.
As the crowd grew, it became such a convivial atmosphere. I sat next to one of his daughters and we chatted and laughed. Her son, who looked to be about five, ordered a cranberry juice and wanted it served in a Guinness pint glass. Everyone bought and ate small cans of Pringles.
As ever more people kept piling in, I kind of felt like I needed to get out of there. I'm sure I could have stayed and been fine, but I started to feel like an outsider.
So I hopped up from my barstool and went over the cash register where the bartender stood. He turned to me and I said, "I'd like to tab out, please."
"Oh sure," he replied and began ringing me up.
"That will be twelve euros fifty," he said. I handed him a twenty euro bill.
He took it and looked me, touched my hand and said, "You doing okay, darlin'? Was everything all right?" with genuine concern in his eyes.
I replied, "Yes, it was great. I'm…I'm just a little jet lagged and very low energy."
He had a sparkle in his eye when he smiled, then tapped my hand again and said, "That's okay, darlin', you still look gorgeous!" He laughed like a schoolboy while he got my change.
He put the bills and coins in my palm and said, "now you have a good night, eh?"
I left the pub with a smile on my face. Now that, the whole story and everything in it, that's Ireland to me.
It is a wonderful, charming and friendly place. I loved every minute of the time I spent in the city of Dublin and the district of Donnybrook.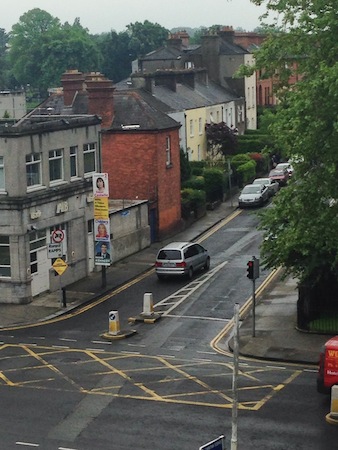 A view from my hotel room. Lovely! Copyright © Karen Fayeth, 2014