"Baseball is a lot like life. It's a day-to-day existence, full of ups and downs. You make the most of your opportunities in baseball as you do in life."

— Ernie Harwell, Hall of Fame Broadcaster for the Detroit Tigers
As a longtime baseball fan, I've often spent time pondering this very notion, that baseball is an awful lot like life. I have even written yards of stories and words on this very topic. After watching thousands of games, I personally believe that across the nature of nine innings of baseball, in each and every game, a story is told.
One of the most curiously fascinating concepts to me is that a player can make a terrible error in one inning (thus making him the goat) and then be the hero of the game in the very next inning.
Local broadcaster Mike Krukow has often commented that it's just an unwritten fact of baseball, the guy who bobbles the ball in one inning is going to be at bat the next inning. Or, the guy who made a spectacular catch will also be up in the next inning.
It's an odd philosophy but I've observed that it is pretty spot on. Baseball with all of its flaws and issues is an awfully democratic game. Second chances are given. Third, fourth and fifth chances too. The player who is a super star can slip into an 0 for 42 slump. That guy who can't seem to hit a damn thing can suddenly make a key play that propels him to a 40 for 42 streak.
You just never know. And that is pretty much like life.
It was with this in mind that I joyfully watched a guy on a real bad downswing named Tim Lincecum, who plays for the San Francisco Giants, complete a no-hitter against the San Diego Padres on Saturday night.
Tim burst on the baseball scene in 2007 as a first round draft pick. Everything about him does not scream baseball. He is a very small person, running about 5'11" on a day he's standing up very straight and clocking in at maybe 170 pound soaking wet. He is an unlikely pitcher compared to the usual broad shouldered and well over six-footers that dominate the mound.
In addition, Tim's delivery style is rather unique and eyebrow raising among followers of Major League Baseball. In order to get speed from his small frame, he contorts and twists his body back and delivers a pitch with a whipsaw motion. This delivery and his ability to baffle quality hitters has earned him the nickname "The Freak."
As no major league batter had ever seen this kind of delivery, Lincecum dominated MLB for his first several seasons, racking up two Cy Young awards, several trips to the All Star Game, and much respect.
But as baseball is the great equalizer, major league hitters began to get used to how Tim pitched. They watched hours of tape and they started to work him out. Suddenly the phenom fell to earth and his pitching was not so freakish anymore. He was, as they say, getting "touched up" pretty regularly.
Over about three years, Lincecum has struggled mightily, and last year in the post season leading to the World Series, he was taken out of the starting rotation and placed in the bullpen. This is an ego bruiser for even the most easygoing of pitcher.
But Tim took it in stride, pitched well in relief and helped the team win the 2012 World Series.
This season, Lincecum has been showing marked improvement, but his teammates are batting so poorly in support of his outings that his record looks dismal. His quality outings have been a bright spot in a pretty terrible season for the San Francisco Giants.
Recently everyone (especially this Giants fan) has been wondering if this is the end of the era of Tim Lincecum.
So it was unlikely to see our small Mr. Lincecum on the mound pitching for his life on Saturday night. He worked his way through all nine innings and threw 148 pitches to close out his first no-hitter.
To be honest, I felt certain he'd throw a no-hitter in the first few years of his career, his stuff was that baffling. But in many ways, it has to be almost more satisfying to have been a phenom, then struggle, then battle back to show Major League Baseball that maybe the era isn't ending, but simply starting a new chapter.
What a great story. What an amazing game. What an accomplishment.
Lately I have been wavering a little in my allegiance to the San Francisco Giants, as they have been playing sloppy baseball and embarrassing themselves left and right. I was becoming bored with this season's story. Saturday night I turned the page and a new chapter filled with twists and turns greeted me. I'm now back in the game.
Thank you, Mr. Lincecum, for winning back my heart and mind and for telling me, a storyteller in my own right, one hell of a tale.
Much deserved.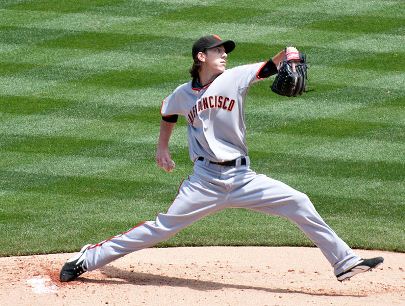 Bonus!

Another priceless moment from that no hitter game: A pitch accidentally hits the umpire in the gut, right at the bottom of his chest protector. Ow. Watch Lincecum's reaction. Awesome.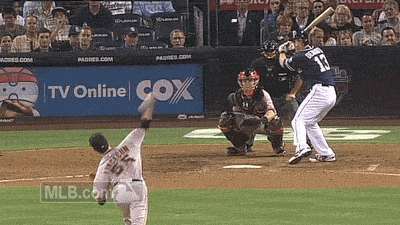 Image from Wikipedia and used under a Creative Commons 2.0 licensing agreement with attribution.
Footage belongs to MLB, .gif was found here.

Over the weekend came the very sad news about the passing of Hollywood legend, Ray Harryhausen.
The Good Man was a lifetime Harryhausen fan and introduced me to the magic that Ray made only recently. How badly I had been missing out.
At 92, Ray lived a good long life and he leaves behind a legacy of work. His stop motion animation paved the way for so much of what you see now in this CGI-heavy film world.
Mr. Harryhausen will be missed, along with his best friend, Ray Bradbury. Tough to lose both Rays within the course of a single year.
To remember Mr. Harryhausen, I am reposting something I wrote back in 2010 when I first learned to appreciate Harryhausen movies. You can tell from all the exclamation points how totally into his movies and the animation I was (and am).
For you, Ray.

———————
This old dog learned a new trick
Originally published February 5, 2010

At Christmas, my husband received a great gift from his step-mom. He unwrapped it and exclaimed, "A Ray Harryhausen collection! Honey, look, we got a Ray Harryhausen collection! Wow, thank you!"
And I was like, "who?" My sweetest is an educated film guy, so I figured it was some obscure director of strange and dark independent films. So I said, "hey, great!" with a shrug.
Who knew I was TOTALLY missing out?
In my ongoing film education (The Good Man is keeping a list. I'm working through it….) he popped "The Seventh Voyage of Sinbad" in the ol' DVD player while I was eating lunch one weekend afternoon.
I was immediately hooked in. Yeah baby! I figured out just who Ray Harryhausen really is. A master of creating amazing creatures in stop motion animation.
The stumbling roaring Cyclops from the late 1950's is every bit as creepy today. In fact, in a lot of ways, I actually like that better that today's overly CGI'd movies.
At the end of the "Seventh Voyage of Sinbad" DVD, there were some special features. One was clips from when Harryhausen got an Oscar (presented by his best friend, Ray Bradbury. What a pair they must make!) and at the conclusion of Harryhausen's acceptance speech, Tom Hanks comes onto the stage to bring on the next award.
He makes the segue by saying, "I know for some people it is Gone with the Wind or Casablanca, but for me, it's all about Jason and the Argonauts"
I looked at The Good Man and said, "Well we have to watch that next, then."
And so we did. We watched as Jason and his merry band of Argonauts fight a huge bronze statue of Talos that had come to life and, oh man this part was cool, a whole army of sword wielding skeletons! Skeletons! I *love* skeletons! They clacked and grimaced and fought. Aw damn, how very cool!
Then we watched "The Golden Voyage of Sinbad" and I remembered that I saw this movie when I was a kid, most likely on TV. I watched it with my big brother back in the day. I remembered the blue Shiva with swords in all the arms. (and let's talk about the very naturally endowed Caroline Munro. Rowr! It's so rare these days to see an un-surgically enhanced actress.)
And finally, we had to get to THE must see film in the collection because, well, it's set in San Francisco. The next in the series of my SF film education.
The movie was "It Came from Beneath The Sea." Yeah baby!
What the movie lacked in dialogue and story (and it lacked A LOT), it more than made up for in great animation.
Oh, that angry squid snapping the top off the Ferry Building and wrapping tentacles around the Golden Gate! Whoa! And that far-reaching tentacle slapping down Market Street, squishing unsuspecting citizens!
Good stuff!
So I'm now up to speed on Harryhausen. I have also watched the Dirty Harry movies. Then we did the Hitchcocks set in SF (hello Vertigo!).
I'm excited to see what's next in my ongoing film edjumacation! I have so much to learn.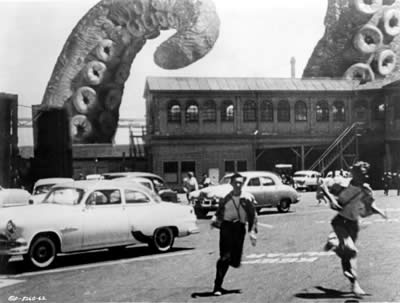 Image is a still from "It Came From Beneath The Sea".

Was sorting through all of the photos from my recent trip to New York when I found a set that I wanted to share. In fact I'd meant to share this a couple weeks back but I just got lost in the back-to-the-real-world on top of the hectic pace of the hellidays.
One of the days that The Good Man and I were in New York, I requested the chance to spend a few hours in the New York Public Library as I was still rap-tap-tapping away at my NaNoWriMo.
The Good Man indulged me and I had some time to sit in the Great Room and write, which was both fun and inspiring and is something I will never forget. The Good Man went exploring as I worked because there is much to see in that amazing library.
That was when The Good Man stumbled across something interesting. It turns out that in the basement of the NYPL, there is a children's books section, and in that area there is a display case containing several stuffed animals, but not just any stuffed animals.
In the case are the original stuffed friends that were the inspiration for Winnie-the-Pooh. These toys belonged to Christopher Robin Milne, the author's son.
The toys were brought to the United States in 1947 and remained with the publisher of A.A. Milne's books, which then donated the stuffed animals to the New York Public Library in 1987.
In this photo, from left to right, is Lottie the Otter who shows up in a more modern Winnie the Pooh book sanctioned by the Milne estate. Then we have Tigger, Kanga in the back, the small Piglet, then Eeyore and finally on the far right, the man himself Winnie-the-Pooh.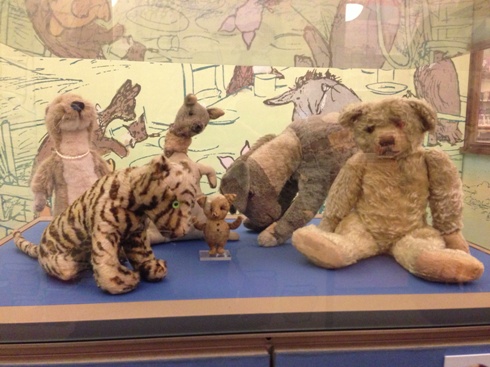 This photo is Copyright 2012, Karen Fayeth

Turns out the stuffed bear was bought at Harrods in London as a present for Christopher Robin's first birthday.
It also seems that this stuffed bear is named Edward. Who knew that ol' Winnie-the-Pooh was really a very posh Brit bear? I did not.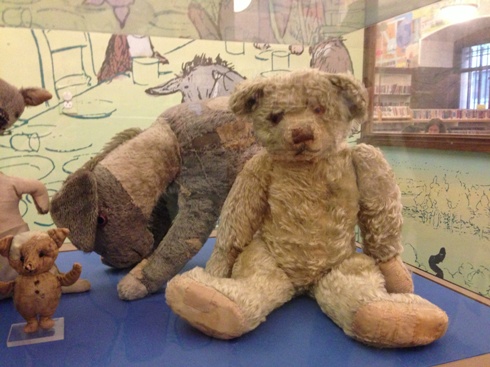 This photo is Copyright 2012, Karen Fayeth

This Winnie-the-Pooh looks much different from the Disney-i-fied version that we all are used to. This Mr. Pooh has very kind eyes and a pettable nose.
But still no pants.

This photo is Copyright 2012, Karen Fayeth

I was pretty excited after seeing the original Pooh gang. It was like meeting a group of celebrities.
As a writer it was pretty cool to see how inspiration can turn into a rich and beloved story.
Combined with a marathon writing session and then seeing Charles Dickens' pen and inkwell, it was quite a happy literary day for this little ol' writer.
All photos Copyright 2012, Karen Fayeth and subject to the Creative Commons in the right column of this page. Taken with an iPhone5 and the Camera+ app.

Yesterday was a pretty monumental day for me. So much important stuff happening on just one little ol' Wednesday in October.
First off, it was Halloween. All Hallows Eve. The day of costumes and candy and belly aches and trick or treat. For many people, Halloween is their Christmas.
Being the old scrooge that I am, there was no costuming going on for me (or for The Good Man).

But that's ok, I celebrated by watching "It's The Great Pumpkin, Charlie Brown" and eating dried cherries instead of candy since we don't get any trick or treaters. How grown up of me to make that choice. How unlike me to make that choice! Sugar is *awesome*.
But pumpkins and goblins were but one of the big events of the day.
Yesterday was also the big huge spectacular parade down Market Street in San Francisco to celebrate the World Series winning San Francisco Giants.
Rock oooon!
I wasn't able to attend in person, but I was able to watch it all live on TV and on the 'net and wow, what a fun day!!

And THEN when all of that crazy happy fun celebration was done, The Good Man and I went to visit our local County Elections Office. Such a solemn follow up to a happy confetti party! But here's the thing, when we moved this year, I changed all of my address info with the DMV and nicely asked the DMV to update my voter records.
As we got closer to the election, I noticed that I didn't get my sample ballot in the mail and I didn't get my vote-by-mail ballot either.
So we dropped by the busy office and got that all sorted out. Turns out they had my new address properly entered, but for some reason I wasn't listed as "active". So she ticked the box, clicked save and I was good.
Then we figured, hey, while we're here, let's go ahead and vote.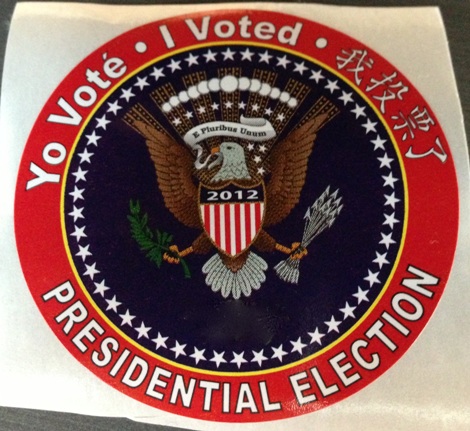 I felt sort of weirdly proud and a bit patriotic and awfully grown up to be standing there in a polling booth with The Good Man right next door as we cast our respective ballots. There were a few of the crazy California propositions that I could have gone either way on and heading into the polls, The Good Man joked about us voting exact opposite of each other to simply net-net our votes.
Ok, ok, we didn't do that but it certainly seemed like a good solution. Voting in California is a strange, wacky and time consuming process. Anyhow, we used the electronic voting machines and made our selections and I cast my ballot.
Now that it's done, I think from here on out I shouldn't have to see any more political ads, be subjected to any more smarmy politician faces on the local, state or national level and I shouldn't have to read any more politically driven internet crap.
Am I right? I think I am.
In other words: I'm out! : brush hands together :
Or in the immortal words of Doris Day, whatever will be will be.
But hey, what a day. Celebrated America's pastime, voted in America's big election and then danced around by the light of the almost full moon on all hallows eve.
Wait…I chose fruit over candy and I voted? What the hell is happening to me!?!?!
_____________________

Costume photo found at Sanitaryum.com.
San Francisco Giants parade photos from the SFGiants Instagram stream.
Voting sticker photo Copyright 2012, Karen Fayeth, subject to the Creative Commons license in the right column of this page, and taken with an iPhone5 and the Camera+ app.


Two years ago as a long suffering San Francisco Giants fan, I reaped my reward in 2010 when the Giants (finally!) won the world series and Bug Selig handed over this:

Tonight, the Giants won it all again.
And Mr. Selig, who is no fan of the Giants, had to hand over another trophy. Heh.
Now we got a matched set! Like salt and pepper shakers.
Reunited and it feels so good!