Today I learned something. It may not be a groundbreaking discovery, but it's an important handy tip to know.
Let me start with the backstory.
This morning I noticed I had a meeting on my calendar that started early and would last all day long, so I decided to hustle up and get it together so I could leave the house plenty early. I wanted to be able to stop for coffee and still get into the office a bit early so I could sit a minute at my desk, gather my thoughts, and prioritize any urgent emails before disappearing into a conference room for the remainder of the day.
What a good strategy! This is part of my new approach for taking better care of myself. Generally I show up to the early meetings five to ten minutes late, anxious and sweaty from running to the meeting. Oh, and lacking coffee.
With determination, I took care of my at-home stuff and hit the mark. I left the house on time and was happy. I had a casual and not harried drive to work and I even lucked out and found a parking spot right in front of my local Starbucks.
I mean, the day was ticking right along on schedule. I was feeling so proud of myself.
With Jeep parked, I walked inside hoping for a short line then opened the door to that very image. Only three people in line. Yesss!
I stepped up to the register, ordered my drink, chatted with the person behind me in line, giggled with their child and was feeling pretty great.
My latte came up quick and I grabbed it and was feeling pleased with the smooth pace of my day.
I carried my drink over to the little station where you can find sweetener and milk to add in. I politely said excuse me as I accidentally walked in front of another customer. I thought about an article I had read recently about the value of being nice, and thought how I need to continue to be a nice person even when the world sometimes makes me want to be mean.
Landing at the sweetener station, I popped the lid off my drink, reached to grab a couple packets of sweetener, shook, tore and when I went to put this into my drink, I knocked over my lidless cup, sending a coffee tsunami into the air.
Seriously. How did my latte catch air? I have no idea. Sixteen ounces of beverage became gallons as it poured all over the counter and onto the floor. The force of the wave shoved my sunglasses off the counter and onto the floor.
The velocity was overwhelming as waves of coffee and soy milk engulfed the entire store and its patrons.
And that's how I learned that Starbucks napkins are super, duper absorbent.
Keep that handy tip in mind.

A dramatic, yet dry, recreation of events

Image Copyright © 2014, Karen Fayeth. Taken with an iPhone5 and the Camera+ app. Also taken surreptitiously in an empty conference room while the big meeting was on break.

I was born with a troubling affliction*. It's been so difficult to manage my whole life, and it's so difficult to discuss. Today I feel is the time to make public my ailment.
I am affected by a disorder known colloquially as walnut bladder. Yes, it's true. I so much as look at a glass of water and I feel the need to pee.
In such times as walnut bladder-itis affects the life of The Good Man, he calls me his little tree frog. "You know, you pick up the frog and it tinkles in your hand?"
That's me.
As a child I presented quite a challenge to my folks who liked to take road trips. The average child has to pee frequently but I was even more prone than normal. I always had to pee and I had the kind of dad who refused to stop. It was always a problem.
We used to spend summers at our place at Ute Lake. The drive from Albuquerque to Logan, New Mexico is about three hours, plus or minus. Even as an adult, three hours is just too long for me to go without a trip to the potty.
I vexed my mother terribly with my affliction. Once she threatened to use a clothespin to clamp off my leaky plumbing.
Well that got my attention.
From then on I planned well ahead for an upcoming road trip. I would cease intake of liquids at least a day in advance of the trip and would steadfastly refuse to drink any liquid until we arrived.
In hindsight, not having much liquid while living in the high desert wasn't probably the best idea, but it worked and it avoided clothespins in delicate places.
In daily life I manage my ailment by working a path between my desk at work and the restroom. At home I get up at least twice a night to pee. The Good Man and The Feline have learned to adapt.
But I had occasion last week to really realize again the utter torture of a completely full bladder and no good plan to empty it out.
It was a typical afternoon at work and I was, as usual, drinking lots of good fresh water. Staying hydrated is still important. And that means ol' Walnutta here has to go at a minimum once an hour. Sometimes more.
Usually before heading into a meeting, I will go right before so I can get through the hour stretch.
On this day, I was so busy with work and in other meetings and I bumped right up to the top of the hour when my next meeting was due to start. I did an internal gut check and then a clock check and thought, "Yeah, I'm ok."
Silly, silly me.
At about twenty minutes into the hour and a half long meeting, a job interview with a prospective candidate no less, I had that first twinge of "oh…hmm, I'm going to need to pee here pretty soon."
As the seconds on the clock ticked by with molasses speed, and the candidate droned on and on and on, things started to get bad.
One goes through most of the stages of grief when it comes to an overfull bladder.
First, denial: "Pfft! I'm fine. No big deal. I can make it."
Then bargaining: "Ok, well, if I can make it just ten more minutes, maybe I can excuse myself and take care of this. Please please bladder don't let me pee my pants."
Anger: "Dangblamit why did I drink so much water today! And why is my bladder so tiny? And why can't I just distract myself and make this feeling go away!?!"
Depression: "Dude, you are such a loser. Look at everyone else at the table, they can hold their liquids. What is *wrong* with you?"
Acceptance: "It's going to be ok. I'm going to make it. I'm not going to pee my pants. And if I do, it will be fine, right?"
Over the course of an hour and a half I moved up and down and back and forth through all of those stages and I squirmed mightily in my chair.
Look, my attention span isn't that long to begin with. Add in a full to bursting bladder and I don't hear what anybody has to say about any topic.
It was horrible. At one point I thought I might even cry, I had to pee so badly.
And finally! Finally at the hour and forty five minute mark that damn candidate stopped talking and I was free to go use the restroom all the way over on the other side of the building.
Then it becomes like that question of walking or running in the rain. As in: In which method do you get wetter? (I think Mythbusters proved it's a toss up)
The question became: do I walk to the bathroom thus taking longer and upping my odds for peeing my pants? Or do I run thus jangling my stuff and making it more likely I'll pee my pants?
I chose a sort of tight-legged shuffle and finally made it safely into the bathroom stall.
And once I made it to the safe zone and did my business, my whole world looked a little brighter. A little happier. A little more at peace.
I know everyone has gone through the ballad of the full bladder at one point or another. When you have a walnut bladder it happens a little more often than I'd like.
You better betcher sweet life I'm doing a much better job of meeting and bladder management. No one likes the full bladder squirms.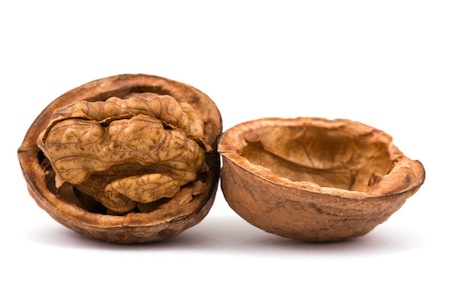 Ok, not *really* an affliction. The word just sounded good to add the right amount of drama.


Image found here.
I hate talking politics. It's a conversation that never goes anywhere good, but today I'm going to venture into rare territory for me.
As a caveat, I might mention that I am neither a registered Republican nor a registered Democrat. In California you can "decline to state" and still vote in each of the major elections. Long ago I became disgusted with both major parties and decided to choose none. It was a good choice.
Also, I will state for the record, I vote in all of the major elections and most of the minor elections. It's how I was raised.
I tend to shy away from being too specific, but I will go there. These days I am employed by a contractor to the United States Federal Government.
I work for a company that is engaged in some of the most mind-blowing science in the world.
For example, a couple weeks ago, I sat in a conference room waiting for a meeting to start. Also in the room was a physicist who works on the team searching for the existence of dark matter.
I sat there eating a salad (it was a lunch meeting) listening to this guy explain to another scientist how they actually test for dark matter, i.e. how they will know if they found it.
My mind was utterly blown. I once worked for Apple, so I know what it's like to work for a cool company. I'm sorry Apple friends, dark matter beats the shit out of iPhones and iPads on the coolness factor eight days a week.
I am proud to work here and I work my ass off. I am also fortunate enough to have six people who report to me. They have put their faith and trust in me to work for them, to protect them, to knock down hurdles and to help them be the best employees that they can be.
It is somewhat amazing that in this team of six there isn't a clunker in the bunch. They are all high performing, top-notch professionals. It is often remarked that my team is the most highly functioning out of all the teams in the larger division. (I can't take all the credit for this, my predecessor laid a nice foundation that I continue to build upon).
I am proud of them, I throw my body on virtual grenades for them, and they reward me by making me look really good to my leadership.
Today I attended a meeting of all of the managers in the division and I had some choices I had to make.
You see, the entity I work for works a little differently than direct Federal entities and most contractors. We are able to carry over government funds so we often start the year with a surplus. This surplus means that we have not yet been furloughed and will probably be ok until mid-November.
Well, let me back up. If the debt ceiling isn't resolved this week, we shut down almost immediately. That is a separate issue.
If the government shutdown drifts into November, we will have to move to a skeleton crew, and if it goes into December we will shutter our doors entirely.
So in that regard, I am lucky. Similar entities to my employer will be closing down effective next week and direct federal employees have been out of a paycheck since October 1st.
But, as leadership of this organization, we have to be prepared for all of the iterations of what might happen.
We must plan for the worst-case scenarios.
Today I sat with my peers and my boss and I had to decide which of my six people will work and which would be furloughed in the event this shutdown goes to November.
As a contractor to the Federal Government, we don't get back pay in the event of a furlough. That money is lost for good. So I have to pick people who take a deep ding to their income just on the cusp of the holidays.
So who do I pick? The man with twin five-year-old children? The woman putting her two daughters through college? The guy who just started here two months ago, just moved to California and his wife hasn't yet found a job in this terrible economy? The guy with the talented high school aged daughter who will likely make the Olympic team in 2016?
How do I choose who doesn't get paid? How do I pick?
And why should I have to pick?
Tell me members of the United States House of Representative and the United States Senate, why did I have to make those choices today?
By the way, my boss had to make her choices too. I am on the list to be furloughed.
These past fifteen days of government shutdown make me sick to my stomach.
And angry. Yes, I am finally angry.
I am angry in a non-partisan way. I blame everyone. I blame each and every elected official who has any part of this. Every one of you made me have to choose who gets paid in November and who doesn't.
I have seen a few off hand comments here and there online that this whole shutdown "is not that bad."
If you think it's not that bad, it just hasn't hit you yet. But like a long string of dominos, it is coming for you.
It may be that bite of salmonella tainted chicken that gets your attention. It could be that airplane your loved one rode that crashed because no one inspected for safety.
Or perhaps it will be when you are laid off from your commercial sector job because these United States were plunged once again into a deep recession.
I don't care what party you belong to, this shutdown should make you mad. It should make you wave your fists.
And by god it should make you get out to your polling place in 2014 and make your voice heard.
Loudly.

As time will do, when it passes by it takes little chunks of me with it. I know I wake up in the morning a lot creakier than I used to and there is swiss cheese where my remembering parts used to be.
This problem is true for both humans and animals.
And so it has come to pass that my fourteen and almost fifteen-year-old feline is having a few health issues. It's not good, but it's manageable.
What this means, however, is we have to give the fuzzy three different medications.
Now, this animal of ours, she does not like to be messed with. At all. The survival instinct is strong with this one, and fight not flight is her main mode.
This cat stands her ground and then some.
Many of you are probably saying, "nah, that's just how cats are" and think about how squirmy your cat may be.
Be advised, our vet is scared of this cat. Let me drive that point a little farther in. A woman whose job it is to deal with animals in all forms day in and day out, and has been doing so for almost thirty years, has told us "you know your cat is especially wiggly, right?"
Wiggly. That sounds cute.
It's not.
So back to these three medications. One is a drop we can put on a piece of food. Fine, that happens easily.
One is a pill. This involves prying her mouth open, which then invites a lot of biting, clawing and hostility. Occasional growling and meowing too. Once the pill is down many hostile looks are sent my way as I watch an animal plotting my death in her mind.
The third is an asthma inhaler. Delivering this medication is, to put it mildly, a rodeo. We watched videos online to see how to do this and every person who said "my cat fights it" or "my cats is extra squirmy" was the owner of the kind of cat I would love to have.
These people who think they have a wiggly cat have not wrapped an arm around Satan incarnate and tried to get the great horned creature to inhale and exhale a minimum of ten times with a rubber mask over its snout.
There have been times The Good Man and I have both tried to hold this feline beast down and administer the meds and haven't been able to do so.
To be fair, my handsome and adorable Good Man is also a kind man. He's a gentle soul, which is probably why he is able to put up with me.
He hates seeing his own cat suffer this much. He and that damn feline have been through a lot together, they are like survivors of the wars and he feels it is a betrayal to do this to her.
So the wet work, as they say, falls to me. May I point out the many scratches on my arms, legs and chest?
But I seem to have sorted out how to get the meds into the beast. I have tried many approaches and for the moment I have something that is working. I'm sure that smart cat will figure out a counter attack, but for now, I'm doing it.
Last night as I held that damn asthma mask on the cat and she was actually kind of still (because I had her in a wrestling lock that Rowdy Roddy would be proud of) and breathing, The Good Man looked on in amazement.
"How…how did you do that?" he asked, perplexed. "I don't understand how you can give her the meds and I can't?"
I replied simply, "It's because I'm meaner than you."
And it's true.
As a woman of New Mexico, I have worked cattle, horses, sheep and pigs (and on one weird day, turkeys).
When you work livestock you learn more than a little about giving meds to an animal who would rather you didn't. And how to do it without hurting yourself or the animal.
And how to grit your teeth and be a little mean about it because ultimately it's being kind. I hope we can get this feisty cat to feeling better.
I have to admit, I admire her survival instinct. Now pass me the Neosporin.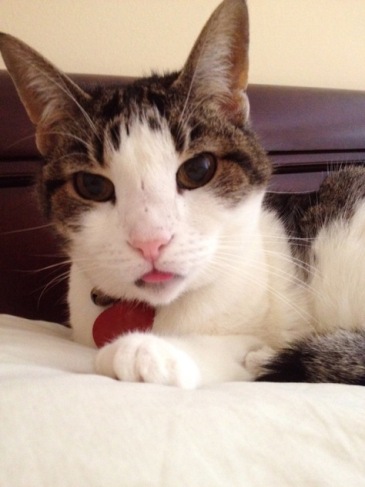 What?!?!

Photo Copyright 2012, Karen Fayeth, and subject to the Creative Commons in the right column of this page. Taken with an iPhone5 and the Camera+ app.

Ah the onset of Autumn as these last wispy dog days of summer float by. These very warm September days don't even feel like summer is ending, rather it feels like we are smack dab in the middle as the high temperatures are still pretty gosh durn high.
But alas, October is right around the corner. And by god, the advertisers of the world won't let me forget it for a moment.
I'm not ready for it, but Autumn is being crammed into my face. My nose is smushed hard in it while I hear "Who's been a bad customer? Who's been ordering non-flavored beverages and food? Who's going to pay out big money for pumpkin flavored everything? You are, that's who!"
Just as Christmas shows up in October, pumpkin everything shows up in late August.
And it ain't right.
Along those same lines, here's a handy link:
The 12 Most Unnecessary Pumpkin-Flavored Products
That's ok, I'll suffer the slings and arrows of fake pumpkin flavor until about November 1 when it will all switch to peppermint all the things.
Then Cadbury Easter eggs will arrive in January.
*sigh*

Mmm, hmm. There are things I know and know with certainty. There are things I know that people deny. There are things I say that are fundamentally true but are denied time and again by those around me.
Know this, good readers of my blog: Squirrels are vermin. They are not cute, they are not cuddly, and they are not adorable. They are rodents and should be treated as such.
I say this to the squirrel huggers and they tell me that I'm being silly. I say plague and they scoff.
So here's how we are going to play this today. I am going to repost something I wrote in 2007. And then at the end I'll give you an update to show you just how exactly 100% right I am.
Then I will do a superior dance. You'll have to just visualize that one but know I'm dancing hard like I'm counting coup.
I am a woman of the west. The real west. The range land, unpopulated and dirt covered west. I know things. Behold.

____________________________

First published June 12, 2007

So, where I live, we have a lot of squirrels. Now when I say "a lot of squirrels" I don't mean "oh my, there's quite a few out there". I mean a whole horde, an army, a remuda, of squirrels.
They run around everywhere, up and down power lines, around trees, hither and yon. When I go for a walk at noontime from work, I walk down this one street and they scatter in all directions like a squirrely sea of doom.
People here think they are cute. Find them amusing. The fluffy tails make them laugh. People here FEED THEM. Yes, they put out food for the little b*stards.
They don't understand my revulsion, my utter HORROR that these vermin are allowed to roam free in a civilized society.
They don't understand this because I am a New Mexican. One of the bonus features of being raised in New Mexico is, da da dummmmmm, bubonic plague.
In fact, according to an article in today's ABQjournal, there have already been four cases this year, including a boy who died.
To quote the article, "Plague, a bacterial disease, is generally transmitted to humans through the bites of infected fleas but can also be transmitted by direct contact with infected animals, such as rodents, wildlife and pets."
Unh huh, no wonder every little rat with a fluffy tail gets the suspicious eye from me. Early on in life my mom would yell at all us kids to stay back from any wild creature, especially the small rodenty kind.
I will not draw one of those beady-eyed plague-carrying varmints closer to me or my home! I live in a duplex and for a while my next door neighbor put out bird seed with no cover or protection from the squirrels. I would stare horrified out my living room window to see a swarm of the things eating with reckless abandon in my back yard.
THE PLAGUE!!! THE PLAGUE!!!!
In my old place, a couple of squirrely warriors had an epic territory battle on the roof right over my apartment. Not only did I have to hear the squeals and the death call of the loser, I *freaked out* about the dead rodent right there over my doorway. As you know, fleas leave the dead rodent searching for a new home.
I shall print out the referenced article and keep copies handy for the next person who looks me and says "how can you not like squirrels, they are sooooo *cute*!!"
I'm keeping an eye on you, you plaugey b*stards!!!!

____________________________


And now, the update and my vindication:
Plague-Infected Squirrel Closes California Campground

A plague-infected squirrel has closed a California campground for at least a week, according to Los Angeles County health officials.

The squirrel, trapped July 16 in the Table Mountain Campgrounds of Angeles National Forest, tested positive for the infection Tuesday, prompting a health advisory and the closing of the campground while investigators tested other squirrels and dusted the area for plague-infected fleas.

…L.A. County health officials are urging Angeles National Forest campers to avoid contact with wild animals, steer clear of squirrel burrows and report any dead squirrels to the department of health. (emphasis added)
Oh! Oh! There it is. The I Told You So Dance.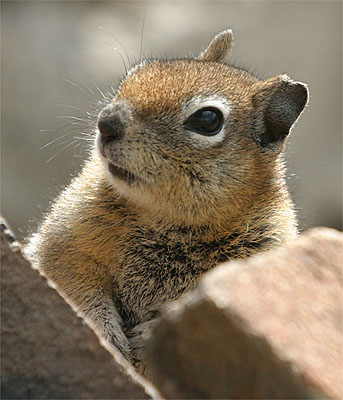 …but you can't take the desert out of the girl.
So here's something that is grinding my gears lately.
It is the summertime here in the Bay Area and that is a complicated thing. As many know, the marine layer and I have long had a tempestuous relationship.
July looks like this: overcast morning gives way to a very hot and sunny day which is then doused by fog by the afternoon.
This phenomenon is why you see tourists shivering in their shorts down on Fisherman's Wharf. The Bay Area warms up quickly then is naturally cooled.
However….
Before the fog rolls in, it can get truly hot around here. Hot enough that a little air conditioning would be a nice thing.
Most of the Bay Area doesn't believe in air conditioning. I recall when I first moved here and was shopping apartments. I asked one landlord "where are the air conditioning controls?" and he laughed and said, "No air conditioning."
"Whaaat?!" Was my reply. That was when I lived in the South Bay and temps could climb into the high 90′s during the day.
"Just open the windows. We get a cross breeze," he said.
I scoffed. And harrumphed. And muttered something like "I'll give you a cross breeze you rattin' smattin' rootin' tootin' son of your mother…."
As it turns out, very few homes in the Bay Area have air conditioning. No place I have lived since I've been here has had the sweet miracle that is air conditioning. Only some windows and a hope for a cross breeze.
Compare that to New Mexico where every home has some form of AC. It's only right. Just. Moral. Upstanding.
I've survived many a Bay Area summer season by working a few longer hours at work, sucking down their gentle corporate paid cool air, or riding in my car with the AC on max to cool off.
But what's grinding my gears lately is all of the retail stores that either don't have or don't use air conditioning.
Look, I learned as a young child about moving quickly from the freon cooled car into the refrigerated air cooled grocery store that was so frosty it would raise goose flesh on arms and my legs clad only in shorts. Malls and clothing stores and other retail shops are a respite from the heat.
Not here. Stores have no windows and no AC and no moving air at all and they become this stale pit of muggy heat. Bleah! I saunter around the store wiping sweat off my fevered brow.
My desert hewn body was made to be a wonder of convection cooling. I sweat, breeze passes over it, water evaporates and I'm cooled.
This is how nature made me!
But deep inside a Walgreens or a Safeway there ain't no breeze and only the sweat remains. Gross.
So then I take up residence somewhere near the freezer section where I crack open a door and it takes me a reeeeaaaalllly loooooong time to select which brand of frozen orange juice I would like.
It just ain't right.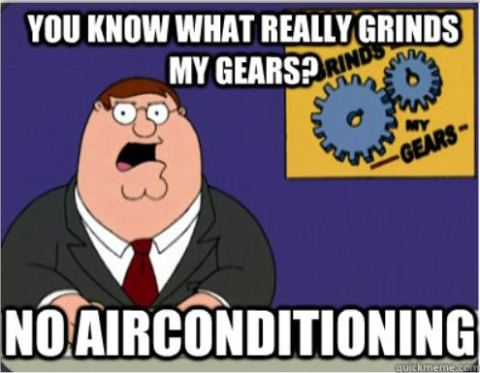 Image created by quickmeme.

In my internet wanderings, I often find myself cruising beauty blogs for makeup advice tips. I am flat out terrible at applying makeup in any sort of especially appealing manner, so I'm always on the lookout for easy and fabulous looks. Or something like that.
While on one of these jaunts, I stumbled across this particular service called Anaface which is a facial beauty analysis. All the girls were piling in there to have their face analyzed and were reporting results. Some ladies were very happy. Some were sad.
And I thought to myself "what a crock of crap," and yet, I bookmarked the page.
When I'd see that bookmark I'd ponder it, wanting to quickly upload my photo, then harrumph and go off again.
Today, the lure of my low self-esteem was just too great. I went in.
I began with this photo of myself in which my hair and makeup was professionally done and a master photographer took my image. In this photo I think, "Yeah, you know, I look all right."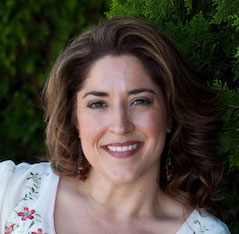 Then I uploaded that photo to the Anaface service. From there I helped the software by using my pointer to locate certain measurement spots on my face like the sides of my eyes and edges of my nose.
The software did its analysis and crunched the numbers and I arrived at this result:
"You are a 7.64 out of 10″.
I am ashamed to admit I was at once happy (almost an 8!!) and depressed (what, I'm not a 9?).
Then I read the laundry list of "Here's why" and I began to feel like crap about myself.
Poor horizontal face symmetry. What? I thought the human eye found slightly asymmetrical faces to be more attractive anyway!
Your nose is too wide for your face width. What? I have a funny little thin nose actually.
Compared to your eye width, your innerocular distance is nearly ideal. Huh? I don't even know what that means. Is that a good thing or a bad thing? I mean, "ideal" sounds top notch, right?
So I harrumphed and my inner feminist got outraged and I Googled this facial beauty analysis thing to understand what the actual hell was up with this. I expected to see people out there as outraged as me. What I found was other analysis sites to try.
Then low self-esteem won out over self-righteousness and I uploaded my photo again, this time to a place called Pretty Scale.
Same sort of drill, I helped it find measurement points and it crunched the numbers and said: "77% You are pretty!"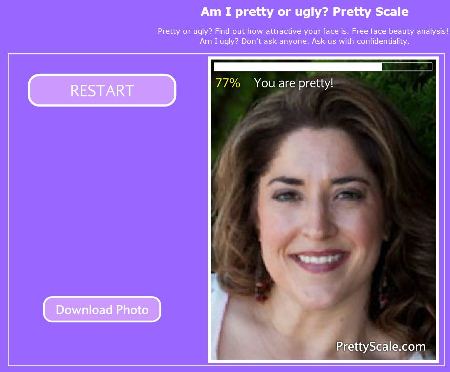 And that sweet, sweet dopamine rush kicked in at the words "you are pretty" and I felt validated and superior and attractive for about 52 seconds and then thought to myself, "what, only 77%? I'm not more pretty than that?"
Only Pretty Scale doesn't give me the rundown of things I can obsess about that are wrong with my physical appearance like my mouth being too wide for my nose. No, it just coldly arrives at a score and shoves it at you and runs away.
Then I realized how galldang evil these kind of websites are and how this is yet another way to make both men and women feel bad about themselves.
To their credit neither site was trying to sell me anything in order to capitalize on my poor self-image created by these bogus scores, which kind of surprises me.
Meanwhile, I honestly admit that reading "you are pretty" made me feel so good on a low, base, shallow level. And for that I'm the littlest bit ashamed of myself. And a little bit proud. And a little bit more ashamed and a little bit….
You get the picture. And when you get the picture, don't upload it to a facial beauty analysis bullcrap site, okay?
Because to me you are beautiful just the way you are.

___________________________

By the way, Gollum clocks in at a respectable 6.9 out of 10. His innerocular doohickey is also nearly ideal.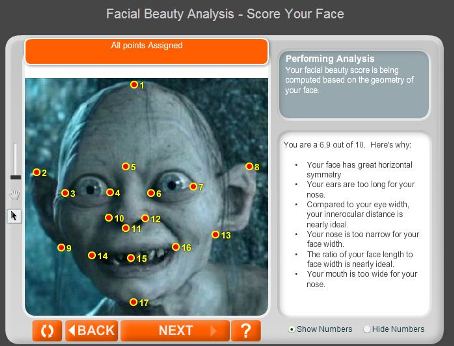 Dear Package of Fruit of the Loom chones that were on sale at Target:
Look, let me just start with the end in mind. It's not going to work out between us. Mostly because of the way you have behaved around my hind end.
Oh sure, the early days were grand. Glorious. Filled with anticipation. You lured me over to your side by wearing that fabulous "on sale" tag from my local Target store. Your price was so shiny and new and your colors, oh your colors. Yes.
I'd been with my old yonderwear brand for years. And years. YEARS I TELL YOU, and I had been wanting to get some new pairs since time makes fools of us all, including rear-covers. Yes, the holes, the leg elastic is shot, the droopy nature of the old drawers made me long for something fresh.
The store for the usual chones is a bit of a drive and I thought hey, maybe it's time for a change. Maybe I can make a new friend with a new brand and I won't have to drive over hell and tarnation and deal with a jacked up parking lot just to get undergarments.
Just as I was thinking this, you entered my life. There I was already at Target and your price was right and you looked cute and I thought "why not?"
Why not, indeed.
I flipped over your simple package and I looked at the sizing chart on the back. I checked and double checked and yes, I bought the right size in the right colors in the right style.
Oh how excited I was to bring you home and try you on! I'd also procured a new nightgown so I looked forward to all of the newness and shiny and happy and joy in my house!
I did hesitate for a moment. Yes, I did. I also walked over and considered another brand of undershorts but they were more expensive. You got me on price. Oh ho ho, you sure got me.
I put you into my basket and then took you out again. Then I decided I was being a fool and put you back in there.
That warm Saturday evening I took a nice long bath, scrubbed up, shaved the ol' legs and then toweled off, ready for my new garments.
I opened your pack, picked a color and slid on my new skivvy fashions. Ah yes, they fit perfectly. Excellent!
But then, oh then, I began to move around. I picked up some towels and hung them up, put some things in the hamper, emptied out the trash in my room.
The bending over. That's where things took a long bad trip. Instead of being supportive and helpful, each time I bent over you packed up shop and moved north.
Very. Far. North.
And so I'd forcefully put you back in your assigned location only to have you shoot North again at every turn.
Twenty minutes. That's how long you lasted on my nether regions. Twenty. Minutes.
Then you were cursed at and quickly removed in favor of a pair of the ol' standby. The brand that knows my curves and cherishes them so. I did a bend test and nary a problem in Ol' Faithful. Everyone stayed in their assigned campground and didn't drift in wrong directions.
So here's the thing Fruit of the Loom knickers…it's not me, it's you. Very much you. One hundred and ten percent YOU.
I'm so disappointed, and so ashamed I cheated on my loyal and trusted brand.
Thus, I must banish you from my home.
Don't go away mad, just go away. Forever.
Unkindest regards,
K

Image found here.

Don't look at me! Don't! I'm so ashamed.
: deep breath :
Ok, here's the thing. I didn't MEAN to purchase tweenie teeny bopper music. I really didn't. I swear it!
It all started out innocently enough. I was in my car. It was a bright sunny day. I had the windows rolled down and I was feeling all of my wild oats.
I was at work and driving across town midday to the other building and going to see one of my favorite coworkers and life seemed pretty darn good.
The car radio was tuned to the local popular station and I caught this sort of fun little summertime kind of song with a break in the middle for some Flo Rida.
Now, I love me some Flo Rida. Not ashamed about that.
The song was something about some boy singing about the girl being a "troublemaker" and I thought the Flo Rida break gave it some gravitas.
I found my rear quarters grooving to the beat and a hand tapping the ol' steering wheel. I smiled a little about all the times some cute boy in my life has called me a troublemaker. The spring-into-summer sun and nice memories worked for me.
Later that day I went home and went to YouTube and watched the super cutie cute Brit boy doing his little thang lip synching to the song. I watched another of his videos and was charmed then went straight to iTunes and bought his whole album.
I fired the thing up and started listening to all fourteen tracks.
Oy vey. That's when I realized my mistake.
The two songs I'd heard are the best of the album. All the rest are overproduced crap. Bouncy tasteless boy band crappitty crap.
And I bought the whoooole album. Damn.
When I realized I'd simply bought the one boy version of One Direction I was quite embarrassed. Very embarrassed. Shocked, sad, grief, and then I laughed. A lot.
Then I turned on Stevie Ray Vaughan to cleanse my ear canals. That helped me get right.
As my blues friend used to say at the end of the night, "Did you get healed?"
Thanks to a beat up old Fender and the talents of a good Texas boy, I sure did.
Too bad about the electronic copy of the bad stuff. I can't fling electronic bits out the car window while doing 85 mph on I-25 north out of Las Cruces. You know the place, right near the first rest stop? It's where I once flung a good portion of an ex-boyfriend's cassette tape based music collection, just out of spite.
It's a real fine resting place. I would fly to my fair New Mexico just to get it done.
Ah well. Technology. Whatareyagonnado?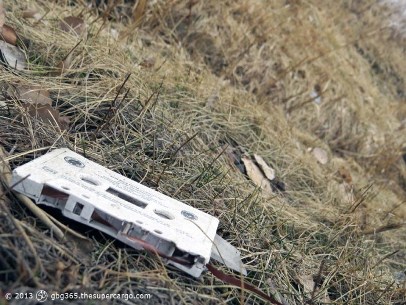 Image found here.

So of course, I'm the jerk.
Friday afternoon after a long week at work and dealing with more than the average load of dung, I was ready for the weekend.
The Good Man was working in a town quite a bit farther away and we had plans to have dinner with friends. Because we live in a place that has too damn many people, managing commute time traffic is "a thing". This means that I eschewed my car and instead got my shoes on. Late Friday afternoon I found myself walking to the nearest BART station about a mile away.
I had been too lazy about getting ready and was up against it in terms of time, so I walked at a pretty fast clip. I was keeping up a good pace so I could catch my train.
Now, sideline comment here, I haaaate when I'm out walking on trails and tracks and as someone approaches from the opposite direction, they don't get over. So then I'm run off into the weeds in my haste to make room. Me, always me. So few OTHER people make room.
I also hate clueless people who don't move over on sidewalks. Who stop dead center in front of the door into a business. Who stand in the middle of the aisle at the supermarket. It's all about lack of awareness of surroundings and lack of caring about what is going on in the world.
My folks taught me to be polite and taught me to be considerate. This lesson is strong in me and I can see other parents didn't value this quite as much as mine did.
So of course, as I walked down a long sidewalk past many shops and restaurants, I was already steaming a bit about the lack of consideration from fellow mankind. I had already been run off of the sidewalk and out into the very busy street by a group of "ladies who lunch" who refused to move from dead center of the sidewalk. By a youngish guy riding his bike on the sidewalk straight at me who wouldn't move over or into the street. By a guy with two huge dogs who could not have given less of a damn. By a lady with two toddlers who are clearly fine unattended on a very busy sidewalk.
So I was steamed. I just wanted to get to the freaking BART station. And to see my husband.
Finally I found a stretch of clear sidewalk and I kicked in what tiny afterburners I have and picked up my pace.
It was about this time that a pretty little goldilocked girl, aged maybe twelve or thirteen, came toddling out of a building. Her friends followed behind. Clueless, of course. She walked right in front of me then stopped. My big ship does not veer that fast, especially at speed. I tried to avoid her but instead I glanced into her shoulder. As I passed, I said a rather stern "excuse me!!!" and kept walking.
Except…I heard the notebook that she had been carrying under her arm hit the pavement. I'd jolted her so hard she dropped her book. I wanted to keep walking. Screw it! I thought. She had stepped in front of me. Cut me off! Not my fault!
But I realized analysis of any outsider (and certainly her helicopter parents, had they been present) would say that I am the asshole in that situation. I am the jerk. I am the grown up and precious little curly blonde sunshine teenager is the in the right.
Even if I am right, I am wrong. The court of public opinion says "think of the children! It's all about the children!" even though special snowflake was clueless and in the wrong. Nope, I'm still the wrong one.
So I stopped. I turned around. I saw three little shocked wide eyed little girls with bow lipped mouths registering disdain. I leaned over to pick up her notebook, but one of her friends already got it. I said, "I'm sorry, darlin', I didn't mean to run into you. Are you ok?"
She said, "I'm fine." And I said, "Ok, again, I'm sorry," and she said "It's ok" then I turned around and walked off quickly, now later than ever for my train.
As I walked I now felt sheepish and mad in equal parts. Sheepish for slamming into a little girl so hard she dropped her notebook. Mad because what the hell!? Get out of the way!
Argh!
When I was a kid the world did not revolve around me, but now as a childless by choice adult I have to revolve around other people's ill mannered kids.
Not something I can solve. Just wanted to air it out. Thanks for the group therapy.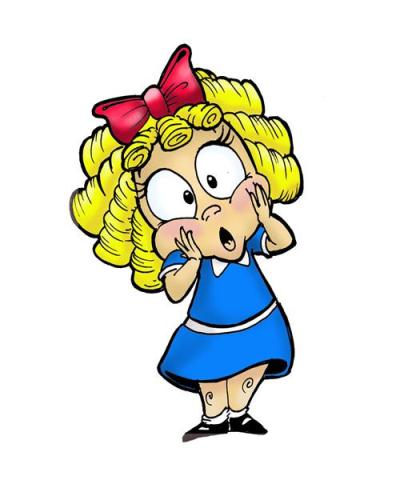 Image found here.

And so as I was perusing my Facebook timeline this morning, idly reading posts while breakfast was consumed, I came across a post from Chile Monster, a good group of folks that I follow.
Contained in their post was a link to an article about a woman who had moved to New Mexico and her first experience dining at Albuquerque restaurant Little Anita's. She details how over time she learned to love green chile, and now living in Colorado, she found another location of Little Anita's where she could get her fix.
In the comment section of that article was the following quote:

I have the greatest disdain for it. Green "chili" is disgusting gruel. Chile verde is supposed to be made from tomatillos.

– Diego Raya

When I read that, I actually jumped a little as though I'd been touched by a live electrical current.
Then I said aloud to my phone in the quiet dark of my living room, "Whaaat the f*****k?"
It was at this point that I laughed. This had to be a joke. The Good Man wearies of me raging against tomatillos. In California, green salsa and green enchilada sauce are made solely with tomatillos and thus I avoid them at all costs. Occasionally there are some jalapenos thrown in. All heat and no flavor.
That is, as the internets would say, weak sauce.
Why anyone would prefer tomatillos over green chile is a mystery to me. There is actually room in the world for them both. I believe true chile verde has both, but I won't quibble with the adamant commenter.
In the aftermath of reading the quote, I went through many of the stages of grief. I was disbelieving. I was angry. I was sad. Then I accepted that one Mr. Diego Raya is entitled to his opinion. And also his utter lack of taste buds.
Then I realized, let Mr. Raya have his silly green tomatoes. Piles and piles of 'em. Let him have the entire watery crop.
Eat, Mr. Raya, eat! Enjoy every last one.
Just leaves that much more green chile for me and my people.
Move along Mr. Raya. Nothing to see here.
O Fair New Mexico, we love, we love you so…

Image Copyright 2008, Karen Fayeth.

Oh me oh my oh. Sometimes I really have to step back and just wonder what in the hell is wrong with me.
I try to be a normal person, I really do. I try to keep the weird under wraps and show a normal, professional, got-it-together face to the world.
But I ain't got nothing together. It's all just a shuck and a jive.
On Friday, I managed to embarrass myself pretty good.
See, I've been feeling a little bit on edge about the new job. I really, really like the job and my manager and the people I work with and perhaps I've become almost too emotionally attached to this place.
It's an awesome gig! With how crazy busy things have been recently, I have made a few mistakes. One medium sized, one a great big whopper. Wheew. I do hate making mistakes on a grand scale.
I'm used to making mistakes. I always say, "It's not whether or not you make a mistake, it's how you get back out of the mistake that matters." And it's true.
Trouble is, I not only made these mistakes, but being so new I don't even know how to back out gracefully. So I've been flailing at it.
Flailing. Never a good look.
I suppose I am actually grateful that I got sick recently because it took me out of the game for several days. That flu laid me down not-so-gently and gave me respite. And perspective.
Coming back to work I felt humbled and ready to step back in and be more calm and methodical about how I approach my work.
Then there was Friday. For reasons I can't fully explain, I was totally out of sorts on Friday. Quaveringly low self-esteem, a bit of anxiety, and just all around trying and failing to keep it together.
At lunch I decided to head outside. My sister and I had been chatting about this fabulous under eye serum she found and I was off to Sephora to procure some of my very own. I thought it would be a nice bounce to my self esteem.
I got up from my desk and felt pretty ok. Threw my shoulders back and was doing my best "fake it until you make it" strut.
I went out the front door of the building and saw four coworkers (one of them an employee on my team), I smiled and said, "hey, that looks like trouble" and threw my head back and laughed just about the time the toe of my sandal caught the uneven concrete.
Then I went ass over teakettle. Right there. In front of a crowded foyer, lots of people outside, and four of my coworkers.
Oh, and everyone gasped and many people came running over. "Are you all right? Are you ok? Here I'll help you up" was like a loud chorus swarming around my head.
Now, here's the thing: I fall down all the time. My whole life. It's just something I do.
Usually falling down happens in one of two scenarios. 1) I am feeling pretty overwhelmed and "out of it" or 2) I am feeling overconfident.
Well, Friday's tumble definitely falls into category one. Overwhelmed. I tend to lose track of my feet and the results were incredibly humiliating.
Since I fall down so much, when I roll to a stop and quickly assess my limbs, and I realize I'm fine (and since I'm so well practiced at this I'm almost always fine) I start to laugh. C'mon! Falling down is funny!
But I think my sitting there on the ground cackling at myself makes people really nervous. I guess I'm supposed to be upset and crying when I fall. Hell, I'm not giving anyone that satisfaction! I'm going to laugh because falling is totally funny! Even my own tumbles are pretty dang hilarious.
Anyhow, I waved off all the hands reaching out to pull me up and repeated like a mantra, "I'm fine, I'm fine, no I'm not hurt, I'm fine."
I got to my feet and walked away, intent on going to my car and still having my fun lunchtime shopping break, despite the dirt and gravel stuck to my backside.
Then I walked past a picnic table out by the parking garage, near to where all the fuss had happened.
Two young women sat at the table. As I walked by, one said to the other, "It's because she's so fat."
Ouch. That's not funny. That's not ooops I fell down but I'm fine rocking good time Karen. That's just mean.
So I walked away from them and went around the corner and I called The Good Man, because he felt like the only person in the world who might actually be on my side.
And of course, he was. So I promptly started crying. Sobbing, actually.
Thankfully he was nearby to where I work and he came over quickly whisked me away. We had lunch and he said soothing things and he took me to Sephora and I got my eye cream anyway.
Then I went back to work and I was (mostly) fine.
Because when the world is mean and gravity isn't your friend, it's nice to know that no matter what all those people think, The Good Man still likes me and believes I'm an all right person.
I worked for a few hours quietly in my office then I left work a little early and enjoyed my Friday late afternoon.
Today, Monday, I still feel a little sheepish. I am a manager, fer chrissakes and falling and flailing don't inspire confidence from the troops.
Somehow I have to get my mojo back. Not sure how, just need to. And fast.
Maybe I should post an ad: LOST! One mojo. Last seen about a month ago. Really funky and fun. If found, please return to owner. Excellent karmic rewards upon return.

Image found here.

As mentioned yesterday, last week at work included a roomful of auditors which meant that we not only had to be on our best behavior (for a whole week!!), but we also had to entertain these auditors for the duration of their stay.
When my Boss Lady informed her very own team of minions that we were each expected to attend a dinner with the full audit team, I replied, "But I don't wanna eat dinner with auditors!"
Not to one to be easily swayed, she replied, "Well you're gonna!"
And so I did.
Wednesday night last week we went to a local, popular and well Yelp-ranked dining establishment. It is an old warehouse converted to an eatin' place, as is so hipster cool these days.
I found myself seated right next to one of the auditors, a pretty decent guy from Chicago. Conversation was formal and challenging at first. We were both very guarded.
The fare at the restaurant was simple and good. Not great, but got the job done. Thankfully they had a nice wine selection which helped lubricate the conversation over dinner with a bunch of stilted business folks.
At the end of the meal, and full of enough wine to matter, we were all chatting like old friends. As plates were cleared, dessert menus were plopped on the table in front of us. Since it was a busy night in the warehouse food place, the waiter asked us to share dessert menus because they were running low.
Chicago and I leaned in to look over the selection of sweet treats to end the meal.
Since I've had to concede that I actually *do* have lactose intolerance (despite all my best attempts to ignore it and pretend otherwise), looking over the dessert list has become a bit more difficult than has been in the past.
I have to be more thoughtful about my choices.
"So, what are you thinking about having?" Chicago asked.
"Well," I said, "I'm not sure. Maybe that berry crumble?" He looked at the listing then sat back in his seat and sighed.
"Berries not working for you tonight?" I asked.
"It's just that…" he faltered. "You see, it's served with ice cream. And I was recently diagnosed with lactose intolerance."
"You too!?!" I asked, way too over-excited to find someone else with my gastro intestinal dairy related woes.
We lamented together. He told me that he really misses milk, especially a big glass of cold moo juice with a stack of chocolate chip cookies. I lamented the loss of a late night cereal snack. I told him I'm using almond milk these days and he shook his head, "Yeah, that's ok. Not like the real stuff though."
"Yeah," I couldn't help but agree. "And I miss ice cream. Oh, wait!" I said, then dug around in my purse and withdrew four Lactaid packets. Enough for us both.
So we both got sort of happy and turned back to the menu and looked again. "Maybe that ice cream…" he said.
It was my turn to sit back with a thud. "As I am sure you have also discovered, Lactaid is an imperfect solution. I don't know about you, but it helps a little, but not that much."
"Yeah," he agreed. And then we both looked sad.
Then Chicago reached out and turned over the menu to the coffee and aperitifs section. "You know," he said, "We could solve this problem by skipping dessert and having a glass of port."
My eyes widened and I said, "You. Are. Brilliant."
And so we did. Two glasses of ten year tawny port were ordered and consumed and I felt nary a tummy rumble after.
Later, without even knowing it, The Good Man was also pleased with my choice.
Because lactose intolerance doesn't just trouble the afflicted. No, it impacts loved ones too.
I guess I'm learning to live with this terrible, awful affliction.
Good thing I still tolerate wine okay. *grin*

Image found here.