That moment when you are sitting at stoplight as a pedestrian crosses with the light in front of your headlights and you notice that the morning sun is giving this gentleman a solid backlighting. As he is directly in front of your view, you notice that the hairs that extend well past his nostrils are beautifully set to glowing by the golden California sun.
And you think to yourself, "Oh wow. That's…well that's something." And you laugh alone in your car because why not. You can sing in there so why can't you cackle like a dyspeptic hen in there?
And as you turn the corner and head into the parking garage you think to yourself. "Don't laugh, sparky. There but for the grace of a nose hair trimmer go you."
So then you surreptitiously check both barrels of your own breathing device to see if the protective filtering is tidy and in place.
And you realize that, you know, you could use a little trim yourself.
So you sit in the car and in the morning light of a California sunrise and you use the scissors from your small Swiss Army Knife to give a quick clip, just enough to let your sanity rest during the day that lies ahead. Because no one should have to worry all day long about the nostril streamers that suddenly seem to grow with less control than they once did.
And when done, you feel both satisfied and mildly crazy and kind of blind because why didn't you notice a trim was in order when you looked at your tired face in the mirror this morning?
But alas, you did not. Then you vow to take care of this problem more fully later tonight. And you should probably put on your reading glasses and give the eyebrows a check too because I bet those are out of control.
And then you get out of your car and walk into the office and enter this crazy day in a crazy way with crazy hair growing in crazy places.
Did you ever have a day like that? Yeah, um, me neither.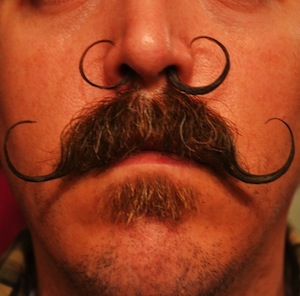 Image found here.

Subtitled: An Open and Passive Aggressive Letter To A Jerk
Dear Festering Canker on the Butt Crack of Society,
On the weekend after the American Thanksgiving holiday I see that you managed to find yourself, and maybe a few of your slackjawed mouth breathing friends, in my neighborhood.
I can't blame you because I live in an awesome neighborhood. Those houses that line the block are old, pristine and outrageously expensive.
It's a neighborhood so nice I can't afford to live here. Well, I mean own here. My economic status is evidenced by the nearly fifteen-year-old vehicle that I have to park on the street in front of the building that houses my teeny tiny apartment.
One of my neighbors who also lives in a small but well appointed apartment had parked her nearly decade old Volvo behind me on that fateful day. I know her, she knows me. We park near each other a lot.
So yeah, there are some really rich people who live on my block, but my neighbor and I are not among them. We managed to slip our middle class selves unnoticed into this nice neighborhood and enjoy the benefits of tree lined quiet streets and a walking score of an outrageously high 93.
I can see how you might show up in this neighborhood and see the opulence and think to yourself, "I need to mess some sh– up."
And so you started with my neighbor's Volvo. About eight months ago this same very nice person had a different Volvo, but a drunk college brat came careening through our street and bounced of her car and several others (thankfully I had parked across the street from her on that night) thus totaling her beloved old Volvo. That thing was a classic. She was heartbroken.
But her insurance kicked in and she lovingly replaced it with this used but in good shape model. You decided to be "cool" and rip the side mirror off of her new/used car. Ripped it clean off and left it dangling by the electrical cords. Aren't you so clever?
Then you set your sights on my Jeep. You popped the passenger side mirror out and folded it over. It's an SUV so it's okay to do that. It's a tough offroad vehicle and I've moved past bendy Willow branches that were stronger than your weak sauce.
It appears you wrestled with it a little bit because the case is cracked but your underdeveloped arms weren't strong enough to twist it off of my Jeep.
Pause here, hand to heart in honor of my Jeep people.


So, since you weren't able to complete your impotent act of vandalism, you then moved to my radio antenna. Yes, my Jeep is so old it still has an old fashioned non-retracting antenna that stands tall, reaching far into the universe to pull down radio waves and send them to the interior of my vehicle.
I have listened to hundreds and maybe thousands of baseball games on that radio using that antenna. Jon Miller's voice so deep and bassy that it vibrates the cheap factory installed speakers in the doors. Well, speaker and door, singular. The driver's side speaker hasn't worked since 2005 and I never bothered to get it fixed.
But that's not the point.
You got your giggles satisfied by ripping the antenna off my car. I can see from the clean spot in the dirt on my Jeep you had to lean in a little to get that done. I hope my antenna gave you a valiant fight. I hope you tore some skin when you ripped the metal and then carried it off.
You know, I grew up in the kind of place where there was really nothing to do on a weekend when school was out. My friends and I did some seriously stupid shit, too.
The quest to steal lawn ornamentation comes to mind. As young bucks we'd get a little sloshy and then go on the hunt for lawn ornaments. The people and culture of New Mexico tend to lend themselves to neighborhoods littered with plastic and clay items purchased over the border and brought home then proudly displayed on patchy grass and dirt lawns.
So yeah, we took stuff, but we always treated it nicely and often we'd go out on another night to return the things we took. Not always to the same lawns, granted, but the intentions were good.
All that by way of saying that I get it, the need to be young and dumb and act like an idiot.
But for eff's sakes! There is A LOT to do in this town. We live in a hotbed of unique things to do, and not even all of them cost money.
Nah, you wanted to leave your little limpy mark on the world by destructing the property of some people who value our tired old hoopties the most.
Congratulations. You win. You got me.
I will rebuild. I will eventually have my antenna replaced. For now I listen to either scratchy FM stations or I pop in a CD. Yes, my car is so freaking old it still had a CD player.
And as the Christmas seasons dawns merry and bright, my wish for you, dear vandalist, is that Santa Claus takes a giant squat in your stocking while smashing your favorite ornament to bits.
And that someone takes something that you value very much and vandalizes it.
Happy Holidays!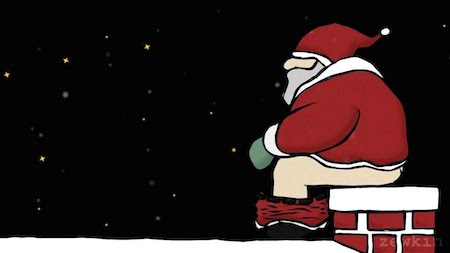 Image found here.

Turns out I have a new neighbor. I had no idea the new tenant was moving in, but then *boop*, there was someone new trooping around the ol' neighborhood.
Not sure what unit this one lives in. In fact, I've never even set eyes on my new neighbor, but I know they live nearby.
You see, October in Northern California is gorgeous. Really, it's the best time of the year, bar none, to be here. The days are warm and pretty, and the evenings clear and cool. Indian summer lasts a real long time here and it's a wonderful thing.
Every evening after a long day of work, The Good Man and I throw open the windows and the back door and let the stuffy apartment drink in all of that cool, clean air. Perfect for a good night's sleep.
Over the past couple weeks, right around 7:30pm or so, the rancid odor of burning plastic and gasoline and the hinges of hell begins to seep into every room of the house. It hits one of us (usually me) first.
"Arrwhagggh!" is the approximation of the sound I make.
"What?" says The Good Man, alarmed, and then "Oh bleah!"
Yes, it's true. My new neighbor is…Dun dun duuuuuuuun
El Zorillo*
Pinche zorillo. I haven't been able to lay eyes on the beast, probably because by the time I get the eye watering jet wash it's moved on to the next yard.
I fear this cabrón lives under my front stoop but I can't be sure.
And every time this happens, like watching reruns of Lucy and Ricky, The Good Man and I have a conversation that goes a lot like this:
Me: "I just need a .22 and I can take care of this problem."
Then The Good Man reminds me that we live in California and this state takes a dim view of shooting varmits in its urban neighborhoods.
"A bb gun?" I ask, like that kid from the Christmas movie. "The pump action kind."
The Good Man says, "You really think you can hit a [insert rodent name here, we have this conversation a lot] from here?"
"Try me," I say, standing up straighter. "I've been shooting since I was a kid, my dad saw to that. I've shot everything from a cap gun to a Browning over and under and my aim is pretty damn good."
"No," he says.
"Pellet gun?" I plead.
"What the hell state do you think you live in? We don't shoot old hot water heaters out behind the Snappy Mart around here!" (I may or may not have introduced him to the rasquache joy of my home state.)
Then he tacks on, "We live in one of the most densely populated areas of the United States and the police, they have no sense of humor in this city!"
And then I sigh, and quickly cover my nose and cough because I took in too much skunk air when I started the sighing process.
Of course he's right. So I went online and did some reading and discovered that if I can figure out where my new neighbor lives, animal control might help.
Problem is, when I get the aroma, I kinda don't want to dash out there to get a good look at where the beast is going.
I think I'm going to need a trail camera. And camouflage. And maybe some other cool things like a Buck knife and a camp stove and a new tent! Oooh yeah…
And don't anybody tell me that it's a cute fluffy creature worthy of love and affection. When the original engineer designed the zorillo, it wasn't with a love of humans in mind.
Or dogs, I think our awesome next door neighbor dog got hit last night. Poor growly bear of an adorable dog.
(This just in: I was texting with The Good Man telling him I was writing this post and he said, "I trapped some skunk stink in my closet last night. Kind of surprised myself this morning.")
*a skunk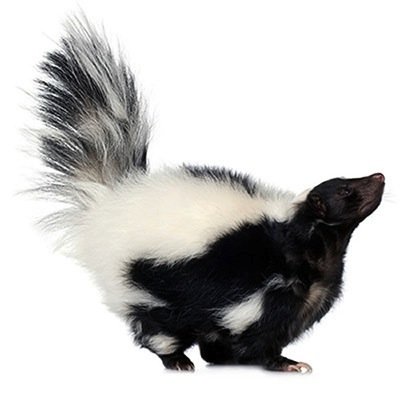 "Whatever. Haters gonna hate."

Image found here.

"Practice makes perfect," they say and, "If you do something for 10,000 hours then you will be a master."
Well, horse hockey is my answer to that.
If the delineator for adulthood is the age of 18, then I have put in a solid 236,682 hours at this craft, and I still haven't figure out how to be a master.
In fact, I may be worse at it than ever.
Sure, I get up in the morning and I go to work and I make a paycheck and I pay my taxes and I usually vote and I have insurance and a 401k and even a will. All the trappings of being a grown up.
But I still would rather have cookies for dinner and silly cereal for breakfast. I still throw little tantrums when things don't go my way. I still need naps and need to believe in Santa and I still want to play with toys and fly kites and occasionally I just need to melt down.
I can pay my taxes but the very thought of buying a house terrifies me. I can make decisions that impact millions of dollars at my job and then sometimes can't decide if I want orange or lime flavored candy at the store. Then I buy and eat both and cry because my tummy hurts.
This thing, this adulthood, it doesn't get easier.
And hell, I don't even know where the border lies, the place I can cross safely and know for sure I have arrived into adulthood.
Some might say it happens when you have kids. Fair play, I guess. But I have a lot of friends with kids that I wouldn't call the model citizens for grownup-itude.
When my dad died, that probably was the closest for me in knowing what it means to be an adult. I grew up pretty fast when, for better or worse, that was thrust upon me.
But even that wasn't enough to be the final frontier for me. (mmm, Frontier. I could go for a cinnamon roll right about now)
This past month some things happened with my "lady guts" that signaled the beginning of a long journey. When a woman's life turns from the dog days of summer into Autumn.
Discretion keeps me from going through all of the gory details, no one needs all of that. While I'm far too young for the "main event," my body has let me know that the pre-game show has started and the players are starting to take the field. (nothing like a sports metaphor to describe a lady issue….)
I'm not ready for this. I'm not grown up enough for this. I'm not an adult! I have put in the hours, many hours of long grueling practice and still…still I find myself at this age and at this earthly turning of a season far from being an expert at adulthood. I am jack of many aspects and master of none.
Maybe that is okay. Maybe that is what being an adult is about, the continually wondering if you are "grown upping" correctly. Paying taxes and eating ice cream sundaes with reckless abandon (while popping Lactaid, because that's a mature thing to do).
And on my next bubblegum ice cream sundae, I will be decisive enough to get both nuts AND sprinkles on top.
Because I'm young enough to want them both and old enough to pay for it.
So there. Take that! This is how I'm doing grown up and no one can make me do it differently!
Nanny nanny boo boo on you!
Adults are always asking kids what they want to be when they grow up because they are looking for ideas.

— Paula Poundstone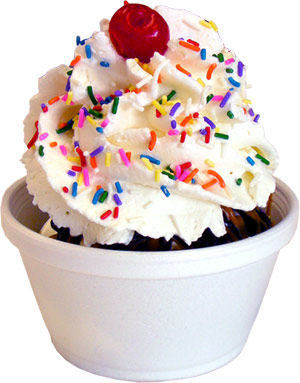 Image found here.

Oh Mother Nature, how you vex me. I mean, you and me are usually good. Real good. I mean, you do you in your own way, and that's fine. Of course it's fine.
Musically riffing, I've seen fire and I've seen rain. I've seen sunny days that I thought would never end.
I've also seen tornadoes, lightning I thought would crack the sky in two and 120 degrees with nary a cloud.
You gotta do what you gotta do, sister, and usually I'm okay with that.
This morning I stepped out of my house and felt a little rain dripping down. Yes! Rain! Good.
Only, Mom Nature, you are a real fickle beast. Was it a good deep soaking rain? A nice drink of water for the poor parched state of California?
Nope!
It was like this: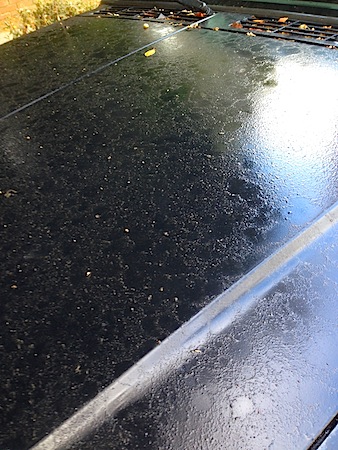 Just enough to knock dust and schmutz from a nearby tree onto my car. You just created a rolling mud bog.
Just enough to moisten the roads so people could slide real good into each other.
Just enough rain to REALLY piss me off and not enough to make a difference.
Look lady, do more than spit at us, all right?
Be better, Mother Nature!
This morning I geared up my mind and girded my loins for an important meeting. The event was a compliance review on a big project that I am working through. This project is the cause of many long hours, at least three migraine headaches and a lack of sleep. This compliance review is the last bit of internal check boxes required before we can implement this project fully and completely.
That I was even sitting in the room having the meeting is a gigantic achievement for this challenging project.
That said, I don't necessarily have the cleanest track record in these compliance review meetings. About a month ago in a similar meeting for a different project, I lost my cool and let the chairperson have a bushel full of how I really feel.
After which I was "spoken to" by my manager who mostly empathized with me. I stand by what I said, and told my manager as much. I was simply asked to "try a little harder" next time.
Because there is always a next time.
Today I had to go back in there and keep the end in mind. I knew if I was able to get through the compliance meeting, and get approvals, that I would be able to finish this project that has me burning out quickly, turning into a crispy little Karen.
The order of the day was calm. Serene. Peace.
Now, I realize that not all of my fair and wonderful readers know me in person. If you do know me in person, you could know that calm, serene and peaceful are not adjectives often used to describe yours truly.
But I had to "try a little harder." So I did deep breathing and a few deep knee bends before the event. I got to the meeting room early and got situated. I planted my feet on the ground and made a promise to myself that I would stay calm.
As the meeting progressed there were times where I wanted to say what was really on my mind, but somehow I magically refrained.
"Okay. What would you like to see in the documentation?" I said calmly and not at all snarkily. I felt the inner snark but I kept it tucked away under a beatific smile.
When all was done and I had the full list of changes and corrections, I walked out of the conference room and back to my desk.
Where I texted The Good Man the following:
"You oughta f—–g nickname me Buddha after that last hour of my life…."
You see, he knows me all too well and he knows I had this important meeting today. Then I followed it up with:
"I ohm'ed the sh*t out of that meeting."
And then I took to Google where a short image search netted me the perfect image, which I also sent to The Good Man to further emphasize my point.
And that about sums it up.
Just call me Buddha, bitches.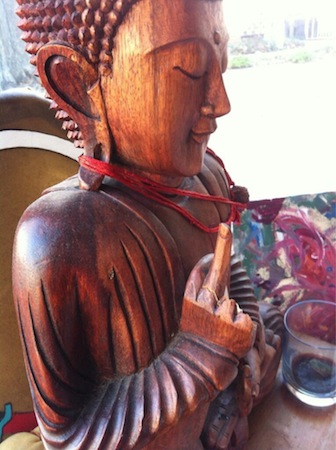 Image found here.

In the movie Tombstone, there is this scene where the bad guy Johnny Ringo and the bad but good guy Doc Holliday square off. It begins the escalation of their unpleasant association.
Here's a video clip.
The two are in a bar with their various friends and their mutual hatred begins with a war of the words.
Doc fires the first salvo by saying to his sidekick, "Look, darling, Johnny Ringo. The deadliest pistoleer since Wild Bill, they say. What do you think? Should I hate him?"
This of course isn't well received. From there Doc Holliday slides smoothly into Latin and Johnny Ringo follows suit without skipping a beat. This exchange goes on for a bit.
As the war of the words is broken up, Doc's eyes get a little steely and he says, "That's Latin, darling. Evidently Mr. Ringo's an educated man. Now I really hate him."
Bear with me here as I'm about to abruptly change course. I wanted to lay this down as useful context. Let it play in the background of your mind.
As I have noted I am the proud godmother (called Nina in the Hispanic tradition) to my best friend's two daughters. They are my light and my life and I love them enormously. I may not have kids of my own, but these girls are my kids.
However, Nina Karen is struggling a bit as these beautiful girls grow up. The oldest will be fifteen this year and the youngest will be thirteen.
Yeah. Teen. It's a whole thing I can't get into, and can't quite handle.
So my girls go about their lives back home in New Mexico and I follow them on Instagram so I can keep up with what is going on.
Several months ago, the younger of the two girls changed her Instagram profile to note that she was "taken" and put hearts around a boy's name.
Nina Karen lost her mind. Really, I was not ready to handle this. I got in touch with my best friend and grilled her. Did she know? Did she mind? Should I be worried? Can she come get me at the airport because I am flying out to New Mexico right this instant?
She assured me that it was fine. That she knew and was keeping an eye. My best friend is a wonderful mother so of course I had no reason to worry. But still, I did.
And I died a little inside when my girl would post photos of the boy and changed her username to reflect that she belonged to him by using his name and calling herself "hisname's girl" — Ugh. That one really got me.
I went on a long rant about how this burgeoning woman needs to learn to identify herself by her own name and stand on her own reputation and not identify herself simply by her association with a man.
As I stomped and ranted, The Good Man arched an eyebrow at me and said, "She's thirteen. Give it time. This will end."
And I stomped harder and said, "You don't understand! My girl! She's so loyal and true. What if she ends up marrying this guy?"
He arched his eyebrow harder and said, "She's thirteen."
So I did what any good Nina would do, I mildly stalked the kid by perusing his public Instagram feed. Photos of his family. Photos of his pets. Seems the kid likes to play sports.
I had a hard time deciding if I should hate him on principle, or learn to at least tolerate him because he was important to my beautiful, intelligent and amazing goddaughter.
After spending some time with my best friend and her girls over Spring Break, and getting some of my thoughts out, I realized that my girl has got to find her own way in this life, as much as this may pain me.
She really is a good person and growing up fast. Her parents have instilled good values and decent common sense and now is the time for her to put that to good use.
I still snarled when she would post a photo of this guy as her "Man Crush Monday," but kept all of my unkind comments tucked away inside. I had to just let this thing ride. Even if it meant heading in directions I didn't like.
I had reconciled myself to it. It was a burr in my saddle but not bad enough to stop the ride. Fine.
Until just this past week.
When I found out that this young man broke up with my girl.
Via text message.
Now I really hate him.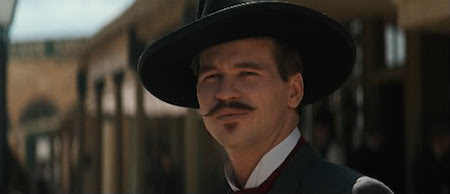 Okay, okay, fine. The Good Man was right. And I don't really hate the young man. He's doing what you do when you are thirteen and figuring it all out. He'll learn and my girl will learn and I will learn and maybe we'll all be better for it.
My heart breaks for my goddaughter because her heart breaks. I guess that's just how the game of life is played.
I can't spare her, I can only be there to catch her when she falls.

Image found here.

So there I was a week ago on Tuesday, sitting at my desk and having one of the worst days at work in recent memory. There were all kinds of bonfires burning brightly on my desk. Still are.
So much so that in a recent hot project review with my manager and all of my peers, the Boss Lady remarked "wow, you have all of the really awful problems, don't you?"
She is fairly unflappable and not easily worried by the bonfires that my job brings, so her concern means I am seriously up to my eyeballs in alligators.
As the day progressed like a hammer to the head of a nail, I decided to sit back for a few minutes and look at some personal email by way of distraction.
That is when I found an email from someone I don't know, a Good Samaritan if you will, letting me know that my sweet Oh Fair New Mexico site had been hacked.
Oh joy. Just exactly what I needed.
This was, in my opinion, a particularly insidious hack. It was done so cleanly that I never even knew it had been hacked. Google "WordPress Pharma Hack" and read the pages and pages devoted to this really clever little invisible hack.
Instead of fiddling with my content or the front page of my blog, the intruder created something on the order of hundreds of offshoot pages from this blog. Those pages purported to sell all variety of fun pharmaceutical products, stove tops, waxing kits and more.
I suppose I should have guessed I was hacked when my website began to slow to a crawl. Then recently I noticed I couldn't reach my website from my home network. A ticket raised at my hosting provider said "No, your blog is up and running."
Turns out my ISP had blocked my infected web page. My blog continued to slow down even more. It began taking several long seconds to load.
I feel sort of sheepish that I didn't figure this out for myself. The signs were there. I make a living in the tech industry, but when it came to my own blog I was a silly little twit.
So after receiving the bad news I:
1) freaked out, then
2) contacted my hosting provider who had done me the service of setting up my blog originally
Within about twenty minutes they had replied to my ticket and did their part to clean out all of the offending sites. I checked several of them to be sure they were shut off. A bit of Googling around showed me that I had been hacked going back into last year. Hoo boy.
Then I had to raise another ticket because I noticed that my usual log in page redirected me to a page that looked exactly like my log in page but had a different URL. Thankfully I did notice that in the URL line on my browser.
My hosting provider responded by giving me another way into my blog. Once in, I realized that my hacker friends had set up no less than five admin accounts on my blog and one more that was invisible. I could only tell that by seeing that I had one (1) line item for users but the count in the header of the page said I had two (2) admin accounts.
Hell, I never check my admin page, but I should have.
So I did a lot of research and I learned about PHPMyAdmin and I got new keys from WordPress to make sure if the hackers were still logged in it would crunch their cookies and I changed passwords.
And I freaked out a little more.
Then I went to Google and signed up for their webtools (as suggested) and ran through the process so I could get the "this site may be hacked" message to not show up in search results for my little blog. That seemed to work fairly quickly.
And then I freaked out less but still felt anxious. And I kept working on cleaning up the mess that was left behind.
It all feels so…dirty. I mean, I don't get a ton of traffic to my little blog but it's my tiny corner of the internet and this week I celebrated my seventh year of blogging. Over half a million words.
A lot of fun has been had. By me at least.
From all of this, I have learned that WordPress blogs are particularly hackable. I have also learned that some hosting providers are also particularly hackable.
I have some other things I want to do to better secure my blog, but I certainly can't promise I won't get hacked again.
In fact, based on my research, I probably will get hacked again pretty soon until I get better security on my pages.
I may have to just shut down the blog entirely, but for now, I'm back up. It seems to be running a little quicker. I do regular backups on the blog but I did another just to be cautious.
So there you go. For today I'm back to blogging and not selling.
I like it here. Oh Fair New Mexico makes me happy, and for the few but loyal readers I have, I hope it makes you happy too.
Meanwhile if you came here because you want to buy some good drugs off the blog, the bad guys are no longer in business at this location. For now, anyway.
__________


*Special thanks to the kind reader who tipped me off about the hack. I am quite grateful to you.
**Humorous side note: When I told The Good Man that I had been hacked he went to look at the blog. He thought my kooky post about big cats liking Calvin Klein Obsession cologne was the work of the hackers.
Lol! I had a hell of a time convincing him that I wrote it. *grin* They can't all be winners.

Image found here.

And so I am back, for now, to blogging.
I'll be posting soon about the agony and ecstasy of the insidious little (gigantic) hack on my blog.
It's been quite a ride and isn't quite over. The good news for my readers is that I have had several scans done and it appears my blog isn't serving malware, so I have that going for me.
For today, I think I am unhacked. We'll see how long that lasts. (probably not for long, as my internet research has told me)
And so today on a Happy St. Patrick's Day, let's do a throwback Monday.
On this day of the wearin' of the green and the drinkin' of the green beer, many people from a variety of different backgrounds will claim their Irish heritage.
I will authenticate my own heritage by posting this photo of me and my 100% Irish grandmother: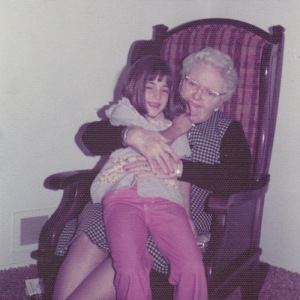 This day also matters as it is the day the first post landed here on Oh Fair New Mexico back in 2007.
Today I celebrate a lucky seven years of blogging.
I have to admit, with the recent hack-a-roni, I deeply considered giving up blogging. Or maybe taking a break. But I made a promise to myself in 2007 and I'd like to keep going.
If the hack-a-thon keeps up I may have to move to another forum, but for today, I'm here, I'm Irish and I'm blogging.
Now, despite my deep Irish roots, I was raised in the Great State of New Mexico. That means I am going to celebrate Éirinn go Brách by toddling over to my local Mexican restaurant and diving in on some mole.
Because why not?
Why not indeed.
Happy St. Patrick's Day to all of you Irish and all of you wanna be Irish. Today we're all from the Emerald Isle!
Sláinte!

Today I learned something. It may not be a groundbreaking discovery, but it's an important handy tip to know.
Let me start with the backstory.
This morning I noticed I had a meeting on my calendar that started early and would last all day long, so I decided to hustle up and get it together so I could leave the house plenty early. I wanted to be able to stop for coffee and still get into the office a bit early so I could sit a minute at my desk, gather my thoughts, and prioritize any urgent emails before disappearing into a conference room for the remainder of the day.
What a good strategy! This is part of my new approach for taking better care of myself. Generally I show up to the early meetings five to ten minutes late, anxious and sweaty from running to the meeting. Oh, and lacking coffee.
With determination, I took care of my at-home stuff and hit the mark. I left the house on time and was happy. I had a casual and not harried drive to work and I even lucked out and found a parking spot right in front of my local Starbucks.
I mean, the day was ticking right along on schedule. I was feeling so proud of myself.
With Jeep parked, I walked inside hoping for a short line then opened the door to that very image. Only three people in line. Yesss!
I stepped up to the register, ordered my drink, chatted with the person behind me in line, giggled with their child and was feeling pretty great.
My latte came up quick and I grabbed it and was feeling pleased with the smooth pace of my day.
I carried my drink over to the little station where you can find sweetener and milk to add in. I politely said excuse me as I accidentally walked in front of another customer. I thought about an article I had read recently about the value of being nice, and thought how I need to continue to be a nice person even when the world sometimes makes me want to be mean.
Landing at the sweetener station, I popped the lid off my drink, reached to grab a couple packets of sweetener, shook, tore and when I went to put this into my drink, I knocked over my lidless cup, sending a coffee tsunami into the air.
Seriously. How did my latte catch air? I have no idea. Sixteen ounces of beverage became gallons as it poured all over the counter and onto the floor. The force of the wave shoved my sunglasses off the counter and onto the floor.
The velocity was overwhelming as waves of coffee and soy milk engulfed the entire store and its patrons.
And that's how I learned that Starbucks napkins are super, duper absorbent.
Keep that handy tip in mind.

A dramatic, yet dry, recreation of events

Image Copyright © 2014, Karen Fayeth. Taken with an iPhone5 and the Camera+ app. Also taken surreptitiously in an empty conference room while the big meeting was on break.

I was born with a troubling affliction*. It's been so difficult to manage my whole life, and it's so difficult to discuss. Today I feel is the time to make public my ailment.
I am affected by a disorder known colloquially as walnut bladder. Yes, it's true. I so much as look at a glass of water and I feel the need to pee.
In such times as walnut bladder-itis affects the life of The Good Man, he calls me his little tree frog. "You know, you pick up the frog and it tinkles in your hand?"
That's me.
As a child I presented quite a challenge to my folks who liked to take road trips. The average child has to pee frequently but I was even more prone than normal. I always had to pee and I had the kind of dad who refused to stop. It was always a problem.
We used to spend summers at our place at Ute Lake. The drive from Albuquerque to Logan, New Mexico is about three hours, plus or minus. Even as an adult, three hours is just too long for me to go without a trip to the potty.
I vexed my mother terribly with my affliction. Once she threatened to use a clothespin to clamp off my leaky plumbing.
Well that got my attention.
From then on I planned well ahead for an upcoming road trip. I would cease intake of liquids at least a day in advance of the trip and would steadfastly refuse to drink any liquid until we arrived.
In hindsight, not having much liquid while living in the high desert wasn't probably the best idea, but it worked and it avoided clothespins in delicate places.
In daily life I manage my ailment by working a path between my desk at work and the restroom. At home I get up at least twice a night to pee. The Good Man and The Feline have learned to adapt.
But I had occasion last week to really realize again the utter torture of a completely full bladder and no good plan to empty it out.
It was a typical afternoon at work and I was, as usual, drinking lots of good fresh water. Staying hydrated is still important. And that means ol' Walnutta here has to go at a minimum once an hour. Sometimes more.
Usually before heading into a meeting, I will go right before so I can get through the hour stretch.
On this day, I was so busy with work and in other meetings and I bumped right up to the top of the hour when my next meeting was due to start. I did an internal gut check and then a clock check and thought, "Yeah, I'm ok."
Silly, silly me.
At about twenty minutes into the hour and a half long meeting, a job interview with a prospective candidate no less, I had that first twinge of "oh…hmm, I'm going to need to pee here pretty soon."
As the seconds on the clock ticked by with molasses speed, and the candidate droned on and on and on, things started to get bad.
One goes through most of the stages of grief when it comes to an overfull bladder.
First, denial: "Pfft! I'm fine. No big deal. I can make it."
Then bargaining: "Ok, well, if I can make it just ten more minutes, maybe I can excuse myself and take care of this. Please please bladder don't let me pee my pants."
Anger: "Dangblamit why did I drink so much water today! And why is my bladder so tiny? And why can't I just distract myself and make this feeling go away!?!"
Depression: "Dude, you are such a loser. Look at everyone else at the table, they can hold their liquids. What is *wrong* with you?"
Acceptance: "It's going to be ok. I'm going to make it. I'm not going to pee my pants. And if I do, it will be fine, right?"
Over the course of an hour and a half I moved up and down and back and forth through all of those stages and I squirmed mightily in my chair.
Look, my attention span isn't that long to begin with. Add in a full to bursting bladder and I don't hear what anybody has to say about any topic.
It was horrible. At one point I thought I might even cry, I had to pee so badly.
And finally! Finally at the hour and forty five minute mark that damn candidate stopped talking and I was free to go use the restroom all the way over on the other side of the building.
Then it becomes like that question of walking or running in the rain. As in: In which method do you get wetter? (I think Mythbusters proved it's a toss up)
The question became: do I walk to the bathroom thus taking longer and upping my odds for peeing my pants? Or do I run thus jangling my stuff and making it more likely I'll pee my pants?
I chose a sort of tight-legged shuffle and finally made it safely into the bathroom stall.
And once I made it to the safe zone and did my business, my whole world looked a little brighter. A little happier. A little more at peace.
I know everyone has gone through the ballad of the full bladder at one point or another. When you have a walnut bladder it happens a little more often than I'd like.
You better betcher sweet life I'm doing a much better job of meeting and bladder management. No one likes the full bladder squirms.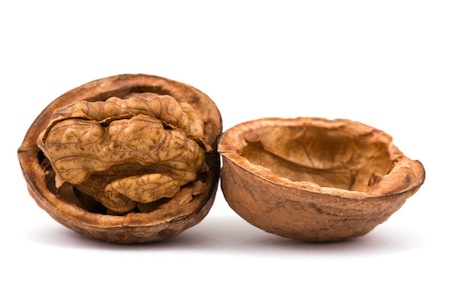 Ok, not *really* an affliction. The word just sounded good to add the right amount of drama.


Image found here.
I hate talking politics. It's a conversation that never goes anywhere good, but today I'm going to venture into rare territory for me.
As a caveat, I might mention that I am neither a registered Republican nor a registered Democrat. In California you can "decline to state" and still vote in each of the major elections. Long ago I became disgusted with both major parties and decided to choose none. It was a good choice.
Also, I will state for the record, I vote in all of the major elections and most of the minor elections. It's how I was raised.
I tend to shy away from being too specific, but I will go there. These days I am employed by a contractor to the United States Federal Government.
I work for a company that is engaged in some of the most mind-blowing science in the world.
For example, a couple weeks ago, I sat in a conference room waiting for a meeting to start. Also in the room was a physicist who works on the team searching for the existence of dark matter.
I sat there eating a salad (it was a lunch meeting) listening to this guy explain to another scientist how they actually test for dark matter, i.e. how they will know if they found it.
My mind was utterly blown. I once worked for Apple, so I know what it's like to work for a cool company. I'm sorry Apple friends, dark matter beats the shit out of iPhones and iPads on the coolness factor eight days a week.
I am proud to work here and I work my ass off. I am also fortunate enough to have six people who report to me. They have put their faith and trust in me to work for them, to protect them, to knock down hurdles and to help them be the best employees that they can be.
It is somewhat amazing that in this team of six there isn't a clunker in the bunch. They are all high performing, top-notch professionals. It is often remarked that my team is the most highly functioning out of all the teams in the larger division. (I can't take all the credit for this, my predecessor laid a nice foundation that I continue to build upon).
I am proud of them, I throw my body on virtual grenades for them, and they reward me by making me look really good to my leadership.
Today I attended a meeting of all of the managers in the division and I had some choices I had to make.
You see, the entity I work for works a little differently than direct Federal entities and most contractors. We are able to carry over government funds so we often start the year with a surplus. This surplus means that we have not yet been furloughed and will probably be ok until mid-November.
Well, let me back up. If the debt ceiling isn't resolved this week, we shut down almost immediately. That is a separate issue.
If the government shutdown drifts into November, we will have to move to a skeleton crew, and if it goes into December we will shutter our doors entirely.
So in that regard, I am lucky. Similar entities to my employer will be closing down effective next week and direct federal employees have been out of a paycheck since October 1st.
But, as leadership of this organization, we have to be prepared for all of the iterations of what might happen.
We must plan for the worst-case scenarios.
Today I sat with my peers and my boss and I had to decide which of my six people will work and which would be furloughed in the event this shutdown goes to November.
As a contractor to the Federal Government, we don't get back pay in the event of a furlough. That money is lost for good. So I have to pick people who take a deep ding to their income just on the cusp of the holidays.
So who do I pick? The man with twin five-year-old children? The woman putting her two daughters through college? The guy who just started here two months ago, just moved to California and his wife hasn't yet found a job in this terrible economy? The guy with the talented high school aged daughter who will likely make the Olympic team in 2016?
How do I choose who doesn't get paid? How do I pick?
And why should I have to pick?
Tell me members of the United States House of Representative and the United States Senate, why did I have to make those choices today?
By the way, my boss had to make her choices too. I am on the list to be furloughed.
These past fifteen days of government shutdown make me sick to my stomach.
And angry. Yes, I am finally angry.
I am angry in a non-partisan way. I blame everyone. I blame each and every elected official who has any part of this. Every one of you made me have to choose who gets paid in November and who doesn't.
I have seen a few off hand comments here and there online that this whole shutdown "is not that bad."
If you think it's not that bad, it just hasn't hit you yet. But like a long string of dominos, it is coming for you.
It may be that bite of salmonella tainted chicken that gets your attention. It could be that airplane your loved one rode that crashed because no one inspected for safety.
Or perhaps it will be when you are laid off from your commercial sector job because these United States were plunged once again into a deep recession.
I don't care what party you belong to, this shutdown should make you mad. It should make you wave your fists.
And by god it should make you get out to your polling place in 2014 and make your voice heard.
Loudly.

As time will do, when it passes by it takes little chunks of me with it. I know I wake up in the morning a lot creakier than I used to and there is swiss cheese where my remembering parts used to be.
This problem is true for both humans and animals.
And so it has come to pass that my fourteen and almost fifteen-year-old feline is having a few health issues. It's not good, but it's manageable.
What this means, however, is we have to give the fuzzy three different medications.
Now, this animal of ours, she does not like to be messed with. At all. The survival instinct is strong with this one, and fight not flight is her main mode.
This cat stands her ground and then some.
Many of you are probably saying, "nah, that's just how cats are" and think about how squirmy your cat may be.
Be advised, our vet is scared of this cat. Let me drive that point a little farther in. A woman whose job it is to deal with animals in all forms day in and day out, and has been doing so for almost thirty years, has told us "you know your cat is especially wiggly, right?"
Wiggly. That sounds cute.
It's not.
So back to these three medications. One is a drop we can put on a piece of food. Fine, that happens easily.
One is a pill. This involves prying her mouth open, which then invites a lot of biting, clawing and hostility. Occasional growling and meowing too. Once the pill is down many hostile looks are sent my way as I watch an animal plotting my death in her mind.
The third is an asthma inhaler. Delivering this medication is, to put it mildly, a rodeo. We watched videos online to see how to do this and every person who said "my cat fights it" or "my cats is extra squirmy" was the owner of the kind of cat I would love to have.
These people who think they have a wiggly cat have not wrapped an arm around Satan incarnate and tried to get the great horned creature to inhale and exhale a minimum of ten times with a rubber mask over its snout.
There have been times The Good Man and I have both tried to hold this feline beast down and administer the meds and haven't been able to do so.
To be fair, my handsome and adorable Good Man is also a kind man. He's a gentle soul, which is probably why he is able to put up with me.
He hates seeing his own cat suffer this much. He and that damn feline have been through a lot together, they are like survivors of the wars and he feels it is a betrayal to do this to her.
So the wet work, as they say, falls to me. May I point out the many scratches on my arms, legs and chest?
But I seem to have sorted out how to get the meds into the beast. I have tried many approaches and for the moment I have something that is working. I'm sure that smart cat will figure out a counter attack, but for now, I'm doing it.
Last night as I held that damn asthma mask on the cat and she was actually kind of still (because I had her in a wrestling lock that Rowdy Roddy would be proud of) and breathing, The Good Man looked on in amazement.
"How…how did you do that?" he asked, perplexed. "I don't understand how you can give her the meds and I can't?"
I replied simply, "It's because I'm meaner than you."
And it's true.
As a woman of New Mexico, I have worked cattle, horses, sheep and pigs (and on one weird day, turkeys).
When you work livestock you learn more than a little about giving meds to an animal who would rather you didn't. And how to do it without hurting yourself or the animal.
And how to grit your teeth and be a little mean about it because ultimately it's being kind. I hope we can get this feisty cat to feeling better.
I have to admit, I admire her survival instinct. Now pass me the Neosporin.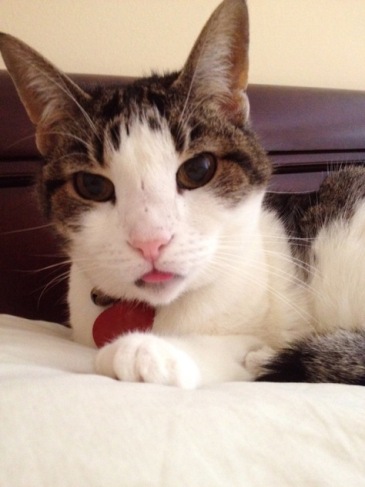 What?!?!

Photo Copyright 2012, Karen Fayeth, and subject to the Creative Commons in the right column of this page. Taken with an iPhone5 and the Camera+ app.

Ah the onset of Autumn as these last wispy dog days of summer float by. These very warm September days don't even feel like summer is ending, rather it feels like we are smack dab in the middle as the high temperatures are still pretty gosh durn high.
But alas, October is right around the corner. And by god, the advertisers of the world won't let me forget it for a moment.
I'm not ready for it, but Autumn is being crammed into my face. My nose is smushed hard in it while I hear "Who's been a bad customer? Who's been ordering non-flavored beverages and food? Who's going to pay out big money for pumpkin flavored everything? You are, that's who!"
Just as Christmas shows up in October, pumpkin everything shows up in late August.
And it ain't right.
Along those same lines, here's a handy link:
The 12 Most Unnecessary Pumpkin-Flavored Products
That's ok, I'll suffer the slings and arrows of fake pumpkin flavor until about November 1 when it will all switch to peppermint all the things.
Then Cadbury Easter eggs will arrive in January.
*sigh*