Today was my first day back at work after a nice and relaxing weeklong vacation. Always tough to get back into the routine.
Last week, I missed a big event at work. It was The Great California ShakeOut, an annual earthquake preparedness event. On a set day, they sound the sirens and we take cover and hold for a period of time to simulate an earthquake. Then when that is over, all must evacuate the building.
It's getting us ready for "the big one" that we all keep hearing about. Practice like this has proven to be useful. We do this every year meaning once a year I get to check out what's going on under my desk.
Since was on vacation and I live pretty close to work, I heard the sirens, but I was driving in my car so I hunkered down in my mind.
Today upon unlocking the door to my office I see my employer has left me a little gift in the wake of the ShakeOut event.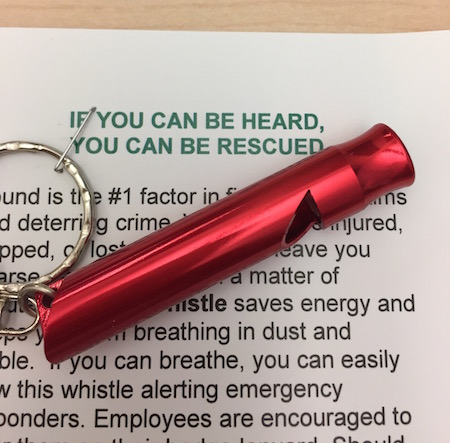 Lemme hear you whistle, baby…


Seeing this laying on my desk, I did what any mature, right-thinking adult would do when presented with a shiny red whistle. I picked it up and blew that sucker.
It's loud. A little piercing. The sound rattled off the high roof of the building.
You'd think this would be occasion for another one of those "talking to's" that my boss so enjoys providing to me. But alas no, she was in a meeting and missed it.
Instead the group administrator came over and stood in the doorway of my office, gave me the world record of stink eyes, then walked away.
I mean, if you didn't want me to USE it, then why didja give it to me?
Anyhow, my pretty red whistle is now safely stowed in a drawer. Guess I won't do that again.

Pretty whistle photo ©2016 Karen Fayeth, and subject to the Creative Commons license in the right column of this page. Taken with an iPhone6 and the Camera+ App.

In those heady days of youth when skin was firm, recovery time was fast and the brain still spongy, I remember thinking "pfft, I don't need to use lists to remember things. That's so lame."
Then somewhere in my late twenties I had to make the hard admission that my memory was just never going to be what I wanted it to be. I thought it would always be easy to remember things, and then suddenly it wasn't so easy. Too many seemingly obvious missed items at the grocery store and dammnit, you start to love a real honest to goodness list.
So I started, grudgingly, making lists. Usually only a couple items on a sticky note, words to jog the brain. Over time that just wasn't enough. The random words were no longer enough to evoke memory. I had to put down multiple and specific words. No longer could I trust my brain at ALL. These were dark days, indeed.
Years passed and my eyes got worse and my hair more gray and the little lines at the corners of my eyes were no longer laughs but crows, and I learned to love my Swiss cheese memory.
These days I am all about my to do lists. I write one up, by hand, every few days at work. Hand writing the tasks helps me to have SOME potential for a wispy memory of them.
I get out a shiny orange Sharpie and then I get all of those pesky things I am supposed to remember down onto a big sticky note. Once written, it feels good to let them go. No longer does my brain have to work to keep important tasks retained, nope. I can fill the brain holes with mental cotton candy like the score of last night's Giant's game (don't ask) and the fact that there is going to be a Sharknado 2 (not that I saw the first one).
I love my lists so much that I actually keep some of lists that have all of the tasks marked off. It's a keepsake to show me that busting my butt at work really does matter. A visual and handwritten progress bar that keeps me motivated.
There is a little dopamine blast I get when I check several items off the list. Yeah baby, that is the stuff. Gimme some more.
I even like to use the British colloquialism "tick the box" instead of check mark because "tick the box" is fun to say. It makes things feel official and proper and oh yeah, there's that dopamine rush again. Gimme, gimme, gimme.
Seeing an unticked list doesn't demoralize me, it peps me up. If I work a little harder, stay a little more focused, I can get out the black Sharpie and POW! Mark off the list. That little huff of Sharpie ink. The sound of the pen across the words. The tingles in my spine. The smug satisfaction I feel. Yeah. Love it. Love everything about it.
Even making the little fake list for the end of this post was utterly satisfying…
I should probably get help.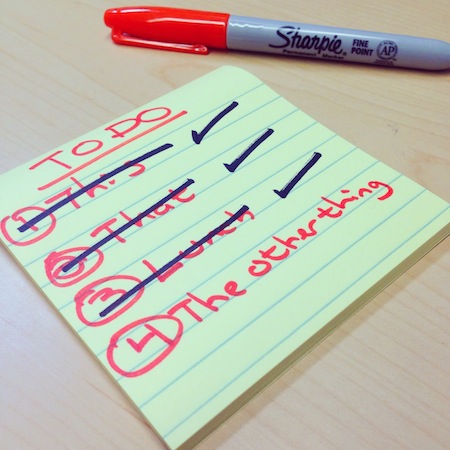 Photo and To Do List © 2014, Karen Fayeth, and subject to the Creative Commons License in the right column of this page. Taken with an iPhone5 and the Camera+ app.

As has been mentioned before, these days I work in an open office plan, meaning pretty much everyone from big bosses to little minions all sit and work in open cubicles.
It's supposed to make us more collaborative, or something.
Because everything is so open and airy fresh, as I walk through the building I quite frequently get a glimpse of other people's computer screens. Honestly, most people are working away, boring. Snore.
Occasionally people are shopping or watching YouTube, but whatever, that's between them and their IT rep.
There is one trend I'm noticing recently that has me a bit confused. There are several people, like five I can count off the top of my head and probably a few more I am missing, who have a photo of themselves set as their computer's wallpaper background.
Now, I don't mean it's a photo of them and someone else, like a nice happy couple, or dad and son or something. No, I mean a photograph of only them, and most often the photo is looking right out of the screen. Most are selfies, some are a photo someone else has taken. Some are full body shots but most are close in, framed from the neck up.
What this means is, as they work, they are looking out at themselves while looking in at themselves.
Um. What?
Look, I like myself a lot. I'm a cool chick. I like hanging out with me. I even don't mind looking in the mirror now and again.
In fact, to quote former 49ers football player Terrell Owens, "I love me some me".
But I don't "love me some me" so much that I want to look at me all the live long day.
At first I thought this was only the younger employees, the kids in their twenties who are supposedly really self-obsessed. No. It runs the age gamut.
I just…can't. I don't understand. Did I miss a memo or something?
(See what I did there? Miss a memo. How cute, granny.)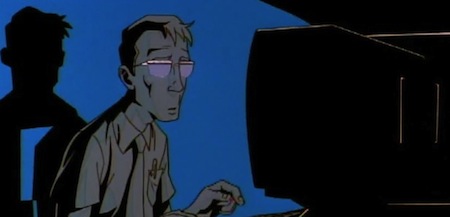 Image found here.

I always thought I was a good, solid responsible kind of girl. I keep my shoes tied, wear my safety belt and look both ways before crossing the street.
I try very hard to keep myself in check.
Actually, that "keep myself in check" sometimes wanders over in to the range of OCD. Ahem, yes.
One thing I have always been good at is hanging on to a pen. Doesn't have to be a good pen or a fancy pen, just…I tend to hang on to a pen I like until it runs out of ink. I rarely lose pens. I have handfuls and handfuls of the things. I always have a couple spare in my bag, several in my car, a lots on my desk. I am the girl who will hand out pens to forlorn people in the meeting who show up without.
But lately it seems I can't be made responsible for a damn simple blue felt tip PaperMate Flair pen. I am shedding these things like I am a Siberian Husky living in Death Valley. I have gone through half a box of these freaking things in the past month alone and lost another one just this morning.
One was jettisoned when I put my work notebook and pen on top of my car because my hands were full. I had to load my computer and other things into the backseat. I remembered to get the notebook but not the pen. I felt such sadness when I heard it roll across the roof of my car and then I saw it whip off on a curve, over a guardrail and down an embankment near my office. Ooops.
I've lost several more in the parking lot outside of the building where I usually meet with work clients. I have found three now that I dropped while heading into a meeting and as they lay there abandoned, another car drove over them. Smush. Blue ink bleeding out while the pen I callously dropped lay there dying, telling me how its cap feels so….cold….
Also, I recently discovered a sizable hole in the pen-holding pocket of my favorite messenger bag. So I think a few more cherished felt tips have exited my life that way.
Then there are those simply unaccounted for. Lost. Wandering this world alone, just begging for a nice piece of paper so they can feel useful.
The careless disregard that I show my favorite office supplies is appalling! Shocking. I don't recognize the person I have become.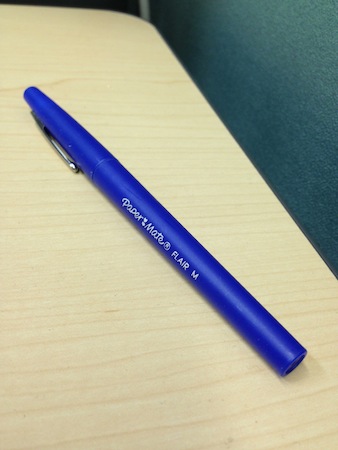 Have you seen me?

Here I am, day three of my three day training. On a Friday, no less. Today is the final uphill slog for this training class.
It is a long climb and this hiker is weary.
Not sure whether I can continue on. Sooooo booored.
Today, instead of being "that guy" I have gone into slump mode. I already got called out for looking at my phone. I've eaten every pastry they offer (all terrible!) and I'm drinking caffeinated tea. Nothing is helping.
So now, instead of paying attention, I'm obsessing on a white board marker.
This marker, particularly.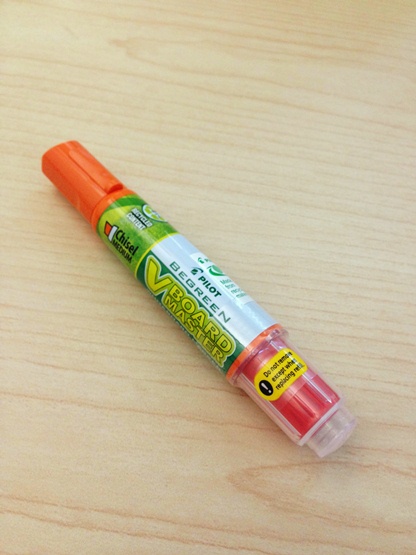 This is a very respectable marker. It's green, made from 90% post-consumer product, almost fully recyclable and refillable. This is a very smart and responsible pen, a good business choice by whomever purchased it.
So why am I obsessing? Well, one, it's orange which is my current favorite color (it changes all of the time). And two because of this…(Look at the yellow tag)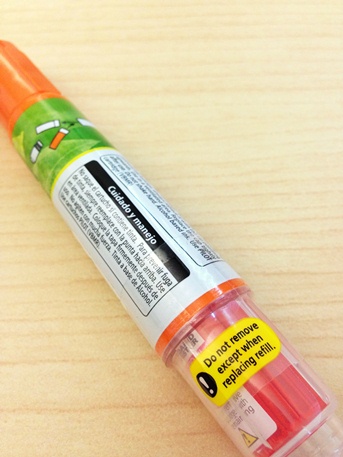 That little pen reservoir holds the orange ink. You can watch it sloshing around in there. Neat!
And that tag, it tells me not to open up that sloshy ink container. Why!?! Because it is a brand new pen and opening it now will splash ink everywhere. So!?
I wanna! I wanna I wanna I wanna!
I am having to exercise the utmost in restraint, something I don't have a lot of, to keep from ripping the end off that marker. Then I tell myself, "I'm steady handed enough, I can pull that off of there and have no problem! Without spilling a drop! Let me prove it to myself!"
But I know the truth. I'm not sure handed. I'm the girl that falls down. I will pop that cap off and ink will spring up in the air and aerosolize and there will orange ink from here to there, ceiling to floor.
That sure would be awesome, though.
Way more fun than talking about warranty claims, insurance provisions and cost accounting.
Barf.

Images Copyright 2013, Karen Fayeth, not that you'd want to steal photos of an orange marker, and subject to the Creative Commons license in the right column of this page. Taken with an iPhone 5, the Camera+ app and no small amount of lack of attention to the subject at hand.