This morning I woke up, and it was August 26th. Late summer, but still summer.
Then I went to the kitchen, and everything changed.
First this happened:


Then this: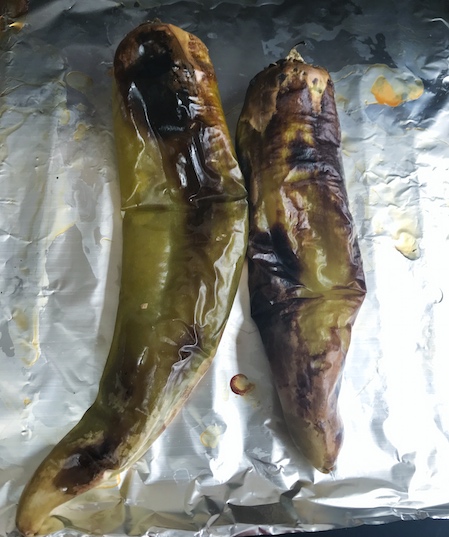 BOOM! Suddenly Autumn. That's it, I'm ready for sweaters, warm mugs of tea, falling leaves and warm roasted chile tucked into a melty cheesy tortilla.
And my home smells like my fair New Mexico, the best air freshener in the world.
Footnotes:
1) The chiles were procured in the Bay Area but certified to be from Hatch (if they passed off Anaheims, so help me….)
2) Roasting in the oven < Fire roasted, but The Good Man put the nix on a flamethrower. The discussion continues.
3) There's not very many in this batch, but we're just getting warmed up. Pun intended.

Sense memory is a funny thing. Seemingly insignificant things are ingrained early in your cells and pop up at the darndest times.

***

Earlier this week, after a long day at work and in a post-dinner stupor, I emptied the dishwasher and put away our clean dishes.
No big deal, right? Common, unremarkable.
After I'd put away the dishes, I looked at the cabinet where our glassware is kept and laughed, because I had done something that harkens back to an earlier time.
When The Good Man and I first moved in together more than ten years ago, there was a lot of negotiation. To be expected, I'd been living alone an awfully long time, was a bit set in my ways, and I was no spring chicken either.
So having this dude move into my space was, well, weird. I honestly had some difficulties, which we were able to work through bit by bit.
One such negotiation had to do with the orientation of drinkware on the shelves. You'd think this wouldn't be a big deal, but it became one of many lessons in "things you do because of where your from."
You see, I grew up in dry ol' New Mexico. We loaded our glasses rim down so the dust doesn't get in ya drink.
The Good Man grew up in Brooklyn. They loaded their glasses rim upward because god knows what crawled across the shelves and it's gross to drink from a rim that's been in the yuck. "That's why my mom puts new shelf paper down in every place she lives," he explained.
Ah. Well. Sure. That actually made sense. So I relented and agreed our home would be a rims up sort of space.
Besides, I knew that picking battles was going to be the key to success. We still had to settle if our home was going to load toilet paper over the top or from below. (Over the top is the final determination, my preference, The Good Man doesn't care either way)
So this past week, tired of mind and body, doing something I must have done thousands of times in my life by emptying the dishwasher, I loaded the glassed rim down. And laughed.
Then thought about the early days of The Good Man and Me. As we approach our ten-year wedding anniversary, I have been doing that a lot lately.
So did I then turn the glasses back over? Nope. I left them, figuring we'd use all the clean glasses before the next washer run, and then on the next unload one of us would get the right orientation.
This morning, better rested, I unloaded the dishwasher again. Sense memory, I didn't even think about it. I put the clean glasses rims up and walked away.
Here is a true and accurate representation of the current state of our cabinet.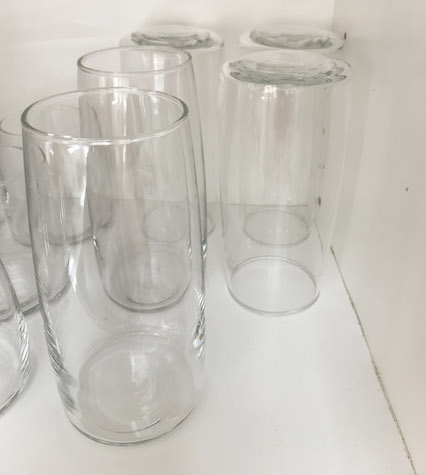 Where avoiding dust and avoiding rat droppings meet


I wonder how long it will be before my rather obsessive need for uniformity will get the better of me….can't blame that on New Mexico.

Photo taken this morning using the Camera+ app on an iPhone 7. I mean, why would you want to steal a photo of my drinkware? But if you do, please remember it's subject to the Creative Commons in the right column of this page. Attribution, please! :)
It's funny the things that stick with you. The seemingly forgettable details or moments that you look back on with fondness.
This past weekend, I returned home to New Mexico after a far too long two-year personal drought. Life, work, whatever, gets in the way (no excuse is good enough).
The occasion of my return was the high school graduation of my oldest goddaughter. At almost 19 she is no longer that curly-haired blonde toddler who captured our hearts. She is a smart, sassy, funny, talented and gorgeous woman and I'm a bit weepy right now just typing that. I'm so proud of her.
I have been working too many hours and it's fair to say I dragged my ragged self onto a plane, glad to go home. Sometimes I feel like I wander a little too far away from New Mexico. I forget the foundation of my soul and going home never fails to readjust my mind, my very DNA. It gets me back to remembering who I am and what matters.
Plus I eat good when I'm there, and green chile itself will help anyone get right.
Each time I go home, I'm overwhelmed at all of the things that have changed since the last time I was there. El Paso is growing fast. The area around Las Cruces too. More cars, more buildings, more people. It's crazy.
So then I start to seek the familiar. What hasn't changed. What is there that I remember so I can have a touchstone. A "hey, there that particular thing is, just where I left it."
The feedlots in Vado, for example. I was pleased to find them there, cows huddled under the water misters. The inevitable cow scent on the breeze.
The Organ Mountains. Craggy, uneven, and absolutely gorgeous. I see those mountains that once watched over my college education and smile, glad to say hello again.
So today at work when I was homesick, missing my best friend and the peace of her back patio, I started going through the photos on my phone to help me with the pain.
Did I find photographs of vast mountain landscapes? Did I see the faces of my loved ones? Did I have a whimsical photo of a cow?
No I did not.
All of those sorts of photos are on my actual camera. Weirdly, I took very few photos with my phone on this trip.
So I will share with you the two photos I did take. Memories I'm carrying in my pocket to remind me of home. This gives you an awful lot of insight into my muddled mind:
First, a photo of my goddog. I may have taken one or two photos of him in the past.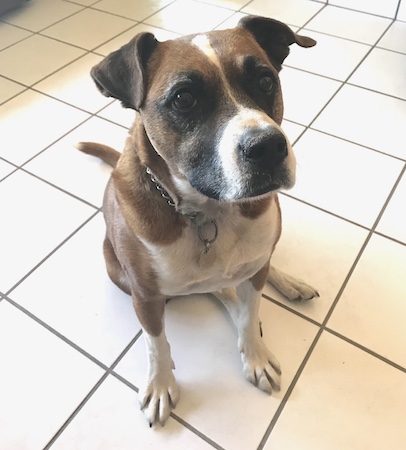 The gray hair around his eyes and in his muzzle makes my heart hurt, just a little

The second will take a little more explanation.
You see, to get back to Las Cruces, I have to fly into El Paso and while that's not my town, over the years I've even grown a bit fond of that crazy place.
When I stumble off the airplane and into the terminal I find that nothing much has changed. Then my heart softens a little when I see the genuinely godawful carpet in ELP's main terminal. Seriously, it's so bad, it makes me sentimental.
Nothing says "welcome home" like lizard carpet. Apparently, I was so overcome I had to take a photo.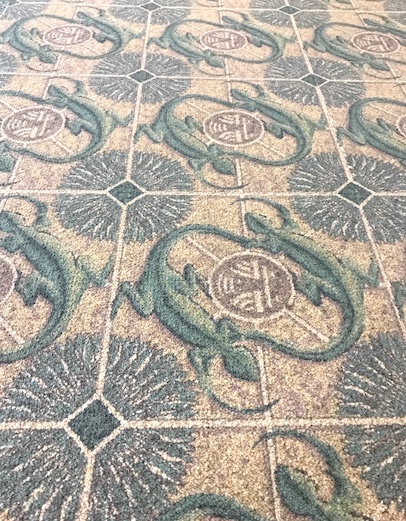 Not conducive to overcoming a hangover

And now I'm glad I did, I just found out today that the infamous ELP carpet is due to be replaced, like this month! Yipes.
That means next time, I won't be greeted at the door by the funky lizards. And as my goddog isn't getting any younger, one day I'll roll up to my best friend's house and won't get to experience his side-angled lope and velvety soft ears.
That's too much to consider. Right now, I will rest easy knowing that hideous lizard carpet and beautiful brown dog eyes remain just where I left them. I feel my connection to home, which makes sitting in this dull gray office just a tiny bit easier to take.

Both photos ©2018 Karen Fayeth, taken using the Camera+ app on an iPhone. Don't steal 'em. Thanks!

One of my coworkers brought in oranges from their yard today. Look at this, it is perfect! A supermodel among oranges. Spokesmodel for the State of California. This orange made possible by the sunshine of the Golden State. Gorgeous!

©2018 Karen Fayeth

Photo taken by me, all rights reserved. Taken with an iPhone7, the Camrea+ app, a green folder from the office, and a little bit of goofing off time while at work.

In addition to my weekly forays into macro photography, I also am a part of a photography club where I work. We have a monthly theme each month and for February the theme was water.
Ah water, necessary, essential, and in California a bit scarce. We've had some good rains lately but it's never enough.
The water theme was to support some research in process by my buttoned up scientific fellow photo club members. While they submitted perfectly rendered landscapes of lakes, exquisite macros of a single droplet on a perfect flower, and velvety moving streams, I submitted, well, this: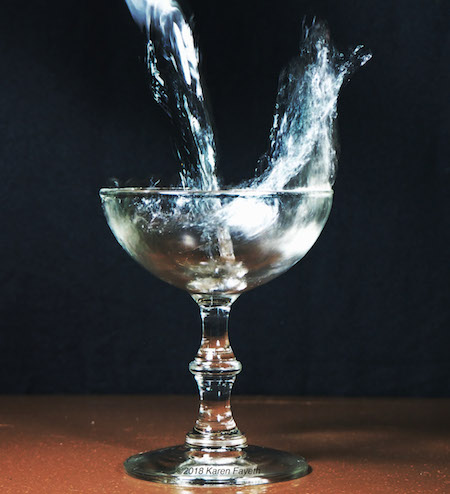 ©2018 Karen Fayeth

I fell in love with and bought the champagne glass for a dollar at my local salvage/thrift store. It was the only one there, and I loved everything about it. Since purchasing, I have been looking for the perfect project to incorporate its voluptuous curves. Turns out this was it.
Lately I have been exploring photography of drips, drops and splashes. Without a speedlight, the action of the water in this photo is not frozen, but I actually like the movement.
Also, it's unintended, but doesn't it look like a 1970's liquor ad? I love that about this photo. Not sure what I mean? Try this, this, and this.
I showed it to one of my photographer friends, a very metropolitan millennial, and he declared it "sexy AF" and "just waiting for a vodka ad."
I consider that a win.