Had a laugh this morning as I thought about today's Theme Thursday, which is: full circle.
I was looking for a sign from the universe, a whisper from The Muse, an idea to bonk me on the head that fits with the theme.
The laugh came when I realized that all I had to do was look at my coffee cup.
Here's where the circle begins:

________________________

Originally published November 7, 2008.


Alternate spelling, alternate universe

You may recall from a post a while back that I use my secret agent 007 stealth first name when I order coffee and they ask for a name to write on the cup.
My secret agent name is Lucy. I use that name because it's:
1) easy to pronounce
2) easy to spell
3) heard clearly over the whooosh whooosh sounds of an espresso machine


I borrowed this name from a friend (who has my same real first name) because of the ease of use.
Until this past week at the Honolulu airport.
They asked my name. I said Lucy. They nodded and wrote the name. I got my beverage and it wasn't until I was on the plane that I noticed.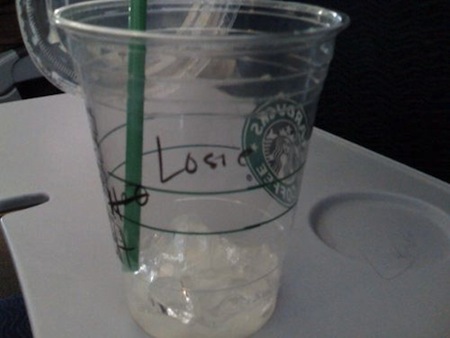 You can't make this stuff up.

________________________


And here's where the story comes full circle:
Truth must be stranger than fiction, even on the mainland, because this morning I went to my local coffee slinger and used that same nom de bebida.
And this is what I got:


Questionable spelling skills, a feature of at least two of our fifty states.
.
.
.
Side note: look how much the quality of iPhone photos has improved in four years. Amazing.

It would appear there is an internet meme going on lately concerning writing tips from classic authors. So far I have come across 10 Tips on Writing from businessman David Ogilvy and Henry Miller's 11 Commandments, both very worthy reads.
Yesterday, I came across an article in The Atlantic titled 6 Writing Tips from John Steinbeck.
This is the advice that really resonated with me…which is odd because I have such a love-hate relationship with Steinbeck.
My first foray into Steinbeck was in High School where I was held down against my will and forced to read Grapes of Wrath. I *hated* Grapes of Wrath. Loathed. Jettisoned the book across the room in disgust more than once. I found it over the top, preachy and that alternating narrative about the Joad family interspersed with expository about the Depression and the Dust Bowl was dreary and overworked.
My next read was The Pearl, which I read grudgingly because it was Steinbeck, but I actually enjoyed in spite of myself. Then I read Of Mice and Men which I found to be a cruel, sad book, but the writing was solid. Then, because I liked the movie, I gave the book East of Eden a whirl and found it to be only so-so.
So I'd given Steinbeck a chance, didn't like his stuff, and from High School on, I read zero Steinbeck. I wasn't having it, unh-uh, no way.
I was vocal and insane about how much I WOULD NOT read Steinbeck.
Enter my multi-talented and fabulous cousin. Two years ago, he was in town and we went to Monterey to celebrate his birthday. While there, he asked if I'd ever read Cannery Row and I said no. Then I issued my overworked rant about Steinbeck.
He said, "You should give it a try, I think you'd like it."
Well that was that. If my cousin said try Cannery Row, then by god I had to try it.
I went to the library bookshelf and plucked the slim tome from the pile and gave it a read.
I loved it. Every word, every story, every character so utterly perfect. I really actually truly loved and adored a Steinbeck book. Magic!
So when I stumbled across Steinbeck's writing tips, I paid attention.
My two favorite books on writing are Ray Bradbuy's Zen in the Art of Writing, which saved my life during my first real and profound battle with writer's block, and Stephen King's On Writing (which my rock star cousin gifted to me, because he's so right on like that).
The little list of Steinbeck's advice is pasted below…this now goes in the favorite pile too.
Here it is:

From The Atlantic.
I am one of those uber suggestible people who will hear a word or a phrase used a few times then will immediately adopt it into my language. Especially if it's a word or phrase I particularly like.
A a few weeks back, I heard the good man use a particular phrase, and it kind of rolled off of me. But then a few days later I heard it again on a rerun episode of Boston Legal.
Well, that was that. The phrase is now mine.
However….I've used it twice and only realized today I've been saying it wrong. I am now one of those pseudo intellectuals who try to talk big and end up sounding like a dope.
The correct phrase is: sturm und drang. Literally translated from German, it means "storm and stress."
This phrase applies in oh-so-many ways to my current work environment. I have a new employee, I have three major global projects on the front burners, and just for fun, it looks like my team will be moving under the leadership of a different department all together. It's all good change, but change nonetheless, and it is keeping us hopping.
So I'm at least using the phrase in the right context, but saying it wrong. All along I've been saying storm and drung.
No wonder I get so many blank stares. That and the fact I was suddenly speaking (incorrect) German.
Maybe I should just drop an Eastern New Mexico twang on top of it all and say storm and drain.
"Ya'll, this storm and drain over the past weeks is just about wearing me flat. We need to set us up a little ol' project plan before things get crazier than a March hare 'round here. Whaddaya say?"
I like it. I haven't gotten real New Mexico on these folks in a while.
I have a meeting in forty five minutes.
It's so on.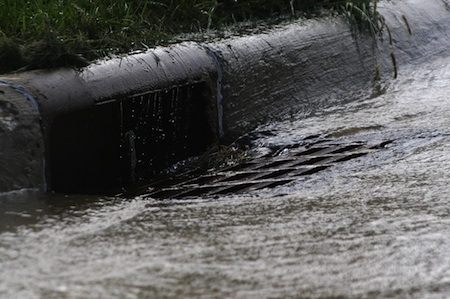 Today's Theme Thursday word is: Storm
Photo from the City of Davis Public Works site.

As a native child of New Mexico, I am neither unfamiliar nor uncomfortable with the Spanish language.
That said, the Spanish I speak is a informal blend often referred to as "Spanglish".
Un poquito English. A tiny bit Espanol.
This is both a help and a hindrance in my daily work.
I've had a chance to chronicle my extensive work learning the ways and means of my counterparts in EMEA.
I've discussed my ongoing learning curve with my coworkers and suppliers in APAC.
It was inevitable…my focus has arrived in Latin America.
Right now I work mostly with Brazil and Mexico.
Since I have zero Portuguese and my Spanish cannot be considered appropriate for business, I have come to rely on Google Translate to do my daily job. I was using BabelFish for a while, but I've come to realize that Google Translate is actually a lot more accurate and it handles colloquialisms fairly well.
Even so, it's not perfect. I really have to watch how I craft my emails. I love the English language and I love to play it fast and loose with grammar and word use. This does not always work well in translation.
While Google will properly translate the words, the meaning gets lost and I will usually get either an "I'm sorry?" or a simple "Que?" from my friends in Latin America.
Ya can't just throw down a "This ain't my first rodeo!" or "Put up or shut up!" and expect that's going to come across the way you meant it.
To make matters more difficult, I'm not only working with people in my own company, but I'm also negotiating with suppliers. Now to my mind, negotiating is a fine art. Language and word choice can be everything.
So I feel a little hamstrung trying to work a deal in another language that I can't speak. (wait, does "hamstrung" translate?)
For Mexico, I have a buddy in my organization who is originally from Mexico City. So far he's been willing to be a translator and negotiator on my behalf and he's doing a great job. I thank him profusely every day.
No such luck finding a native Portuguese speaker who is friendly to my cause.
So it's off to Google Translator and hope for the best.
Actually, I've been shocked at how well I've actually been able to complete my work. Here I am cutting multimillion dollar deals with just an online translator and a bit of attitude and somehow, it works. I am able to have Legal review in each country to be sure it all stays the way I negotiated it, and that helps me stay out of trouble.
I love language and I love using language to be persuasive at the negotiation table.
So working through an online translator feels like I'm roping a wild cow in that proverbial rodeo and doing so with one hand tied behind my back.
I'm gonna guess that didn't translate well.
———————————————

I Speak Google


Como un niño nativo de Nuevo México, no soy ni familiar ni incómodo con la lengua española.
Dicho esto, el español que hablan es una mezcla informal a menudo se refiere como "Spanglish".
A little Inglés. Un pequeño poco Espanol.
Esto es una ayuda y un obstáculo en mi trabajo diario.
He tenido la oportunidad de trabajar una crónica extensa aprender las maneras y los medios de mis colegas en la región EMEA.
He hablado de mi curva de aprendizaje continuo con mis compañeros de trabajo y proveedores en Asia-Pacífico.
Era inevitable … mi enfoque ha llegado a América Latina.
Ahora mismo trabajan sobre todo con Brasil y México.
Desde que tengo cero portugués y mi español no puede ser considerado apropiado para el negocio, he llegado a depender de Google Translate para hacer mi trabajo diario. Yo estaba usando BabelFish por un tiempo, pero me he dado cuenta de que Google Translate es en realidad mucho más preciso y se maneja bastante bien coloquiales.
Aún así, no es perfecto. Tengo que ver cómo me artesanía mis correos electrónicos. Me encanta el idioma Inglés y me gusta jugar rápido y libremente con la gramática y el uso de la palabra. Esto no siempre funciona bien en la traducción.
Mientras que Google correctamente traducir las palabras, el significado se pierde y yo por lo general se convierte en un "lo siento?" o simple "Que?" de mis amigos en América Latina.
Ya no puede lanzar una "Este no es mi primer rodeo!" o "poner o callarse" y esperar que va a venir a través de la forma que quería decir.
Para hacer las cosas más difíciles, estoy trabajando no sólo con la gente de mi propia empresa, pero también estoy negociando con los proveedores. Ahora en mi opinión, la negociación es un arte. Elección de la lengua y la palabra puede ser todo.
Así que me siento un poco paralizado tratando de trabajar mucho en otro idioma que no puedo hablar. (Tiempo de espera, significa "paralizado" traducir?)
Para México, tengo un amigo en mi organización que es originario de la Ciudad de México. Hasta ahora ha estado dispuesto a ser un traductor y negociador en mi nombre y que está haciendo un gran trabajo. Le doy las gracias profusamente todos los días.
No hubo suerte para encontrar un hablante nativo portugués, que es amigo de mi causa.
Por lo que es de al traductor de Google y esperar lo mejor.
En realidad, he sido sorprendido por lo bien hecho, he podido completar mi trabajo. Aquí estoy haciendo tratos multimillonarios con sólo un traductor en línea y un poco de actitud y de alguna manera, funciona. Yo soy capaz de tener opinión legal en cada país para asegurarse de que todas las estancias de la forma en que lo negociado, por lo que me ayuda a mantenerme fuera de problemas.
Me encanta el idioma y me encanta usar el lenguaje para ser persuasivo en la mesa de negociación.
Así que trabajar a través de un traductor en línea se siente como que estoy cuerda una vaca salvaje en ese rodeo proverbial y hacerlo con una mano atada a la espalda.
Voy a suponer que no se tradujo así.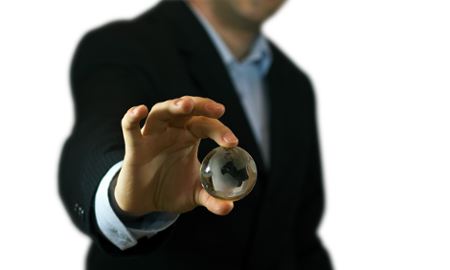 Image by Jakub Krechowicz and used royalty free from stock.xchng.


Masochism! It's what's for Thanksgiving dinner!
Yup. November means it's National Novel Writing Month, a fun event where writers around the world challenge themselves to write a 50,000 word novel in just thirty days.
And after taking last year off, I'm back, baybee!
This will be my sixth year through the meat word grinder.
Along with blogging every weekday. And holding down a full time job. And having some semblance of a life.
Apparently I like the pain. 1667 words a day, here I come.