The 26th of February. That what today is. February 26, 2016.
My, my, how time does fly.
Speaking of flying time, I see that the last time words were posted to this space was in November. That was like, yesterday, right?
Nope. 26th. Of February. Of 2016. Whew.
Well, okay, gotta try to shake that off and keep rolling. I've been thinking a lot lately about this little ol' blog. It used to be that I'd knock out a post every weekday. Then three times a week. And then nothing since November.
Been wondering what got in my way.
Three things, really. First, I got a little worn out. I'd pushed The Muse and it was getting harder to think of interesting ideas to write about. Eventually The Muse asked me to give it a rest.
Another contributor was starting a different job. I used have a free lunch hour where I both ate and knocked out the words for this blog. In my new job, I am in so galldarn many meetings each day that my lunch break is now me eating while my staff streams in the door to grab a few moments of my time.
Finally, I started wondering a little bit about the fate of so-called long form blogs in an ever-shortening attention span world. I read an article a few years ago declaring blogs dead in favor of tweets and Tumblr. I kind of took it to heart.
So I let my word field lay fallow. And maybe that is okay. It needed some rain and some decay and some time to become fertile again.
One of the most compelling reasons that I started this blog was to be a place for writing practice.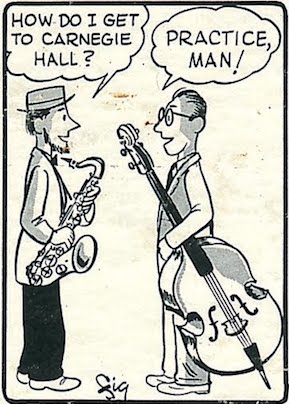 Practice, practice, practice. When I kicked off these pages back in 2007 I felt like I had something to say and needed a venue, so I made my own.
Over many years I wrote something every weekday and watched my writing both inside and outside the blog become stronger, sleeker, and more concise.
While I still benefit from all of that work, the last few times I've been working on a short story, I'm noticing the flow just isn't there. It's always an uphill climb but without the many days a week practice to keep me limber, the hill got a little steeper (and a lot more pedantic).
There is a widely debated theory that it takes ten thousand hours of practice to become a master at something. I am not sure that is true because any artist I know would say you never master your medium, no matter how much or how hard you practice.
But what I do know is that as of the moment I am putting these words into print, there are over six hundred thousand words that I created and added to this blog. That hasn't taken me ten thousand hours to create, but it's still not nothing. It's something that matters and something I am proud of.
Last weekend while I was sprucing up the blog and giving it a Spring cleaning (I'm kind of in love with this shade of blue) in preparation for my return to the words, I looked hard at that number in the footer of this page and thought to myself "I'm not done."
And so I'm not.
One added benefit is that I get to grab those crazy thoughts from my mind and get them down. There's good stuff in there. No more trying to blog it out loud to my kindly understanding spouse or my long-suffering coworkers.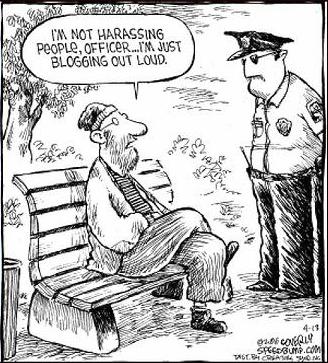 So here I am, back for today and hopefully back again soon. I want to push out my elbows and make the space in my world for the words, the practice, and the ever wonderfully agonizing quest to get better at what I love to do most.
Carnegie Hall cartoon found here.
Blogging out loud cartoon found here.
When I began to seriously focus on submitting my writing to literary journals, I was schooled on the concept that it takes about one hundred rejections to get an acceptance.
Since submitting to one hundred journals takes a lot of research work, I began working with a really awesome service that helps me target submissions and keep track of rejections. Over the past several years, I have found that the one hundred rejection rule is pretty much true.
What this means is that I now get A LOT of rejections. In those first years most submissions were done by regular mail so I'd often have a mailbox crammed with rejection notices.
Now most submissions are done electronically and it is my email inbox that is filled to overflowing with rejection slips. They tend to come in waves. None for a while then six or eight at a time. Rejections usually show up when I'm having a really crappy day.
Receiving a pile of rejections just makes everything SO much better.
When I started getting that many rejection notices, it hurt at first. Each one was a tiny "ouch" and made me sad. Who could reject my perfect little carefully crafted babies?
Over time, I became immune to the sheer volume of no-thank-yous. The skin hardens a bit, the outlook toughens and now I just shrug and say "okay" and move on.
It's what makes those occasional acceptances that much more sweet. A barrage of no and then a glowing, shiny, joyful yes.
Since I have had the good fortune to receive quite a few acceptances, my submission service has been trying to up my game a little bit.
By up my game, I mean in addition to the regular submissions to a lot of fine magazines that no one has heard of, they have been adding a few more well-known and highly regarded journals to my submission list.
I'm not quite up to the point of hitting up the New Yorker for publication, but names on the list recently include McSweeney's, Harvard Review, Zoetrope and The Paris Review.
I always giggle just a little when I hit "submit" on those queries. That's because the odds of my work seeing the light of such highly regarded and high circulation magazines is pretty slim. That said, you don't hit a home run if you don't swing at a few pitches. So I swing away.
The Good Man has a different view on the rejection process. He is always happy to see the rejections in the mailbox. His firm belief is that if they are saying no then at least they considered my work, if even for a moment.
He especially loves the so-called "good" rejections. The slips that have a personal note from the editor, or say something like "while we were unable to use this particular story, we'd like to see more work from you."
Those good rejections are a tiny bit of bread to a starving writer. Those few words are enough to keep me working hard to get to yes.
Anyhow, all of this was on my mind as this morning I sorted through a stack of mail and opened a couple rejection slips. I can recognize them right away because when I do paper submissions, I include a self addressed stamped envelope.
When my own envelope returns to me, it's almost always a no. Almost. I did get an acceptance one time in my SASE. I'd neglected to open it for almost two weeks and couldn't believe it when I did open it. That was a nice surprise.
Anyhow, this morning's envelope had a postmark from New York and inside resided the tiniest sliver of paper. What I estimate to be about one-eighth of a sheet of paper.
It's from The Paris Review. A highly revered title.
They were able to spare just a tiny sliver of paper to tell me no way, Josephina.
And for a moment, I'd like to think about some low to no paid intern reading my story, considering it and then thoughtfully sending this slip.
I'm sure they LOVED my work, it just didn't fit the themes on their literary calendar. Right?
Right.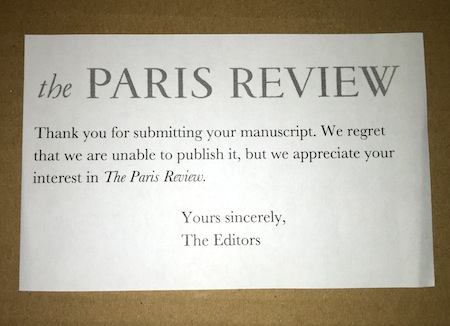 Had a laugh this morning as I thought about today's Theme Thursday, which is: full circle.
I was looking for a sign from the universe, a whisper from The Muse, an idea to bonk me on the head that fits with the theme.
The laugh came when I realized that all I had to do was look at my coffee cup.
Here's where the circle begins:

________________________

Originally published November 7, 2008.


Alternate spelling, alternate universe

You may recall from a post a while back that I use my secret agent 007 stealth first name when I order coffee and they ask for a name to write on the cup.
My secret agent name is Lucy. I use that name because it's:
1) easy to pronounce
2) easy to spell
3) heard clearly over the whooosh whooosh sounds of an espresso machine


I borrowed this name from a friend (who has my same real first name) because of the ease of use.
Until this past week at the Honolulu airport.
They asked my name. I said Lucy. They nodded and wrote the name. I got my beverage and it wasn't until I was on the plane that I noticed.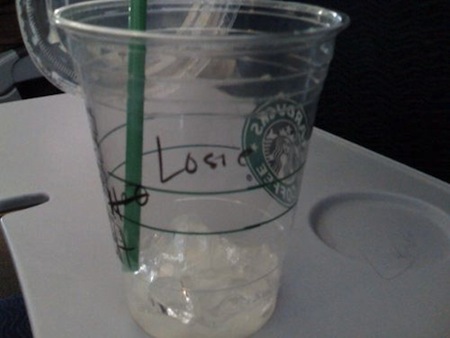 You can't make this stuff up.

________________________


And here's where the story comes full circle:
Truth must be stranger than fiction, even on the mainland, because this morning I went to my local coffee slinger and used that same nom de bebida.
And this is what I got:


Questionable spelling skills, a feature of at least two of our fifty states.
.
.
.
Side note: look how much the quality of iPhone photos has improved in four years. Amazing.

It would appear there is an internet meme going on lately concerning writing tips from classic authors. So far I have come across 10 Tips on Writing from businessman David Ogilvy and Henry Miller's 11 Commandments, both very worthy reads.
Yesterday, I came across an article in The Atlantic titled 6 Writing Tips from John Steinbeck.
This is the advice that really resonated with me…which is odd because I have such a love-hate relationship with Steinbeck.
My first foray into Steinbeck was in High School where I was held down against my will and forced to read Grapes of Wrath. I *hated* Grapes of Wrath. Loathed. Jettisoned the book across the room in disgust more than once. I found it over the top, preachy and that alternating narrative about the Joad family interspersed with expository about the Depression and the Dust Bowl was dreary and overworked.
My next read was The Pearl, which I read grudgingly because it was Steinbeck, but I actually enjoyed in spite of myself. Then I read Of Mice and Men which I found to be a cruel, sad book, but the writing was solid. Then, because I liked the movie, I gave the book East of Eden a whirl and found it to be only so-so.
So I'd given Steinbeck a chance, didn't like his stuff, and from High School on, I read zero Steinbeck. I wasn't having it, unh-uh, no way.
I was vocal and insane about how much I WOULD NOT read Steinbeck.
Enter my multi-talented and fabulous cousin. Two years ago, he was in town and we went to Monterey to celebrate his birthday. While there, he asked if I'd ever read Cannery Row and I said no. Then I issued my overworked rant about Steinbeck.
He said, "You should give it a try, I think you'd like it."
Well that was that. If my cousin said try Cannery Row, then by god I had to try it.
I went to the library bookshelf and plucked the slim tome from the pile and gave it a read.
I loved it. Every word, every story, every character so utterly perfect. I really actually truly loved and adored a Steinbeck book. Magic!
So when I stumbled across Steinbeck's writing tips, I paid attention.
My two favorite books on writing are Ray Bradbuy's Zen in the Art of Writing, which saved my life during my first real and profound battle with writer's block, and Stephen King's On Writing (which my rock star cousin gifted to me, because he's so right on like that).
The little list of Steinbeck's advice is pasted below…this now goes in the favorite pile too.
Here it is:

From The Atlantic.
I am one of those uber suggestible people who will hear a word or a phrase used a few times then will immediately adopt it into my language. Especially if it's a word or phrase I particularly like.
A a few weeks back, I heard the good man use a particular phrase, and it kind of rolled off of me. But then a few days later I heard it again on a rerun episode of Boston Legal.
Well, that was that. The phrase is now mine.
However….I've used it twice and only realized today I've been saying it wrong. I am now one of those pseudo intellectuals who try to talk big and end up sounding like a dope.
The correct phrase is: sturm und drang. Literally translated from German, it means "storm and stress."
This phrase applies in oh-so-many ways to my current work environment. I have a new employee, I have three major global projects on the front burners, and just for fun, it looks like my team will be moving under the leadership of a different department all together. It's all good change, but change nonetheless, and it is keeping us hopping.
So I'm at least using the phrase in the right context, but saying it wrong. All along I've been saying storm and drung.
No wonder I get so many blank stares. That and the fact I was suddenly speaking (incorrect) German.
Maybe I should just drop an Eastern New Mexico twang on top of it all and say storm and drain.
"Ya'll, this storm and drain over the past weeks is just about wearing me flat. We need to set us up a little ol' project plan before things get crazier than a March hare 'round here. Whaddaya say?"
I like it. I haven't gotten real New Mexico on these folks in a while.
I have a meeting in forty five minutes.
It's so on.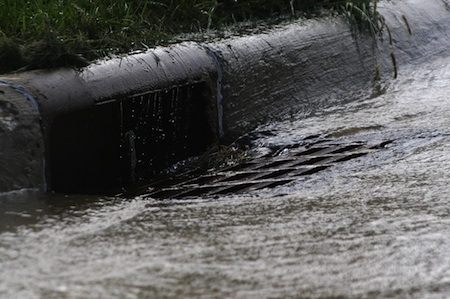 Today's Theme Thursday word is: Storm
Photo from the City of Davis Public Works site.