In an effort to improve my macro photography and challenge myself a little harder (photographically speaking), I joined a Flickr group that does weekly challenges.
Photos must be new, no taking from the archives, so it pushes photographers to keep shooting every week. I seem to work well under a deadline.
This week's theme is "buttons and bows."
Tomorrow I will enter this photo, taken just last night, into the Macro Mondays challenge.
Whew. Who knew photographing a simple button could be so much work?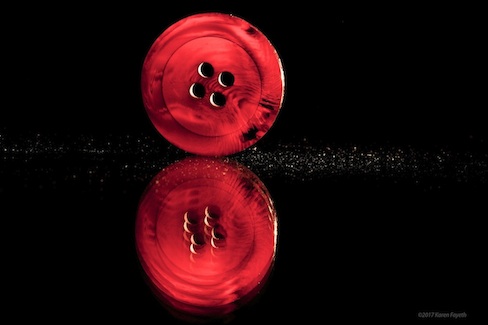 Button Glow, ©2017 Karen Fayeth

If you are interested in looking at more of my stuff, here is the link to my Flickr page.
Otherwise, wish my little button photo good luck!

A two pack of good news! No, not Tupac, may he rest in peace, but a jam-packed, happy, good thing, ain't-it-grand, times two!
I have been waiting a REALLY long time to share the news that over the summer two of my stories were accepted for publication.
Now both are finally published and out there in the world, flapping their little wings and taking flight.
I am SUPER proud!
Here's the details:
You can find the magazine cover and link to each of the stories in the first column on the right side of this page.
Or…
I'll just tell you.
The first is a story called "When Opportunity Knocks You Down" and it's published in The Griffin Literary Journal, 2015 edition.
I wrote this story over fifteen years ago and I have always just loved and truly believed in it. The words capture a lot of what I was feeling in those first years living in the Bay Area and prowling the streets of vibrant San Francisco.
I have edited and shopped and polished and shopped this story for so long, determined to find that one person who got what I was trying to say.
Turns out it was the editor of The Griffin, Dr. Donna Allego, who was the one I've been waiting for. Seeing this story finally make it into print is just beyond my wildest dreams.
It's a real testament to tenacity and accepting that a story will get a lot of no's (like about 150 of them) and can still eventually find a yes.
Whew!
Here's where you can go to read the story
Or go to the The Griffin Literary Journal main page for the link to download the entire edition.
Yay!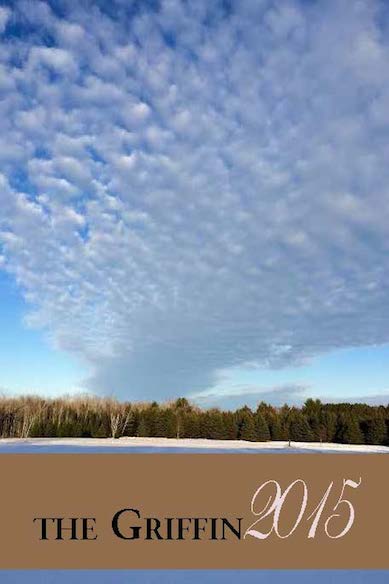 The second story is a little bit of a surprise. It's such a quirky little tale that even as I was submitting it to a lot of magazines, I was just sure no one would pick it up.
To my utter shock, it was quickly snapped up on it's first round of submissions by Ragazine.cc, The Global Online Magazine of Arts, Information & Entertainment.
This acceptance process was a one eighty-degree turn from the one above. Sometimes that one quirky story is just in the right place at the right time.
The story is called "The Seal" and the genre is a bit of a departure for me. It was written for the final round of the 2014 NYC Midnight Flash Fiction Contest. I loved the story and really believed it would do well in the final round of the contest.
We were just twenty writers who made it through to the final round, whittled down from a starting number of about 1,500. My odds were good.
Turns out this little story didn't even place in the top ten. I was irked. There and then I decided that the best revenge for that stinging loss was to have the story published. A royal eff you to those judges.
I just had no idea it would be accepted so quickly! Double eff you! LOL!
I had a lot of fun writing my story about the Inuit god of icebergs and I hope you have as much fun reading it!
You can find the story here.
While you are there, poke around the other corners of Ragazine.cc, it's a really cool place.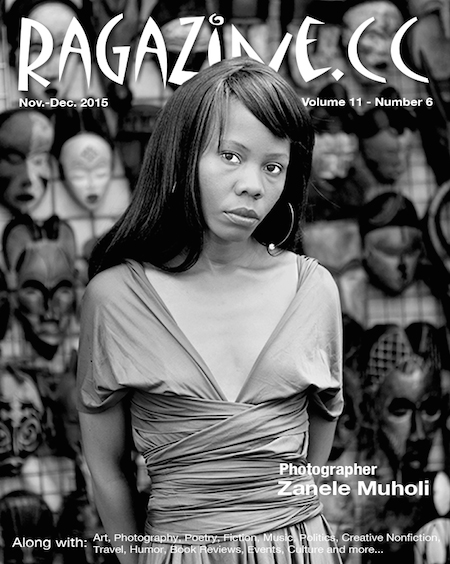 So yay! Give 'em a both read when you have a moment.
I'll be over in the corner celebrating times two!

Back there in June, which seems like a lifetime ago, recall I had the fun chance to visit Amsterdam on a work trip? Yay!
While there, I made use of my company credit card because that's the best way to go when it comes to pesky expense reports.
However, there are a few things that the company says no-no to on expense reports. For example, booze. I mean, how can one have a nice dinner in Amsterdam and not sample the local beer?
One doesn't and this one didn't. I sampled. Oh did I sample. No, I didn't sample Amsterdam's other claims to fame. I was on a work trip ferchrissakes! But light brown beer was a delightful dinner companion.
So what I did was expense the expensable parts and the not expensable parts I would pay personally to the credit card company. No problem, right?
Upon my return to the States, in the midst of chaos and twelve to fourteen hour days and working nights and weekends on this massive project (the whole reason I went to Amsterdam and Ireland) I managed to knock out my expense report.
Then I knew I would get a bill for about $110 US dollars for the "not allowable" stuff. The beer, mostly. Not gonna lie.
About a week and a half ago, I got a snippy notice from the credit card company. "Second notice", they said and "we'll shut off your card in five days unless payment is received."
I also noticed that they had transposed two numbers in my mailing address.
Well, I got a bit high handed about this. First of all, I didn't receive a first notice! Second of all, my address is wrong. Third of all, pfft! Or something like that.
I'm still working a lot of hours and so I dashed off a check but didn't send it. I wanted to talk to my friend who runs the travel program. I needed to know if I could change my mailing address for the card or if she had to. She said I could do it or she could. No matter.
Great! Then life and my insane job intervened and quite a few more than five days passed. Ugh. Over the weekend when I had a few minutes to breathe, I picked up the ol' phone and called the credit card folks. I knew I needed to take care of this problem like a grownup.
Imagine my surprise when I got a recorded message saying that a payment had been received and my balance was zero.
"Uh oh," I told the Good Man. "The company paid my bill. Crap. Now I have to figure out how to pay them back. Or will they take it out of my paycheck? Gah. What a mess."
The next day, I went back to my friend in Travel to figure this out.
"Honey, we don't pay people's credit cards. And if we did, just keep quiet about it." She laughed.
But she looked up my account. "Hmm…" she said, rolling her mouse over the screen. "I can't tell where this payment came from. Did you do another expense report?"
"No."
"Hmm. Are you sure you didn't pay it?"
"Yes."
"Really sure?"
I thought back to the dates from May 1 through August 15, my head down working this project. The lack of sleep. The stress. The long days and working weekends and not having a single day off in all of that time. The disconnected feeling. The lack of awareness about pretty much everything around me.
"Well. I'll check my bank account but I really don't think so."
I walked back to my desk, logged into my bank and searched for the amount. By golly, there was a payment.
That means that 1) I had indeed received a "first notice" from the credit card company and didn't remember it and 2) had set up the credit card company as an auto pay from my account and didn't remember it and 3) actually paid the bill and didn't remember it.
So that means that when I was wandering around in a zombie-like intense work state, forgetting to eat meals and forgetting to sleep and often forgetting to change clothes and frequently forgetting to even brush my teeth in the morning, I managed to be fiscally responsible enough to pay my credit card bill?
Um. What?
I'm certainly glad that zombie Karen cares enough to pay normal Karen's bills. I wonder what else I did when I wasn't even on the planet.
I can hardly wait to find out.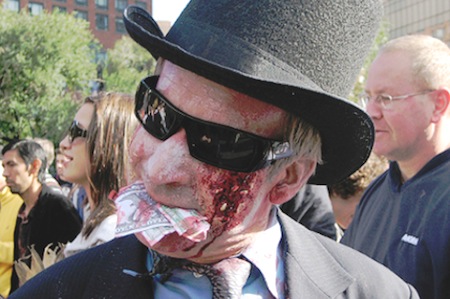 Image found here.

Me and the bell curve are going to tussle today. We are going to mix it up real good and you can bet'cher sweet ass it's gong to be significant…statistically significant.


It's that time of year again. The part of the annual work cycle that makes managers everywhere cry, cringe and procrastinate.
Yes, it's performance review season. We are game ON.
I have been a manager for over a decade and I have written lots of these bad boys, but they never get any easier.
This year at the new company I have found an HR process that is the most confusing of any I've ever known. And that's saying something.
First, they make us use an archaic file sharing system. The damn thing is so old the original software publisher doesn't even support it anymore. Hell, they won't even admit they ever owned it, it's so clumsy.
Then there are the confusing and overblown review forms to be filled out. It takes about two hours per performance review to fill out every section in the twelve page document and do a decent job of providing good constructive feedback.
Then there are four levels of review. This goes all the way up to C-level people who, I kid you not, read every single review. (downsides of working for a small company, I suppose)
Then the obtuse guidance from HR on due dates and what has to be done by when.
All of that said, I am fine wading through the morass of bureaucratic argle-bargle, but there is one aspect that gives me pause.
Just like college exams, it turns out that our performance review ratings must adhere to a bell curve. There must be some small quantity of poor performers, some small batch of extraordinary performers, and a fat-in-the-middle quantity of medium performers.
So if you have a team of five and four knocked it out of the park this year…good luck with that. One can get a great review and the rest will get a middlin' review.
That's not fair. That's not an actual evaluation of performance.
Yes, I know that my company isn't the only place that does this, but it drives me absolutely bonkers.
And! It gets worse. All of my peers and I had a big pow-wow with our department head. We went through every employee's performance and gave ratings, defended our ratings, argued our ratings and finally after many hours, we all arrived at our department wide bell curve.
Fine. I was told to go forth and write my reviews. So I did, with supporting evidence for the ratings I had agreed upon for my team.
But wait! There's more!
Once reviews were written, my boss then took our ratings to her boss (a C-level) and they did this rating argument across the entire division level. And scores were again forced into a bell curve which means some ratings changed.
Based on this second meeting I was told to modify some of the reviews based on new ratings. So I did.
And now comes news that the boss' boss has to take our ratings to her boss, the head of the whole ding-dang institution. Once again everything will get shoved into a bell curve and ratings may change again.
Oh. Hell. No.
Now I'm worked up. Now I'm on fire. Now I am officially Cheesed Off.
You're making me revise performance reviews three times and you are comparing my team to all the other departments in the company who do totally different work? And not it's not just that four of my five people don't get their deserved awesome reviews, but all of our high performers across the department my succumb to bell curve'itis.
Did I mention that rating = how much salary increase is handed out?
Gah!!
And we wonder how we can better incentivize our employees. Har.
I really hate bell curves. They may have been my friend in college but they give me zero love now.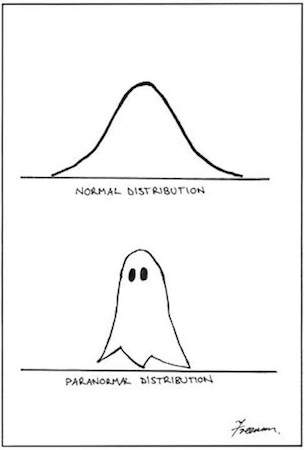 Image found on FaceBook and several places on the 'net.

If today is Halloween, that must mean tomorrow is November 1. The first day of November is not only Dia de Los Muertos, but also ushers in the annual National Novel Writing Month, or NaNoWriMo.
Eight times I have successfully completed a 50,000 word story in the span of just 30 days. Last year was the first time I attempted and failed NaNo. And even in my failure, I learned a lot.
In the spirit of try, try again, I'm going to take a run at it again this year. This despite the fact that I have no story ideas and a lot of anxiety about it.
And so as an athlete stretches and runs wind sprints in order to get ready for the big game, I am going to run some wordy sprints.
With that, I turn again to Unconscious Mutterings for some random word prompts. I love this warm up.
So here we go!

Crying ::


What I will not be doing on November 30th if all goes well. That said, a good cry is cathartic and good for the soul. It might take a heavy bout of crying mid-month in the throes of writer's block in order to break through and make it to that 50,000th word.

It remains to be seen.




Reluctant ::


I am, truly, rather reluctant to have another go at this crazy month of writing. It's always awesome and I'm amazed at what I can produce in so short a time. It's also quite taxing on The Muse. I get creatively wiped out by the end of the marathon. Blisters on the brain pan or something. But it's also quite satisfying. That mind numbing creative exhaustion means I have created something and that is the coolest feeling in the world.




Decade ::


My first go at this crazy NaNo game was back in 2004. I'm closing in on a decade of this wordy abuse. Lots of words and time well spent. By writing this blog I know my writing has improved vastly and my ability to write on the fly has grown strong. So hey, rock on.




Mustache ::


So what's the deal with mustaches these days? They are not just facial hair anymore. Now a mustache is a meme. I mean, there are accessories, baseball logos and many Tumblrs.

Plus, let's just settle this right now. Rollie Fingers. Greatest mustache of all time. Boo-yah.




Water ::


Well now, not to bring down the language and mustache party, but water sure has been a topic of conversation lately, hasn't it? Water, so life giving, so essential, so gosh darn powerful. The photos of subway stations and buildings and streets filled with water in the aftermath of Hurricane Sandy are so profoundly scary and overwhelming. I know that New York and New Jersey are incredibly resilient and will bounce back. But as of today, it's just overwhelming to witness the power and destruction of simple H2O.




March ::


Let's see…the 2012 baseball season ended Monday. The celebration parade up Market Street in San Francisco was today. Baseball is officially over.

World Baseball Classic begins March 2.

*sigh*




Stripes ::


As I'm writing this, "It's The Great Pumpkin, Charlie Brown" is on the telly. Right now Linus is sitting in the pumpkin patch, wearing a red shirt with stripes, explaining to Sally about the Great Pumpkin.

Then he uttered something that seemed a little meaningful here in on the last day of October and six days before the end of election season.

"I don't see how a pumpkin patch can be more sincere than this one. You can look around and there's not a sign of hypocrisy. Nothing but sincerity as far as the eye can see."

Oh how I wish I could find a place, even a small pumpkin patch, where there is not a sign of hypocrisy and sincerity as far as the eye can see.

Sadly that's not the view from where I'm sitting. Maybe I'll check again next week.




Friendship ::


Recently I got to spend three days with my best friend of over twenty years. She is family and brilliant and each year of our friendship means everything to me. We may live miles apart but she lives right here in my heart every day. Being with her for a few days made me actually miss her MORE than I already did.

Time is the scarcest commodity of them all.




Weirdo ::


It's a testament to the kind of woman she is that for over twenty years she's put up with a weirdo like me.

Tomorrow also brings the anniversary of the day I met The Good Man. It's a testament to the kind of man he is that he puts up with my special brand of weird every day.

I'm very lucky and that's said with nothing but sincerity as far as the eye can see.




Contacts ::


As this Halloween night wanes on, time to pluck the contacts from my eyes and bid adieu the season of orange and black. An ABC TV interstitial just announced it is now officially the "holiday season."

This makes me sad. And scared. And reluctant.

Ok, for now, I must focus on NaNo. Freak out over the holiday season can wait until later.

Well there you have it. Whew. I'm winded and warmed up and ready to write!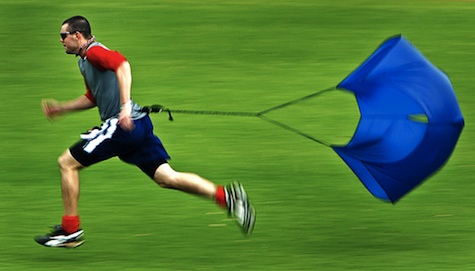 Image from Soccer Skills and Training.