Recently I've been a little delinquent in spoiling The Good Man. Things have been crazy what with all of the international travel and working long hours and, well, life.
His birthday was last month and although we had a nice quiet celebration, I feel like I failed a bit to make the day something special.
The Good Man is a child of summer and it's easy to understand why his favorite fruit is the peach. Yesterday I found a nice ripe pile of the fuzzy stuff at the grocery store and brought several home.
"Cobbler or pie?" I asked after showing him the peaches. He began muttering the question over and over to himself like a philosopher mulling over the meaning of life.
"Or a crumble?" I followed, then, "Is that too many choices?"
For several hours after he wandered around the house "cobbler or pie…or crumble? Hmm…" This is a very big decision in Good Man Land.
Finally toward the late evening hours, I surveyed the ingredients I had on hand and began consulting cookbooks in preparation for his decision.
It was then I pulled out The Book of Love (dun, dun DUUUUUN!) to begin the search for recipes.
This Very Good Book: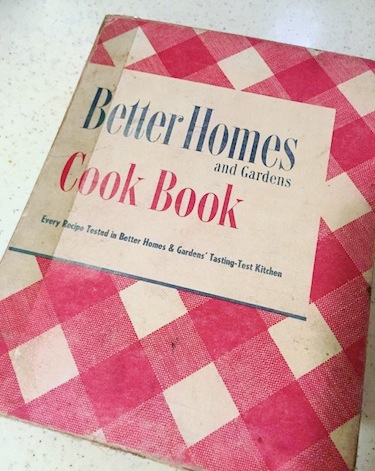 I think every person who likes to cook has a favorite or special cookbook that is the go-to for any circumstance, and this one is mine.

Taking a seat in a nearby chair, I opened the holy tome. I read the inscription inside the front cover. You see, this particular cookbook was a gift from my grandparents to my mother on the occasion of Christmas 1950.
My mom left it behind when she moved out and my grandmother kept updating the recipes inside. The Better Homes & Gardens magazines published recipes that the homemaker could cut out and add to the book, to keep it fresh. I love seeing my grandma's handwriting along with the food spots and spatters in its pages.
Some of the recipes are a little odd or outdated, but I'll tell you this, I've never made a recipe from this book that failed me.
As The Good Man walked by, he said in a voice a little quavery with anticipation, "I love it when you pull out that cookbook."
Oh yeah, he knows. Good things come from that 1950's made with yum cookbook.
Finally, after waiting for his answer and looking at recipes and thinking about my laziness factor, I decided for him. "Good news, you are getting cobbler."
He nodded, relieved the decision had been made and ready for the delivery on my promise.
That happens tonight. Oh yes and oh yum.
Best part about making baked goods for the one I love? I get to have some too!
There is no such thing as 'traditional' or 'authentic' sangria. Sangria is a party drink designed to get your guests drunk really cheaply.

— Damian Corrigan, About.com Guide
Well, what Damian lacks in tact he makes up for by being right. Isn't truth the best defense? Yes, I think so.
I found this quote when I Googled "how to make traditional sangria" because all of the sudden I have noticed that sangria has become cool. Except, the sangria they are serving in bars and restaurants these days cost $15 a glass and doesn't taste right. It has become something hipster and these children are tinkering around.
What happened? No one knows how to make sangria right anymore!
In the folds and recesses of my mind, I remember someone's mom or abuela telling me "Oh, Sangria is easy, just buy the cheapest sweet red wine you can find, pour it in a pitcher then cut up a bunch of fruit and drop it in there and let it sit for a couple days."
That's it. That's how I recall it being told and that's how I recall sangria should be made. Sweet, fruity, and inexpensive. It takes a few days to make it right. Land of Mañana. A little slow and easy on a hot summer day.
These days bars make "sangria" on the spot, mixing some red wine, some other hard liquor (brandy, vodka, rum or in the case of a restaurant in San Francisco, I swear it's everclear) and tossing in a couple orange slices.
It doesn't taste right. It wasn't given time to do what good sangria should do.
I remember as a child, my mom confiding in me that the best sangria she'd ever had was at La Tertulia** in Santa Fe. I remember dining with the folks and all the adults at the table seemed to love the stuff, like kids and Kool-Ade.
Later as an adult I got to give a pitcher of La Tertulia's nectar a sip for myself, and by god mom was absolutely right. Ab-so-loot-lee. Mom knows her sangria.
So all this sangria angst was dusted up because over the weekend while at my local Trader Joe's, I picked up a bottle of Maria Ole Sangria that had been touted so highly in the sales circular.
I put that bad boy in the 'fridge to get nice and cold and last night on a really mellow evening, I cracked it open and poured some out.
It was pretty terrible. Really terrible. I finished the glass and decided to give it a chance. Sometimes crappy wine needs a second glass. That's my theory anyway. Second glass didn't do much to improve this swill.
Very disappointing.
And the worst of it? Today I am slightly hungover. Not in a big way but in that "shoot, I drank some crappy wine last night" and now I'm mad. Good old fashioned aged sangria is usually mellowed out enough that it doesn't hurt the head.
This new era of not really sangria not only hurts my head, it hurts my heart.

____________

**Sadly, La Tertulia is no more. I shall always remember their indian tacos and their sopaipillas and yes, their delicious sangria. *sigh* Pour one out for a NM institution…..

Image found here.
Independence Day, commonly known as the Fourth of July, is a federal holiday in the United States commemorating the adoption of the Declaration of Independence on July 4, 1776, declaring independence from the Kingdom of Great Britain. — Source

And so it is on this Fourth of July in the year 2012 that I find myself, an American citizen, residing in the land from which our forefathers sought their independence.
236 years ago a bunch of men and women fought to establish a new country, away from the oppression of an overbearing king.
A challenging fight for a worthy goal.
Their victory and the resulting independence is so enduring that two centuries later I can get on an airplane, fly for ten hours, and stand here, on the Thames river, and celebrate my freedom.
It's both ironic and a little bit alienating.
The drafters of the Declaration could never have imagined.
I'd sing the Star Spangled Banner, but these sodding Brits might remind me that our country's anthem is set to the tune of a British pub song.
I'd sing "My Country Tis of Thee" but that's just "God Save the Queen" to this lot.
How about God Bless America? Nah, Kate Smith ruined that one for me.
I suppose what I'll do to mark the day is simply get up from my bed, go to work (it's not a holiday here) and do my best. I might even quaff a beer and wish I was at a bbq enjoying a sunny summer day rather than another depressing rainy English day.
And next week when I return home to the shores of California, I'll carry a small smile.
Because I think to truly understand and appreciate my country, I have to leave it every once in a while.
Happy Independence Day, America! May you all eat too many hot dogs and have an extra bowl of homemade ice cream for me.

The river Thames as seen from the Westminster Bridge

Photo Copyright 2012, Karen Fayeth, and subject to the Creative Commons license in the right column of this page. Photo taken with an iPhone4s and the Camera+ app.


So let's see, I moved to this odd and fascinating Golden State of California in 1997.
This is now 2010…
So that would make it…let's see, do the math…carry the one…
Ah yes. Thirteen years that I've lived here.
Thirteen. That's a lucky number!
And you'd think that in thirteen years I would have arrived at the place where I no longer pick hayseeds out of my hair.
You'd think.
But you'd be wrong.
What a yokel I am.
Here's the latest.
Brace yourself for another backyard adventure.
Today I was out in my side yard. There is this scrubby, invasive, grows too fast tree/bush thing out there that I *hate*.
It's so unlike me to have vitriol for something that is only a plant. But I do.
So I was out there hacking away at the damn thing because if I don't stay on top of it, soon it will grow taller than my roof and the neighbors will complain. It tends to invade the nextdoor neighbors yard as well.
Ticks me off.
So I trim the crap out of it.
Here's how it looks now:
Never fear, oh mighty plant lovers. In a month it will be back at roof height. Gawd I hate that thing!
Anyhoo. After I was done committing gross violence to a bush/tree type a deal, I looked down and saw a few huge weeds. Well…I had my gloves on and the ground was soft, so I started wiggling them durn weeds out by the root.
At one point, I noticed a row of different looking weeds growing from the crack where the outside wall of the house meets concrete.
So I gave them a hearty tug.
Suddenly, all I could smell was this minty odor. I smelled my hands. Leather gloves and mint.
Weird.
So I took a small plant sample inside so I could Google it.
Sure enough. We have mint growing wild in our yard
I have no idea where this came from and I don't recall mint growing in the yard before. It just, I don't know, appeared out of nowhere this year.
Look, I'm from New Mexico. I'm used to coaxing things to grow in the yard with a lot of vigor and pleading.
Not here. This sh*t just grows wild! There ya go! Something magical. Didn't even have to try.
Next up on the list of fruits ripening in my untended backyard:
Figs!
Yes! Love fresh figs.
I'm ready for 'em!
Anyhow. This has been a very big day. Maybe I need a nap.
Oh, and in closing…this for my friend Natalie who likes bird of paradise.
That's a biggun!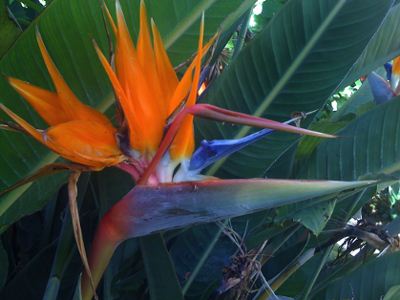 I swear to god that thing blooms all year long. That shouldn't happen. And yet..it does.
You'll recall I first asked this question back in November.
The answer then was: persimmon.
Today, in my continuing quest to understand what in the sam hell is growing in my own backyard, I bring you the next installment in the series.
Ladies and Gentlemen…ask you. What exactly is *this*:
(no fair answering first, Natalie!)
I have a tree laden with these little guys. The birds fight over the fruit that bears a color and skin resemblance to an apricot.
The neighborhood squirrels will come running up the power line, put their little paws together over their head, and swan dive into the tree to sample of these fruits.
The bugs love this tree so much, a spider has moved in and built one hell of a web. This allows him to freely sample of the bug buffet. There are bug carcasses strewn all over the place. I haven't seen a spider web like that since Hawaii!
The fruit on the tree looks a little bit like a small peach or a big apricot. But they aren't.
Curious, I pulled one that looked ripe from the tree and split it open.
This mutant fruit has not one but TWO stones at the center!
Another I opened had not two but THREE stones!
What the hell?
I didn't sample the fruit right away. The saliva-evaporating tannin in the under ripe persimmon I ate first and asked questions later taught me a huge lesson.
Nope, I was going to do some research before biting in this time.
With a little help of another overheard conversation between my landlord and his elderly father, I remembered them discussing the old man's love of something called a loquat.
Hmm. Loquat. It sounds like a concatenation of a couple other words…like lemon and apricot. Or lemon and kumquat.
Is this one of those weird hybrid fruits? No. It's not.
Loquat is actually an Americanized spelling of a Cantonese word, lou gwat, or the words mean "reed orange."
This is another tree that is found mainly in Asian countries and was brought along to the Bay Area. It's a very hardy tree!
Evidently the fruit has a mild sedative effect.
Evidently the seeds have a mild bit of cyanide. Yay.
Note to self: eat the fruit, not the pit.
Okay!
So today I dove in like a squirrel and picked a couple ripe samples.
It's very tart like a citrus fruit but a consistency much like an apricot.
I like it!
Ok, mystery solved! Off to find recipes for loquats!
Oh, by the by, I also have this creepy creature in my backyard:
It's almost a foot across and it looks like it could devour small animals.
Fortunately, I know what this bad boy is….
It's an artichoke that my neighbor grew and forgot to pick.
If it gets any larger, I may have to move.
Just sayin'.