My parents were pretty strict when I was growing up, but I'm not here to complain about that. I think my brother, sister and I turned out pretty well, overall. Well, my brother and sister did, jury is still out on me.
But it's true, my folks were a bit old fashioned and handed down strict discipline. They kept us in line.
One thing my Dad was all about was his kids answering "yes, sir" or "yes, ma'am" when addressed by an adult. It's ingrained in me, automatic. It's a show of respect for elders, along with respect for a person's position.
And so when either of my parents would call out "hey Karen?" I would automatically drop a "yes, sir" or "yes, ma'am" without hesitation.
It's carried into my adult life and usually has served me well. On a recent visit with one of my favorite Aunties in Michigan, she at one point called out my name and I dutifully replied "yes, ma'am," and I knew it was right. I felt like a good kid.
As the digits in my age advance, however, I also notice that I get ma'amed here and there. At first I didn't like it, but then I began to appreciate that for those younger than me, their parents raised them with that same value. Yes sir!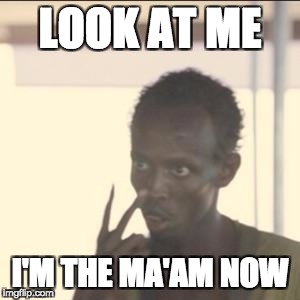 Here's where it gets weird: My new boss at work? She's my same age. In fact maybe a year or two younger. She was my peer for the past several years and was recently made the acting manager. It's also very likely that she will soon be the permanent manager. And I'm okay with that.
I have nothing but respect for her and we're working out the bounds of going from peers to boss and employee.
Yesterday, she came wheeling into my office, fresh off one of her many meetings each day and with something on her mind. "Hey Karen?" she said sharply.
"Yes ma'am!" I replied.
And she looked at me kind of strangely.
And I looked at her kind of sheepishly.
"Ahem. What can I do for you?" I revised.
It made me think maybe I need to change up the ma'am/sir thing. I mean, it still fits in many cases. For example, if I come across any of the distinguished scientists that I work with, I'm sure as heck going to ma'am or sir them, regardless of age. Or any dignitary.
But maybe I have to realize that I am the grown up now. I am the one to receive the ma'am treatment. I suppose it is time to finally own my own mildly elder status. Right?
It's just so weeeird! And will take a while to reprogram my brain.

File this under "The Joys of Owning a 15-Year-Old Vehicle"
Yesterday was a weird day. I mean, when you are me most days are weird, but yesterday was especially so.
To kick off the festivities, I forgot my work badge and had a meeting in a special super secure location. It was okay, I simply had to run the security gauntlet which included one security guard keeping a sharp eye on me while the other spoke in low tones to the Human Resources Department.
Turns out I'm still an employee so they grudgingly let me through.
After the meeting, I went back to my building and because I didn't have my badge, I couldn't get into the garage. The alternative was to park on the street outside.
After parallel parking, I gave my car a visual sweep because this neighborhood has a pretty bad smash and grab problem. Satisfied that there was nothing of any value in the Jeep, I headed inside.
At the end of the day, weary from a long day of solving other people's problems and fighting fires, I walked to my car to discover that during the course of the day someone had smacked hard into the back bumper of my beloved hoopty. Someone in a white car by the looks of the stripe now tattooed into my black bumper.
Joke is on them, under that bumper is a solid steel towing package that is attached to the frame of my treasured Jeep. My bumper is a bit dented but they caught the worst of it, that is for certain.
With a sigh and a shrug, I got into the driver's seat and I thought "something looks different." My tired eyes roved around the Jeep, heart sinking, expecting something bad.
That's when I saw my rearview mirror wedged between the passenger seat and the floor.
They smacked my bumper so damn hard it knocked the mirror off my windshield! Sonovabiscuit!
Let's be fair, at fifteen years of age that mirror likely wasn't very strong in it's moorings anyway. But kind of a nuisance to see it laying on the floor.
You don't know what you've got until it's gone. I never really realized how often I look in the rearview mirror when I drive. It's a lot. Which I suppose is good.
On the plus side, with no mirror in my line of view it was a lot easier to see the crazy college kids who rabbit out from between cars in my neighborhood. Next week is their Spring Break so they are especially hoppy lately. (nothing compared to finals week though, oh my)
So yeah, my tired old Jeep is a little worse for the wear. I will call in an insurance claim because parking around here is so weird that this isn't first smacking the bumper has taken.
The insurance claim is a crapshoot, the cost to fix it may be more than the vehicle is worth. We'll see. Maybe they can factor in how much the vehicle means to ME? Anyone? Huh?
Ah well, I have the side mirrors to guide me home and some sort of made up inspirational quote about not looking too much in the rearview.
Or something.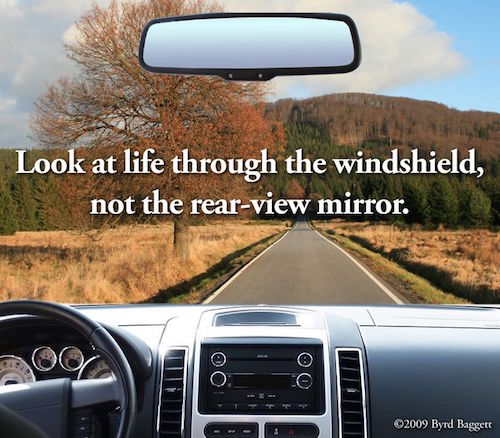 And I thought happiness was Lubbock, Texas in my rearview mirror.

Image found on Pinterest, attribution included on the image.

My employer is weird. This is known. And one of the weird things they like is to have portraits done of all of us minions every couple years.
The employer has a professional, award-winning photographer on staff and in addition to his amazing photos of amazing science, the poor guy also has to sit in a conference room while a parade of geeks, nerds, scientists, engineers, and dorks like me clomp through.
Last time I had a work photo taken, it was two years ago. It was a humid day. I had to walk up a steep hill to get to the place where the photos were being done. I was running late because I couldn't find a parking spot.
I'd sweated my makeup off and my hair frizzed to cotton candy status. Then I sat down and had my photo taken. It's awful. And it's published on my department's website for all to see.
We're encouraged to use that photo as our email avatar. Nope.
Today is the day when new company photos are being taken. Argh. I have been, to put it mildly, obsessed about this. I want my new professional work photo to be something I am willing to look at.
Yesterday I carefully examined all of the photos of my coworkers in the photo archive to assess what works and what doesn't. This morning I curled my hair. I put on makeup. I fussed.
At about twenty minutes before my appointment time, I sat at my desk fretting. I decided to open Photobooth on my Mac to get a real look at how things were working and what needed fixing.
I gazed into my laptop camera and took a couple shots. I evaluated the smile, the hair, the lipstick then I went back in to try again.
I was staring the camera dead on, trying to smize when in my peripheral vision I see one of the auditors come walking down the aisle. The very serious big 4 outside auditors here doing serious stuff like auditing financials. And here I am, a manager, supposed professional, at my desk selfie'ing.
So I tried to play it off real quick. I looked away and was acting all like "no, no selfies here." And "Yeah it's cool, ain't no thing."
And then the Photobooth "flash" popped (it flashes a blank white screen). Busted.
Yeah. Um.
Anyhow, I took that photo of my shame, cropped it, sent it through an Instagram filter and now it's arty. Thoughtful. Meditative.
Nah, it's just me trying to look cool and failing miserably. Welcome to Dorkville, population me.
I sure hope my professional photo turns out a lot better.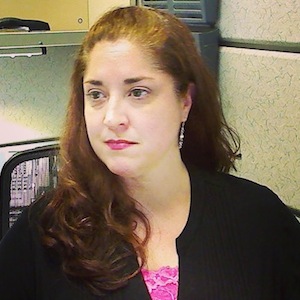 Thinking so hard right now.

Photo Copyright ©2015 Karen Fayeth and subject to the Creative Commons in the right column of this page. Please don't use this photo elsewere. I'm asking nice. Photo made with Photobooth, Instagram and my special brand of genetic dorkiness.

Oh Mother Nature, how you vex me. I mean, you and me are usually good. Real good. I mean, you do you in your own way, and that's fine. Of course it's fine.
Musically riffing, I've seen fire and I've seen rain. I've seen sunny days that I thought would never end.
I've also seen tornadoes, lightning I thought would crack the sky in two and 120 degrees with nary a cloud.
You gotta do what you gotta do, sister, and usually I'm okay with that.
This morning I stepped out of my house and felt a little rain dripping down. Yes! Rain! Good.
Only, Mom Nature, you are a real fickle beast. Was it a good deep soaking rain? A nice drink of water for the poor parched state of California?
Nope!
It was like this: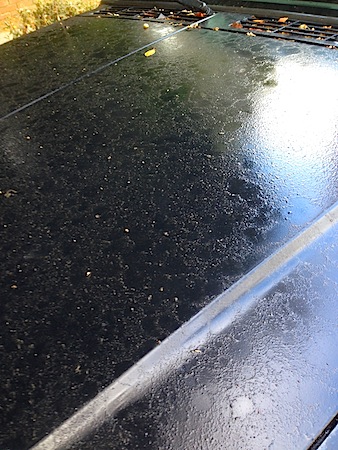 Just enough to knock dust and schmutz from a nearby tree onto my car. You just created a rolling mud bog.
Just enough to moisten the roads so people could slide real good into each other.
Just enough rain to REALLY piss me off and not enough to make a difference.
Look lady, do more than spit at us, all right?
Be better, Mother Nature!
Today I learned something. It may not be a groundbreaking discovery, but it's an important handy tip to know.
Let me start with the backstory.
This morning I noticed I had a meeting on my calendar that started early and would last all day long, so I decided to hustle up and get it together so I could leave the house plenty early. I wanted to be able to stop for coffee and still get into the office a bit early so I could sit a minute at my desk, gather my thoughts, and prioritize any urgent emails before disappearing into a conference room for the remainder of the day.
What a good strategy! This is part of my new approach for taking better care of myself. Generally I show up to the early meetings five to ten minutes late, anxious and sweaty from running to the meeting. Oh, and lacking coffee.
With determination, I took care of my at-home stuff and hit the mark. I left the house on time and was happy. I had a casual and not harried drive to work and I even lucked out and found a parking spot right in front of my local Starbucks.
I mean, the day was ticking right along on schedule. I was feeling so proud of myself.
With Jeep parked, I walked inside hoping for a short line then opened the door to that very image. Only three people in line. Yesss!
I stepped up to the register, ordered my drink, chatted with the person behind me in line, giggled with their child and was feeling pretty great.
My latte came up quick and I grabbed it and was feeling pleased with the smooth pace of my day.
I carried my drink over to the little station where you can find sweetener and milk to add in. I politely said excuse me as I accidentally walked in front of another customer. I thought about an article I had read recently about the value of being nice, and thought how I need to continue to be a nice person even when the world sometimes makes me want to be mean.
Landing at the sweetener station, I popped the lid off my drink, reached to grab a couple packets of sweetener, shook, tore and when I went to put this into my drink, I knocked over my lidless cup, sending a coffee tsunami into the air.
Seriously. How did my latte catch air? I have no idea. Sixteen ounces of beverage became gallons as it poured all over the counter and onto the floor. The force of the wave shoved my sunglasses off the counter and onto the floor.
The velocity was overwhelming as waves of coffee and soy milk engulfed the entire store and its patrons.
And that's how I learned that Starbucks napkins are super, duper absorbent.
Keep that handy tip in mind.

A dramatic, yet dry, recreation of events

Image Copyright © 2014, Karen Fayeth. Taken with an iPhone5 and the Camera+ app. Also taken surreptitiously in an empty conference room while the big meeting was on break.