I've already shared this photo on Facebook but I wanted to share it again here because I sure have been looking at this photograph an awful lot lately.
While spending a few fun days in New Mexico a couple weeks back, I went to Bien Mur to look for a couple of gifts. I haven't been to Bien Mur since I was a teenager and it was so beautiful to be there on a sunny winter day.
The only sad part was that the shop had taken down their high shelves which used to house a collection of some of the most beautiful Kachina figures I have ever known. They are cemented in my memories. On this visit, the shop only had a few small Kachina figures. Perhaps the art of making the Kachina is waning? I sure hope not.
Anyhow, upon leaving Bien Mur, I took a right turn and headed east up Tramway, past the newish buffalo paddocks, and kept driving. The day was clear and bright and beautiful and I found that I had to immediately pull the car over and hop out and take it in.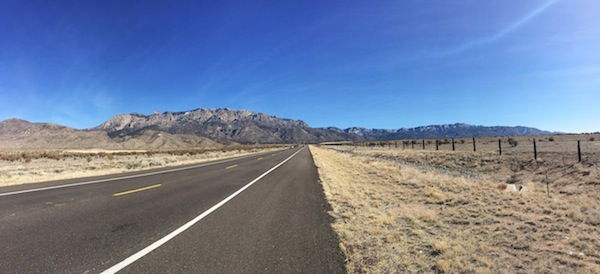 The camera on the iPhone 6 is pretty good and I've discovered that the pano feature on the native camera app works pretty darn well.
After several photographs, I simply stood and stared. And stared. How I love the Sandia mountains. How I miss using them as my directional device (as in…"if the Sandias are on my right, then I must be headed north"). How I miss the beauty, the open valley, the terrain of my homestate.
It was so comforting to be back in the arms of the mountains that protected me in my youth. I've hiked, skied, and just stood atop that high peak. I believe the folds and curves of the Sandia mountains can be found in my very DNA.
Back here at the office, I showed the photo to someone and they asked me how much Photoshopping I had done. I replied "Well, I took out a contrail, that's it."
"But you boosted the color, right? I mean, look at that sky!"
"Nah," I replied, "The sky really is that blue in the high desert."
My coworker walked away thinking I was exaggerating.
That's okay, fellow New Mexicans, we know the truth. It can just be our little secret.
My Fair New Mexico, our visit was all too brief. I count the days until we are together again.
Image Copyright 2014 © Karen Fayeth, and subject to the Creative Commons license found in the far right column of this page. Taken with an iPhone6 and the native Apple Camera app with only the most minor of Photoshop work. Because who can improve on something that pretty?

On Saturday the sun shone down so brightly on the Bay Area that it was too hard to stay inside. Roaming and marauding were the order of the day.
Yes, I know as a Californian I am supposed to feel Very Guilty about these sunny winter days we are having. I get it.
But instead of guilt, The Good Man and I went outside and basked in the sun. We decided to wander not our own neighborhood but the one just one city over.
It's a really fun and funky block of shops and restaurants.
They day started with some chilaquilas that were rated as acceptable to me. You see, I grade Mexican food on a very tight scale. Sadly, most Californian Mexican food fails.
Once we were full to overfilled with good eats, we moved on to a really awesome bookstore that I had never been to before.
I do love bookstores. Especially local bookstores with both new and used books on the shelves. You really get a feel for a town by what is stocked on those used shelves.
As I often do in a bookstore, I wandered over to the art section. I am looking for a used copy of a particular Henri Toulouse-Lautrec book. Hope springs eternal.
This particular art book section was more eclectic than I usually find, which was great. A lot of things I hadn't seen before.
While perusing, I found one very small section of books under the heading of "Wild, Wacky and Wonderful."
Boy, this small collection lived up to the billing.
There were just five titles. I can't quite remember them all. One was Toilets of the World. I recall that. Quite an interesting tome, may I add. One was the Pipe Handbook. One was the Diary of a Sword Swallower or something like that. I can't seem to recall the other two.
As I browsed I kept walking back to that section and laughing. It was *too* perfect. Just too.
So then I decided to take an iPhone photo so I could remember what five titles were there. But how to snap a photo without incurring the wrath of the storeowners? They are sick, I'm sure, of people finding something in their store then buying it on Amazon. Snap click is a means to that end.
My intentions were good but I didn't want to be a pain in that charming store.
Then I remembered, oh yes, that you can use the volume buttons on the iPhone to fire the shutter. I decided that I could hold the camera at about waist level and take a surreptitious snap.
I went over to the side of an aisle and thought, "Ok, I better give this a try to make sure I know how it works."
I pushed the button and then loudly echoing through the store was the shutter sound that iPhone so helpfully adds to camera app.
You see, I always, always, always have the sound off on my phone. Always. I mean seriously, always.
Except on Friday afternoon when I was expecting (and didn't want to miss) a call from my boss. After the call I then forgot to switch sound back off.
The shutter sound caused three people around me to snap their heads up and give me "grrrr" eyes.
Busted. Flat busted.
So there you go. I have no photo of the crazy fun titles, only my hazy memory.
And this piece of photographic art of the wrong shelves. *sigh*
Enjoy.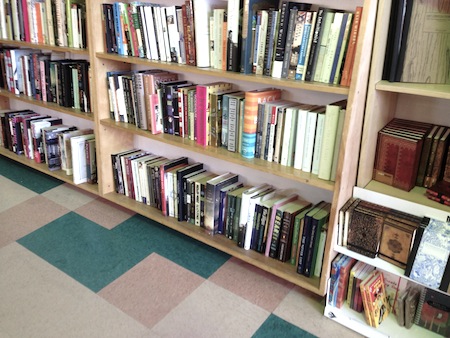 Copyright © 2014 Karen Fayeth

Photo Copyright © 2014, Karen Fayeth, and subject to the Creative Commons License in the right column of this page. Taken with an iPhone5, the onboard camera app, and not a lot of guile.

Yesterday, as I blathered on and wrote a blog post and then decided I wanted to nab a selfie that
1) didn't make me look like an old hag
and
2) showed off a rare day when my hair was rockin' (sadly, it was a one day only event) I found myself contorting, head tilting, and generally being weird.
And that was before I had the camera turned upon myself.
At the end of the day, I'm pretty happy with the selfie that I captured yesterday. Respectable enough. It took a lot of work to get that one decent photo, however.
In snapping my own self, I remembered a tutorial I put together a few years back. I still use all of these tips and tricks. Even when The Good Man grumbles at me while self photographing. (he's not a fan of the selfie)
So hey, I figured I would share again. Here it is, for your fabulous selfie-know-how edumacation.
Enjoy.
______________________________
Your Mobile Phone Camera And You
Originally posted December 21, 2011
Ok, look. Facebook finally got me. Like a hungry, persistent mountain lion, it pounced on me, grabbed me by the throat and took me down.
Anyhow.
As I've been spending more time in the cavernous Facebook labyrinth, and seeing a lot of pages and a lot of faces, I'm starting to notice a trend.
Remember the infamous MySpace pose? That's the self-photo taken with the camera above you, eyes looking up but chin down. Sometimes called the Princess Diana pose. Yeah, I think we've all seen plenty of that pose.
But that's so over now.
The pose I'm seeing a lot of these days is the in-the-car self-photo.
Yup. Hold the phone way out to one side and snap a shot of yourself in the driver's seat.
Post it.
Magic.
Look, I fully understand the need to look good in our Facebook profile. An old boyfriend or girlfriend from college might show up or something. None of us wants to look all haggity.
Believe me, I get it.
So what's with the in-the-car profile photo and how can we make it better?
I will now dig into my deep and (not so) closely held secrets of the art of photography and perform a public service.
Ya wanna know why you like that photo of yourself in the car?
Two words: Natural light.
We ALL look better in natural light. When you are in your car, good ol' fashioned sun comes pouring in through all the windows. Real sunlight makes you look hot.
I'm not kidding.
So assuming you want to have a nice photo of yourself on your Facebook page without your steering wheel in the background, and assuming you are all alone or too shy to ask for help, and assuming you want or need some advice on self portraiture…..


Here's Karen Fayeth's tips for a smoking hot profile self-photo:


Either get outside or if you have a nice sunny spot in your house filled with natural light, go there.
Next, what would be a nice background? How about a wall with a fun pattern or a wood fence with character? Sit down and lean back against it. Sit up straight! No slouchy here because we'll all see it.
Make sure the sun isn't shining directly in your face. That will make you squinty. Then make sure the sun isn't directly behind you. That will make you halo-y and a dark shadow. It works best if it's a sunny day but you are in shadow, or the sun isn't directly on you. An overcast day is even better. That diffused light is majorly hot.
Hold your phone camera out at about eye level and a little off center. If you hold it above your eyes, you'll get that eyes-up MySpace look. If you hold it below, now you are looking down and no one likes a double chin in their photo.
Seriously, no one.
Keep your chin up but not too high. Keep it at normal level as if you are looking straight forward.
Keep your elbow slightly bent. Don't straight arm it or you will see your arm in the photo. Here's an example.
Relax your face. Don't force the smile. Try thinking about something that makes you laugh or smile naturally. Think about that time your buddy slipped and cartwheeled on the ice. Or think about how much your love your kid/spouse/dog/whatever. Something that tickles your funnybone and makes your eyes twinkle.
Look into the lens. Don't look at the screen. Don't look off to the side. Don't look up. Don't look down. Locate the actual camera lens on your phone and then look that lens square in its little lens eye and snap the shot.
And then another. And another and another and another and another.
Don't be shy about taking A LOT of photos. You are looking for one good one among the many that make you go "uh, no". It's every photographer's little secret. Take lots of shots.
Wait! Don't just upload that one photo you like right from your mobile phone to your Facebook page!!!
Pause.
Look at it on a bigger screen. Download it or email it to yourself and look on a regular monitor.
Check out the photo and crop it down if you want. Look in the background ALL AROUND you in the photo to be sure there isn't something weird going on back there. (be especially alert for dogs pooping, kids barfing, etc. Check out This is Photobomb for a sense of what I'm putting down here. That site is totally not safe for work.)
Then, if you are happy with the photo, go ahead and make it your profile photo.
And wait for the compliments to roll in.
Oh, and one last piece of advise: Fer chrissakes, no duckface!
No photos in the mirror either.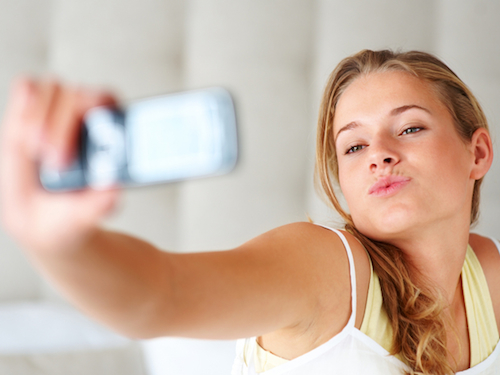 Sooo many things wrong with this technique. Good light though!

Image found all over the web. If it's yours I'll gladly take it down or give credit, at your request. Thanks! I found it here.

These days I live in a fairly urban area and I also live near a major university, so this means driving around here proves to be quite a challenge.
I see a lot of people both young and old riding the roads on their bicycles or scooters and of course walking. There is even the occasional Segway. Though the most popular mode of transport by far seems to be bicycles.
Fundamentally, I don't have an issue with people riding their bicycles. It's exercise, it's efficient, and it's environmental. Plus it leaves more parking spots for me. Great!
The issue I do have, however, is some bicyclist's complete and flagrant disregard for traffic laws. You know, running stop signs, not yielding to a yield sign, flowing with cars when they feel like and acting like pedestrians when they feel like.
My commute to and from work is pretty short, but can be frustrating as I traverse many busy streets with lots of crosswalks and stop signs and long lights. In addition to bicycles, I often have to tangle with students walking around with eyes glued to their smartphones darting out from between parked cars.
I really hate it most when I have the green light and as I start to roll a bicyclist runs the red light the other way and sails through the intersection with nary a care in the world.
The other day that big wheel of karma ticked about two and a half degrees to the right and I saw something so ironic it made me laugh and shake my head.
Ok, here's the scenario:
I am driving up a busy two lane and mostly residential street. Traffic is moving, albeit at a fairly slow pace. I'd estimate I was doing something like 25mph.
I was hugging the yellow line because to my right were two guys decked out in stretchy shorts and tip-tap-clompy biking shoes riding on very fancy bicycles.
We were all cool. I saw them, they saw me. I made space and we traveled casually along, moving straight ahead on the road.
As we three came to an intersection some hipster chick on a pink bicycle with a plastic basket on the front does not slow for the stop sign on the cross street. She glides at full speed right into the intersection.
This causes the car coming the opposite way to screech to a halt. I slammed on my brakes too and the two bicycle guys next to me just kept going.
Because I guess bicyclists do that. When everyone around is braking, they just keep rolling because why not.
One of the guys finally saw Miss Hipster and locked up his very expensive racing bicycle brakes. The other wasn't as quick on the brakes. As he came to a stop he ended up tapping her back wheel.
Hipster chick was totally oblivious. She wobbled a bit and just kept rolling on through.
Now dos Stretchy Pants are mad. They start shouting and screaming and arm waving at her about obeying stop signs and right of way and what the bleep was she doing.
So indignant these bicyclists got about obeying traffic laws. So, so righteous.
Hmm. Interesting.
Ironically so.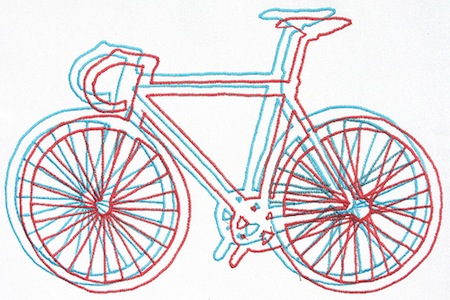 Image found here.

Here I am, day three of my three day training. On a Friday, no less. Today is the final uphill slog for this training class.
It is a long climb and this hiker is weary.
Not sure whether I can continue on. Sooooo booored.
Today, instead of being "that guy" I have gone into slump mode. I already got called out for looking at my phone. I've eaten every pastry they offer (all terrible!) and I'm drinking caffeinated tea. Nothing is helping.
So now, instead of paying attention, I'm obsessing on a white board marker.
This marker, particularly.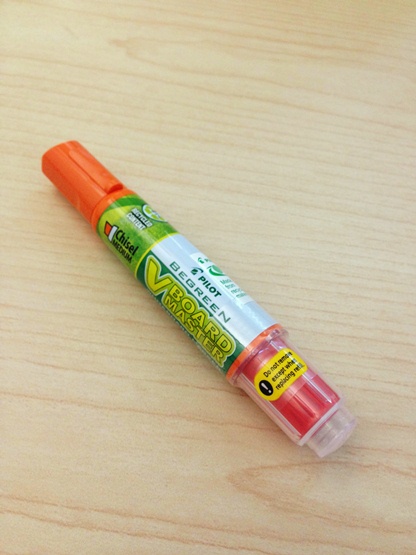 This is a very respectable marker. It's green, made from 90% post-consumer product, almost fully recyclable and refillable. This is a very smart and responsible pen, a good business choice by whomever purchased it.
So why am I obsessing? Well, one, it's orange which is my current favorite color (it changes all of the time). And two because of this…(Look at the yellow tag)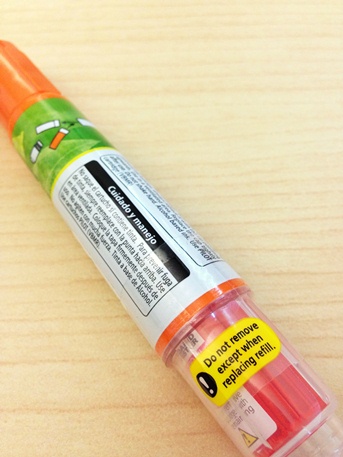 That little pen reservoir holds the orange ink. You can watch it sloshing around in there. Neat!
And that tag, it tells me not to open up that sloshy ink container. Why!?! Because it is a brand new pen and opening it now will splash ink everywhere. So!?
I wanna! I wanna I wanna I wanna!
I am having to exercise the utmost in restraint, something I don't have a lot of, to keep from ripping the end off that marker. Then I tell myself, "I'm steady handed enough, I can pull that off of there and have no problem! Without spilling a drop! Let me prove it to myself!"
But I know the truth. I'm not sure handed. I'm the girl that falls down. I will pop that cap off and ink will spring up in the air and aerosolize and there will orange ink from here to there, ceiling to floor.
That sure would be awesome, though.
Way more fun than talking about warranty claims, insurance provisions and cost accounting.
Barf.

Images Copyright 2013, Karen Fayeth, not that you'd want to steal photos of an orange marker, and subject to the Creative Commons license in the right column of this page. Taken with an iPhone 5, the Camera+ app and no small amount of lack of attention to the subject at hand.