Today was my first day back at work after a nice and relaxing weeklong vacation. Always tough to get back into the routine.
Last week, I missed a big event at work. It was The Great California ShakeOut, an annual earthquake preparedness event. On a set day, they sound the sirens and we take cover and hold for a period of time to simulate an earthquake. Then when that is over, all must evacuate the building.
It's getting us ready for "the big one" that we all keep hearing about. Practice like this has proven to be useful. We do this every year meaning once a year I get to check out what's going on under my desk.
Since was on vacation and I live pretty close to work, I heard the sirens, but I was driving in my car so I hunkered down in my mind.
Today upon unlocking the door to my office I see my employer has left me a little gift in the wake of the ShakeOut event.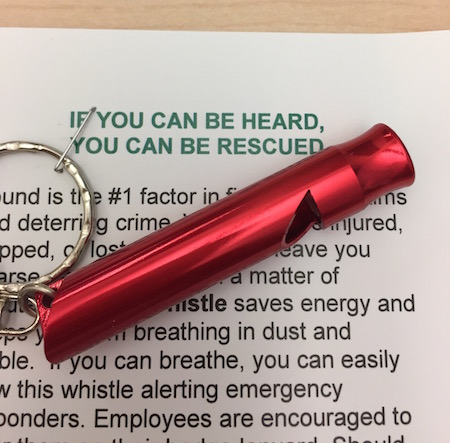 Lemme hear you whistle, baby…


Seeing this laying on my desk, I did what any mature, right-thinking adult would do when presented with a shiny red whistle. I picked it up and blew that sucker.
It's loud. A little piercing. The sound rattled off the high roof of the building.
You'd think this would be occasion for another one of those "talking to's" that my boss so enjoys providing to me. But alas no, she was in a meeting and missed it.
Instead the group administrator came over and stood in the doorway of my office, gave me the world record of stink eyes, then walked away.
I mean, if you didn't want me to USE it, then why didja give it to me?
Anyhow, my pretty red whistle is now safely stowed in a drawer. Guess I won't do that again.

Pretty whistle photo ©2016 Karen Fayeth, and subject to the Creative Commons license in the right column of this page. Taken with an iPhone6 and the Camera+ App.

Do you remember the Sting song "Russians" from way back in 1985? An overly somber commentary on the state of the Cold War, Sting implored "I hope the Russians love their children too."
I have had occasion to listen to this song a few times over the past months. It keeps coming up in my consciousness. I do readily admit that in 2016 the song sounds almost quaint and old fashioned. I remember the first time I heard it in 1985 it felt deadly serious.
As a GenXer, the Cold War is certainly a part of my formative years. Growing up in New Mexico, I was acutely aware that "Oppenheimer's deadly toy" was largely created in Los Alamos. My dad was employed by Sandia Labs and he worked on nuclear weapons. Hell, my dad was one of those guys in the 1950's out on some Pacific island in the middle of nowhere setting off nuclear explosions just to see what would happen.
So the Cold War was a little more real to me than perhaps many of my classmates. I remember on the playground talking with some friends about this list that apparently the Soviets had. A list of the first places they would hit if the war began. We all agreed Los Alamos would be on the list and debated if Sandia was there too.
I remember saying to a friend that I'd rather be nearby if a nuke was dropped. I'd rather be vaporized than have to live with radiation poisoning. I was just a kid but I had worked out how I would get as close as possible to Kirtland Air Force Base to control my own destiny.
That was some heavy stuff for a little kid, but it was the reality of the world back then.
So when I learned in April of this year that I would be traveling to the Czech Republic, I was incredibly excited. I love international travel and Czech Republic is a really old and quite historic city. The Good Man calls it "deep Europe" and it sounded so dark and mysterious.
But I also pulled up short. Hesitatingly, I asked The Good Man, "Didn't…uh…Czechoslovakia used to be Communist?"
Then I took a look on Google, I searched "Iron Curtain" and found this map. There it is, Czech Republic behind that heavy line.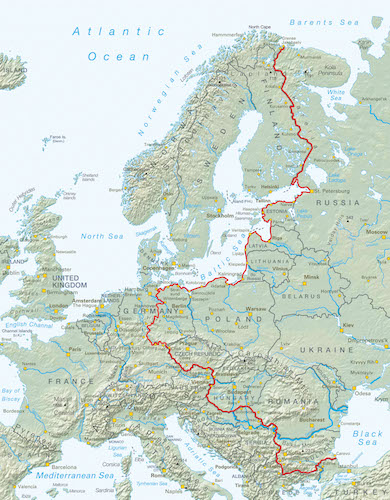 Map found here

I had a startling realization that I was preparing to travel to a communist country. This brought up an amazing amount of fear and almost guilt. Like I was betraying my country. Like I was letting down my father and all of those people he worked with back in the day. Or that I would surely find myself taken prisoner and subjected to intense KGB scrutiny simply for being an American in the wrong place.
Of course, all of that is patently ridiculous. The Czech people had taken back their country in 1989 and Americans visit Prague all the time. One of my coworkers had just been there and she loved it.
My weirdness was not helped when the guy who heads up the property team at work dropped a letter on my desk and told me to keep it with my laptop when I traveled. The letter assured that my employer owned the machine and that I was authorized to carry it.
I said, "This is my fourth international trip for our employer. I should admit I've never had a letter like this before."
He quickly replied, "That's because you've never traveled to a former Communist country before."
Oh.
Back in the day, I loved that movie "White Nights." What more could a movie do to pander to GenXer fears around the Cold War? Plus, I had enormous teenage tingly feelings for Gregory Hines (I can confess I actually got to meet him once and he was even more handsome in person, and also a true gentleman). Mikhail Baryshnikov was not exactly hard to look at either. But I'm wandering off topic…
That scene where Baryshnikov's character, a defector from Russia, realizes the airplane is going to make a crash landing in Siberia had a big impact on me. As he's tearing up his passport and flushing it down the toilet, I was terrified. When the inevitable straight out of central casting KGB agents arrived to harass our hero, I just knew that was EXACTLY how it really was. This was more documentary than fiction, right? <*smirk*>
It was with all of these thoughts and fears that I boarded a plane headed for the Czech Republic. Of course what I found when I landed was a beautiful country and very kind people.
My first foray into the center of the city of Prague was to attend a formal dinner at the historic Rudolfinum. One of my coworkers who knew her way around suggested we get off the Metro a couple stops early and walk about half a mile to the venue. Well of course, I was excited at this very idea. My first real exposure to the heart and soul of Prague.
I was immediately enchanted by the lumpy cobblestone streets and the very old buildings. We soon came across an odd building with four statues over the entrance depicting what appeared to be, to my eye anyway, communist era workers. The kind of thick neck and heavy features you'd find in a Diego Rivera painting.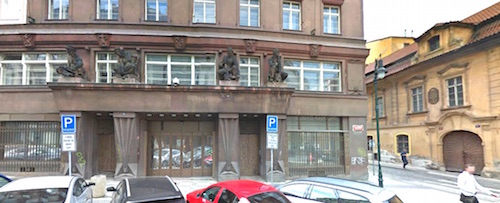 A very bad screen grab from Google maps because I didn't take a photo while there

I had kind of a "holy shit, look at that" moment and kept walking. There was a remnant of Soviet era Prague right there. Right there!
As we kept walking my eyes landed on souvenir shops with colorful marionettes, crystal shops, many pubs, restaurants and even a big ol' Burger King, and I knew that it was okay. I was not somewhere I wasn't supposed to be. I didn't need to rip up my passport and toss it into the murky blue waters of an airplane toilet.
No, rather, I was exactly where I needed to be. Instead of fear I felt proud that my ten New Mexico bred toes felt the pulse and music and life of one of deep Europe's most beautiful cities.
Now, in hindsight, of course I was being ridiculous. I mean, my brother has traveled right into the heart of Moscow, Americans are free to visit Cuba, and Dennis Rodman gets to visit his bestie in North Korea. It's a different world and a different view.
At the end of the day, it turned out that the Russians did (and do) love their children too.

So there I was a week ago on Tuesday, sitting at my desk and having one of the worst days at work in recent memory. There were all kinds of bonfires burning brightly on my desk. Still are.
So much so that in a recent hot project review with my manager and all of my peers, the Boss Lady remarked "wow, you have all of the really awful problems, don't you?"
She is fairly unflappable and not easily worried by the bonfires that my job brings, so her concern means I am seriously up to my eyeballs in alligators.
As the day progressed like a hammer to the head of a nail, I decided to sit back for a few minutes and look at some personal email by way of distraction.
That is when I found an email from someone I don't know, a Good Samaritan if you will, letting me know that my sweet Oh Fair New Mexico site had been hacked.
Oh joy. Just exactly what I needed.
This was, in my opinion, a particularly insidious hack. It was done so cleanly that I never even knew it had been hacked. Google "WordPress Pharma Hack" and read the pages and pages devoted to this really clever little invisible hack.
Instead of fiddling with my content or the front page of my blog, the intruder created something on the order of hundreds of offshoot pages from this blog. Those pages purported to sell all variety of fun pharmaceutical products, stove tops, waxing kits and more.
I suppose I should have guessed I was hacked when my website began to slow to a crawl. Then recently I noticed I couldn't reach my website from my home network. A ticket raised at my hosting provider said "No, your blog is up and running."
Turns out my ISP had blocked my infected web page. My blog continued to slow down even more. It began taking several long seconds to load.
I feel sort of sheepish that I didn't figure this out for myself. The signs were there. I make a living in the tech industry, but when it came to my own blog I was a silly little twit.
So after receiving the bad news I:
1) freaked out, then
2) contacted my hosting provider who had done me the service of setting up my blog originally
Within about twenty minutes they had replied to my ticket and did their part to clean out all of the offending sites. I checked several of them to be sure they were shut off. A bit of Googling around showed me that I had been hacked going back into last year. Hoo boy.
Then I had to raise another ticket because I noticed that my usual log in page redirected me to a page that looked exactly like my log in page but had a different URL. Thankfully I did notice that in the URL line on my browser.
My hosting provider responded by giving me another way into my blog. Once in, I realized that my hacker friends had set up no less than five admin accounts on my blog and one more that was invisible. I could only tell that by seeing that I had one (1) line item for users but the count in the header of the page said I had two (2) admin accounts.
Hell, I never check my admin page, but I should have.
So I did a lot of research and I learned about PHPMyAdmin and I got new keys from WordPress to make sure if the hackers were still logged in it would crunch their cookies and I changed passwords.
And I freaked out a little more.
Then I went to Google and signed up for their webtools (as suggested) and ran through the process so I could get the "this site may be hacked" message to not show up in search results for my little blog. That seemed to work fairly quickly.
And then I freaked out less but still felt anxious. And I kept working on cleaning up the mess that was left behind.
It all feels so…dirty. I mean, I don't get a ton of traffic to my little blog but it's my tiny corner of the internet and this week I celebrated my seventh year of blogging. Over half a million words.
A lot of fun has been had. By me at least.
From all of this, I have learned that WordPress blogs are particularly hackable. I have also learned that some hosting providers are also particularly hackable.
I have some other things I want to do to better secure my blog, but I certainly can't promise I won't get hacked again.
In fact, based on my research, I probably will get hacked again pretty soon until I get better security on my pages.
I may have to just shut down the blog entirely, but for now, I'm back up. It seems to be running a little quicker. I do regular backups on the blog but I did another just to be cautious.
So there you go. For today I'm back to blogging and not selling.
I like it here. Oh Fair New Mexico makes me happy, and for the few but loyal readers I have, I hope it makes you happy too.
Meanwhile if you came here because you want to buy some good drugs off the blog, the bad guys are no longer in business at this location. For now, anyway.
__________


*Special thanks to the kind reader who tipped me off about the hack. I am quite grateful to you.
**Humorous side note: When I told The Good Man that I had been hacked he went to look at the blog. He thought my kooky post about big cats liking Calvin Klein Obsession cologne was the work of the hackers.
Lol! I had a hell of a time convincing him that I wrote it. *grin* They can't all be winners.

Image found here.

I find myself with a rare few hours this afternoon where my calendar does NOT have somebody's name and silly meeting title plopped across wide spans of my time.
I mean an afternoon with no meetings is pretty damn rare. I'm almost scared. Like "did we all get the afternoon off and I didn't know about it?"
So I figured I'd make good use of some found time and tip tap away at a post for my little ol' blog.
Of course, when I actually have some time and some room to stretch my word wings, I have zero, zip, zilch, nada things to say.
Probably not surprising given that my last post was about my walnut bladder.
I went to my trusted fall back method of using a random word generator to spark ideas.
The word that was presented to me was: Mulberry
As in pop goes the weasel? Hmm. So I went to Google to see what I could links might give me interest in writing a couple words.
First I sifted through the voluminous links about Mulberry, the British leather accessory company. Boring.
Then I read the Wikipedia page about the plant. *yawn*
Then at the end of the Wiki entry, I saw this sentence:
Vincent van Gogh featured the mulberry tree in some of his paintings, notably "Mulberry Tree."
What's this, then? A Van Gogh mulberry? Now that's interesting. I would not call myself a scholar of Van Gogh's work, but I have done some poking about. Read some books. Have even seen one of his works live and in person at New York's MOMA (I cried because I was so profoundly affected).
So today my lack of creativity and reliance on a tried and true prodding method caused me to discover a new (to me) painting by a favorite artist.
That's not so bad, now is it? One might say both inspired and inspiring.
Here's the painting. It touches me deeply in ways I can't quite describe. And that's the beauty of art.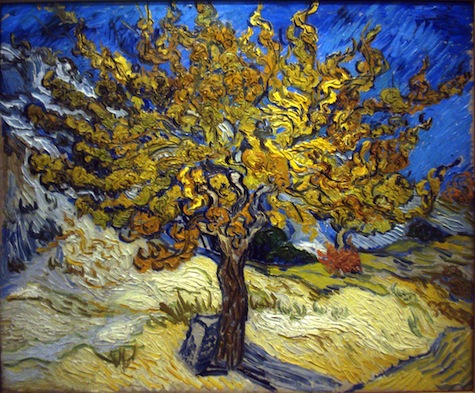 The Mulberry Tree by Vincent Van Gogh

Image used under a Creative Commons license from Wikimedia.

I've mentioned several times in these pages that during the course of my life, I spent quite a few years in the company of a blues musician. By spending a little time with him, I also spent time around a lot of different blues musicians.
Men and women with a deep vein of soul and history and rhythm.
When you are around blues people, you hear a lot of stories. Telling stories is pretty much the foundation of being able to play the blues. As a storyteller in my own right, I used to soak in these stories, letting them enter my pores and fill my soul and tap my DNA on the shoulder and ask it to dance.
The stories are in me. Not all of them are true. Few of them are pretty.
All of this is a long winded lead up to a particular story I have in mind.
It goes something like this:
Back in the 1950's in a small suburb of Dallas, Texas, two talented brothers grew up together.
Both had music in their bones and talent for playing the guitar. The world knows a little bit more about Stevie Ray Vaughan because of his breathtaking musical style and early death, but Jimmie Vaughan has also seen a fair bit of success with his music.
If you listen to each of their music, you can hear their very different styles. Stevie's music was intense, complicated and at times frenetic. Jimmie likes to play a bit slower and wider and easier.
Legend has it that back in the day in Oak Cliff, Texas both boys not only liked guitars but they liked cars.
Stevie, unsurprisingly, liked real fast hot shit cars that he could jump in and race around town. Stevie used to vex the local police who couldn't slow him down.
Jimmie on the other hand liked to cruise. He liked big, heavily finned, tuck and roll upholstered, Buick with a "smile" kind of cars. He'd put his girlfriend beside him on the bench seat and slowly roll through town, vexing the local police who wanted him to speed up.
I think of this story pretty frequently in relation to my own roll through life. My approach is more Jimmie than Stevie, though I admire the hell out of Stevie.
Perhaps this owes to the slow "land of mañana" pace of where I grew up. We don't move with alacrity in New Mexico and tend to be suspicious of those who do. When I still lived in the state and traveled to San Francisco or Boston for work, I was always comforted to come home, get off the plane, and visually see how slow people moved. Then I would match my pace to theirs and know I was home.
There is a great comfort in moving at a calm pace.
I find, however, that is not how the world thinks one should move.
Let's take for example, New York City. In New York, you are supposed to walk fast. Very fast. Head straight, eyes forward, and walk.
Despite how much I love Manhattan, I have one hell of a time keeping up. The Good Man was born in Brooklyn so moving at that pace comes natural. It does not come natural for me. I prefer to toddle along close to the buildings with the elderly and infirm and let the people pass me by on the outside of the sidewalk.
I am the person that New Yorkers yell at for walking too slow.
This all came back to mind this past week. It is New York Fashion week and I follow Nina Garcia, Marie Claire magazine's Creative Director, on various social networking sites.
She has been posting photos from all of the various designer shows and I have been lapping them up like at kitten at a bowl of milk.
I may not have a figure for fashion, but I love it. I love seeing how textiles and stitches and notions come together to create something fantastic or ugly or offbeat. Yes, I dig it!
So a couple of days ago, Ms. Garcia posted a photo of a sign she saw backstage at the Michael Kors Spring show. Oh my, I am a huge fan of Mr. Kors.
Here is the photo:
I read the words and my heart sank a little. I am happily romantic, strong and my own version of gorgeous.
But I don't walk fast and with energy.
I would love to kill them with chic, but instead I must maintain my killer sense of humor.
For some reason, this really got under my skin and whispered to those demons in my head who heckled me and said that if I can't walk fast and with energy, I am a nobody. They said I don't measure up, don't belong, don't matter because I can't keep up.
And that's when I remembered the story about the Vaughan brothers.
I don't need to race up and down the streets of New York. There are plenty of people who have that covered. I want to cruise the Manhattan blocks and tip my head upward to wonder at the buildings and smile and give my lungs room to breathe.
Slow though I walk, I always get where I'm going. Pink cheeked, a little sweaty and smiling.
Perhaps I am taking this hand written sign a little too close to heart. I'm sure this was simply a note of encouragement for the models walking the runway, reminding them to keep it peppy and light.
Perhaps it just hit me on a bad day when the demons were a little closer to the open door than I would like. I let them out to play awhile, really let them run, then I whistled and corralled them back into the pen.
And I remembered that a strong, courageous New Mexican doesn't have to walk fast unless she wants to. That is true both when walking the Bosque or NYC's Broadway.

A girl should be two things: classy and fabulous.

–Coco Chanel



Thankfully, I am both.

–Karen Fayeth
Photo from the Instagram feed of Nina Garcia. All rights belong to her.