This morning I woke up, and it was August 26th. Late summer, but still summer.
Then I went to the kitchen, and everything changed.
First this happened:


Then this: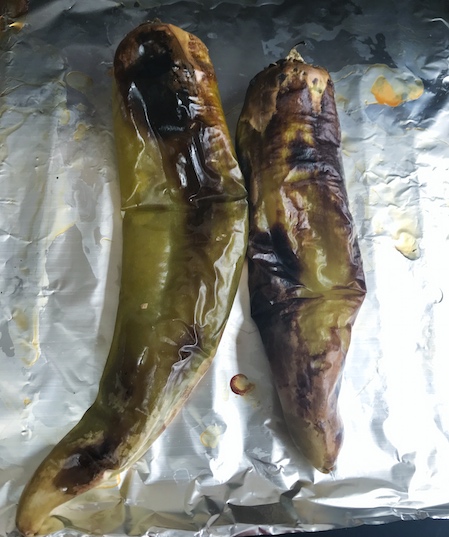 BOOM! Suddenly Autumn. That's it, I'm ready for sweaters, warm mugs of tea, falling leaves and warm roasted chile tucked into a melty cheesy tortilla.
And my home smells like my fair New Mexico, the best air freshener in the world.
Footnotes:
1) The chiles were procured in the Bay Area but certified to be from Hatch (if they passed off Anaheims, so help me….)
2) Roasting in the oven < Fire roasted, but The Good Man put the nix on a flamethrower. The discussion continues.
3) There's not very many in this batch, but we're just getting warmed up. Pun intended.

One of my coworkers brought in oranges from their yard today. Look at this, it is perfect! A supermodel among oranges. Spokesmodel for the State of California. This orange made possible by the sunshine of the Golden State. Gorgeous!

©2018 Karen Fayeth

Photo taken by me, all rights reserved. Taken with an iPhone7, the Camrea+ app, a green folder from the office, and a little bit of goofing off time while at work.

This is where I ate my lunch yesterday: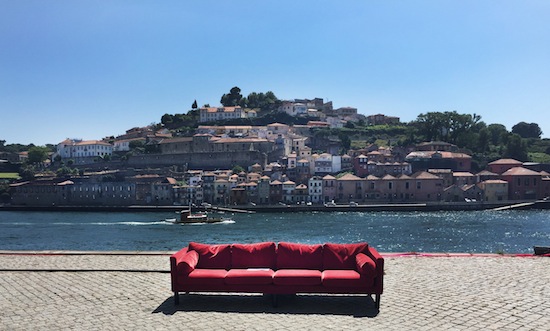 Copyright ©2015 Karen Fayeth

A velvety red couch by the beautiful Douro River in Porto, Portugal.
Wednesday was a beautifully clear warm June day. I sat on the pleasantly comfortable couch with two other people who are counterparts from another company. Two people I genuinely like.
We sat together companionably and talked and laughed and told stories. We couldn't believe our good fortune that the couch seating was open on such a gorgeous day.
Inevitably, time passed and it was time to go back inside the Alfândega Congress Centre, a historic former customs house, and go back to work.
Deep in very businessy conversations inside the cool stone structure, I couldn't stop my mind from wandering back to that place. That seat. That sun. That perfect moment. A delicious lunch with good and decent people on an oddly but fortuitously placed couch by the Douro river. In Portugal.
On the next break I wandered downstairs and back outside. After taking a photo of that now empty red couch by the river, I went down a few granite stairs and sat closer to the water. Small wakes from passing boats gently lapped the bottom step.
Then I started thinking. Lovely thoughts on a lovely day. A workday, no less! What a lovely city in a lovely country. Just that easy. Just that difficult.
And that, my friends, is how a good memory is made.

Woke up this morning to a dark gray day as the (much needed) winter rain pounds the Bay Area.
But this rainy Saturday had a surprise. A whisper of Spring, growing in the small yard beside my building.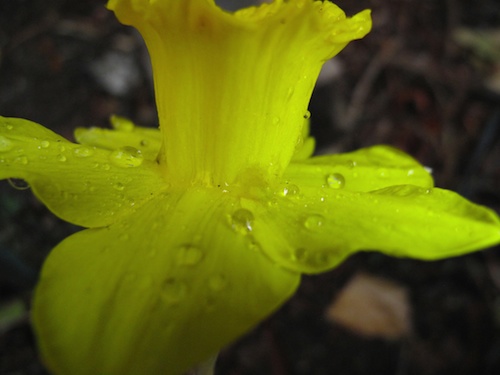 Photo © Karen Fayeth, 2014

I bought some daffodils from Trader Joe's yesterday, but the small wild 'dils in my yard beat them to the punch.
Oh how I love the sunny yellow of daffodils. Sweet smell of Spring.
While I do appreciate the rain, I really do, I secretly can't wait for golden California sunshine to return.

I think I'm being stalked. I'm not sure how to prove it or what to do about it but I am pretty sure I'm totally being followed. By an otherwordly entity.
I have shouted "what do you want?!?!" but the face of the man following along remains passive, as if my shouts are lost to the cosmos.
This stalker goes by a few names, but we'll go with Man in the Moon for the sake of ease and understanding. MITM keeps showing up everywhere lately, getting real close and glowy.
In the small morning hours when I head out to work, he's there, peering over the hills and looking quite chilly yet magnetic. As I ride the train, he rides along but fades away as I get closer to work.
In the evenings as I drive home, he's there hanging low on the horizon looking quite handsome. The evening attire is more of a warm and inviting yellow tone. He hangs out over the Bay and turns the tips of saltwater waves a golden amber. They wave as if beckoning me to dive in.
I try to ignore his intense gaze and then take a sharp curve in the road. For a moment I think he's gone but then voop! there he is again, a little less bigger-than-life when taken from that angle but still there staring down at me with persistence.
I thought it was just a couple coincidences, but I'm pretty sure that the moon is chasing me. And maybe flirting with me too, just a little.
For all the world that big shining Snow Moon looks just like a gigantic cosmic Snickerdoodle.
He's so charming, I just might take a bite.
———

Now tell me this doesn't look like a snickerdoodle.

The full Moon as seen in Japan on Feb. 25, 2013. Credit and copyright: Masashi Ito.

Photo from Universe Today.