Now that I have been a member of the photography club at my place of employment for just over a year, and have been attending meetings and listening hard, I think I maybe kind of sort of have earned a teeny tiny bit of respect.
Because this month, both of my submissions for the monthly photo contest made the cut. BOTH!
The rules each month are that you get to submit two photos. We review and critique all the photos in our monthly meetings and then there is an anonymous voting app we use. When votes are tallied, the top four vote getters are published internally at the company.
So yeah baby! I have had one of my photos make the cut before, but never both. It is a little unprecedented. Woo hoo!
The theme this month was double exposure and my two prize winning photos are below for your perusal.
The first one feels really special to me. I took both of the photos in the image while I was in Dublin. It was at the end of my one lone day of tourist time after an intense week of work, and I had walked for miles. I was exhausted and it was raining like it only can in Ireland.
Tired and soaked to the bone, I was bound and determined to find this sculpture of Oscar Wilde. This was after I had stood in a very long line (in the pouring rain, a nice lady shared her umbrella) at Trinity College to see the Book of Kells. That exhibit was exhausting in itself. Way too many people jostling around.
The park where Oscar resides is about half a mile from Trinity college and I wasn't sure I was going to make it. It was driving rain and windy and I was so tired that a nice warm cab looked like a good idea. I stopped to rest twice on the short journey, but forced myself to keep going and once I arrived at the park I was glad I did.
The small, lush, green Merrion Square park was silent as I stood there getting drenched looking at this remarkable statue of Oscar Wilde. A small tour group came by and the tour guide said the artist sourced these incredible and colorful stones from all around the world. It is a beautiful statue and so unique as it reclines on a rock.
When it came time to figure out something to use for double exposure, I thought of this statue and of the very old books I had seen at the Trinity College library (I had watched a video about the method used to bound the tomes and was endlessly fascinated).
Using some tools I had learned in a recent photography class about overlay for textures, I fiddled around in Photoshop and came up with this:
Title: Author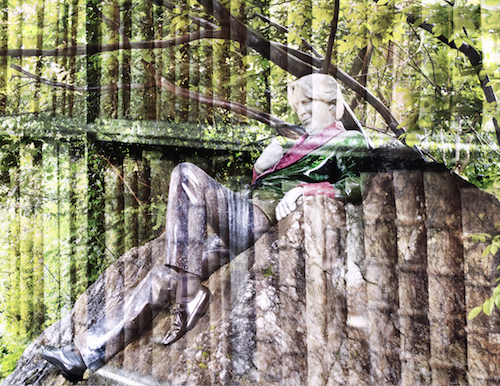 Photograph Copyright © 2014, Karen Fayeth


I was unsure if the photographers in the club would find the image too discordant. It's almost jarring, but I love it. It's hard to photograph a statue and have it be anything more interesting than a photograph of a statue. This to me brings depth and texture to the photo and I am so happy with the results.
The other photo I submitted was something I had been visualizing for quite some time.
As I continue to hear all of the news reports about the drought here in California, I was pleasantly surprised that the lack of rain didn't halt the springtime explosion of California wildflowers. I am mildly obsessed with California Poppies (the state flower) and I love the yellows, reds and purples of other flowers growing in medians, between sidewalk cracks and at the edges of yards.
I picked several of the flowers and shot them using a technique I learned from photography master Harold Davis. Then I took a free stock image of textural dry and cracked ground and combined it with my flower photo. When I look at it, I think of many things I could (and should) go back and tweak, but so far this photo is garnering nice attention.
Title: Drought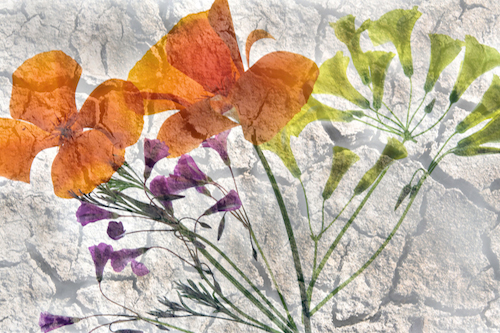 Photograph Copyright © 2014, Karen Fayeth

When submitting both of these photos, I wasn't sure how my surly team of scientists would respond. Both of these photos are kind of arty, but they also show I have some Photoshop chops, and I think they liked that. They had a lot of questions for me on technique since I used a different approach for each photo.
Also, I think the club as a whole struggled with the idea of double exposure. It's too messy for their orderly minds. I had a film camera in high school that I liked for making double exposures. It can either look weird or really cool. Doing a double exposure in Photoshop gives me more control over how the two photos overlap and how the double exposure looks, and I like it.
Anyhow, thought I'd share my winning photos with you.
Next up, travel to Amsterdam. Wonder what treasures I can find to photograph there?
Both images, Copyright © 2014, Karen Fayeth. Shot with a Canon G10 and combined in Photoshop. Stock image of dry ground from Free Stock Textures.

Lately I am all about my Kindle. I had an actual Kindle eReader for a while and then I migrated to using the Kindle app on my iPad and iPhone.
Love, love, love it.
As a writer, I am interested in the people who manage to self-publish and get a little traction on Kindle. As in, who are these people who are making it into the Kindle 100?
As a commuter, I like quick, lightweight and fun reading to pass the time on long BART treks.
With all of this in mind, I went and scoured the Kindle 100 list for downloadable fun. On the top seller list, I found mostly genre books, and most of the genre stuff falls squarely under romance.
Hey, look, cheap romance novels and I go way back. I was reading Harlequin paperbacks when I was in mid-school. My Grandma loved those inexpensive books so much. She'd read one and then my mom, sister and I would pass it around when she was done.
Not much has changed in the romantic genre since moving to Kindle. I looked at all the cheap and tarty romance eBooks and paid anywhere from $1.99 to $7.99 for three different titles.
I have made my way through two of them and am working on the third. I find that immersing myself into this world of genre fiction has sort of tinged my world view. The real world and actual human romantic relationships look a little weird after living in genre world.
In no particular order, what I've learned from $13 worth of literary cotton candy:


Everything old is new again.


The basic formula for a good Harlequin romance goes something like this:
There is a dark and brooding man. There is a troubled and innocent woman. Their worlds collide in some fashion. Usually the man is some brash worldly guy like a sea captain or an army general (most Harlequin's are set in a historical era).
She hates him or he hates her or they hate each other and they fight. He curses the headstrong woman, she alternately loves and hates how manly and forceful he is.
One or both of these characters has a secret. This secret means they can never truly love. That said, a little roll in the hay and it turns out that the love of a good person can cure all their problems.
Cue riding off into the sunset.
Yeah. Not much has changed. Instead of sea captain insert Chief Operating Officer of a big marketing firm, CEO of his family's insurance company, and famous rock star.
I'm not making any of these up.
Apparently the new brash sea captain wears a tie and worries about his stock portfolio.
Also, apparently male victims of sexual abuse seem to be the new theme. In one it was his step mom, in another it was his foster mom, in the third there was physical but not sexual abuse because his mom was a junkie who died thus preventing him from ever truly loving a woman…blah blah blah.
*sigh*


One really cringe worthy success spawns many, many more. Like evil bunnies.


I am learning about this phenomenon called Fan Fiction, which has been around for ages, dating back to early Sci Fi books, and perhaps older than that, even.
In a nutshell, people love a book and then take the same characters or the same setting or both and write a new work. Rarely is the fanfic sanctioned by the original author. It's written largely for other fans of the original work.
Just so you know, the author of the weirdly successful "Fifty Shades of Gray" series admits that she took her inspiration and characters from Twilight.
Hackdom begats hackdom begats hackdom.
I realized post-purchase that the authors of one of my three eBooks also took their inspiration from Twilight. Edward is now named Jake and wears a suit and is a surly corporate executive. Bella is now named Chloe and is an MBA intern.
Yeah. I might note here that I got through one and a half of the Twilight books and hated them immensely. So fanfic based on a series I can't stand isn't really working for me, but oh damn is it working for a whole lot of other people.


Careless disregard for the English language, grammar, readability, and formatting does not prevent the sale of books or degrade the author's credibility.


So that book I just referenced, the Jake and Chloe one? Reached number nine on the New York Times bestseller list for fiction (and higher than that on the ebook list).
This, despite the fact that it was riddled with formatting issues, typos and grammar errors.
Just cuz ya popular don't mean yer quality.
Whooo doggies. The language abuses I've seen.


Character development? Pfft! Who needs it?


Apparently writing about lots and lots of sex, in rather graphic detail, trumps the need to actually develop the characters.
Usually when reading a book I can "see" the characters. They take on fully formed beings in my head and in a book I like, they become like friends I get to visit with for a while.
Not from this book. I know very little about the characters other than he is tall and has tousled hair. She is short and skinny with dark hair. And has big boobs.
There you go. Characters for the ages.


Euphemisms! I got your euphemisms right here!


This is the most awkward part about reading these books. Look, even Harlequin used euphemisms for body parts and particular actions. You'd think some thirty to forty years later we'd be better at providing color commentary.
Nope. We've graduated past "towering manhood" and "her most delicate flower" but not by much. Now the in-favor euphemisms seem to be "his sex" and "her opening".
I cringe just typing those words. Ew.
Can we just agree that "thingy" and "hoo-ha" are the generally accepted nomenclature and be done with it?


Everything ends up "happily every after" unless, of course, the author is working on grinding out a series of books.


And then it makes sense to leave your character lying in a pile of leaves in the woods, distraught over a break up (ahem, *coff*Twilight*coff*) and the fans begging for the next book.
Nice work if you can get it.

I had a rather in depth conversation with The Good Man last night over whether I have it in me to crank out some of this genre stuff. I *can* do it, meaning I have the skills and capability, but somehow it feels, to me anyway, a little soul deadening.
So this was a good sashay into the current state of publishing. Not sure what it means for my writing. Though my commutes have never been hotter, all that thingy on hoo-ha action!
Or, you know, not.
I guess at this point in my life, you gotta make it GOOD to get this old girl rolling. And by rolling, I mean something other than my eyes.

"Coffee Flavored Kisses" — java, my true romance!

Image Copyright 2013, Karen Fayeth, and subject to the Creative Commons license in the right column of this page. Taken with an iPhone 5 and the Camera+ app, and sweetened by a little iPhoto touchup and an Instagram filter.

While sitting on my tuchus being completely idle this weekend (yay!) I flicked through my Twitter stream to get caught up on what is happening out there in Interwebs land.
I came across a tweet from Penn Jillette (one half of the famous duo Penn and Teller) that said, and I quote:
"You might not want to watch this. You really might not. It's kinda sorta dangerous funny. It hurts. http://www.youtube.com/watch?v=cpfQSqfpuac"
(if you are feeling like a laugh, go on and do a click for yourself).
So because I love and trust Penn and I needed a laugh, I clicked the link. What I found was a Taylor Swift video for the song "I Knew You Were Trouble" and in some of the high wailing parts, someone had substituted a bleating goat for the vocals.
I watched it three times. It was indeed very funny.
Just for the sake of reference, I then watched the actual video from Taylor Swift for "I Knew You Were Trouble" (well most of it anyway) and as I watched her writhing around in the dirt, I wondered to myself who this song had been written about.
It's fairly well known that Ms. Swift likes to write such songs about broken romances. A quick Google search led me to the answer. Mr. Trouble turns out to be Harry Styles from the Brit pop boy band One Direction.
Now, as an over forty year old woman, Mr. Styles doesn't look like an ounce of trouble to me, but I suppose I understand where she's coming from. Who among us ladies hasn't written pages and pages of journal entries about a romance gone wrong and maybe even some bad poetry too? I certainly have, I just didn't have the platform that Ms. Swift enjoys for such endeavors. But I totally support her right to say what's on her mind and be super angsty about it too.
So now that I knew Harry Styles of One Direction (by the way, doesn't Hairy Styles sound like an awesome name for a barber shop?) was the object of this sad song, I recalled that my kid sister-in-law (not so much a kid anymore, she's 13, it's a long story) absolutely looooves One Direction, though her affections tend to lean toward one Mr. Liam Payne.
Then I noticed that YouTube suggested that after watching the Taylor Swift video I should watch the super hot OMG hot hot brand new song from One Direction called "One Way".
"Why not?" I thought and gave it a click.
What presented itself to me was a video of five boys who probably aren't old enough to have pubes singing a bee-boppy rendition of the kick ass Debbie Harry song "One Way or Another" from 1979.
You know? "One way or another, I'm going to find ya'/I'm gonna get ya', get ya', get ya', get ya'/One way or another, I'm gonna win ya"
(To all whom I've just earwormed, I do apologize. It couldn't be helped.)
So as these boys wriggled and mugged their way across London, I felt a sadness in my heart. I emitted a sorrowful sigh.
The tough as brass song written by the beautiful and punk rock Debbie Harry is now being autotuned and smoothed up for a boy band. The catchy lyrics written in the wake of a stalking ex-boyfriend are now fodder for little girl swoons and cutesy thoughts of dating a One Direction lad.
Oh boy. Er. Boys? If the song had been redone and there was a new or original take, then by all means go for it. I am not against remakes, I am, however, against remakes that take the soul out of a great song.
Certainly Ms. Debbie Harry, as the co-writer of the song is enjoying much windfall from the pop redo of her music, but damn. It hurts just a little, in my soul.
Later over breakfast, The Good Man and I discussed this song and video since it was still very much on my mind.
"I suppose it shouldn't bother me that teens are listening to this crap because I listened to some poppy boy bands in my era. Like, for instance, Duran Duran," I said.
But then I realized something…yes, Duran Duran was a schlocky boy band and yes I swooned over the poster I had of the five of them on my bedroom wall (John was my favorite) but at least they 1) actually played their own instruments and 2) wrote many of their own songs.
Ok, yes, fine, I know that remaking songs is a common occurrence and in some cases, the remake is WAY better than the original (Hendrix's "All Along The Watchtower" for example). I also know that in the history of music there have been hundreds of over engineered boy (and girl) acts doing their soulless little dance with deadened eyes and walking down a life map that probably leads to either ultra-thumping-Christianity or deep and abiding drug use…or both. And I know I can't stop it, nor should I try.
But I also can't help seizing up a little whenever I hear great music so profoundly bastardized.
My thirteen year old sister-in-law is actually an excellent musician in her own right and I have to trust that over time she will learn to see that you can have both quality music written and played by the musican AND a hot guy to look at. Jim Morrison springs to mind, but let's see if I can come up with someone more current….I know, how about Bruno Mars or even Jason Mraz?
Losing argument, I know. As long as there are dollars in auto tuning them thar children, the shlock pop is always going to keep coming around.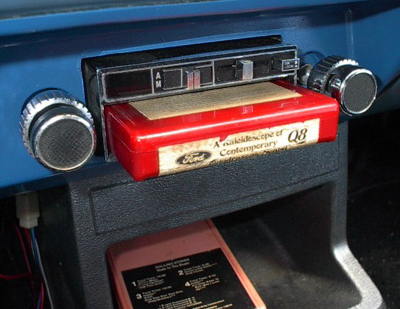 Shaddup Grandma! One Direction is the best band ever!

Image from the spydersden blog

At the end of last month, I attended an artist's salon hosted by my mentor and photography teacher Marty Springer. At these monthly events, a group of photography students and artists come together to review each other's work and provide feedback and critique.
The ticket for entry is that you bring a printed photograph for review.
I've been feeling pretty unartistic lately, so I went to the salon, but I was unable to bring a print (long story involving the horrific lack of possibilities for serious photographers to have their work printed) and endured the mild chiding from my mentor.
We went forward and had a really good session. The people in this group are fantastically talented.
As we wrapped up Marty issued us a challenge. In addition to teaching, mentoring and being a well-paid professional photographer, she also curates a small gallery at a local public library. This is the venue where we have our annual photography show, and the rest of the year the gallery hosts all manner of art pieces including photos, paintings, mixed media, quilts and more.
Marty told us how she had booked an artist for a show to span the month of February, but he had shown up with all of his pieces so poorly and cheaply framed that they fell off the wall moments after she had hung them. The artist didn't have the desire to fix his errors, so Marty was left without a show.
This was Sunday night and the show was due to open Thursday.
She told us she wanted to go ahead with an exhibit and we were all invited to contribute. Something was going up on February 1. She spoke to us about February and celebrating Valentines, but more than that, Marty wanted to put a show on the walls that was about love and about healing.
In the wake after the very tense election and then the horrible tragedies in Sandy Hook, Colorado and Oregon, she wanted to have a show that wasn't all lacy Valentines and light, but something that showed love and strength and healing.
She asked us if we were up to the task. Turns out we were.
I had an immediate idea for a mixed media piece that had been simmering in my mind for a while and seemed perfect for this show. I asked if mixed media was ok since most of the pieces would be photography. She told me not only was mixed media welcomed, but encouraged.
That night I came home, pulled out a blank canvas and gesso'd it (to dry overnight) wondering just how in the HELL I was going to get this done in time. At that point I was two weeks into a new job and still adjusting to a pretty long commute. My hours of free time for working on art were pretty severely limited, but I wanted to try.
This meant I had to edit myself A LOT. I guess watching all the seasons of "Project Runway" had put that thought in my head. "Edit yourself," I kept saying as I wanted to add more, embellish more, get more complicated and advanced in the few hours I had to complete this piece.
If I was going to make it in time, this needed to be simple, quiet and powerful.
On Wednesday night, only two days after I started the piece, I turned in a mixed media canvas with glue and varnish still a bit damp. My mentor gasped and danced a little when she saw it.
It's a bit hard to see, but the canvas is actually ripped through, then closed up with thread and staples.

I was so very unsure about turning in this piece because it felt a little…intimate…to be sharing with the world. There is a lot of me in that canvas. Also, other than a county fair a couple years back, I hadn't exhibited any of my art pieces and showing my creations to anyone other than The Good Man makes me a bit shy.
As I handed it over, I could only see all of the many errors I needed to fix. If only there was time. My nerve began to waver, but I relinquished my canvas to my mentor with the belief she'd find the right place for it in her exhibit.
This past weekend The Good Man and I finally got a chance to get over to the gallery to see my little humble canvas. I almost cried. She found a great spot for my piece and it flows into the show really well. It both stands out and blends in.
It is so very gratifying to see my little mended heart hanging proudly on a gallery wall.


Side note: No wonder the cartoon I posted for Valentine's Day got to me so deeply! This idea of a broken and repaired heart has been on my creative brain for a while now.
Much gratitude to The Good Man, the great State of New Mexico, The Crafty Chica for the inspiration and know-how.
Photo and canvas are both Copyright 2013, Karen Fayeth, and subject to the Creative Commons license in the right column of this page. Photo taken with an iPhone5 and the Camera+ app.

Was sorting through all of the photos from my recent trip to New York when I found a set that I wanted to share. In fact I'd meant to share this a couple weeks back but I just got lost in the back-to-the-real-world on top of the hectic pace of the hellidays.
One of the days that The Good Man and I were in New York, I requested the chance to spend a few hours in the New York Public Library as I was still rap-tap-tapping away at my NaNoWriMo.
The Good Man indulged me and I had some time to sit in the Great Room and write, which was both fun and inspiring and is something I will never forget. The Good Man went exploring as I worked because there is much to see in that amazing library.
That was when The Good Man stumbled across something interesting. It turns out that in the basement of the NYPL, there is a children's books section, and in that area there is a display case containing several stuffed animals, but not just any stuffed animals.
In the case are the original stuffed friends that were the inspiration for Winnie-the-Pooh. These toys belonged to Christopher Robin Milne, the author's son.
The toys were brought to the United States in 1947 and remained with the publisher of A.A. Milne's books, which then donated the stuffed animals to the New York Public Library in 1987.
In this photo, from left to right, is Lottie the Otter who shows up in a more modern Winnie the Pooh book sanctioned by the Milne estate. Then we have Tigger, Kanga in the back, the small Piglet, then Eeyore and finally on the far right, the man himself Winnie-the-Pooh.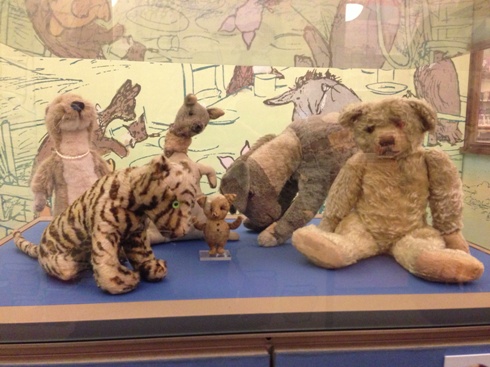 This photo is Copyright 2012, Karen Fayeth

Turns out the stuffed bear was bought at Harrods in London as a present for Christopher Robin's first birthday.
It also seems that this stuffed bear is named Edward. Who knew that ol' Winnie-the-Pooh was really a very posh Brit bear? I did not.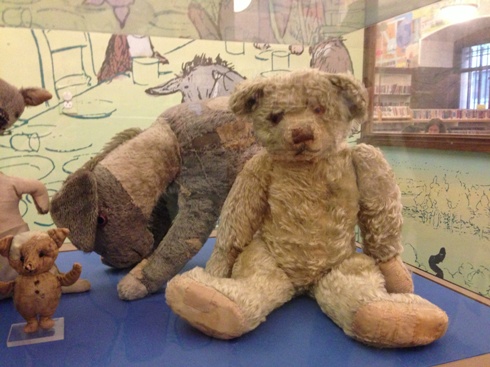 This photo is Copyright 2012, Karen Fayeth

This Winnie-the-Pooh looks much different from the Disney-i-fied version that we all are used to. This Mr. Pooh has very kind eyes and a pettable nose.
But still no pants.

This photo is Copyright 2012, Karen Fayeth

I was pretty excited after seeing the original Pooh gang. It was like meeting a group of celebrities.
As a writer it was pretty cool to see how inspiration can turn into a rich and beloved story.
Combined with a marathon writing session and then seeing Charles Dickens' pen and inkwell, it was quite a happy literary day for this little ol' writer.
All photos Copyright 2012, Karen Fayeth and subject to the Creative Commons in the right column of this page. Taken with an iPhone5 and the Camera+ app.