This morning I woke up, and it was August 26th. Late summer, but still summer.
Then I went to the kitchen, and everything changed.
First this happened:


Then this: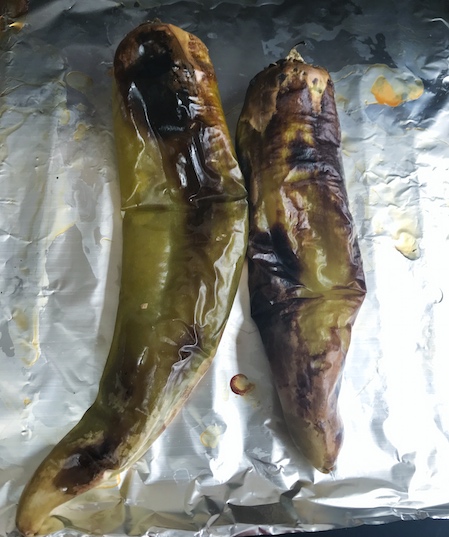 BOOM! Suddenly Autumn. That's it, I'm ready for sweaters, warm mugs of tea, falling leaves and warm roasted chile tucked into a melty cheesy tortilla.
And my home smells like my fair New Mexico, the best air freshener in the world.
Footnotes:
1) The chiles were procured in the Bay Area but certified to be from Hatch (if they passed off Anaheims, so help me….)
2) Roasting in the oven < Fire roasted, but The Good Man put the nix on a flamethrower. The discussion continues.
3) There's not very many in this batch, but we're just getting warmed up. Pun intended.

Sense memory is a funny thing. Seemingly insignificant things are ingrained early in your cells and pop up at the darndest times.

***

Earlier this week, after a long day at work and in a post-dinner stupor, I emptied the dishwasher and put away our clean dishes.
No big deal, right? Common, unremarkable.
After I'd put away the dishes, I looked at the cabinet where our glassware is kept and laughed, because I had done something that harkens back to an earlier time.
When The Good Man and I first moved in together more than ten years ago, there was a lot of negotiation. To be expected, I'd been living alone an awfully long time, was a bit set in my ways, and I was no spring chicken either.
So having this dude move into my space was, well, weird. I honestly had some difficulties, which we were able to work through bit by bit.
One such negotiation had to do with the orientation of drinkware on the shelves. You'd think this wouldn't be a big deal, but it became one of many lessons in "things you do because of where your from."
You see, I grew up in dry ol' New Mexico. We loaded our glasses rim down so the dust doesn't get in ya drink.
The Good Man grew up in Brooklyn. They loaded their glasses rim upward because god knows what crawled across the shelves and it's gross to drink from a rim that's been in the yuck. "That's why my mom puts new shelf paper down in every place she lives," he explained.
Ah. Well. Sure. That actually made sense. So I relented and agreed our home would be a rims up sort of space.
Besides, I knew that picking battles was going to be the key to success. We still had to settle if our home was going to load toilet paper over the top or from below. (Over the top is the final determination, my preference, The Good Man doesn't care either way)
So this past week, tired of mind and body, doing something I must have done thousands of times in my life by emptying the dishwasher, I loaded the glassed rim down. And laughed.
Then thought about the early days of The Good Man and Me. As we approach our ten-year wedding anniversary, I have been doing that a lot lately.
So did I then turn the glasses back over? Nope. I left them, figuring we'd use all the clean glasses before the next washer run, and then on the next unload one of us would get the right orientation.
This morning, better rested, I unloaded the dishwasher again. Sense memory, I didn't even think about it. I put the clean glasses rims up and walked away.
Here is a true and accurate representation of the current state of our cabinet.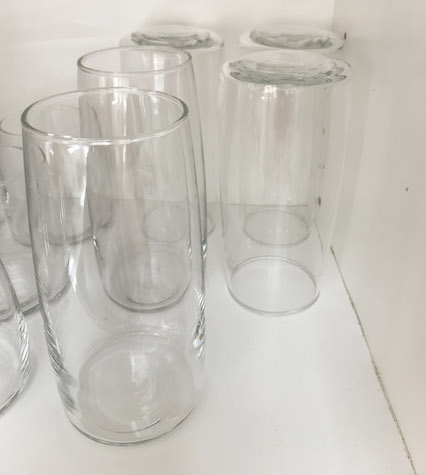 Where avoiding dust and avoiding rat droppings meet


I wonder how long it will be before my rather obsessive need for uniformity will get the better of me….can't blame that on New Mexico.

Photo taken this morning using the Camera+ app on an iPhone 7. I mean, why would you want to steal a photo of my drinkware? But if you do, please remember it's subject to the Creative Commons in the right column of this page. Attribution, please! :)
For the past month I have been participating in a Macro Monday project. The goal is to produce a new Macro photo each week. There is a theme and the photo must be shot during the week. It's giving me a lot of discipline about shooting and staying active with my cameras. Right now I am learning a lot about light and shadows. I have the perfect corner in my home that gives me the best place to experiment. Though I have been using my photo corner a lot lately, so next week it's time to stretch and work on more techniques and different locations.
This week's theme is "From the Kitchen" which is perfect timing because I have been wondering for a while now how to make this citrus zester that rattles around in a kitchen drawer look interesting.
I love working with shadows, and in this case I used an led pocket spotlight to make cool multiple shadows through the loops.
Anyhow, I'm having fun shooting and sharing what I am working on over the weekends.
Happy New Year to you and yours! ¡Feliz Año Nuevo a todos!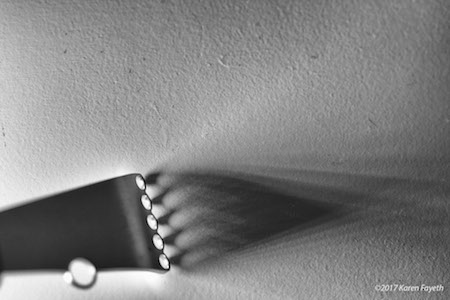 ©2017 Karen Fayeth

The hard work on my Macro Photography skills continues this week with a theme of "lit by candlelight." A week ago when this challenge was announced, I was like "pssh, easy peasy."
Turns out shooting by candlelight has been anything but. Sunday night I did a whole round of photos with a few objects and although candlelight is certainly beautiful, the photos I shot just weren't working. The photos were…dull. Not interesting. They didn't give me that excited feeling to share.
Then The Good Man opened up a bottle of wine and put out some cheese and garlicky crackers. That really seemed to lubricate the creative gears. Half a glass in, I had an inspired idea. I grabbed my copper holiday cookie cutters out of the kitchen (not that I have made any holiday cookies this year, but that's a topic for another time) and got to shooting.
Turns out candlelight casts really great shadows. I'm now pretty happy with the results. The top photo is my entry this week in the Macro Mondays challenge. The black and white was just for fun.
Whew! This is three weeks in a row I've managed to produce a new Macro photo for Monday's event. It's harder than it looks!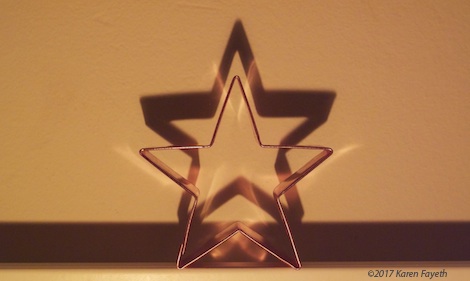 ©2017, Karen Fayeth, all rights reserved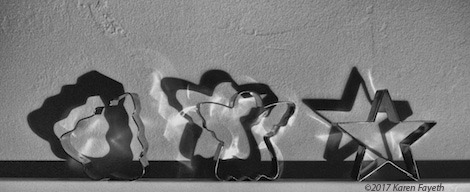 ©2017, Karen Fayeth, all rights reserved

On Sunday morning I woke up lazy and calm and satisfyingly rested. The temps outside were too chilly to rise from my cocoon, so instead I lolled in bed with The Good Man and the Feline. TGM and I talked over Sunday morning things, as couples will do, holding hands, talking quietly, and laughing.
After a while I said I was going to get up because I was hungry.
"What are you having?" TGM asked.
"Hmm, probably a bagel," I replied, thinking of the mediocre but passable bagels we had procured the day before.
"What are you going to put on the bagel?" he asked. Food is a thing with us. We both love to eat and sometimes the story leading up to the nosh is just as important as the nosh.
It was as if he was asking me to tell him a story. A naughty, naughty story of bagels and cream cheese and toppings that would make us both suck the air in through our teeth and nod approvingly.
I thought a bit, adjusting my legs under the comforter, stretching my calves and toes in the anticipation of being upright.
"Probably just some cream cheese," I said, staring my lactose intolerance square in the eye and refusing to blink.
"And tomatoes?" he asked,
"Yeah, that sounds good."
"And capers?"
"Umm…"
At my hesitation he gave me a look somewhere between "you are an alien" and "you shot my dog". He was crinkly browed and taken aback.
"I don't think I like capers as much as you do," I said.
The frown intensified. No words were said. Only this ever-deepening sadness and disbelief.
"It's not that I don't like capers. I do. Just not as much as you. I don't always want them on my bagel."
His frown deepened further and his head drew back like he was trying to put me in better focus. Like he was wondering to himself who this person was that he thought he knew. Like he was thinking, "I really should have gotten that pre-nup back when I had the chance because no way in hell would I have gone through with it if I had known she wasn't going to have capers on her bagel on a lazy Sunday morning in December 2013."
I shrugged. He shook his head and then I exited the bed. I paused on the way to the kitchen to take my morning vitamins and The Good Man went on ahead of me and began toasting two bagels.
He set out a variety of fixings and when the bagels were just a slight crispy brown around the edges, he said, "Your bagel is ready."
When I accepted my bagel, I schmeared it with cream cheese and I lightly salted it and I added tomato slices. And then I put capers on my bagel because it was the right thing to do. The right thing the sake of another beautiful day in a long and happy marriage with a wonderful man.
He was right, the capers were delicious. In the world of food, I may reign supreme on all things green chile, but I should know better than to question the handsome boy from Brooklyn on the ways and means of eating a bagel.
Even a mediocre bagel nibbled on a frosty Sunday morning in Northern California.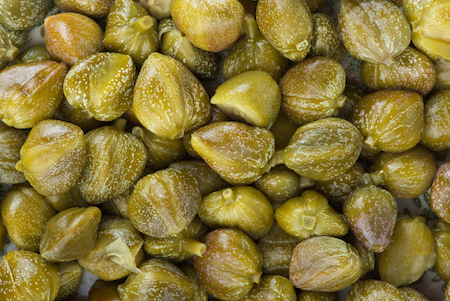 Image found here.