For just over a month I have been participating in a Flickr group called Macro Mondays, the intent of which is to create a new Macro photo each week based on a specific theme.
This group is a lot of fun and it is a pretty good challenge for me to create something new every week.
This week's theme turned out to be right in my wheelhouse, combining two great loves of my life.
Our theme was to create a macro photo based on a favorite book. The rules said no showing the cover of the book, no obvious photos of a book. No, the photo needed to represent what the book is about.
Many an hour was spent thinking about what book to choose and how to best represent a story. I wanted to do Red Sky at Morning, but was unsure how to create that in the small space of a macro photo. I considered Lonesome Dove, but didn't feel I could do it much justice.
So I finally settled on Something Wicked This Way Comes. After many brainstorming sessions with The Good Man, much thinking and agonizing and not being happy with what I was producing, I think I finally landed on something that does justice to Mr. Bradbury's fabulously creepy story.
Here's my photo: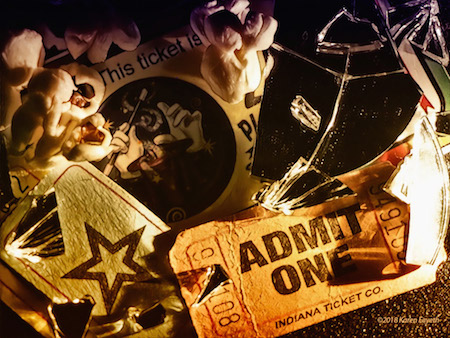 Inspired by Something Wicked This Way Comes by Ray Bradbury

Copyright ©2018 Karen Fayeth

This weekly challenge gets about 1,000 entries this week, and I look at every one of them so I can learn and get excited about the work of fellow photographers.
Here is some fun trivia: What book do you think was the most represented this week? Any guesses?
.
.
.
.
.
.
.
.
.
By far, a Clockwork Orange. I don't know what that says about this group…..
Followed by Lord of the Rings, Hitchhikers Guide to the Galaxy and Zen and the Art of Motorcycle Maintenance.
Fantastic books, all. Just not on my personal top ten.
I won't even get into all of the instances of 50 Shades of Gray and Twilight.
So while this week's photo took a lot of planning and setup, I am completely excited about this idea and (mostly) happy with my photo. I would love to take a stab at some other books too. Fun idea. Now I look forward to next week's challenge.

The job that pays the bills has been especially nutty this month. Around these parts, Santa is saying "Ho, Ho, Hoooooly crap I have a lot of work to do." Thankfully, I managed to get through to the end of the week and now get to enjoy a bit of time off for the holidays.
And so it's best to balance all that work with some fun. Which can also be work, in a way.
This week, my photography takes a turn toward bokeh, the sort of blurry backlights seen in many an Instagram photo. I've seen a LOT of photos with bokeh, it's quite popular. When I see these kinds of photos they always seem fun, and those blurry lights look like they would be so easy to shoot.
Easy was not the case for me. I figured I'd waltz right into some fabulous bokeh photos, but I really, really struggled with this challenge. The photo's subject was photographer's choice, it just needed to have some nice juicy bokeh in the background.
Curse words were uttered. Cameras were called names. Swears in English, Spanish, French and British English (bollocks, bollocks, bollocks!) were all employed in the making of this photo. Finally after several Google searches and articles consumed, I stumbled onto a good suggestion for creating lots of sparkly light, and it worked.
In the end, I'm pretty happy with how this turned out. The photo features a Zuni Pueblo fetish carved by a Native American artisan named Dilbert Gasper. His Butterfly Maiden is carved from black marble and inlaid with turquoise. Since Christmastime is when I miss New Mexico the most, she seemed to be a good subject for my trials and (many) errors in learning a new technique.
I hope I did the little Butterfly Maiden and master artisan Mr. Gasper their justice.
And with that, a hearty Feliz Navidad to all!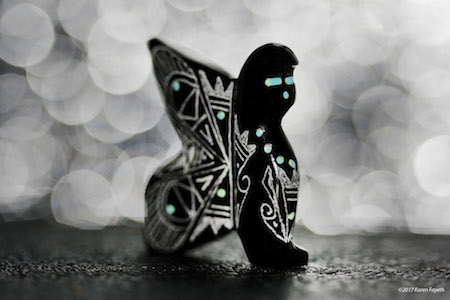 ©2017 Karen Fayeth

In an effort to improve my macro photography and challenge myself a little harder (photographically speaking), I joined a Flickr group that does weekly challenges.
Photos must be new, no taking from the archives, so it pushes photographers to keep shooting every week. I seem to work well under a deadline.
This week's theme is "buttons and bows."
Tomorrow I will enter this photo, taken just last night, into the Macro Mondays challenge.
Whew. Who knew photographing a simple button could be so much work?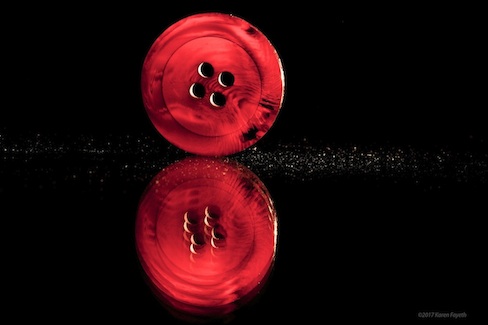 Button Glow, ©2017 Karen Fayeth

If you are interested in looking at more of my stuff, here is the link to my Flickr page.
Otherwise, wish my little button photo good luck!

It's January. The holidays are over. Back to work. Inauguration looms large.
The skies above the Bay Area have turned a familiar shade of mushy gray. Expected for January.
When the marine layer isn't in, it's frosty cold. When the marine layer is in, it's torrential. Standing pools of water soak my socks. Windshield wipers can't keep up. The kind of rain that terrifies a New Mexican until she remembers that Bay Area drainage systems were meant to handle this kind of water. Mostly.
January feels dreary, but there is hope on the horizon. There is a break in the gray.
You see, this past weekend my favorite grocer featured unopened daffodil blooms. I scooped them up and ran home with my trophy.
I love daffodils because they remind me of what's to come.
First come the daffodils with their buttery yellow optimism. Then almond and cherry blossoms create their own snowfall of fragrant petals. Then tulips in every color you can imagine. Finally colors and flowers of every sort jostle for the gentle rays of warm Spring sun.
I am a child of Spring and Spring is on the road, making its way back home to me. It returns with the dogged determination of a lost love.
Within my pile of hope and anticipation bought at the grocery store, there was a special stem. It made me a promise. Silent and steady.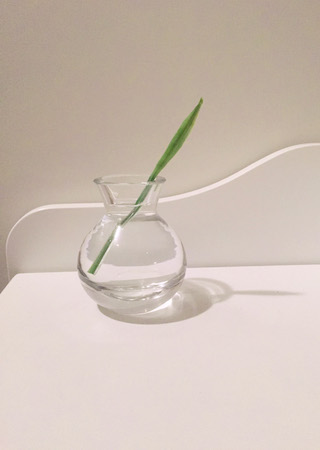 A promise made.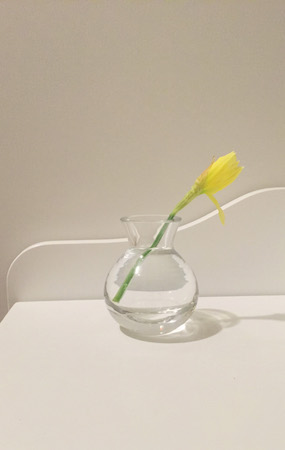 A promise in progress.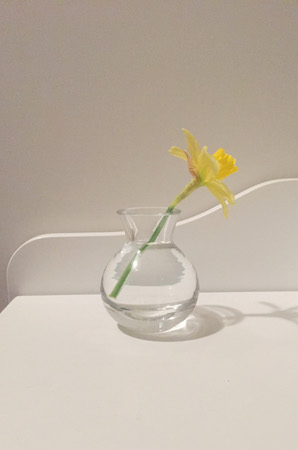 A promise kept.


Now ain't that something to get excited about?

All photos ©Copyright 2017, Karen Fayeth. Taken with an iPhone6, the Camera+ App, patience and anticipation. Subject to the Creative Commons license on the right column of this page.

Today was my first day back at work after a nice and relaxing weeklong vacation. Always tough to get back into the routine.
Last week, I missed a big event at work. It was The Great California ShakeOut, an annual earthquake preparedness event. On a set day, they sound the sirens and we take cover and hold for a period of time to simulate an earthquake. Then when that is over, all must evacuate the building.
It's getting us ready for "the big one" that we all keep hearing about. Practice like this has proven to be useful. We do this every year meaning once a year I get to check out what's going on under my desk.
Since was on vacation and I live pretty close to work, I heard the sirens, but I was driving in my car so I hunkered down in my mind.
Today upon unlocking the door to my office I see my employer has left me a little gift in the wake of the ShakeOut event.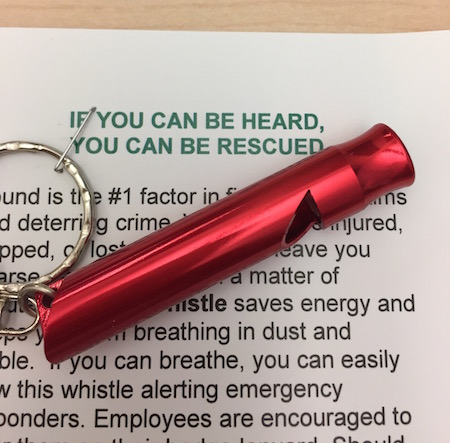 Lemme hear you whistle, baby…


Seeing this laying on my desk, I did what any mature, right-thinking adult would do when presented with a shiny red whistle. I picked it up and blew that sucker.
It's loud. A little piercing. The sound rattled off the high roof of the building.
You'd think this would be occasion for another one of those "talking to's" that my boss so enjoys providing to me. But alas no, she was in a meeting and missed it.
Instead the group administrator came over and stood in the doorway of my office, gave me the world record of stink eyes, then walked away.
I mean, if you didn't want me to USE it, then why didja give it to me?
Anyhow, my pretty red whistle is now safely stowed in a drawer. Guess I won't do that again.

Pretty whistle photo ©2016 Karen Fayeth, and subject to the Creative Commons license in the right column of this page. Taken with an iPhone6 and the Camera+ App.