With a photography theme of "speckled" it was high time to photograph one of my favorite foods, the beautifully speckled pinto bean. Food of my people, staple of many a memorable meal, and occasionally a cure for what ails ya.
I am really loving playing with shadows to add dimension to a photo, and had a lot of fun figuring out how to make a few pinto beans worth looking at. I'm pretty happy with this photo, we'll see how it does in this week's Flickr group.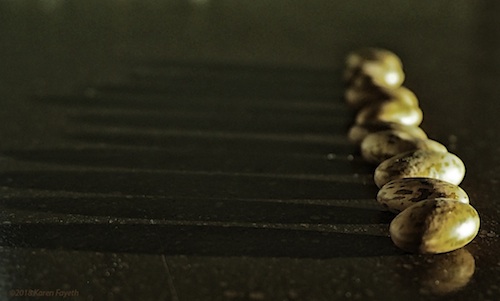 ©2018 Karen Fayeth

I have found myself in the city of Prague in the country of Czech Republic for only forty-eight hours. Well, a little less than forty-eight, but let's not quibble.
In forty-eight hours I have learned that the current leadership of the country wants their country to be referred to as Czechia, for reasons I don't fully understand.

"The Terminological Committee of the Czech Office for Surveying, Mapping and Cadaster officially codified Czechia in 1993 in its publication "Names of States and their Territorial Parts". Therefore, Czechia is the grammatically correct short name of the Czech Republic…" – from Go-Czechia.com
I have learned that occasionally I can understand a word or two in Czech, but then the diacritic marks give me doubt.
And I have interacted with Czech citizens, mostly the driver of my airport shuttle, hotel staff, and employees of the mall next door to the hotel. The clerks at the grocery store in the mall are probably the most Czech of the Czechs I have encountered. They have little to no English and can't care that I have no Czech. I admire this.
One habit I have cultivated in my bit of international traveling is that I like to go to grocery stores when I visit other countries. I like to see what everyday people buy and how everyday people procure their comestibles. Also because grocery store clerks are the most representative of the people of the country because they have no enthusiasm for making it easy on tourists. They are just being genuine.
In less than forty-eight hours I have come to appreciate and even feel a deep fondness for the people of Prague. Come with me on this tangent: Over the course of my life I have been fortunate enough to be friends with many Russian people. People from Russia have a very distinct cultural identity. Most Russian people I know can find a way to be unhappy even in the most incredibly happy of times. Not a sadness, but a deep disappointment tinged with world weariness. There is almost an enjoyment in unhappiness.
Obviously, owing to the long history of Czechia (see, I can learn), Russian culture has had a deep impact on the people who live here. I find some of that same slight sadness, irritation and fatigue with life in the people of Prague. At least the people older than say…thirty-five. It's almost kind of endearing.
Here's my best example. I went to the grocery to get some water, some chips and some cookies to stock in my hotel room for snack time. I had just a few items and I approached the register, feeling nervous.
I had learned two days ago that if I want a bag, I have to take one (paper or plastic) from the front of the register, and I have to let the clerk know I am buying the bag, and then I have to bag my own groceries. It's very common in Europe to bag your own groceries. I was proud to have learned the whole bag situation (a nice Czech lady helped me) and was ready to check out. (Czech out? Okay, bad pun.)
My sweet little American self stepped forward when it was my turn, and I held up the bag and pointed and nodded. The clerk sighed and began mumbling in Czech. Then the mumbling took on a ferocity. She riffled through some papers on her table and spoke more loudly, but not to me.
She shouted across the aisle to the clerk at the next checkout station. A conversation ensued. As near as I can decipher, she needed the code for the paper bag I had chosen. The other woman offered a suggestion that didn't work. My checker kept trying until after several attempts, she sorted it out.
She then began to scan the rest of my items, mumbling and gesturing in Czech. Not speaking to me, but clearly unhappy. Occasionally she'd shove at the papers that had let her down.
In my mind, I translated from a language I do not understand, but I think I understood the moment.
"This person wants a paper bag and they tell me I have to charge for it and if I'm supposed to charge you'd think they would at least give me the code on these damn papers," shoves papers, "but no, I have to guess and this goofy looking American is standing here, don't think I don't know you are an American. Just because you haven't said a word doesn't mean I can't smell it on you from a mile away. And of course the American wants a paper bag. Plastic bag, I know the code for that, but no she wants a paper bag and I don't know the code and I don't have the code here," shoves papers, "I have to scan all her stuff and I don't even care, I just am trying to make a living here and I have to charge for paper bags and what is the meaning of life anyway, but to be miserable, forced to charge for a paper bag and never really knowing the correct code."
Or, you know, I could be reading into things…just a teeny bit.
We concluded our transaction and I smiled and said "thank you." She looked at me like I was a developmentally latent child, and I walked away, a few Czech Crowns lighter, a bag of chips water and cookies in hand, and a story that felt like it needed to be told.
Tomorrow brings the most intense day of meetings, the whole reason my employer sent me to Prague. Once that is concluded, I can hardly wait to finally explore more of this beautiful city and learn more about the people and places of Czechia. I can't wait!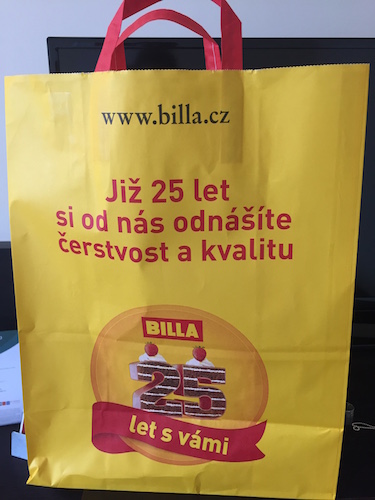 The Google translate app (using the camera, a very cool feature) tells me that this grocery bag says (roughly) "With 25 years, from us you take away freshness and quality." You can see how the last word really could be the word "quality." But beware of thinking you know something now, because you certainly do not. Your Czech is of no kvalitu.

Photo ©2016 Karen Fayeth, taken with an iPhone, the Camera+ app, amusement and jet lag. Subject to the Creative Commons license in the right column of this page.

Part III in a series.
So of course, one of the things I miss the most about my fair New Mexico is the food. It is unlike anything else in the world and as a native, the green chile flows in my veins.
Too much California time and I start to get a little pale, weak and shaky. I survive by cooking my own New Mexican food and that ties me over pretty darn well. But it's not the same as being home.
From my first footstep on hallowed and dusty New Mexico ground and I was ready for some good eats.
I would have to wait for a good greasy restaurant meal, however. First stop on our tour was to go to see my best friend's little sister who is a very dear friend in her own right.
Her three kids are growing too fast and I really couldn't believe how time has flown. I guess that is how we mark time as adults, by how fast the kids grow?
After hugs and "it's been too long!" we all loaded up in a Suburban and headed over to the nearby little league fields to watch her oldest son, who is ten, play a little baseball.
It's pretty well documented how much I love baseball, so I had a great time watching the kids try to learn how to put it all together. I haven't laughed that hard in a long time.
My friend's husband was the umpire for the game, so of course Blue got a hearty ration of crap from us in the stands. "Use the good eye, Blue!" And I boo'd him when he called his own son out on strike three looking. That ain't right to ring up your kid! LOL!
Thankfully he has a good sense of humor and is a very kind man. Also, he can dish out it just as well as he can take it.
Later that evening we ate together and had a wonderful home cooked meal. There was a nice bowl of chopped green chile to add to our good eats and I knew every little thing was going to be all right. Well, that and the four adults knocked back a few glasses of Mimbres Red and got a real good cuss and discuss going.
It was a good place to be, a very good place. This was one of those rare times and places in the world where I was able to simply be nothing other than my true self. No hiding my words, no trying to show off, no being circumspect. Simply 100% me because I know these people are family, and for well over twenty-five years they have accepted me just as I am. It gives me peace.
The next day we got it all together and got back into the 'burb. We continued our journey by heading north to Santa Fe. Once we got settled into our hotel, my best friend remembered a restaurant that her husband recommended was located nearby, so we loaded up.
The place is called PC's Restaurant Lounge and their menu included something called an Indian Taco. We used to call them Navajo Tacos, and they really are something special.
For the uninitiated, a Navajo Taco is a piece of Indian Fry Bread that is loaded with all the ingredients of a taco then covered in green chile and melted cheese.
Heaven on a plate.
These are not as common on the menus of Southern New Mexico and I haven't had one in a long time. I hopped right on ordering this and giggled with anticipation.
I'll save the suspense, it was galldang delicious. (Lactose intolerance be damned!)

Terrible photo of a terrific meal.

A beautiful combination of Mexican food and Native American food, right on my plate, into my tummy, into my veins, sustenance for my very soul.
This should be the State Dish of New Mexico because it perfectly describes our blending of cultures and the New Mexican's love of a good meal.
Of course, I was a useless lump of lard for the rest of the day after this meal. My salad-and-a-little-exercise body was quite confused but mostly pleased. A nice lunch like that makes a siesta real easy and full of nice dreams.
The next day we managed to pull ourselves up and out the door and we explored the Plaza in Santa Fe. We shopped and strolled and touristed. Because why not?
I really enjoyed absorbing everything, recharging the batteries, and remembering when these feet last strolled the same sidewalks. So familiar. So different.
When it was time for lunch my friend suggested we go to an Indian place to eat.
"India Indian?" I asked, because one can never be too sure in New Mexico. She laughed, but she was very serious. She wanted to take me to an Indian (i.e. Central Asian) restaurant in the middle of Santa Fe.
What?
No. Wait. What?
Yes. We went to a little place named India Palace and had their lunch buffet.
Ooooh damn. That was some of the best Indian food I've ever had. I live in the Bay Area and there are a lot (and by a lot, I mean A LOT) of good Indian food places here. And you know what? India Palace in Santa Fe, New Mexico beat them all.
I know, right? You may be saying, "C'mon, really?" Yes. Really. Sadly I was too busy shoving Saag and Paneer Masala down my gullet to stop and take a snapshot of such gorgeously delicious food.
Good eats are good eats and I sure had 'em in New Mexico. Damn, I ate well. There were a few of things I had wanted to get to while I was there and I missed out. Like good old fashioned Sangria (a restaurant in Santa Fe that sadly isn't there anymore called La Tertulia served the best I ever had) and carne adovada, and sopaipillas.
Oh well. I guess that gives me more to look forward on the next visit? And incentivizes me to make that next visit happen very, very soon.
Side Note: I just looked at the Wikipedia page for sopaipillas.
In that entry, it says the following:
"A simple imitation of a sopaipilla can be made by frying a flour tortilla until it puffs up then cutting it into triangles and serving with honey."
Um. No. No it can't. No it absolutely cannot. A puffy tortilla and a sopaipilla are absolutely NOT THE SAME THING. I am highly offended it was even suggested. Mo'flicking Wikipedia full of lies and insanity.
Just. No.
Ok, let's get back on track here. While your mind reels over that sopaipilla madness, rest your eyes on this photo of my older goddaughter's green chile chicken enchiladas, a perennial favorite of mine. Yum!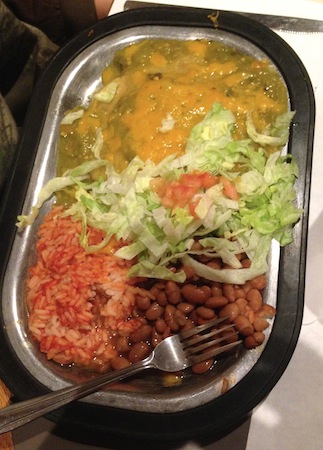 Yes, apparently while in New Mexico, I am a hipster freak photographing my food.

Coming up next: Part IV, The More Things Change

Images Copyright © 2014 Karen Fayeth, and subject to the Creative Commons license in the right column of this page. Taken with an iPhone5 and the Camera+ app.

It is a dark, gray and drizzly day here in Northern California and to be honest, that is a good thing. I say that even as my mood can best be described as poopy. The fact that the earth needs the rain doesn't preclude a little blue mood to go with the not-blue skies.
To be honest, in March, this is what the Bay Area is supposed to do. It's supposed to rain. So I'm grateful for the rain.
But still, I'm cranky.
Days like these make me want to stay in bed all day and only come to the surface for something tasty to eat (then dash back under the covers).
Last evening I watched an old episode of No Reservations when our host, Anthony Bourdain, was in France. At one point they showed warm hot loaves of bread coming out of the oven. Of course now all I want to eat is gigantic loaves of warm bread smothered with butter.
But alas, the butter is a non-starter for me with the lactose intolerance and all. And well, we all know bread gets a bad rap these days.
Later in the show, the host was eating some gigantic meat-on-meat madness type of meal and I said to The Good Man, "I…I just don't think I could eat that. I mean, I would try, but oh how my stomach would hurt."
What the hell has happened to me? I remember the days when I would and could eat everything from flaming hot green chiles to milk products to fatty meats washed down with a lot of beer and wouldn't even blink an eye.
Now as I ponder yet another birthday coming along in a few months, I realize what a little lily I have become. A hothouse flower who can't eat things too hot anymore (damn my GERD) and can't eat milk products (well, I can, but it's an unpleasant outcome) and I sure do eat a lot less meat than I used to because my tummy just can't take it.
Alas! What has become of poor Karen? I don't even know who I am anymore.
I suppose it's all a part of the cycle of life. I mean, I have tried and digested a lot of good food in my life. I don't hold back, I'm willing to give most foods a shot but I have become a lot more circumspect in how I nosh.
A "good" meal can be great in that moment and can then ruin my whole day. So I eat a little less quantity and a little better quality and I wonder what else I'm going to be a candy-butt about in this great life.
First world problems. I got 'em.
(And give me time, I'll get over myself. I always do.)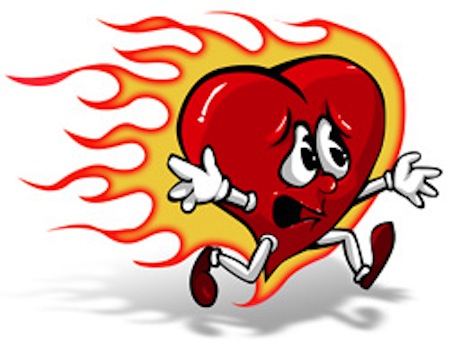 Image found here.

As mentioned yesterday, last week at work included a roomful of auditors which meant that we not only had to be on our best behavior (for a whole week!!), but we also had to entertain these auditors for the duration of their stay.
When my Boss Lady informed her very own team of minions that we were each expected to attend a dinner with the full audit team, I replied, "But I don't wanna eat dinner with auditors!"
Not to one to be easily swayed, she replied, "Well you're gonna!"
And so I did.
Wednesday night last week we went to a local, popular and well Yelp-ranked dining establishment. It is an old warehouse converted to an eatin' place, as is so hipster cool these days.
I found myself seated right next to one of the auditors, a pretty decent guy from Chicago. Conversation was formal and challenging at first. We were both very guarded.
The fare at the restaurant was simple and good. Not great, but got the job done. Thankfully they had a nice wine selection which helped lubricate the conversation over dinner with a bunch of stilted business folks.
At the end of the meal, and full of enough wine to matter, we were all chatting like old friends. As plates were cleared, dessert menus were plopped on the table in front of us. Since it was a busy night in the warehouse food place, the waiter asked us to share dessert menus because they were running low.
Chicago and I leaned in to look over the selection of sweet treats to end the meal.
Since I've had to concede that I actually *do* have lactose intolerance (despite all my best attempts to ignore it and pretend otherwise), looking over the dessert list has become a bit more difficult than has been in the past.
I have to be more thoughtful about my choices.
"So, what are you thinking about having?" Chicago asked.
"Well," I said, "I'm not sure. Maybe that berry crumble?" He looked at the listing then sat back in his seat and sighed.
"Berries not working for you tonight?" I asked.
"It's just that…" he faltered. "You see, it's served with ice cream. And I was recently diagnosed with lactose intolerance."
"You too!?!" I asked, way too over-excited to find someone else with my gastro intestinal dairy related woes.
We lamented together. He told me that he really misses milk, especially a big glass of cold moo juice with a stack of chocolate chip cookies. I lamented the loss of a late night cereal snack. I told him I'm using almond milk these days and he shook his head, "Yeah, that's ok. Not like the real stuff though."
"Yeah," I couldn't help but agree. "And I miss ice cream. Oh, wait!" I said, then dug around in my purse and withdrew four Lactaid packets. Enough for us both.
So we both got sort of happy and turned back to the menu and looked again. "Maybe that ice cream…" he said.
It was my turn to sit back with a thud. "As I am sure you have also discovered, Lactaid is an imperfect solution. I don't know about you, but it helps a little, but not that much."
"Yeah," he agreed. And then we both looked sad.
Then Chicago reached out and turned over the menu to the coffee and aperitifs section. "You know," he said, "We could solve this problem by skipping dessert and having a glass of port."
My eyes widened and I said, "You. Are. Brilliant."
And so we did. Two glasses of ten year tawny port were ordered and consumed and I felt nary a tummy rumble after.
Later, without even knowing it, The Good Man was also pleased with my choice.
Because lactose intolerance doesn't just trouble the afflicted. No, it impacts loved ones too.
I guess I'm learning to live with this terrible, awful affliction.
Good thing I still tolerate wine okay. *grin*

Image found here.