With Thai Basil Tofu, potstickers and spicy eggplant simmering in my tum, I excitedly reached for my fortune cookie, ready to crack it open and read my fate.
I have a mild obsession with fortune cookies and the wise and occasionally silly words inside. I have several of the small slips of paper tucked into my wallet. A few are taped to my work monitor. Some just drift around in my writing workspace like tumbleweeds of clever words intended to poke and prod at my mind.
So it was on this day, celebrating the birth of the kind and patient woman who gave birth to The Good Man, that I cracked open a fortune cookie and found…
Well, this: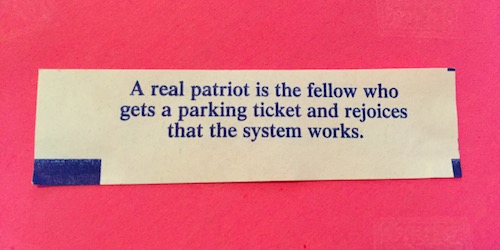 "A real patriot is the fellow who gets a parking ticket and rejoices that the system works."

Okay, okay, now wait just a second here. This is not fortune. This is propaganda.
Believe you me I've never, not once, rejoiced in a parking ticket. And living where I do, parking tickets are something that find their way into my life more often than I appreciate.
One short Google search later I discovered this happens to be a quote attributed to a man named Bill Vaughan.
Fine, okay. Who in the hell is this Bill Vaughan?
According to Wikipedia, he's an American columnist who wrote a syndicated column for the Kansas City Star from 1946 to 1977.
******
We break here for the requisite Roger Miller sing along.
I drive a big old Cadillac with wire wheels, got rhinestones on the spokes
I got credit down at the grocery store
And my barber tells me jokes
I'm the number one attraction every supermarket parkin' lot
I'm the king of Kansas City, no thanks, Omaha, thanks a lot

Kansas City star, that's what I are
Yodel-deedle ay-hee, you oughta see my car

Aaaaand we're back.
******
So I read the rest of the Wikipedia page trying to understand if this Vaughan guy is a communist or what. Because that quote, ooh damn. That runs a bit into a political spectrum that I'm not sure I run toward.
Turns out Mr. Bill Vaughan was sort of a quippy guy. Here's some others attributed to him:

"A citizen of America will cross the ocean to fight for democracy, but won't cross the street to vote in a national election."
"Suburbia is where the developer bulldozes out the trees, then names the streets after them."
"The groundhog is like most prophets; it delivers its prediction then disappears."
"If there is anything the nonconformist hates worse than a conformist, it's another nonconformist who doesn't conform to the prevailing standard of nonconformity."
Ok, I might be warming up to this guy. Still not sure what he's doing in my fortune cookie, though.
Maybe the business of fortune cookies has gone from slight puns and fake Confucius quotes to smart, scholarly, and thoughtful fortunes.
To that I say: Harumph
I may be a bit a traditionalist when it comes to the fortune cookie. I guess I'll just have to keep going to the kind of restaurants where they can be found in order to do additional (delicious) research.
While we're on the topic, here's one of my all time favorite fortune cookies. I got it almost a decade ago but it still rings true:


Birds are entangled by their feet and men by their tongues


Now that one is a thinker! And a little more fortune cookie-eque. With all due respect to Mr. Bill Vaughan.

Both cookie fortune photos ©2016 Karen Fayeth. Taken with an iPhone6, questionable light, questionable photographer and a song in my heart. Subject to the Creative Commons license in the right column of this page.

My employer is weird. This is known. And one of the weird things they like is to have portraits done of all of us minions every couple years.
The employer has a professional, award-winning photographer on staff and in addition to his amazing photos of amazing science, the poor guy also has to sit in a conference room while a parade of geeks, nerds, scientists, engineers, and dorks like me clomp through.
Last time I had a work photo taken, it was two years ago. It was a humid day. I had to walk up a steep hill to get to the place where the photos were being done. I was running late because I couldn't find a parking spot.
I'd sweated my makeup off and my hair frizzed to cotton candy status. Then I sat down and had my photo taken. It's awful. And it's published on my department's website for all to see.
We're encouraged to use that photo as our email avatar. Nope.
Today is the day when new company photos are being taken. Argh. I have been, to put it mildly, obsessed about this. I want my new professional work photo to be something I am willing to look at.
Yesterday I carefully examined all of the photos of my coworkers in the photo archive to assess what works and what doesn't. This morning I curled my hair. I put on makeup. I fussed.
At about twenty minutes before my appointment time, I sat at my desk fretting. I decided to open Photobooth on my Mac to get a real look at how things were working and what needed fixing.
I gazed into my laptop camera and took a couple shots. I evaluated the smile, the hair, the lipstick then I went back in to try again.
I was staring the camera dead on, trying to smize when in my peripheral vision I see one of the auditors come walking down the aisle. The very serious big 4 outside auditors here doing serious stuff like auditing financials. And here I am, a manager, supposed professional, at my desk selfie'ing.
So I tried to play it off real quick. I looked away and was acting all like "no, no selfies here." And "Yeah it's cool, ain't no thing."
And then the Photobooth "flash" popped (it flashes a blank white screen). Busted.
Yeah. Um.
Anyhow, I took that photo of my shame, cropped it, sent it through an Instagram filter and now it's arty. Thoughtful. Meditative.
Nah, it's just me trying to look cool and failing miserably. Welcome to Dorkville, population me.
I sure hope my professional photo turns out a lot better.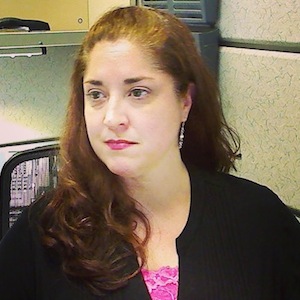 Thinking so hard right now.

Photo Copyright ©2015 Karen Fayeth and subject to the Creative Commons in the right column of this page. Please don't use this photo elsewere. I'm asking nice. Photo made with Photobooth, Instagram and my special brand of genetic dorkiness.

(A conversation between the warring factions in my brain. From about an hour ago.)
What's this?

Duh, it's a screwdriver.
Go deeper.
A flat head screwdriver.
Keep going.
A Sears Craftsman flat head screwdriver.
Bingo. Now, why are you holding this in your hand and staring at it so intently?
Because this Sears Craftsman flat head screwdriver is not mine.
Yes. This screwdriver isn't mine. I mean, I found it in the bottom of my toolbox. I was looking for some electrical tape to repair my iPhone charging cable. Because I'm too cheap to buy a new one.
Yes, I have a toolbox. Mine. And I've got some nice tools. Only, I don't have any Craftsman tools. I'm also too cheap to buy good quality handtools. What, am I building a skyscraper? No. I have never bought a Craftsman tool because I make do with discount store goods.
Except for this screwdriver. My lone Craftsman in a sea of cheapies.
And?
And when I look at this tool, I can tell it's been used. A lot. It's not new. It's scuffed, the handle shows traces of white paint. The tip is scratched to hell and someone has used the base to try to hammer something.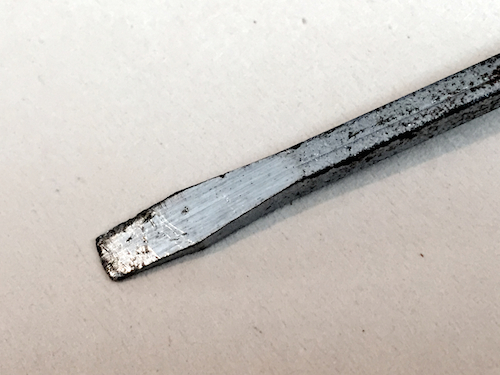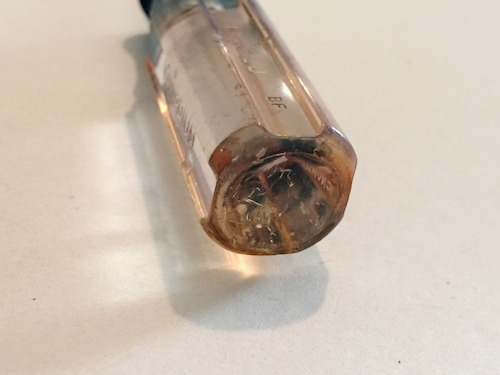 And?
And I just remembered where I got this Sears Craftsman flat head screwdriver.
I stole it from my father.
Okay, stole is probably too strong a word, but I did lift it from his toolbox and did not return it.
I kind of feel bad about that. He used to get so ticked when his tools didn't find their way back to his toolbox. Can you blame him?
I wish I could give it back. Only I can't. He's been gone for ten years and I've been carrying around this stolen property without even knowing I still had it.
But I do. Still have it. Now. Today. In the bottom of my toolbox, nestled next to the electrical tape and a bent hand saw blade. The saw blade is mine. All mine. Cheaply made, hence the wrinkle in the metal.
But that Sears Craftsman flat head screwdriver that came along with me from New Mexico to California. That's a quality tool. The logo has rubbed off and the metal is a bit rusty. And it's filled with memories, both good and bad. A lot of memories. So many I got a little lost.
What is Vanadium anyway? It says that word on the handle. Ah it's a mineral. It's a fancy word used to make this tool seem important. A simple Sears Craftsman flat head screwdriver.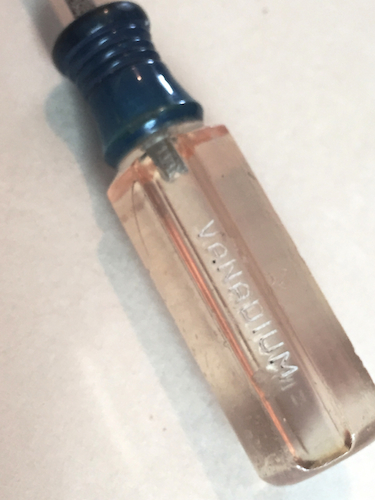 It is kind of important, in its own way.

All photos used are Copyright © 2015 Karen Fayeth and subject to the Creative Commons license in the right column of this page. Shot with an iPhone 6 and the Camera+ app.

Subtitled: An Open and Passive Aggressive Letter To A Jerk
Dear Festering Canker on the Butt Crack of Society,
On the weekend after the American Thanksgiving holiday I see that you managed to find yourself, and maybe a few of your slackjawed mouth breathing friends, in my neighborhood.
I can't blame you because I live in an awesome neighborhood. Those houses that line the block are old, pristine and outrageously expensive.
It's a neighborhood so nice I can't afford to live here. Well, I mean own here. My economic status is evidenced by the nearly fifteen-year-old vehicle that I have to park on the street in front of the building that houses my teeny tiny apartment.
One of my neighbors who also lives in a small but well appointed apartment had parked her nearly decade old Volvo behind me on that fateful day. I know her, she knows me. We park near each other a lot.
So yeah, there are some really rich people who live on my block, but my neighbor and I are not among them. We managed to slip our middle class selves unnoticed into this nice neighborhood and enjoy the benefits of tree lined quiet streets and a walking score of an outrageously high 93.
I can see how you might show up in this neighborhood and see the opulence and think to yourself, "I need to mess some sh– up."
And so you started with my neighbor's Volvo. About eight months ago this same very nice person had a different Volvo, but a drunk college brat came careening through our street and bounced of her car and several others (thankfully I had parked across the street from her on that night) thus totaling her beloved old Volvo. That thing was a classic. She was heartbroken.
But her insurance kicked in and she lovingly replaced it with this used but in good shape model. You decided to be "cool" and rip the side mirror off of her new/used car. Ripped it clean off and left it dangling by the electrical cords. Aren't you so clever?
Then you set your sights on my Jeep. You popped the passenger side mirror out and folded it over. It's an SUV so it's okay to do that. It's a tough offroad vehicle and I've moved past bendy Willow branches that were stronger than your weak sauce.
It appears you wrestled with it a little bit because the case is cracked but your underdeveloped arms weren't strong enough to twist it off of my Jeep.
Pause here, hand to heart in honor of my Jeep people.


So, since you weren't able to complete your impotent act of vandalism, you then moved to my radio antenna. Yes, my Jeep is so old it still has an old fashioned non-retracting antenna that stands tall, reaching far into the universe to pull down radio waves and send them to the interior of my vehicle.
I have listened to hundreds and maybe thousands of baseball games on that radio using that antenna. Jon Miller's voice so deep and bassy that it vibrates the cheap factory installed speakers in the doors. Well, speaker and door, singular. The driver's side speaker hasn't worked since 2005 and I never bothered to get it fixed.
But that's not the point.
You got your giggles satisfied by ripping the antenna off my car. I can see from the clean spot in the dirt on my Jeep you had to lean in a little to get that done. I hope my antenna gave you a valiant fight. I hope you tore some skin when you ripped the metal and then carried it off.
You know, I grew up in the kind of place where there was really nothing to do on a weekend when school was out. My friends and I did some seriously stupid shit, too.
The quest to steal lawn ornamentation comes to mind. As young bucks we'd get a little sloshy and then go on the hunt for lawn ornaments. The people and culture of New Mexico tend to lend themselves to neighborhoods littered with plastic and clay items purchased over the border and brought home then proudly displayed on patchy grass and dirt lawns.
So yeah, we took stuff, but we always treated it nicely and often we'd go out on another night to return the things we took. Not always to the same lawns, granted, but the intentions were good.
All that by way of saying that I get it, the need to be young and dumb and act like an idiot.
But for eff's sakes! There is A LOT to do in this town. We live in a hotbed of unique things to do, and not even all of them cost money.
Nah, you wanted to leave your little limpy mark on the world by destructing the property of some people who value our tired old hoopties the most.
Congratulations. You win. You got me.
I will rebuild. I will eventually have my antenna replaced. For now I listen to either scratchy FM stations or I pop in a CD. Yes, my car is so freaking old it still had a CD player.
And as the Christmas seasons dawns merry and bright, my wish for you, dear vandalist, is that Santa Claus takes a giant squat in your stocking while smashing your favorite ornament to bits.
And that someone takes something that you value very much and vandalizes it.
Happy Holidays!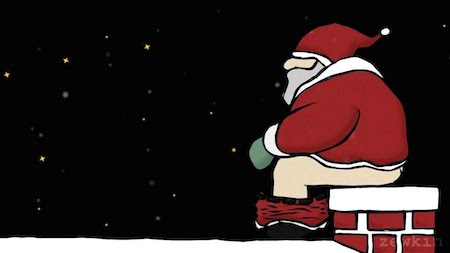 Image found here.

I was out and about recently and ran into some friends who were with some other of their friends that I didn't know. We all got to talking, cussing and discussing over beers and a bit of wine, and the conversation drifted over to the show "Breaking Bad."
As a matter of fact, this happens to me a lot. Even though the show is no longer producing new episodes, it lives on in the world of Netflix. This show seemed to touch a nerve in people and it still relevant. People like to talk about it.
So I told one of my new friends that, "yeah, I'm finally watching it. I just started Season 2. It's kind of weird to watch, though, because Albuquerque is my hometown. It's where I grew up."
The person responded, "Really? That is so cool! I mean, really cool. Tell me about it! Tell me about Albuquerque."
This literally took the speech right out of me. "Uh, brr, eeeh, aauuugg" was about all I could manage.
Albuquerque? Cool? What?
Albuquerque is not cool!
Well, hell, maybe it really has become cool and it's time to admit it.
The Albuquerque I know was the place that either no one had heard of or said "Oh yeah, you mean like Bugs Bunny?"
Albuquerque is the place that Southwest Airlines used to fly planes that were only one third full because NO ONE went to Albuquerque. (side note: I used to really like that. Now on Southwest flights people are squeezed in so tight you can hardly sneeze.)
Albuquerque wasn't on anybody's radar and now it's in the zeitgeist. Just last night I saw an AT&T commercial that name checked Albuquerque. And it's not the only recent commercial I've seen that gave the 'Burque a shout out. Back in May I wrote this post about New Mexico being a part of not one but two popular movies.
When did this happen? I know, I know, this happened when "Breaking Bad" started airing.
I appreciate I haven't seen all of the episodes but so far, but I'm not sure that show portrays my hometown in the best light.
So far in Season 1 and the first part of Season 2 I can see it's mostly filmed in downtown. I think Jesse Pinkman lives somewhere off of Silver street. It's a pretty cool house, old style.
I lived around downtown ABQ for a while when I was doing a co-op job out of college with Sunwest Bank. I liked living there, but to be honest, that part of ABQ that doesn't always match my experience. I was more of a northeast heights kind of girl.
I often wince at the Jesse Pinkman character because he's so not anyone I would recognize from Albuquerque. Then I wince again because the bad guy character Tuco is pretty much an amalgamation of a lot of guys I went to school with.
Anyhow, I suppose I should be glad that Albuquerque is getting the love. Then again, the spirit of New Mexico runs deep within me. We often have been pretty damn happy when no one knows about our beautiful state. The less outsiders the better.
But alas, Albuquerque is on the map. I even saw a Twitter profile the other day saying, "Proudly living in the land of Walter White," and I just shook my head.
There's so much more to ABQ. But ya'll don't need to know any of that. When the glow of Breaking Bad fades off, we can reclaim our "not cool" town, and going on doing what we do and knowing what we know.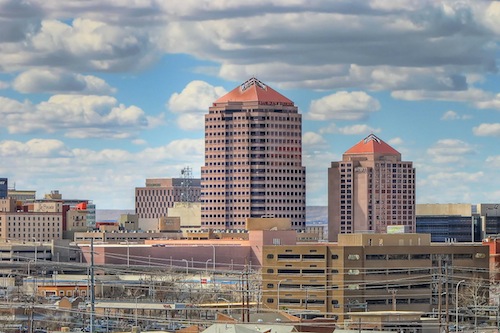 Image from Wikipedia and used here under a Creative Commons Attribution-Share Alike 3.0 Unported license.