Recently I've been a little delinquent in spoiling The Good Man. Things have been crazy what with all of the international travel and working long hours and, well, life.
His birthday was last month and although we had a nice quiet celebration, I feel like I failed a bit to make the day something special.
The Good Man is a child of summer and it's easy to understand why his favorite fruit is the peach. Yesterday I found a nice ripe pile of the fuzzy stuff at the grocery store and brought several home.
"Cobbler or pie?" I asked after showing him the peaches. He began muttering the question over and over to himself like a philosopher mulling over the meaning of life.
"Or a crumble?" I followed, then, "Is that too many choices?"
For several hours after he wandered around the house "cobbler or pie…or crumble? Hmm…" This is a very big decision in Good Man Land.
Finally toward the late evening hours, I surveyed the ingredients I had on hand and began consulting cookbooks in preparation for his decision.
It was then I pulled out The Book of Love (dun, dun DUUUUUN!) to begin the search for recipes.
This Very Good Book: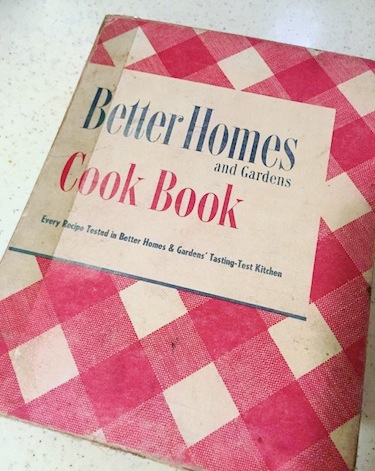 I think every person who likes to cook has a favorite or special cookbook that is the go-to for any circumstance, and this one is mine.

Taking a seat in a nearby chair, I opened the holy tome. I read the inscription inside the front cover. You see, this particular cookbook was a gift from my grandparents to my mother on the occasion of Christmas 1950.
My mom left it behind when she moved out and my grandmother kept updating the recipes inside. The Better Homes & Gardens magazines published recipes that the homemaker could cut out and add to the book, to keep it fresh. I love seeing my grandma's handwriting along with the food spots and spatters in its pages.
Some of the recipes are a little odd or outdated, but I'll tell you this, I've never made a recipe from this book that failed me.
As The Good Man walked by, he said in a voice a little quavery with anticipation, "I love it when you pull out that cookbook."
Oh yeah, he knows. Good things come from that 1950's made with yum cookbook.
Finally, after waiting for his answer and looking at recipes and thinking about my laziness factor, I decided for him. "Good news, you are getting cobbler."
He nodded, relieved the decision had been made and ready for the delivery on my promise.
That happens tonight. Oh yes and oh yum.
Best part about making baked goods for the one I love? I get to have some too!
It may seem kind of funny to say it on December 19th, but I miss Christmas.
It's just six days away and there is time yet to feel the entire joy and ho-ho-ho of the season, but honestly, I just don't think it's going to happen.
It is the nature of the work I do that December is an incredibly busy month. This is not just at my current employer but has been true across the entire span of my career.
Ramped up work and steep deadlines mean it becomes awful hard to plan and decorate and celebrate and feel the joy that is the holiday season.
It's hard to feel much more than incredibly damn cranky, to be honest. The kind of tired and cranky that not even a Captain Morgan spiked egg nog can fix.
When I was a kid, I used to love Christmas. Ok, sure, every kid loves Christmas, but for me it wasn't about the presents. It was about the magic.
I loved the ritual of pulling out the box packed with ornaments and greeting each one like an old friend before hanging it on the tree. (This is still one of my favorite parts of the holiday, by the way.)
I got into the prep and planning for the baking that my mom and I would do. Sugar cookies with colorful frosting. Biscochitos. Mom's divinity fudge. Cinnamon rolls. Tortillas to go with posole. The windows would steam and the house would smell heavenly.
As it got closer to Christmas, I'd begin the prep work for luminarias. The dirt, folding the bags, making sure my mom got the right kind of candles.
Sometimes we'd pile in the car to go see the lights. We'd drive slow down good blocks so we could take in all the lights, the crisp air outside tinged with the unmistakable scent of burning piñon logs.
Then home for some nog, mom might light a bunch of candles and put on soft Christmas music and I'd look out our big picture window to the world outside and dream.
My mom had this funny little candle, something she had bought from Avon and it only came out at Christmas. It was very fancy, gilt gold on the outside and red on the inside and some holly berry spice something fragrance to the candle. If I close my eyes I can still place the scent because that smell was so very Christmas to me. That along with our advent wreath and a few other candles put a soft flickering glow to my world and made me calm and peaceful.
As the years passed by and I became an adult, I tried to keep my own Christmas traditions alive including baking, having a real tree on which to hang all of those ornaments from my childhood, and lighting a bunch of candles on Christmas Eve.
New traditions came along as well, like looking for a fun white elephant gift for the office party and finding a pretty dress or two to wear to friend's parties.
But over time even this has changed. Very few companies do holiday parties anymore. My current employer is so uptight about the various cultures and religions of the people who work here that they barely acknowledge that a holiday is forthcoming. And even if they did, there wouldn't be any holiday party during these times of budget austerity.
Most of my friends now have kids and they are focused on family things, which is fine. It just means no more grown up parties to attend.
Then there was that fun holiday break in which to rest, recoup and get ready for the new year. That's also a thing of the past. We don't get any time off next week other than Christmas Day and New Year's Day. I could take vacation, but I blew what I had in my vacation balance on my trip to New York (and it was totally worth it).
This year the twelve days of Christmas will entail no partridges or pear trees, but a lot of Karen a leapin' to get work out the door before the 31st.
I wanted to make cookies and bought the ingredients only to remember that my mixer is in a box in our storage room and I don't even know which box. The Good Man said he would disassemble the storage room to help me find it, but I decided no. Too much work.
It should be said here that we've lived in our place for a year, but I work so many damn hours that unpacking boxes on the weekends just feels like more work. And so it goes…
It seemed like I felt the happy holiday feeling, really and truly, for a little while during our trip to New York. It's awful hard to look up at the tree in Rockefeller Center and not feel the holiday spirit. But that time in New York is like a little bit of encapsulated perfection, not just about the holiday joy, but in many ways.
And then we came home and my nose went back to the grindstone and the willingness and want to and give a damn just sort of frittered away.
We have a real branch wreath on our door and a real tree in our house and somehow I just can't summon up the joy and peace and magic of the holiday season.
This makes me sad.
I know that I'm the one that has to make the holidays bright. The spirit of Christmas lives inside of me, and it's on me to bring it into reality.
But somehow this year I just can't find it. Maybe next year.
.
.
.

(I just reread this post from last year. Evidently a holiday lament is my new holiday tradition. LOL on me.)

Memories of Christmases past. I made these mints, a family tradition, just last year.

While on my way out the door and quite ready to make a voyage to England, among the parting thoughts from The Good Man was:
"Enjoy the traditional English breakfast."
I'm a fan of all things breakfast so I readily agreed, despite not really knowing what a traditional English breakfast was all about.
My first morning in country, I stumbled downstairs to the complimentary buffet and started to understand.
It looks a little something like this.


I say "a little something" because this plate is missing a couple key components, mainly blood pudding (a sausage, also sometimes called black pudding), fried tomatoes and fried mushrooms. But other than that the main items are there. Griddled eggs. Hash browns. Bacon (center cut and YUM).
And the key component: Heinz Baked Beans.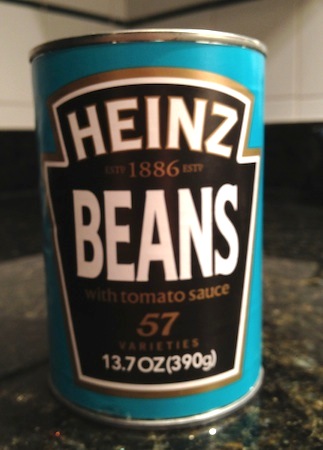 No other will do.
I'm no stranger to eating beans for breakfast. I've been eating pintos in many forms alongside eggs for years, so this was zero hesitation to me. That said, I usually hate baked beans because they are just too sweet. Too much brown sugar, I think (as if such a thing as too much brown sugar exists).
I really like the Heinz baked beans because they aren't especially sweet. They are tomatoey but not sugary sweet. A perfect compliment to eggs, in my humblest of American opinions.
Here's the thing…I started having the Full Breakfast every day. They even served it at the cafeteria where I reported for work the second week of my stay. This meal formed a good solid start to my days of battling with suppliers and the English rain and pesky coworkers.
I felt like I could climb mountains on that breakfast.
And now that I'm back home, I miss it.
Breakfast now just seems sort of…blah. Sad. Lacking. And without verve.
So I looked at a couple local grocery stores. Lo and behold, I found the key ingredient here locally.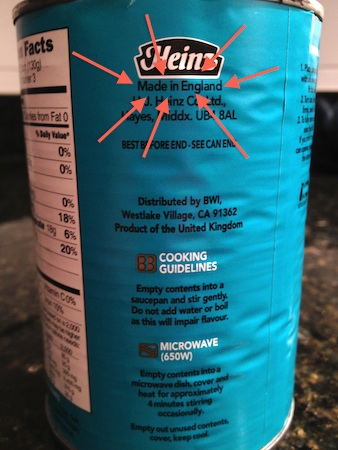 The real stuff! The good stuff. Ok, it's a little more work to make all the fixins myself rather than ladling from a hotel buffet bar.
But it's worth it.
Oh so worth it.
Now that breakfast is sorted, let's chat about British dinners too, eh? Here is a beauty shot from one night at the local pub. Big yum.
Though all of that on the table (except for the Pedigree, a proper English Ale) is quite readily available here in the US. Thank goodness!


So now I have quite a menu for my post travel life as there is plenty of can't-live-without-it food from Singapore (laksa, chili crab and kaya toast) and Costa Rica (tostones, Olla de Carne and Cas) and now the charms of Britain.
Tonight, however, I head back to my roots. We're cooking New Mexico style in my house. All that British culture made my green chile blood level get a little low.
Must fix that problem right away!

All photos Copyright 2012, Karen Fayeth, and subject to the Creative Commons in the far right corner of this page. Photos taken with an iPhone 4s and the Camera+ app.


Yes I'm blue.
Heck yeah I am! A blue ribbon winner, that is.
Long time readers might remember last year when I brought New Mexico cooking to my local county fair. I whipped up a batch of biscochitos, the New Mexico State Cookie, and they were awarded the blue ribbon.
This year, I decided to bring New Mexico back to the fair by entering a special "Culinary Arts" competition.
The event? Enchiladas.
Aw, yeah.
I love making my version of enchiladas with marinated chicken and Hatch green chiles. So I signed up.
Today, I was quite nervous as the judges sampled my offering and wrote notes and counted points.
And then they awarded me first place!! Whoooooo!
How I beat the guy who made his own mole sauce, I'll never know.
But what I do know is this. Anyone who wants me to whip up a batch? It's gonna cost you, cuz I've got a double blue ribbon winning kitchen.
Oh Fair New Mexico…boo yah!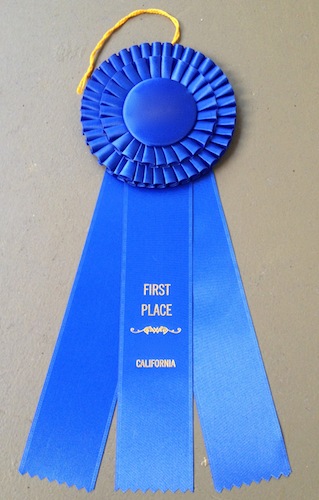 Photo by Karen Fayeth and taken with an iPhone4s, and subject to the Creative Commons license in the right column of this page.


Imagine my joyful surprise when I heard about a new restaurant that opened recently in San Francisco.
Called the Green Chile Kitchen, it proclaims to "…serve New Mexican inspired food focusing on the distinctive flavors and traditions of this unique region."
Wait. What?
"We use Bueno chile in all our dishes, which has been owned and operated by the Baca family since 1951."
Hold on. I know (and have eaten of the) Bueno chile.
Can it be? Is it so?
Is there actually true New Mexican cooking near enough to me to make it matter?
So you know what happened next. I made The Good Man take me there (he's better at navigating San Francisco and the part of town where this is located is really unfamiliar to me).
The verdict?
Well. It's ok, I guess. So-so on the "I'm from there and know better" scale.
I chose the usual first dish I try at a restaurant to see if it passes muster: a plate of green chile chicken enchiladas.
Here's how the plate looked.

Not bad, right? Pretty enough.
First thing I noticed was they used green chile pieces but not any sauce on the enchiladas. Hmm. I'm used to a plate dowsed in sauce and melted cheese. But the cook does say this is more Santa Fe style, so ok. I went along with it.
The enchiladas are made how I like, sort of stacked style, but even though I ordered the hot chile, I have to say the whole plate lacked that zing I like (and crave).
They could use a lot more cumino along with a heavy dose of both garlic and onions.
And this is just me, but I like refrieds more than whole beans with enchiladas. Also, I'm pretty sure they didn't cook the beans with fatback which is a sin against nature my home state, if you ask me.
So I'd give this whole meal about a B, maybe a B+. Far better than anything else I can get around here. No where near as good as Nopalitos.
.
.
Oh, and you can see in the top corner of the photo, I tried the Green Chile Cafe's horchata. I consider myself an aficionado. This version was pretty bland, I thought. They seriously need to cut loose with the cinnamon shaker. If we go back I wouldn't order it again. Four bucks it too much to pay for GOOD horchata, much less disappointment in a glass.