Today was my first day back at work after a nice and relaxing weeklong vacation. Always tough to get back into the routine.
Last week, I missed a big event at work. It was The Great California ShakeOut, an annual earthquake preparedness event. On a set day, they sound the sirens and we take cover and hold for a period of time to simulate an earthquake. Then when that is over, all must evacuate the building.
It's getting us ready for "the big one" that we all keep hearing about. Practice like this has proven to be useful. We do this every year meaning once a year I get to check out what's going on under my desk.
Since was on vacation and I live pretty close to work, I heard the sirens, but I was driving in my car so I hunkered down in my mind.
Today upon unlocking the door to my office I see my employer has left me a little gift in the wake of the ShakeOut event.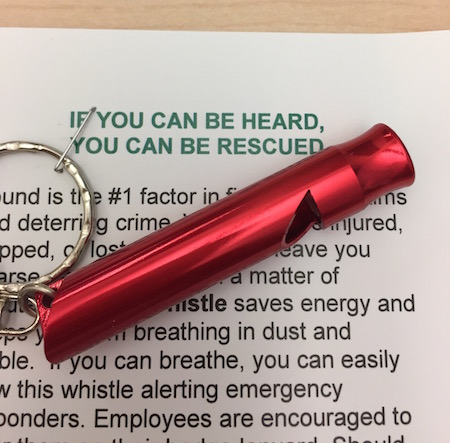 Lemme hear you whistle, baby…


Seeing this laying on my desk, I did what any mature, right-thinking adult would do when presented with a shiny red whistle. I picked it up and blew that sucker.
It's loud. A little piercing. The sound rattled off the high roof of the building.
You'd think this would be occasion for another one of those "talking to's" that my boss so enjoys providing to me. But alas no, she was in a meeting and missed it.
Instead the group administrator came over and stood in the doorway of my office, gave me the world record of stink eyes, then walked away.
I mean, if you didn't want me to USE it, then why didja give it to me?
Anyhow, my pretty red whistle is now safely stowed in a drawer. Guess I won't do that again.

Pretty whistle photo ©2016 Karen Fayeth, and subject to the Creative Commons license in the right column of this page. Taken with an iPhone6 and the Camera+ App.

I think, sometimes, it must be a bit odd living with me.
On Sunday afternoon, with many things troubling my mind, I went outside and took a nice walk. I also looked at my neighborhood and noticed the way the sunlight is shifting. A cool tinge to the breeze. And I noticed that college kids are starting to move back to this college town.
When I got home I was a bit tired, a little sweaty, and more centered in my mind.
"Oh!" I said, as The Good Man and I talked things over, "I brought something home."
His eyes lit up at the prospect. What could it be? Something freshly baked from our fabulous neighborhood shop? A pound of aromatic fresh ground coffee? A small fun tchotchke from one of the many nearby gifty shops?
Nope. What I brought home to my sweetheart was this: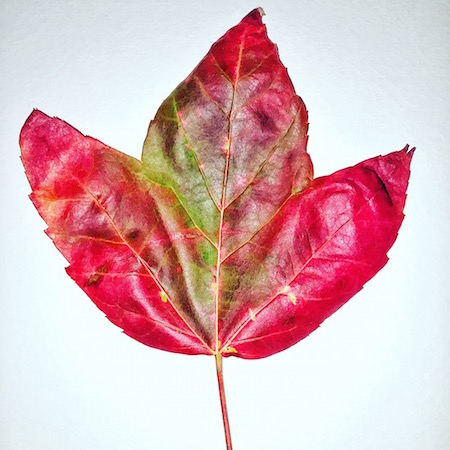 From a Red Maple tree

I brought my love a leaf.
More than a leaf, it was the perfect representation of how restless I was feeling. As summer begins to give way to fall. As youth gives way to middle age. As things are in motion and changing at my place of work.
I was stunned on my walk to notice that leaves are already changing. Trees are starting to turn the bright reds and yellow and oranges of fall. I'm sure our unseasonably cool late summer has been part of the reason, but I was startled to see the change. I was also comforted to know that the restless feelings inside me are in sync with nature.
It is both a green leaf and a red leaf at the same time. Both the joy of spring and the end of summer. Happy and sad. Birth and death.
Transition.
My theme song lately has been Sam Cooke, "A Change Is Gonna Come." I just recently found this song again through the whims of Pandora's algorithms. And as Pandora is want to do, it plays at least once a day during my work days. Occasionally, if the time is right and the office door is closed, I sing along.
It is a sad song. A lament. But also, it's inevitable that change has to happen. Like that leaf, there has to be some core that remains and stays in place to keep you grounded. With that grounding, then other things can change.
Lest you think I have any personal big changes planned, I do not. I consider most of my life to be my rock. But things around me are changing at a rapid clip, and I am feeling that happen.
Seasons are in transition. Things at work are changing fast, and actually have been changing for some time. And the nation is changing too. This election cycle has been nothing short of the lunchroom at an insane asylum. Come November, things are changing for all of us, no matter how the voting goes. Even the world is changing. Both for the good and for the bad.
I'm not always very good with a lot of change. Some people thrive. Me, I get a little worried. It's my way.
But on that sunny Sunday in Northern California, a pretty little leaf became the perfect metaphor for what's going on inside of me.
And The Good Man, he understands that sometimes I need to bring home a leaf to best explain everything that's on my mind.
___________________
Because I can, I ran my leaf photo through the Prism app, which I just adore. My favorite of the conversions was this one.
Thought I'd share it too: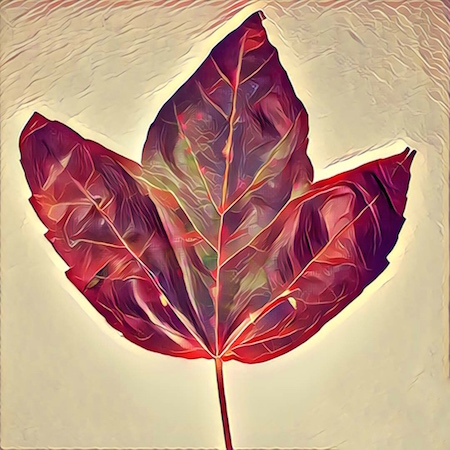 Same leaf, now artified

Leaf photos ©2016, Karen Fayeth, taken with an iPhone6, the Camera+ app, and the Prism app. Subject to the Creative Commons license in the right column of this page.

I'm a little late in getting this posted, but the sentiment is all the same. This list is an annual tradition here at Oh Fair New Mexico.
As I post this, I'm thinking about making a batch of biscochitos. Only, I couldn't find lard at the grocery yesterday. What the hell kind of place do I live that doesn't sell lard? Just gotta shake my head.
Anyhow, biscochitos or not, I wish happy holidays to you and yours.
Without further ado:

Top ten things I miss about Christmas in New Mexico (in no particular order):

Originally published December 11, 2007

1) An annual shopping trip to Old Town in Albuquerque. This was a longtime mom and me tradition. Every year I'd get to pick out my own ornament that would eventually be mine when I became an adult. I have every one of those ornaments stored in a Thom McAnn shoebox and they go on my tree every year. They are a glitter and glass history of my life. I remember buying each of them and it gives me a beautiful sense of continuity to have them on my tree.


2) Luminarias. I always was the one to make them for the family. Someone would drive me to an empty lot and I'd dig out two buckets worth of good New Mexico dirt, then I'd go home and fold down the tops on brown lunch bags. Each would get a candle inside and then at night I'd light them. It was my holiday job and I loved every folded bag and every bulk buy candle (and every small emergency when a bag caught on fire in the wind). I miss real luminarias.


3) The Bugg House, which, sadly, is no more. My sister lived over on Prospect and we'd go for a walk in the dark on Christmas Eve to take a look at the outstanding display of holiday spirit. On the way to Christmas shop at Winrock Mall, I'd take a detour to the Bugg house to take a look. No one does lights like the Buggs did.


4) Neighbors bringing over a plate of freshly made tamales as a Christmas gift. When there are three generations of Hispanic women in a kitchen with some masa and shredded pork, magic happens. Yum! I also miss that people would bring tamales to work in a battered Igloo cooler and sell them to coworkers. I was always good for a dozen or more.


5) A ristra makes a good Christmas gift. I've given. I've received. I love 'em. They'd become a moldy mess here, and that makes me sad, cuz I'd love to have one.


6) Biscochitos. My love for these is well documented.


7) Sixty-five degrees and warm on Christmas Day. Growin' up, I think one year there was actually snow on the ground for the 25th, but it was melted by the end of the day. Oh Fair New Mexico, how I love your weather.


8) Christmas Eve midnight Mass in Spanish with the overpowering scent of frankincense filling up the overly warm church. Pure torture for a small child, but oh how I'd belt out the carols. And when we came home after, we could pick one present and open it. Gah! The torture of choosing just one!


9) A New Mexico piñon, gappy, scrawny Christmas tree that cost $15 at the Flea Market and was cut from the top of a larger tree just that morning. Look, to my mind, it ain't a tree unless you are using a few low hanging ornaments to fill the obvious empty spots. These overly fluffy trees just ain't my bag. If you aren't turning the bad spot toward the wall, you paid too much for your tree.


10) Green chile stew for Christmas Eve dinner and posole for New Year's, both served with homemade tortillas. My mouth waters. It's weep worthy. I can taste the nice soft potatoes in the stew, the broth flavored just right. And posole to bring you luck with red chile flakes and soft hunks of pork. Yeah……


*sigh* Now I'm homesick.
Which is not to say I don't have happy holidays where I live now…but sometimes I feel melancholy. In a way, that's what the holidays are for, right? To remember.


Finally, in order to just really drive a homesick knife into my heart, I give you this, the beauty of Old Town Albuquerque: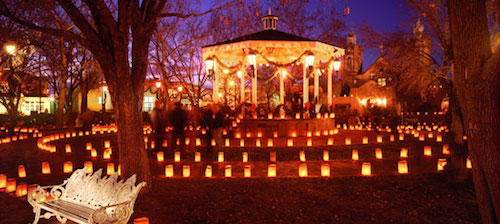 Image via Delta Skymag

Over the weekend came the very sad news about the passing of Hollywood legend, Ray Harryhausen.
The Good Man was a lifetime Harryhausen fan and introduced me to the magic that Ray made only recently. How badly I had been missing out.
At 92, Ray lived a good long life and he leaves behind a legacy of work. His stop motion animation paved the way for so much of what you see now in this CGI-heavy film world.
Mr. Harryhausen will be missed, along with his best friend, Ray Bradbury. Tough to lose both Rays within the course of a single year.
To remember Mr. Harryhausen, I am reposting something I wrote back in 2010 when I first learned to appreciate Harryhausen movies. You can tell from all the exclamation points how totally into his movies and the animation I was (and am).
For you, Ray.

———————
This old dog learned a new trick
Originally published February 5, 2010

At Christmas, my husband received a great gift from his step-mom. He unwrapped it and exclaimed, "A Ray Harryhausen collection! Honey, look, we got a Ray Harryhausen collection! Wow, thank you!"
And I was like, "who?" My sweetest is an educated film guy, so I figured it was some obscure director of strange and dark independent films. So I said, "hey, great!" with a shrug.
Who knew I was TOTALLY missing out?
In my ongoing film education (The Good Man is keeping a list. I'm working through it….) he popped "The Seventh Voyage of Sinbad" in the ol' DVD player while I was eating lunch one weekend afternoon.
I was immediately hooked in. Yeah baby! I figured out just who Ray Harryhausen really is. A master of creating amazing creatures in stop motion animation.
The stumbling roaring Cyclops from the late 1950's is every bit as creepy today. In fact, in a lot of ways, I actually like that better that today's overly CGI'd movies.
At the end of the "Seventh Voyage of Sinbad" DVD, there were some special features. One was clips from when Harryhausen got an Oscar (presented by his best friend, Ray Bradbury. What a pair they must make!) and at the conclusion of Harryhausen's acceptance speech, Tom Hanks comes onto the stage to bring on the next award.
He makes the segue by saying, "I know for some people it is Gone with the Wind or Casablanca, but for me, it's all about Jason and the Argonauts"
I looked at The Good Man and said, "Well we have to watch that next, then."
And so we did. We watched as Jason and his merry band of Argonauts fight a huge bronze statue of Talos that had come to life and, oh man this part was cool, a whole army of sword wielding skeletons! Skeletons! I *love* skeletons! They clacked and grimaced and fought. Aw damn, how very cool!
Then we watched "The Golden Voyage of Sinbad" and I remembered that I saw this movie when I was a kid, most likely on TV. I watched it with my big brother back in the day. I remembered the blue Shiva with swords in all the arms. (and let's talk about the very naturally endowed Caroline Munro. Rowr! It's so rare these days to see an un-surgically enhanced actress.)
And finally, we had to get to THE must see film in the collection because, well, it's set in San Francisco. The next in the series of my SF film education.
The movie was "It Came from Beneath The Sea." Yeah baby!
What the movie lacked in dialogue and story (and it lacked A LOT), it more than made up for in great animation.
Oh, that angry squid snapping the top off the Ferry Building and wrapping tentacles around the Golden Gate! Whoa! And that far-reaching tentacle slapping down Market Street, squishing unsuspecting citizens!
Good stuff!
So I'm now up to speed on Harryhausen. I have also watched the Dirty Harry movies. Then we did the Hitchcocks set in SF (hello Vertigo!).
I'm excited to see what's next in my ongoing film edjumacation! I have so much to learn.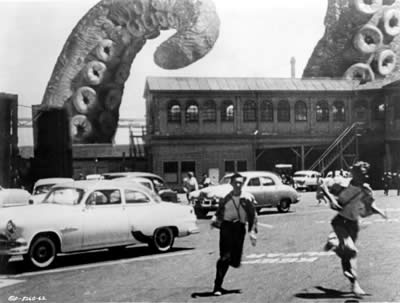 Image is a still from "It Came From Beneath The Sea".

This weekend I arrived early at an airport to climb on my fourteenth airplane of the year so I could head home to the now all too familiar San Francisco International Airport.
In twelve of the first thirteen flights of this year, things have gone very smoothly. One was a bit rocky, but could have been much worse.
Then came flight number fourteen. I suppose it was just my turn.
I stepped up to the security line and pfft'ed at the amateurs around me. Before I even got to the steel table and the plastic bins, I had shoes off, laptop out and a determined look in my face.
As in, this is not my first rodeo.
I stood in line kibitzing with friends. I shoved my bins forward into the tube and awaited further direction. This airport was using both metal detector and backscatter and the TSA agent was alternating the line. One to metal, one to xray. One to metal, one to xray.
I was directed to xray. With a sigh, I took my spot and waited. Then I was waved into the machine and I assumed the position. Feet spread, arms up over my head with elbows bent. Fingers spread.
Did I mention this is not my first rodeo?
I waited. And waited. And thought "damn, the backscatter at SFO is a quick one. This one is taking an eternity."
Finally the TSA agent waved me out of the machine and pointed to a rug with the outline of two feet. That's where you stand and wait for the agent to hear from The Someone in the backroom reviewing scans and reporting back.
So I waited. And waited. The TSA agent kept saying into her radio "Do you have a scan for a female? Results of scan. Results of scan, please."
Nothing. Seems her radio was busted. So she asked her counterpart. He called it in. Three people had already come through the backscatter and given the all clear. Seems that certain Someone didn't have my scan.
The female TSA agent said, "ok, let's send her back in" pointing to the backscatter machine and I nodded. I was ok with that.
The male TSA agent said, "No, she left the machine and she can't go back in."
What?
"I'm sorry ma'am, we're going to have to give you a pat down," I was informed.
I sighed, nodded and raised my arms. "Ok, let's do it," I said.
"You can put your arms down, I have to call for an assist."
So I waited and waited and waited for the pat down lady to come give me a good fondle.
"Do you want a private room?"
"No."
"I will run my hands all the way up and down your legs, between and under your breasts, in the back of your shirt, in the waistband of your pants and in some sensitive areas. Do you understand?"
"Yes."
"Ok, let's get started."
And so the blue uniformed woman got frightfully intimate with me right there in the security area, and I let her. I felt mildly dirty but to be honest, this was not my first pat down. Turns out when you wear a flowy skirt sometimes the backscatter can't see you so well and they pat you down anyway. It's why I wear pants to travel these days (even though skirts are way more comfy).
"There, that wasn't so bad was it? Now I just need to test my gloves. Wait here please."
"Ok."
And so I waited and waited and waited and I heard "uh oh."
I turned to see another TSA agent say to my new girlfriend, "You got an alarm."
"It's these gloves again, I swear this is crazy!" she replied.
Oh those pesky, pesky gloves. Silly gloves. Naughty gloves giving off an alarm meant…
Every item in my possession had to be wiped and scanned. Everything, including the Hello Kitty popsicle mold I'd bought there at the airport (a gift for a friend's toddler).
None gave off an alarm, but I wasn't finished yet.
I was then invited into the private room. Was this like the champagne room at a strip club? Only I'm the dancer? I hoped to make some killer tips off of this routine.
This time not one but two female TSA agents came along for the fun. I got to keep my clothes on, but they felt me up real, real good.
Let's just say…they were quite vigorously able to confirm that I was in fact NOT the next underwear bomber.
Ahem.
After this mauling, I was set free to move about the airport.
I reported to my friends that I needed a Silkwood shower and maybe a Cinnabon to get through the trauma.
We opted instead for a TCBY non-fat yogurt cup. Amazing what sugar can do to make you feel better about this mean old world.
To be fair, it could have been much worse. I had plenty of time before my flight and I was very cooperative with the TSA agents, which meant they were very cooperative with me.
But I just can't get past the fact that I had to be mauled, molested and detained because their radio malfunctioned and their backscatter machinery burped and their gloves are known to set off alarms and yet they keep using them.
I was just trying to get back home.
Before this crazy ol' year is over, I have two more planes to ride. May those trips go as smoothly as twelve of my fourteen flights thus far.
Waltzing with the TSA sure was fun, but I think I'm over it.

Image from Toonsville.