Recently I've been a little delinquent in spoiling The Good Man. Things have been crazy what with all of the international travel and working long hours and, well, life.
His birthday was last month and although we had a nice quiet celebration, I feel like I failed a bit to make the day something special.
The Good Man is a child of summer and it's easy to understand why his favorite fruit is the peach. Yesterday I found a nice ripe pile of the fuzzy stuff at the grocery store and brought several home.
"Cobbler or pie?" I asked after showing him the peaches. He began muttering the question over and over to himself like a philosopher mulling over the meaning of life.
"Or a crumble?" I followed, then, "Is that too many choices?"
For several hours after he wandered around the house "cobbler or pie…or crumble? Hmm…" This is a very big decision in Good Man Land.
Finally toward the late evening hours, I surveyed the ingredients I had on hand and began consulting cookbooks in preparation for his decision.
It was then I pulled out The Book of Love (dun, dun DUUUUUN!) to begin the search for recipes.
This Very Good Book: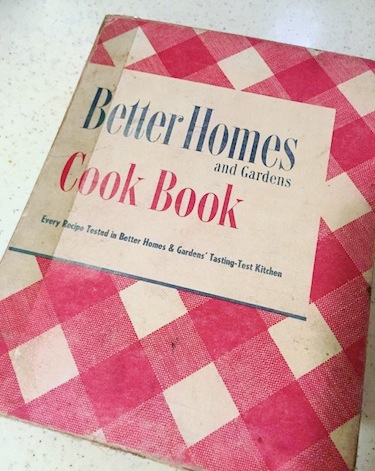 I think every person who likes to cook has a favorite or special cookbook that is the go-to for any circumstance, and this one is mine.

Taking a seat in a nearby chair, I opened the holy tome. I read the inscription inside the front cover. You see, this particular cookbook was a gift from my grandparents to my mother on the occasion of Christmas 1950.
My mom left it behind when she moved out and my grandmother kept updating the recipes inside. The Better Homes & Gardens magazines published recipes that the homemaker could cut out and add to the book, to keep it fresh. I love seeing my grandma's handwriting along with the food spots and spatters in its pages.
Some of the recipes are a little odd or outdated, but I'll tell you this, I've never made a recipe from this book that failed me.
As The Good Man walked by, he said in a voice a little quavery with anticipation, "I love it when you pull out that cookbook."
Oh yeah, he knows. Good things come from that 1950's made with yum cookbook.
Finally, after waiting for his answer and looking at recipes and thinking about my laziness factor, I decided for him. "Good news, you are getting cobbler."
He nodded, relieved the decision had been made and ready for the delivery on my promise.
That happens tonight. Oh yes and oh yum.
Best part about making baked goods for the one I love? I get to have some too!
Welcome to the sixth day of the year 2015 but only my second day back at the ol' place of work.
While technically the first of January is the first day of the New Year, it doesn't really feel like the New Year has begun until I go back to work, i.e. get back into the "real world."
My employer is ever so kind in that they shut down operations from December 24 through January 1. That means with a little planning and a little curation of vacation hours, I can eek out full two glorious weeks away from the office.
I look forward to this two-week break from work all year long.
All. Year. Long.
In my career, I've rarely taken two weeks of regular vacation time, so these two weeks at the end of the year feel beautifully indulgent.
My first priority for the break time is to sleep. Nap. Sleep more. Rest and then do nothing too taxing on brain and body. That usually lasts about three days then I'm rested and raring to go.
The rest of the break time is spent with family, exploring the world with The Good Man, cleaning up my home office/studio and working on creative projects.
I find I'm able to fully and completely forget about work and live the dream of a creative life. Sleep until my body is rested, rise and work on creative projects, fill my head with creative inspiration and plan forward for the projects I want to work on in the coming year.
It's a beautiful place to be, a place I'd live all year round if those darn lottery numbers would just break my way. It feels solid and satisfying and clean and pure.
And then sixteen days of being my own boss pass too quickly and Monday, January 5 arrives. I have to figure out how to get back into the flow of "regular" life. I have to metaphorically merge into speeding traffic with no running room and only two of four cylinders in working order.
Yesterday was that day. Yesterday I woke up with the help of an alarm clock (bleah, sixteen days of no chirping alarm was REALLY nice) and sat up in my comfy bed, bleary eyed and lost.
I tried hard to find the muscle memory to rise, to make some breakfast, to put on some clothes, where is my work badge?, move out the door and get to work on time.
When I arrived at the office it was all too familiar and all too unfamiliar.
It felt like I had changed. I was a different (and better) person as I swiped my badge and entered the office. Then I realized that work had not changed.
I came to my own little gray cubicle and there was all of my same stuff I'd left behind, but it looked alien.
The laptop machine asked me for a password and I had to think very hard about it. Took a couple tries at it and finally remembered.
Have you ever seen baby ducks when they are following their Mama Duck into the water? It often looks like this: Mama slides effortlessly into the water and her eight to ten ducklings slip, slide, belly flop, and unceremoniously plop themselves with a splash behind her.
For a moment, the water crests over the top of their head, then the ducklings one by one pop to the surface like popcorn and start swimming.
It was very much like that yesterday. I fell uncoordinated and perilously off the vacation ledge into the bracingly cold pool of work. I grasped for stability for a little while and then I found my feet and began to paddle. By the afternoon I was moving more or less in a forward manner.
So that's the New Year. A little bit new, a lotta bit old. I suppose all of the inspirational quotes are true. It's up to me to make 2015 a really awesome year.
Forward into battle! *splash*cough*splutter* Okay. Now, here we go.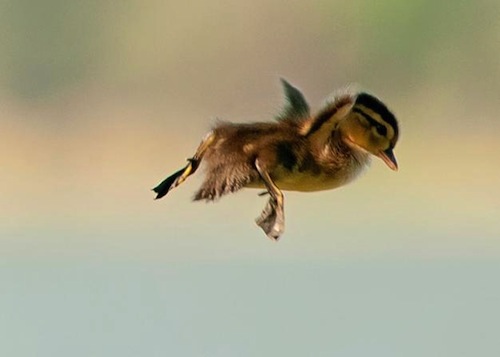 "Hoooooly craaaaap"

Image found here.

Turns out I have a new neighbor. I had no idea the new tenant was moving in, but then *boop*, there was someone new trooping around the ol' neighborhood.
Not sure what unit this one lives in. In fact, I've never even set eyes on my new neighbor, but I know they live nearby.
You see, October in Northern California is gorgeous. Really, it's the best time of the year, bar none, to be here. The days are warm and pretty, and the evenings clear and cool. Indian summer lasts a real long time here and it's a wonderful thing.
Every evening after a long day of work, The Good Man and I throw open the windows and the back door and let the stuffy apartment drink in all of that cool, clean air. Perfect for a good night's sleep.
Over the past couple weeks, right around 7:30pm or so, the rancid odor of burning plastic and gasoline and the hinges of hell begins to seep into every room of the house. It hits one of us (usually me) first.
"Arrwhagggh!" is the approximation of the sound I make.
"What?" says The Good Man, alarmed, and then "Oh bleah!"
Yes, it's true. My new neighbor is…Dun dun duuuuuuuun
El Zorillo*
Pinche zorillo. I haven't been able to lay eyes on the beast, probably because by the time I get the eye watering jet wash it's moved on to the next yard.
I fear this cabrón lives under my front stoop but I can't be sure.
And every time this happens, like watching reruns of Lucy and Ricky, The Good Man and I have a conversation that goes a lot like this:
Me: "I just need a .22 and I can take care of this problem."
Then The Good Man reminds me that we live in California and this state takes a dim view of shooting varmits in its urban neighborhoods.
"A bb gun?" I ask, like that kid from the Christmas movie. "The pump action kind."
The Good Man says, "You really think you can hit a [insert rodent name here, we have this conversation a lot] from here?"
"Try me," I say, standing up straighter. "I've been shooting since I was a kid, my dad saw to that. I've shot everything from a cap gun to a Browning over and under and my aim is pretty damn good."
"No," he says.
"Pellet gun?" I plead.
"What the hell state do you think you live in? We don't shoot old hot water heaters out behind the Snappy Mart around here!" (I may or may not have introduced him to the rasquache joy of my home state.)
Then he tacks on, "We live in one of the most densely populated areas of the United States and the police, they have no sense of humor in this city!"
And then I sigh, and quickly cover my nose and cough because I took in too much skunk air when I started the sighing process.
Of course he's right. So I went online and did some reading and discovered that if I can figure out where my new neighbor lives, animal control might help.
Problem is, when I get the aroma, I kinda don't want to dash out there to get a good look at where the beast is going.
I think I'm going to need a trail camera. And camouflage. And maybe some other cool things like a Buck knife and a camp stove and a new tent! Oooh yeah…
And don't anybody tell me that it's a cute fluffy creature worthy of love and affection. When the original engineer designed the zorillo, it wasn't with a love of humans in mind.
Or dogs, I think our awesome next door neighbor dog got hit last night. Poor growly bear of an adorable dog.
(This just in: I was texting with The Good Man telling him I was writing this post and he said, "I trapped some skunk stink in my closet last night. Kind of surprised myself this morning.")
*a skunk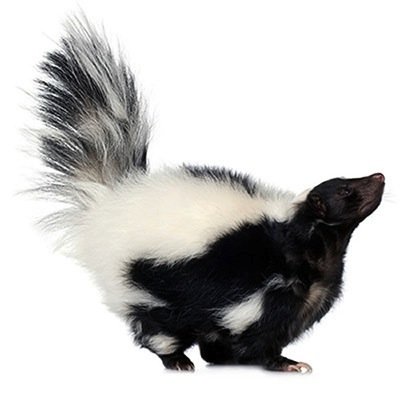 "Whatever. Haters gonna hate."

Image found here.

Back there in June, which seems like a lifetime ago, recall I had the fun chance to visit Amsterdam on a work trip? Yay!
While there, I made use of my company credit card because that's the best way to go when it comes to pesky expense reports.
However, there are a few things that the company says no-no to on expense reports. For example, booze. I mean, how can one have a nice dinner in Amsterdam and not sample the local beer?
One doesn't and this one didn't. I sampled. Oh did I sample. No, I didn't sample Amsterdam's other claims to fame. I was on a work trip ferchrissakes! But light brown beer was a delightful dinner companion.
So what I did was expense the expensable parts and the not expensable parts I would pay personally to the credit card company. No problem, right?
Upon my return to the States, in the midst of chaos and twelve to fourteen hour days and working nights and weekends on this massive project (the whole reason I went to Amsterdam and Ireland) I managed to knock out my expense report.
Then I knew I would get a bill for about $110 US dollars for the "not allowable" stuff. The beer, mostly. Not gonna lie.
About a week and a half ago, I got a snippy notice from the credit card company. "Second notice", they said and "we'll shut off your card in five days unless payment is received."
I also noticed that they had transposed two numbers in my mailing address.
Well, I got a bit high handed about this. First of all, I didn't receive a first notice! Second of all, my address is wrong. Third of all, pfft! Or something like that.
I'm still working a lot of hours and so I dashed off a check but didn't send it. I wanted to talk to my friend who runs the travel program. I needed to know if I could change my mailing address for the card or if she had to. She said I could do it or she could. No matter.
Great! Then life and my insane job intervened and quite a few more than five days passed. Ugh. Over the weekend when I had a few minutes to breathe, I picked up the ol' phone and called the credit card folks. I knew I needed to take care of this problem like a grownup.
Imagine my surprise when I got a recorded message saying that a payment had been received and my balance was zero.
"Uh oh," I told the Good Man. "The company paid my bill. Crap. Now I have to figure out how to pay them back. Or will they take it out of my paycheck? Gah. What a mess."
The next day, I went back to my friend in Travel to figure this out.
"Honey, we don't pay people's credit cards. And if we did, just keep quiet about it." She laughed.
But she looked up my account. "Hmm…" she said, rolling her mouse over the screen. "I can't tell where this payment came from. Did you do another expense report?"
"No."
"Hmm. Are you sure you didn't pay it?"
"Yes."
"Really sure?"
I thought back to the dates from May 1 through August 15, my head down working this project. The lack of sleep. The stress. The long days and working weekends and not having a single day off in all of that time. The disconnected feeling. The lack of awareness about pretty much everything around me.
"Well. I'll check my bank account but I really don't think so."
I walked back to my desk, logged into my bank and searched for the amount. By golly, there was a payment.
That means that 1) I had indeed received a "first notice" from the credit card company and didn't remember it and 2) had set up the credit card company as an auto pay from my account and didn't remember it and 3) actually paid the bill and didn't remember it.
So that means that when I was wandering around in a zombie-like intense work state, forgetting to eat meals and forgetting to sleep and often forgetting to change clothes and frequently forgetting to even brush my teeth in the morning, I managed to be fiscally responsible enough to pay my credit card bill?
Um. What?
I'm certainly glad that zombie Karen cares enough to pay normal Karen's bills. I wonder what else I did when I wasn't even on the planet.
I can hardly wait to find out.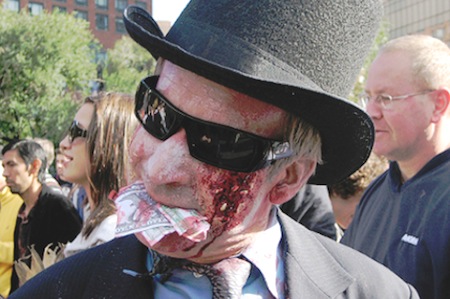 Image found here.

Over the weekend, after another rough week at work, The Good Man and I found our way to the big main branch of our city's library. It was like an awesome haven from the mean old world.
I immediately found my way to the fifth floor where they keep the art books. I needed an infusion of art and creation in my life to erase the financial and business blues of my workweek. I decided I wanted to look at some Frida Kahlo prints. I am a huge fan of Frida.
As I plucked a slim book of her paintings off the shelf, I found another small book hiding behind it. It was a book of letters written by Frida to her friends and family.
I love reading old letters. You learn a lot about who a person was (or is) by reading their handwritten letters.
I had always thought that Frida was so strong, powerful, fierce and uncompromising.
Boy was I wrong. Through her letters, I found her to be very sweet, quite insecure, and almost childlike.
She often would write letters to friends and ask their advice on big life decisions. For example, at one point her husband, Diego Rivera, had a terrible infection in his eye that had spread to the side of his face. She asked a friend, a fellow painter, if he though she should take Diego to New York to see American doctors or stay in Mexico and take the guidance of Mexican doctors.
Now that seems like a pretty big life crisis, something you would want to decide along with your husband and instead she was soliciting, nay begging for, the advice of a friend. She actually did this quite a lot, begged her dear friends to tell her what to do.
I found that so counter to the fierce woman I see through her paintings.
And then, over time, as she got older she did seem to become a lot harder edged. A lot more sarcastic and passive aggressive.
Clearly the philandering ways of her husband and his over bearing need to be controlling had taken a toll on her psyche.
That and years and years of immense pain in her spine, leg, and foot, all massively unresolved injuries from an accident in her teens.
Her physical and mental anguish become so forceful, it drove a little bit of the lightness out of her words. She became more bitter. And so maybe that is the Frida I came to know, the rough around the edges and hard woman who had been hurt too much.
But even then, as I understood how she could come to be that way, I was a bit shocked to read (in the book) a quite long essay that was to accompany an exhibition meant to honor Diego Rivera.
I came across this section and burst out laughing. I mean, wow.
Here, read it and see what you think. She is describing Diego's physical form from many angles. In this section she refers to his chest:
"Diego's chest — of it we have to say, that had he landed on an island governed by Sappho, where male invaders were apt to be executed, Diego would never have been in danger. The sensitivity of his marvelous breasts would have insured his welcome, although his masculine virility, specific and strange, would have made him equally desired in the lands of these queens avidly hungering for masculine love."
Um. Did she just say her husband had moobs? Cuz I think she did.
In another section she describes seeing him naked as looking something like a child frog. Paraphrasing here, she said that his skin takes on a greenish tone and is pale under his clothes and only tan in his face and hands.
Yeah. Green moob guy. Awesome.
This was, I'm sure, taking a bit of her own pound of flesh from him for the years of unkindness. And also a bit of the ol' anti-bourgeoisie taking the piss out of what might have been a flowery ode to her husband.
I'll tell you what, that image is sure going to stick with me for a while.
Actually, the whole book will stick with me for a while. The letters so quaint, so childlike and such a deep glimpse into one of my creative heroes. Quite something.
Oh, and she liked to invent words of her own. My favorite was when she would refer to her life or other things that were not working out as expected as fuc-bulous. Oh yes. I can use that. I may have to adopt it myself.
Next up, I have on my bedside table a book of letters by Vincent Van Gogh. He was quite prolific in his letters to his brother, and it is a thick tome. I am both wary and excited to dip in.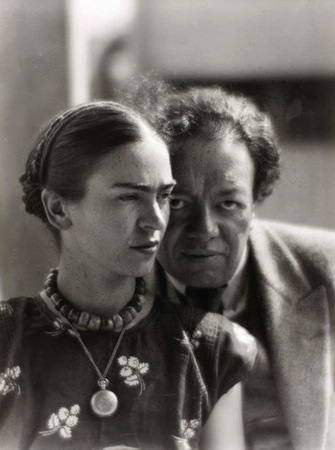 Photograph by Martin Munkácsi

Image found here.