The photography club I attend monthly has been going through a lot of flux over the past year. A few of the main members have left (retired, mostly) and new folks have joined. We have a new leader and he's got a lot of ideas. It's a lot of change. For the good, I'm sure, but change anyway.
I've talked a bit about this group. It's made up of both scientists and engineers and is overwhelmingly male. These guys are very much tech head photographers who are all about gear and photographic perfection. Their photos are technically precise but in my opinion lack emotion…which suits them just fine.
It's a debate we have a lot in the meetings. Art vs Technical. Let's just say, my storytelling approach to photographs is in the way, way minority. I can often actually *hear* eyes rolling as one of my photos rolls across the screen during critiques.
I have learned a lot from this group. I work hard to make my photos better. To improve. To get technically cleaner. That said, in some ways, I also like to goad them. Poke the tiger with a stick.
One of the things we seem to struggle with as a group is our monthly theme. It's hard to come up with jazzy ideas every thirty days. This year's themes are some good and some weird. All are great in my opinion. I love being challenged.
A few of the more rigid photographers aren't having as much fun with the themes as I am.
For March, our theme was "wood." Seems easy, doesn't it? But it's harder than you'd think to come up with a good, unique, and well crafted photo of wood. It's almost too broad.
We get two entries each month. I did one that was a bit more "clean" though it still could use some technical work. And I did one storytelling photo.
Neither were very well received.
Presented for your perusal:

Palm, Pine, Maple, and Telephone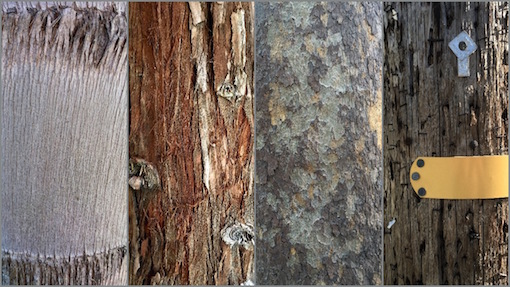 Copyright ©2016, Karen Fayeth

I presented this as a study of the wood types found in my neighborhood, each pattern more interesting than the last.
Ok, the image has a joke there at the end. And with the title I was yanking their chains, as these nature photographers get quite sniffy about the precise genus and species of flora and fauna they photograph.
This photo garnered four votes in our monthly contest. Not terrible, but not close to winning either.
Here is my other shot. I very much enjoy the story in this one. It got one vote. (At least it got one?)

Log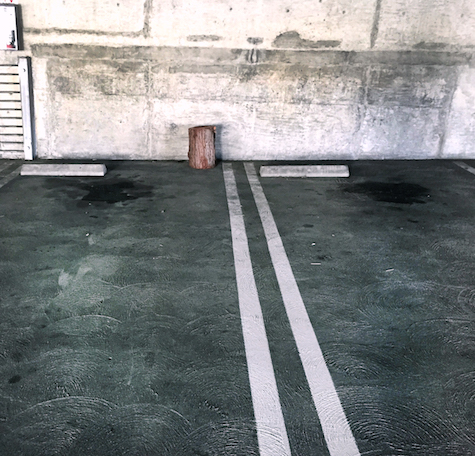 Copyright ©2016, Karen Fayeth

When faced with the conundrum of properly conveying the feeling of "random log in parking garage," I chose to go with moody.
This photograph was not subjected to Instagram filters. A color photo of this wooden beauty was lightly desaturated then pulled into Photoshop for burn and dodge to bring out those beautiful loggy highlights.
The squarish shape is due to cropping out surrounding cars.
I really love this photo. I mean…why the hell is there a log in the parking garage at work?
Also, could this BE any more perfect for the theme of wood? Nailed it!
One vote. At least one other photography club member gets it. It's something to build on.
Both photos are Copyright ©2016, Karen Lingua. All taken with an iPhone6 and the Camera+ app. First photo also utilized the free photojoiner.net site to combine the photos. Subject to the Creative Commons license in the right column of this page.

It seems as each year goes by, I get a little more awkward. I mean, I've never really been cool as the other side of the pillow, but over time it seems it's tougher and tougher to just, you know, maintain.
Yesterday, I heard that one of our young intern employees will be leaving the company. I don't know the guy that well, but he helped on a few projects I worked on and I found him to be an all around good person and hard worker.
As a manager and mentor, I wanted to stop by to thank him for his work, encourage him in his next role and offer to be a reference if he needed.
It's the kind of thing I wish a few more people in leadership roles would have done for me in my career. I certainly remember with much gratitude those that did.
So I had a good opportunity during the busy day yesterday. I walked to his cubicle and stopped to ask, "Hey, I hear you are leaving tomorrow?" When he confirmed, I said, "Just wanted to thank you for your hard work and support. You have been invaluable to us. I hope you are able to find a new position very quickly. You will bring so much value wherever you land next."
He thanked me and started talking about how he really loves the culture here at our company and how he has liked the job and hopes he finds something equally supportive. And how much he appreciates all of the leadership here and……you get the drift.
As he's talking, my left eye began to betray me. I have terribly dry eyes and it's also allergy season. Before I knew it, a tear welled up and slid onto my cheek.
And the kid noticed. He saw the tear and kind of stopped speaking.
"Um," *awkward laugh* "Yeah, sorry man," I said as I wiped the tear away. "I'm not crying, it's just allergies."
"Oh." He said, trying to be nice but now a little weirded out.
"Hey, you know, dry eyes, allergies, kind of funny right! Like I'm so broken up right now because you are leaving, ha ha ha…." Then I awkwardly reached out to lightly punch him in the arm.
Which he awkwardly took to mean I was going in for a hug.
So yeah. There was a clumsy punch-hug thing that happened. I quickly stepped back and said "Hey, yeah, good luck! Let me know if you need a reference or anything!" and then scuttled off like the bottom dwelling weirdo that I am.
Lots of people might say, "But Karen, these kinds of things happen to everyone sometimes."
I might reply with a maniacal laugh, "If only these kinds of things happened sometimes. How about all the time?"
So, let's bright side this thing: 1) No one else saw this sad awkward exchange, 2) the guy is leaving the company and so I only have to face him in the break room for one more day and 3) odds are low our paths will cross again soon. I mean maybe, but it's unlikely.
Okay, I'm grateful for my blog-as-confessional as a place to work out the feelings around these kinds of things.
Onward to my next awkward encounter!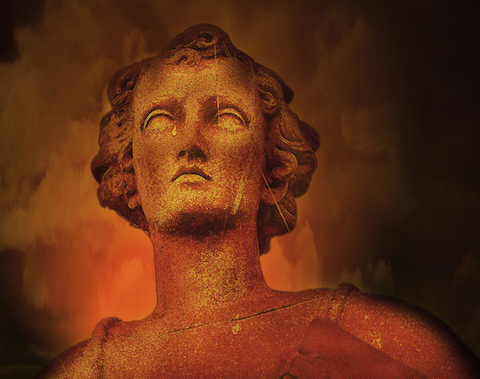 Nah man, it's totally allergies. I swear!

Photo by Fred Fokkelman and used royalty free from freeimages.com.


Perfect posting for a Friday…
On Monday I had an early morning video call with a company in London. Oh those pesky time zones. Did you know that the US and the UK go to Daylight Savings Time (British Summer Time) about three weeks apart, and the US goes first? Monday was the first workday after the US moving ahead an hour, while the UK didn't.
Yeah, I remembered that in the small hours of the morning and quickly dashed off an email to sort out the timing. Thankfully everything worked out.
To prepare for the video conference, I got up extra early and came into the office to set up and test all of my video gear. I just moved into an office a couple weeks ago and my video gear was in a heap in a drawer. Great.
I was able to quickly get it set up and tested and then ten minutes before the call, I was ready to go.
Ten minutes. That is a funny amount of time. Not enough time to really get anything going with work. I mean, I could have dived into email but then I just knew I would get engaged in something and would lose track of time.
But ten minutes is also kind of a long time to sit around and do nothing.
So I did what any adult professional in my situation would do. To "test" my video camera set up, I fired up PhotoBooth on my Mac and played with the effects.
I tried the one with hearts around the head, then the birds around the head. I tried the one that gave me frog eyes and one that produced a disturbing cartoonlike square jaw.
But none were quite as impressive as this. Let's call it Alien Accounts Receivable Clerk. And your payment is overdue.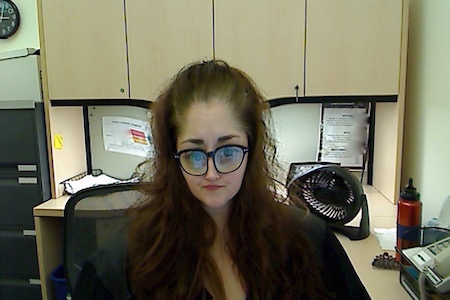 "Please remit payment or I will be forced to terminate your account"


So yeah, when the top of the hour finally rolled around, I entered the video conference still giggling.
A little too jolly for a fairly serious meeting with stoic Brits. *Ahem*
But I cleaned up my act, greeted the others on the call and then behaved like a grown up for a WHOLE HOUR!
Amazing. (hee, hee)

Photo ©2016 Karen Fayeth, taken with the PhotoBook App on my Mac and ten minutes of downtime plus post Daylight Savings Time exhaustion on my hands. Subject to the Creative Commons License in the right corner of this page.

File this under "The Joys of Owning a 15-Year-Old Vehicle"
Yesterday was a weird day. I mean, when you are me most days are weird, but yesterday was especially so.
To kick off the festivities, I forgot my work badge and had a meeting in a special super secure location. It was okay, I simply had to run the security gauntlet which included one security guard keeping a sharp eye on me while the other spoke in low tones to the Human Resources Department.
Turns out I'm still an employee so they grudgingly let me through.
After the meeting, I went back to my building and because I didn't have my badge, I couldn't get into the garage. The alternative was to park on the street outside.
After parallel parking, I gave my car a visual sweep because this neighborhood has a pretty bad smash and grab problem. Satisfied that there was nothing of any value in the Jeep, I headed inside.
At the end of the day, weary from a long day of solving other people's problems and fighting fires, I walked to my car to discover that during the course of the day someone had smacked hard into the back bumper of my beloved hoopty. Someone in a white car by the looks of the stripe now tattooed into my black bumper.
Joke is on them, under that bumper is a solid steel towing package that is attached to the frame of my treasured Jeep. My bumper is a bit dented but they caught the worst of it, that is for certain.
With a sigh and a shrug, I got into the driver's seat and I thought "something looks different." My tired eyes roved around the Jeep, heart sinking, expecting something bad.
That's when I saw my rearview mirror wedged between the passenger seat and the floor.
They smacked my bumper so damn hard it knocked the mirror off my windshield! Sonovabiscuit!
Let's be fair, at fifteen years of age that mirror likely wasn't very strong in it's moorings anyway. But kind of a nuisance to see it laying on the floor.
You don't know what you've got until it's gone. I never really realized how often I look in the rearview mirror when I drive. It's a lot. Which I suppose is good.
On the plus side, with no mirror in my line of view it was a lot easier to see the crazy college kids who rabbit out from between cars in my neighborhood. Next week is their Spring Break so they are especially hoppy lately. (nothing compared to finals week though, oh my)
So yeah, my tired old Jeep is a little worse for the wear. I will call in an insurance claim because parking around here is so weird that this isn't first smacking the bumper has taken.
The insurance claim is a crapshoot, the cost to fix it may be more than the vehicle is worth. We'll see. Maybe they can factor in how much the vehicle means to ME? Anyone? Huh?
Ah well, I have the side mirrors to guide me home and some sort of made up inspirational quote about not looking too much in the rearview.
Or something.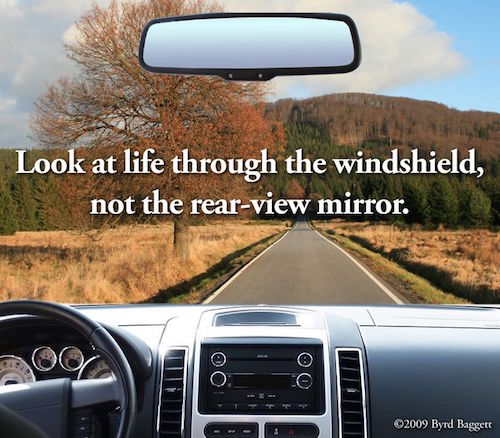 And I thought happiness was Lubbock, Texas in my rearview mirror.

Image found on Pinterest, attribution included on the image.

The 26th of February. That what today is. February 26, 2016.
My, my, how time does fly.
Speaking of flying time, I see that the last time words were posted to this space was in November. That was like, yesterday, right?
Nope. 26th. Of February. Of 2016. Whew.
Well, okay, gotta try to shake that off and keep rolling. I've been thinking a lot lately about this little ol' blog. It used to be that I'd knock out a post every weekday. Then three times a week. And then nothing since November.
Been wondering what got in my way.
Three things, really. First, I got a little worn out. I'd pushed The Muse and it was getting harder to think of interesting ideas to write about. Eventually The Muse asked me to give it a rest.
Another contributor was starting a different job. I used have a free lunch hour where I both ate and knocked out the words for this blog. In my new job, I am in so galldarn many meetings each day that my lunch break is now me eating while my staff streams in the door to grab a few moments of my time.
Finally, I started wondering a little bit about the fate of so-called long form blogs in an ever-shortening attention span world. I read an article a few years ago declaring blogs dead in favor of tweets and Tumblr. I kind of took it to heart.
So I let my word field lay fallow. And maybe that is okay. It needed some rain and some decay and some time to become fertile again.
One of the most compelling reasons that I started this blog was to be a place for writing practice.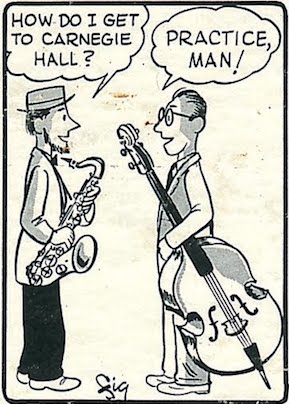 Practice, practice, practice. When I kicked off these pages back in 2007 I felt like I had something to say and needed a venue, so I made my own.
Over many years I wrote something every weekday and watched my writing both inside and outside the blog become stronger, sleeker, and more concise.
While I still benefit from all of that work, the last few times I've been working on a short story, I'm noticing the flow just isn't there. It's always an uphill climb but without the many days a week practice to keep me limber, the hill got a little steeper (and a lot more pedantic).
There is a widely debated theory that it takes ten thousand hours of practice to become a master at something. I am not sure that is true because any artist I know would say you never master your medium, no matter how much or how hard you practice.
But what I do know is that as of the moment I am putting these words into print, there are over six hundred thousand words that I created and added to this blog. That hasn't taken me ten thousand hours to create, but it's still not nothing. It's something that matters and something I am proud of.
Last weekend while I was sprucing up the blog and giving it a Spring cleaning (I'm kind of in love with this shade of blue) in preparation for my return to the words, I looked hard at that number in the footer of this page and thought to myself "I'm not done."
And so I'm not.
One added benefit is that I get to grab those crazy thoughts from my mind and get them down. There's good stuff in there. No more trying to blog it out loud to my kindly understanding spouse or my long-suffering coworkers.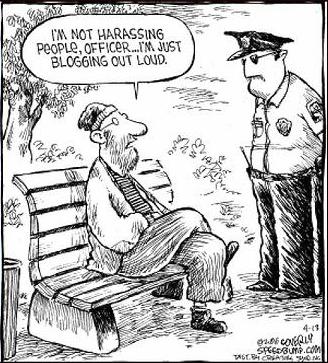 So here I am, back for today and hopefully back again soon. I want to push out my elbows and make the space in my world for the words, the practice, and the ever wonderfully agonizing quest to get better at what I love to do most.
Carnegie Hall cartoon found here.
Blogging out loud cartoon found here.