Here it is, Sunday, January 7th and I'm staring down the barrel of Monday.
It's time to get myself back into gear.
You see, not only does my employer shut down between Christmas and New Year, but I was also able to scrape up enough hours to take this past week off. I've just had seventeen glorious and fun filled days away from work. Days of setting my own agenda. Of not looking at work email. Of working on photography at midnight if that's where the fancy took me because I could sleep in the next day and the next one after that.
Last week I existed in a fabulous sort of limbo land. 2017 no longer, not quite 2018. It suits me.
All good things must come to an end, and so must my extended vacation. Tomorrow, reality slaps me across the chops, as reality is prone to do.
This morning The Good Man and I left our warm and cozy home to venture out into the rainy, wintry cold for Sunday breakfast. Pancakes to bid adieu to vacation and bonjour to 2018.
Through visible breath and rubbing hands together I looked up and saw a bright red maple leaf shellacked to the windshield. "Hey that's pretty," I said and took a quick snap.
Now, I realize that in this simple winter image I somehow exactly captured my mood. No more holly jolly songs and soft Christmas lights. No more Santa and wrapping presents and warm cookies baking in the oven.
It's now winter, plain and straightforward. No more looking forward to the holidays, instead we look to Spring. I have a lot of (needed) California rain to endure this year because that is what the Bay Area does in winter.
This is the long slog, when it's still dark early and foggy mornings and shivery cold.
But soon. Yes soon, the world moves into winter so we can know the spring. Daffodils and cherry blossoms are just around the corner, but for today it's a sodden leaf in cold rainy hazy blue surroundings.
So I won't lose hope. Tomorrow may loom large, but I will pop back to the surface like a bobber and keep swimming. I will have great successes and I will fail a lot too. I will be mad and sad and happy and grumpy and overtired and all the things I was on December 21 when this wild leave from work began.
Okay 2018. I put you off as long as I could, but you are now top of my To Do list and I'm going to tackle you.
Starting tomorrow.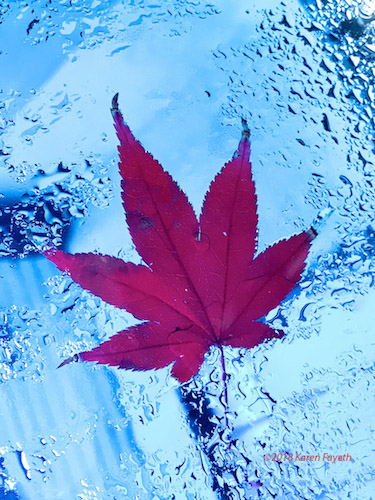 ©2018 Karen Fayeth

On the way to work this morning, I listened to legendary San Francisco radio station KFOG. They've recently had a bit personnel shakeup and it turns out their new morning guy is former MTV VJ Matt Pinfield. I'm not totally thrilled with the change, but I will say this: he is able to pull pretty decent guests.
This morning it was Matt Nathanson and it was a good interview. They talked music and influences, and Pinfield asked what I thought was an intriguing question.
"What is the one song that changed your life?"
For Mr. Nathanson, it was "Closer to Fine" by the Indigo Girls. He said it made him want to play acoustic guitar and changed the course of his music. Pretty cool answer and song.
When they cut to commercial, I was left wondering what my answer would be. What is the one song that changed my life?
Well sheesh, that's hard question. Music is so integral to my life that it can't possibly be one song. There have been many songs that have changed my life and there are unwritten, un-thought of songs on the path ahead that will certainly change my life again.
As I drove and pondered, I was able to come up with a bunch. Here are just four of a much longer list.
Let's dig in:
1) It's 1991 and I've just gotten an undergraduate degree and about to start my MBA program. Right before the new semester began, my boyfriend broke up with me. I was quite into that particular boyfriend, pretty sure he was "the one," and the breakup hit me like a ton of bricks.
I wallowed deep into a lot of sad country music, but one song in particular was a constant companion.
"Are You Still Within The Sound of my Voice" by Glen Campbell
There was a place down on the Rio Grande where he and I used to go, so I would drive there, bring out a blanket and my boom box and find a place on the banks of the river. I would play that song over and over again while crying, sobbing, keening. I rose the level of that dusty ol' river with my salty tears.
Glen and that song got me through it. I can still hardly listen to that song, it's so etched into my memory and DNA. But that song helped me make the transition back to good. It made me stronger. It did, indeed, change my life.


2) It's 1994 and I'm living in Albuquerque, fresh out of college, gainfully employed and living that single girl life on my own. I'd lost a lot of weight and was feeling sassy and strong.
My musical tastes still ran toward country, but I was starting to listen to a lot of other music. In fact my musical education expanded a lot since there was a whole lot of music in the 90's that was changing the world.
I'd caught the end of a song on the radio that got my attention, but I wasn't sure what it was.
A few days later I was riding in an old Jeep CJ that was open to the wind with radio playing loud. That song came on, those now easily identifiable guitar chords, and I asked the driver to turn it up.
I was super late to the party on this song, but on that day, really hearing the song, my life changed.
"Smells Like Teen Spirit" by Nirvana
Oh muh lord. Of course we all know the impact of Nirvana now, but back then, it was unlike anything I'd ever heard. I just knew I needed more. A lot more.
I bought "Nevermind" on CD and played it over and over and over. I had never heard an artist express themselves like that. I sang along with angry lyrics while the music (and musician) spoke to me in ways I still don't understand.


3) It's 1997 and I've moved to the Bay Area and I'm spending all of my time in San Francisco's North Beach where my musical education took a turn toward the Blues.
There were a couple bars I knew how to get to and went to all on my own. A little girl with hayseeds in my hair, the employees and the musicians took me in. I became part of their family and they mine.
Blues music rolled in waves down Grant street back then and I'd start at the Savoy and work my way down. Grant & Green, Lost and Found, The Saloon.
Then there was a man named Willie who belonged to the street, but was still part of our family. More than once he protected me from the less kind aspects of city streets. He was a talented man with a bit of a drinking problem, but oh could he play that harp.
He'd tap his foot in time and play the blues. Then I'd go inside the bars and hear the musicians dive deep into history and play those same songs.
There was one that made me take notice, made me sit up. The beginning of what became a beautiful blues education. The door opened and I walked through.
"Matchbox" written by Blind Lemon Jefferson
On one night I heard four different musicians do the song, each putting their own fingerprint on it. This one song took a hold of me and never let go.


4) It's 2015 and I'm with the love of my life, the one who actually is the one, and we're attending a show at a small but awesomely funky venue in our new hometown. The act is Radney Foster and going to the show is like coming home.
I wrote a lot about why that night itself mattered right here on this little ol' blog.
But more than that, Radney's music was a core part of my college years and my life. A life I left when I moved to California. It was mostly the right decision, but damn I often feel like I left a huge piece of myself behind.
So many people here in the Bay Area. Crowded. Packed in. People who don't understand the emptiness you find in New Mexico. The wide open spaces. The ease.
A lot of people here who don't understand New Mexico, don't understand what matters to me, and sure as hell don't listen to country music.
And now here was Mr. Radney Foster standing on a stage in Northern California. There were even people other than me came to see the show. People who get it. It was a mind bender.
He did a lot of the familiar songs, and late in the show he introduced a new song. Told us that his wife grew up in Oakland. How he was at his in-law's house in the Oakland hills and watched a gorgeous Bay Area sunset. Then he told his wife "I'm going to be late for dinner," because he had to get down a song.
"California" by Radney Foster
It made me cry a little because it's a beautiful love ode to California, written by someone from West Texas. A desert rat like me who gets it, was there back in the day, and understands why California.
It's hard to explain to folks back home, but now I have the perfect musical explanation. In the following weeks I played it over and over again. This song let me know it's okay to have my heart in both New Mexico and California. This song brought peace. Healing.
Truly life changing.

——
Whew. Yeah. Okay. I could probably go on. This list expands and grows the more I think about it.
I bet you are thinking too. Running through the soundtrack of your life and remembering the songs that mattered. The songs that changed your life.
It's worth the journey. Feel free to share here or on Facebook. I'd love to know which songs changed your life.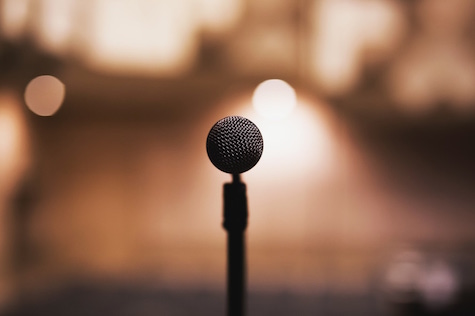 Image used royalty free and found here.

Woke up this morning to a dark gray day as the (much needed) winter rain pounds the Bay Area.
But this rainy Saturday had a surprise. A whisper of Spring, growing in the small yard beside my building.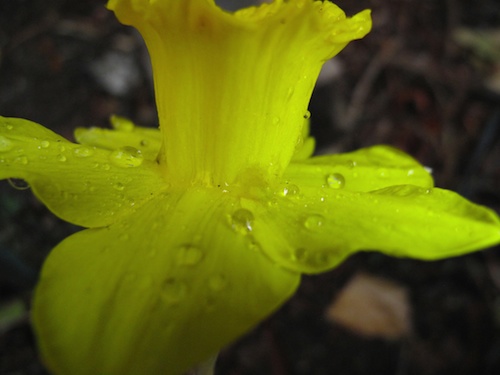 Photo © Karen Fayeth, 2014

I bought some daffodils from Trader Joe's yesterday, but the small wild 'dils in my yard beat them to the punch.
Oh how I love the sunny yellow of daffodils. Sweet smell of Spring.
While I do appreciate the rain, I really do, I secretly can't wait for golden California sunshine to return.

Recently a new meeting appeared on my calendar at work. It's a new group and a "core team" for an emerging and rather exciting new project that crosses many functional teams. Many global teams.
It's a good sign that I was invited to the table and I take it as the step forward that it is.
However.
The meetings are set for 7:00 in the morning once a week in order to accommodate as many time zones as possible. Seven in the ayem. I rarely like rising by seven in the morning, much less well before so I can rise and feed the cat and get dressed and drive to work in order to be there by 7:00am.
That said, I find these early mornings to be a little odd and endearing. As much as I hate rising before the sun, those wee hours are also sort of fascinating.
This morning I stepped through the door from my building into the damp morning air. A fairly thick fog lay hugging the pavement as streetlights lit it with an ethereal glow. It was so quiet. Odd because in just an hour this same stretch of road will be backed up with the traffic of parents dropping their kids off at the nearby school, and punk kids walking and screaming and laughing and being obnoxious teenagers. Plus kids wailing at the nearby playground and the rumble of trucks and cars and the world coming alive.
But for these few precious moments, the world is silent. Quiet fog like the paws of a night animal sneaks and swirls through the streets.
Even with extra caution to avoid local deer and morning walkers, my usual twenty minute drive to work takes just ten and I think "hey, I'll get to park in that one awesome parking spot right by the front door" but of course that's not true. I'm not the only soul wandering the quiet workaday streets.
The tall multistoried edifice where I work looks imposing in the darkness. It is backlit by floodlights and the mist swirls high above the penthouse suite. The windows of the building are mirrored and in the daylight, this provides both security and uniformity. All you see is a solid wall of reflection.
In these dark hours, I can see into offices. There on the eighth floor I see an executive in his office bustling about. He looks almost frantic, pacing around the space. I suspect he is on an early call and the stress of the business day is already nattering in his ear.
I can see that lights were left on in The Big CEO office area. He has a nice office. I've actually been in that space, just once when he wasn't there. I wonder why the lights are on because he's not in there and his admin isn't at work yet. Did someone forget and leave the lights on?
I can see multiple computer monitors on his desk and I wonder how many emails he must get in a day. Maybe it's not that many as he has not one but two executives as direct reports. I bet they get all the email and he gets to be the "face of the company" and attends marketing events and drinks something expensive and drives something expensive and I bet he is working from home today anyway.
As my tummy rumbles I wonder if the executive suite gets breakfast catered in.
It's too early in the morning to eat. My tummy is both hungry and nauseous. In about an hour I will be ravenous.
It's so early that the main door to the main building is locked. During the day it's open to all visitors and staff, but this morning I can't actually remember where the badge reader is located. It's not right next to the door and I recall it's cleverly hidden in what looks like a light pole. So cleverly hidden it's impossible to find.
I wave my badge around everywhere in the vicinity like a mad multi-limbed Shiva until I finally hear that satisfying click and I open the door and enter the lobby.
The security guard nearing the end of his overnight shift looks at me with knitted brows and doesn't reply to my chirpy "good morning".
It's ok. I was faking the chirp anyway. I wouldn't say hi to me either.
Pushing the up button to call the elevator, I'm happy to see the doors open immediately. I believe that when the elevators aren't being used, all cars return to the first floor. It's usually a dreadfully long wait during business hours, but not today. I ride up to my floor, stride to my office and flick on the lights. Immediately I put on my wireless desk headset and dial into the call.
And now someone in the parking lot can see me, my form bustling about my office as the stresses of the day begin to whisper in my ear. As I announce my entry to the call and greet the team, I already feel weary. I began mentally running through the day's calendar trying to remember when I can actually leave work and head home.
I came in early so I can leave early, right?
Alas no. Pesky time zones. I have a call to an APAC country very late this afternoon.
And this is how my employers get their money's worth out of me.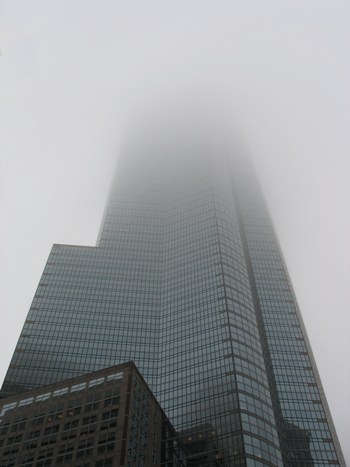 Not my building but surprisingly similar. This building is in Minneapolis. Mine is not.

Photo by drouu and used royalty free from stock.xchng.


So it was on flight SQ16 from Incheon to San Francisco that I picked up a new friend.
Maybe friend is too generous a word.
A follower? Stalker? Shadow?
I think it all started somewhere over the international date line. It gets pretty wonky up there over the Pacific.
When I got off the plane, there was someone there. With me. Only I didn't realize just who yet.
Tuesday, as I went to work, he came along.
I say he. Really, this thing is a genderless entity, a spectre, an imaginary friend. But for the sake of ease, I'll say he.
As I commuted to work, I finally realized he was there. In the passenger seat. He went with me into the coffee shop. He was there when I parallel parked my car. He took a seat in the conference room where I'm attending a training class.
He sits next to me. With me. On me. On my head. Wrapped around me like a blanket made of wet mud and peat moss.
The entity is jet lag. I call him JG for short.
I think you're not supposed to talk about JG. When someone asks, the right answer is "fine! Oh I'm doing great. Yeah, no problem."
But it's a problem.
JG is real and JG is profound. I try to stay normal. I try to make a salient point during the workshop on data security but while I speak, JG puts cotton fluff and jello into the working parts of my brain.
JG gives me a nice outfit to wear to work, only the fabric is the leaden material found in xray rooms and dentist offices.
My shoes are made of concrete.
I lean forward and my shoulders slump so I can carry the heavy load. I straighten up again and pretend JG isn't there. My shoulders slump once more.
JG won't be ignored.
I turn in early to bed to try to get right, to reclaim my brain and my body and I drop easily into sleep. JG jostles me awake at 2:00 am and says "hey! Let's play!"
I rise and have a snack and try to get something done so my day isn't a total loss but JG robs my motivation and steals my creative will.
Instead I sit on the couch watching "Mad About You" reruns and wondering where in the hell my life has gone since Paul and Jamie examined married life in the '90's.
Then I hallucinate about being stuck in customs somewhere in Asia.
I shake my head from side to side to clear my etch-a-sketch of a mind and try again to focus on the television. Maybe some more food will help.
There isn't a pill that can cure me of JG. There isn't a quick fix remedy.
There is only time.
JG and I will be hanging out for a while. You'll find us in aisle 6 at the grocery store. I'll be the one standing there bewildered and trying desperately to remember what I needed to buy.
JG will be the one playing tricks in my eyes and tripping me at the ankles and making me want to lay down on the stack of ten pound bags of jasmine rice and close my eyes, just for a moment.
Until strange dreams startle me awake and I rise again to wander the world, a little lost American girl searching for another cup of Singaporean coffee (kopi) and a slice of kaya toast.

Image found on Anabolic Minds.